WordPress has a function called Custom Headers that enables you to modify the title and header image for your website. When someone visits your website, they will see this title at the very top of each page. It's a crucial component of your website because it informs visitors about the content and creates a positive first impression.
Depending on the theme you're using, there are various ways to update your title. You can utilize the WordPress website editor or the theme customizer. To change your title, you can also utilize a plugin or code. With this function, you can creatively utilize this area and improve its value to website visitors.
What is a Header in WordPress
The very top portion of each page on your WordPress website, known as the header, is what visitors to your site view first. A unique header can provide your users with a good first impression.
Your website's logo, title, navigation menus, and other key components that you want visitors to see first are often contained in the header. For instance, Thimpress has a unique custom header that features the name and logo of our company. It is a crucial component of your website because it aids consumers in comprehending its goal and directs them to the appropriate location.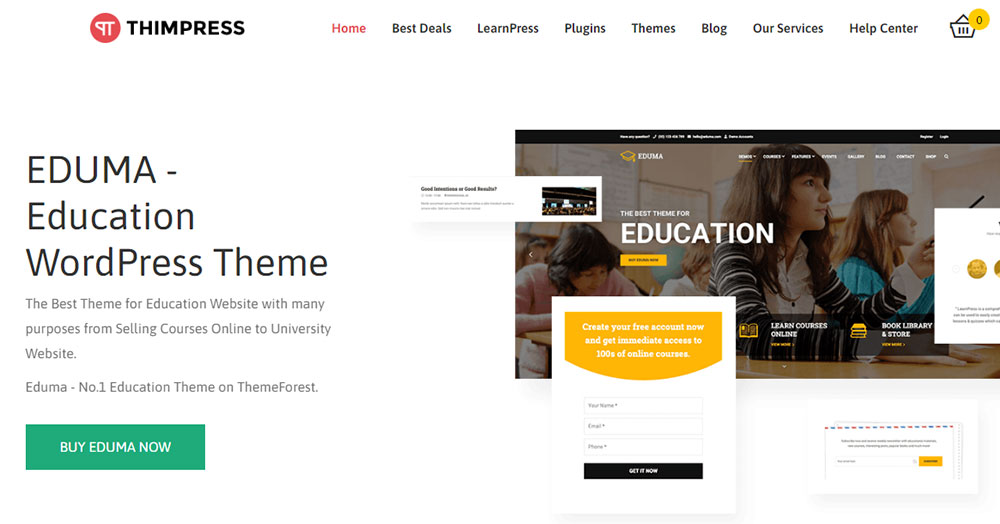 Related: Check read the article "Best WordPress Themes Collection for Teachers and Instructors" if you're seeking themes with attractive and flexible custom headers.
Why you should change your WordPress Header
With WordPress, you can customize your website's header to reflect your brand and make it easier for visitors to find what they're looking for. The header can be modified by altering the color scheme, the layout, or the font sizes. Additionally, you can include images, a widget area, or even use various headers for the various sections of your website.
Some WordPress themes give you the option to add a full-width image with a tagline or a call-to-action button to the header. Additionally, some themes allow you to change the header image, navigation menus, and logo positions. Before we discuss how to alter your header, let's go through some more suggestions for personalizing your WordPress header.
Related: Before utilizing photos for your website's custom header, you should probably read "WordPress Image Sizes: 5 Best Tips For SEO Optimization" if you're new to WordPress and don't know how to optimize images for it.
WordPress Header customization instructions
Here is a brief description of each strategy to give you an idea of how to customize your header.
Utilize a Theme Builder Plugin to Customize Your Header
In this article, we'll demonstrate how to use one of the drag-and-drop plugins mentioned in our in-depth article on which ones you should use, SeedProd.
Without any coding knowledge, you may develop a unique WordPress theme using the SeedProd plugin for WordPress. Making headers, footers, and all other design components necessary for a visually pleasing WordPress theme falls under this category.
Customizing your header is simple once you've developed your theme with SeedProd. Just select the 'Edit Design' link that is located beneath the header. The drag-and-drop editor in SeedProd now allows you to update your header by including new blocks. Additionally, you can change the color, text, and other settings of existing blocks.

Utilizing the WordPress Full Site Editor to Customize Your Header
It takes the place of the theme customizer if your theme supports this new functionality. As a result, your admin area lacks an Appearance > Customize page. You must instead navigate to Appearance > Editor.
The entire site editor, which functions exactly like the block editor you use to build WordPress posts and pages, will then appear. You'll notice that the template name at the top of the page changes to "Page Header" when you click on the header. This enables you to alter your website's header directly from the entire site editor.
Utilize the WordPress Theme Customizer to Change Your Header
You can modify the header area of your WordPress layout using the WordPress theme customizer with many popular WordPress themes. By going to Appearance > Customize in your WordPress dashboard, you may use the customizer.
'Header' options under the 'Color' area of the customizer, or a separate 'Header' section, depending on your theme, may be present. However, depending on the theme you're using, these options may or may not be available.
Convenient Header customizations
Here are a few useful ideas for customizing your WordPress header.
Customize Your Navigation Menu
Plugins like SeedProd can help you modify your WordPress navigation menu. You may quickly and easily design drop-down menus, change the order of the menu items, and add or remove menu items from your navigation menu with SeedProd.
Installing and activating SeedProd on your WordPress website is a prerequisite for getting started. After activation, you can go to the SeedProd dashboard and select "Theme Builder." Then, you can start modifying your navigation menu by choosing the 'Header' option.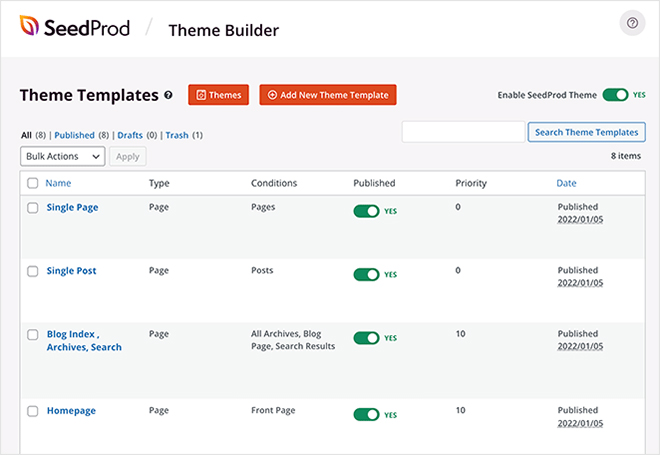 The drag-and-drop editor in SeedProd makes it simple to add new menu items to your navigation menu. Your menu items' font, color, and style can all be modified. Additionally, SeedProd lets you add icons or images to your menu items to improve their aesthetic appeal. You can quickly preview your personalized navigation menu to see how it will appear on your website. You can publish your custom theme once you have saved your modifications and are satisfied with them.
Related: You may want to have a look at the post titled "8 Best Options For Online Course Websites" which lists numerous themes for learning websites with extremely practical customization options for the navigation menu.
Add a WordPress Widget to Your Header
To draw visitors' attention, some websites utilize a WordPress widget in the header. The use of widgets makes it simple to add content blocks to particular regions of your theme. The header widget section is not present in every theme, though.
Using the SeedProd theme builder or the WordPress theme customizer, you can quickly add widgets to your header if your theme supports it. However, you can still add a WordPress widget area if your theme doesn't already have one by pasting code snippets into your theme files. A developer is advised to assist you because this takes some technical knowledge.
Add a Custom Logo to Your WordPress Website
Logos have a significant role in determining how consumers view a brand since they serve as visual representations of a company's identity, beliefs, and objectives. The majority of WordPress themes allow you to add a unique logo.
However, it's crucial to make sure your logo is the right size to blend in with the rest of your website's design. You can follow instructions for changing the logo size for any theme if you're unsure how to accomplish it.
There are several wonderful tools available for getting a unique logo for your WordPress website without breaking the bank if you don't have one yet and paying a designer is not practical.
Additionally, even if you have no design experience, you can create a logo that looks professional using a free logo maker.
Conclusion: Now you know 'What is a Custom Header?'
In conclusion, creating a custom header in WordPress is a crucial step in creating a unique and engaging website. It gives visitors a positive first impression of your brand, and you can alter it to suit your preferences.
One of the many customization options offered by WordPress is the use of plugins like SeedProd, the Full Site Editor, or the Theme Customizer. You can alter your navigation menu and include a widget area in your header to enhance user experience.
Read More: What Is Template In WordPress?
---
Contact us, ThimPress:
Website: https://thimpress.com/
Fanpage: https://www.facebook.com/ThimPress
Youtube: https://www.youtube.com/c/ThimPressDesign
Twitter: https://twitter.com/thimpress