When you hear "the art of visual communication", it's definitely about graphic design. Graphic design blends art and technology, and graphic designers use different design elements and techniques to create appealing advertisements, logos, layouts, and more for clients and companies. They can work with print or digital media and design visual concepts by hand or using computer design software. Moreover, a career as a graphic designer gives you many roads and chances because it is not limited to a certain industry or career field. So if you're interested in graphic design, let's take a look at our article, "What Do Graphic Designers Do? And How to Become One?"
What Do Graphic Designers Do?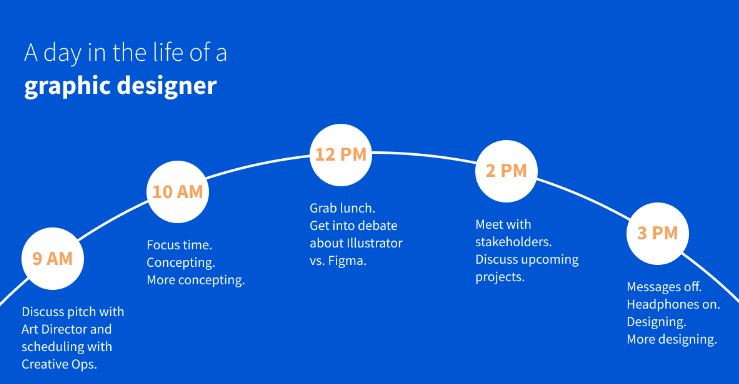 You're undoubtedly wondering what graphic designers do on a everyday basis. In fact, their tasks may differ depending on where they work and what they specialize in in a particular area. In the same way, their work relies largely on a company's or client's needs, but common graphic designer responsibilities and duties may include:
Meeting with clients or art directors to specify the scope of a project and working closely with other creative team members such as copywriters or marketing professionals to produce content for a variety of media.
Creating visual designs such as company logos, brochures, websites, reports, packaging, advertisements, or other promotional marketing materials that communicate a specific concept or message to the target audience.
Using computer software such as photo editing software, digital illustration software, layout software, or graphic design software to create and edit images.
Good understanding of typography principles and color theory to make sure your final product is both visually appealing and functional.
Presenting visual designs to clients or art directors and asking for feedback in order to make necessary adjustments.
Handling several projects at once and managing their time to meet deadlines.
Keeping up-to-date with the newest design trends and software in order to make sure their designs are the latest and competitive.
Checking final designs carefully for mistakes before printing or publishing.
What is Graphic Design?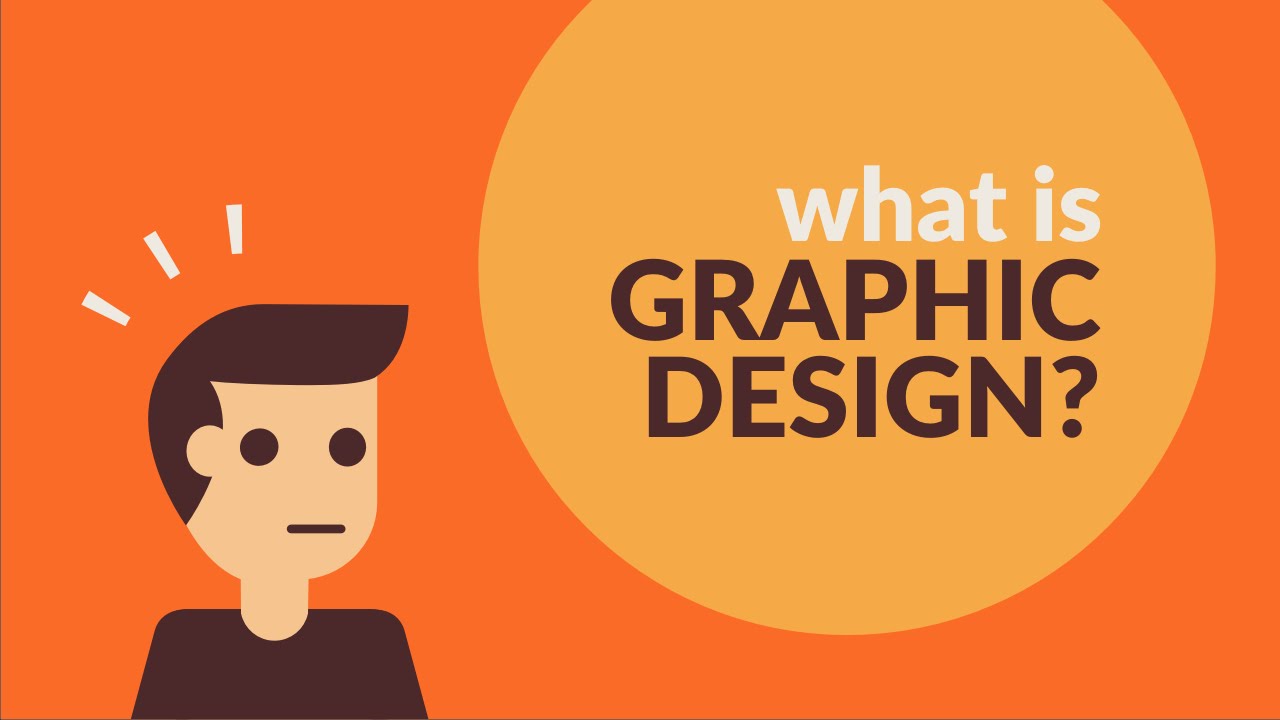 Graphic design is a type of communication in which colors, shapes, photos, and texts are used to create visual content that surrounds us in a variety of forms, including print media and digital media. Effective designs transmit information in ways that inspire and inform clients, making them an essential element for a successful business.
A graphic designer often creates layouts and photos for a variety of purposes, including the following:
The identification of a company's brand (logos, typography, and color palettes)
App and website user interfaces
Books, journals, magazines, newspapers, and more
The packaging of a product
Commercials and advertisements
Store, restaurant, transportation, stadium, building, and event space signage
Video games
Where Do Graphic Designers Work?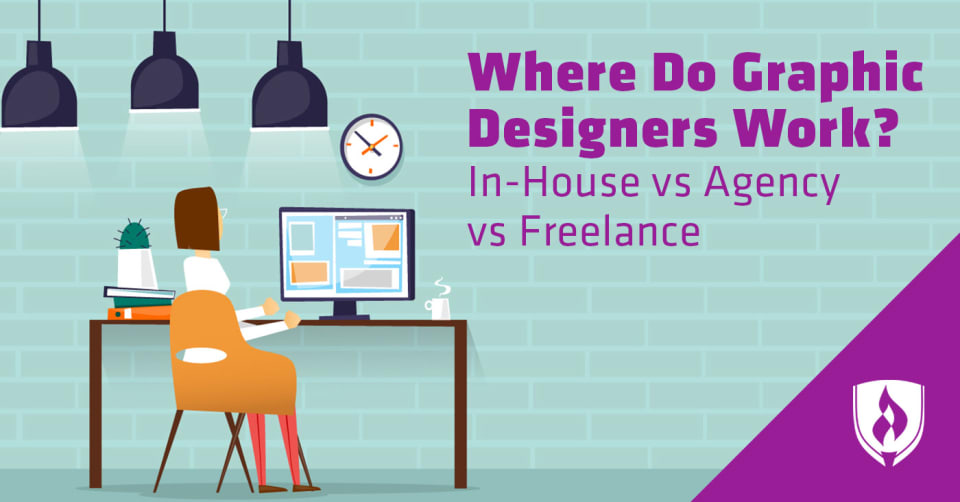 Since a graphic designer can work in a variety of environments, the tasks and responsibilities may differ. It's possible to work in-house at a company or agency or as a freelancer at home. So, graphic designers frequently work in the following fields:
Advertising agencies
Web design companies
Marketing companies
Publishers in print and online
Retailers both online and in-store
Non-profit organizations
Skills Needed to Become a Graphic Designer
What skills do graphic designers need? Graphic design may be a good fit for you if you are innately creative and have an eye for visually appealing design. In other words, you should spend time working on improving a few key skills as a graphic designer to nurture your talent. So below are some graphic design skills needed:
Audience targeting assists you in determining and analyzing who and why the design is intended to appeal to.
Color theory skill is a collection of rules and principles that you will use in your work to create visually appealing images. This involves selecting a suitable color palette for a project and understanding how individuals perceive color in different situations.
Communication skills make it easier to communicate, listen, problem-solve, and know what clients and other stakeholders require when working on a project.
CAD software skill allows you to create complex two- and three-dimensional designs. There are some computer softwares that used in this graphic design fields, such as Adobe, Illustrator, Dreamweaver, InDesign, Paintshop Pro, and Corel Graphics Suite.
Computerized sketching skill provides you with creative freedom that hand drafting and coloring cannot offer. You can also quickly implement changes to a design using sketching software.
Layout skill lets you control the visual space of a print page or screen in order to attract visitors' and readers' attention.
Typeface design skill assists you in telling appropriate, appealing, and simple to read stories by choosing the appropriate font and typeface categories.
Website development skill teaches you how to design on different content management platforms. Even though it's not always necessary, an knowledge of numerous computer languages, such as HTML and CSS, can also be beneficial.
Why Pursue a Job in Graphic Design?
When you pursue a job in graphic design, you get to flex your creative skills and put them to use while you learn and implement new technologies in your work. If you wish to have a critical hand in shaping how a company, brand, or product comes across to the world, it is worthwhile to pursue a job in graphic design.
Here are some articles that you might find interesting:
Graphic Designers' Salary
According to the US BLS, the graphic designers average yearly salary in 2021 will be $50,710, or $24.38 per hour. In addition, graphic designers who work in public relations (PR) and advertising make more money compared to the general pay scale.
If you'd like to learn more about how much a graphic designer makes, read our in-depth Graphic Designer Salary: Tips And Skills To Earn More. You'll see their pay is based on experience or on roles and scales.
Career Prospects for Graphic Designers
Graphic designers, like many other creative fields, face a highly competitive job market. According to the BLS, the demand for graphic designers will rise by 3% between 2021 and 2031. This is slower than the normal rate of growth, owing in part to a decrease in design jobs at magazines, newspapers, and traditional print publishing companies. Instead of that, companies' digital presence is increasing to balance things out. Hence, demanding for online design is expected to rise.
How to Become A Effective Graphic Designer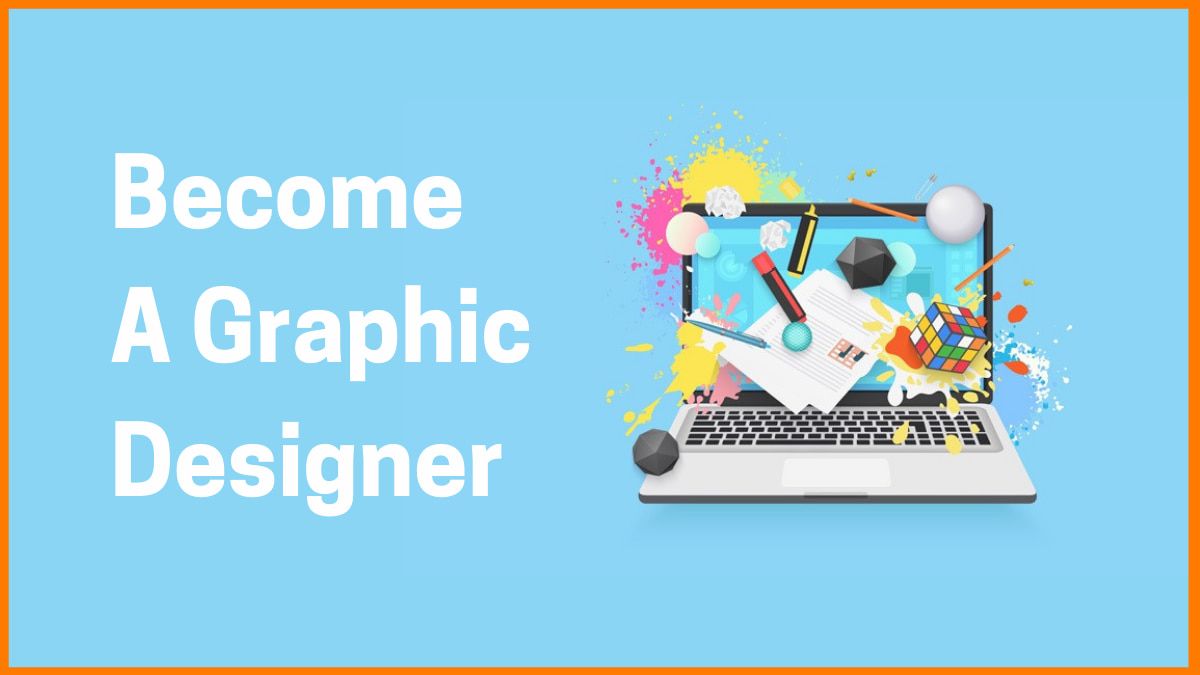 Follow the steps below to streamline your process if you're ready to pursue a job in graphic design:
1 – Get a graphic design education
According to Zippia's survey of over 120000 graphic designer resumes, 68% have a bachelor's degree, and about 23% have an associate's degree. So getting a degree (or a related field degree) in graphic design allows you to gain foundational career knowledge and start building a portfolio of work to show potential employers.
Plus, you should look for programs accredited by the National Association of Schools of Art and Design. Coursework in these programs typically includes computerized design, studio art, printing techniques, design principles, and website design.
2 – Get experience in graphic design field
While you are enrolled in a design program, be sure to build relevant skills. So that you'll be more competitive when looking for a job, such as:
Getting an graphic design internship and working in a real-world situation with experienced designers.
Using your design abilities to support local charitable organizations.
Taking courses in specific areas of graphic design, for example, Google UX Design Certificate
Getting certification in common graphic design software such as Adobe.
Participating in design organizations. Membership commonly involves networking and professional development chances. If you're looking for it, you can join the AIGA at student level, emerging level, professional level, leader level, and educator level.
3 – Sharpen your graphic design abilities
While completing your graphic design degree and gaining experience in this field, don't forget to hone your skills that employers look for. According to Zippia resume data, the most-referenced skill of graphic designers is Adobe Creative Cloud. Typography, logos, games, brochures, and PowerPoint are also important skills.
Here are two effective ways to stay current on in-demand skills:
Researching career sites such as Indeed, Zippia, LinkedIn, or Glassdoor and reading graphic design descriptions.
Watching for trends on graphic design news sites like PrintMag, Graphic Design USA, WIRED, and ThimPress to learn more about the use of graphic design in cryptocurrency, NFTs, AI-powered designs, and others. Seeing that, you'll see how these trends relate to your skills and how you need to develop them.
4 – Explore career paths in graphic design
Being a graphic designer can lead to a variety of careers and industries. According to Glassdoor, the top-rated companies looking for graphic designer positions as of Jan 2023 include Google, Indeed, Apple, Freelancer, and more.
On the other hand, you can get promoted to managerial positions such as creative director or project manager in a company's design department. Even if you start as a graphic designer, you can also expand into new and interesting fields like virtual reality.
Read More: 9 of the Best Free Graphic Design Softwares
---
Contact us, ThimPress:
Website: https://thimpress.com/
Fanpage: https://www.facebook.com/ThimPress
Youtube: https://www.youtube.com/c/ThimPressDesign
Twitter: https://twitter.com/thimpress