One of the most beneficial resources that are available to sole entrepreneurs is Co-Working spaces. These are shared work environments where people can work, network, share ideas, and collaborate on their projects. Such spaces allow entrepreneurs from different industries to work out of the office. Such areas let people spend a couple of hours working on their projects while they travel or just look for creative or contemporary places to work.
It's indispensable for such innovative projects as co-working spaces to run their official pages on the web. How to start a co-working website within the shortest period of time and with the minimum investments? Let's see.
Steps To Build A Co-Working Website With WordPress Theme
Choosing A CMS
The very first thing that you need to take into account is choosing a CMS that will power your co-working website. There is no doubt in the fact that WordPress is the most popular CMS on the modern-day web. It powers more than 30% of existing web resources. This is a versatile solution to build blogs, business pages, portfolio sites, and even eCommerce projects.
WordPress is a powerful and feature-rich content management system that allows every business to establish a usable and reliable website that can present the needed pieces of information to the web audience in a clear and comprehensive style.
Why do people give preference to WordPress? There are a number of reasons.
First of all, working with WordPress you do not need to learn HTML from scratch. Some basic knowledge of HTML is enough to gauge things more quickly.
There are a number of features and modules available in the WordPress community. The number of drag-and-drop page builders continues to grow, which provides you with a wider choice of solutions to manage the look and feel of your online project code-free.
WordPress doesn't require a steep learning curve in order to be managed on a professional level.
It's more affordable and time-saving to launch a WordPress-based site rather than create your online project from scratch.
WordPress is the easiest platform to work with. It's flexible enough to suit the needs of every person and business purpose. Launching a co-working website using a premade WordPress theme is the ultimate solution for niche-specific projects striving to engage with wider audiences.
Choose A Domain And Web Host
Before you start uploading your site with your content, you are going to need two major things – a domain name for your site and hosting (a service that connects your site to the Internet).
WordPress is a free platform. However, reliable and secure hosting services will cost you around $3-$5 a month. As a rule, WordPress hosting providers include free domain names in their plans. So, you can hit two birds with one stone as you select a hosting service that contains a free domain name.
Set Your Site
As soon as you purchase a domain name and set up your hosting, you can get your site up and running. The first thing that you need to do is to install WordPress to your domain. This can be done in two major ways:
Choose 1-click installation from a hosting provider.
Install WordPress to your site manually.
Choose A WordPress Theme
As soon as you install WordPress to your domain, you'll see a basic clean default theme. Also, you will have an opportunity to choose from free pre-designed themes that are available in the community. However, if you want to build a unique and remarkable presentation to your co-working website, then choosing a paid WordPress product is a better option.
By means of premium WordPress themes, it's more cost-effective and time-saving to build a co-working website from scratch. There are plenty of pre-designed digital products matching various niche-specific projects available on the web. Here is a hand-picked collection of suggested WordPress themes that can help you build a usable and competitive online project.
Co-working – Open Office & Creative Space WordPress Theme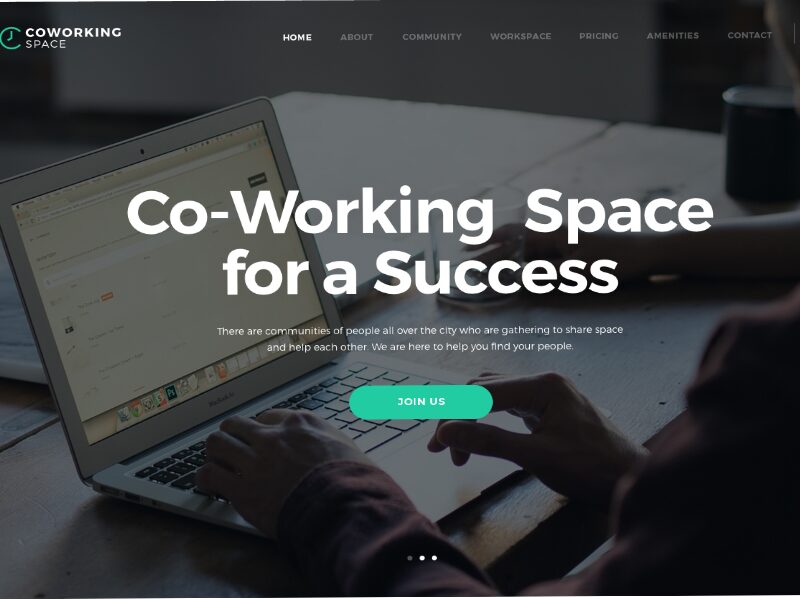 Crework Co-working and Creative Space WordPress Theme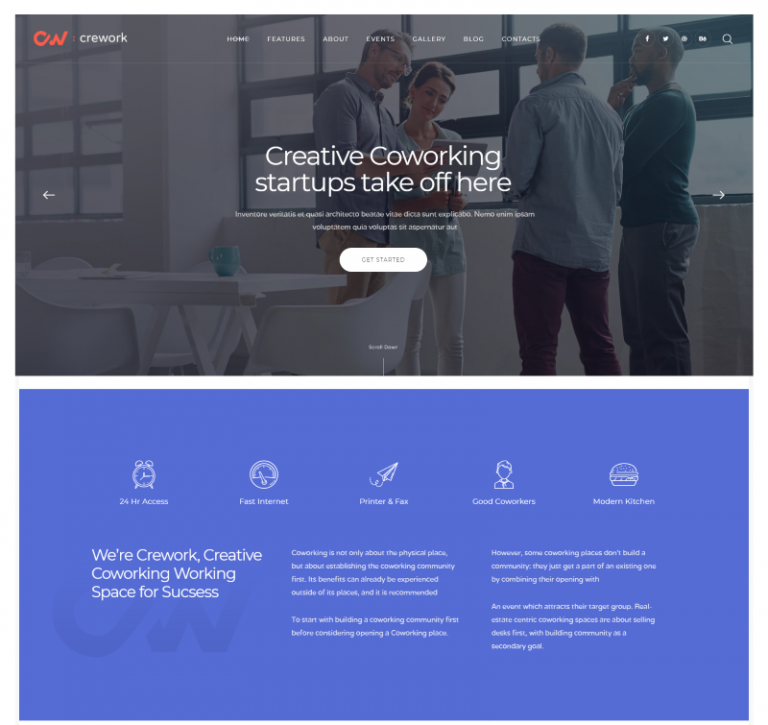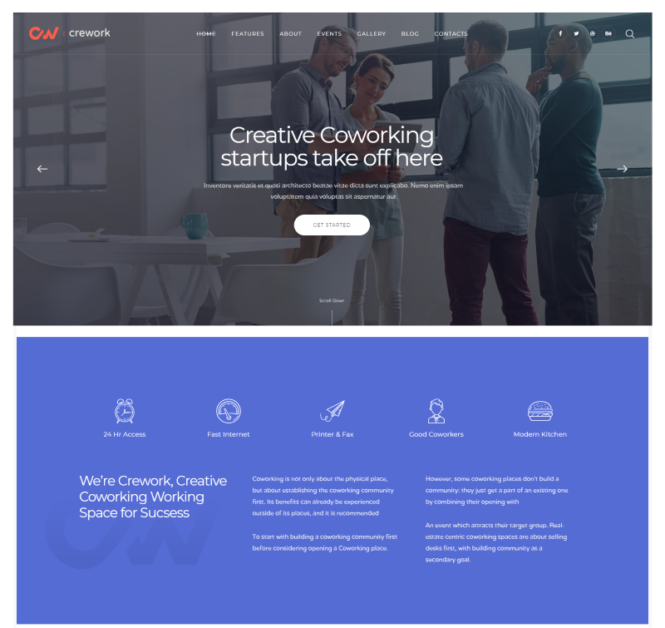 Work & Travel Company & Youth Programs WordPress Theme
WotaHub – Co-Working Space WordPress Theme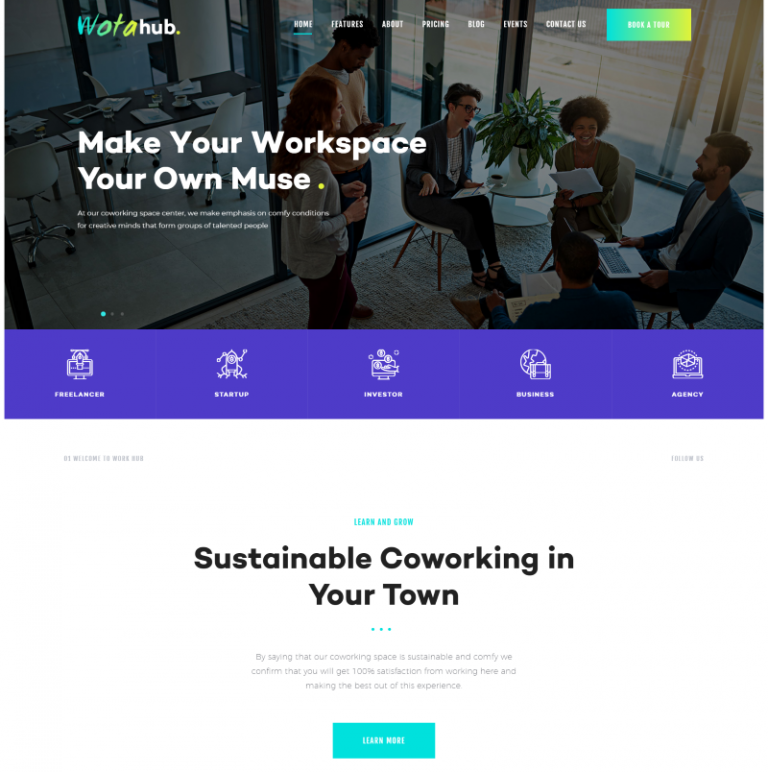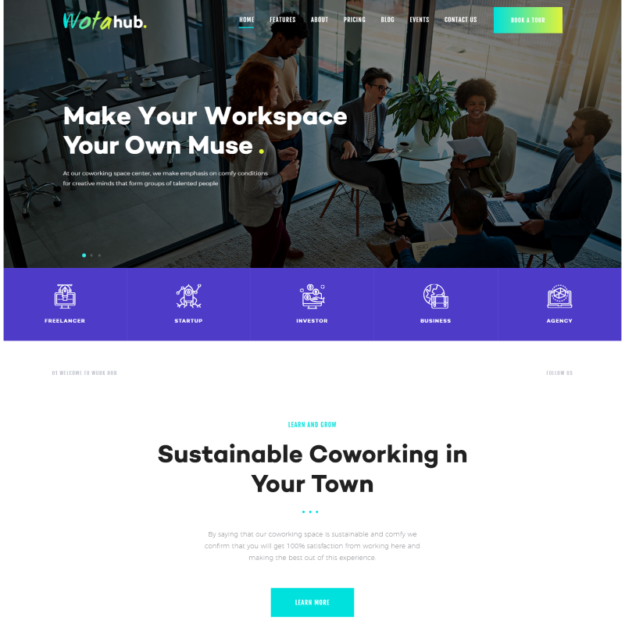 Galax Creative eCommerce Multipurpose WordPress Theme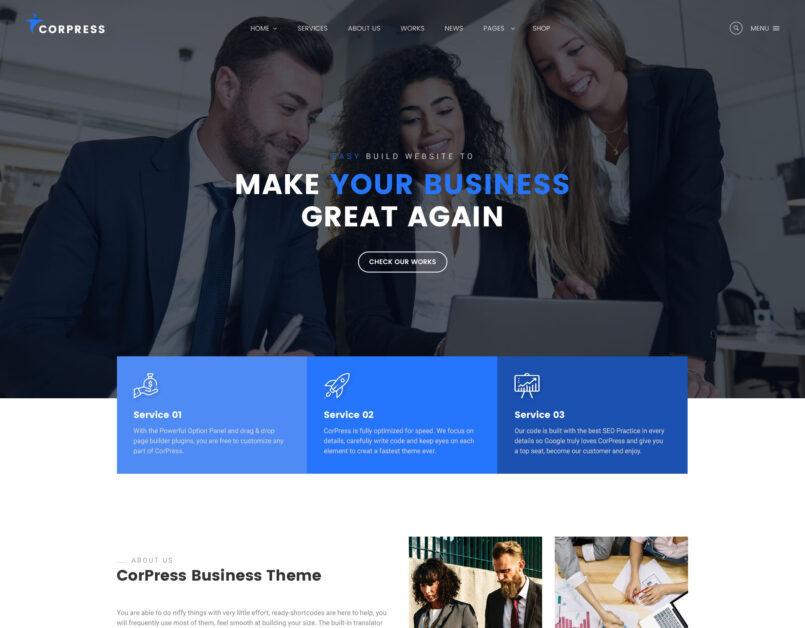 As soon as you come across a WordPress theme that meets your expectations, you can go ahead and download it to your own collection to Install and Activate it for further use.
Add Content And Customize Pages
As soon as your WordPress theme is installed and activated, you can start creating your content. Every premade WordPress design is unique. Nonetheless, lets' run through some of the major features.
Creating And Managing Pages
It's set as the default settings that every WordPress theme contains a dashboard in the left sidebar. With a click on Pages > Add New you can create custom pages for your site, specify their titles and build the page structure that you want.
Adding Pages To Menu
In order to link the pages of your site to the main navigation bar of your site, you need to do the following:
Click Appearance > Menus in the sidebar of your dashboard.
Choose the page that you created and add it to the list with a click on the checkbox next to it. Next, click "Add to Menu".

Managing Posts
If you need to write a new post for your blog or WordPress site, navigate to Posts on the dashboard of your site. Next, click Add New. This will open a post editing working area in front of you. The way you add different pieces of content for your blog posts is easy and intuitive.
It's set as default settings that WordPress allows you to work with your blog posts in both visual and HTML modes. You can write posts, upload images, set post categories, and add tags. As soon as you finish editing your post, you can make it accessible to your audience with a click on the Publish button.
What's more, the release of Gutenberg content editor has made it so much easier to create and modify your site's content in the visual mode. Simply switch to Gutenberg in your dashboard and start applying all necessary changes in the real time.
Installing WordPress Plugins
Plugins are extensions that expand capabilities of your co-working website while adding features and functions that do not come as built-in. As a rule, premium WordPress themes are loaded with all necessary plugins and extensions that are suited to be applied for niche-specific online projects.
Nonetheless, if you need to install more extensions on your site, go to Plugins > Add New and simply start searching. WordPress provides you with unlimited access to 25,000+ different free WordPress plugins. If you want to install a premium WordPress plugin, then you need to buy and download the chosen solution to your computer in order to upload it to your site later on.
Some of the major WordPress plugins that are included in premium WordPress themes include:
Revolution Slider;
WPBakery Page Builder;
Contact Forms;
Revolution Slider;
MailChimp, etc.
Conclusion
Wrapping it up, WordPress gives you the complete freedom to build a unique website that matches any necessary industry. Co-working WordPress themes can help you build truly impressive and effective online resources that make your venture stand out from the competition. Follow tips from this guide and get started with a fully functional website on your own!
Read More: Digital Marketing Tips to Help Your Business Succeed
---
Contact us, ThimPress:
Website: https://thimpress.com/
Fanpage: https://www.facebook.com/ThimPress
Youtube: https://www.youtube.com/c/ThimPressDesign
Twitter: https://twitter.com/thimpress