If you know how to "steal" from your competitors, you can earn high-quality backlinks without:
Paying thousands of dollars to site owners
Losing hundreds of hours to mundane research
Hitting "dead ends" every time you pitch for a link
But what do I mean by stealing?
I mean taking the hard work that your bigger and better-funded competitors are doing and using it to inform your own link building strategy.
You'll then position yourself to be included alongside, or even replace, any competitor backlinks. Saving you time, money and some nasty headaches.
What Is Competitor Backlink Analysis?
Your competitors are probably bigger and better funded than you are. They have big teams and deep pockets to help them find links and invest their way to the top spot with great conversion rates. So, why would you want to compete with them?
Instead you can spy on them and use their research to get the same links they do.
For example, if I run one of my better-funded competitors through the SERPed tool I can see where lots of their links are coming from: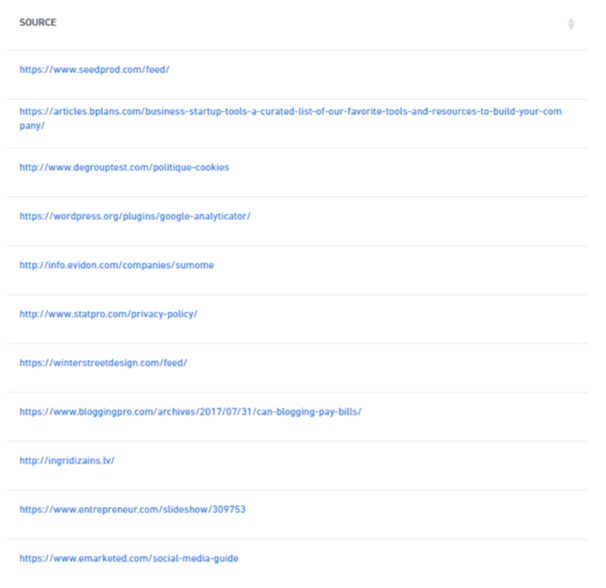 I can then create content that will position myself to either also gain a link from that site, or completely replace my competitor's content on their site.
You can do this for your competitor's entire link profile or the specific content you'd like to outrank in search results.
How Stealing Your Competitors Backlinks Works
When your competitor gets a link back to their website this becomes easily visible in a tool like Serped or Ahrefs. When you run their content through these tools you can see three key pieces of information:
The website providing the backlink
The quality of that website
The exact page on your competitor's website that is being linked to
Here's how that would look in Ahrefs (the numbers above match the numbers in the picture):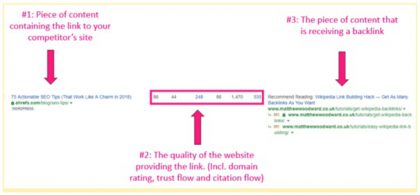 You can then use this to examine the content your competitor has created, and the page it's being linked from, to find your own link-building opportunities.
This is by following something similar to Brian Dean's method and creating content that is of a higher standard that would be better suited to this link. There are a few benefits to this:
You have to do less research
You can improve your SEO results while worsening your competitors
You have endless ideas for new content
You can build relationships for future link building opportunities
Now you know the why and the how, let's dive into the what and look at some practical ways to start getting those competitor backlinks.
How To Steal Your Competitors Backlinks
Step 1: Find The Top 10 Results
The first step is to find the top 10 results for the keyword you want to rank for. You can do this by heading over to Google and typing in your target keyword. Here's a sample of results for How To Start A Podcast: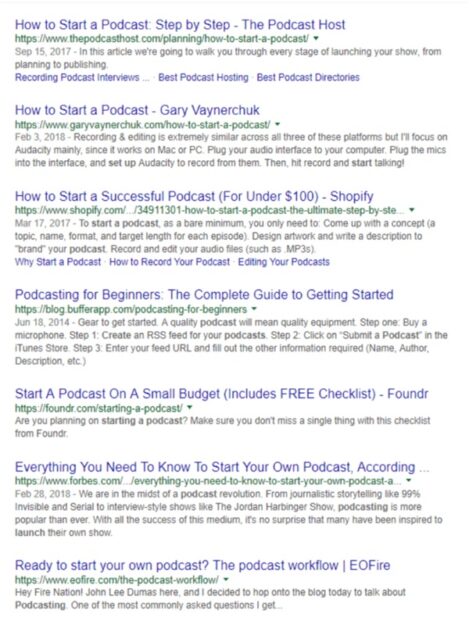 You're then going to copy and paste these links, one by one, into a competitor backlink analysis tool.
Step 2: Research The Competition
To find competitor backlinks you're going to need a competitor backlink analysis tool. You just pop the links into these tools and it'll show you a breakdown of the tools to that page.
There are three tools you can choose from:
1. Ahrefs
Ahrefs is one of the best backlink checkers in the world. They show you lots of data, and their database is often the quickest to be updated.
All you have to do is enter the link into their top search bar and you can see a comprehensive breakdown of the links to that article. You can also export this to Excel or Google Sheets as a .csv file.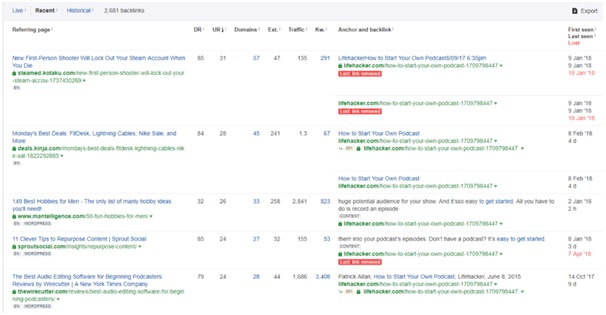 2. SERPed
SERPed has an incredibly in-depth Backlink Explorer tool that lets you see thousands of backlinks to any page.
What I really like about their page is that you can also see if a link is no-followed or do-followed, which can help you decided if a page is worth pitching.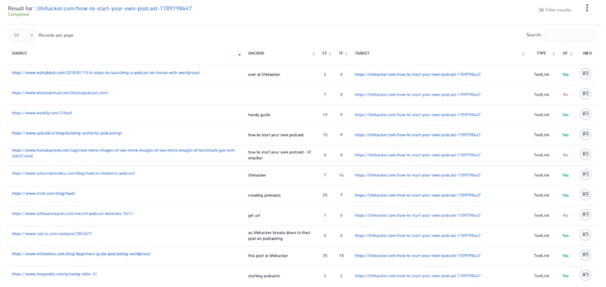 They also have one of the most comprehensive SEO suites on earth. So, worth the investment for any serious SEO.
3. Moz Link Explorer
Moz's Moz Link Explorer is a free alternative to the two tools above. You can use it to find the information for the last 50 sites who linked to this article. You'll also only see limited data about each site, and there are few options to filter.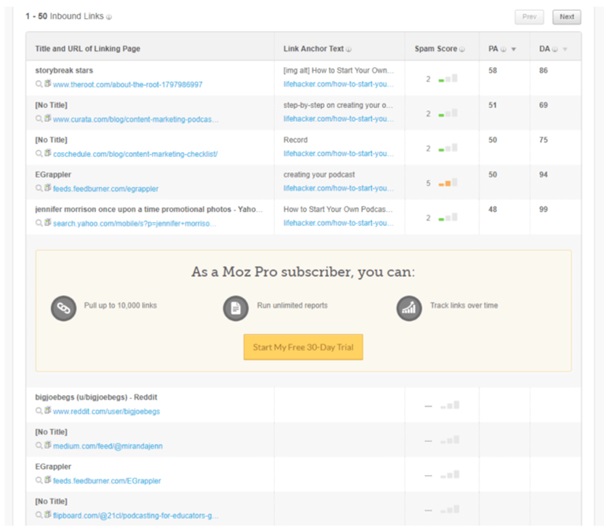 Good if you're on a tight budget or in a pinch. But I'd recommend one of the two tools above if you want to get serious backlinking results.
Step 3: Create A Master List Of Websites
Now you have collected as many backlinks as possible from as many sources as possible for each of the top 10 results we can move forward!
Open notepad and copy all of the links into one master .txt file and save it somewhere.
Next, we need to remove all of the duplicates which you can do with the free DupeRemove tool.
Or to do this an even easier way you can use a backlink analysis intelligent spreadsheet that examines all the data and tells you exactly which links you should be targeting.
Step 4: Create Better Content
With the links of site's you're going to contact in place, it's time to create the content you're going to pitch them with.One of the easiest ways to do this is to "Skyscraper" their content. That is, take their existing content and improve on it:
If it's a list blog post, add extra items and information
If it's a how-to post, go to more depth and show more examples
If it's a case study, show more relevant and up-to-date data
Step 5: Pitch The Blog Owner
Once your content is created it's time to pitch the site owners to try and get the link swapped for yours. You can find their information using a plugin tool like Hunter.io which should show you the website owner's email address when you visit their page.
You'll then want to pitch them something along the lines of:
"Hey [name],
I'm a big fan of [their blog] and I've been following you for a while. I really liked [post title] that helped me to [desired result]. Thank you!
Listen, while I have you, I've been working a post about [topic] and I think it would be a great fit to replace [old post and link] in your blog post here [link to post]. It's got lots more detail and ideas and it would provide a lot of value to your audience too!
Let me know if there is anything I can do to help you replace the link, or if there's anything you feel I could add to the content to make it better.
Have a great day,
[Your name]"
Step 6: Wash, Rinse And Repeat
As you work through the list replicating links you'll get a good feel for this process.
You will be able to uncover new opportunities, get a feel for what people like in your industry, and see what type of content gets the most links.
When you feel you've exhausted one keyword, move over to another and try again.
Conclusion…
Spying on your competitors and taking their backlinks is an easy technique to get easy wins when you're link building.
It works by identifying competitor's content. Researching who has linked to it. And then creating better content to use as a replacement for it.
You can do this by:
Researching the top 10 results for your target keyword
Adding those links into a competitor backlink analysis tool like Ahrefs or Serped
Creating a list of relevant websites to contact
Creating better content using the Skyscraper technique (or similar)
Pitching the blog owner
And then repeating this process until you see the results you want.
Read more WordPress Blog – Create a Blog easily with WordPress Theme