Displaying customer feedback on your WordPress site is the most important feature for selling your products or services. Keep in mind that customers usually read reviews before they decide to purchase. So if you want your brand to look more trustworthy and get more sales, you should find the best customer reviews plugin for WordPress.
In this article, we provide you with a list of customer reviews plugins for your WordPress website that our experts have tested carefully.
Keep reading!
Advantages of Using a Customer Reviews Plugin for WordPress
The customer reviews feature is an effective way to provide social proof to increase the trustworthiness of your company and encourage customers to make purchases from your website.
No matter how many high-converting WordPress landing page templates you have created, customer reviews can reveal features and benefits that you have missed. This can help you increase your sales and conversions. Reviews can also boost your WordPress SEO when you add more relevant keywords.
It can be very time-consuming to collect, organize, and present customer reviews manually. That's why your website should have a customer review plugin to display different kinds of reviews on WordPress.
Now, let's see the best WordPress customer reviews plugins.
Smash Balloon's Reviews Feed Pro – Customer Reviews Plugin for WordPress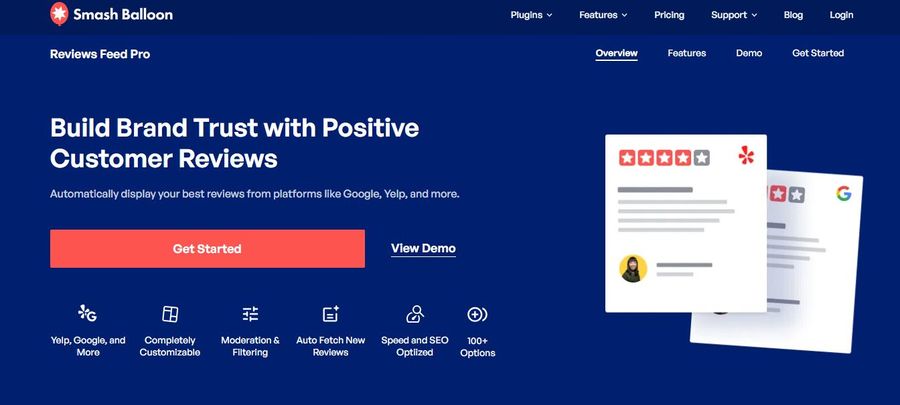 Learn More
To display customer reviews from various platforms on your site, Smash Balloon's Reviews Feed Pro is the perfect plugin you need. You can show the reviews from Yelp, Google, Facebook, Trustpilot, TripAdvisor, and WordPress.org with just one plugin, so you don't have to install multiple ones.
Moreover, Reviews Feed Pro automatically adapts to your website's design. So that, the reviews will seamlessly match your best WordPress theme.
You can customize your review feeds with Smash Balloon's easy-to-use editor, too. Of course, it's possible to change the default layout of your feed, select what content to display for every review, add a button to encourage action, and more.
When the review feed meets your expectations, simply add it to a page, a post, or a widget-ready area you want by using the Reviews Feed block or a shortcode.
Following the installation of the feed, you can see your reviews in real-time. This ensures that visitors always see the most recent reviews.
Displaying reviews of their locations, products, or services is a common goal for most business owners. However, showing customer reviews for another business might be something that some websites want to do.
For instance, a business directory or membership site may display reviews of different local businesses.
Customer Reviews for WooCommerce – Free WordPress Customer Reviews Plugin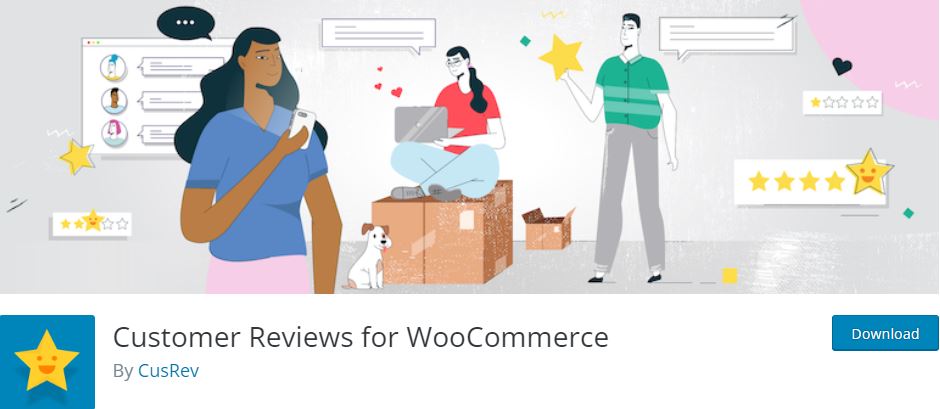 Learn More
Adding customer reviews to the product pages or others can be easily done with Customer Reviews for WooCommerce, especially if you have an online store with WooCommerce. The WooCommerce vs Shopify article will help you understand more details about these amazing platforms that you can use to create an eCommerce store. It's a free WordPress customer reviews plugin to download from the official WP repository.
It can verify if each review is from a real buyer or not. After that, it'll present a trust badge right next to verified reviewers.
Customers have the option to upload photos, give star ratings, and indicate if a review is useful. Adding FAQs and a section where customers can submit questions and get answers about your business or your products/services is also possible.
After a customer purchases a product, they will receive an email requesting feedback. This is an excellent method for obtaining more reviews, especially if you offer a coupon in exchange for a WooCommerce product review.
Customizing the review section, removing the plugin's logo, and changing its default email to match your business email address are some advanced features of the premium version.
WP Business Reviews – Customer Reviews Plugin for WordPress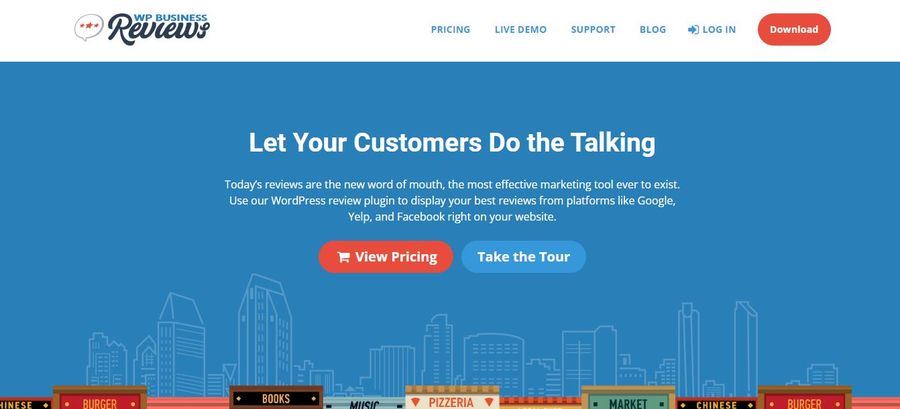 Learn More
WP Business Reviews is a famous customer reviews plugin for WordPress. It integrates well with Zomato, Facebook, Yelp, and Google reviews. Whether displaying reviews from other platforms in a single feed or setting up an individual feed for each one is available.
WP Business Reviews lets you tag and group reviews, so simply show feedback that relates to a specific topic, popular digital products, services, or anything else that matters to your business
The plugin lets you control the review content that shows up on your website with advanced filters without worrying about spammy or negative reviews.
Easy Testimonials – WordPress Review Plugin Free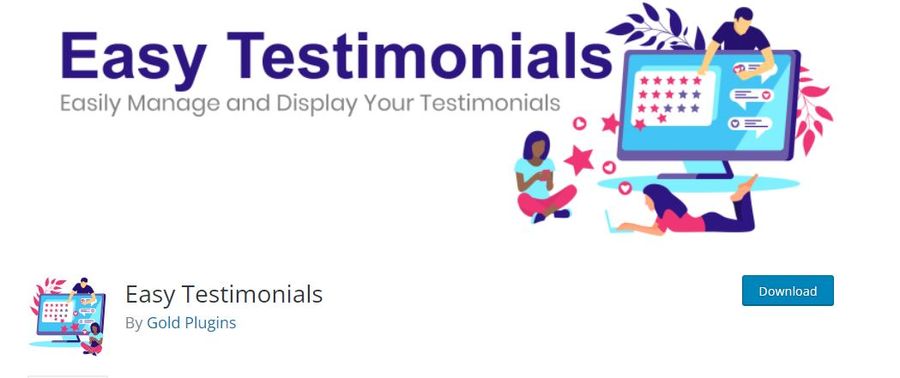 Learn More
Easy Testimonials, which sounds easy to use, is a WordPress review plugin free. You can download it quickly and without charge to add reviews & testimonials to your site.
There are over 25 professional pre-made templates to pick from and customize the look and content of your reviews. Displaying all your reviews, showing a random one, or making a slideshow of your reviews are some features of Easy Testimonials.
Easy Testimonials includes a number of widgets to display your reviews in the sidebar or other areas. It also includes a shortcode, allowing you to include reviews on any page or post you want.
With one of the new block-based themes, adding reviews to pages that are not customizable with the standard WP content editor is possible, such as your site's 404-page template.
Whether or not you have an SEO tool, it ensures that you'll find your testimonial properly in the search engines with JSON-LD markup.
WP Review Pro – Customer Reviews Plugin for WordPress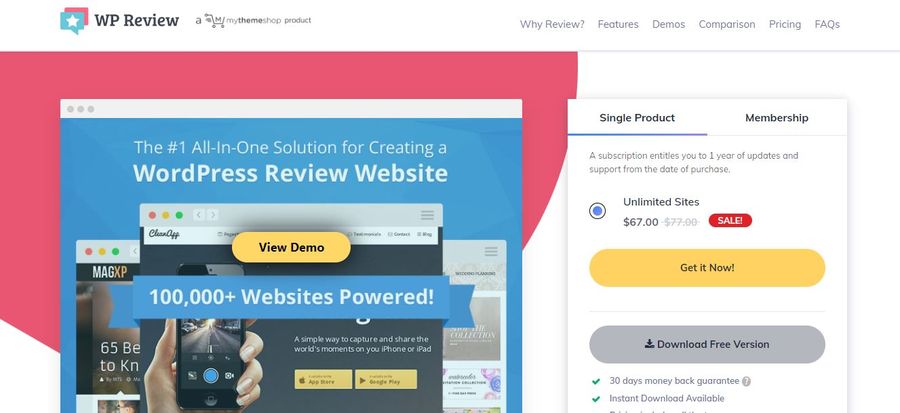 Learn More
WP Review Pro is among the most effective WordPress review plugins available. First and foremost, it supports 14 different types of rich snippets that can be applied to a variety of subjects, including films, books, and even paintings.
Aside from the 16 default design templates, you have a plethora of customization options. The review box can be any color you want, and there are five different rating systems to choose from: star, thumbs up, percentage, circle, and points.
Furthermore, the plugin allows your website to integrate with Google, Facebook, and Yelp to increase the credibility of your rating.
Taqyeem – Site Reviews Plugin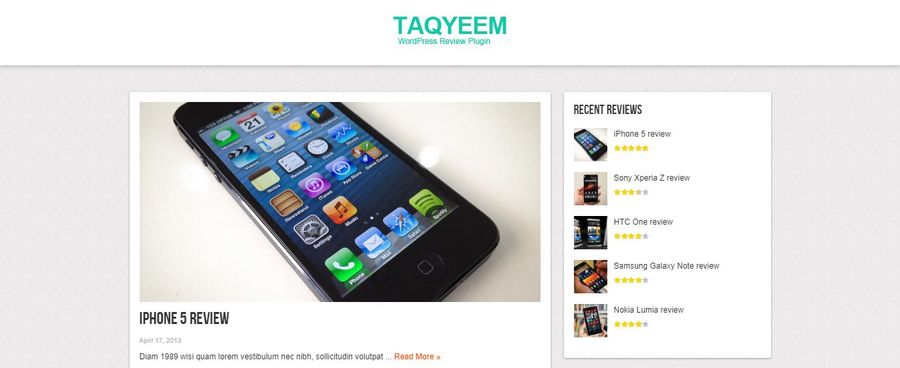 Learn More
Taqyeem is easily the best-rated premium site reviews plugin due to its low price and extensive feature set. For a one-time fee of $29, you'll get a powerful tool to rank better in search engines.
It has a dependable schema markup implementation, regardless of whether your review is a post, custom post, or page type. Even your visitors' ratings can help your website become more SEO-friendly.
You can enter as many criteria as you want. There are three rating styles (star, points, and percentage) and the icons (love, thumbs up) can be changed. It works with more than 500 Google Web Fonts and typography. Each element of the review box can be any color you want.
Finally, if you have numerous different products to sell, you'll be glad to know that Taqyeem's widgets can display the most famous and recent items, as well as those from the same brand.
Which is The Best Customer Reviews Plugin for WordPress?
Smash Balloon Reviews Feed is totally suitable for you to display customer reviews from all of the top 3rd-party websites. If you are on a tight budget, you can download free plugins with powerful reviews features, such as Customer Reviews for WooCommerce or Easy Testimonials.
FAQs About The Customer Reviews Plugin for WordPress
Is there a Google reviews WordPress plugin?
Smash Balloon Reviews Feed and WP Business Reviews both support displaying customer reviews from your Google business page.
How can I add customer testimonials to my WordPress site?
You can manually copy and paste testimonials into the content of your WordPress website. A testimonials plugin, on the other hand, allows you to easily display customer reviews in a grid, carousel, slider, and a variety of other stunning layouts.
Read More: LearnPress Course Review Integration Guide: Step-by-Step
---
Contact us, ThimPress:
Website: https://thimpress.com/
Fanpage: https://www.facebook.com/ThimPress
Youtube: https://www.youtube.com/c/ThimPressDesign
Twitter: https://twitter.com/thimpress