The plugin "The WordPress Multilingual" WPML is displayed in this manner on its website's home page.
You should wager on translating your website into various languages. It's the original, having been available since the beginning of the millennium before the WPML WordPress plugin 4.6 version had even been released.
The one that is extremely popular, with more than a million users worldwide—quite a few people.
Automatic Translation WPML is the core multilingual plugin for the WordPress ecosystem, so the answer is yes. Is it a plugin to use on your website, though? You'll learn that from this in-depth examination of a plugin that has recently gained a lot of attention.
What is WPML Plugin?
What Is WPML In WordPress?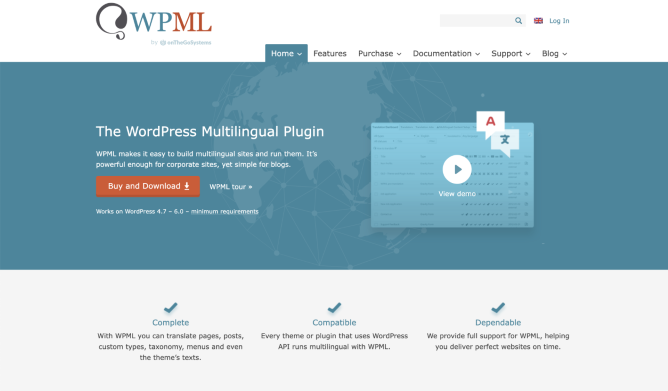 First of all, you should have a good understanding of "What Is WPML In WordPress?" According to its About US, the premium WPML Plugin "makes WordPress run multilingual." The plugin "allows authors to write content in various languages and translate content," according to the statement. Additionally, WPML Translation Management has a professional content translation interface and advanced translation management features.
This plugin, which was introduced in 2007, is the "big boss" of WordPress's multilingual plugins in terms of the user base. The data it provides indicates that this multilingual plugin is the most widely used plugin on the market, being used on about a million websites.
Comparatively, Polylang, its main rival, claims that its plugin has more than 600,000 active installations.
The organization OnTheGoSystems, which is responsible for the WPML Plugin, also provides additional tools like:
Toolset plugin supports adding custom post types, fields, and taxonomies to your WordPress website.
IcanLocalize is a reputable translation agency.
The advantages of WPML
WPML WordPress plugin focuses on quite a few assets, which are emphasized on its home page, which may explain how it has been capable of carving out a sizable portion of the market for more than ten years:
All the components of your website, including posts & pages, widgets, menus, and custom post types, are translatable. Not to mention the Popular WordPress themes and your plugins' texts.
The following well-known themes and plugins are compatible with it: Yoast SEO, Elementor, Divi, Gravity Forms, and WooCommerce.
WPML Plugin aids in multilingual SEO site optimization.
It enables you to translate the content of your WooCommerce-powered online store.
It is intended for its support (user assistance) to be extremely responsive.
How To Install WPML Plugin In WordPress
How Does WPML Work?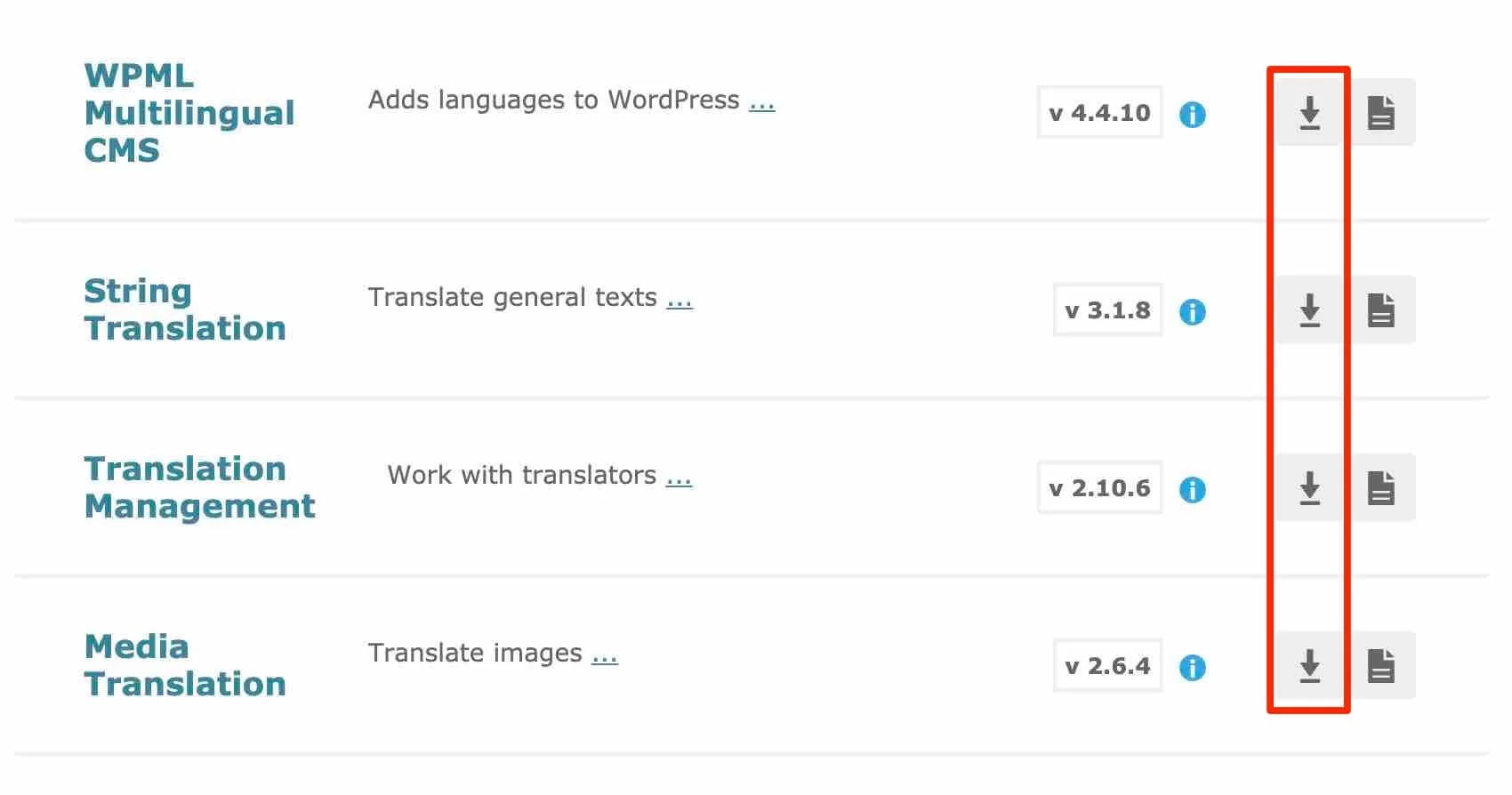 It is important to explain how plugin WPML functions before downloading and initiating the plugin on the WordPress website using your WPML.org login account.
You will have access to 14 plugins on your account's downloads page. Four of them, which "every multilingual site needs," in the words of Automatic Translation WPML, are what it advises you to install (and not only one, be careful):
WPML Multilingual CMS: It is the foundational plugin or its Core.
String Translation: According to WMPL, "texts that are not included in the publications, pages, or taxonomy" should be translated on your website (e.g. widget titles, site slogan, etc.).
To manage your translations and collaborate with a group of translators or translation services, use the WPML Translation Management module.
This module has been incorporated into the WPML core, within the WPML Multilingual CMS plugin, ever since this plugin version 4.5 was released in October 2021. Thus, you are no longer required to activate it.
To "select images as well as other media for the translated content," in the words of Media Translation.
Each plugin can be downloaded by clicking the arrow on the image above.
A 6-step Instruction to Install WPML
When it's finished, a wizard will guide you through configuring the initial settings, which we'll walk you through in detail just below.

To begin, select "Configure WPML" from the menu.
Step 1: Define your site's languages.
You must first decide on the language that will be your site's default as well as the languages that you would like to translate it into.
With roughly 60 languages available, from English to Spanish, including Welsh and Quechua, there is no lack of options.
Additionally, regional languages like Catalan and Galician are accessible through WPML WordPress.
You can, of course, add or remove a language later if your decisions have not yet been made.
The website is translated into French and Spanish for this test.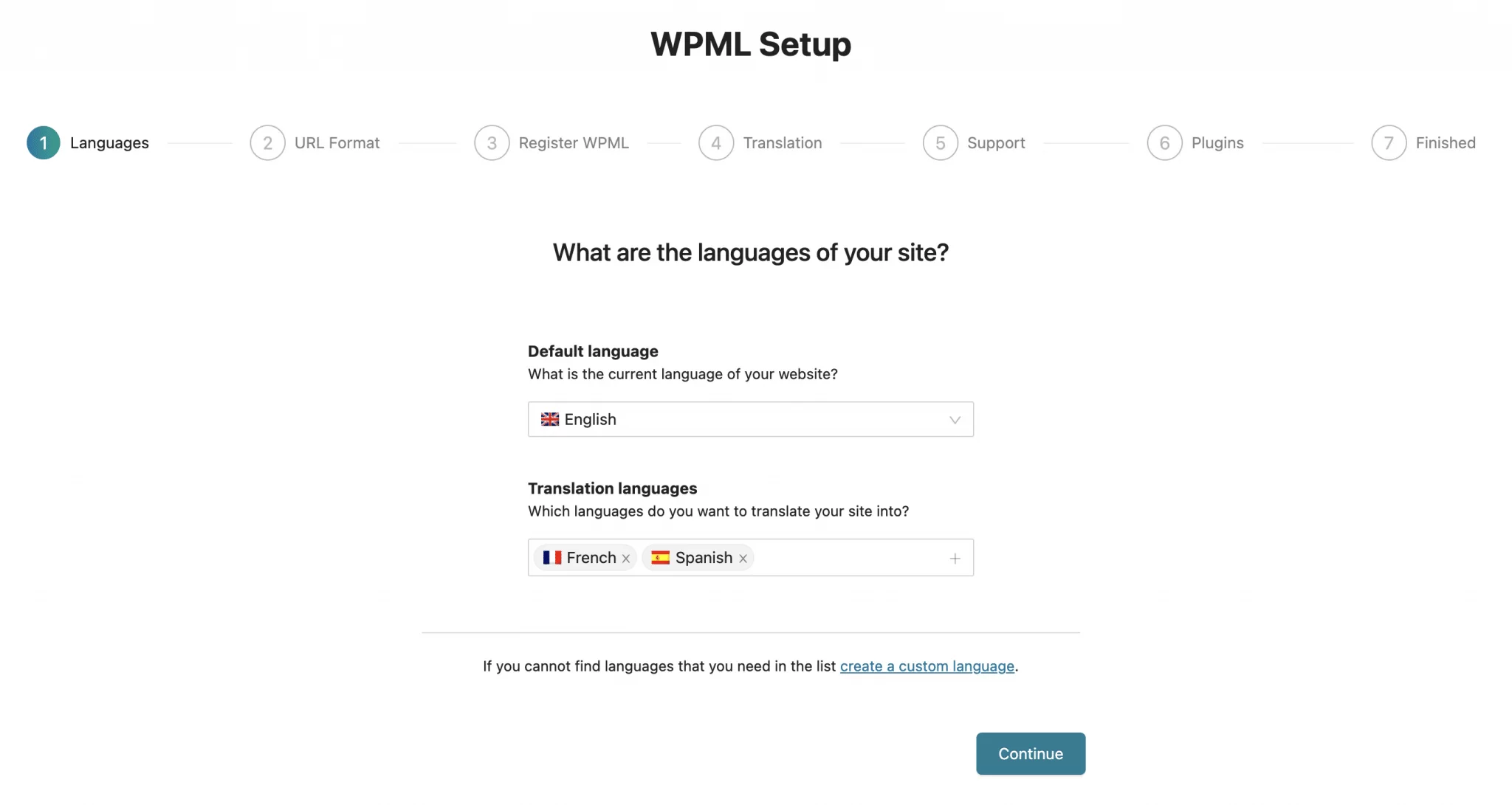 Step 2: Choose the URL format.
You have a choice of three options from Automatic Translation WPML:
The directories are in various languages. For instance, businesswebsite.com/fr/ is for French and businesswebsite.com/en/ is for English.
A distinct domain for every language. Mysite.com for the English version and Businesswebsite.fr for the French version, for instance,
Added as a parameter is the language name. For English, use Businesswebsite.com?lang=en.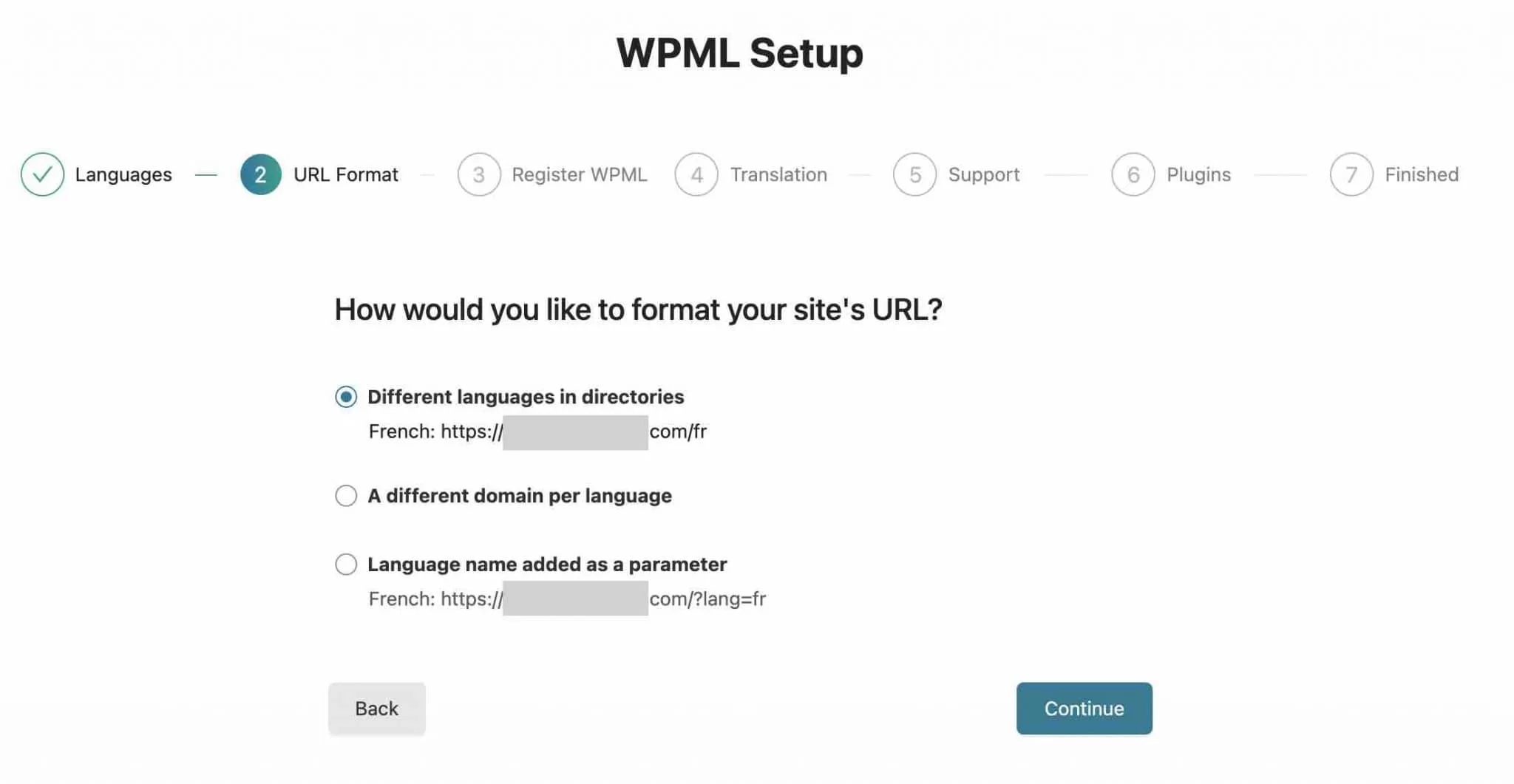 The project you're working on and your needs will determine which structure you choose. Alex, for instance, decided to start with a URL structure based on the directory name for the English version of WPMarmite, which is displayed in this format: https://wpmarmite.com/en/. He kept the primary domain name with a language slash.
WPML Translation Management states that in order for the "A different languages in directories" option to function, "your site's permalink structure must be different from the default" (although you've probably already set that option).
In this situation, we advise using the "Post name" option under Settings > Permalinks.
If you decide to modify your permalinks' structure, exercise caution. The idea is to complete it as soon as WordPress is installed. If you do it later, your content will need to be rerouted because the format of the URLs has changed, which will cause 404 errors for your visitors.
Step 3: Sign up for WPML
It is now necessary to sign up for your plugin license key in order to receive the plugin's automatic updates, which is usually a smart idea, especially for security concerns.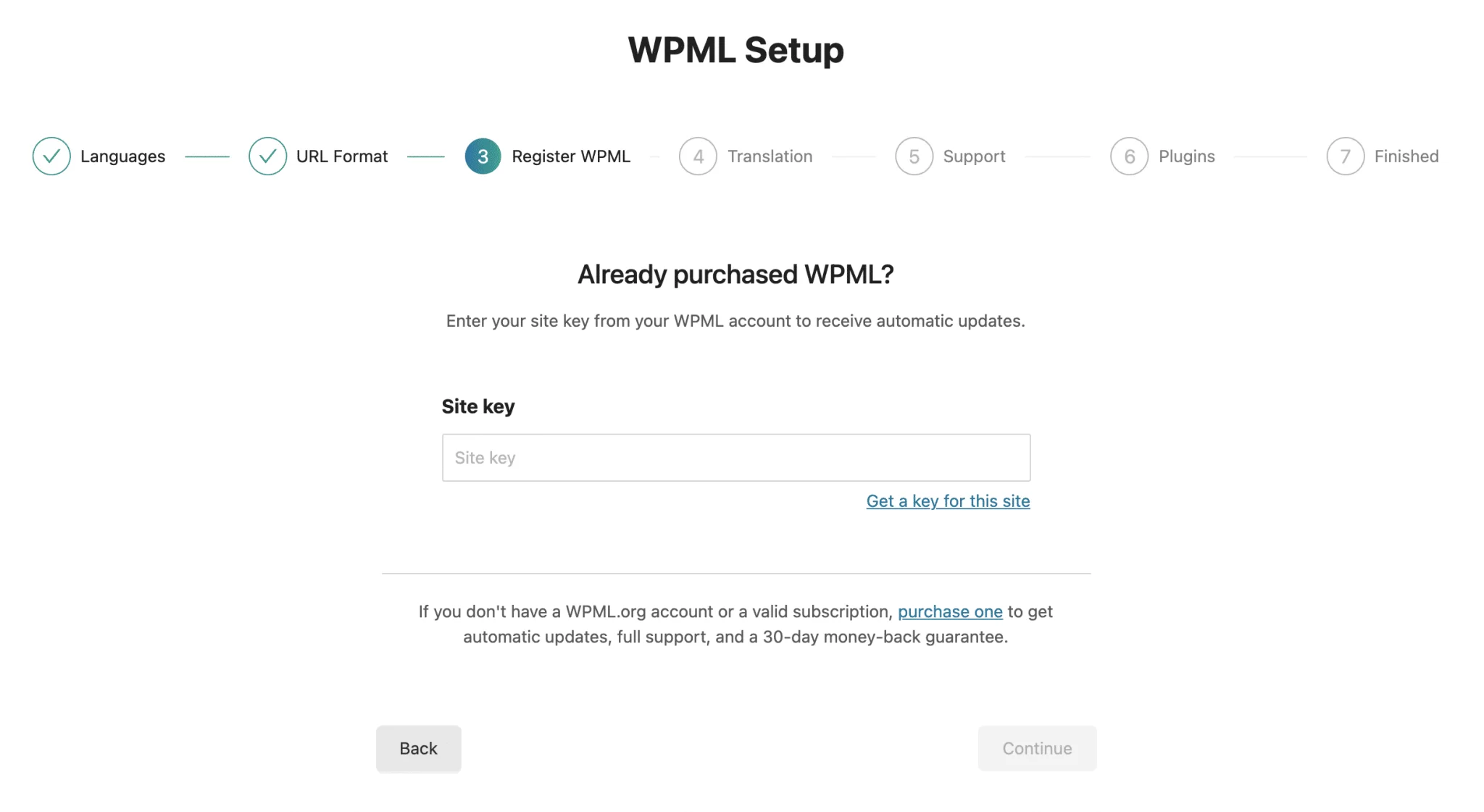 Step 4: Choose a translation mode.
You must first decide how you will translate your website in the fourth step:
Either all of your website's content will be automatically translated.
If you do not want to translate the entire website, you can also translate the content of your choice, case by case.
Then, you can pick and choose whether the content will be translated by you, another user who serves as a translator, or a specialized translation service.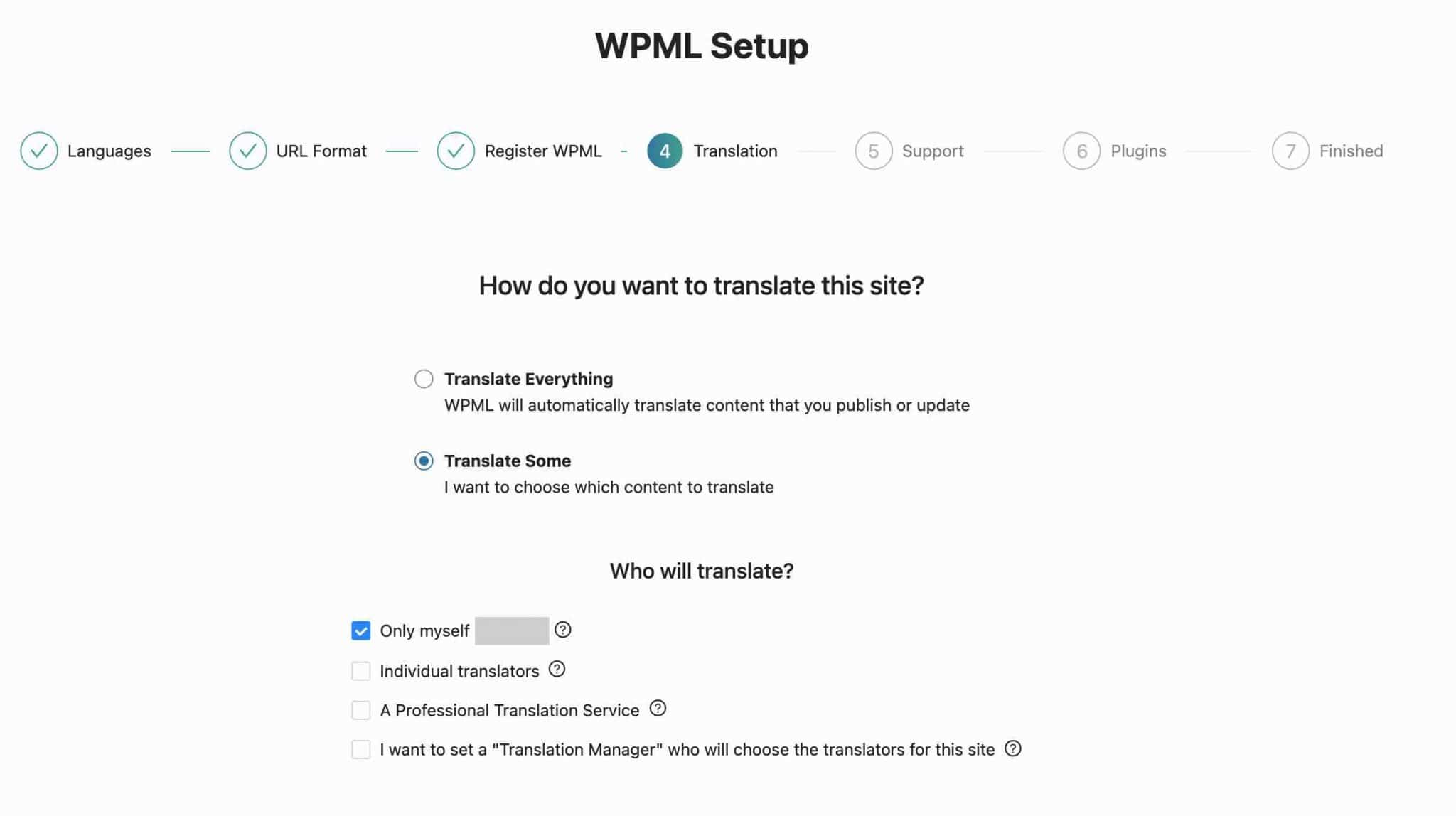 Your decisions at this point are, of course, not binding.
In the WPML Plugin settings, you can make any changes you want later. Leave the default configuration if you are unsure.
Step 5: Establish a technical support system.
In order to "help you much faster," "about potential compatibility problems," WPML now requests you to specify whether you want to "send a list of the current plugins and theme being used your site."
If you find it applicable, you can use this to check the appropriate option.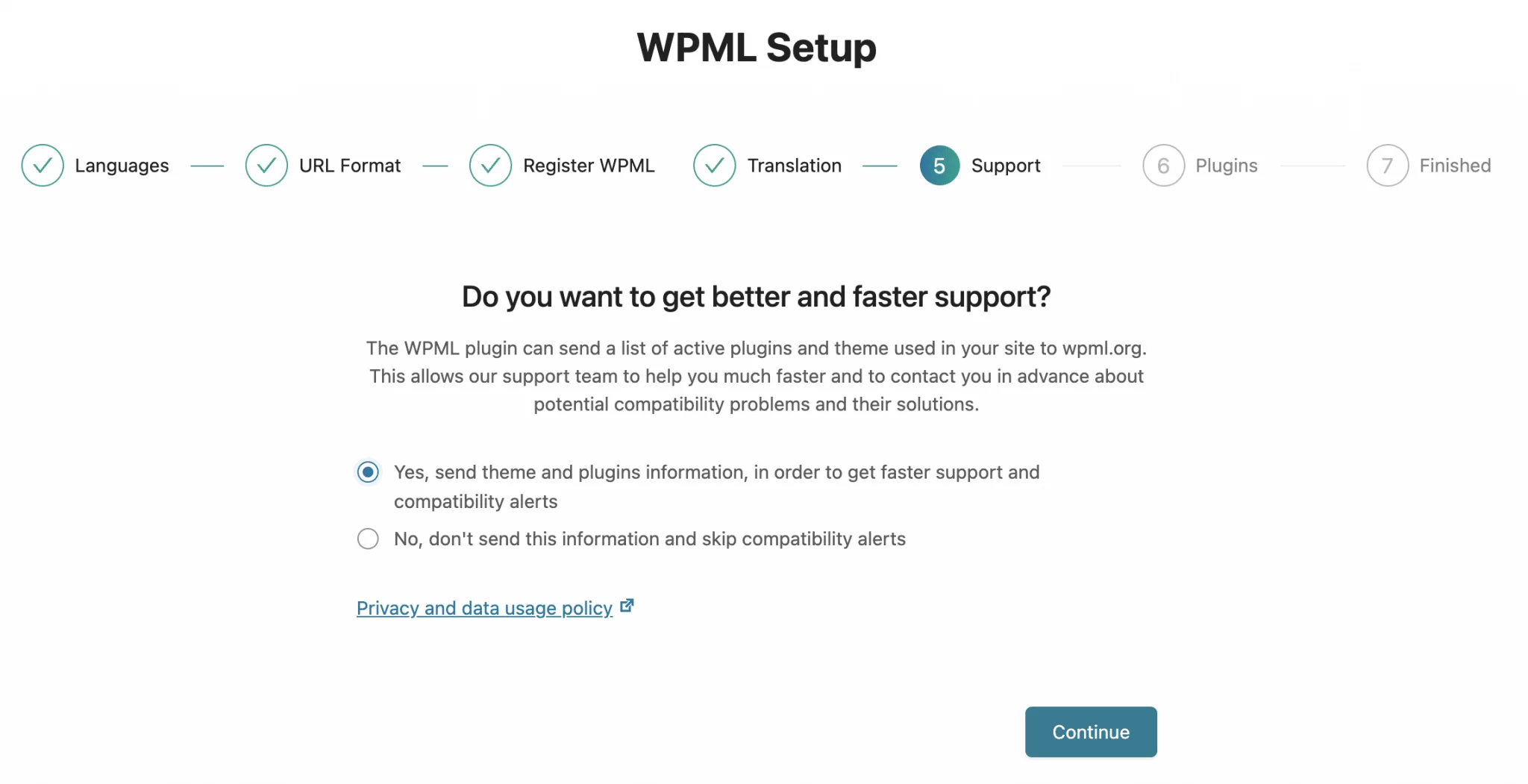 Step 6: Turn on any WPML extensions.
Activate some of WPML's add-ons, the company advises, to "translate strings, media, admin texts, and more."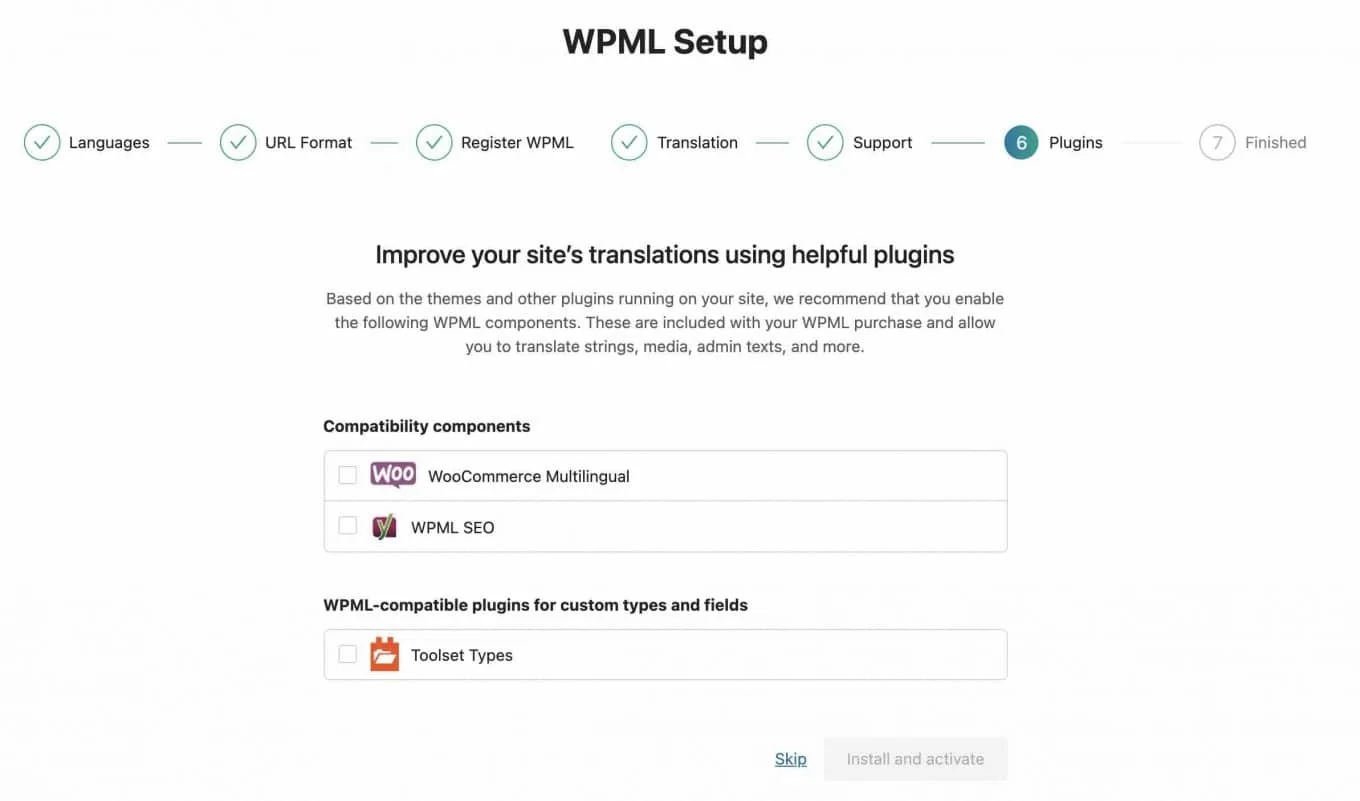 This outstanding plugin directs you to the "Translation Management" drop-down list in your WordPress administration interaction once you've finished your work.
You can begin your first translation jobs here. The navigation bar to the left of your administration interface also has additional submenus (their number also depends on this plugin's modules you have installed, so it may be different for you). Here is a brief overview of them, down below.
You can easily Uninstall WPML whenever you want without any trouble or difficulty.
Presentation of the WPML menu
Displaying the WPML menu
There are 11 submenus in the WPML WordPress plugin menu: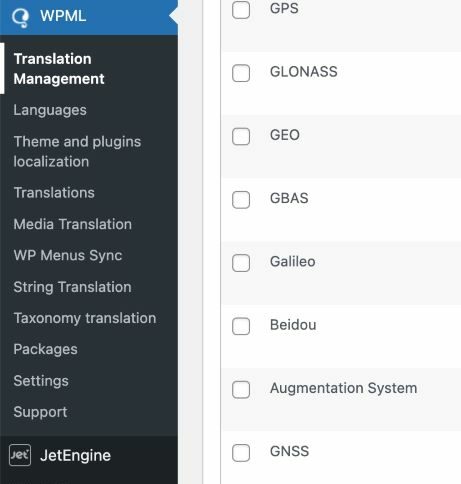 You can work with a group of translators or translation utilities by using the dashboard provided by WPML "Translation Management ."You can send materials for translation and monitor the status of ongoing projects.
The broadest category is "Languages." The majority of your settings, including language selection for the language selector and URL format, are made here.
Lists the strings (content) that this excellent plugin has identified as being present in your plugins and themes under "Theme and plugins localization."
Your pending translations are listed under "Translations."
You can use the WordPress Media Library in different languages by using "Media Translation." You have control over which images are shown in each language.
You can synchronize the menu system between the primary languages and the default language using "WP Menus Sync."
Without using.mo files, "String Translation" will enable you to translate the interface strings directly from WordPress.
You can translate your taxonomies using the "Taxonomy Translation" submenu (e.g. categories, tags).
The strings produced when a page is translated using a page builder can be found under "Packages" here.
Use the checkboxes in "Settings" to configure the most fundamental settings. You can clearly state how to translate publications and pages, pick options for synchronizing publications and pages, etc., among other things, here.
"Support" provides links to technical support as well as details about this plugin and WordPress configuration.
Conclusion
One of the best multilingual plugins available today is WPML WordPress plugin. You now have a thorough understanding of the WPML Plugin and how to add it to your website after reading this article. Of course, there are a lot more facets of this plugin to take into account. Follow ThimPress on all available platforms to stay up to date on information about this exceptional language plugin.
Read More: Polylang vs WPML Combats To Become The Best Multilingual Plugin
---
Contact us, ThimPress:
Website: https://thimpress.com/
Fanpage: https://www.facebook.com/ThimPress
Youtube: https://www.youtube.com/c/ThimPressDesign
Twitter: https://twitter.com/thimpress