If you wish to start your online education portal, Let's get a Free WordPress LMS Plugin. They may be used for nearly any eLearning purpose. These tools are simple to use and versatile, whether you are establishing a university or affiliate course.
An LMS is a platform for creating an online course website. You may now utilize a free WordPress LMS plugin and all of its features. In other words, although it used to necessitate a great deal of money and time to create an online learning website, you now simply need a few tools and the rest is history.
Once you've secured hosting and a domain name, all you need to get started is a WordPress installation, a theme, and the best LMS plugin for WordPress.
Another benefit of using a powerful free WordPress LMS plugin and elements is that no coding is required. No matter how inexperienced you are, you may easily and rapidly Create a website using WordPress for your online courses. The documentation and support are very good, facilitating a smooth website launch.
In the collection below, you'll find all free as well as paid solutions to help you start right away. Spread the word with style, welcome new students, and realize your ambitions.
10 Free WordPress LMS Plugins to Compare

Learn More
LearnPress is the free WordPress LMS plugin that does everything. This appears as the best LMS plugin for WordPress producing and marketing online courses. Producing and managing curriculum content such as lectures and quizzes become easier with a simple user interface. With this plugin, you can now quickly and easily create online courses, educational websites, and online schools without any coding knowledge.
This free WordPress LMS plugin is a superb user interface for creating online courses with all of the functionality you want. It is simple to develop, alter, and administer a whole curriculum system. LearnPress also allows you to import and export your courses to various websites. You may utilize the course you created to share, manage, and analyze data on trends, students, and others.
Additionally, BuddyPress themes encourage engagement with your students or teachers through the WordPress community. Moreover, because of its well-known platform, a plethora of LearnPress Shortcodes for displaying plugin functionality or adding dynamic material to the WordPress editor was offered by this free WordPress LMS plugin.
Despite the fact that LearnPress is free, you may sell your lessons using a variety of payment options, like WooCommerce, PayPal, Stripe, and others. However, it is a premium plugin that will undoubtedly assist you in generating cash from your Website builder LMS. This lightweight and robust free WordPress LMS plugin comes with a bevy of LearnPress Add-Ons to supplement its core system.
Get the Eduma, Coaching, or Coptrain themes – WordPress LMS Themes designed specifically for LearnPress. These excellent WordPress Themes are suitable for your LearnPress Online LMS & Education websites due to their modern and crisp appearance.
With over 50 demonstrations to choose from, you should be able to choose one that best matches your needs and style. Simply try out this best LMS plugin for WordPress.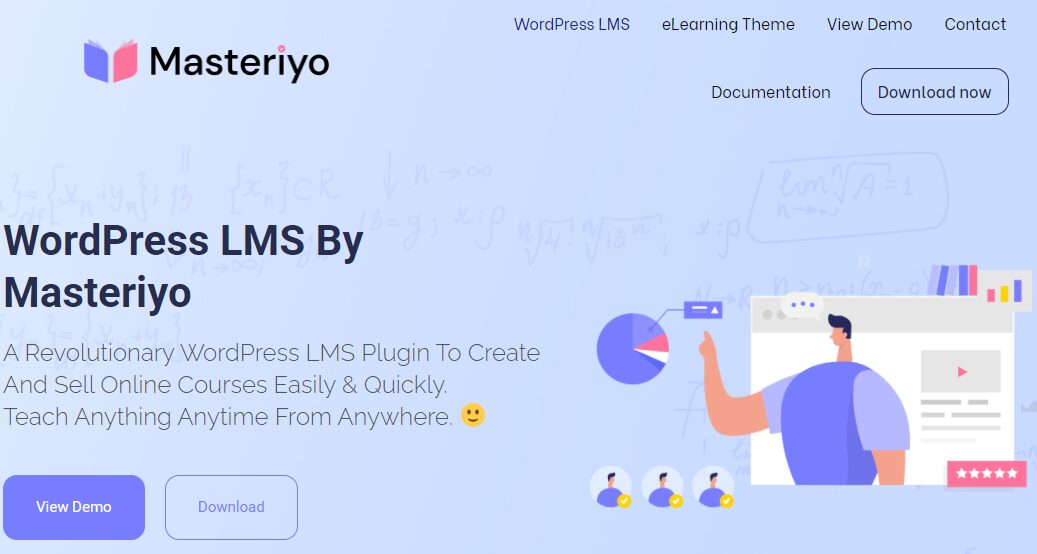 Learn More
Masteriyo, a revolutionary Free WordPress LMS Plugin, is a shop for anybody wishing to make and sell courses online. Even non-technologists may quickly add lessons, courses, and quizzes using its user-friendly and uncomplicated course builder. The good news is that you can create an unlimited number of courses, lessons, and examinations.
This WordPress LMS plugin is available in both free and premium editions. In addition to the free version, Masteriyo provides three premium subscriptions. The annual cost of a single-site license is $199. A five-location license costs $299 per year. Similarly, a 99-site license costs $499 per year. Furthermore, all premium plans qualify for a 75% introductory discount.
To top it all off, all premium plans come with premium support through live chat and email, updates for a year, Stripe integration, WooCommerce integration, download materials, a certificate, and a slew of other features. Furthermore, any theme created in compliance with WordPress LMS Themes requirements is completely compatible with this best LMS plugin for WordPress.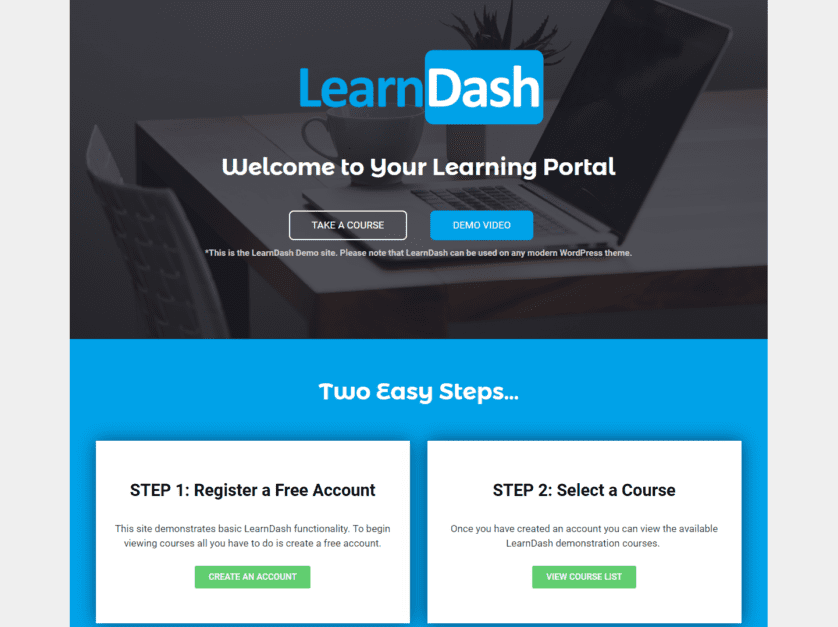 Learn More
Similar to LearnPress, LearnDash is widely regarded as the top LMS plugin for WordPress. One notable feature is the drip feed option, which allows you to schedule your course with multiple timelines.
This feature enables you to plan seminars covering various topics beyond just orientation, fostering engagement and inquiry among students. Additionally, LearnDash provides several monetization options, including membership, shopping carts, subscriptions, and course licensing.
When it comes to versatility, this WordPress LMS plugin allows you to incorporate audio, images, videos, and Google Docs into your courses, preventing students from getting bored with repetitive learning methods.
Furthermore, LearnDash offers a range of add-ons such as LearnDash Notifications, GamiPress Integration, and Paid Membership Pro Integration. However, to access more prominent features, you will need to pay a fee for each add-on or opt for the pro edition, which includes all add-ons. The pricing is based on an annual subscription model, offering a fair cost in the short term while maintaining fixed pricing for a year.
LearnDash offers a free trial and you can make a purchase decision if you like it after using it. A one-year membership for LearnDash costs $159, granting you access to all features of one site. The 10-site license is priced at $189 per year, while the 25-site license costs $329 annually.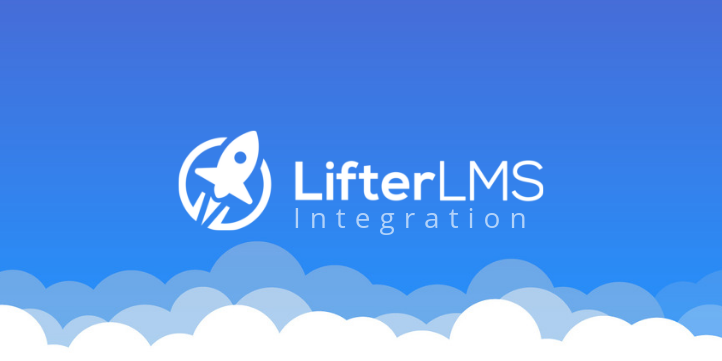 Learn More
Lifter LMS is a viable alternative to LearnDash. A full LMS package, on the other hand, starts at $299 per year. However, you may be able to save money if you purchase the add-ons individually, as they cost each $99. The add-ons already bring the package's price to $299, which includes hundreds of modules.
The unique integrations with WooCommerce, AffiliateWP, and MailChimp of this free WordPress LMS plugin, on the other hand, distinguishes itself from others. Best Free WordPress Plugin may be preferred to LearnPress if you currently use a handful of the Lifter LMS connectors. There is also a $1, 30-day trial edition available, providing you far more reason to try Lifter LMS before buying full price.
This free WordPress LMS plugin is also well-known for its services, which offer a bundle that includes example quizzes, sample courses, certificates, and a fully-functional website. This might be beneficial for folks who aren't particularly technical but have information on hand.
The features are similar to LearnPress, however, there are a few notable differences. For example, this free WordPress LMS plugin has a graphics package that includes backgrounds and other design elements. Customer testimonials can also support you to sell courses in the future.
Another factor that makes the Lifter WordPress LMS plugin interesting to novices is its compatibility with Divi and Beaver Builder. These drag-and-drop designers do away with the necessity for coding and give a more visual design experience.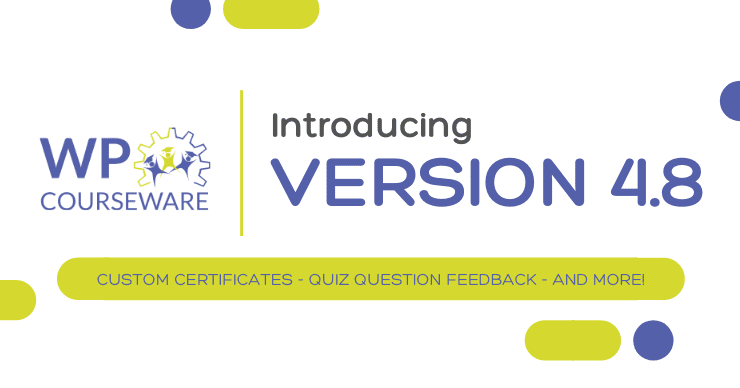 Learn More
For these reasons, WP Courseware is one of the most promising and best free WordPress LMS Plugins. To begin with, the price is far less perplexing than that of certain competitors. In fact, the lowest plan, which starts at $99 annually, includes a two-site license as a bonus. The on-site demo is the closest thing to a free trial, but it's a beautiful design with authentic course content to get your creative juices flowing.
Several of the world's finest universities, including the University of Illinois and Wisconsin Madison, use this WordPress LMS Plugin. WP Courseware solutions are now available on business training websites like CNN and Sheraton.
This plugin, like many other free WordPress LMS plugins, has an impressive set of features, beginning with the drag-and-drop editor. You can quickly create courses and even protect them from theft. The wide range of connectors available in WP Courseware is an impressive feature. One of them is WooCommerce, while others include BuddyPress, OptimizePress, and Visual Composer.
WP Courseware includes teacher profiles, student grade books, and a variety of additional features that contribute to a more engaging user experience. It also includes a question library, allowing you to rapidly build quizzes for various courses and modules.
WP Courseware includes robust monetization capabilities if you wish to sell your online training. This includes a shopping cart that you can use to connect straight to PayPal or Stripe and begin selling your courses as a one-time purchase or recurring subscription.
Accommodating an infinite number of students and an endless number of courses become easier with this free WordPress LMS plugin. This implies that WP Courseware may help your online learning business flourish in the future.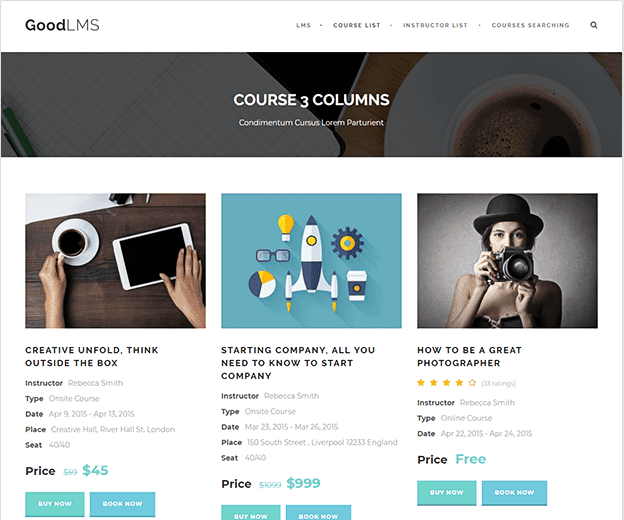 Learn More
Good LMS is the only acceptable best LMS plugin for WordPress available for $32. This is noteworthy since there are other plugins for various WordPress themes that are relevant. It is not a free WordPress LMS plugin, however, only covers maintenance and upgrades for one year, but the one-time purchase keeps you in command of the plugin's capabilities. As a result, it is the cheapest premium plugin on our list.
A good LMS, such as the majority of exceptional WordPress LMS plugins, lets you design courses, sell them, and incorporate quizzes and certifications. The creative process is handled in the same way that a standard WordPress blog post is, with quizzes, certificates, and courses made easily by the WordPress admin. Setting a commission charge for an instructor helps you manage the people on your team, and the course process meter provides great insight into student achievement.
Because course evaluations are accessible, this WordPress LMS plugin appears to be a viable option for anyone wishing to set up a course marketplace.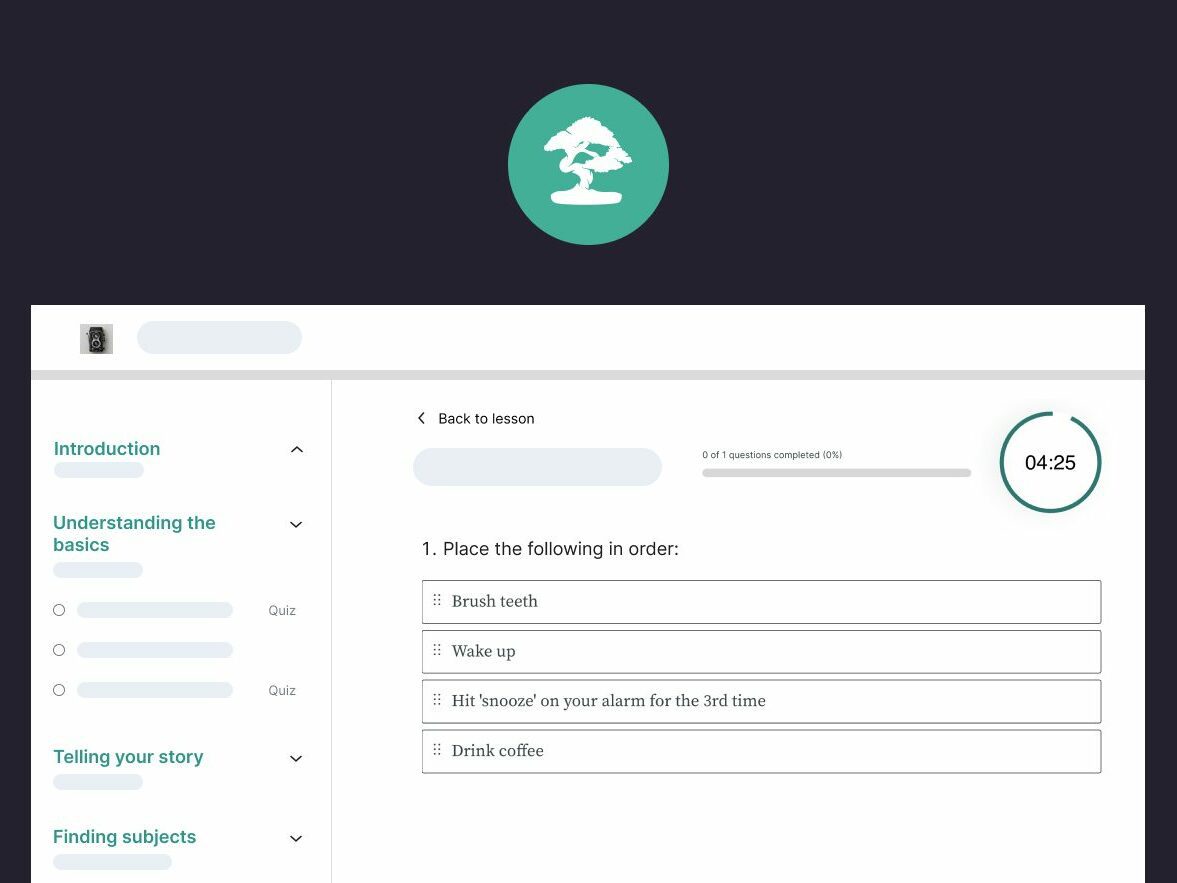 Learn More
Sensei is a shockingly cutting-edge free WordPress LMS plugin that will let you quickly and easily create an online course website. You do not need to second-guess yourself because Sensei LMS is available. Like every best LMS plugin for WordPress, this plugin has quick integration into WordPress as well as seamless WooCommerce compatibility for passive money creation.
For those searching for quick treatment, Sensei LMS is the shortcut that assures a wonderful final outcome. Not only that, but you will avoid coding entirely. It is not necessary to pay a hefty fee to a developer and designer to start things. The majority of the work is done for you by this best LMS plugin for WordPress.
While you may start for free, Sensei LMS offers a variety of free and paid add-ons. This implies that you may carefully tailor your online learning program to your needs. Only after you use this best LMS plugin for WordPress will you realize how easy but effective it is. You will receive paperwork, assistance from the team, and a 30-day money-back guarantee. You should, however, first look at some examples of effective online courses offered by other websites.
Sensei Pro LMS was built and is maintained by Automattic, the company behind WooCommerce and WordPress.com. They initially constructed this product for their private usage before deciding to make it public. Today, all staff training is using this best WordPress LMS plugin.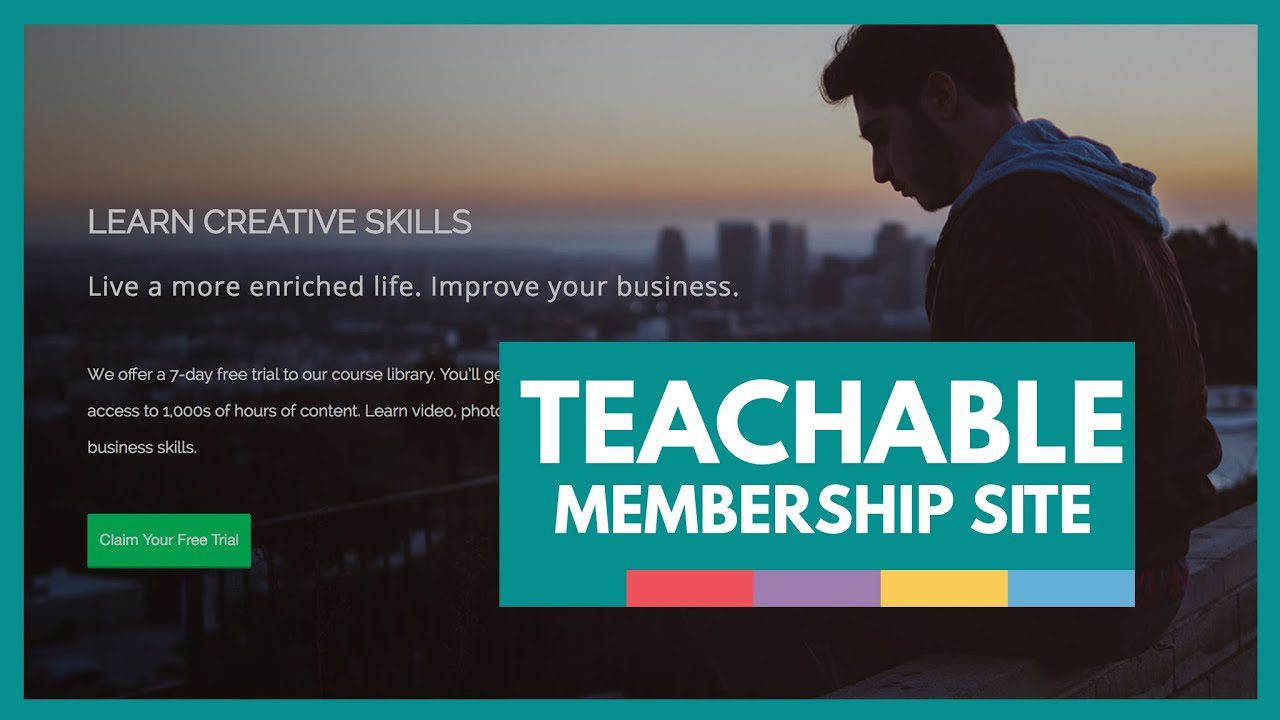 Learn More
Teachable is a robust frictional pressure course creator. It, unlike the other LMSs on this list, does not feature a WordPress LMS plugin. As an alternative, you may utilize Teachable on a customized domain name, a sub-domain, or just by adding a link to your school's page.
This LMS hosts your course and gives you all of the tools you really have to develop highly engaging online courses. It also has built-in email marketing integration and a strong sales page builder for promoting your new training business.
Teachable has built-in analytics and comprehensive data reporting to help you fine-tune your training. This allows you to track student involvement and tweak your courses to increase sales, signups, and course completions. It integrates with a variety of prominent third-party marketing platforms, such as Mailchimp, Zapier, and ConvertKit.
This element has a mechanism for student referrals as well as a variety of affiliate marketing resources to assist you in growing your training company. When it comes to payments, Teachable will take care of everything. You will then be paid by a payment channel such as PayPal, Stripe, Google Pay, Apple Pay, and others.
Payment schedules may differ based on your pricing plan. Teachable provides you with everything you need to develop and sell online courses. You may create an infinite number of courses and enroll an unlimited number of students. You are not responsible for updates or backups because it is a stand-alone platform. This implies that you may run a lucrative training business without having to deal with a lot of paperwork.
The disadvantage would be that Teachable is much more costly than a standard free WordPress LMS plugin. There may possibly be some extra charges. For instance, if you purchase a Basic plan, each transaction will incur a 5% cost.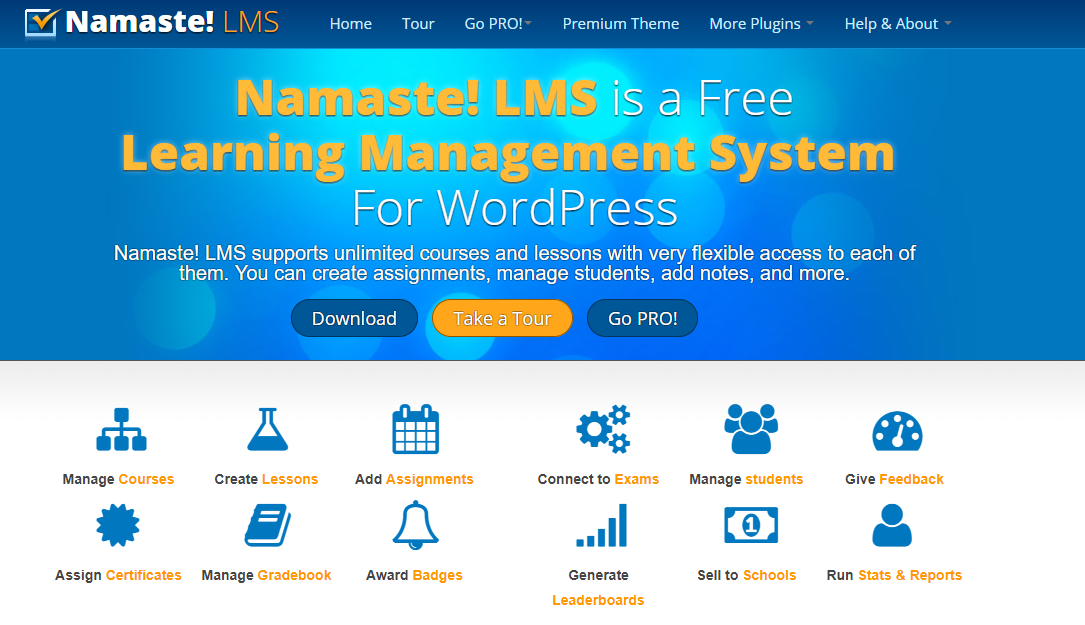 Learn More
Namaste! LMS, while not as well-known as the preceding free WordPress LMS plugin in this essay, should not be overlooked. You may acquire the core plugin for free and build a high-quality online course without paying a fortune. In addition, the Namaste! The Pro program includes a variety of add-ons as well as year-round premium support.
Namaste! Pro, for example, has options for awards and badges, as well as file and course security. Premium course shopping carts can also be enabled and linked to the WooCommerce or WP Simple Cart plugins.
I enjoy how simple the basic plugin is, but it won't be enough for numerous online learning managers. After all, unless you pay for the premium version, you won't be able to access essential features such as postponed course material or instructor assignments.
However, the price is still reasonable, so it's not a deal killer if you're looking for an alternative to big dogs like LearnPress – the best LMS plugin for WordPress.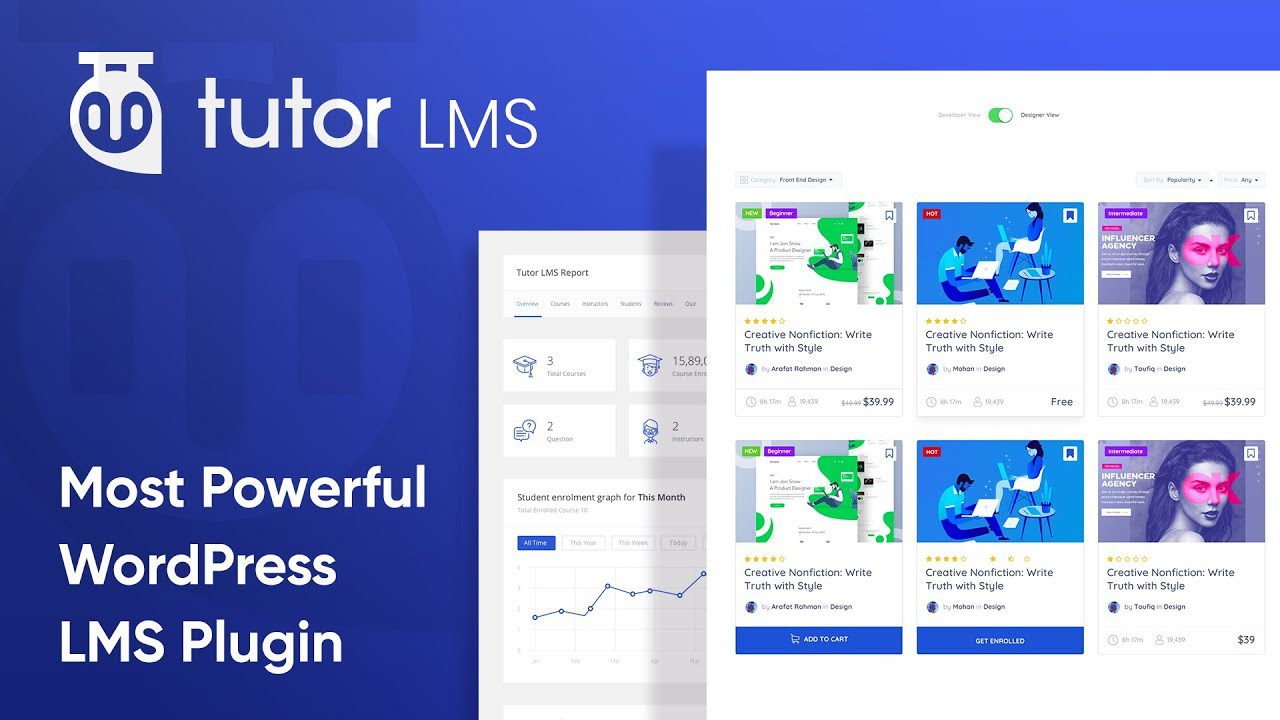 Learn More
Tutor LMS is one of the most popular free WordPress LMS plugin modifications. In a shockingly short period of time, they have assembled an army of over 50,000 eLearning enthusiasts. It has one-of-a-kind features including drag-and-drop curriculum design, a frontend course builder, a certificate builder, and Themeum's continuous development support.
Although the basic edition of this best LMS plugin for WordPress is free, the premium plan for a single-site registration begins at $149. It entitles you to a number of expensive add-ons, including Frontend Course Builder, Certificates, Course Previews, Content Drip, Multi-Instructor, and more.
Integrations with Google Classroom, Zoom for live video lessons, and Elementor Templates and Themes are also available for a truly customizable course-building experience.
Tutor LMS also offers a secure platform that adheres to the highest coding and security standards. This free WordPress LMS plugin provides an ever-expanding number of connectors for eCommerce plugins, page builder WordPress plugins, and other popular plugins like BuddyPress, GamiPress, and others.
Learn More
Conclusion
That brings us to the end of our review of the collection of the best Free WordPress LMS Plugin, which offers fantastic tools and capabilities for converting your WordPress website into an interactive learning environment. Every free plugin listed above includes a variety of features that can make your eLearning platform look professional and function properly. If you desire more features, you may upgrade to the premium versions of each of these plugins.
Read more: LearnPress vs LearnDash: 2 Kings of the Best LMS Plugin Land
---
Contact us, ThimPress:
Website: https://thimpress.com/
Fanpage: https://www.facebook.com/ThimPress
Youtube: https://www.youtube.com/c/ThimPressDesign
Twitter: https://twitter.com/thimpress