You will find The Best Free WordPress LMS Plugin useful if you want to establish your online education platform. You may use them for almost any eLearning-related purpose. These tools are straightforward and adaptable, whether you are setting up a university or affiliate course.
A learning management system (LMS) is a platform that assists in the creation of an online course website. You may now make use of a WordPress LMS Plugin and all of its capabilities. In other words, if you used to need to put a lot of time and money into creating an online learning website, you now only need a few tools, and the rest is history.
Once you've arranged for hosting and a domain name, all you need is a WordPress installation, a theme, and the best WordPress LMS plugin to get started.
Another advantage of employing strong WordPress LMS plugins and components is that no coding experience is required. Even if you are a newbie, you will be able to Create A Website Using WordPress for your courses online fast and easily. The documentation and assistance are also excellent, ensuring a smooth website implementation.
In the collection below, you'll find both free and premium selections to help you start right now. Spread the word with style, welcome new students, and make your dreams come true.
What Is A Best Free WordPress LMS Plugin And Its Benefits?
The best free LMS plugin for WordPress includes tools for creating, hosting, and managing online classes and training programs. Every WordPress LMS plugin includes a plethora of capabilities, including gamification, rewards, and forum integrations.
Installing the best free LMS plugin for WordPress websites may transform them into a useful eLearning platform. It makes it simple to build and deliver compelling courses to your audience, which can range from text-based content to interactive quizzes and videos.
Furthermore, you may enroll students, check progress reports, and select payment gateway choices from the admin dashboard using these plugins.
It's crucial to understand the distinction between an LMS plugin and a membership plugin. Membership plugins are concerned with securing and regulating access to your material. While a WordPress LMS Plugin is concerned with creating such content in the first place.
Now that we've covered the capabilities of the LMS plugin. Let's have a look at the list of The Best Free LMS Plugin For WordPress sites on the market.
Best Collection of LMS Plugins for WordPress
LearnPress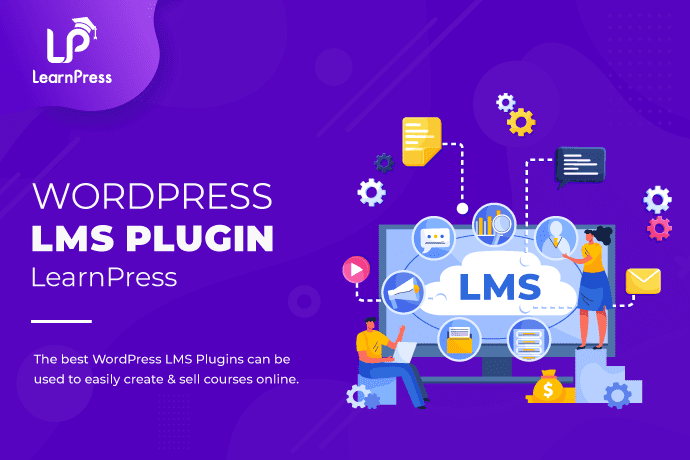 Learn More
LearnPress is the best free plugin for WordPress sites that does everything. This seems to be one of the best LMS plugins for WordPress for creating and marketing online courses. Curricular content, including lectures and quizzes, may be created and maintained using a simple user interface. With this plugin, you can now quickly and simply develop online courses, websites for education, and online schools without any coding skills.
Even though LearnPress pricing is free, you may sell your classes using a number of payment methods such as WooCommerce, PayPal, Stripe, and others. It is, however, a paid plugin that will surely help you generate revenue from your Website builder LMS. This best free WordPress LMS plugin is lightweight and powerful, with a slew of LearnPress Add-Ons to augment its core system.
This free LMS plugin for WordPress websites is a fantastic user interface for building online courses with all of the features you need. It is simple to create a whole curriculum system, as well as to change and manage it. You may also import and export your courses to multiple websites using LearnPress. You may use the course you established to share, manage, and analyze data on trends, students, and so on. Furthermore, BuddyPress themes promote contact with your students or teachers via the WordPress community.
Get the Eduma, Coaching, or CopTrain themes – WordPress LMS Themes built to work well with LearnPress. With their modern and crisp look, these fantastic WordPress Themes are ideal for your LearnPress Online LMS & Education websites. With over 50 demos to select from, you may quickly find the one that best suits your needs and style. Simply give this best free plugin for WordPress a go and see how it goes.
Masteriyo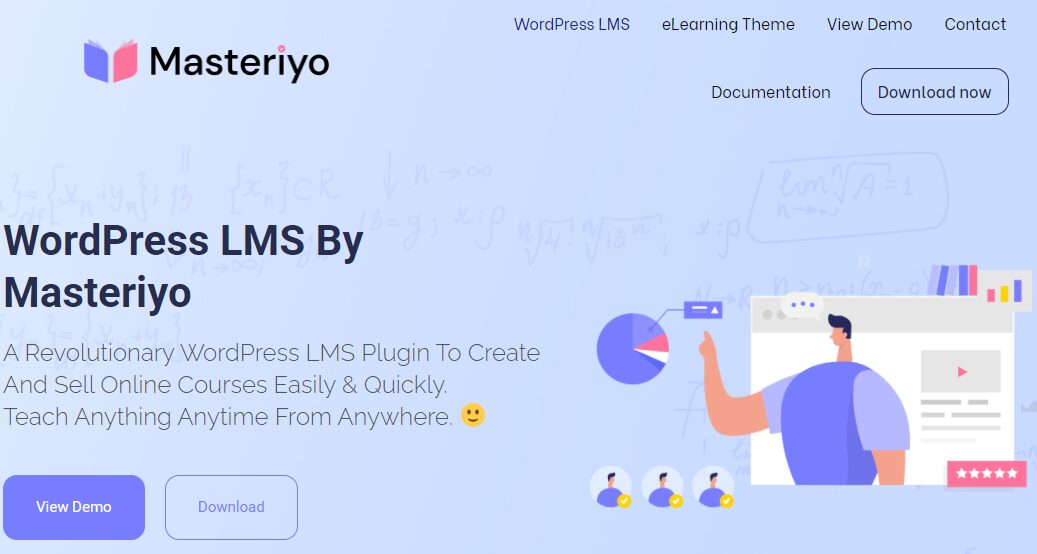 Learn More
Masteriyo, a ground-breaking and best free WordPress LMS plugin is a shop for anyone looking to produce and sell courses online. With its user-friendly and straightforward course builder, even non-technologists can easily add lessons, courses, and quizzes. The good news is that you can add as many courses, lessons, and tests as you like.
Both free and paid versions of this WordPress LMS plugin are available. Aside from the free edition, Masteriyo offers three paid subscriptions. You must pay $199/Year for a single site license. A license for five locations is $299 per year. Similarly, the 99-site license is $499/year. In addition, all premium plans are eligible for a 75% introductory discount.
To top it all off, all premium plans include premium support through live chat and email, updates for a year, Stripe integration, WooCommerce integration, download materials, a certificate, and many more features. Furthermore, this best free WordPress LMS plugin is entirely compatible with any theme designed in accordance with WordPress LMS Themes standards. We've listed all of the fantastic features that this plugin has to offer below.
Learndash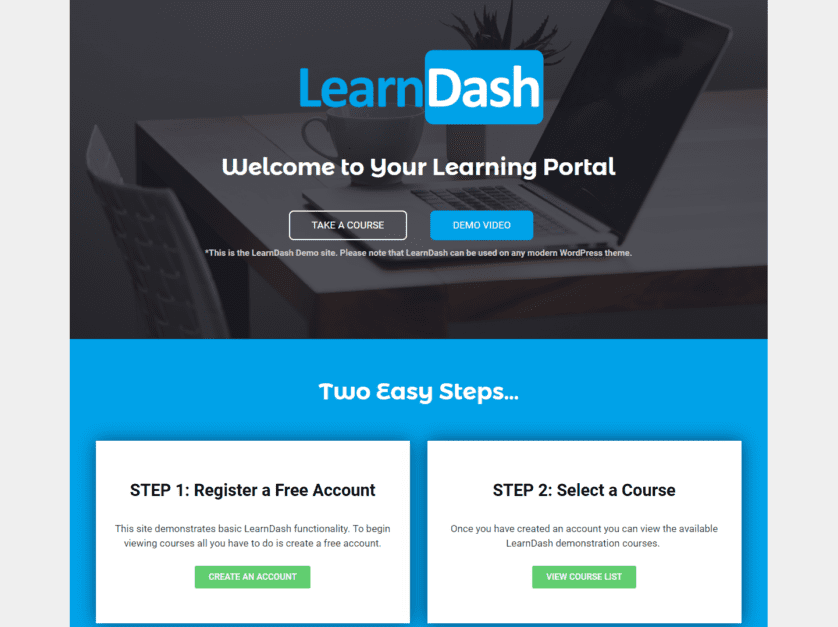 Learn More
LearnDash is the choice of many Fortune 500 companies and big institutions because of its comprehensive feature set, quickness, and great online course design. This best free WordPress LMS plugin covers the majority of the must-have aspects stated earlier in this piece, thus I would consider it a full package with capabilities for content dripping, selling courses, rewarding learners, and establishing action-based triggers.
Because the pricing is set yearly, it is fairly priced in the short run. For example, you pay $159 for the first year to maintain one website with all of LearnDash's features. A 10-site license costs $189 per year, while a 25-site license costs $329. The lack of a free trial period is one negative of this Best WordPress LMS Plugin.
There are four categories: courses, commercialization, administration, and technological aspects. It's also worth noting that this best free WordPress LMS plugin is mobile-friendly, making it ideal for on-the-go learning. Furthermore, the industry experts will provide customer help through a sophisticated ticketing system.
Lifter LMS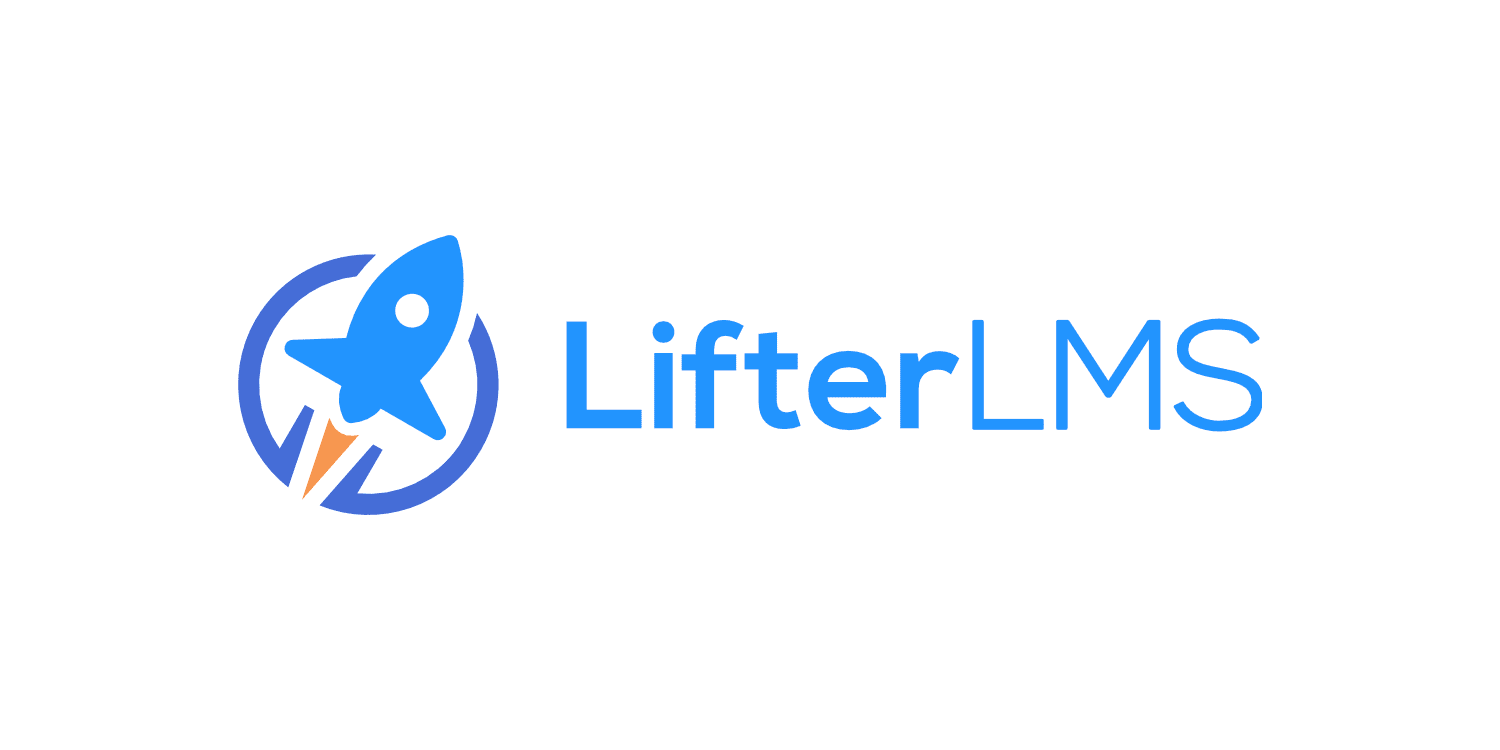 Learn More
Lifter LMS is a reasonable option for LearnDash. However, the cost for a comprehensive LMS package starts at $299 per year. However, if you buy the add-ons separately, you may be able to save some money because they are each $99. Three add-ons already get you to the $299 price for the package, which contains dozens of modules.
This best free WordPress LMS plugin, on the other hand, stands out due to its unique connections with WooCommerce, MailChimp, and AffiliateWP. This best free WordPress LMS plugin may be preferable to LearnPress if you currently use one or two of the many Lifter LMS connectors.
Furthermore, a $1, 30-day free trial is available, providing even more reason to try Lifter LMS before buying at full price.
This WordPress LMS plugin is also renowned because of its services, which include a package that includes items such as sample quizzes, sample courses, certifications, and a full-set website. This might be handy for those who aren't overly technical but have knowledge on hand.
The features are similar to LearnPress, however, there are a few noteworthy distinctions. This best free WordPress LMS plugin, for example, contains a graphics bundle with backdrops and other design components. Customer testimonials can also be together to assist you to sell the courses in the future.
Another reason the Lifter WordPress LMS plugin appears appealing to newcomers is its connection with Divi and Beaver Builder. These drag-and-drop editors eliminate the need to fiddle with coding and provide a more visual design experience.
WP Courseware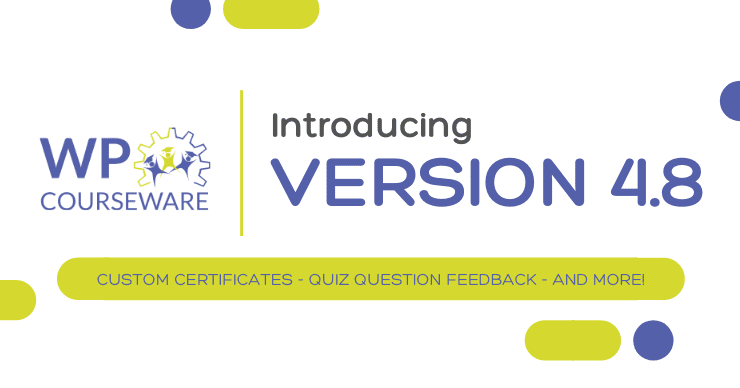 Learn More
For these reasons, WP Courseware is among the most potential and the Best Free WordPress LMS Plugin websites. To begin with, the price is significantly less confusing than that of some of the rivals. In fact, the cheapest option, which starts at $99 per year, comes with a bonus of a two-site license. The on-site demo is the closest thing to a free trial, but it's a lovely design with genuine course material to get your creative juices flowing.
This WordPress LMS plugin is also utilized by several of the world's leading colleges, including the University of Wisconsin-Madison and the University of Illinois.
WP Courseware solutions may also be found on business training sites, such as CNN or Sheraton.
Like many other Best WordPress LMS Plugins, this plugin includes a remarkable combination of capabilities, which begins with the drag-and-drop editor. You can easily develop courses and even safeguard them from being stolen. The broad array of integrations available in WP Courseware is a remarkable feature. WooCommerce is one of them, but there are others, such as BuddyPress, OptimizePress, and Visual Composer.
Good LMS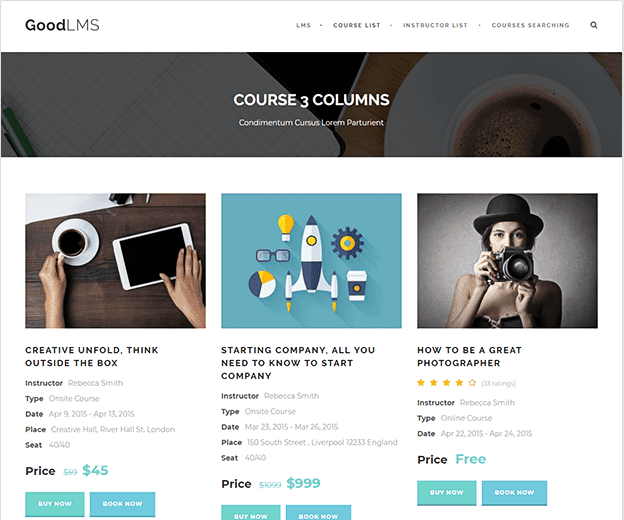 Learn More
Good LMS costs $31 and is the only suitable WordPress LMS plugin available. This is fascinating because there are plenty of relevant plugins for other WordPress themes. However, the $31 charge only covers maintenance and upgrades for one year, but the one-time payment keeps you in control of the plugin's capabilities. As a result, it is the most affordable premium plugin on this list.
A decent LMS, like most excellent WordPress LMS plugins, allows you to create courses, sell them, and integrate quizzes and certificates. The design process is controlled similarly to a standard WordPress blog article, with quizzes, courses, and certifications created directly by the WordPress admin. Setting a commission fee for an instructor helps you to manage the individuals that work on your team, and the course process meter gives a wonderful glimpse into student successes.
Because course evaluations are available, this best free WordPress LMS plugin looks to be a reasonable alternative for individuals looking to create a course marketplace.
Sensei Pro LMS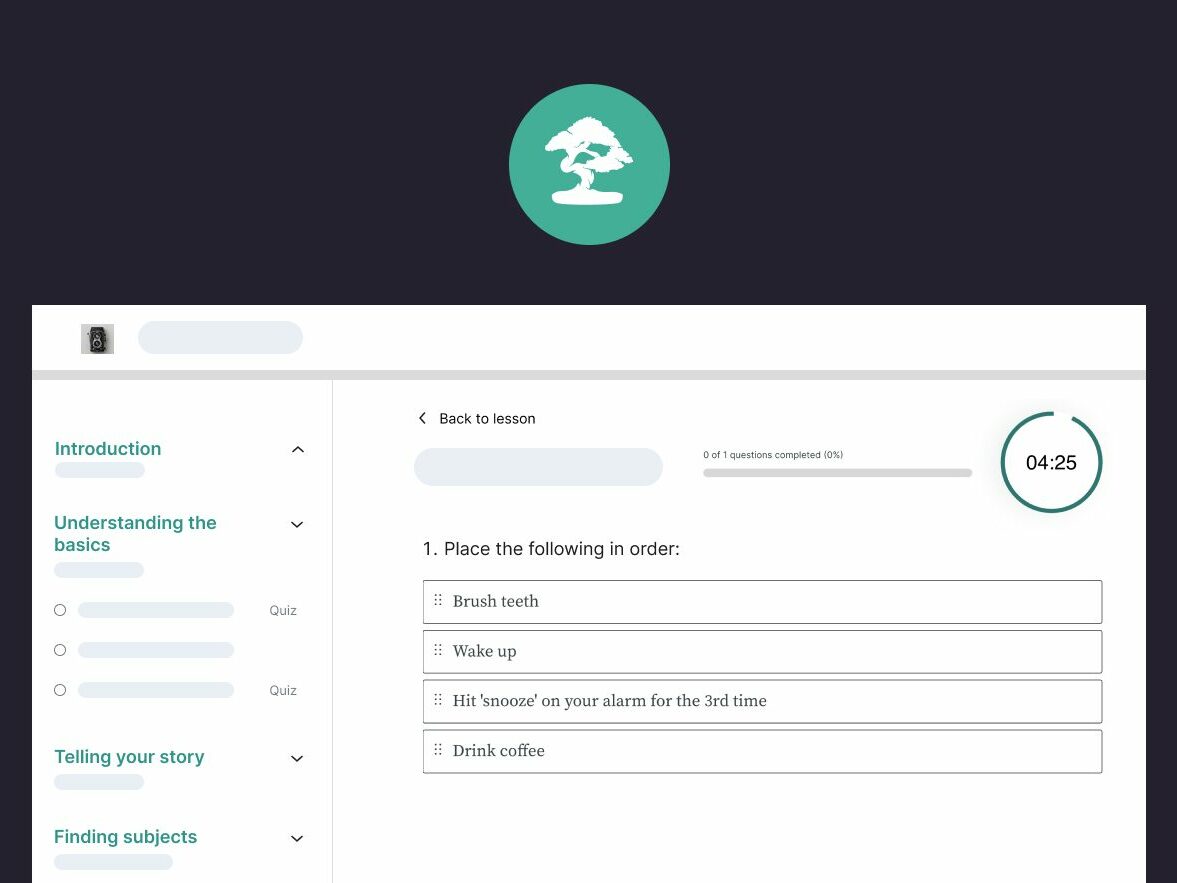 Learn More
Sensei is a surprisingly cutting-edge WordPress LMS plugin that will assist you in creating an online course website quickly and effortlessly. You do not need to think twice because Sensei LMS is available. Quick integration into WordPress as well as seamless WooCommerce compatibility for passive money generation is a feature of this Best Free WordPress LMS Plugin.
Sensei LMS is the shortcut that guarantees a fantastic final product for anyone looking for a quick cure. Not only that, but you will completely avoid coding. There is no need to pay a large charge to a developer and a designer to get things started. This Best Free WordPress LMS Plugin does the majority of the work for you.
While you may get started for free, Sensei LMS has a wide range of free and paid add-ons. This means you may carefully adapt your online learning program to your preferences. You will understand how simple to use yet powerful this best free WordPress LMS plugin is, only when you utilize this. You get documentation, help from the team, and a 30-day money-back guarantee. However, you should first look at some samples of successful online courses conducted by other websites.
Automattic, the company behind WooCommerce and WordPress.com, created and maintains Sensei Pro LMS. They first created this tool for their own use before deciding to make it public. All staff training today is using this best free WordPress LMS plugin. If there's one tool you can depend on, it's Sensei.
Conclusion
You can't go wrong with any of the best free WordPress LMS plugins on our list, so focus on the specific features you want to see in your online classroom. After that, consider the price—but not too hard, because a good learning website can easily cover the monthly expenses.
That's all we've got for you! Do you have the Best Free WordPress LMS Plugin? We'd love to hear about it in the comments section.
Read more: WordPress LMS Plugin: Top 5 To Become A Second "Harvard"
---
Contact us, ThimPress:
Website: https://thimpress.com/
Fanpage: https://www.facebook.com/ThimPress
Youtube: https://www.youtube.com/c/ThimPressDesign
Twitter: https://twitter.com/thimpress