You want to optimize your site with functions such as ticketing, making appointments, booking, scheduling, etc, don't you? Thanks to designers in the WordPress community, we have the Best Events Calendar Plugin For WordPress to help do that.
You should be able to locate the ideal plugin for adding a calendar that can show events to your website thanks to the amazing free and paid solutions available. We've examined these plugins, evaluated how we used them, and outlined the benefits and drawbacks to help you decide.
There are various excellent WordPress event calendar plugins available right now, whether you're searching for a fundamentally sound-free utility or a cutting-edge premium solution. However, before that, we will give you some criteria to choose the best one.
What Needs From A Best Events & Calendar Plugin?
As we already discussed, a number of Best Event Calendar Plugin For WordPress are available to suit the needs of various users.
Some WordPress calendar plugins free you to simply show events on a calendar, making them easy to use. Others provide more sophisticated capabilities including scheduling, ticketing, appointment and booking management, and interfaces with other services like Google Calendar.
You must select The best event calendar Plugin WordPress that meets your needs. For instance, a calendar with simply the booking function would not be appropriate for you if you wish to sell event tickets. Let's examine some of the top modern events calendar plugins available for you to use.
The Top 10 The Best Calendar Plugin For WordPress
EventOn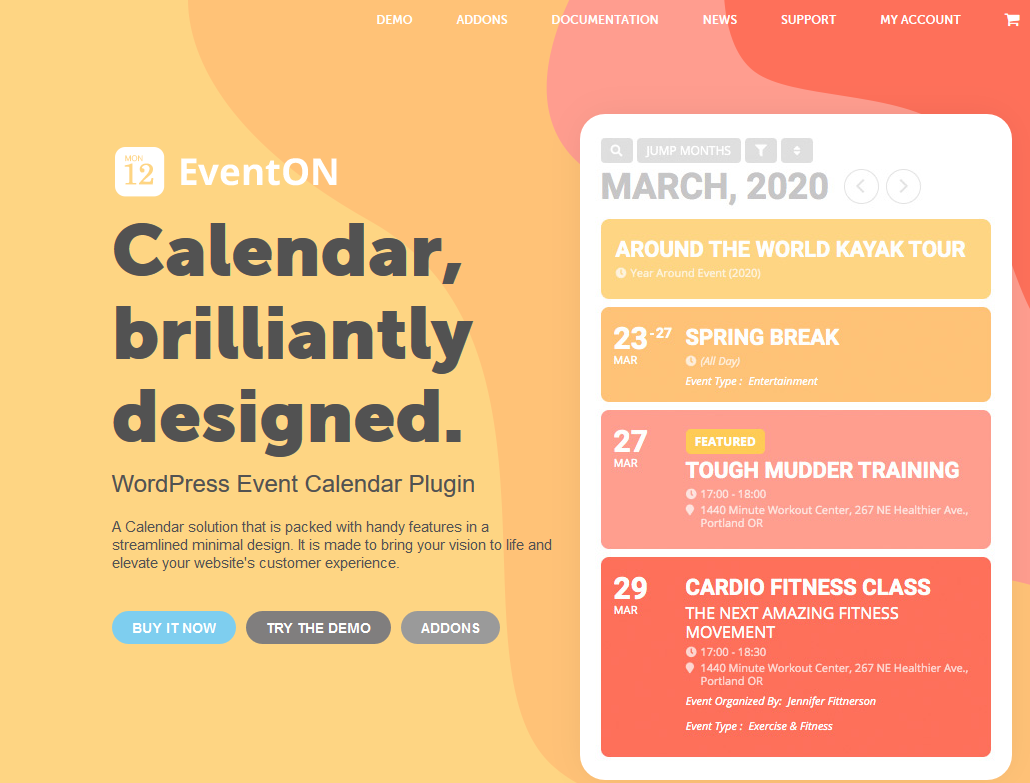 Learn More
The most eye-catching and best event calendar Plugin for WordPress available is likely EventOn. It looks terrific and makes excellent use of color and flat design. Additionally, it is feature-rich and efficient at managing events, showing them off, and even hosting them.
This best events calendar plugin for WordPress has a calendar function that is effective. Events may be added, managed, updated, or configured to repeat, and they can be shown on a website or with the help of a widget. A join option for Zoom or other virtual events joins in listings, which may also be built with photographs.
The creator of EventOn also offers add-ons including email reminders, subscriptions, tools for monetizing events, a speaker schedule, and administrative tools for bookings. Each is somewhat more expensive yet provides a lot.
The core of this WordPress calendar plugin free is really valuable. Additionally, this plugin combines the greatest design of any WordPress events plugin bar. Additionally, it has a fantastic UI that makes organizing events a breeze. On the other side, the responsibility of this best free WordPress calendar plugin | EventOn is the image- and text-rich interactive calendar. Additionally, users may also participate in online events straight from the calendar with the assistance of this plugin.
Along with many advantages, you should also weigh the drawbacks of this modern events calendar plugin. One of them is the fact that there are several aspects to learn. Furthermore, it's not always easy to grasp the price.
Amelia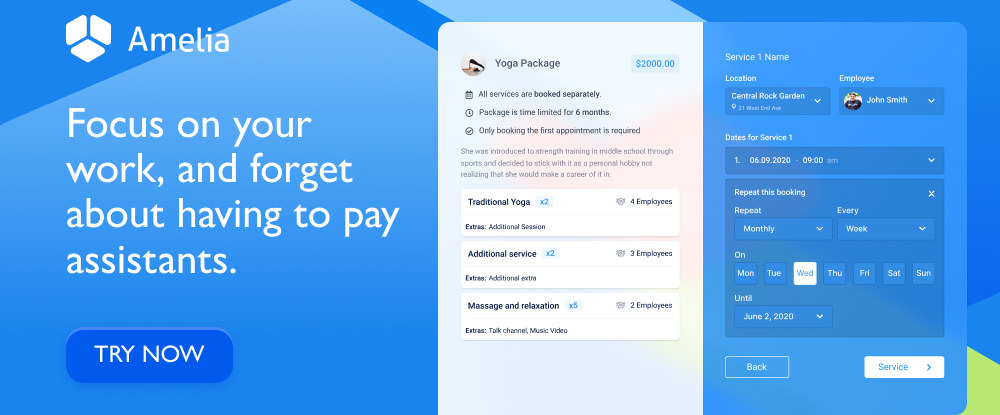 Learn More
EventOn follows a somewhat different path than Amelia. With calendar functionality, serving as a booking tool is primarily a feature of this best events calendar Plugin for WordPress | Amelia. It's a stylish WordPress calendar booking plugin with a ton of features, such as booking, an events calendar view, views for various event types, and intelligent administration to avoid repeated bookings.
Amelia – the best events calendar plugin for WordPress exudes a sophisticated air. The design is cutting-edge and made to fit easily and smoothly into any website layout. Once put on your website, it is incredibly simple to use, and you can manage all of your event widgets from a dashboard on the back end.
Amelia is a high-quality modern events calendar plugin that offers excellent value. The support for custom fields, repeating appointments, SMS alerts, WooCommerce connection, and calendar synchronization with other calendars are just a few of the key features!
Take a look at this best events calendar plugin for WordPress's advantage. It is simple to use and has an excellent design. This best events calendar plugin for WordPress also contains powerful widgets that you can place anywhere on your website. Amelia also syncs with external calendars and works with WordPress custom fields.
And lastly, it offers a wide range of setup possibilities. However, the first setup of this WordPress calendar plugin free may take some time due to the variety of functions, so keep that in mind.
My Calendar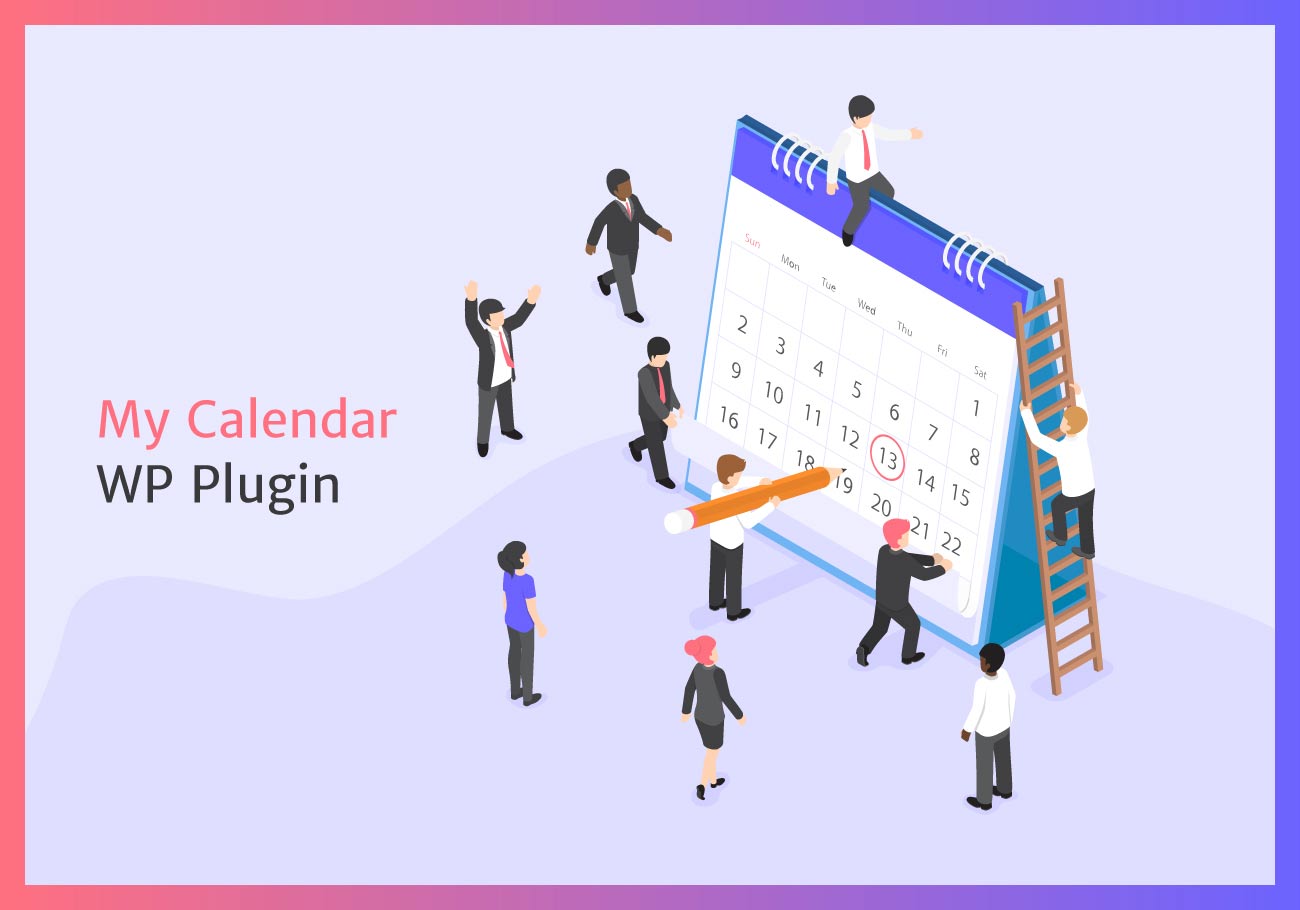 Learn More
My Calendar seems to be a straightforward and the best calendar plugin for WordPress that simplifies the process of maintaining and displaying events. A premium version of this plugin that adds capabilities is available for free. Both appear on the calendar and provide different features dependent on your needs.
A WordPress dashboard page for managing events and a customer-facing calendar for displaying them are both included in the My Calendar free edition. Events may pop up on social media, synced between WordPress websites, embedded via widgets, and integrated with several other plugins to provide extra functions.
User contributions, promoted event advertising, event import from other tools, and the capacity to generate events from blog posts are all included in the premium edition of this best events calendar plugin for WordPress.
This modern events calendar plugin is user-friendly and focuses on keeping things straightforward. If you're a developer, it also has a ton of choices for customization and expansion. You can handle it pretty easily because the event management dashboard is simple. This best free WordPress calendar plugin isn't as comprehensive as some other WordPress events plugins, though. Additionally, there isn't much value added by the premium edition.
Booking Calendar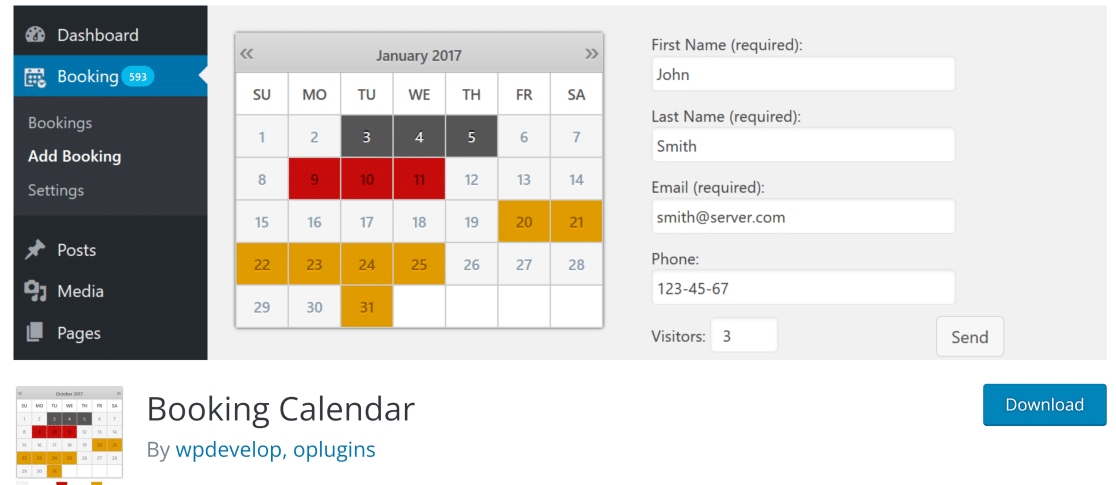 Learn More
The WordPress calendar booking plugin is called the name Booking Calendar. By using the functionalities of this Best Event Calendar Plugin For WordPress, you can put a calendar on the main edge of your website where visitors can submit booking requests by filling out a little form. They will then ask you to accept or reject their reservation.
For the purpose of preventing spam, CAPTCHA will work well with this most used WordPress plugin. In the admin area, you may manage who has permission to add a booking.
The plugin's free edition stops you from adding more input fields for the booking forms, which is a drawback. You may reserve any sort of service with it.
Simple Calendar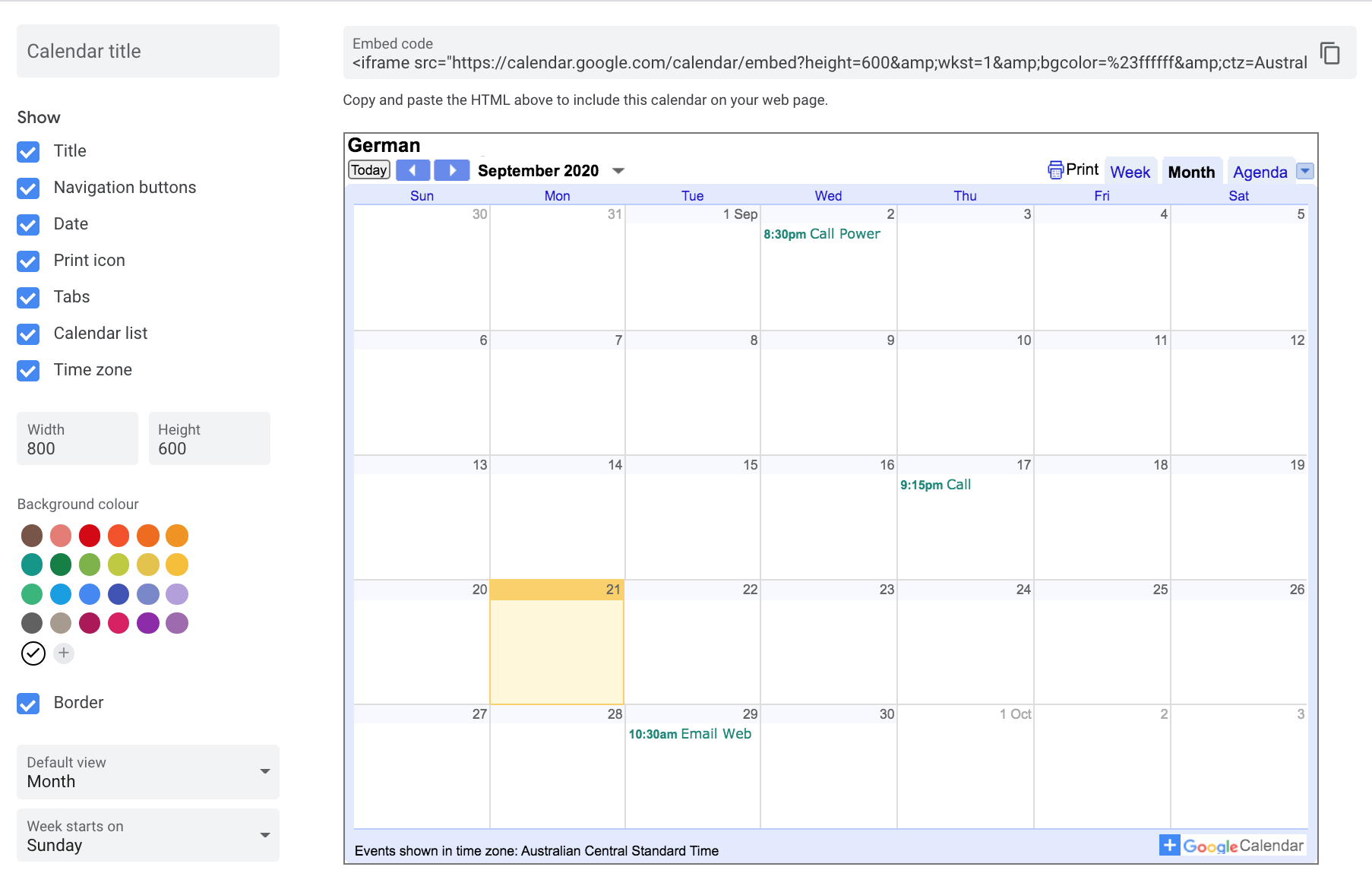 Learn More
Your WordPress website now has Google Calendar thanks to Simple Calendar – The best events calendar plugin for WordPress.
Google Calendar allows you to create and manage events. You only need to supply the URL for your Google Calendar feed for the plugin to show those events on your website. This best events calendar plugin for WordPress in has a wide range of functions. Using the shortcodes, you may regulate how your calendar and events are displayed. Using unique stylesheets, you may even manage the calendar's visual design.
Although this most popular WordPress plugin does not support a ticketing system, you may still utilize other services to sell tickets for your event. And this best events calendar Plugin for WordPress directly the URL of the ticketing page to your Google Calendar event listing.
Timely All-in-One Events Calendar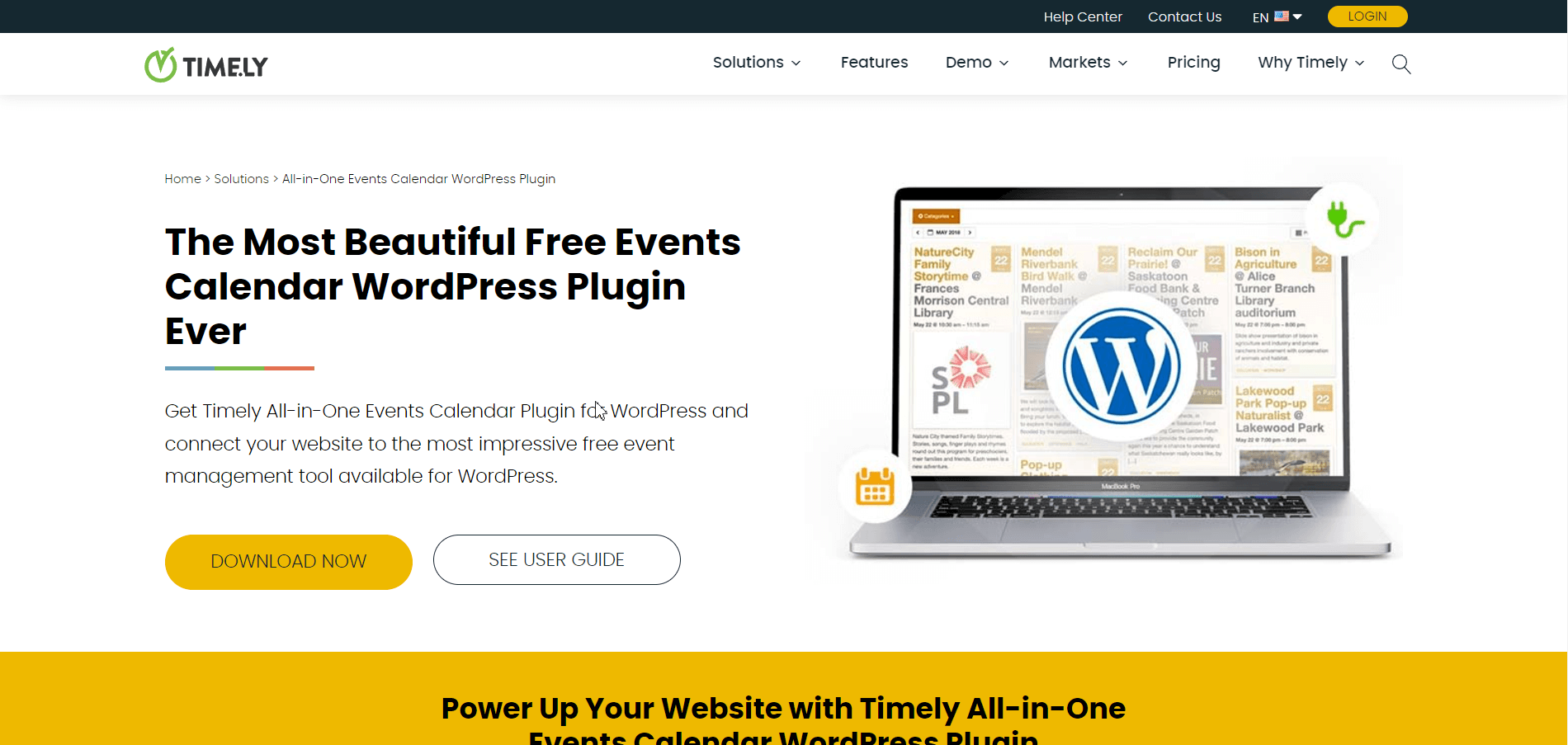 Learn More
A strong and best events calendar plugin for WordPress is called Timely All-in-One Events Calendar.
Because of its straightforward user interface, beginners will have no issue using this Modern Events Calendar plugin. Events may be easily added, classified, and tagged, and one of several pre-installed themes can be used to change the appearance of the calendar.
Along with the event details, your event sites may also appear by using Google Maps. This WordPress calendar plugin free also enables color customization for the WordPress calendar theme.
You may also add events from calendars that accept the iCal format, such as Google Calendar. Although there are no connections for ticket sales, you can add URLs to other ticketing systems.
Sugar Calendar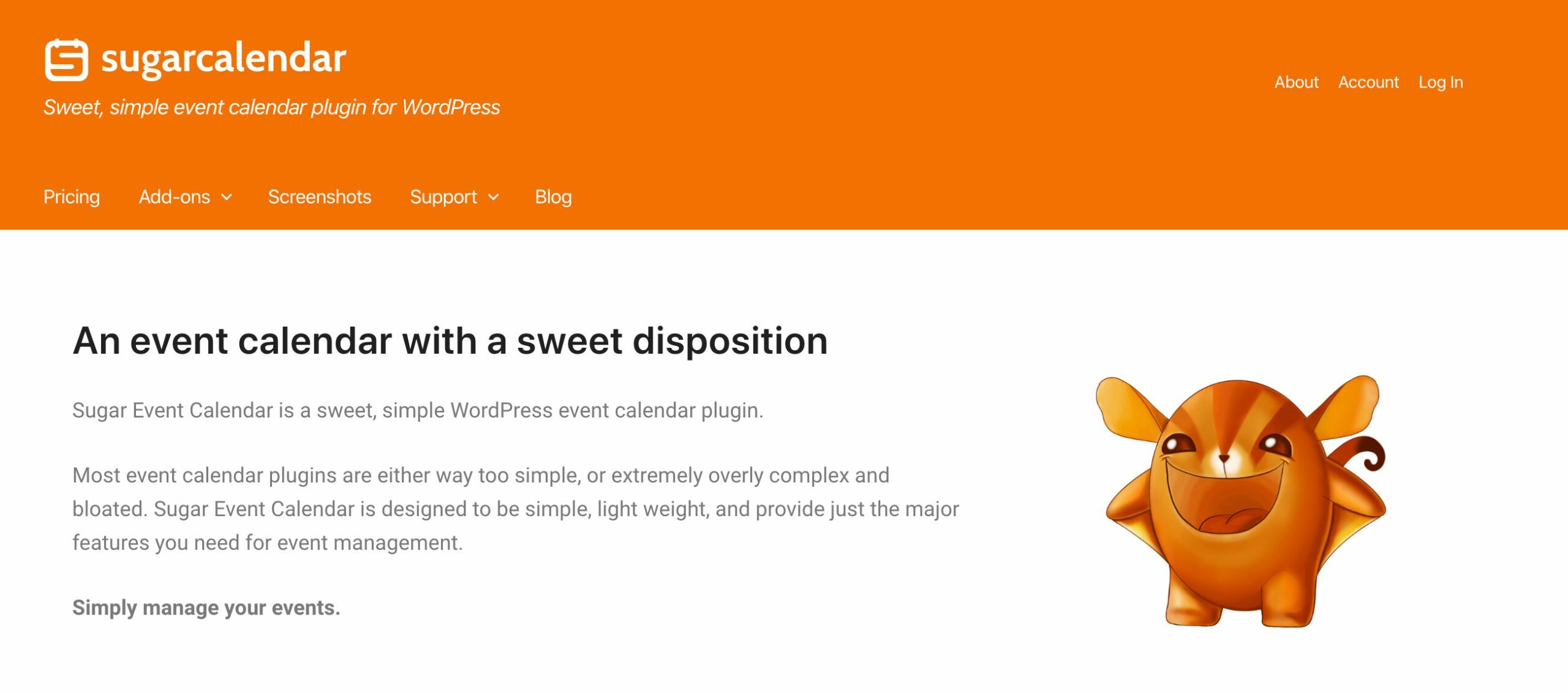 Learn More
The most user-friendly and effective WordPress calendar plugin free is Sugar Calendar.
The plugin has all the standard functionality you'd expect, including the power to create a calendar for events, configure event time zones, set start and stop times for appointments and meetings and synchronize with Google Calendar.
Powerful extensions, such as Event Ticketing, also integrate with Sugar Calendar. Moreover, you can quickly sell tickets, keep track of attendees, and connect Stripe to take payments with the support coming from this best events calendar plugin for WordPress.
You may create event registration forms that your users can submit from the front end if you run a community forum or membership website.
Various WordPress plugins and marketing techniques, such as WooCommerce, WPForms, Gravity Forms, Google Calendar, and more are also integrated with this best events calendar plugin for WordPress.
Events Calendar

Learn More
For your modern events calendar WordPress website, Events Calendar is a potent event management tool. Due to a clean user interface that melds into your WordPress admin area, it is packed with features and incredibly simple to use.
You can quickly add your events, manage organizers, and manage locations using this best events calendar plugin for WordPress. Deciding whether to show Google Maps the locations of your venues is capable. You have complete flexibility over how you wish to organize your events and calendar thanks to the plugin's options page.
Interested in selling tickets for your events? With the integration between the best events calendar plugin for WordPress and Eventbrite, WooCommerce, and other services through premium add-ons, this task is pretty easy.
Event Organiser

Learn More
A functionality and best calendar plugin for WordPress certainly worth investigating is Event Organiser. Although it lacks Amelia's sleek appearance, it has many features that have been created to be as adaptable and consumer as possible.
The best free WordPress plugin for events – Event Organiser has a straightforward dashboard with a monthly view. By using the plugin, you may manage reservations, customize the reservation form, advertise events, sell additional tickets for those events, get confirmation and carry emails, and utilize a range of payment methods.
Both a free and a paid version of the plugin are available. This WordPress calendar booking plugin and event booking is included in the free edition, but payments, tickets, and email follow-ups need the Pro version. Both versions of your calendar allow you to change how it looks and feels.
The flexibility of this plugin's architecture is one of its benefits. Additionally, you will be provided with all the functionality you want with the feature-rich Pro edition. But the free version is also completely functional. Additionally, WordPress hooks provide developers with a great deal of flexibility, allowing this plugin to be expanded further with optional extensions.
However, if you want to offer tickets to the event, you'll need Pro. Be cautious with what you buy because certain extensions are only free with specific price plans.
Event Espresso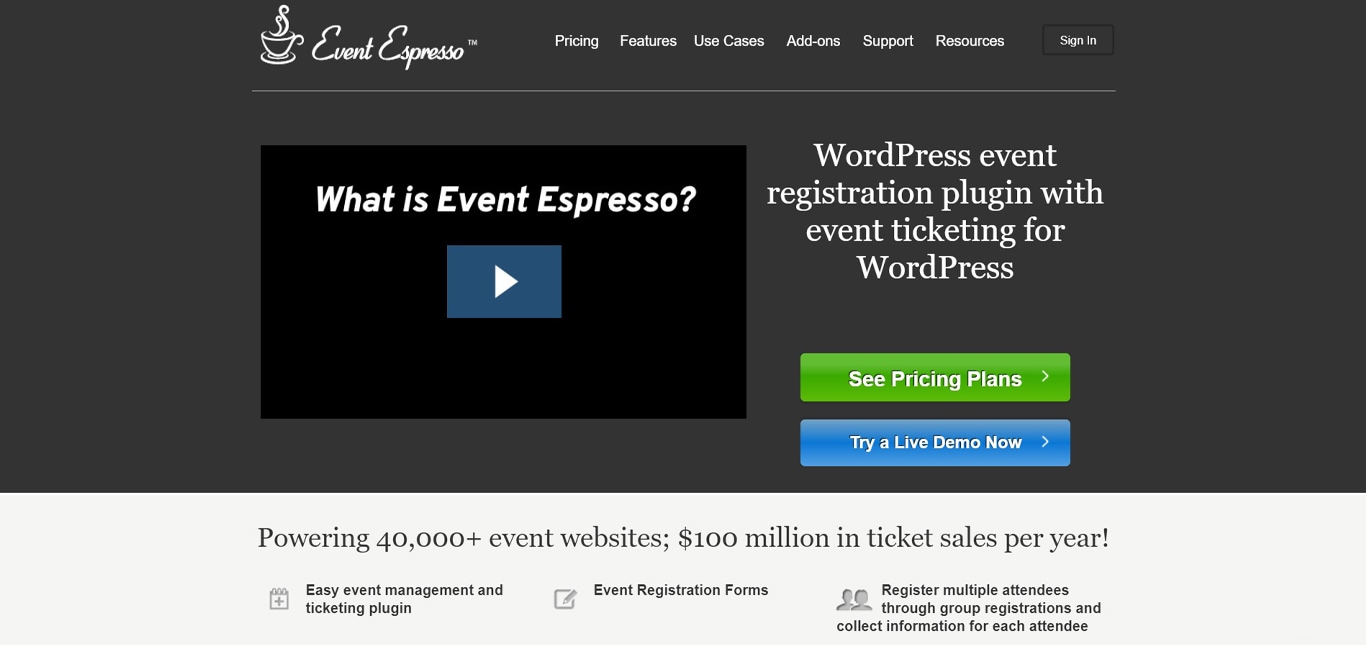 Learn More
Among the most widely used and best events calendar plugin for WordPress is Event Espresso, and it is for an excellent purpose. The free and commercial versions of this well-known plugin both provide a ton of functionality.
The best free calendar plugin for WordPress includes a calendar, tickets, and partner organizations, as well as an option for an event payment method. Given that payments are often restricted to premium editions, the final statement is uncommon for a free plugin. Additionally, there are premium options like email follow-up and confirmation.
Due to the fact that it performs more event management tasks than many others on this list, this plugin is more complex. This WordPress calendar booking plugin assists with managing tickets, event registration, payments, check-in at events, and much more. It is a robust events plugin that can interface with applications for ticket scanning and handles every aspect of event administration.
The vast majority of event management components appear in Event Espresso's extensive feature set. You can own payment gateways with the free version, which is rare. Additionally, the free edition has options for sending event emails. The integration of the ticket-scanning app is another clever touch. Due to all the capabilities, it has a significantly higher learning curve than other best WordPress events plugins.
Conclusion
With the top 10 Best Event Calendar Plugin For WordPress above, we ensure that you have the ability to choose the best one. Besides a lot of the best free WordPress calendar plugins, there are also paid plugins with many advanced functions. Set your criteria first so that you will find the most suitable.
Read more: Top Free & Paid WordPress Booking Plugin
---
Contact us, ThimPress:
Website: https://thimpress.com/
Fanpage: https://www.facebook.com/ThimPress
Youtube: https://www.youtube.com/c/ThimPressDesign
Twitter: https://twitter.com/thimpress