Build a WordPress Website is something that beginners should seek help from experts. Are you a beginner feeling overwhelmed to get things stuck in your mind and follow the present trends? Or are you a low-tech person who is not so good at technology but still desires that knowledge? Don't worry, we are here to illuminate your mind and blow it away! Let's go!
We will offer you brief, detailed guidelines so that you may find them easy to understand and apply to your process. Of course, for beginners, these particular step-by-step tutorials on building websites are genuinely simple. They are suitable for people of all ages as well as skill levels. Also, you can refer some of WordPress security tips for keeping your website safe.
A Brief Answer to the Question "What Are WordPress Websites"?
Going toward the criteria of easy understanding, we can briefly say that WordPress stays as a system developed for content management on websites. Therefore, WordPress Websites are those that have their contents under control by WordPress which plays the role of the CSM (Content Management System).
Why Should You Know How to Make A WordPress Site?
Here are the reasons:
It surely saves money for you because you don't need to spend any on some particular services of web designers/developers to build a WordPress website.
You can easily follow the global current trends & fads in your selected fields and add more new things to your online site without programmers' help. For example, if you are pursuing a conventional fashion career path, you can update the most popular collections on your website yourself with ease.
Besides, if you are a business owner or a marketer, learning easy and effective ways of building websites is very important. Crafting a small-scale business website on your own makes you become a true "tough competitor" to your equal opponents. Obviously, sometimes not only your projects but also theirs are slowed down and affected negatively due to some of the website's relevant issues. Then, you may need some help from the programmers. However, by taking that chance and using your knowledge, you can outrank them and stay ahead. Preparing things for your websites and finding the best solution for this temporary problem on your own.
Does the "Build A WordPress Website" Process Cost Me A Fortune?
No matter how many minutes or hours you need to complete your website, your ultimate aims and purposes decide how much this process costs.
As we have done research before, the lowest cost of creating an ordinary website is around $100 on average. However, it can be different with business and similar purposes websites. This means that businessmen/marketers have to pay for at least in the particular range between $100 and $30,000 annually.
Tutorials for A New WordPress Website Developer/Designer.
It is obvious that almost everyone new in web development & design doesn't really know where to start to create a website in a simple way on their own.
However, it is no need for you, as a newbie, to be overthinking.
Step 1: Choose WordPress as the Website's Platform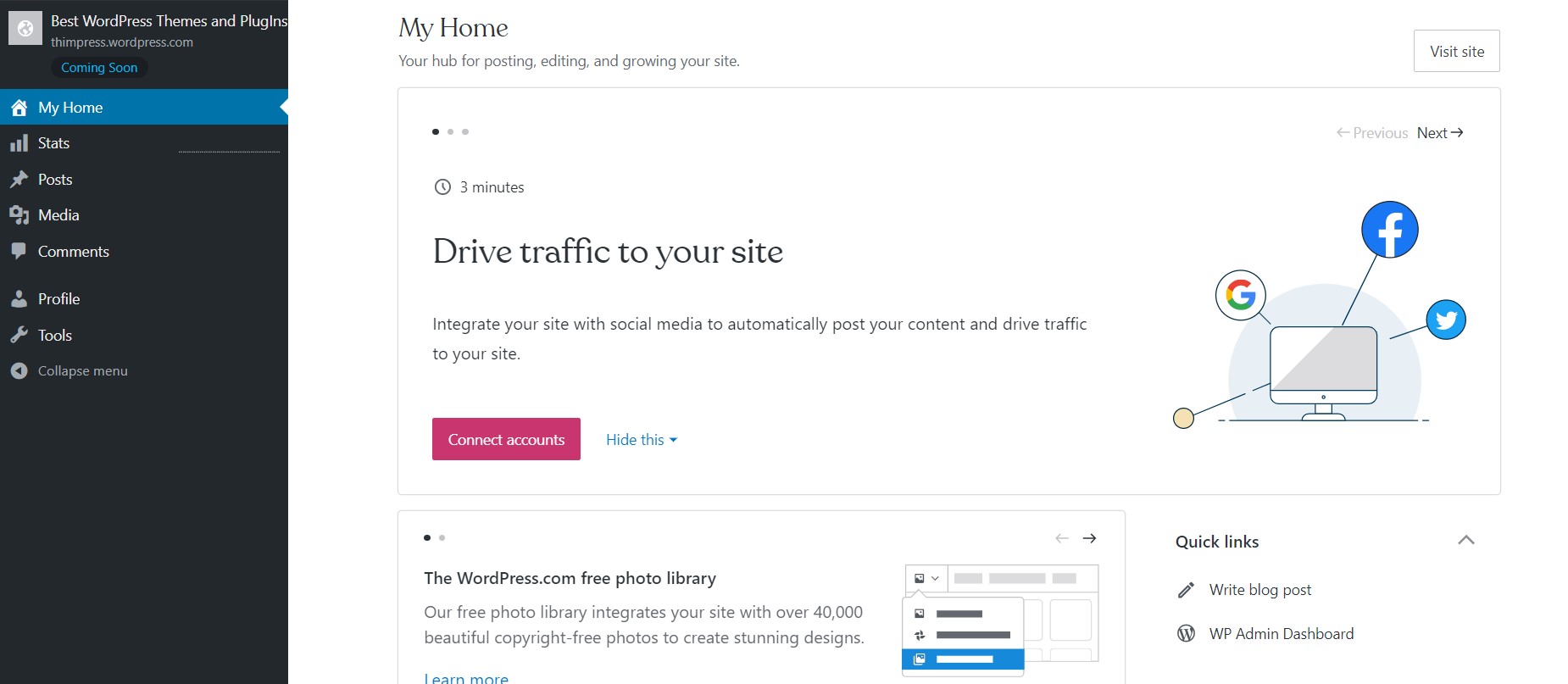 Having done our research before, we would like to show you the most common mistake of newbies: selecting the wrong platforms for their websites. Now you know that mistake, we will lead you, so please stay tuned!
WordPress (CMS) is a perfect choice for new amateur users who learn to Build a WordPress Website on their own. WordPress is the best solution coming with tons of different options. They are design and add-on things. Thus, you can edit your content with ease and adjust customization options right on your site, and of course, you need no coding skills. These powerful WordPress functionalities and tools really make a list of things that you can utilize to build websites meeting your users' demands & expectations.
Thanks to the useful functionalities, WordPress comes out as the top 1 platform that is widely used by users. The data says that WordPress powers over 42.9% of the websites in the world. It can be installed and utilized for free in the process of building a website.
Step 2: Choose & Purchase a domain name as well as a web hosting provider
To understand and learn new things easily, you need to get a brief answer to them. Therefore, you can consider a domain name as a website's address. This kind of address also called a link or URL, attaches to the particular website, and is a series of words and numbers. You can insert your website's link on the browser's search bar to connect directly to it. To complete your process of crafting & designing a website, a fixed one is the most basic necessary thing that everybody else should not miss. However, making a change to your current one is considerably tough but totally feasible.
Besides the domain name, all websites need web hosting to prove to get brand new different domain names to keep safe and store files.
In terms of the price, the average totals (2022's figures) you have to pay for a domain name yearly and for a web hosting provider on a monthly basis is $14.99 and $7.99 respectively. To save up more money for you (a beginner), we highly recommend using the service of Bluehost – the most worldwide famous company with pride. Bluehost supports the users of WordPress with free domain names and a 60 percent of discount on hosting.
Step 3: Install WordPress software ("Build a WordPress Website" guidelines are important to the stage)
It is pretty easy for users to install WordPress. At first, you should sign-up on Bluehost, then log in to gain a special offer. Then, the WordPress software will be downloaded automatically to your devices with a few mouse clicks. Everyone can do it! Wait for nothing!
After downloading the WordPress software to your devices, it's time to go to the next small steps: "Login to WordPress by accessing it with a Bluehost account" & "Do the setup yourself".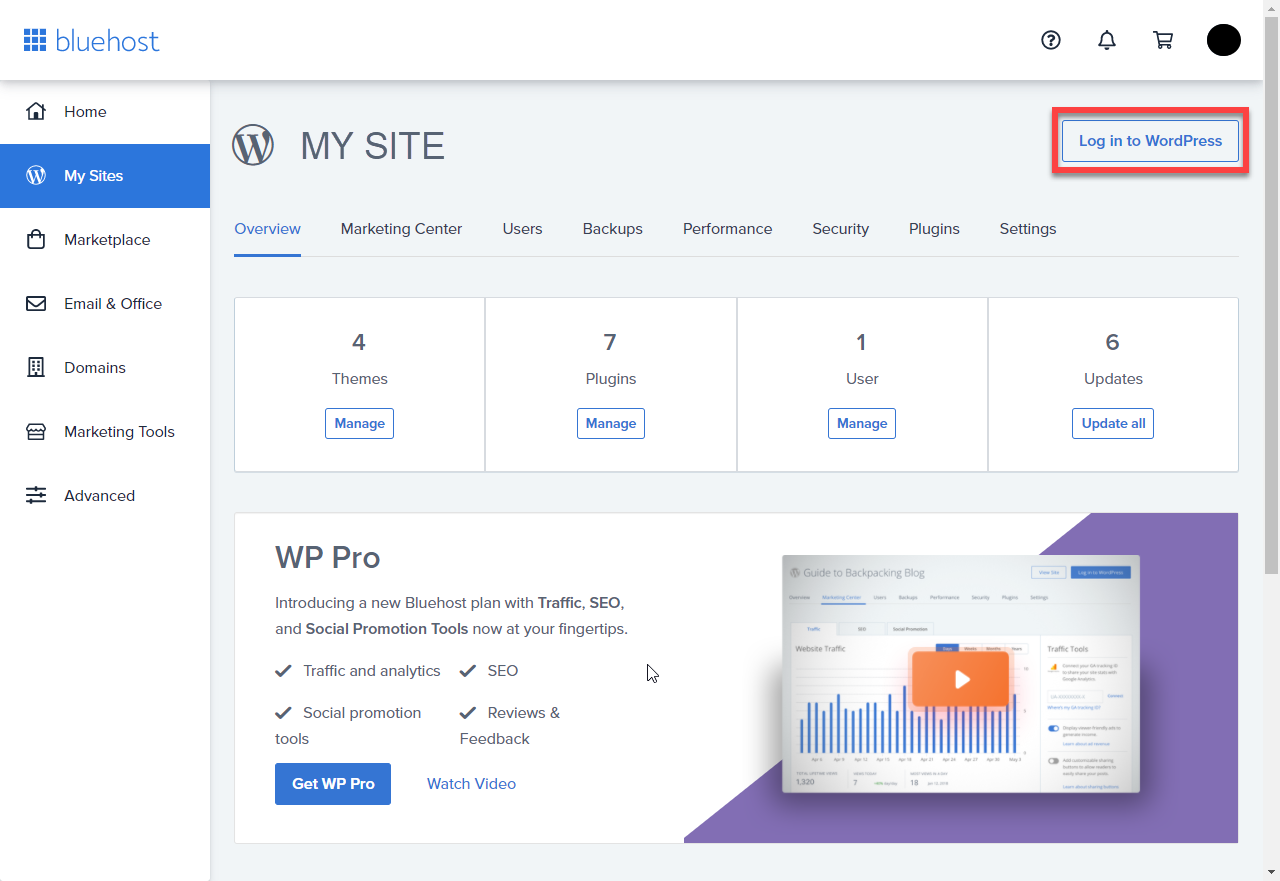 At this step, you can easily open WordPress and click the login button to continue. Then, do the setup. This process surely will not last long. You don't have to waste your time finding guides but all the necessary things. All you can do is just "click" and let it install automatically on your devices.
When WordPress is ready, you should follow these tasks: adjust the customization options, choose templates that suit your website as well as build some pages.
If you want a more specific guide, please refer to our other tutorial on installing WordPress on a website.
Let's finish this step to move to step 4.
Step 4: Pick up A WordPress Theme, then Start to Build a WordPress Website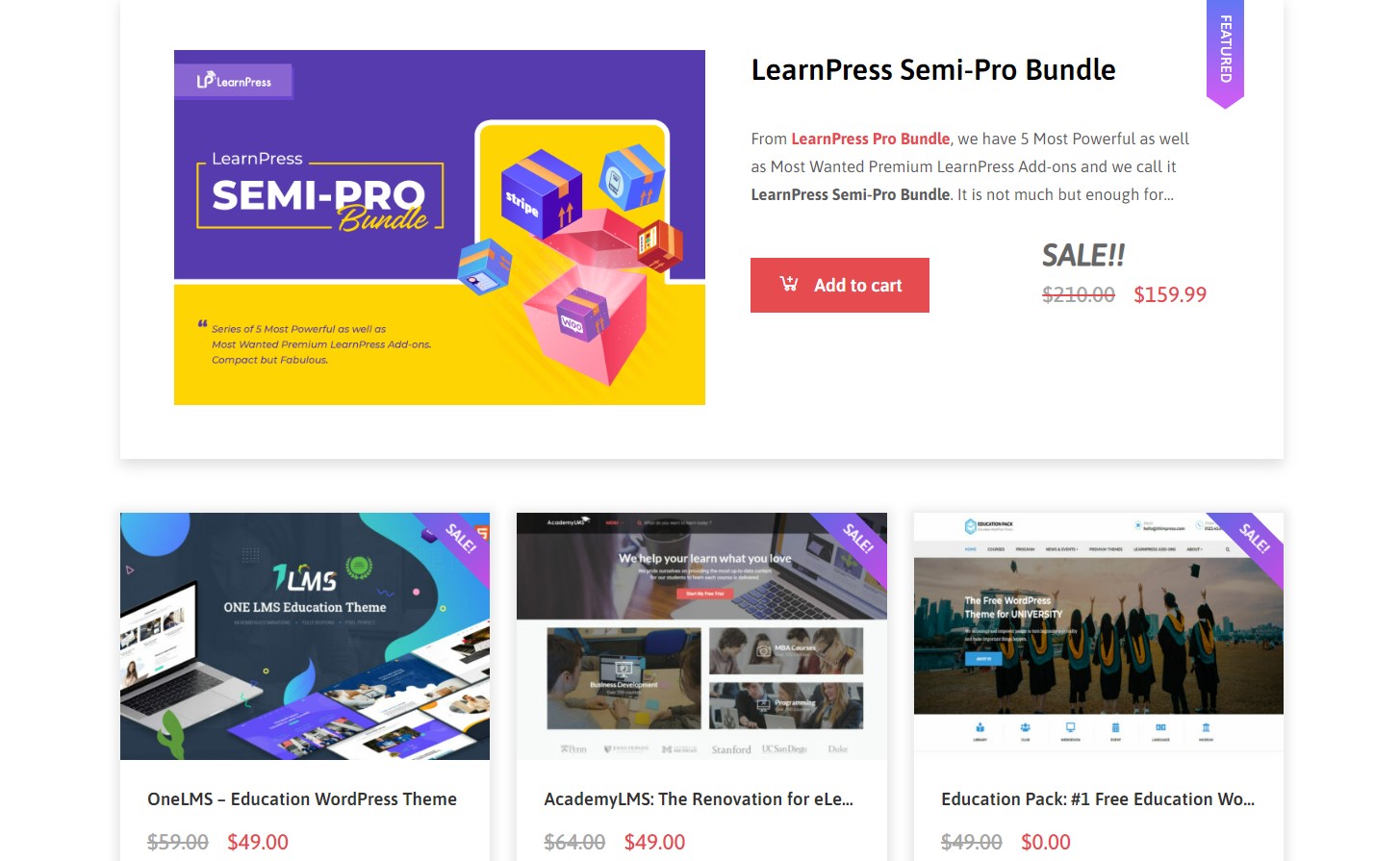 After getting things done with the WordPress software, let's make up your mind about a WordPress theme that serves your purposes. Let's handpick the best one that meets your expectations and inspires you! You may want to know more about our Themes collections by ThimPress.
So far, WordPress themes have been widely known and have become renowned. The great plus point of these things compares to another is that it allows users to edit and make changes to the internal designs. To be specific, this means that you can change the appearance of your WordPress websites with just a few clicks.
So let us offer you a more detailed guideline that you should follow to Build a WordPress Website.
In the first steps, look for the admin dashboard of your WordPress and open it. Then, you should navigate to the sidebar and look for the "Appearance" section. In that section, you will see "Add new". Please click to choose the most perfect one for yourself.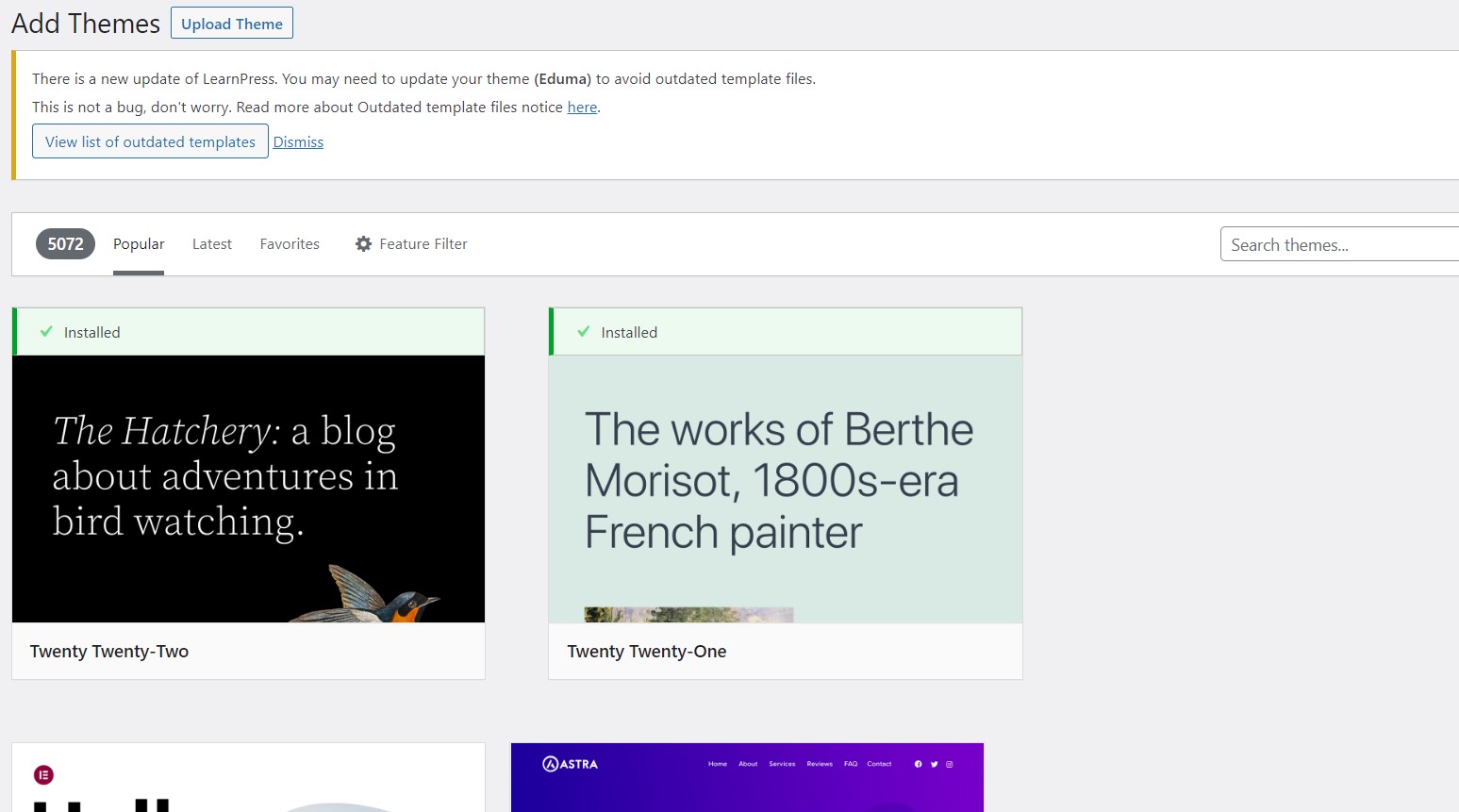 Moreover, you can always make decisions on the number of themes that you want to activate. Nevertheless, you are only able to use one (not multiple) at one time.
After having the selected theme, you can adjust your customization options. With a couple of clicks on the "Customize" section, you can see a difference and make your uniqueness. To be specific, You can freely edit things such as fonts, header&footer, and so forth. To preview your work, you should move your mouse to the "Live Preview" section.
In addition, WordPress themes have periodic update versions that fix bugs, errors, etc… So, to avoid compatibilities problems, you should check your themes' versions regularly and have them upgraded to the up-to-date versions. Updating a WordPress theme is very easy: Open "Appearance", move to "Theme" then look for the notifications, if the notification shows you a new update version available, click the section "Update Now". In contrast, yours have the newest updated version of your "at the present" theme.
Step 5: Create Pages and Add Content to Your Site
Two default genres of content that WordPress comes with are pages & posts. Therefore, before go Build a WordPress Website, we'll answer three classic questions about "one-off" content as well as pages & posts.
"One-off" content is among a list of five different popular content categories (besides New news, Evergreen, Liquid, and Divisible content). This genre of content is for information that is difficult to edit/update/design.
Because of its content structure&style, pages are often created for those "one-off" contents. This content type may be familiar to you because it is popular. Some examples are privacy policy, business visions and missions, contact pages, and so forth.
Posts are a part of the feature called "Blog". Unlike pages, posts are easy to make changes to and arrange in order. The latter created posts will be displayed first, then the formers.
How to build a page?
To build a page on your own, you should follow our guidelines. First, move to the WordPress dashboard and find out "Pages". Then, click "Add New". The following page will be shown on your screen, so what are things? Let's find out their roles: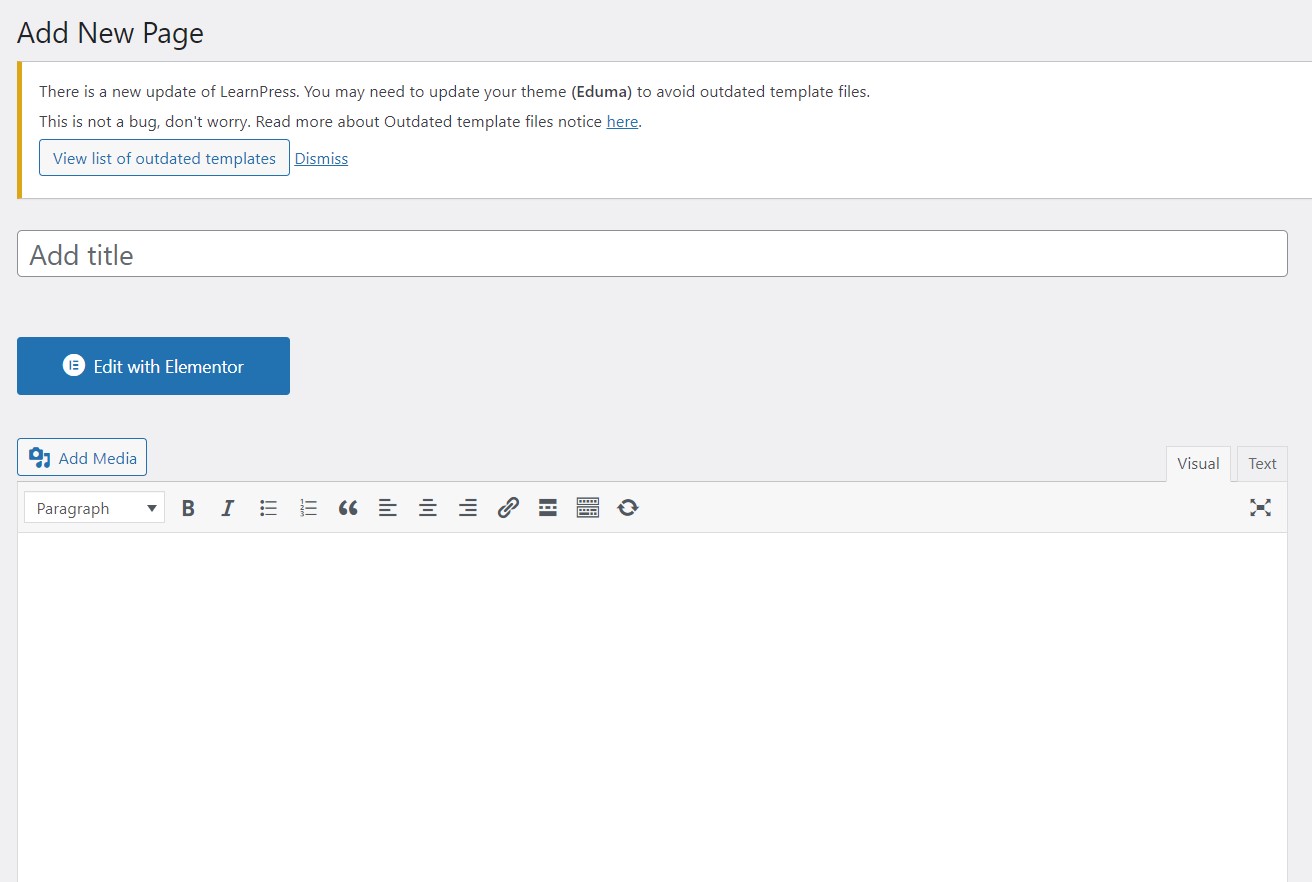 Insert your page's headline place here.
Edit your content here with all basic functionalities in text format.
Add your images to your page.
Flexibly switch between two modes "Text" and "Visual". For beginners, we highly recommend you use the former.
Public your page with edited content and title.
Allow the comment or not with the "Discussion" section.
Choose a "Featured Image" for your WordPress theme to display alongside a prominent spot on your page.
How to create a post?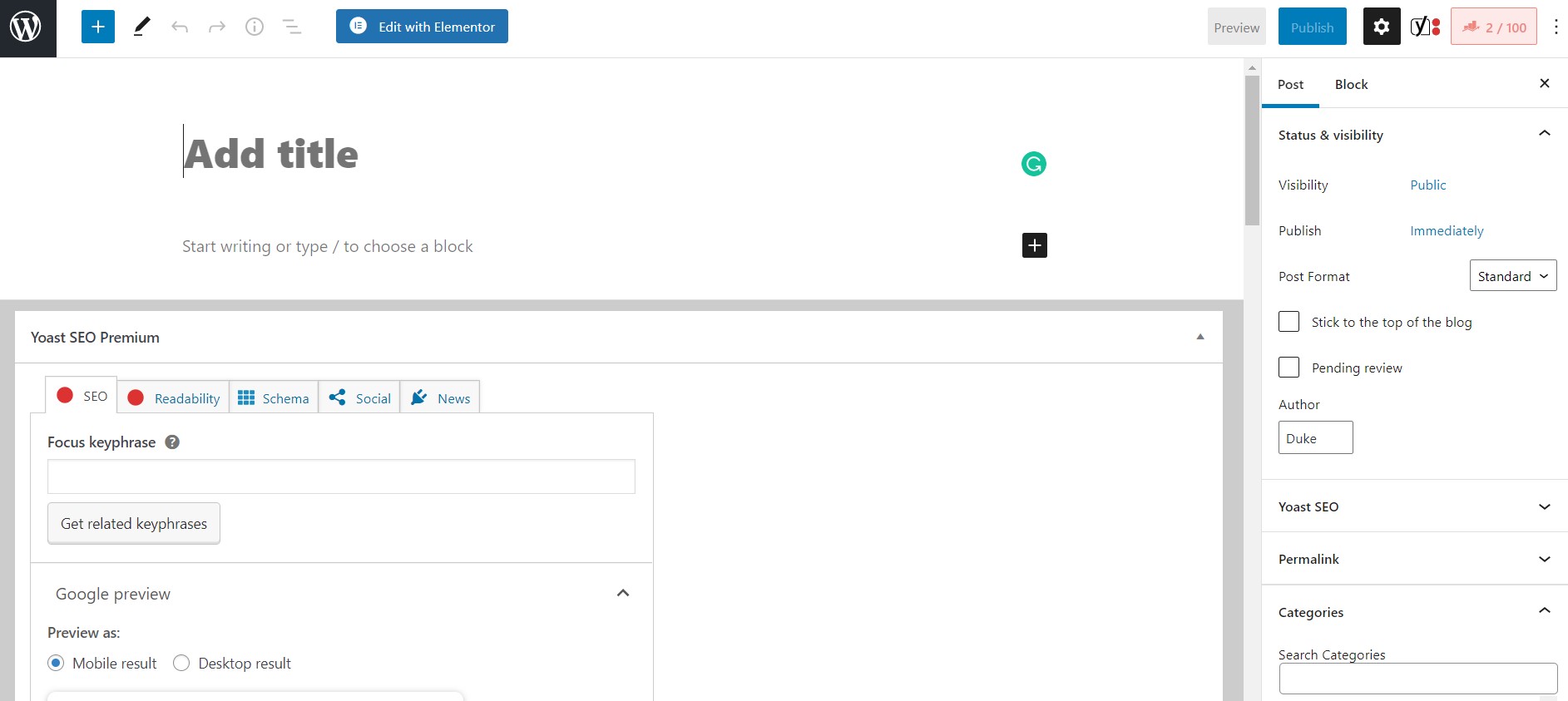 With WordPress, blogging is an easy "job" for the users with a few clicks. Let's make a post!
In the first step, click your mouse to choose "Post" > "Add New" (indicated on the dashboard). When you have done those mentioned tasks, click "Publish".
The panel that lets you edit your post is not different from the one in the page-creating process. However, there is still a difference, posts are able to be assigned to tags and categories flexibly while pages are not.
One more thing to notice yourself, you should choose/designate one among your created pages as the main listing of the blog for your posts. As you do that, people will find it easy to access your page. In case you may not figure things out, we will go into the details:
Create a blank page "Blog" by navigating to your WordPress dashboard and selecting the option "Pages" then "Add News"
Next step, you will move your mouse to the "Settings" section and choose "Reading". Then, you will see 2 options for your blog page as the image below shows. You should choose "Blog" mode.
After having done those basic mentioned tasks to create a page or a post for your blog, you may find it easy right? However, one more extra point that you may not know is that just by navigating to your newly built page, all recently created posts will indicate on your screen.
If you are a blogger/content editor (or other relevant occupation), we highly recommend that you should get yourself a certificate called SSL to assure your readers when they pay a visit to your page.
Step 6: Install Essential WordPress Plugins to Build a WordPress Website.
As a newbie, you may not know what WordPress plugins are. Don't get confused, here is the answer! Briefly, WordPress plugins are dozens of different software that can help you in crafting a WordPress website, adding features, or extending them. Those plugins' roles may be diverse as each of them is developed to serve different users with particular purposes.
Therefore, before making a final decision on which plugin is perfect, a newbie or anyone else should determine his ultimate aims. For example, if your aims go toward educational purposes, you may need LearnPress Plugins – the best one for creating online courses and selling relevant services/products. Besides, regarding other purposes, there are different helpful plugins that may suit you, they are SEMRush, WPForms, All In One SEO, MonsterInsight, and many more.
To Build a WordPress Website, you need to install WordPress Plugins first. Let's start with the "Plugins" section indicated on your screen in the admin dashboard. You will see every plugin that you have installed (depending on your current selected web host) as a list.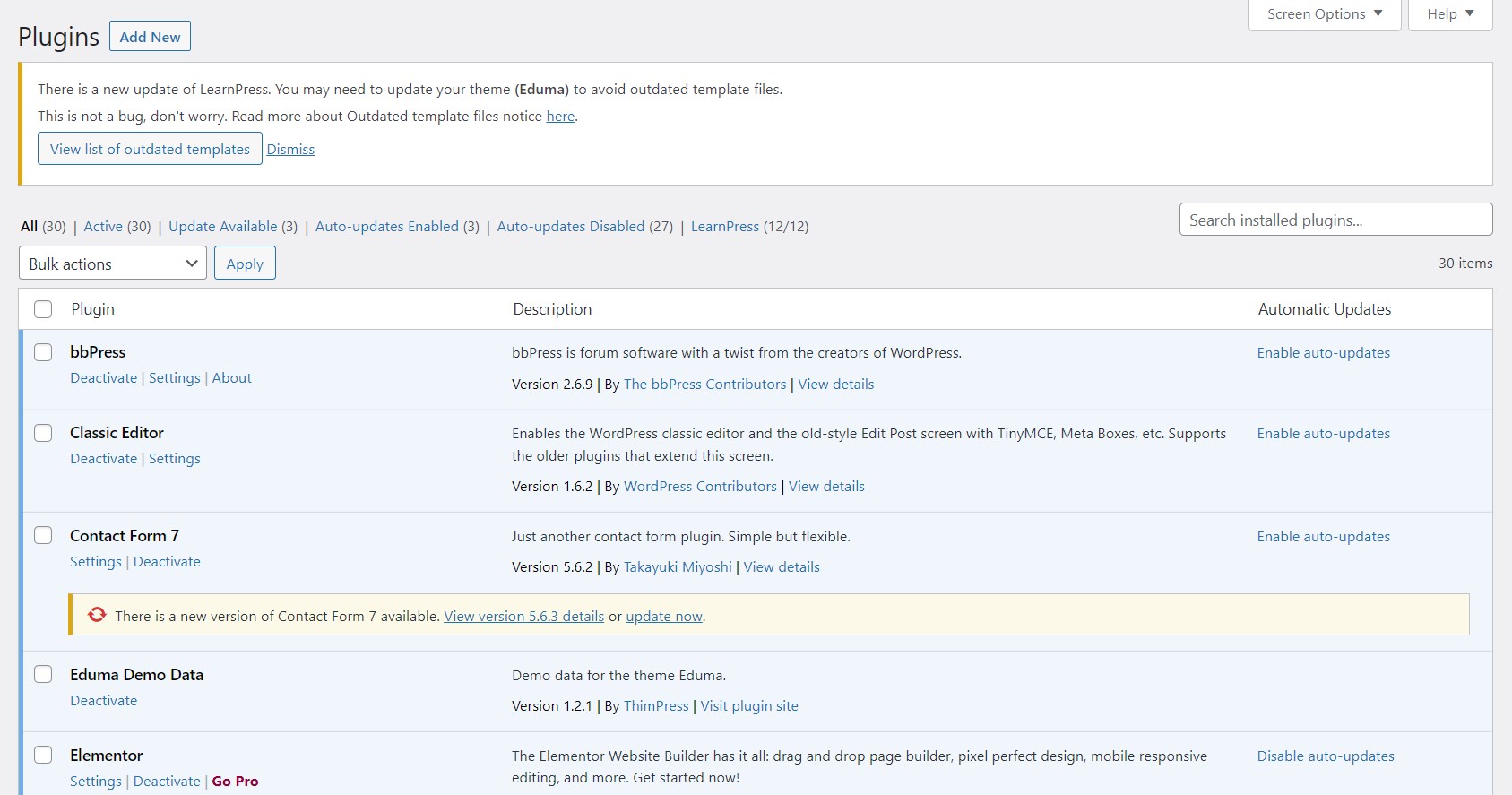 Then, to get a new plugin, you will navigate to the "Add New" button, click it and look for your desired one. After that, you will click "Install Now" and wait. Wait a little bit and click the "Activate" button actually.

Step 7: Boost It Up to the Next Level.
Now you simply may know the way to Build a WordPress Website. However, to make it more optimized, you should continue following our ultimate guide.
Websites powered by WordPress are capable of doing amazing things. For instance, building a website for online business, membership, education & human development, etc… In addition, it can bring you more different types of WordPress websites.
Final Thoughts:
As a newbie, you may feel overwhelmed with the thoughts of creating a website, and sometimes scared. However, after we come together through 6 stages, you, somehow, may feel more confident.
There we have done it! You have just received the main basic idea of our step-by-step instructions in "How to Build a WordPress Website". Then, you will serve yourself by acknowledging WordPress site building.
Read more: Guide for beginners: Install a WordPress plugin in 2022.