In the online education field, there are many wonderful themes and plugins for WordPress users to take advantage of. Indeed, LearnPress from ThimPress stands out as one of the top products for building educational websites.  It is very easy to use but you should know some information about it. Today, we will guide you on how to Install LearnPress Plugin and configure it.
Install LearnPress Plugin: What is LearnPress?
LearnPress is a comprehensive WordPress LMS Plugin for WordPress.
LearnPress is the best free WordPress LMS plugin that can be used to easily create & sell online courses. Having this plugin, you have a chance to quickly and easily create online-course websites with no coding knowledge required.
Here are some of LearnPress's features:
LearnPress supports WordPress Multisite.
LearnPress provides an excellent user interface for online courses created with any options you need.
Export and import your courses to another website.
With the course you've created, you can share it, manage it, observe statistics about the number of students, trends, and so much more.
LearnPress allows you to sell your courses with many billing methods supported such as PayPal, WooCommerce, Stripe, etc.
Lastly, LearnPress is free and always will be.
Install LearnPress Plugin: Requirements
Before you start, let's check some of the requirements to install and set up the LearnPress plugin and its components properly.
Firstly, make sure that you are using WordPress version 5.6 or higher, PHP version 7.0 or higher, and MySQL version 5.7 or higher.
And secondly, you need to go to your WordPress Dashboard admin -> click on the Settings -> and choose "Permalinks" and tick on the "Post name" settings.

Steps to Install LearnPress Plugin
Next is the instruction on how to install LearnPress.
First, you need to go to your WordPress dashboard admin => click "Plugins" on your sidebar => and select "Add news" => then you can find the plugin by typing the plugin name, I will type "LearnPress" in this search bar => then you will see "LearnPress – WordPress LMS Plugin" => and click on the "Install now" button. After that, you'll notice the 'Install Now' button will change into the 'Activate' button so click on it.

As soon as LearnPress is activated, simply click on the "Quick Setup" button to get the setup wizard running.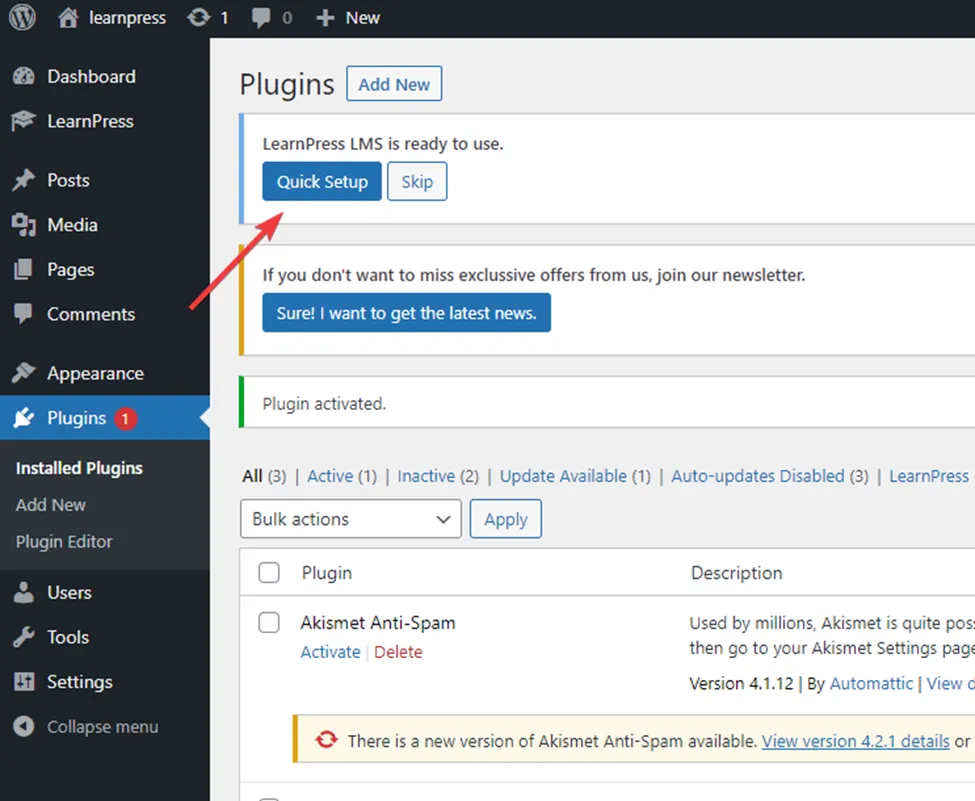 Now, go ahead to click on the "Run setup wizard" button: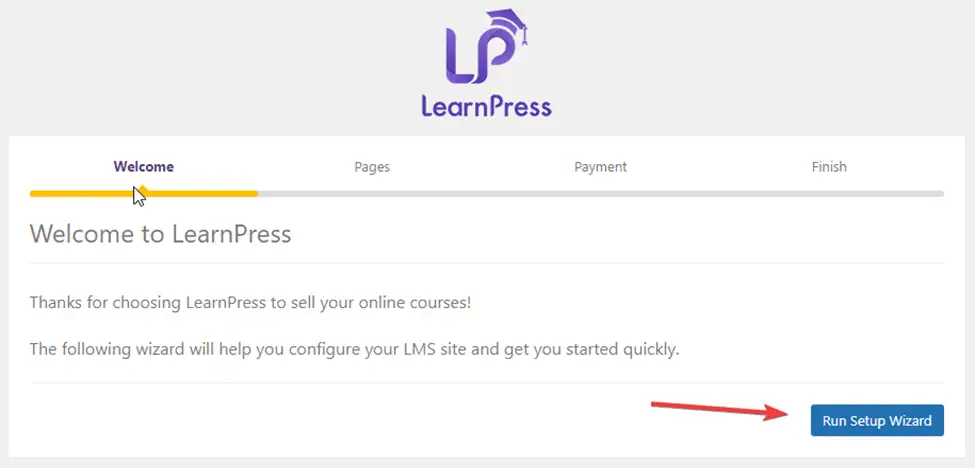 So now you can see the static pages which are used to display the content of LP's necessary pages such as Courses, Profile, Check-out, Become a Teacher, Terms & Conditions. In each part, you can select or edit a page or create a new one. Or you can click on this link "Here" to let LearnPress create pages automatically. After all, click the "Continue" button.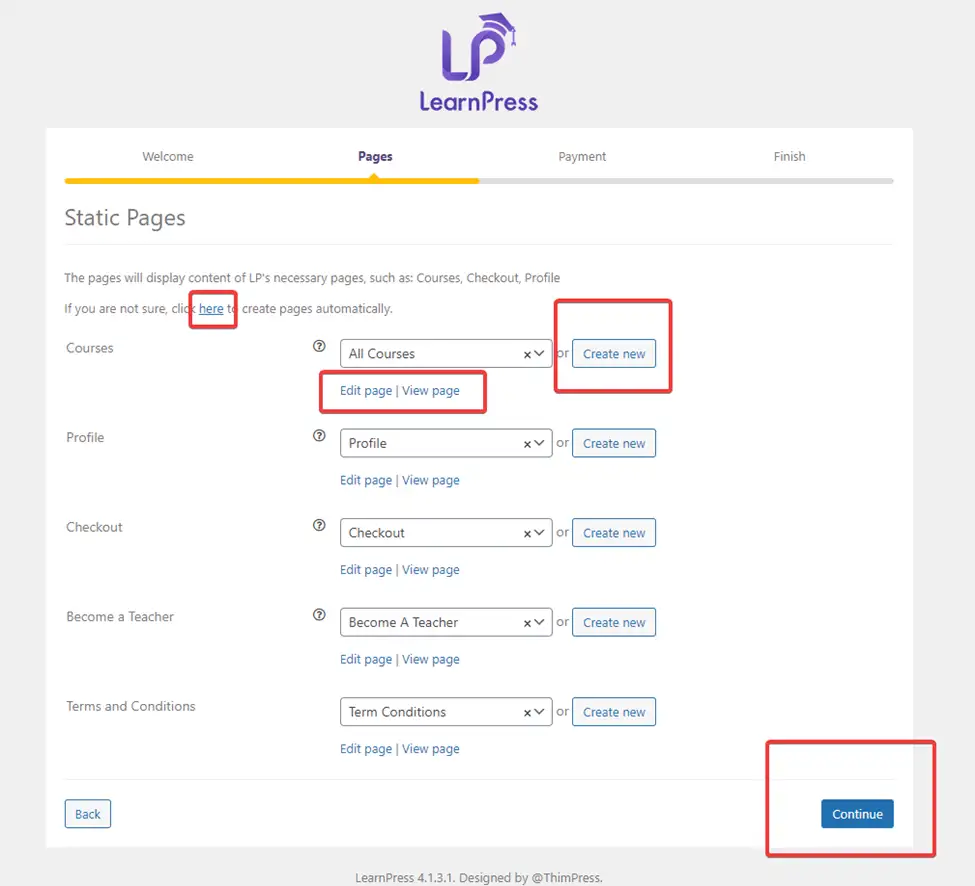 Then the payment window will be displayed. In this free version, it allows you to sell your courses using the Paypal gateway.
First, type your PayPal email and choose the currency you like.
Then click on the "Continue" button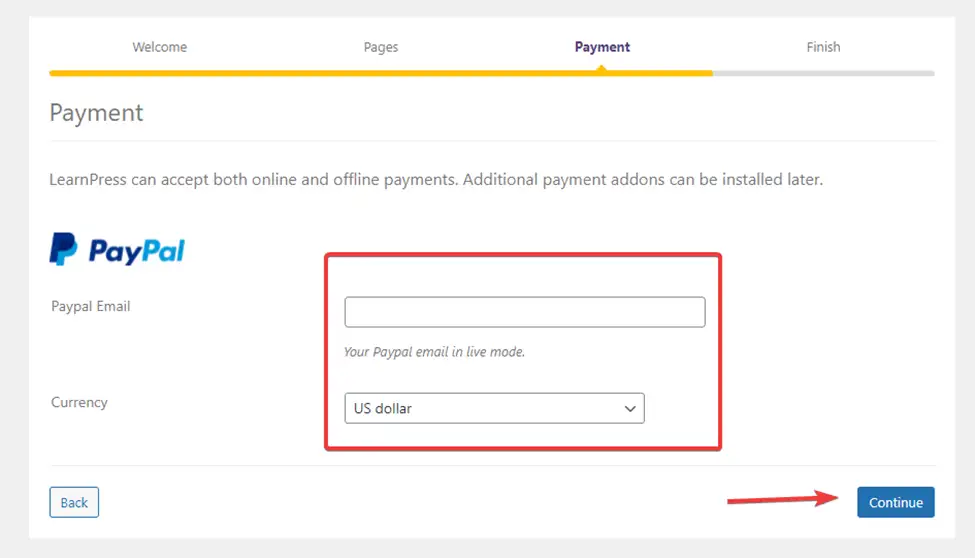 And now is the last part of the quick setup process, you can go ahead and create a new course, install a demo course, view documentation to know how to use LearnPress or Back to Dashboard.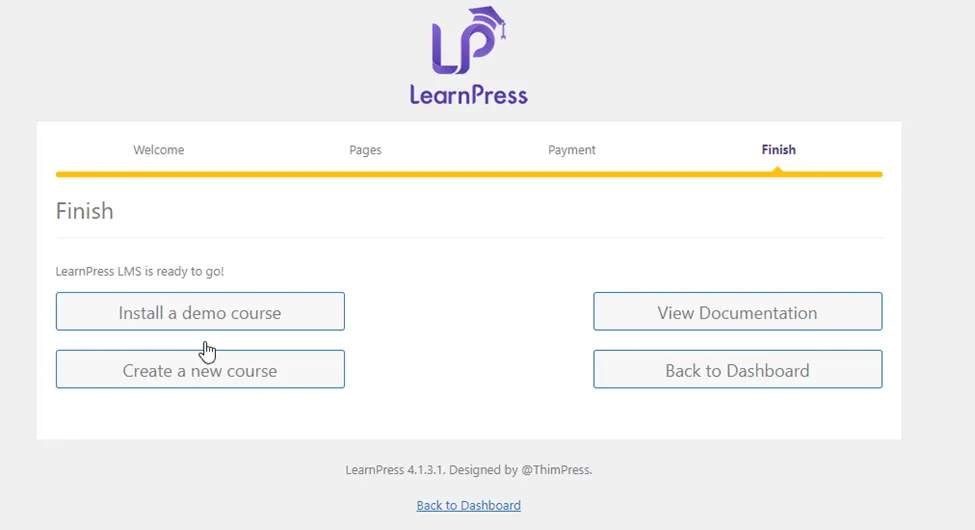 So let's try to click on the Back to Dashboard and you can see the Courses, Lessons, Quizzes, and Questions here which allow you to create or edit. Next is the Order tab where you can manage orders and you can see the Statistics section here too.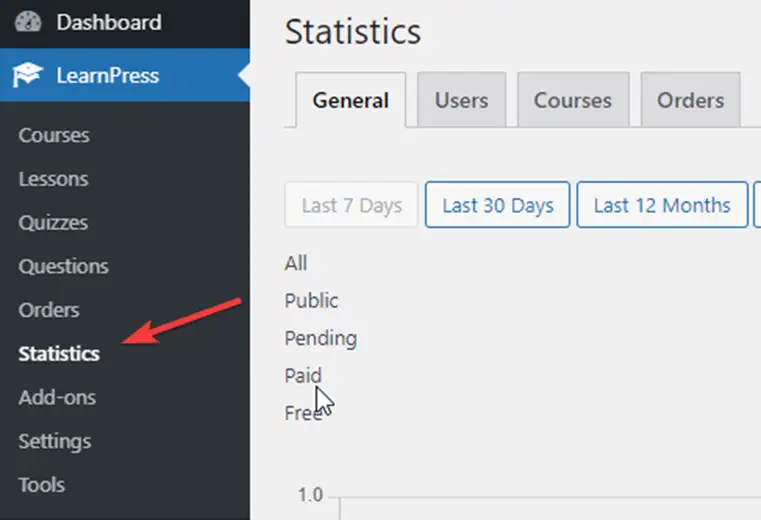 And if you want to use plugins or themes that integrate with LearnPress, you can select the Add-ons section. In the settings tab, you can configure pages, payments, emails, and so on. Finally is the Tools section where you can reset the progress or install the sample data.
That's all about how to install the LearnPress plugin. We believe you will acquire useful guides and information from this article.
Read more:
How to Install WordPress to Your Website (2022)
Introduction about LMS, WordPress, LearnPress, and How to Create a Website