Food is always one of the most attractive things on Earth (especially when you are hungry). However, the food itself couldn't make such charms. It requires designs, orders, and beautiful decorations from the hands of the most talented chefs. Just like that, a website for food/restaurant also needs those factors from the minds of the best designers. For food reviewers/bloggers, always need a theme to boost the elegance of their food content. Let us come and check, what is the best WordPress themes for food category suit you the most?
Magazette defines the next generation of Newspaper and Magazine WordPress themes designed for Food. But also, it is another renovation for bloggers that seek elegant designs. Apart from 4 demos for magazines, Magazette provides another 4 for blogging purposes. Furthermore, the theme supports many impressive and convenient features. The well-known WP Bakery page builder aka Visual Composer is bundled inside the item. With this, you can edit your site live and observe the changes immediately. Not only that, it has been customized by the theme author – ThimPress. In fact, you will have 95+ elements within the page builder, giving you unlimited mix and design for your unique blog site.
Looking for unique looks for every aspect of your blog, Magazette will make you satisfied with it. It has fantastic category design, helping your site be better ordered and designed.
Besides, you might think a lot of elements mean a lot of trouble. Worry not, Magazette got you covered. It has a super user-friendly UI. Thus, it is highly yet easily customizable. Also, Magazette is optimized for advanced SEO. You will have a lightning-fast loading speed with an intelligent ads system. Monetizing your site with Magazette has become faster than ever.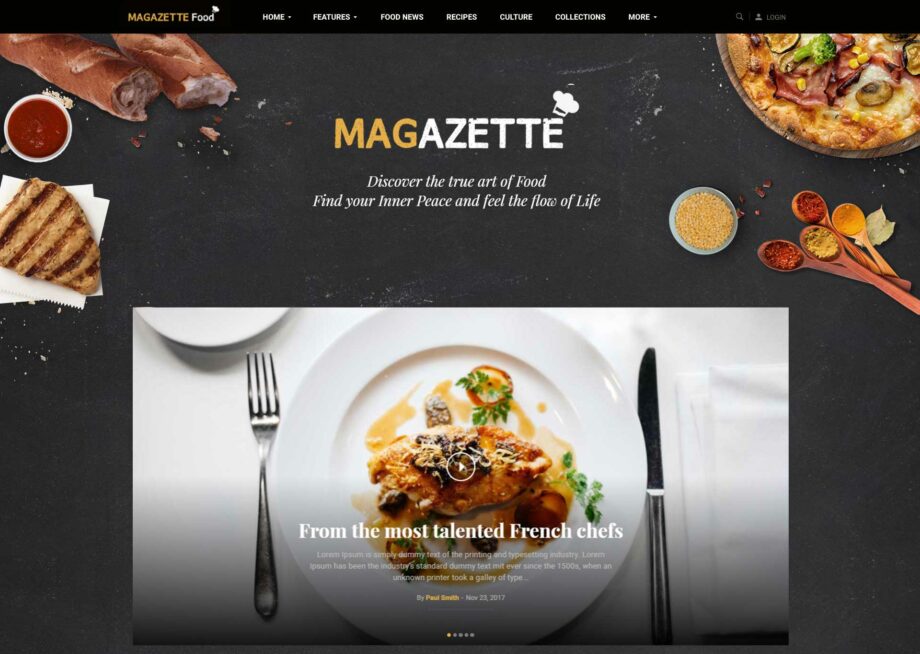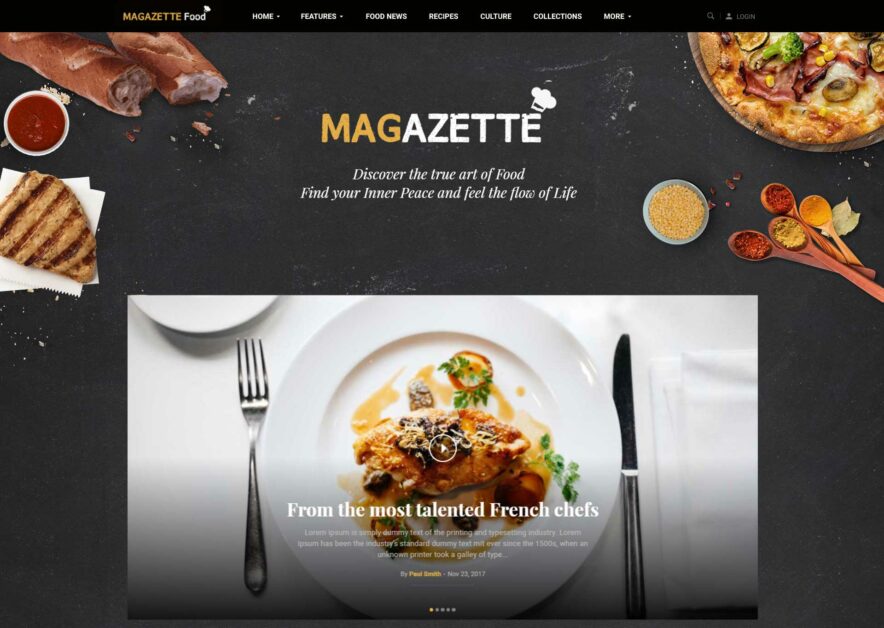 Live Preview Learn More Get Hosting
One of the bestsellers in Food category, Madang focus on healthy and fresh food. Firstly, the simple design of Madang brings the most natural feeling. With white and blue, the theme shines brighter with freshness. Besides, the theme is very flexible and easy to customize. Drag-and-drop page builder and user-friendly UI help you adjust and replace contents with ease. Also, Madang is built for the ability to sell. Customers can find their needed items very quickly as the categories and filters are very well-designed.
Furthermore, Madang provides various layouts in unique styles. You can customize header, cart, call-to-action and many other widgets. There are also meal plans section and nutrition facts calculation within the theme. This will help you plan better for your diet or healthy eating.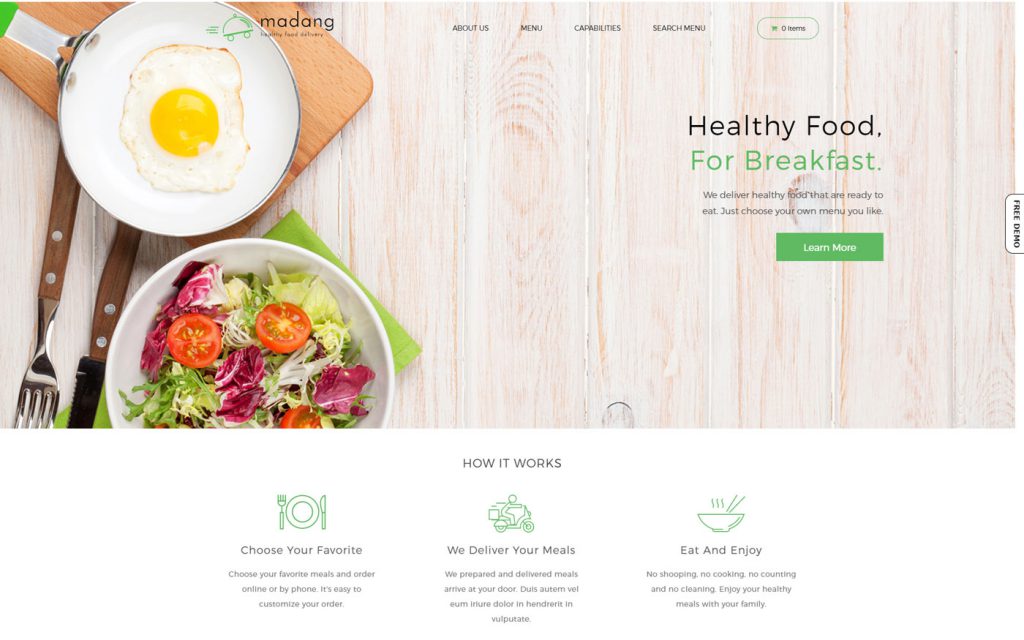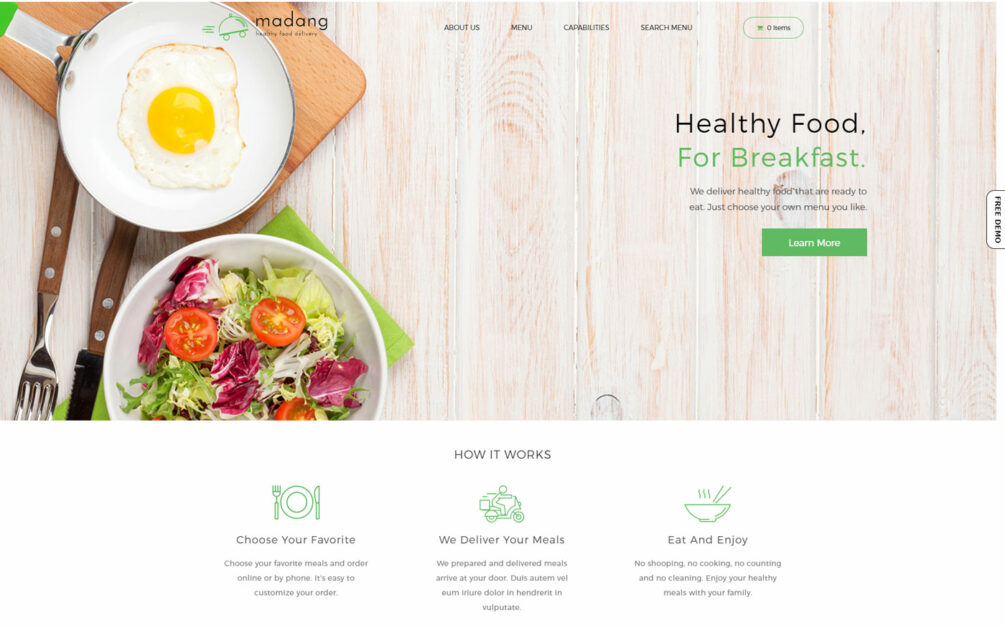 Live Preview Learn More Get Hosting
A Beautiful Cake WordPress Theme for Cake, Bakery Shop. Cake is not just a cake, but an art. The theme was built with passion, art and elegance. Using soft colors as main, Cake Art makes people feel comfortable and relaxed whenever they enter the site. Combine with the charm of cakes, this theme is one of the best WordPress themes for cakes and bakeries.
Moreover, Cake Art is well-designed with delicate. Each block, area and box connect to each other and emphasize the whole beautiful layout of the theme. The cake becomes more attractive with Cake Art.
About the features, Cake Art is mobile responsive and retina-ready with any mobile devices. Sit down and enjoy the coffee while the theme imports your demo in with just one-click installation. Also, Cake Art fully supports WooCommerce with optimized performance. This boosts your cake selling and SEO to the top. Besides, the theme provides Revolution Slider FOR FREE, saving you $18. With Cake Art, you will have unlimited combinations of design with drag-drop page builder, color picker and a giant pool of fonts to choose. There are more about Cake Art, find out more at the demo and its landing page below.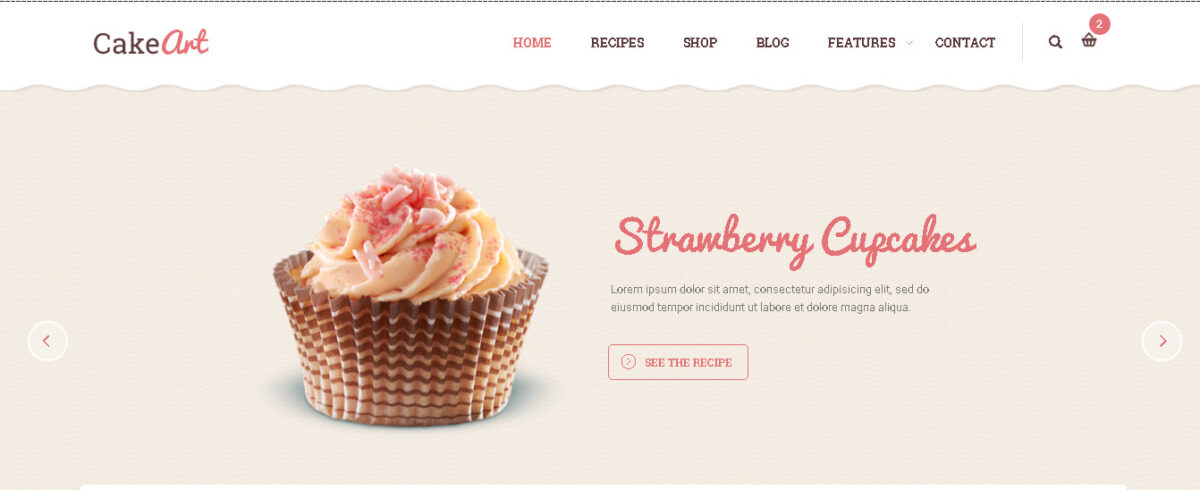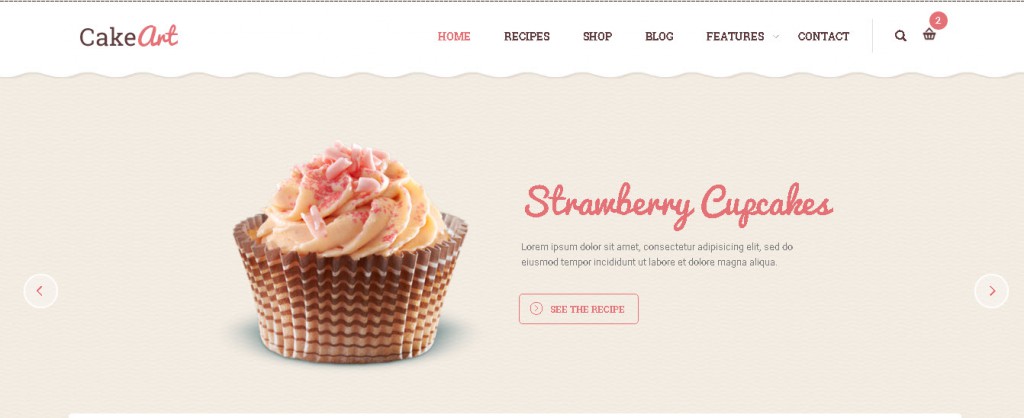 Live Preview Learn More Get Hosting
Everyone loves pizzas. In fact, Pizzaro might be one of the most beautiful themes for pizzas. The theme has a brilliant design and interactive. Pizzaro has a symmetrical layout, linking all elements together and deliver an elegant feel toward viewers. Moreover, the well-combination of warm and cool colors has emphasized the food contents within the theme. Thus, the pizzas become more attractive than ever.
Not only pizzas, sushi and fast food also match very well with this theme. It's clean, modern and creative which draw premium attention to the contents. Also, Pizzaro brings you seven demos for you to pick. Relax and the theme will import demos automatically with just one-click. Besides, the theme has many page layouts for blog, shop and products that you can consult for your site.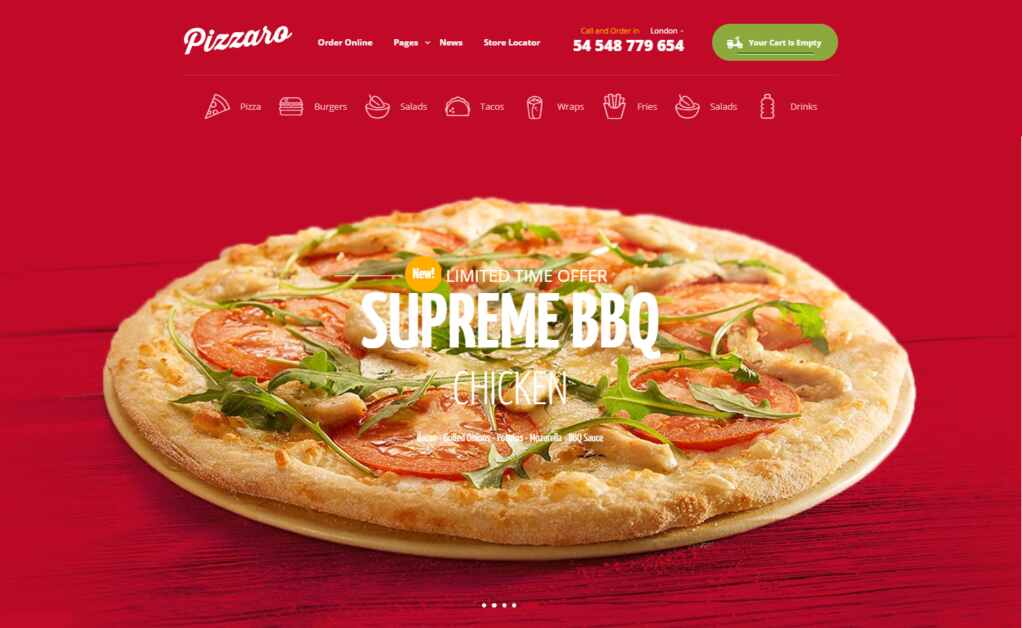 Live Preview Learn More Get Hosting
Live up to its name, Coffee King is an exclusive WordPress theme for the coffee category. It has 4 demos for multi-purposed coffee: shop, market, and general coffee introduction. Also, the theme brings various interactions and elegant designs to your site. Therefore, people will find interesting and curious about your coffee shop. The main purpose of the theme is building a coffee store, so what it aims for is the ability to sell. Thus, Coffee King especially takes care of SEO and optimized for the best performance. And, the theme works perfectly with WooCommerce and MailChimp, promoting your coffee business better and better.
Moreover, it gives you WP Bakery visual composer for free, included in the theme. The same as all other premium themes, Coffee King is very easy-customizable and provides abundant possibilities of designs. Plus, the theme has 32+ amazing inner pages with the responsive features, making your site more diverse and beautiful.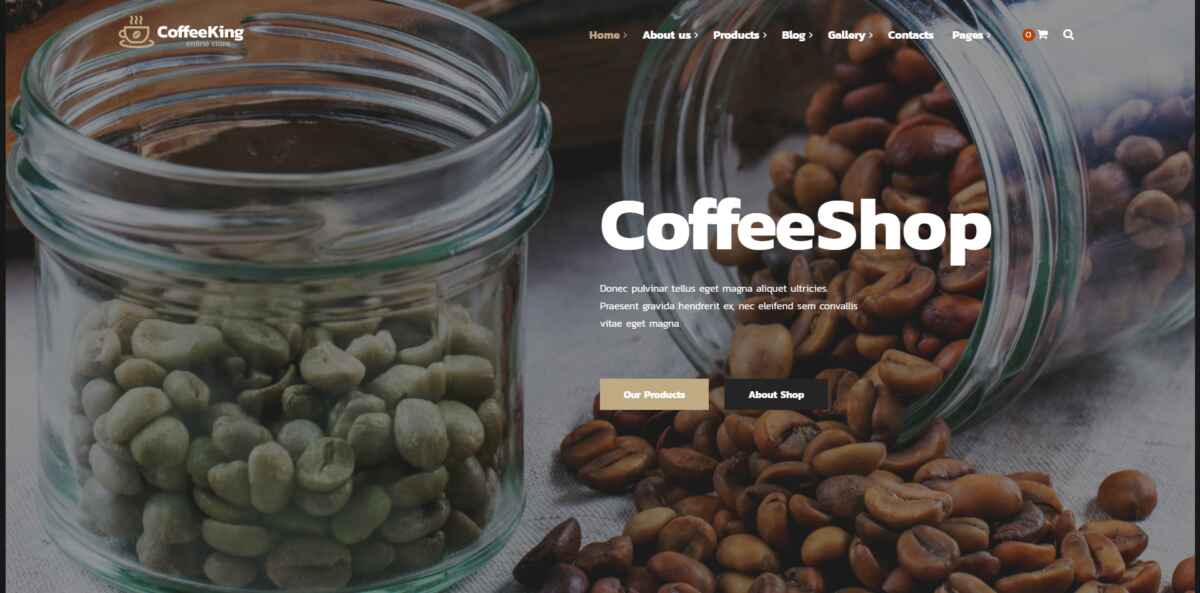 Live Preview Learn More Get Hosting
The first impression, SuperFood is a charming theme for organic food and healthy products. The theme is very colorful with many color combination yet still elegant, bringing lively feel toward viewers. Besides, SuperFood integrates beautiful parallax and shop function within the theme. With Superfood, you can not only build up a fresh food site. But also, an online store to promote your food business. This suits both for individual food bloggers and marketplace.
With SuperFood, no coding knowledge requirement, the theme should do it all for you. A powerful admin panel is in charge, giving you all the tools possible to build up your site. Abundant demos with 12 ones will give you some choice to consult and design. Of course, the theme is responsive, retina-ready with one-click demo import. Also, it supports beautiful sliders, many other powerful widgets and shortcodes.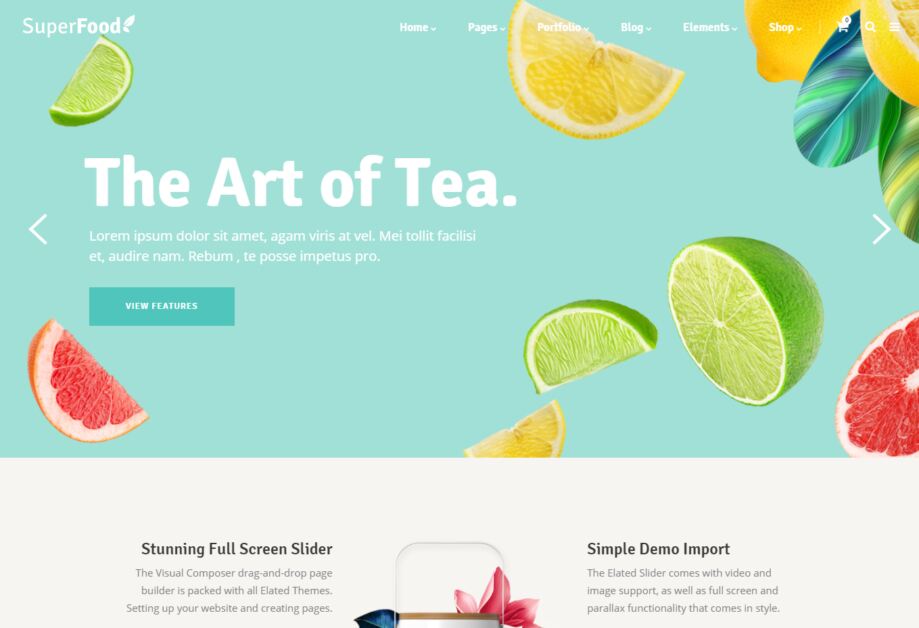 Live Preview Learn More Get Hosting
Next, we are coming to Good Food. It's a simple theme for food recipes and blogging. With a clean design and modern layouts, the theme emphasis the food contents along with the recipes. The theme attracts people not only by delicious foods but also the eye-catching galleries and blogs. Also, Good Food was exclusively designed for recipe creating with custom recipe post type. Integrate with shop functions, you can also build up your own store for food and kitchen products. Moreover, the events calendar is for scheduling culinary events, workshops and upcoming holidays.
Besides, the theme is highly customizable with Visual Composer, beautiful sliders and easy interface for users. Animations also make the theme more lively and interactive. And, the Megamenu is a very good way to promote your site's contents. Plus, Good Food brings you advanced SEO and performance optimized for fast, smooth run in all environments.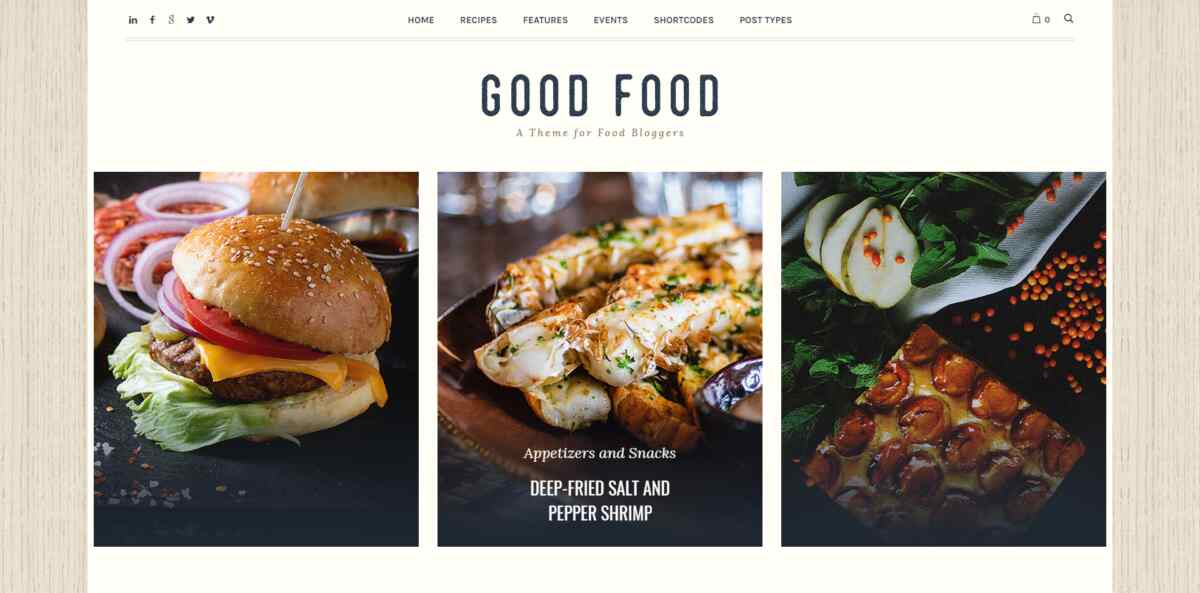 Live Preview Learn More Get Hosting
Food Booz brings you an incredible number of demos. It has 9+ homepage layouts, 12+ blog layouts, giving you many combinations and mixes for design. This theme can match with many purposes for food. They are coffee shops, restaurants, recipes, chefs, blog, and even food reviews. Food Booz is simple yet highlighted the main contents of the site. This not only draws more attention, but also not confuses viewers with many colors and blocks.
This theme is called "minimal" which not using any extra resources, boosting the speed and performance of your site. Food Booz also provides many excellent features like all other premium Food themes. Such as one-click install demo, easy customization, responsive and retina-ready. Plus, you will have Visual Composer and Revolution Slider for free, saving you $50+ for both.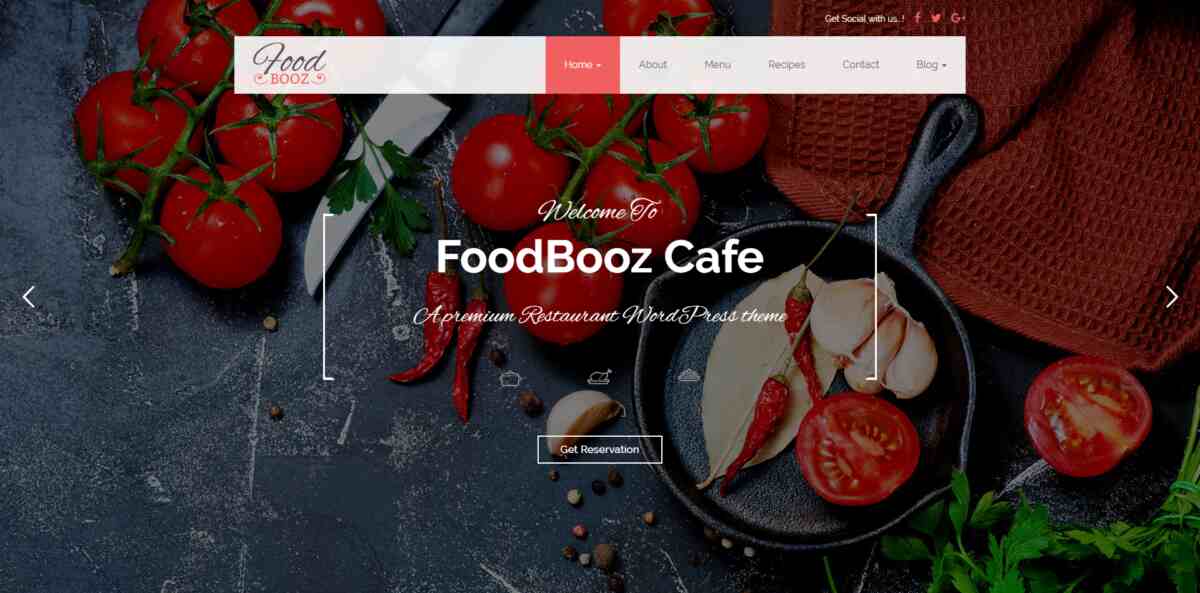 This is one of the multipurpose WordPress themes for the Food category. You can use it with food blogging, cafe, restaurant, recipes, and reviews. This theme provides you 6+ demos to import, each one has a unique design and serves a dedicated goal. Plus, this is a fully responsive theme with beautiful parallax, awesome widgets, and convenient tools. With Food&Cook, you can maximum utilized it for your many-shaped purpose. This theme also brings you a drag-drop page builder, high customization, and multiple page layouts.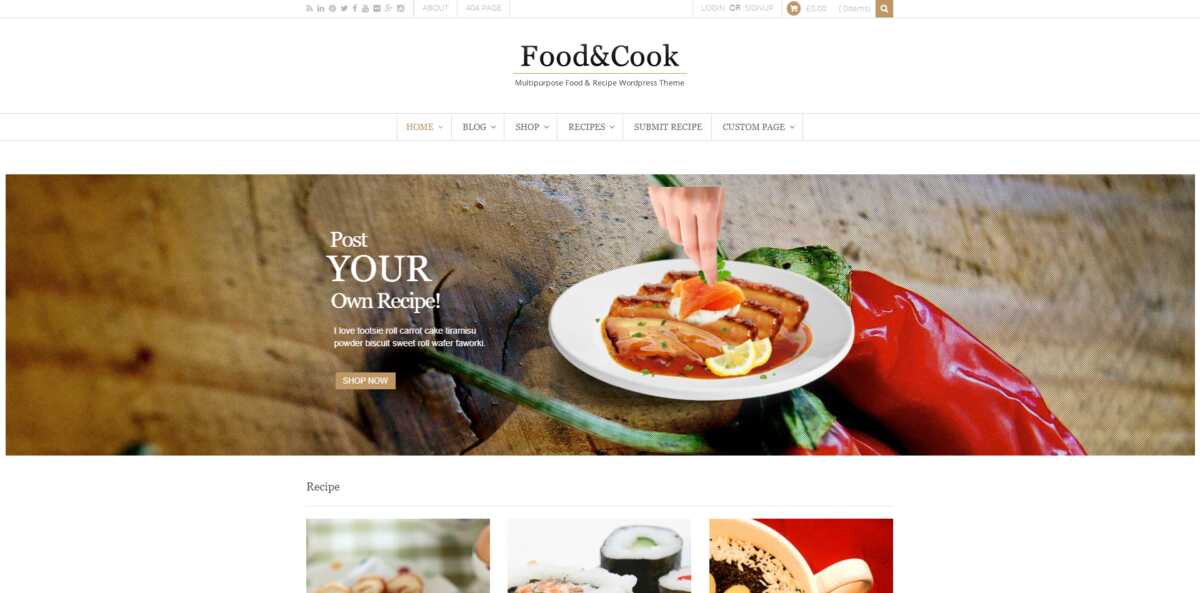 Live Preview Learn More Get Hosting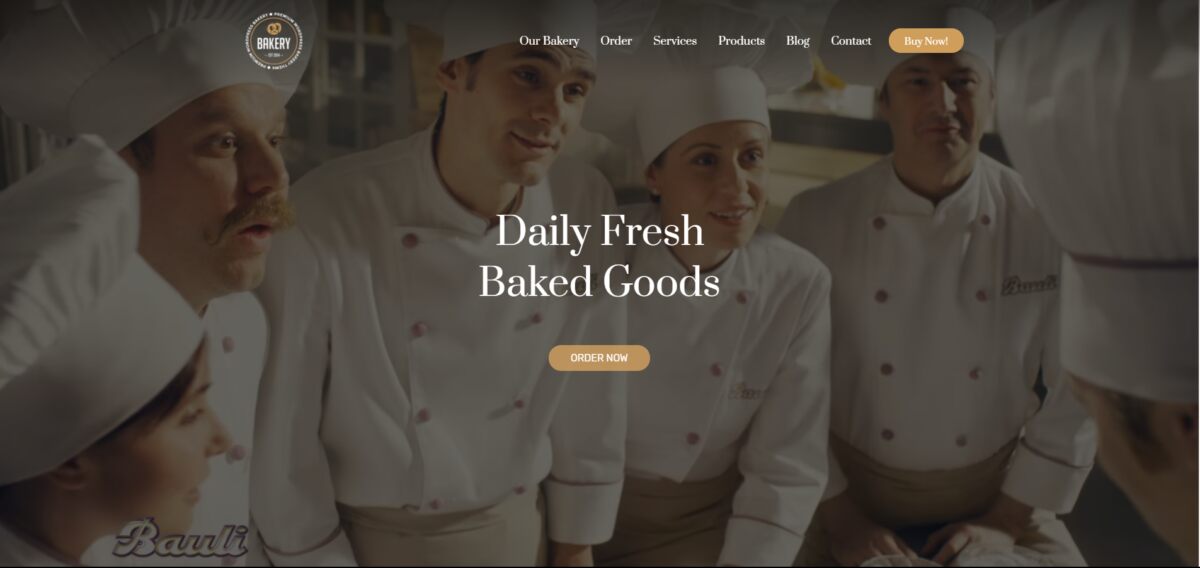 Last, but not least in our list of WordPress themes for food today is Bakery. The Bakery is a great theme for bakery, cake shop, and food illustration. With 04 stylish demos, this item fits flawlessly for bakeries and cake makers. It integrates all the tools and features of a premium to build a powerful website. But also, it gives users the design, layout, and idea for put on cakes, bread, coffee, and many other bakery products to demonstrate. Plus, It promotes your bakery business in no time with advanced SEO structure and optimized performance for fast running. Besides, WP Bakery Visual composer is coming inside the theme, along with the advanced theme options. This gives you unlimited combinations of settings and designs for your own bakery. Plus, it provides a wonderful video hero which was amazing, attracting more people to come to your site.
Live Preview Learn More Get Hosting
Verdicts on WordPress themes for the Food category
If you want to start a restaurant, coffee shop, cake shop, bakery, food blogging, or reviews, then a website is a must for you. Not only that, that website needs perfect optimized for food purposes and match your desires and demands. Thus, you should pick up WordPress themes for food to promote your food content and business. Therefore, those themes listed above might help you a lot in building your food empire. Besides, they are all premium themes with powerful tools and features. They will aid you to create and manage things effortlessly. Also, the purposes of the themes are quite abundant, you should choose the one that matches you the best. Hope you enjoy the collection and good luck in your eating career.
Read more: 5 WordPress Page Builders That Can Help You Build Amazing Websites