A superb company blog can help you grow your website traffic consistently and attract new customers. It will also help you to build a strong brand around your niche.
So you should always integrate a blog page on your business website. If your business website is on WordPress, then no worries you can use the best WordPress themes for blogs.
So without wasting more time let's start with the benefits.
How does a Company Blog Help Develop Your Business?
1. Company Blog can help to increase SEO performance and website traffic
Creating a valuable post with a simple explanation continuously helps to increase your website traffic and organic rankings in the long run.
When your website receives more traffic this means there is a high Chace of getting more leads in marketing terms you can say that more traffic is equal to more leads.
Companies that publish blogs more frequently can achieve huge results compared to those that don't publish blogs.
2. A Company Blog can help to attract new customers and generate leads
When you start publishing valuable content frequently on your company blog, it drives more traffic to your website. Blogging can help your business to attract Audiences who have an interest in your industry or products, and they can also become your clients in the future.
In general, leads are people who have an interest in the products and services that you offer. If you help them in making their buying decisions, they may become your customer value optimization in the future. To do that you need to get the need to gather contact details of these people. To do that you can use.
Giveaways
Newsletter subscription
Webinar
Free values (E-book, catalog, formulas, and guides)
According to a search engine journal, almost 41% of marketers consider blog posts the most effective source to capture the most qualified leads. So yes blogging can help your business to attract new customers and generate leads.
3. A Company blog can help you hire talent
Having an Active blog can help companies to hire new talent for the company. You can use your blog as a recruitment tool also.
Your team and HR can use the company blog to announce vacancies for the company and you can also publish blogs related to your web development company achievements and work it helps to represent the company's work culture.
4. You can monetize your blog to earn extra revenue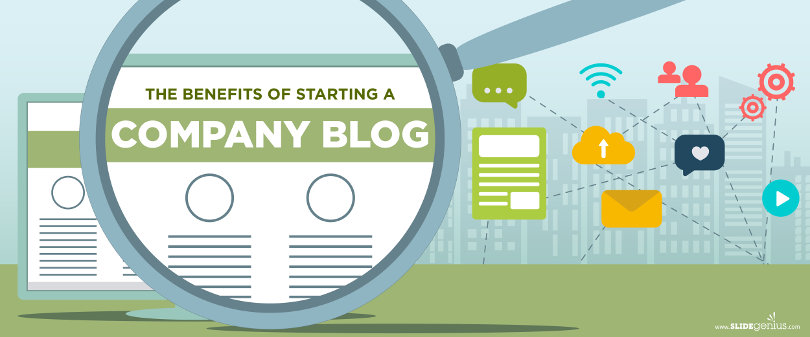 Having an active blog with good monthly traffic is a big advantage, you can easily monetize your blog if you want to generate some extra revenue for your business.
There are lots of ways to monetize your blogs such as affiliate marketing, ads, and many more you can promote other business services or products on your blog. And for every purchase, you will get paid.
5. A Blog can help to build authority in the niche
If you publish very high quality, in-depth, and value-added content on your blog it indicates to the visitors that this company Hyperlink InfoSystem review understands the industry and this helps to build an authority in your niche.
When people want to learn something about your industry your blog will help them to understand the industry insights and build trust.
Nowadays blog has become a key business asset. So you should invest some money on creating and maintaining blogs.
6. An Active blog also helps to build a network
Having an Active and highly monthly trafficked blog can help you expand your business network. If your company have a good blog people will try to connect with your company and business for project celebration, Network opportunities, Advertising request, event invitations, and others.
7. A Blog can help you build a community
An active and decent monthly trafficked blog is an awesome place to build a community. By using the blog commenting feature your visitors or customers can directly interact with your business and talk about their experience with your products and services. And they can also provide you with some valuable feedback that you can use to improve the quality of your products.
So that's all from this blog I hope you understand How a company blog can help your business grow, and get you more clients. If you like this blog, then please share it with your friends. And if you have some suggestions for future blogs then you can let me know in the comment section down below.
Read more: How to Create Free Logo for Your Business