Cake Art WP – Your Solution for an Exceptional Bakery Website
You own a bakery, the "best bakery in town" as your customers usually said. But most of your buyers are only in the neighborhood – you want to broaden your brand so that more yummy cakes could be brought to more smart tasters and you don't know how. There might be some suggestions for you who work in the food industry:
Coupons or discounts.
Seasonal specials.
Shipping.
Membership promotion.
Online marketing.
Of course, we are not talented marketers, so what we give you may not be the best solution. But we advise you to consider the last one mentioned above because the modern world is creating a generation going shopping online more frequently, even for food. One of the most important factors in establishing your online fame or prestige is a website.
A website is also a trademark for your bakery, which differentiates you from the others; that's why it is necessary to own a site that attracts your patrons from the very first click to save time for all of us. ThimPress couldn't help you in designing a discount campaign or shipping support, but we promise to bring you the best WordPress site for your bakery with Cake Art WP Theme.
You would wonder "Why should I choose Cake Art WP instead of the many excellent themes out there?" Let me tell you the reasons. More than one, I'm sure, will convince you successfully.
Read more on ThemeForest | Go Preview
Which Factors Does Cake Art WP Provide to Boost Conversion Rates?
1. Nothing can suit a cake more than Cake Art WP with its gorgeous appearance.
Just think about the cake. What is the first word that comes to your mind? Sweet, right?
The first impression of Cake Art WP is the sweet tone, which represents unconditional love and understanding – a perfect way to take a good impact on the visitors and make them believe that a bakery with a "delicious" site like this can never make second-class products. Moreover, if you look for something more elegant or royal? Don't worry; the unlimited color schemes surely meet any of your demands. As colorful as your cakes, this theme will never disappoint you in browsing color.
What could be more wonderful if an online shop looks like a real one? Amazing parallax effect is added as a fancy "makeup" for your cakes as well to make them look more realistic and delicious. Cake Art WP will provide the best photos of your products at full prices, making purchasers feel like they are standing right in front of a beautiful glass cabinet full of cakes of many kinds that they can't take their eyes off.
Furthermore, responsive design helps your site will look great on any device. Bet that no one wants his cakes to look crooked when in mobile gadgets or different-sized PC. Additional to this, impressive animation added to various icons and images brings your customers joy and excitement whenever they visit your page.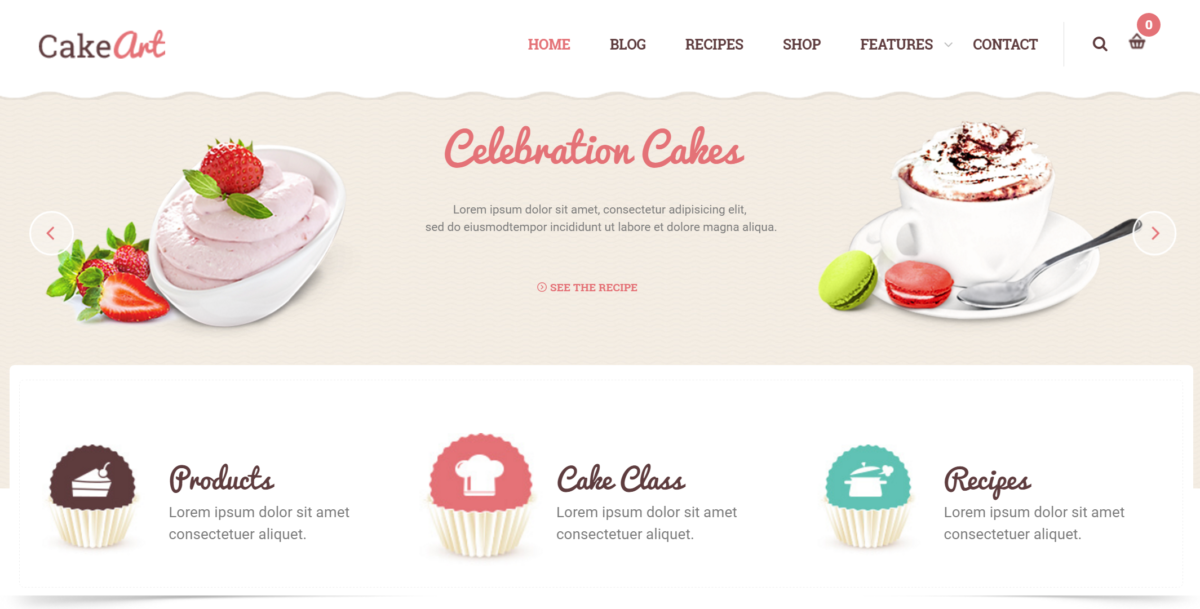 2. You can have another virtual-but-still-actual bakery with WooCommerce.
Shopping online with Cake Art WP could bring exciting experiences to you and even customers. You might hear tons of similar questions like "Excuse me, where are the gateaux?", "Sorry, Miss, but where can I find a hamburger?", "Which cabinet are the cupcakes in?".
They keep asking but still complain later. But now, forget all these questions!
With WooCommerce integrated, ThimPress lets you be able to sort your products into different categories with various criteria: the best-seller cakes are ordered from lowest to highest price; how cute little macarons are rated by demographics, etc.
Smart search helps buyers look for what they exactly want. In this aspect, Cake Art WP not only provides products but also instructs customers about their needs because they sometimes don't know what they want until you show them what they might need. It could be much easier and more convenient than real life with only one click to put them straight into the cart.
Read more on ThemeForest | Go Preview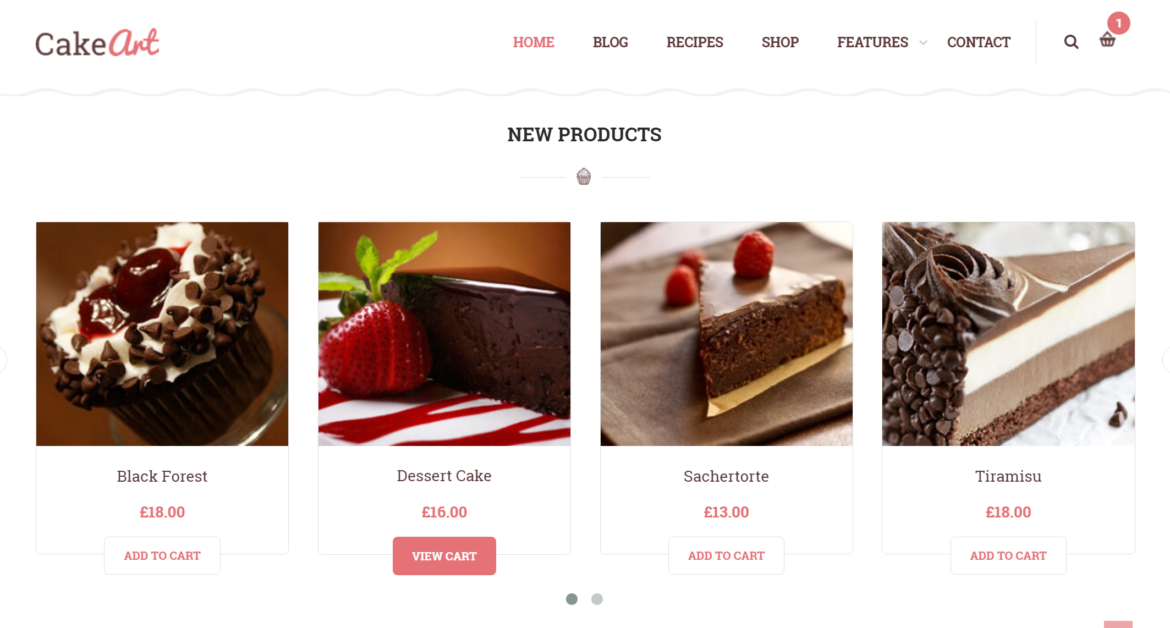 3. Cake Art WP Theme is easy to use.
Cake Art WP is designed to be friendly with the site owner as well. With different types of blocks, dragging and dropping are all you have to do to create the page that pleases you most thanks to drag and drop page builder. Like many other wonderful themes from ThimPress, Cake Art WP also contains a one-page site option to present what you want, with more than 600 Google fonts, and thousands of font icons from Font-Awesome always available.
Especially, Cake Art just needs you to spend about 30 minutes to install it with only one click to load all the demo data to your site. Simply but effectively, now you still work productively with Cake Art WP without knowing any line of code since every piece of code we write is all for optimizing your site's performance speed.
Together with Revolution Slider, which used to cost up to 18$ (now it's all on us), you won't be getting confused about how to improve the look of your site anymore. This plugin allows customizing more effects and animations.
4. Keeping in touch with your customers can never be convenient like this.
Cake Art WP allows you to do more than run an online shop. You can post your stories about the process of making cakes, feedback from your lovely customers, or any other related topics in your Blog part. These posts can be shared without any delay on many social networks: Facebook, Twitter, Google+, Pinterest, etc.
Your demographics are also curious about how to bake those tasty cakes as your shop does; hence, it would be better if you organize some courses or classes sharing your baking life stories or teaching them to make their own cakes. Cake Art WP will assist you with this with detailed information and even reminder; consequently, nobody can miss the schedule.
Blog in Cake Art WP theme is one of the parts that force the developer team to consume the greatest number of time; seeing that we know you want to spread to the world more than just cakes. You can post recipes, tips, your own experience in baking a cake, or simply just a greeting to your beloved customers on holiday here thoroughly and effortlessly, which takes you and them closer via the magical Internet.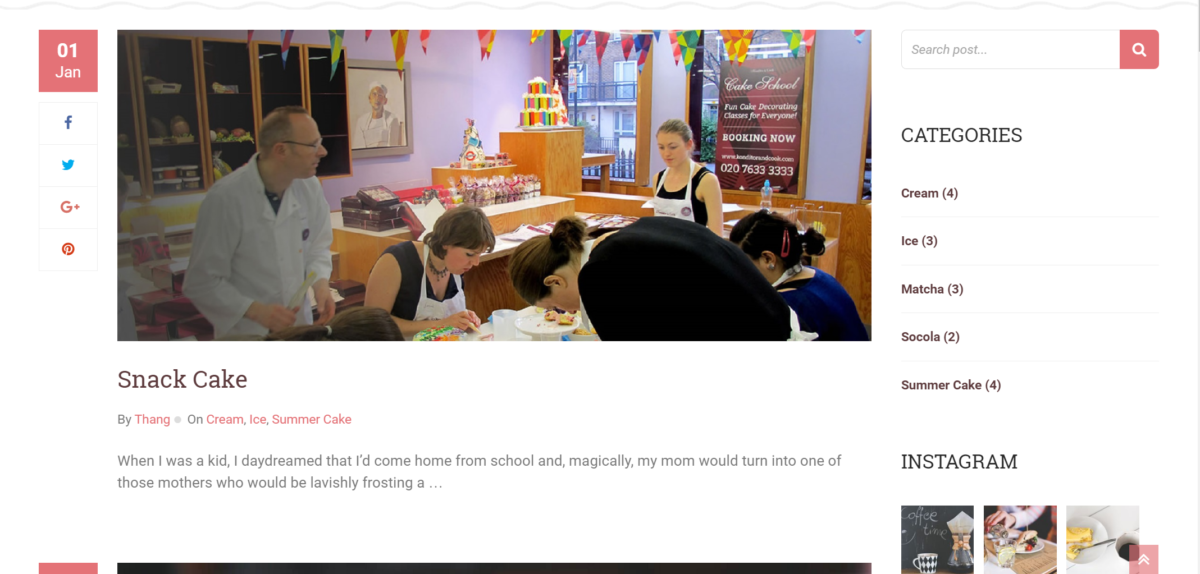 5. Cake Art is Google-friendly: SEO Optimizing.
You always want your site to be on top of any search engine, right? The Cake Art WP developing team knows that too and we always keep it in mind to help your content get high rankings. Google bot will read every line in your site and bring them all to the first places on the SERP. Cake Art can introduce your bakery to the world as quickly as possible. And more amazingly, you and your products could be at the summit after a night's sleep. What a wonderful scenario.
I will stop at reason number 5 to let you have more to explore in this promising WordPress theme. I might reveal that Cake Art WP has more surprises than what I have just mentioned above. For example the WP Editor with CodeMirror & FancyBox, Retina ready, powerful admin area, etc. On the other hand, Cake Art is built with all the latest website development technology (HTML5, CSS3, etc.). It also works as a professional translator if your site is written in a Right-To-Left language.
Other features of Cake Art WP:
Photoshop files (PSD) included.
Beautiful introduction with lively effects.
Different post formats – Standard, Gallery, and Video.
Styles wrote by LESS CSS.
Live preview Customizer.
Easy and effective marketing with Contact Form 7 and MailChimp.
Self-hosted HTML5 video player.
And many others.
Now, it's time to be artistic with your business!
Read more on ThemeForest | Go Preview
Conclusion
In conclusion, having a well-designed website is essential if you own a bakery and want to increase your customer base and brand recognition. An online storefront like Cake Art WP Theme provides a platform that is both aesthetically pleasing and user-friendly for showcasing your products and luring online customers.
Invest in Cake Art WP Theme to help your bakery reach new heights online.
---
Contact us, ThimPress:
Website: https://thimpress.com/
Fanpage: https://www.facebook.com/ThimPress
Youtube: https://www.youtube.com/c/ThimPressDesign
Twitter: https://twitter.com/thimpress