Online Learning is skyrocketing due to the pandemic situation. And, for teachers and students acquainted to teach & learn traditionally, e-learning is a significant adjustment. Connecting through a webcam can be a challenging task. It takes innovation to keep brains engaged. You might have a totally different skill set teaching online than in the classroom.
Students take Online Learning sessions outside their usual school hours. And, teachers are now facing the most challenge to handle online classes. Surely, teachers will ask questions to make the lessons fun, engaging, and invigorating. However, it is still hard, unlike face-to-face classes.
Most teachers agree that student engagement is of extreme importance for a superior quality learning experience. Students can easily interact in a traditional classroom setting, collaborate & engage in learning tasks. In contrast, the online learning approach is new for students and teachers. Therefore, they face challenges in collaborating through online platforms. To make sure that students don't ignore their studies and stay connected with their teachers & peers, it is essential to create an engaging learning environment. This will ensure that students' attention doesn't get diverted in online learning.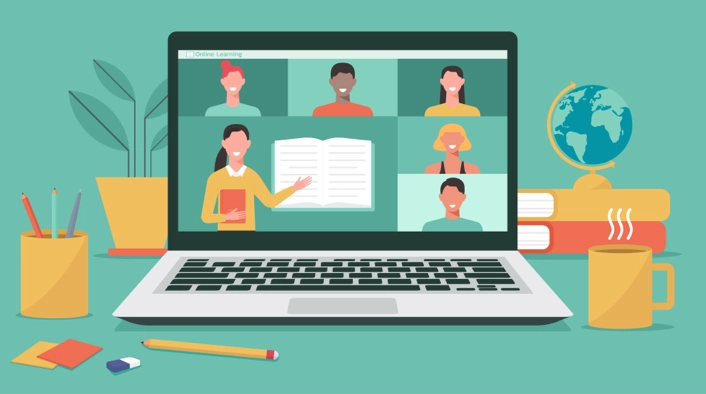 Below are some ways to boost and ensure students' engagement in online education apps by app developers.
1. Online Learning Discussions
This is a mandatory activity of any Online Learning course. They make space for students to connect online, explore problems related to the course and ask questions. Professionals looking for techniques to engage students & drive higher-order thinking. It will create online discussion habits as a regular part of their classes.
If teachers teach those students with not-so-strong keyboarding skills, they can use FlipGrid videos to indulge students in video-based discussions. Another option is Padlet, which lets students post their ideas on a virtual wall & comment on their posts.
For teachers teaching mature students, the Google Classroom question in the LMS will blend well to engross students in discussions.
2. control of Students' Online Learning process
Students often feel alone & de-motivated while studying online. The best way is to make students feel valued & position them at the center of their learning process. Faculties can create a flexible learning environment by giving students the freedom to choose their assignments. For example, faculties can let students pick from a handful of different topics & various delivery modes like Q&A, infographics, presentations, etc. This won't just empower students to take a deeper interest in topics but also develop 21st-century skills.
Another method of making students feel valued is by letting them share their thoughts & real-life experiences. So, they will express themselves & form their opinions. Moreover, they can also explain concepts via real-life examples to accelerate conceptual clarity & enhance concept retention.
3. Render active learning opportunities
A usual misconception about online learning is that it concentrates on lectures only. This is how the curriculums have been planned. However, this makes Online Learning monotonous and limits critical thinking & student creativity. Therefore, it is essential to introduce active learning to explore beyond online lectures & learn real-life experiences. Faculties can assign tasks such as projects, case studies, data collection & analysis, group activities relevant to the concept & within the syllabus's scope, etc.
Conducting small quizzes during online lectures is another way to make e-learning collaborative & engaging. For example, teachers can add a quiz to check comprehension after including each lecture's central concept.
4. Google Maps adventures
Finding fun methods for students to boost their learning is crucial for increasing engagement online. The more innovative the assignments, the more they will engage the students in the learning process. Google Maps is an all-rounder tool that can be used for learning in all subject areas. Students can pave the path of a story on a map. They can associate the past info that learning with the geographic location where events occurred, & learners can use maps to create innovative mathematical challenges. The possibilities are endless.
5. Introduce self-assessment opportunities
If students are unable to track their performance, they might not be able to engage efficiently. Therefore, self-assessment or behavioral assessment is a great way to empower students to assess their conceptual understanding. Faculties can provide short tests, and survey their strengths & shortcomings. Learners should even be motivated to have self-learning. They might plan to work on their weak areas using various e-learning tools & the teacher's guidance.
6. Gamify with rewards
Several ways are available to include gamification elements in online education. It is not essential to have full-fledged game-based learning; fundamental gamification elements even have a great possibility in making the teaching-learning process fun & engaging. Teachers can reward points, stars, or badges to appreciate a student's achievements. They can ensure to acknowledge every significant step a child takes by offering rewards for top performers, quick learners, fast problem-solvers, etc.
7. Sort it out
This is a digital spin on a conventional concept mapping exercise. This one challenges students to think of how critical concepts in a lesson, unit, or chapter link to one another. Learners can work solely or in pairs on a Google Drawing to finish this digital concept mapping activity. The direction asks that they blend text & visual media to display the relationship between concepts.
Final words
Online Learning is definitely a new norm. However, it is essential to include effective ways to create a perfect combination to promote effective student engagement. Following the above-mentioned latest technical news will help faculties and learners to create a learning environment. It will promote improved student engagement & long-term learning success. Remember, teaching online takes creativity!
Read More: How to Pre-sell online courses before creating them
---
Contact us, ThimPress:
Website: https://thimpress.com/
Fanpage: https://www.facebook.com/ThimPress
Youtube: https://www.youtube.com/c/ThimPressDesign
Twitter: https://twitter.com/thimpress