Education is nowadays a potential industry. One of the most essential things you need to have when working in this field is to own a website. Online platforms help you to reach a broader range of customers. It is also easier to manage your learners when getting into digitalization. After designing your site and choosing a suitable hosting service, the next step is to find a system to manage your courses to fulfill your online academy. You might google it to get some ideas.
If you have money, there are no problems to deal with! There are loads of paid systems out there for you to choose from. But, what if your budget cannot afford an expensive plugin while you still want to have something work properly and perfectly? Google also shows you some more suggestions. You might see these popular names: LearnPress – the
best free LMS
plugin, LifterLMS – the wise choice for your education site, etc. "Why are they so well-known? Are they suitable for me?" as you may wonder. Let me answer for you by introducing to you the top 9
best free LMS
in learning management.
Best Free LMS Plugins for Your Educational Site
Evaluated by smallenvelop.com, LearnPress is "the best free LMS plugin for your WordPress e-learning website". If you visit the page of this plugin on the WordPress official site, you will be amazed by all the compliments users have given to it. Over 110 5-star reviews and 20,000+ active installs are definitely the most convincible proof, right?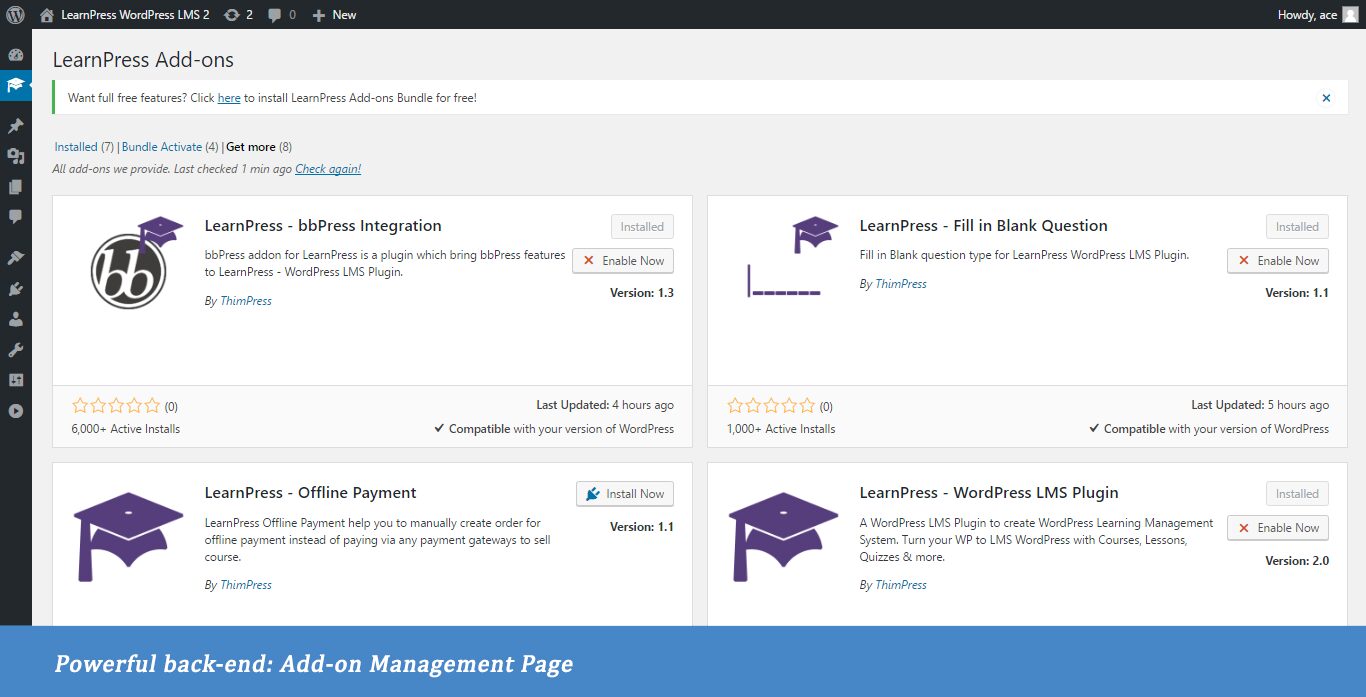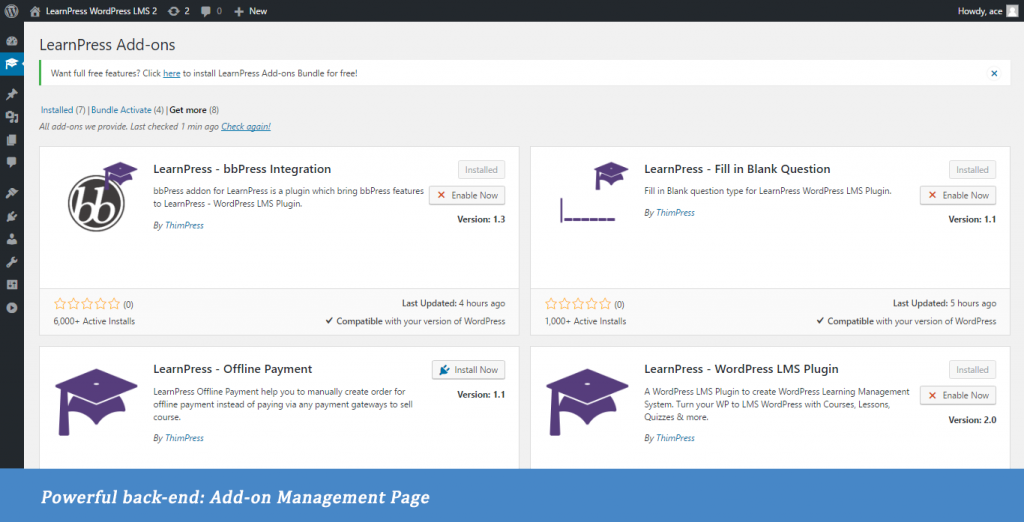 What can LearnPress help? Well… For a free product like this, what it can do for your e-learning website will meet your expectation. It is very easy to create and manage your courses as the developers describe it's "for lazy people". With a friendly interface, you will have a clone version of the famous Coursera or Udemy. It is very convenient to install within just a couple of minutes because LearnPress is lightweight as well. But it doesn't mean this plugin is not powerful.
The creators have integrated lots of add-ons to support you fully, such as Wishlist (to mark courses students wish to learn), Course Review (to review courses for enrolled students), etc. Besides managing and selling curriculums, with integrated BuddyPress, you can also communicate with your learners. Especially, this free LMS supports up to 8+ languages to fit any demands globally. LearnPress is already integrated into all educational themes from ThimPress like Education. Developers always actively develope the theme every day with frequent support. Therefore, all your problems will be solved quickly.
LifterLMS's mission is "to democratize education in the digital classroom". This plugin assists you with multi-purpose courses, from hospitality management to music or languages. Recommended by many WordPress review pages like winningwp, wpbeginner, smallenvelop, it serves you for only one biggest target: to help you manage your educational site in the easiest way!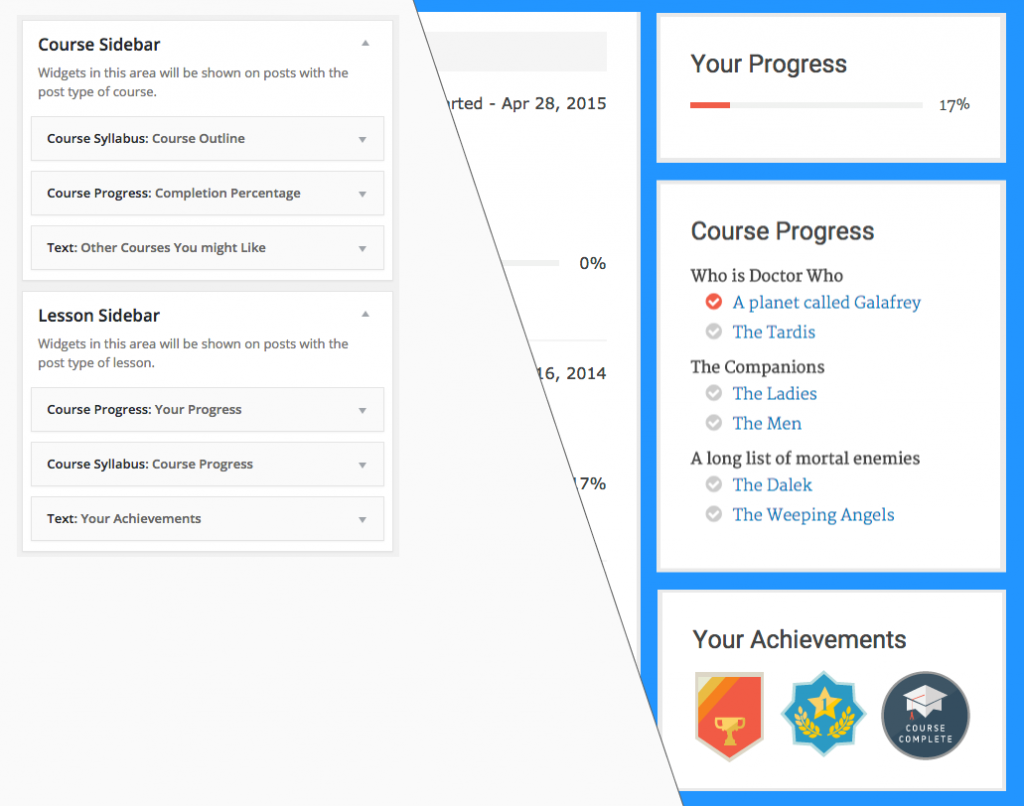 About its feature, LifterLMS is an intuitive course builder. Your courses will become livelier with not only text and images but also videos and audio or any combination. There are quizzes in the lessons with LifterLMS. Furthermore, it also gives students more options to control their online studying with Dashboard, Analytics, Management, etc.
One of the most notable features of this plugin is e-commerce. One-time and recurring payments are all acceptable for both courses and memberships. The theme also has coupon system to supply promotions for users. Moreover, this plugin lets the voucher code system working for individuals and groups as well. It also has engagement and gamification features.
4000+ active installs – the number says it all about this one of the most advantageous LMS WordPress plugins. Your page will be turned into a very powerful system. Every lesson, with the back of CoursePress, will be more engaged and interesting to learners. Sharing knowledge online now becomes more straightforward than ever.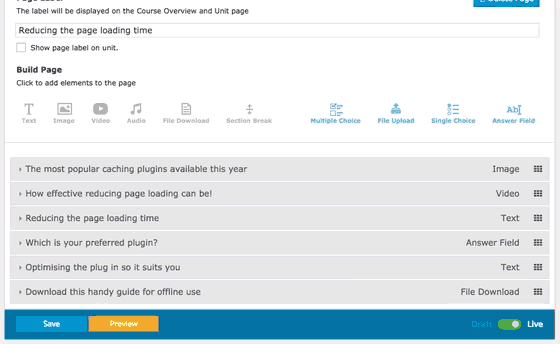 Features of CoursePress: This plugin can be integrated into almost all themes in the market. It just requires you a very few minutes to complete setting up then your first course will be posted in a unique way. CoursePress supports a bunch of options for building quizzes in your curriculum: multi-answer, single choice, selectable, short answer, long answer, true and false, and even file upload. Big classes are not a problem when you manage by CoursePress. You can choose to add multiple instructors or course facilitators to get every question answered or assignment marked as quickly as possible. One more attractive thing about this plugin: its gorgeous interface surely makes you pleased.
This plugin got 4.5 stars overall review on the WordPress Plugin List official page. It supports an unlimited number of courses, lessons, and assignments no matter what field you are working on. Namaste! LMS aims at giving the full functions for the owner to manage the page with 100% of efficiency.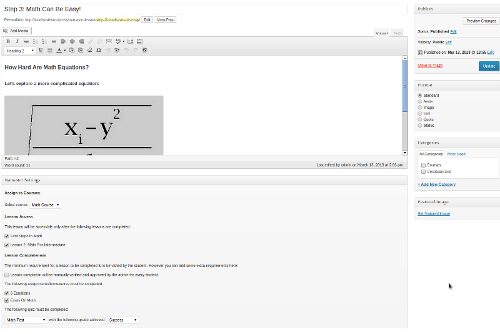 The plugin helps you to create various rules for creating various rules for the course and lesson access and completeness based on assignment completion, test results, or manual admin approval. Page owners can also assign the role for suitable users. Furthermore, Namaste! LMS provides certificates for students once they complete a course. Learners will be motivated by the grade and points system while dealing with the course. The plugin is integrated with different add-ons; each of them has different functions to fulfill your purposes. For example, Watu / WatoPRO to create quizzes, tests, and exams; MoolaMojo to transfer points to virtual credits, etc.
If you are familiar with Moodle, this is your must-choice. "The plugin works out of the box, after following a short installation tutorial everyone should be able to integrate Moodle with their e-commerce website. Received great support after the major 3.0 WooCommerce update which caused some incompatibility at first — Within 2 days they came with a patch and an update will follow soon! Amazing plugin with even better support!" – that's what customers talk about this plugin.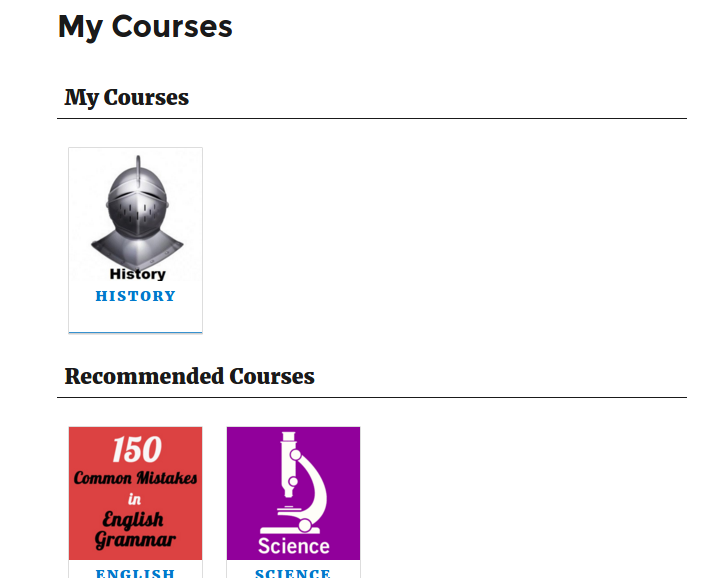 This plugin integrates WordPress with the Moodle LMS to give you more options in building your site. You can easily import Moodle courses into your WP site (even save them as a draft) then sell them with PayPal payment. There is no trouble in registering on Moodle because they create an account for all WordPress users with the same login credentials. The two systems work parallelly so all your data of users will be synchronized and linked.
As described by its name, WorldClass promisingly brings your site to reach students internationally. It provides you a mobile-first e-learning platform that puts your brand in the spotlight. With WorldClass, your learners can learn on-the-go, anytime, anywhere, and on any device.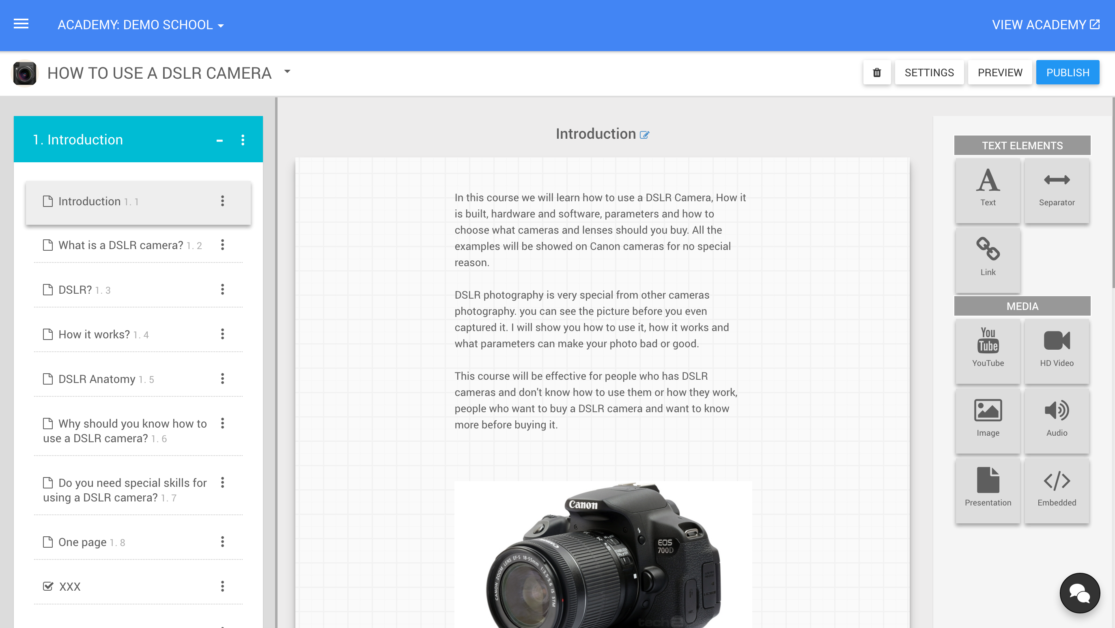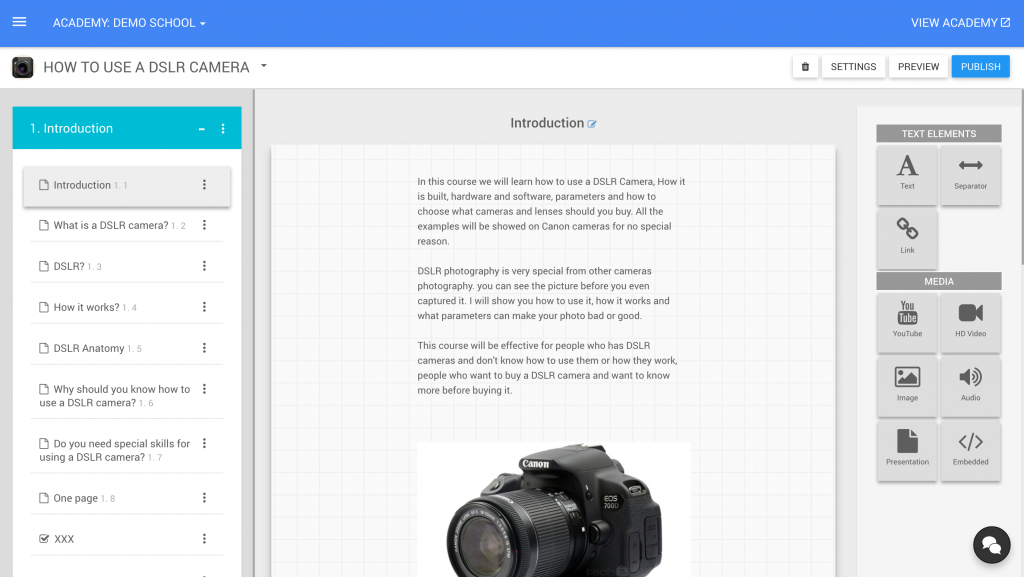 You can begin by adding and rearranging your content with WorldClass's drag-and-drop editor. Users are also managed easily because it supplies you hosted signup and login. Guests can access as well since site owners have permission to grant role for user individually or by the group. Users with advanced profiles have more activities and can approach to full features of the site, advanced courses for instance. WorldClass owns an amazing function that is very necessary for your business: automatically collects data about students then generates a rich report and dashboard. Cool, isn't it?
Another product from the creator of Namaste! LMS, but more specific – this plugin gives you more power in controlling the Membership function on your site. This is free and simple yet versatile. You can meet your needs perfectly.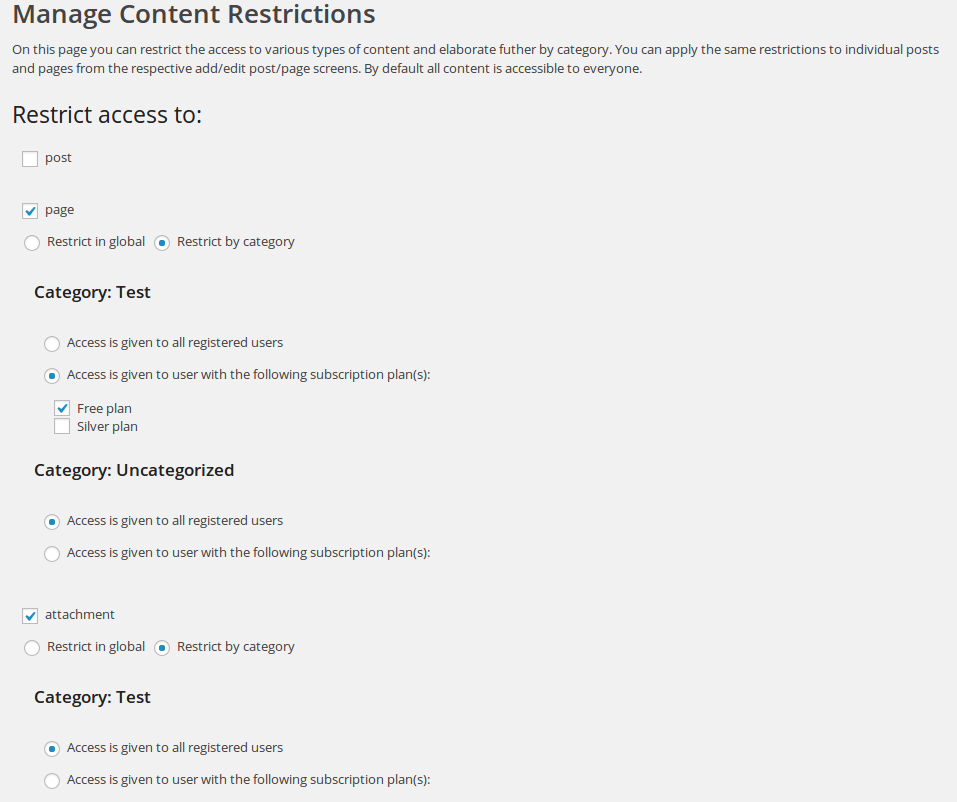 Konnichiwa was made to manage an unlimited number of subscription plans. Your contents will be protected by type or category. When you have the administrator's right, you can add or edit your page freely as you wish. This free LMS plugin supports payment by both PayPal and Stripe. Not only does it Manage subscriptions and manually subscribe users, but it also publishes automatically a sales page with all membership plans, or design the plans yourself and use the shortcodes only for the subscribe buttons. Popular plugins and add-ons are integrated.
This is a multipurpose plugin, not only for an educational site but also for any page in need of managing the status of orders, projects, shipments, etc. 28 reviews with nothing under 5 stars can guarantee the quality of this free plugin.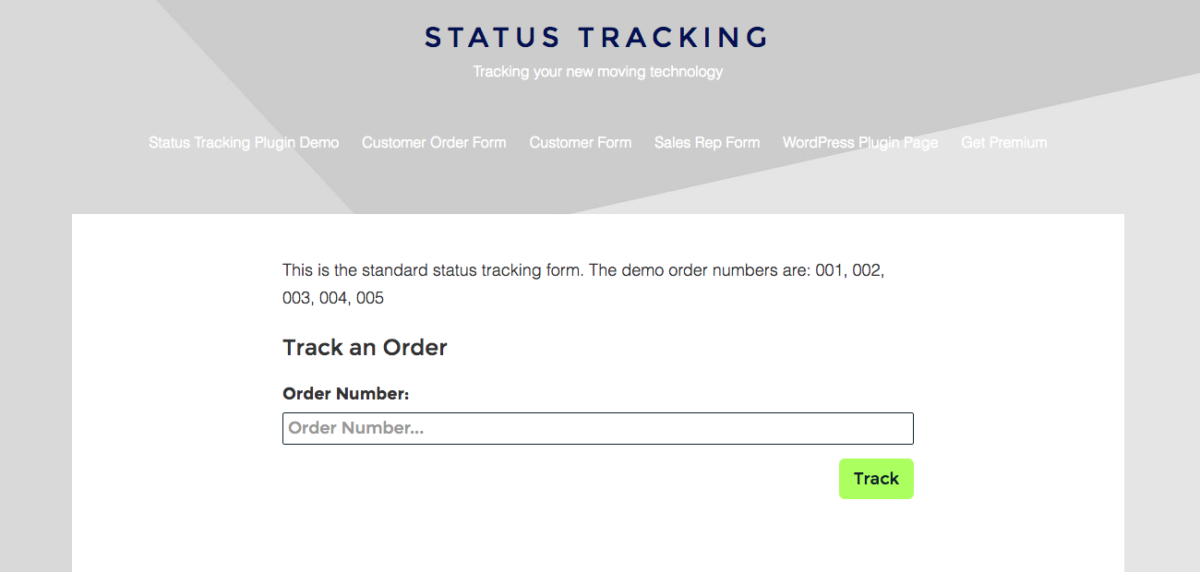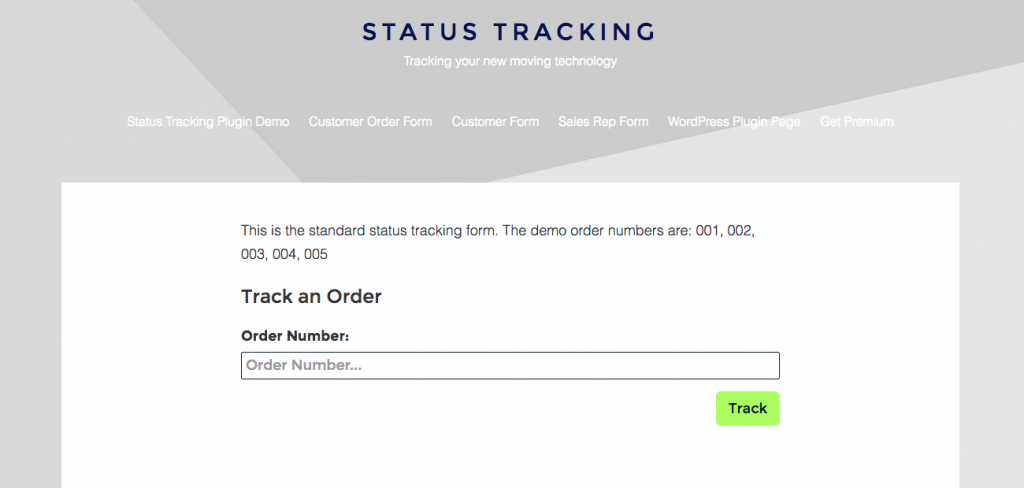 Status Tracking lets you follow up on the current status of every user. Learners can track their studying process for each course and search for the course also. Interestingly, the system will automatically send an alert email to users about new courses or any update in the lessons they are involving in. When permission is granted, a user with admin right has access to choose what information to display on the tracking result page. The plugin is integrated with WooCommerce as well, to help you sell and spread your courses super easily. Grab it now!
Unlike the free LMS plugins mentioned above, Awesome Support focuses on creating a help desk for WordPress sites, which is absolutely useful for your online classes. This plugin is the result of over 3 years of the creating team's research and improvement.
Awesome Support seems to fit in almost all existing themes. It costs you nothing but gives you everything you need for doing support tasks. The plugin lets students create tickets to ask the instructors, then you can easily respond to them. It assigns just the right capabilities to each of your agents including just the ability to see their own tickets or expand to see everyone's tickets – your choice!
Awesome Support has the ability to identify the ticket by the tag of date and time or category. About email notifications, there are six options for you to choose and customize. You have full power over your site whether the files can be uploaded, the content and the size of files, etc. Find out more!
Last words
Each of the above-mentioned plugins has its own advantages. LearnPress with excellent performance and high-speed support services; LifterLMS and its superb system, etc. All of them are our suggestions for the best free LMS that helps you in your educational website. Give them a try and we bet you'll never feel regret.