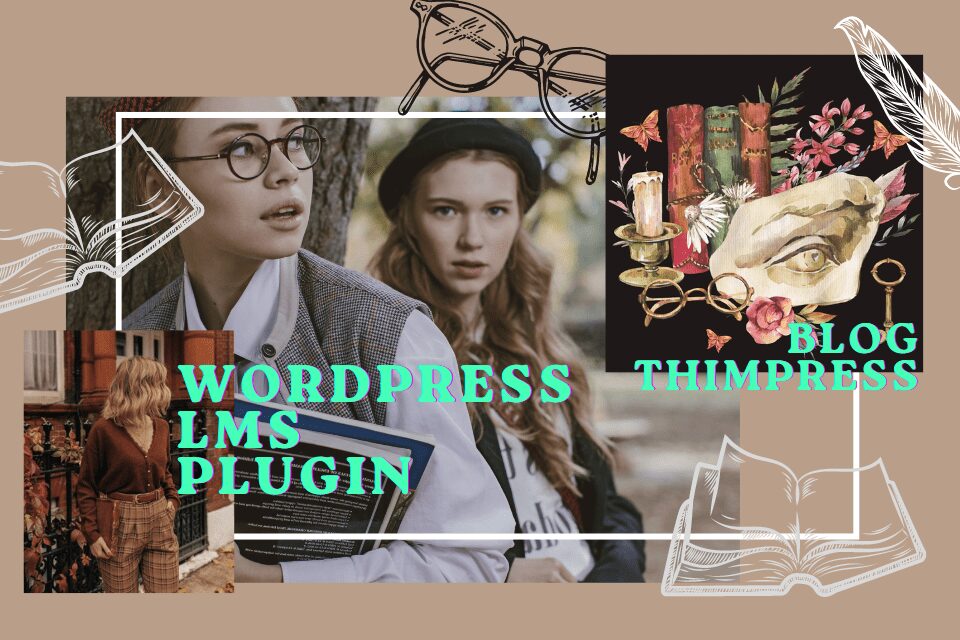 Many individuals want to learn in more engaging and practical ways, whether it's to play a musical instrument or to master web programming. This drives the need for learning management systems (LMS), which reaches more than $12 billion by 2024. As a result, if you're thinking about starting a learning website, now is a wonderful moment to do it. Best of all, WordPress LMS Plugin with both free and premium versions is an available tool to make the process easier.
This post will go through every 5 Best WordPress LMS Plugin to help you start. It will also provide you with advice on how to select the ideal LMS plugin for your requirements.
Top 5 Best WordPress LMS Plugin To Turn Your Site Into The Second "Harvard"
LearnPress – The "Senior Professor" WordPress LMS Plugin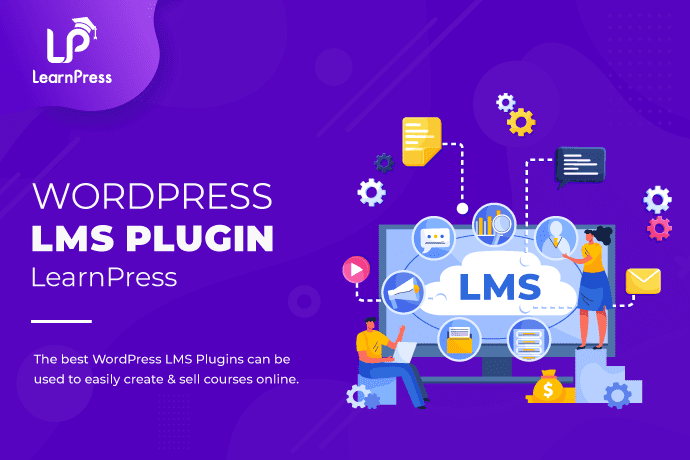 Learn More
LearnPress is a complete WordPress LMS Plugin. This is among the Best LMS Plugin For WordPress Free for creating and selling courses online. You may construct a curriculum content with lectures and quizzes that is maintained through a straightforward user interface. With this plugin, you can now quickly and simply develop education, online school, and online-course websites without any coding skills.
LearnPress offers an amazing user interface for designing online courses with all of the capabilities you want. It is simple to create a whole curriculum system, and also change and manage it.
Additionally, LearnPress allows you to import and export your courses to different websites. You may share, manage, and view figures of trends, students, and so on with the course you've established. Besides, BuddyPress facilitates communication with your pupils or professors through the WordPress community.
This Best WordPress LMS Plugin is free, yet it still lets you sell your lessons using a variety of payment options such as WooCommerce, PayPal, Stripe, and others. However, it is a premium plugin that will undoubtedly assist you in generating money from your Website builder LMS. LearnPress is light and extremely strong, with a number of LearnPress Add-Ons that supplement its core system.
Examine the Eduma, Coaching, or Coptrain theme – WordPress LMS Theme designed to perform flawlessly with the LearnPress. With their clean and modern look, these fantastic WordPress Themes are ideal for your Online LMS & Education websites built with LearnPress. With over 50 demonstrations to choose from, you can simply find the one that best suits your needs and style.
Just give it a shot and observe how it goes.
Namaste!LMS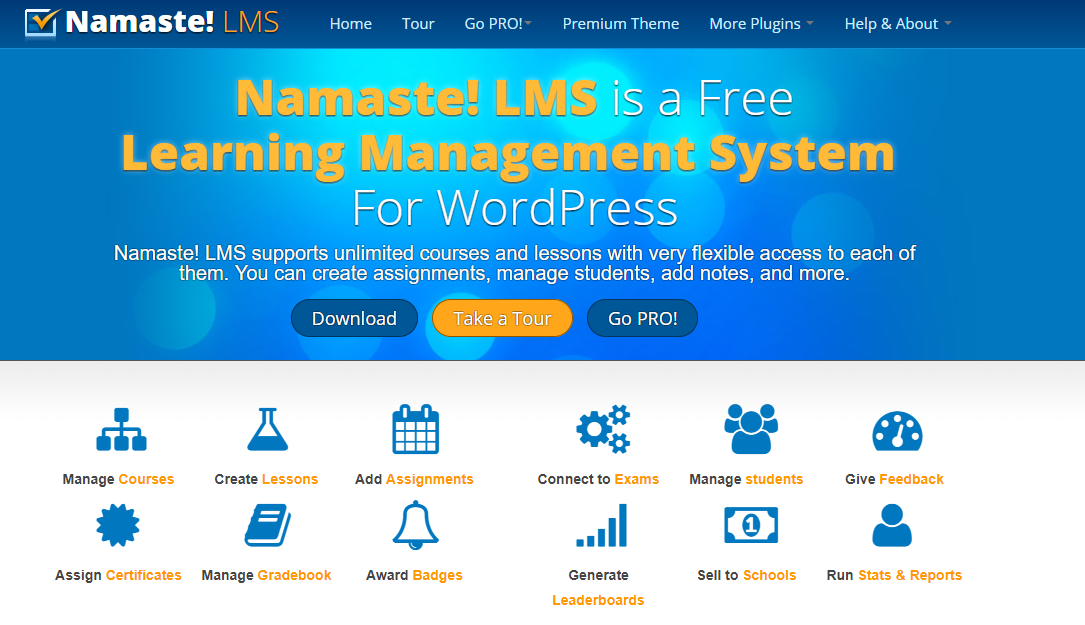 Learn More
Namaste!LMS, while not as popular as the preceding WordPress LMS Plugin in this post, you should not disregard it. You may get the core plugin for free and create a quality online course without spending a lot of money. However, this premium Best WordPress LMS Plugin – Namaste! the paid theme, which starts at $47, is most likely what will be utilized for the design. Furthermore, the Namaste! Pro program contains a slew of add-ons as well as year-round premium support.
Namaste! Pro, for example, has choices for prizes and badges, as well as file and course protection. You may also enable premium course shopping carts and connect them to the WooCommerce or WP Simple Cart plugins.
I like the basic plugin's simplicity, but it won't be adequate for most online course administrators. After all, until you pay for the premium plan, you won't obtain fundamental services like delayed course content or teacher assignment.
However, the cost is still fair, so it's not a major concern if you're searching for an alternative to the big dogs like LearnPress – the Best LMS Plugin For WordPress Free.
LearnDash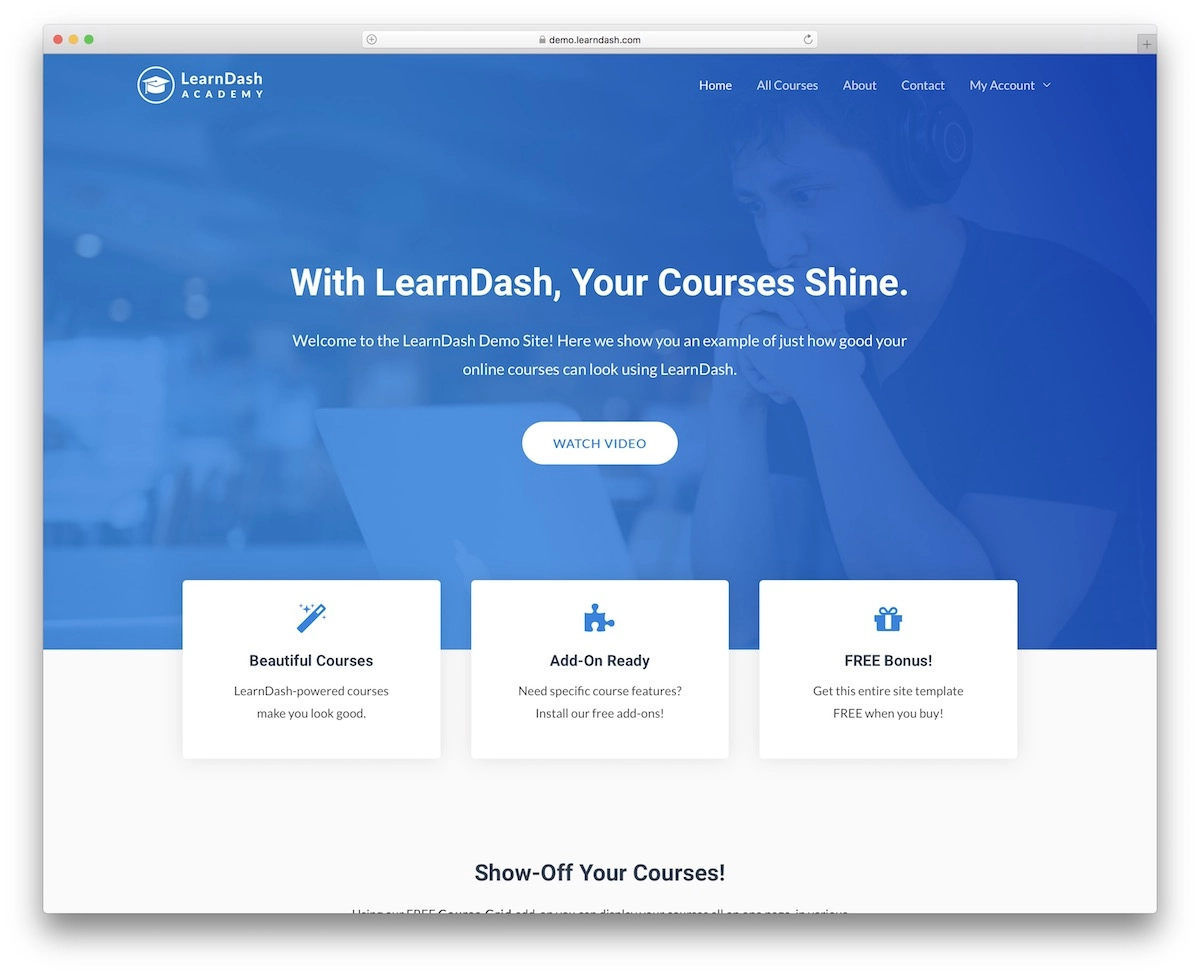 Learn More
Due to the overall feature set, speed, and exceptional online course design, LearnDash is the choice of various Fortune 500 organizations and large colleges. This WordPress LMS Plugin covers most of the must-have elements discussed earlier in this post, therefore I would consider it a comprehensive package with capabilities for material dripping, selling courses, rewarding learners, and setting triggers depending on actions.
Because the pricing is established on a yearly basis, it is reasonably priced in the near term. For example, for the first year, you pay $159 to maintain one website with all of LearnDash's features. The price climbs to $189 per year for a 10-site licens and $329 for a 25-site license. One disadvantage of this Best WordPress LMS Plugin is that there is no free trial period.
Courses, monetization, administration, and technological features are divided into four areas. It's also worth mentioning that LearnDash is mobile-friendly for on-the-go learning. In addition, the industry specialists will offer client assistance via a sophisticated ticketing system.
TutorLMS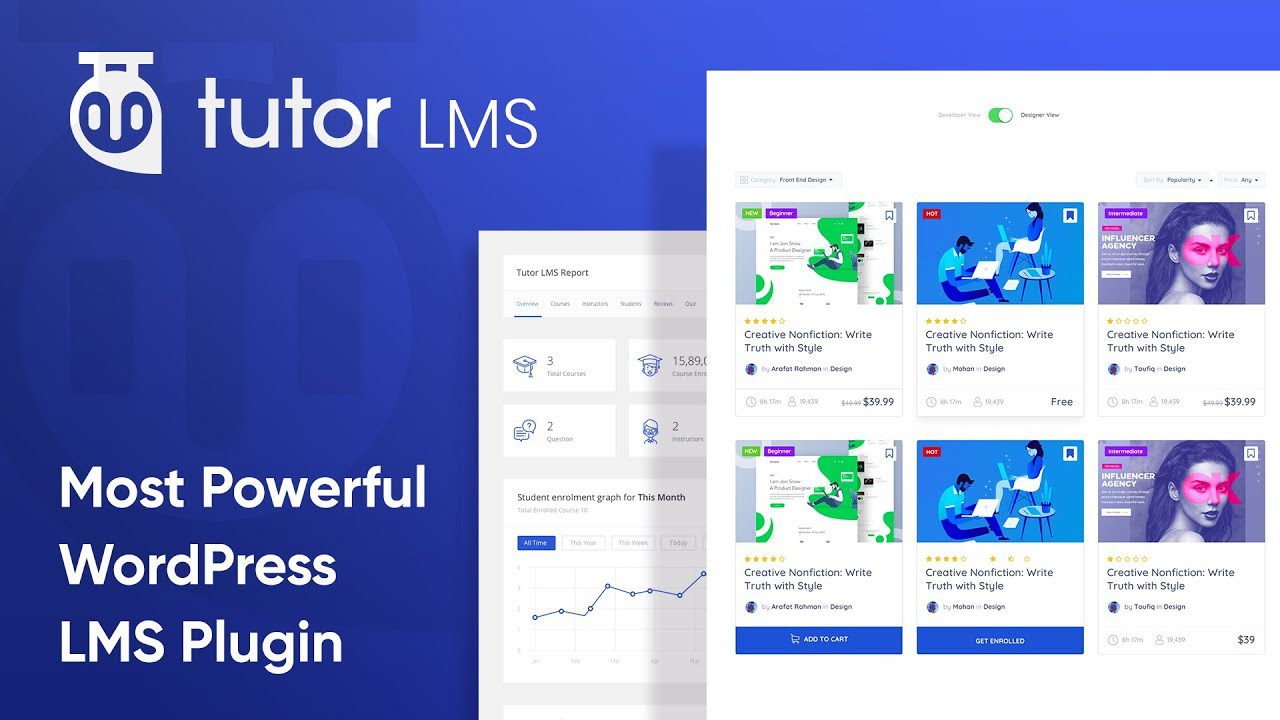 Learn More
Tutor LMS is among the most popular additions to the field of WordPress LMS Plugin. They have invested to develop an army of over 50,000 eLearning fans in a very short period of time. It includes unique features such as drag-and-drop curriculum creation, a frontend course builder, a certificate builder, and Themeum's continuous development support.
The basic version of this Best LMS Plugin For WordPress Free is not paid, howeve, the premium plan for a single-site registration starts at $149. It grants you access to a variety of premium add-ons, including Certificates, Course Previews, Multi-Instructor, Frontend Course Builder, Content Drip, and more. Integrations with Google Classroom, Zoom for live video classes, and Elementor Templates and Themes for a completely customizable course-building experience are also available.
Tutor LMS also has a safe platform with the best coding and security principles. It offers an ever-expanding list of connectors with eCommerce plugins, Page Builder WordPress plugins, and other popular ones like BuddyPress, GamiPress, and others.
MasterStudyLMS – The Unique WordPress LMS Plugin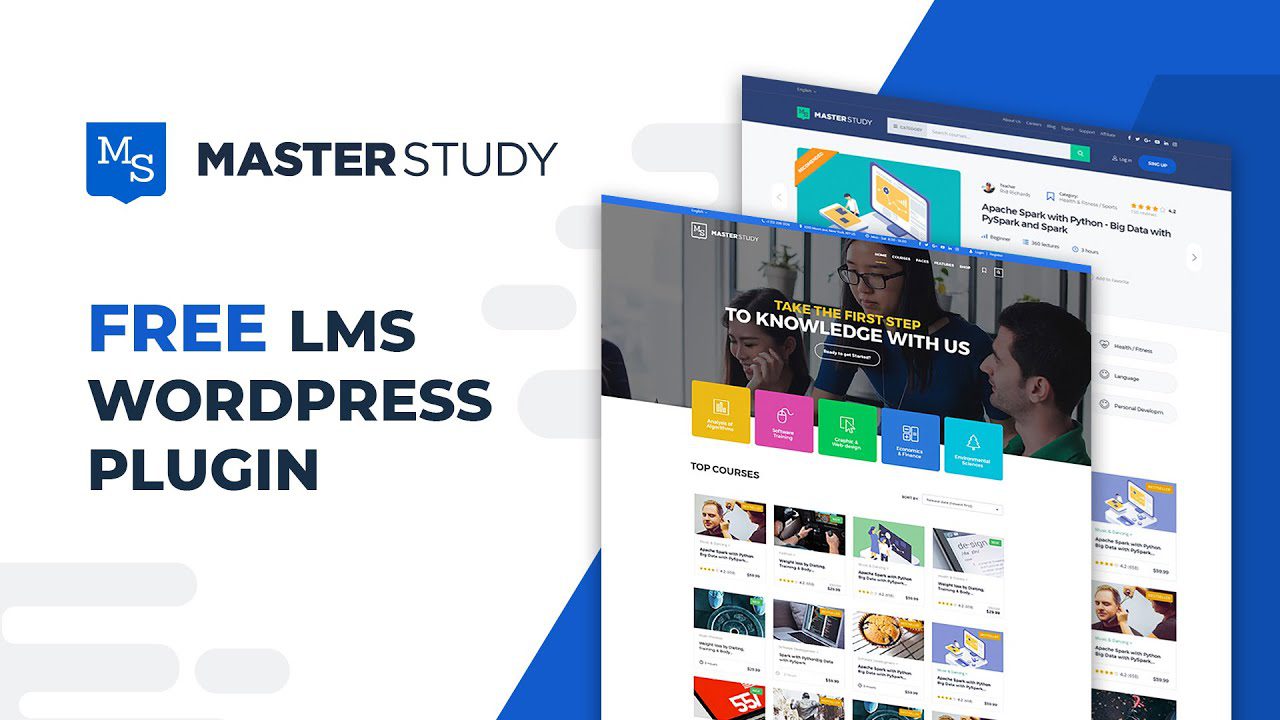 Learn More
Finally, there is the MasterStudy – a part of the collection of the plugin. This is the final plugin on our collection that we recommend, but it is jam-packed with features! It makes building, customizing, and managing your online school WordPress site simple and painless. This plugin is the Best LMS Plugin For WordPress Free and will work with any WordPress LMS Theme. To save time, you may also choose their MasterStudy premium WordPress theme, which immediately elevates this plugin to the next level. The theme is available for as little as $25.
The MasterStudy LMS Plugin for WordPress allows you to build amazing classes using videos, graphs, slides, and pretty much anything else you can think of. The WYSIWYG editor powers everything, making creation and management a snap.
The fact that all of the essential pieces of MasterStudy LMS ensure quick page loading and seamless page transitions.
In Conclusion:
That concludes our discussion of the finest WordPress LMS Plugins, which provide excellent tools and capabilities for transforming your WordPress website into an interactive learning environment.
Before going over the features and advantages, make sure you describe your needs. Setting a budget is also a crucial stage in making your decision. LearnPress is the most affordable WordPress LMS plugin with complete functionality at the start of an educational website.
Every above free plugin has a plethora of capabilities that will help your eLearning platform appear professional and run properly. If you want more functionality, you may upgrade each of these plugins to their premium versions.
Read more: LearnPress Add-ons: Free and Premium Add-ons Bundle for LearnPress WordPress LMS Plugin