Considering building a multilingual website? The most effective way to reach a global audience is to set up a multilingual website. Although there are numerous WordPress translation plugins available, Polylang vs WPML stands out from the crowd.
In this article, we'll compare these two widely used translation plugins side by side in order to assist you in selecting the one WPML vs Polylang that will work best for your particular requirements.
Polylang vs WPML – Overview
What is WPML?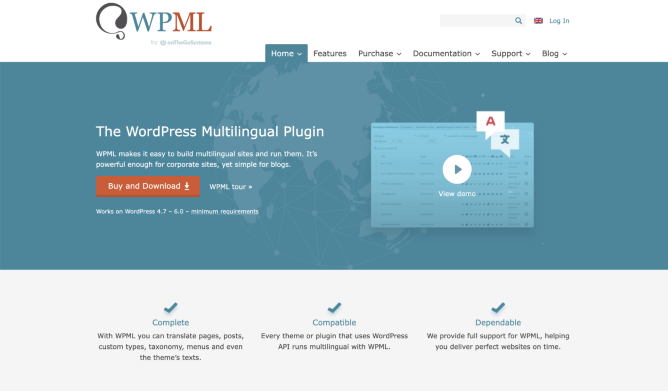 Polylang vs WPML is always the competitor of the other. The direct rival of Polylang – WPML is an effective multilingual plugin with streamlined settings and controls. There is no denying that WPML is one of the most widely used multilingual WordPress plugins available on the WordPress market with over 40K active installations.
WPML makes it incredibly simple to translate your content into various languages without sacrificing any website features. A paid plugin is WPML. The starting price for this plugin is $29.
What is Polylang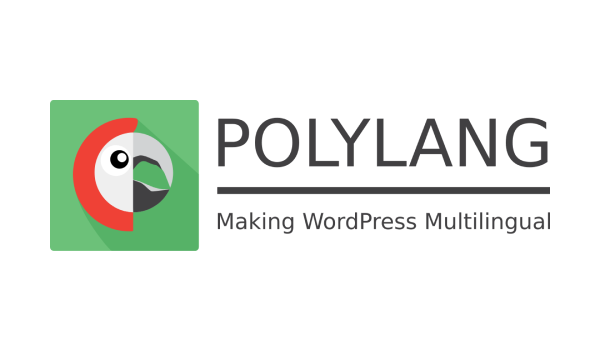 The main rival to WPML is Polylang, another powerful translation plugin. Polylang has a very straightforward user interface. Simply add your content, make pages, categories, and tags, and then specify the languages for each of them.
Your users can receive as many language suggestions as you like. With Polylang, RTL language scripts are also supported. The plugin updates the languages on your website after downloading the WordPress language package automatically. So, whichever language you choose, you can be sure that Polylang will provide you with the appropriate language package.
Added features and customization options are available in Polylang's premium version. The cost of Polylang's commercial edition starts at €99, or roughly $111.
Feature Comparison: Polylang vs WPML
Both of these plugins WordPress Polylang vs WPML, which are among the most widely used translation tools, are brimming with incredible features. Since this is a comparison article, we'll examine each of its features in more detail.
So with that said, let's begin.
Polylang vs WPML – Straightforward Operation
With WPML, you can quickly translate a single-language website into a multilingual one.
You will be taken to a setup wizard when you install and activate WPML Multilingual CMS (the core plugin), where you can make the necessary settings, such as choosing the default language, adding extra languages, and designating where to place language switchers. The menu, footer, and sidebars can all display language switchers.
Additionally, it enables you to set up your URL structure for subdomains, directories, and URL parameters in multiple languages.
However, opposing WPML, Polylang lacks a setup wizard or quick start guide to make configuring the plugin easier for you.
You must access the Language option in the Polylang settings within your WordPress dashboard in order to set up languages on your website.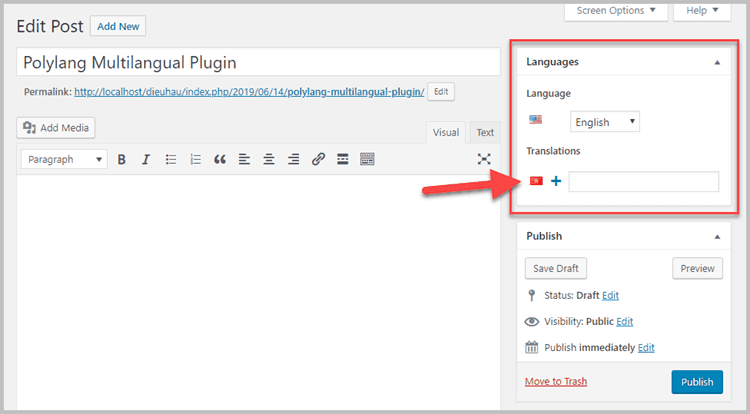 You can choose to add a new language from there. It's fairly simple to handle adding and translate your content from your post and page editor once the necessary languages have been added. Simply choose the appropriate language and save your page.
Similar to WPML, Polylang allows users to modify language settings directly from the WordPress dashboard. Additionally, you can use media language settings and string language settings.
Both WordPress WPML vs Polylang plugins make it simple to translate your content, but WPML makes it even simpler thanks to the setup wizard. Therefore, WPML is the winner in terms of usability.
WPML vs Polylang – Translation Management
Both Polylang vs WPML offer automatic and manual translation capabilities. You can save time by using automatic translation. However, it is advised to translate manually by yourself or by hiring a translation expert in order to ensure the translation is accurate and sounds human. Let's examine how these plugins: WordPress Polylang vs WPML enables you to oversee the whole manual translation process.
The translation management feature is available as an add-on for WPML. You can send content for translation directly from your dashboard after activating the add-on.
On the other hand, Polylang enables the integration of Lingotek, a cloud-based interpretation management system. You can use Lingotek to access free machine translation or pay a specialist to do it for you.
The drawback is that you have to create an account with Lingotek and install a third-party plugin called Lingotek.
A third-party plugin called Lingotek must be installed in order to use Polylang, whereas WPML's translation management is available as an add-on.
Polylang vs WPML – Number of Available Languages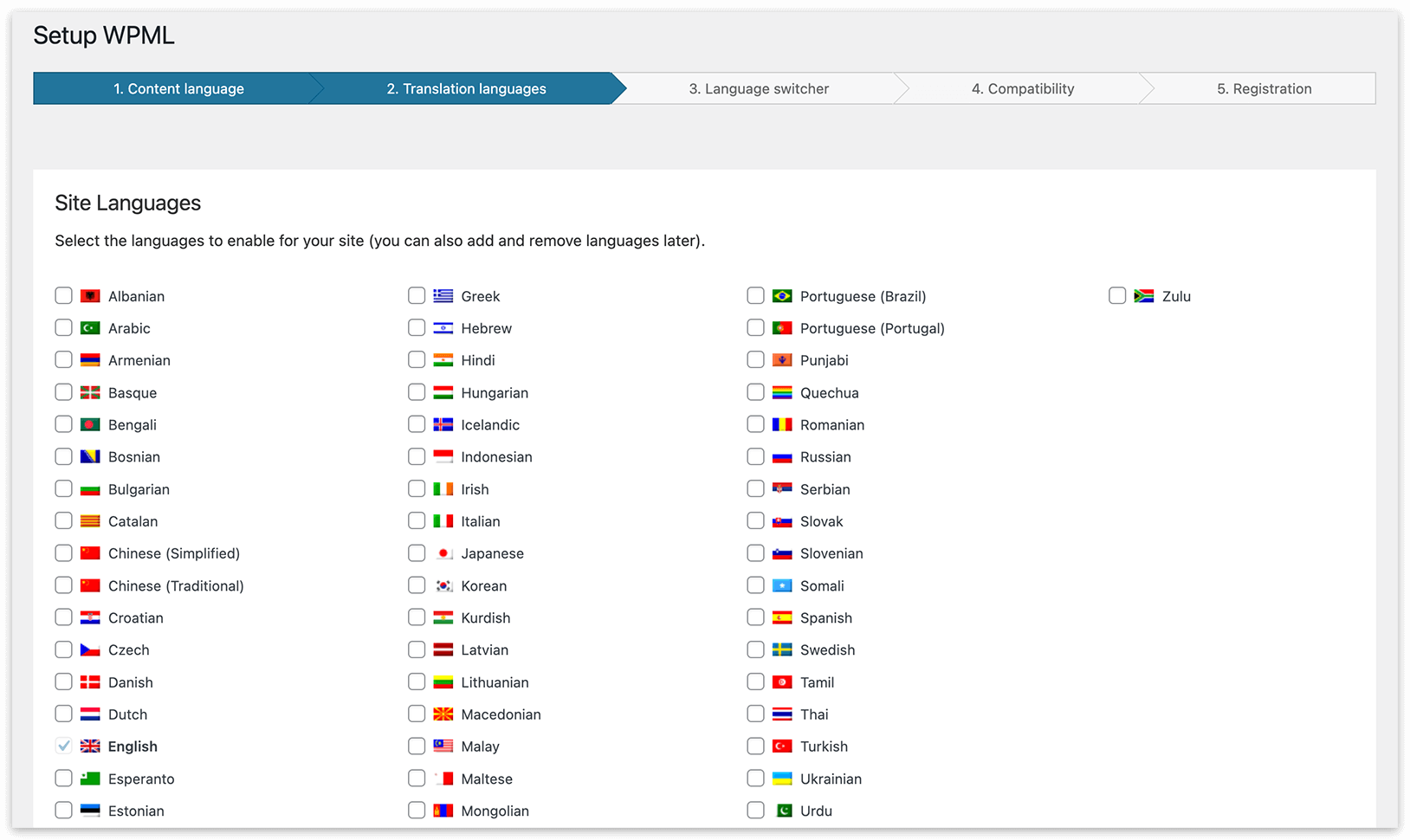 Polylang vs WPLM offers a massive number of languages. WPML is shipped with translation files for 64 languages which you can use right after the installation of the plugin. But in case you need additional languages, you can add them as well with the help of its language editor.
Polylang too does a great job in this regard.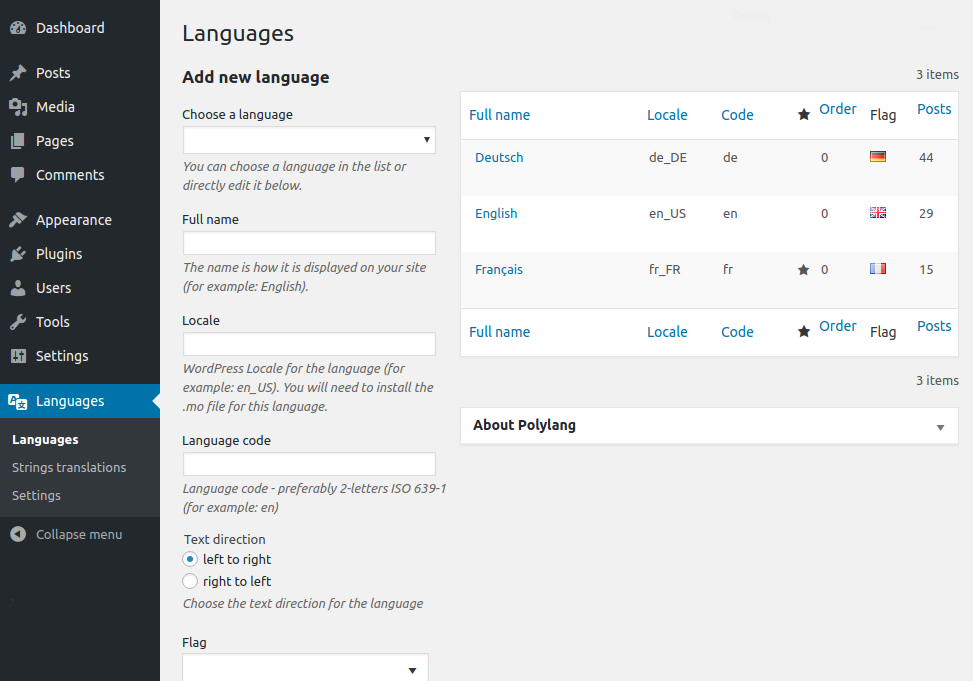 It supports more than a hundred languages for translations and you can add more as well.
In terms of the number of supported languages, Polylang stacks up against all its competitors.
Polylang vs WPML – Localization Options
You can translate texts from the themes and plugins you use on your website using WPML vs Polylang. You can also create a multilingual admin area using this feature.
Three methods are supported by WPML for localizing plugins and themes:
Only employ String Translation
Nevertheless, load.mo files as a backup and use String Translation.
Load only the.mo files.
However, Polylang vs WPML will allow you to provide your own translation of a specific language for any theme or plugin if a specific translation is not already present in the file.
The String Translation feature in WPML regulates the translation of text in website themes and plugins. You can add the alternative text after it actually looks for the translateable content in your theme and plugin.
The theme and plugin texts are translated by Polylang using Poedit and Loco Translate.
The translation of the themes and plugins is handled fairly well by both plugins WordPress WPML vs Polylang.
Polylang vs WPML – eCommerce Support
Polylang vs WPML plugin could be extremely useful if you want to build a multilingual eCommerce site. E-commerce sites require more work to set up the entire shop than simple blogs.
And there is nothing to worry about as long as you are using these two plugins – WPML vs Polylang. Your entire eCommerce website can be translated with the more expensive WPML cms license. You will need to pay around $79 for the CMS license, which also supports additional eCommerce integrations.
You should either upgrade to Polylang Pro or buy the WooCommerce add-on of Polylang if you want to use it to start creating a multilingual eCommerce store.
Again, both plugins Polylang Pro vs WPML provide excellent options, but since WPML is less expensive, it may be the better option for users.
Media Integrations
When it comes to interpreting video files like images and videos, there is a lot to be done. You should choose a plugin Polylang vs WPML with more media file support if you display image captions and work with internal combinations like alt tags, naming, etc.
Before you can translate media files, you must first activate the media transcription module that is included with WPML.
Since it will reduce work and website space, using a single media file for multiple languages is a fantastic choice.
WPML vs Polulang Performance has similar tasks.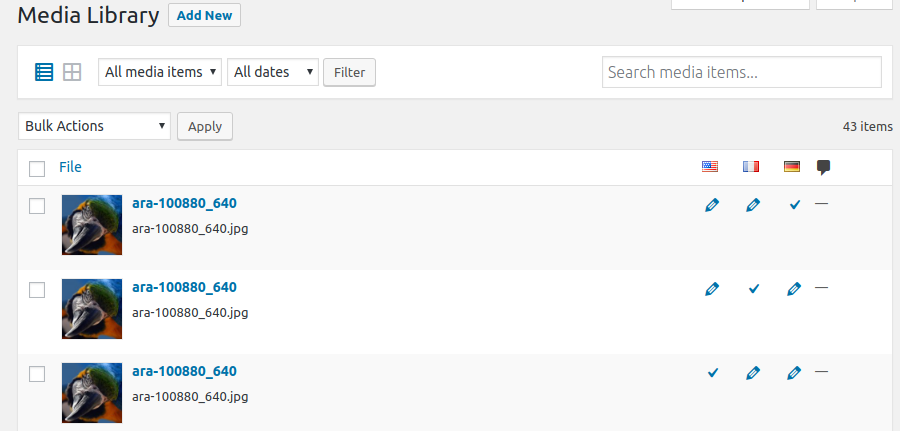 You can configure the media files with appropriate captions and names in various languages by simply enabling a module within the plugin.
Using either WPML or Polylang will give you the same results for your media files because they both WordPress WPML vs Polylang perform the same function.
Support and Documentation
One benefit of selecting a premium WordPress plugin over a free plugin is that the latter offers superior support. This can be very advantageous because you can contact the support team or consult the documentation for assistance if you run into problems while using or configuring the plugin.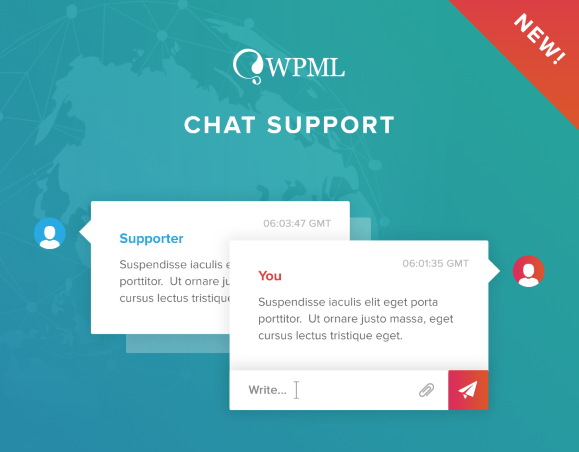 When it comes to supporting, the WPML plugin, which is a premium plugin, trounces all of its rivals. The online documentation is very thorough and makes every step, from installing the plugin to utilizing its features for the best outcomes, very clear.
Support is not available for Polylang's free plugin. They don't have as much documentation as the WPML plugin.
When it comes to support, WPML is a definite winner.
Conclusion: Which One is Better – WPML or Polylang?
The two excellent options for building a multilingual website are Polylang vs WPML. Because of its simple setup wizard and superior support, we think WPML is a better translation plugin than Polylang.
Polylang is the best option for you if you'd rather use a free plugin. We sincerely hope that this article aids in your search for the most appropriate translation plugin.
If you're curious, you can read more about how to use Polylang vs WPML to create a multilingual website.
When it comes to support, WPML is a definite winner.
Read more: WPML – 2023 Newest Instruction to Install This Amazing Plugin in WordPress
---
Contact us, ThimPress:
Website: https://thimpress.com/
Fanpage: https://www.facebook.com/ThimPress
Youtube: https://www.youtube.com/c/ThimPressDesign
Twitter: https://twitter.com/thimpress