Considering building a multilingual website? The most effective way to reach global audiences is by translating your website. Although there are numerous WordPress translation plugins available, Polylang and WPML stand out from the crowd. In this article, we'll compare the features of these two widely-used translation plugins. WPML vs Polylang – which multilingual plugin is best for your needs?
Overview of Polylang vs. WPML
Let's have a look at the information on Polylang vs WPML.
What is WPML?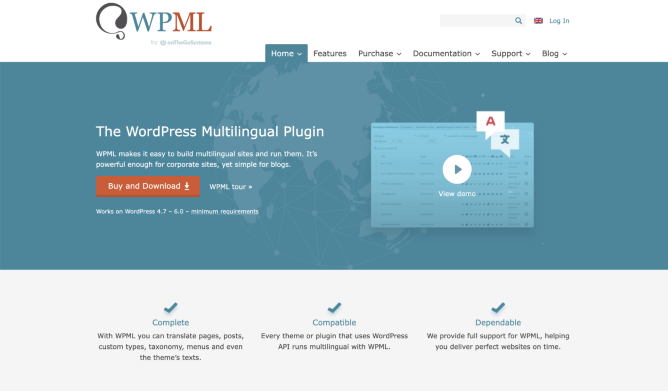 WPML is an all-in-one multilingual plugin with a straightforward setup and an easy-to-use interface. Over 1.5 million WordPress sites use WPML. There's no denying the popularity of this multilingual WordPress plugin.
WPML makes it easy to translate every part of your website into many languages. What's more, it is compatible with most WordPress plugins and themes, allowing you to build feature-filled multilingual websites.
WPML is a premium plugin, with the basic version available at €39. The complete package starts at €99 and is a cost-effective solution that stands out from the crowd.
What is Polylang?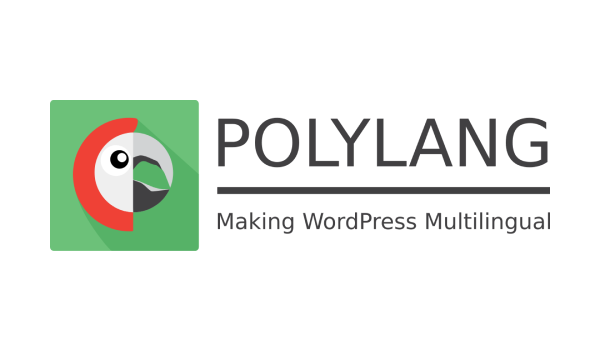 A rival to WPML, Polylang WordPress is also a powerful translation plugin with a clear user interface. Simply add your content, and make pages, categories, and tags. Then, specify the languages for each of them.
With Polylang, you can add an unlimited number of languages, including RTL languages. After you download the WordPress Polylang language package, the plugin automatically updates the languages on your site. No matter which languages you choose, you can be sure that Polylang will provide you with the right language package.
Additional features and customization options are available in the premium version. The cost of Polylang's commercial edition starts at €99, or roughly $111.
Feature Comparison
There is a reason why both Polylang vs. WPML are widely used translation tools. Aside from being able to translate your site, they come with other incredible features. Since this is a comparison article, we'll examine the features of the plugins in more detail.
Let's begin.
Straightforward Workflow
With WPML, you can quickly transform a single-language website into a multilingual one.
As soon as you install and activate the WPML Multilingual CMS core plugin, a setup wizard guides you through the steps of going multilingual. You can follow the wizard to choose:
Your site's languages
The structure of your site's language URLs
The best translation option for your site
Additionally, WPML makes it easy for your site's visitors to switch between languages. You can add language switchers to your site's menu, footer, and widget areas.
In comparison, Polylang lacks a setup wizard or quick start guide to make configuring the plugin easier for you. You must access the Language option in the Polylang settings from your WordPress dashboard to set up languages on your website.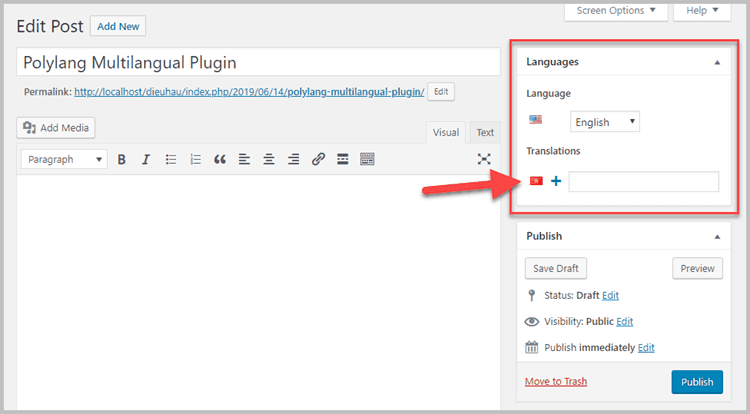 When editing a post or page, you can choose to add a new language. It's then fairly simple to add and translate your content. Simply choose the appropriate language and save your page.
Similarly to WPML, Polylang allows users to modify language settings directly from the WordPress dashboard. Additionally, you can use media language settings and string language settings.
Both WPML and Polylang make it simple to translate your content. But thanks to the setup wizard, WPML makes the process intuitive.
Therefore, WPML is the winner in terms of usability.
Translation Management
Both Polylang and WPML let you translate your site using automatic or manual translation.
There's no doubt you can save time by using automatic translation. However, translating your site's content manually or with the help of a professional translator also comes with benefits. This way, you can ensure the translations are accurate and sound human.
Let's examine both WordPress translation plugins, Polylang and WPML, in-depth. How does each enable you to oversee the translation process?
The WPML CMS and Agency account types come with the Translation Management feature. You can add translators, send content for translation, and manage translations directly from one dashboard.
On the other hand, Polylang enables the integration of Lingotek, a cloud-based interpretation management system. You can use Lingotek to access free machine translation or pay a specialist to do it for you.
The drawback is that you have to create an account with Lingotek. You then need to install the third-party plugin on your site.
In short – a third-party plugin called Lingotek must be installed to use Polylang. With WPML, Translation Management is a built-in feature.
Number of Supported Languages
Both Polylang and WPML offer an impressive number of languages.
WPML comes with 65 pre-configured languages. In case your language isn't on the list, you can add your own, custom languages.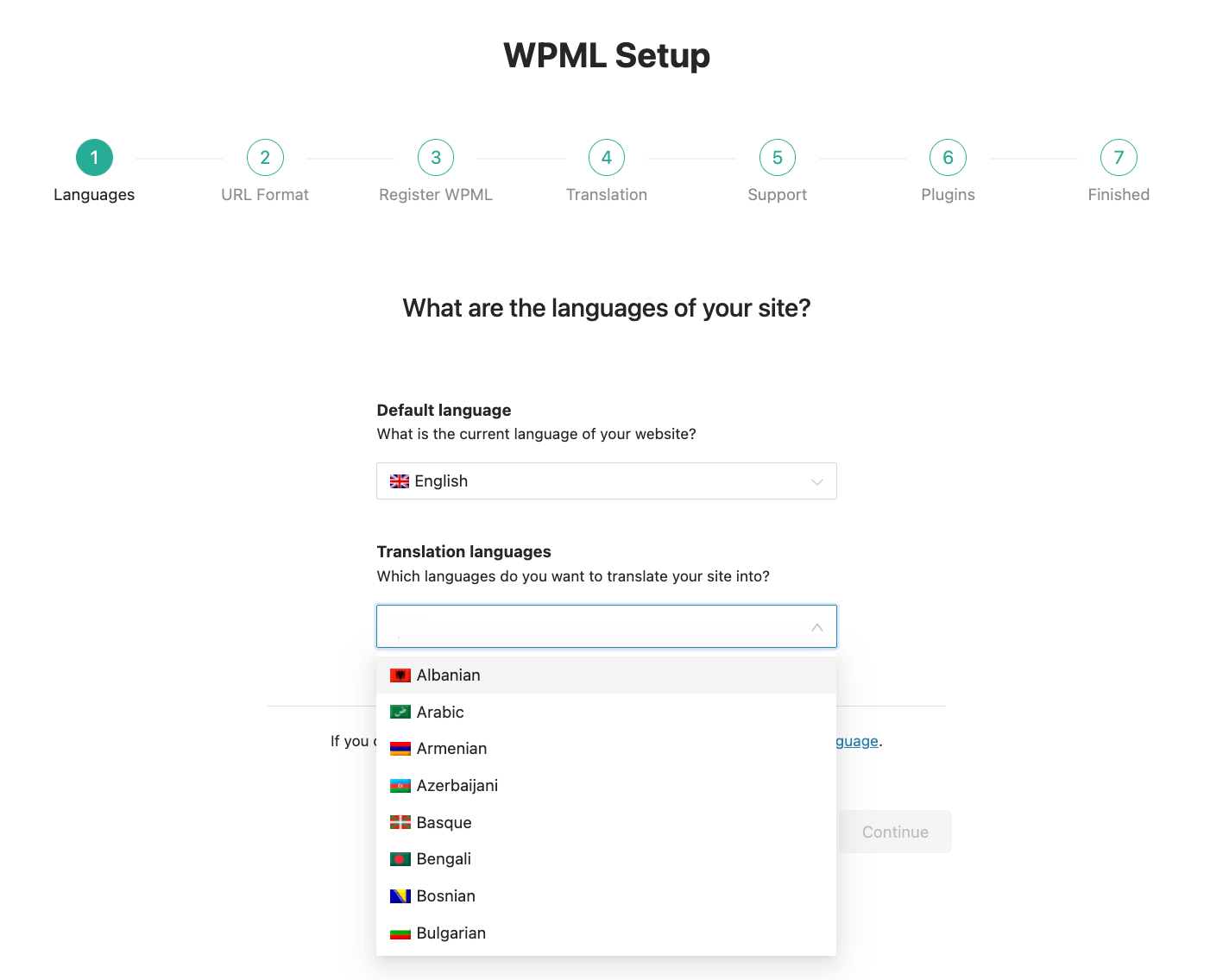 Polylang too does a great job in this regard. It supports more than a hundred languages, and you can add more if needed.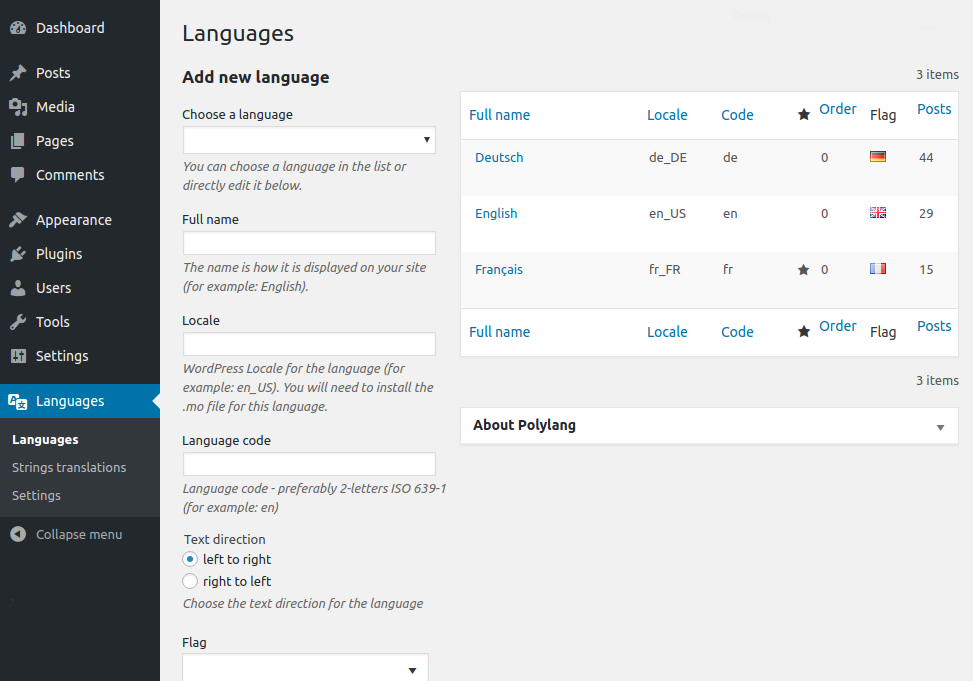 In terms of the number of pre-defined languages, Polylang stacks up against all of its competitors.
Localization Options
There's more to website translation than posts and pages.
Using WPML or Polylang, you can translate texts from the different themes and plugins on your website. You can also let your site's users access the WordPress admin in their own languages.
Both Polylang and WPML allow you to import translations using PO files.
But, the WPML String Translation add-on comes with a huge benefit. It eliminates the need to import MO/PO files or install additional software. You can update texts from themes and plugins directly from the String Translation page.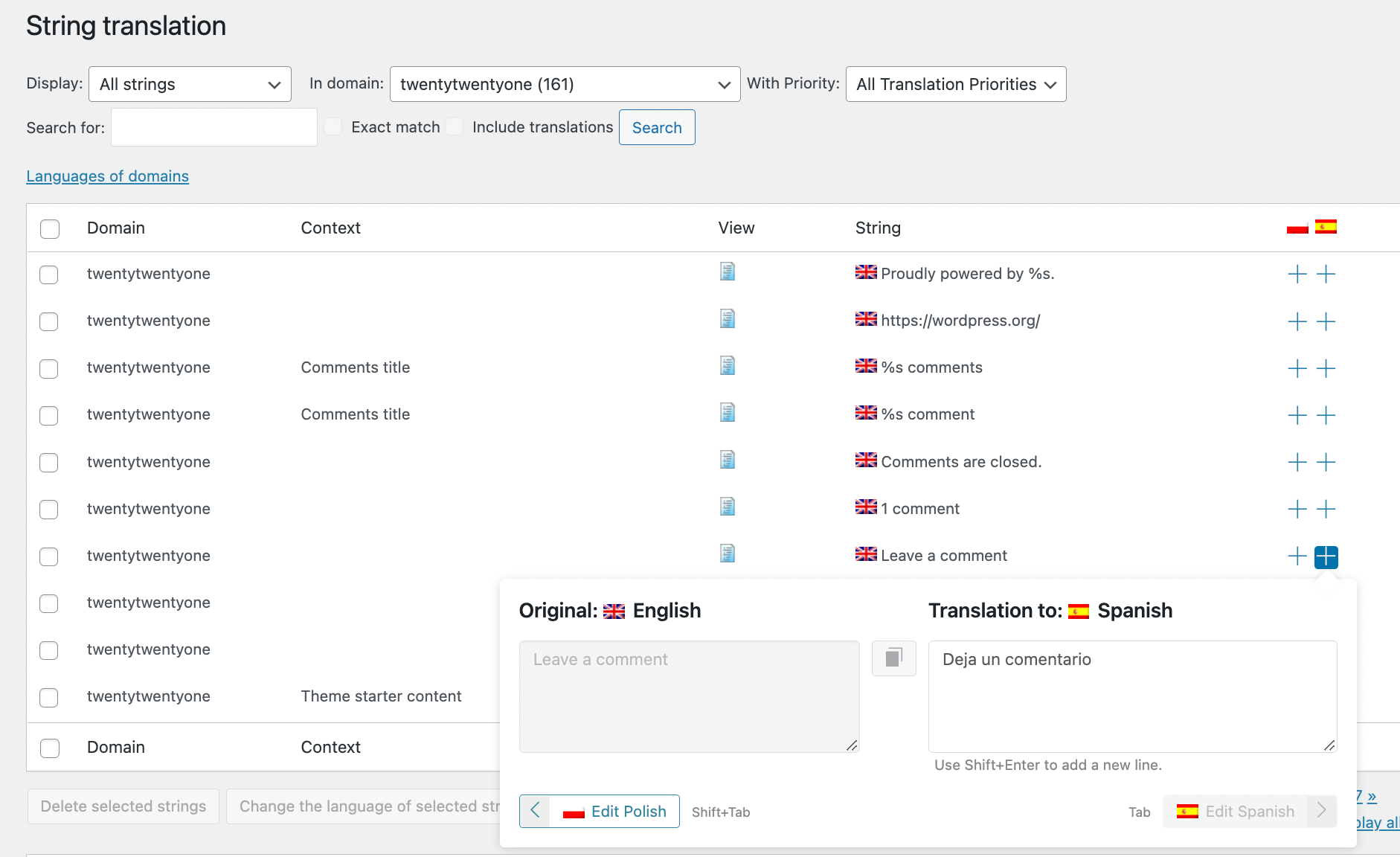 With Polylang, you can translate theme and plugin texts using Poedit and Loco Translate.
In the end, both multilingual plugins can translate texts from themes and plugins. But WPML offers a more user-friendly method.
eCommerce Support
Looking to build a multilingual eCommerce site? E-commerce sites have more elements to translate than simple blogs. However, both Polylang and WPML can handle the job.
The WPML CMS account type comes with the WooCommerce Multilingual & Multicurrency add-on. This add-on is compatible with all popular WooCommerce extensions and themes.
In just a few clicks, you can:
Translate your entire WooCommerce site
Set up a store with multiple currencies
Translate the Cart and Checkout pages
To create a multilingual store with Polylang, you need to upgrade to Polylang Pro or buy the Polylang WooCommerce add-on.
Again, both Polylang Pro and WPML are excellent options for building multilingual e-commerce sites. However, WPML is less expensive and comes with an add-on dedicated to WooCommerce. This makes it the better option for users.
Media Integrations
When it comes to translating media like images and videos, there is a lot to be done. The plugin you choose should:
Support different types of media files
Allow you to translate image captions
Make it possible to create multilingual alt tags, names, and more.
With WPML itself, you can translate image texts like the alt text, caption, and title attributes. With the WPML Media Translation add-on, you can use different images for content in different languages. Polylang Performance has similar features.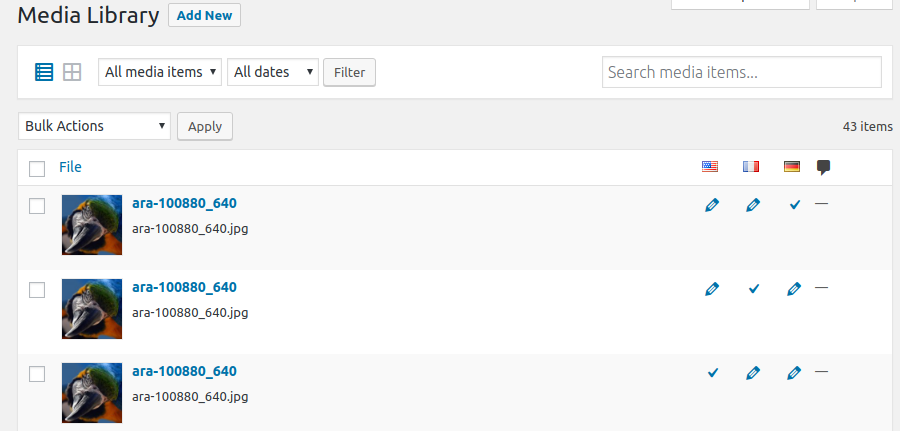 You can configure the media files with translated captions and names by simply enabling a module within the plugin.
It's important to say that both WPML and Polylang let you translate media without duplicating the media files.
Both WPML and Polylang let you work with media, and both WordPress multilingual plugins offer similar functions. But, you can only "translate" images with WPML and its Media Translation add-on.
Support and Documentation
A benefit of selecting a premium WordPress plugin over a free plugin is that premium plugins offer superior support.
Do you need assistance? Or maybe you have questions about using the plugin? With WPML, all you need to do is contact the support team or take a look at the comprehensive documentation.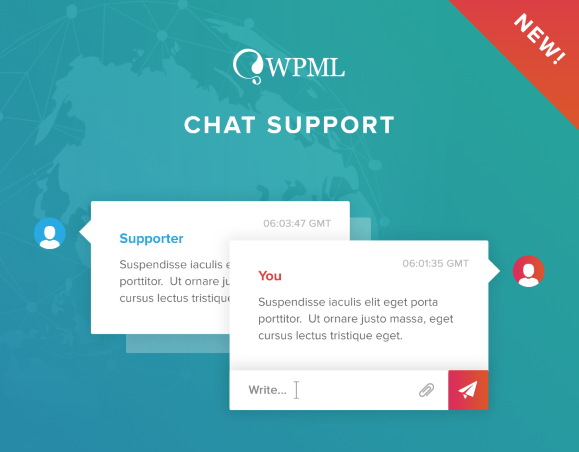 As a premium-only plugin, WPML trounces all of its rivals. The online documentation is very thorough and clearly covers every step, from installing the plugin to using its different features.
Support is not available for Polylang's free plugin. They don't have as much documentation as the WPML plugin.
When it comes to supporting, WPML is a definite winner.
Conclusion: Which One is Better – WPML or Polylang?
It's time for the verdict in the battle of Polylang vs. WPML. Both multilingual WordPress plugins are popular and let you translate your site.
If you're looking for a free plugin, Polylang is the better option for you.
But because of its simple setup wizard, many features, and superior support, we think WPML is a better translation plugin than Polylang.
We sincerely hope that this article aids in your search for the most appropriate translation plugin.
Read More: WPML – Newest Instruction to Install This Amazing Plugin in WordPress
---
Contact us, ThimPress:
Website: https://thimpress.com/
Fanpage: https://www.facebook.com/ThimPress
Youtube: https://www.youtube.com/c/ThimPressDesign
Twitter: https://twitter.com/thimpress