Do you want a WordPress FAQ plugin that allows your visitors to get answers to their questions without leaving your beautiful website?
FAQs are an important part of all kinds of websites. You can provide all the needed information for your visitors using FAQs to reduce any barriers on their way to conversion.
It is possible to build FAQ functionality without using any WordPress plugins, but coding takes a lot of time.
No matter if you plan to display those FAQs on a separate page or in various sections throughout your site, a quality FAQ plugin can help you create a stunning and functional self-service help center with much fewer resources than building one from scratch.
So, what are the benefits, and which is the best WordPress FAQ plugin? Keep reading!
The Benefits of Using WordPress FAQ Plugins
Finding a stunning theme that matches your business and some powerful plugins to enhance features and functionalities, like security, SEO, email marketing, etc., is probably how you'll build a WordPress website.
And your business website needs to grow with your customer base as it grows. A WordPress FAQ plugin is totally required.
You need to assist your visitors in finding solutions to frequent queries they have before they complete their purchase process on your site.
A knowledge base or FAQ is a good source for visitors, as you can't always be everywhere.
You don't have to be sorry that you can't help every customer personally because most visitors prefer to use a self-service website instead of talking to a customer service agent.
Top Free FAQ Plugins for WordPress You Should Know
Quick and Easy FAQs – Free WordPress FAQ Plugin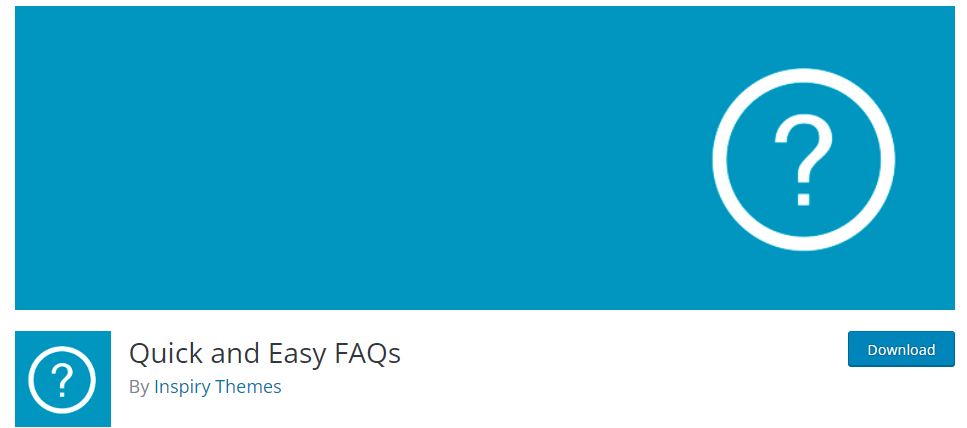 Learn More
Quick and Easy FAQs is a free WordPress FAQ plugin that generates a custom post type in which all of your FAQs will be stored. You can then show them in groups that you can filter or arrange by date or title.
Moreover, it includes a simple default style as well as easily customizable settings. If that doesn't work, it is easy to adjust those styles with CSS and harmonize the FAQ section with the rest of your website.
You can also change the design, layout, color, font, and other elements to fit your theme.
Key Features:
Colors and styles can be changed
Support different languages
FAQs custom post type
Pricing: Free
Easy Accordion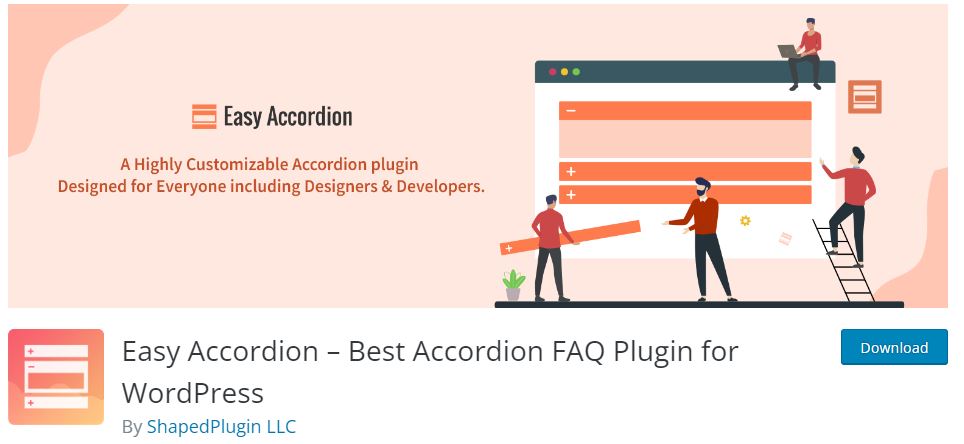 Learn More
You should avoid making your site too bloated and affecting page speed when installing some plugins. Keep in mind that Easy Accordion is a lightweight and fast WordPress FAQ plugin. It comes with many amazing features for you to customize.
Easy Accordion comes with lots of typography options, colors, icon sets, and themes to choose from. It is also compatible with WordPress themes that rely on widgets.
Key Features:
Adapts to any screen size and device
User-friendly admin panel
Drag-n-drop method
Lightweight and fast
Customize color and style options
Pricing: Free
Ultimate FAQ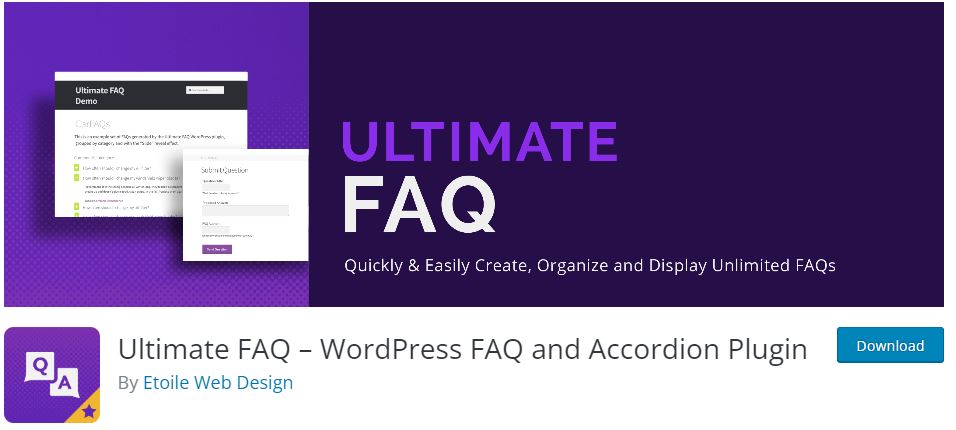 Learn More
There is no limit to the number of tags and categories that Ultimate FAQ can handle, as well as a variety of cool visual features like accordions and toggles.
Users can also leave comments on individual FAQs, making your website more collaborative. You can use this WordPress FAQ plugin with shortcodes or the Gutenberg editor, which is its best quality. The only thing you have to do is add the blog to the page.
You can easily check how many times your FAQs have been viewed with its statistics feature as you evaluate your pages and the performance of your FAQs.
Key Features:
No limit to the number of FAQs & categories you can create
Responsive layout that will work on any device
Add many FAQs in one go from a spreadsheet
Use CSS to change the appearance of your FAQ layout
Pricing: Free
Arconix FAQ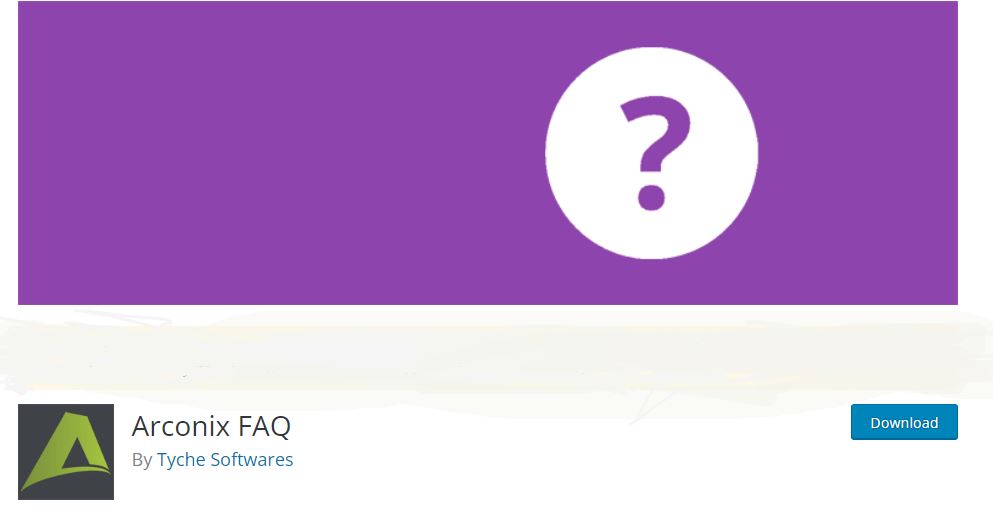 Learn More
Arconix FAQ allows you to insert FAQ items by using the shortcodes generated by the WordPress FAQ plugin. An accordion box with a jQuery toggle lets you view the FAQs in the most attractive way.
You can then see the FAQs in an accordion box that you can open and close with a jQuery toggle.
Key Features:
Use the shortcode to display the FAQs in a toggle or accordion style
"Return-to-top link" at the bottom of the page
Show FAQs individually or in groups
Price: Free
Best Premium FAQ WordPress Plugins
Heroic FAQ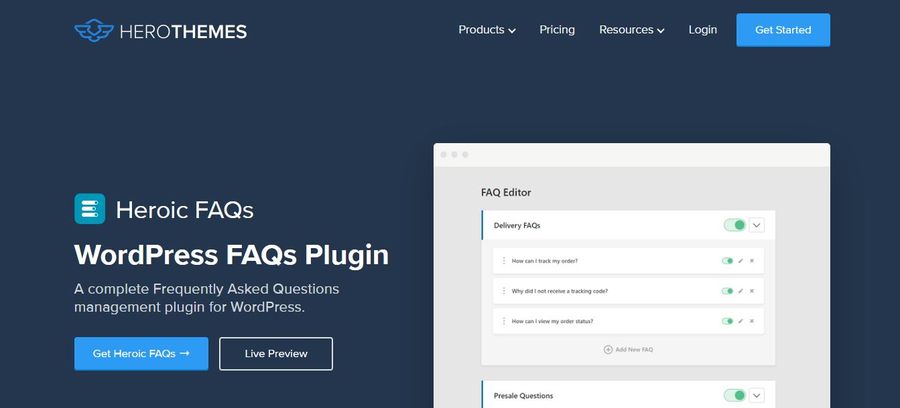 Learn More
Heroic FAQ, a beautiful name, is a premium WordPress FAQ plugin. It offers 5 ready-made styles and customizes them as much as you want.
You can then change the appearance and style using its visual editor, an interface that lets you move elements by dragging and dropping them, different icon styles, and smooth and dynamic CSS3 animations.
Moreover, you can do everything on a single screen. It also includes a year of support with its excellent customer service.
Key Features:
Five different styles are available for you to choose from.
Simply drag and drop elements to customize your layout
CSS3 animations are part of the deal
A year-long support service is included
Pricing: $49 – $149
YITH WooCommerce Questions And Answers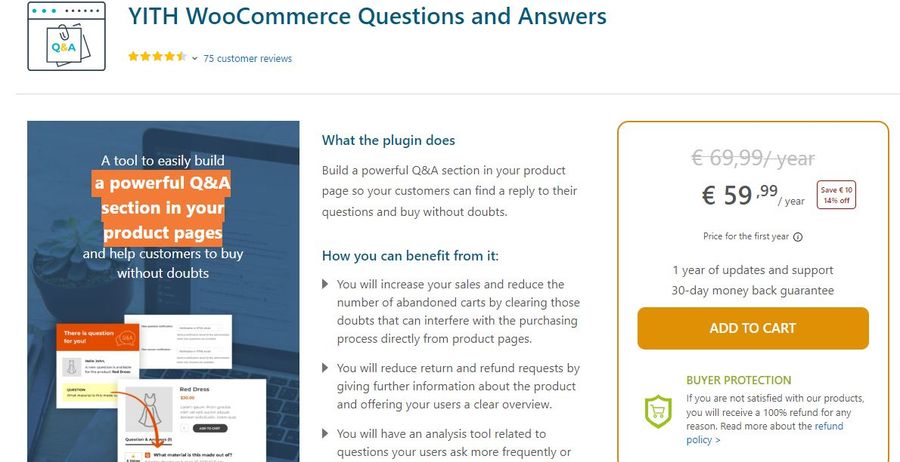 Learn More
YITH WooCommerce Questions And Answers is a WooCommerce-specific FAQ tool.
You can add a FAQ section to your product pages and allow customers to submit their own questions for the support team to answer, promising to boost user interaction and improve customer satisfaction in your WooCommerce store.
This plugin is very flexible and it comes with a search and category filter feature that helps users discover answers to their questions.
With this WordPress FAQ plugin, you can also create a voting system, enable the email notification process, filter out improper questions, and inspire users to contribute their own answers in the FAQs section.
Key Features:
Allow to set many answers
Support voting system
Hide inappropriate answers automatically
WPML-ready
Pricing: $19
FAQPlus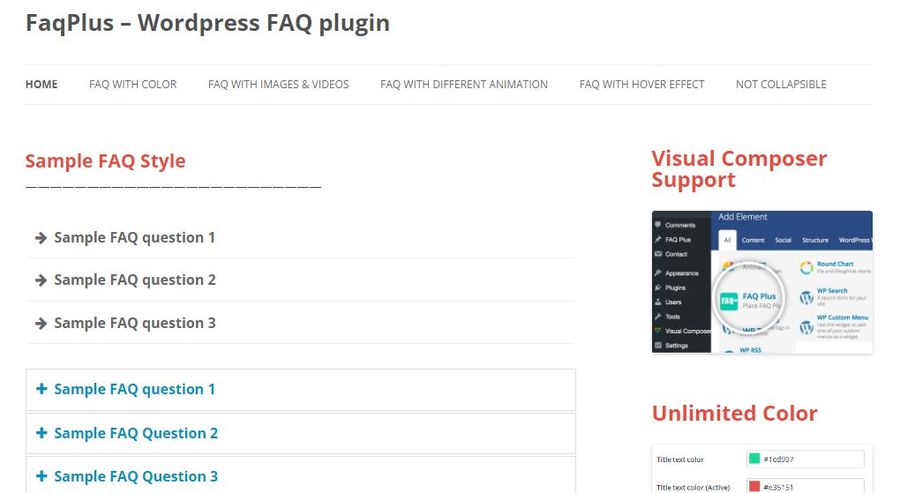 Learn More
FAQPlus is a great WordPress FAQ plugin for animation effects, with over 25 different choices to pick from. You also get unlimited color options and Font Awesome icons to create a more polished and modern FAQ section.
FAQPlus allows you to reorder FAQ Items by using drag-and-drop.
Key Features:
There are 25 different animation effects.
There are no color limitations.
Drag-and-drop user interface
Price: $25
Tribulant FAQ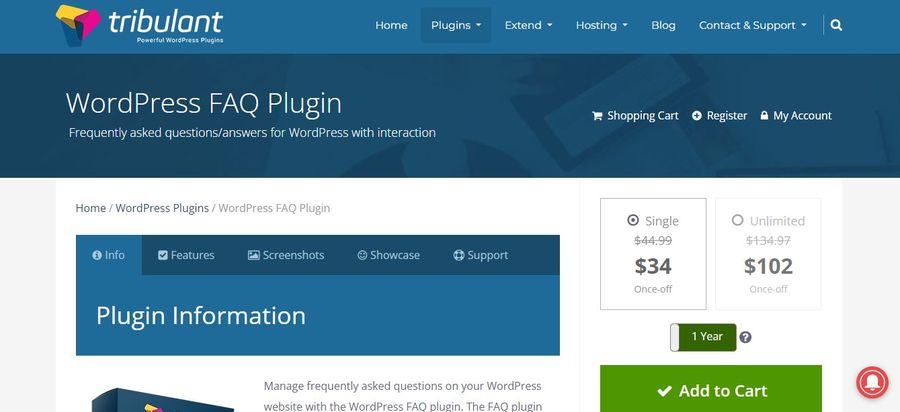 Learn More
Tribulant FAQ plugin includes a plethora of customizable options and a simple drag-n-drop feature for listing and rearranging questions. You can style the FAQ with a sliding accordion that presents questions and answers and an image gallery that is already included.
It's possible to build question-and-answer forms for users or customers to fill out and submit for admin approval. The plugin supports translations and includes a search bar for the FAQ as well as custom CSS.
Key Features:
Interface that lets you move elements by dragging and dropping them
Image gallery that comes with the package
Approval feature for the Q&A forum to ensure quality
Ready to be translated into any language
Pricing: $34 – $102
Final Thoughts
When choosing a WordPress FAQ plugin, remember that your main objective is to offer a great user experience and eliminate any obstacles in the way of converting your site visitors. Your FAQs are meant to assist your website guests, and by doing that, you'll be enhancing the appeal of your item or service to them.
Read More: Best WooCommerce Point of Sale Plugins (POS)