Are you looking for a WooCommerce point of sale plugin?
You can sell products online for free with WooCommerce, but that's not all it can do. With a POS plugin on your website, you can also make more profits by selling your products in a physical store.
It lets you sync your products, orders, customers, and inventory between your online and offline sales channels. It also gives you a user-friendly interface to process transactions, manage cashiers, print receipts, and more.
Great to explore? Let's see the best WooCommerce Point of Sale plugins below for a faster process!
Reasons to Use a Pont of Sale (POS) System
A POS system is similar to a cash register that keeps running on software so you can accept payments from customers in person, for instance, when selling things at an event or in a physical store.
It's possible to use a POS system to do what a cash register does, such as adding products, displaying the total price to the customer, taking payment, and making a receipt/invoice.
A WooCommerce point of sale plugin system has many more capabilities than just handling payments and recording transactions.
Some fantastic features that match your business requirements such as: automatically updating your stock as you sell or buy products; creating customer profiles with their contact details, purchase history, preferences, and loyalty points; monitoring your sales performance, revenue, profit, expenses, taxes, and other vital metrics using various reports and dashboards; and more.
For sure, WooCommerce is a better choice than purchasing dedicated POS terminals. Most of these terminals are costly, and you must pay for a recurring subscription for the software that controls them.
WooCommerce is very flexible, budget-friendly, and simple to use for anyone. You can sell products online and face-to-face using this plugin.
You can have a low-cost and versatile point-of-sale system with a WooCommerce POS plugin. It works on any PC or tablet with a modern web browser, and you can use it at physical stores.
7+ Top WooCommerce Point Of Sale Plugins
Oliver POS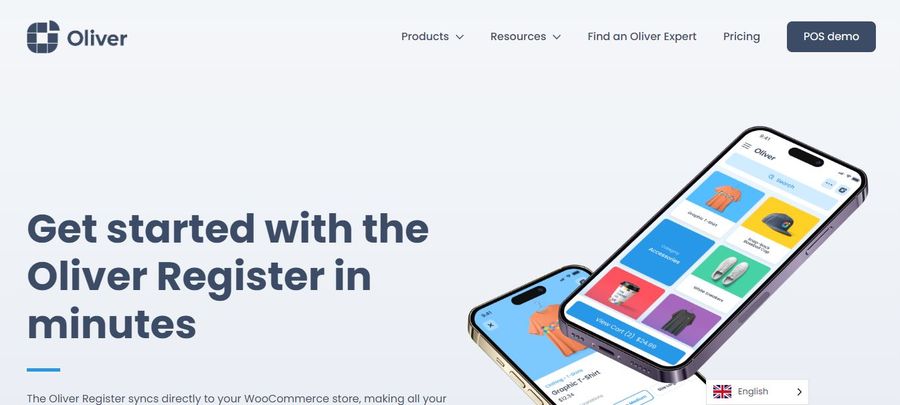 Learn More
Among the best WooCommerce POS plugins is Oliver POS. It is intended to market products from their web-based stock using a single platform.
This suits those who aim to merge eCommerce and physical shops. Inventory can be effortlessly aligned across your online shop, retail shop, and warehouse.
The WooCommerce point of sale plugin works with any computer or device that has internet access, and there are apps for iPads & Android tablets.
It's possible to buy registers, tablet stands, cash drawers, printers, and barcode scanners from the official site.
If customers made an online or in-store purchase, you check it too. You can keep tabs on their total spending, purchase history, store account, and other information.
Monitoring both in-person and web-based purchases is available. It can generate reports on your payments, inventory, orders, etc.
Pros:
Simple to download and use
Work both online and offline stores
Version for free
Cons:
Customization is limited.
Not work when there is no internet.
YITH Point Of Sale For WooCommerce (POS)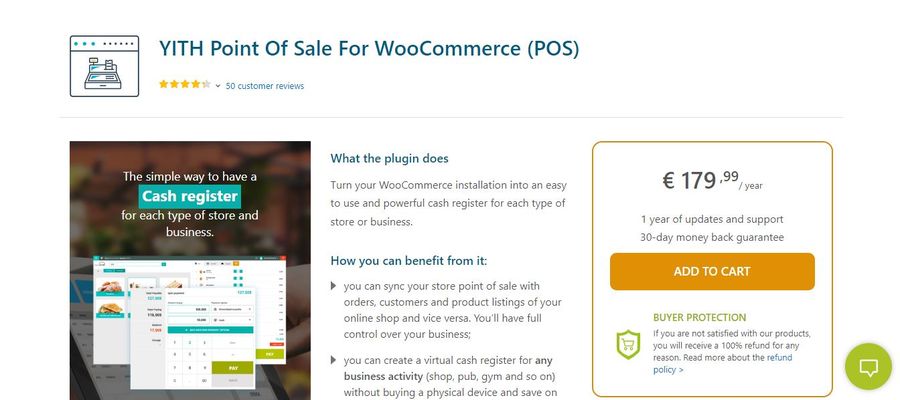 Learn More
As its name implies, YITH Point of Sale for WooCommerce (POS) is a powerful plugin that transforms your online store site into a functional and simple cash register.
Cashiers can quickly find items or scan the barcodes when they are processing customer payments. When necessary, they can also add new products.
Having an online and an offline store means your product listings, orders, and customers will be in sync.
Moreover, this WooCommerce point of sale plugin is available in desktop and mobile layouts. The mobile layout is designed for iPads & Android tablets, not smartphones.
Through the plugin's dashboard, you can keep an eye on useful metrics like sales movements, terminal income, payment options, and the highest-selling cashier.
Pros:
No limit on the number of registers & stores
Helpful sales data
Cons:
Cash payments are the only option with the free version
Offline mode is not available
Square for WooCommerce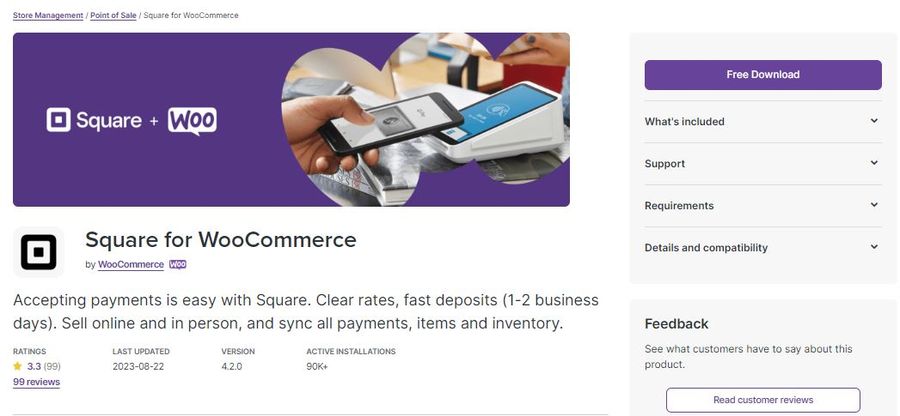 Learn More
Next, let's explore Square for WooCommerce. This WooCommerce point of sale plugin is a free Woo extension to accept payments through Square.
The Square extension assists customers in paying with credit cards and debit cards. It also accepts digital wallets such as Apple Pay or Google Pay.
Customers can make these payments either online or in-person. Credit cards are only accepted in the US, UK, Canada, Australia, Japan, the Republic of Ireland, France, and Spain.
It's simple to get started. Your Square account and your eCommerce store will automatically synchronize your product data and payments.
Square also protects your company. They have a team that specializes in dispute resolution and fraud protection that utilizes machine learning to stop fraud in advance.
Pros:
Setup is simple.
Low entry cost
Various payment choices
And Free to use
Cons:
Not work when there is no internet.
Credit card payments are only accepted in a few countries.
wePOS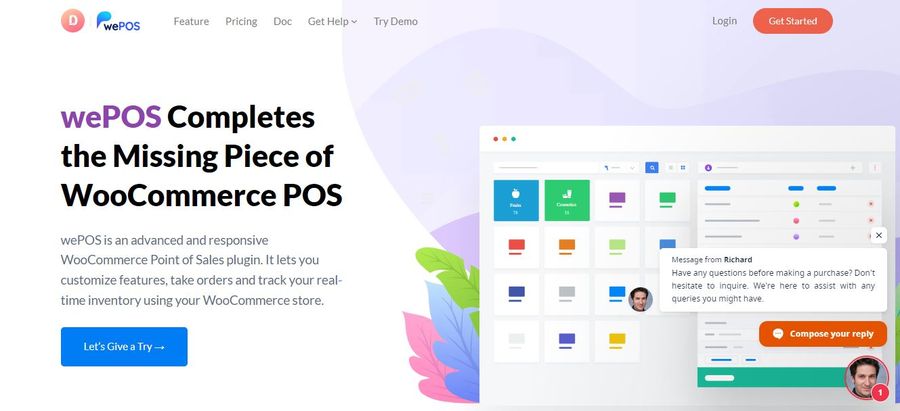 Learn More
WePOS, another famous plugin, is a cost-effective and visually appealing POS plugin for WooCommerce that is quick and simple to configure and use. It does, however, lack some features offered by other POS systems.
Retail hardware like cash drawers, for example, is not directly integrated with WePOS. It does, however, support barcode scanners and printers.
This WooCommerce point of sale plugin also only accepts cash and credit cards as payment methods. When a credit card payment is made, the order and receipt numbers must be manually put into wePOS to follow the sale.
At present, you cannot create daily sales reports for cashiers, bar codes, gift cards, or user interface customization.
WePOS, like many other POS plugins for WooCommerce, requires an internet connection to function.
Pros:
Quick and simple to install
Cons:
Not work when there is no internet.
Only two payment options are available: cash and credit cards.
Support for limited hardware
Customization is restricted.
Cash is the only payment option for the free version.
Hike POS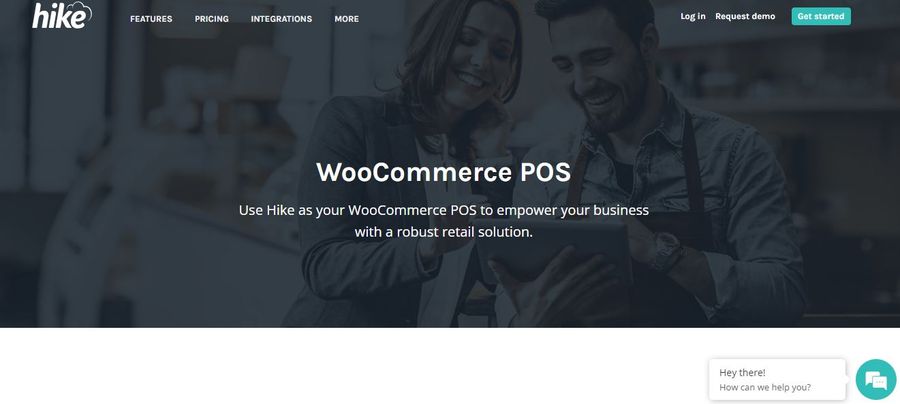 Learn More
Another complete WooCommerce point of sale plugin is Hike POS. It works well with computers, Android tablets, and iPads.
The plugin also supports easy connection and functionality with retail hardware gadgets, such as scanners and invoice printers.
Hike POS enables lay-by transactions, returns & refunds, quotations, gift cards, and credit notes. You can also access detailed sales data and apply the software to multiple shops.
In addition, it has a smooth integration with WooCommerce. Your inventory, customer information, and orders on Hike POS as well as WooCommerce are always up to date automatically.
It is a cloud service that functions offline as well, which makes it more credible than many other plugins on this list. All the data is updated in the cloud when you reconnect to the internet.
This WooCommerce point of sale plugin accepts different payment methods, allowing your customers to select the method that works best for them. PayPal, Afterpay, Square, Tyro, and other payment methods are available.
Hike POS also integrates with a variety of cloud services, including Xero, MYOB, QuickBooks, Mailchimp, and Amazon.
Pros:
Offline functionality
Integrates with lots of third-party cloud services.
Works both with and without WooCommerce.
Multiple stores are supported.
14-day trial period
Cons:
There is no free version available.
Read More: LearnPress Frontend Editor Integration: A Comprehensive Guide
---
Contact us, ThimPress:
Website: https://thimpress.com/
Fanpage: https://www.facebook.com/ThimPress
Youtube: https://www.youtube.com/c/ThimPressDesign
Twitter: https://twitter.com/thimpress