As a WooCommerce store owner, you can gain a huge advantage with tracking numbers. The WooCommerce Reporting plugin will help you leverage them to the fullest on your site. Hence, you can monitor how your online store is doing and learn more about your customers' preferences and behaviors. This will help you increase your sales and grow your business.
In this guide, we will help you pick the best WooCommerce reports and assist you in selecting the ones that are a perfect fit for your beautiful online store.
If you don't have a website, you can build a WordPress site easily with our detailed guide.
Let's dive in!
Why Is WooCommerce Reporting Important?
As far as we know, running a WooCommerce store takes a lot of time and effort. As a result, people frequently pay little attention to the numbers. There is inventory procurement to consider, vendors to contact, shipments to consider, and so on.
However, this is a critical error that eCommerce owners can make. WooCommerce reports plugins can assist you in seeing the right numbers, allowing you to improve your future strategies and identify what needs to be fixed.
The reasons for the importance of WooCommerce reporting include:
Customer insights: When you give your clients what they're looking for, your business will be successful. The reporting plugins can provide you with a lot of data about customer behavior and what they prefer so you can use it to make business decisions.
Data-based decisions: The most reliable way to figure out the best strategy for your business is to follow the data. Without knowing your numbers, you could be making costly mistakes. For example, ordering products that don't sell well or failing to manage your inventory properly.
Exact number reporting: The reporting tools exactly show sales numbers, revenues, and profits. Without the tools, you'd have to estimate your profit numbers. You'll also get help with tax numbers.
Performance analysis and tracking KPIs: eCommerce stores have several performance indicators to analyze and optimize. For example, conversion rates, traffic, abandoned cart numbers, etc. You can also track metrics for specific products to see which ones are the best sellers and which ones need improvement.
These tools can also be used to analyze competitors and develop marketing and sales strategies. You'll find many advantages to using these plugins that you'll be throwing money away if you don't download and use them.
Let's get some high-quality WooCommerce reporting plugin options for your online stores.
Factors to Choose the Top WooCommerce Reporting Plugin
When selecting a plugin, there are numerous factors to consider. However, this can leave you feeling overwhelmed and unsure about the best option.
But don't worry. If you want to find the best WooCommerce reporting tool to use for your business, here are some of the crucial things you should pay attention to:
Ease of use: Store owners can find it difficult to use plugins with complicated backends. Most owners don't have much technical knowledge, so simple interfaces are required. Most of the plugins I've mentioned here are extremely simple to use. Some will take some practice to master because they offer multiple features at the same time.
Pricing: Of course, each plugin will have a different cost since it has different features. And the price certainly matters a lot for businesses. The following plugins are affordable for different businesses, whether they are small and medium enterprises with budget constraints or large eCommerce stores with unlimited funds.
User acceptability: There are various reporting plugins available. But choosing the reputable ones is often a better choice. Why? Because there's community support available, ample reviews available to help you decide better, and developers roll out regular updates.
Features and functionality: If the plugins can't provide the needed reports, they're worthless, even if they're free. All the plugins mentioned in the list are excellent in their way.
8+ Best WooCommerce Reporting Plugins
Advanced WooCommerce Reporting
Learn More
Advanced WooCommerce Reporting is the first tool we highly recommend for your WooCommerce reporting requirements. It's a premium plugin, however, you can try it for free.
Features:
Simple interface: No coding skills can use this plugin easily with a simple interface
Clean visual reports: It can sort the data for you in pie charts and bar charts so you can see the numbers and performance.
Detailed number reports: Track your store's performance with key metrics
Automated Email Summaries: Get automated email performance updates on your schedule.
Add-ons are available: You can install paid add-ons to extend the tool's functionality and handle features such as taxes.
Pros:
Comprehensive sales analysis.
It is simple to track progress and make changes according to the accessible data.
Detailed graphing.
Support WooCommerce plugins and WooCommerce extensions.
Reports are simple to customize.
Cons:
You need to spend some time learning how it works.
Pricing:
WooCommerce Analytics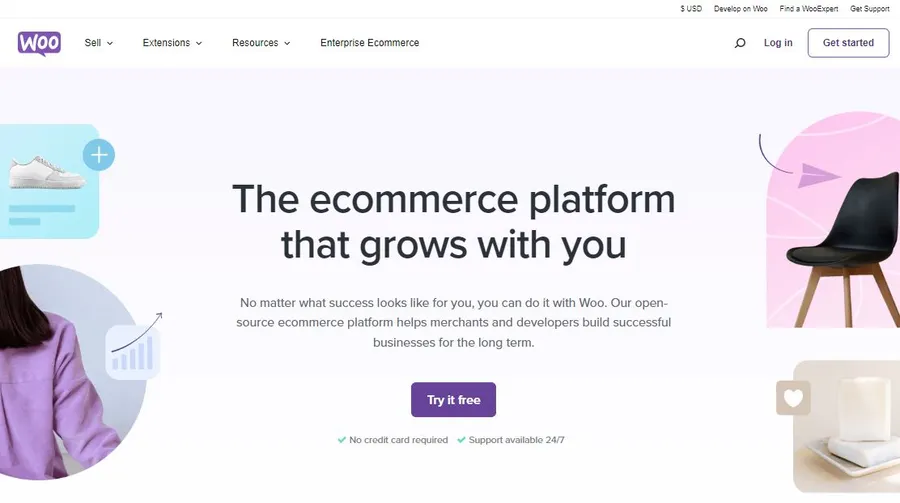 Learn More
As its name implies, WooCommerce Analytics is a built-in reporting tool that is available once the WooCommerce plugin is installed.
It is the most up-to-date analytics tool by WooCommerce and the follow-up to WooCommerce Reports, which was outmoded after the introduction of WooCommerce 4.0. WooCommerce Analytics is fully compatible with WooCommerce versions greater than 5.3.
The Analytics section can be found in the back panel of your WordPress dashboard, under the WooCommerce tab.
Features:
WooCommerce Analytics has a ton of features to run a successful e-commerce store.
Comprehensive Analytics: This plugin manages your store's logistics and sales. It helps you with shipping, taxes, refunds, and more.
Easy dashboard: It lets you manage your WooCommerce store with a simple and customizable dashboard. Track your KPIs at a glance.
Live data insights: Everything happens in real-time. This allows you to stay up to date on the numbers and make better decisions.
Easy to Use: It comes with easy to use interface. Furthermore, it is included with the WooCommerce plugin, so there are no additional costs.
Downloadable Reports: You can export your WooCommerce reports and send them to the people who need them.
Pros:
It's completely free
Support the essential features to run and manage any online store.
Allow you to customize and control your dashboards to better monitor your business operations.
Provides several advanced filters, making it simple to work with data.
Simple to manage from the WordPress backend.
There's plenty of data available in the WooCommerce community on how to use WooCommerce Analytics effectively.
Cons:
It may not be enough for larger eCommerce stores that require more metrics to measure performance.
It only works with WordPress versions 5.3 and above.
It has fewer features than some paid tools for WooCommerce.
Pricing:
Metrilo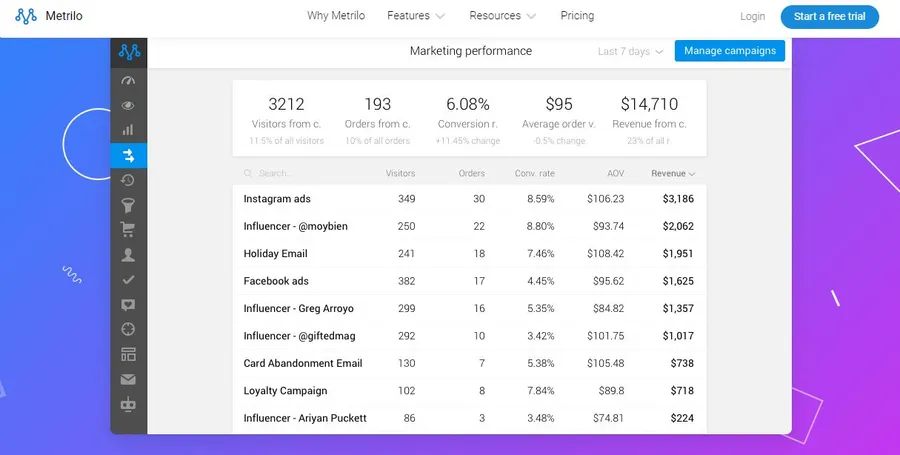 Learn More
Metrilo is an excellent WooCommerce reporting plugin for online store sites. It provides in-depth analytical insights to assist you in efficiently running and growing the store.
Features:
Additional features to boost the store: Besides reporting, it even offers other features that you'll need to grow your store, such as email marketing and customer loyalty tools.
Real-time data insights: Giving results without delays, you'll get the most precise view of your business operations.
Clear revenue categories: Metrilo makes it very simple to manage revenue numbers. The tool categorizes the data by product, category, sales channel, and so on.
Mobile app support: Manage your store from anywhere with Metrilo on your smartphone.
Simple customer segmentation: You can easily manage customers with this plugin. With targeted approaches, you can better segment your shoppers and promote your goods. This tool can also help with multi-vendor stores, where you deal with multiple vendors at the same time.
Simple KPI management: The plugin offers you performance metrics to analyze your store and determine areas to improve it.
Pros:
A useful reporting plugin, helping with store performance and growth.
For those who want to test the product before purchasing it. There is no cost to test it out.
Because of the tool's simple integration with WooCommerce, even non-technical users can use it for their stores.
Develop audience segmentation and customer tracking options.
Cons:
In comparison to other plugins on the market, the price is a little high.
With so many features available, it may take some time to comprehend and fully utilize the plugin.
Pricing:
Essential: $119/month
Pro: $199/month
Premium: $299/month
Track Google Analytics 4, Facebook Pixel & Conversions API via Google Tag Manager for WooCommerce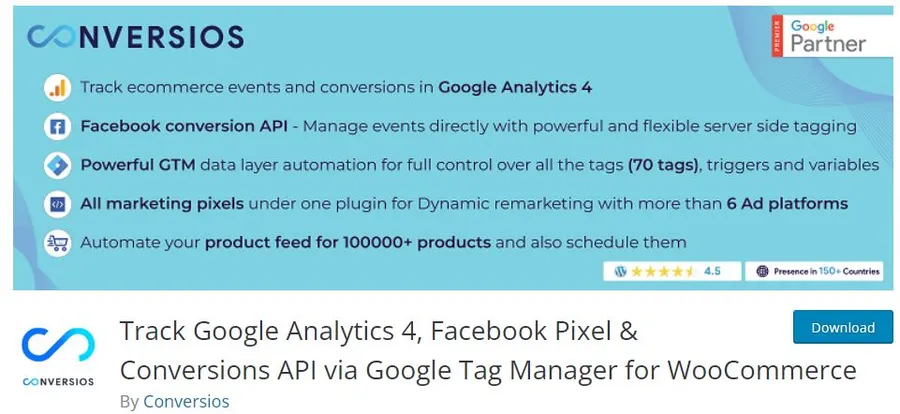 Learn More
Track Google Analytics 4, Facebook Pixel & Conversions API via Google Tag Manager for WooCommerce, a quite long name, is a feature-rich WooCommerce reporting plugin that can easily resolve all of your tracking and reporting issues.
The plugin is simple to set up and provides useful information for analyzing progress and performance. While it isn't as eye-catching as other paid plugins, it does a good job with reporting and can be a good starting point for medium- to small-size eCommerce stores.
Features:
Simple campaign management: You can manage your marketing campaigns and track their results with ease. The data can help you analyze what content and marketing tactics work and what to avoid.
Real-time performance reporting: It's constantly updated, so you can see your WooCommerce store's true performance anytime.
Automation feature support: You can automate your Google ads and results tracking with this plugin.
Build audiences and track conversions: This plugin works with GA4 as well as many other social media platforms like Snapchat, Facebook, Pinterest, and TikTok.
WordPress reporting dashboard: You can easily access your reports from the WordPress dashboard.
Pros:
Advanced data insights with Google Analytics 4.
Integrates well with major social media platforms and allows you to monitor your marketing campaigns on those platforms.
It costs nothing to use
Automatic tracking features
Select from multiple report options such as sales, product performance, and more.
Cons:
Less functional than other premium tools. You may also need to buy some extra tools to get the best reports for your stores.
No live support is available.
Pricing:
It is completely free to download and use.
Beeketing for WooCommerce
Learn More
Beeketing for WooCommerce is the best WooCommerce reporting plugin for tracking and reporting your store's performance. And, most small and medium-sized businesses can use the free option effectively.
It's a robust tool with over ten extensions that can do more than just meet your reporting requirements. It's possible to use it for other purposes as well, such as live chat with customers, email marketing, and so on.
Features:
Email marketing bot: Assist you in setting up automated email triggers for your desired actions, and the bot will send customized emails when the action is completed.
Product countdowns: eCommerce stores use urgency to boost sales. Using this tool's countdowns, you can grow your sales.
Popups that offer discounts and sales: These popups appear on visitors' screens and offer impromptu discounts. You can increase the chances of conversion by adding relevant triggers to these popups.
Abandoned cart recovery and prevention: With Beeketing, you can reclaim potential customers who have filled their carts but then abandoned them for whatever reason. This tool also enables you to put preventive measures in place to decrease the volume of abandoned carts in the first place.
Pros:
Downloading is completely free. For a limited time, you can even try premium features for free.
Offers many features to assist you in running and growing your WooCommerce store.
Free support
WooCommerce integration
Dedicated to WooCommerce.
Cons:
Provides several features through third-party platforms, requiring your store to rely on multiple services rather than just one.
Because they must deal with queries, support can be a little unresponsive at times. This has the potential to stymie your operations.
Pricing:
It all starts for free.
The cost of the paid version will vary depending on which features you use.
WooCommerce Sales Report Email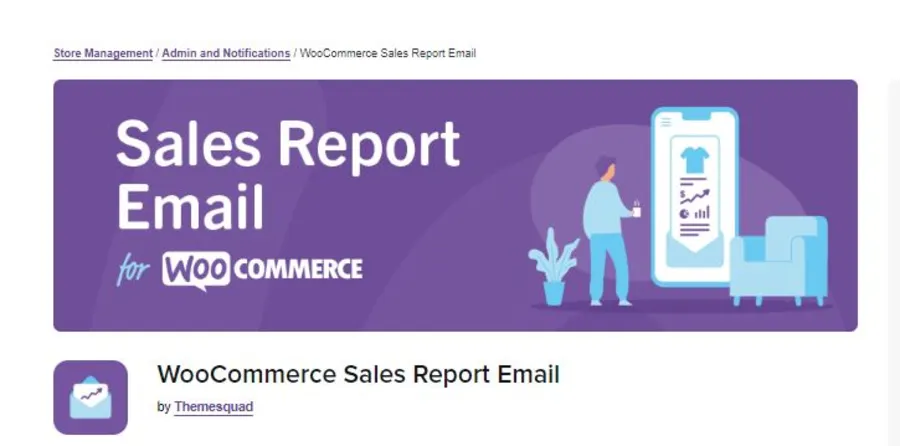 Learn More
WooCommerce Sales Report Email is a fantastic WooCommerce reporting that will keep you up to date on the performance of your store. It automatically sends reports to your specified email address, eliminating the need to micromanage your store.
It's not the best extension for fast-paced stores, but if you don't need to track more than, say, 5000 sales per day, you should give it a shot.
Features:
Timely reporting: You can set the timeline, for example, monthly, weekly, bi-weekly, and so on, and you'll automatically receive updates at that time.
Effective performance insights: You will receive reports on various performance KPIs. You can even compare metrics across time frames to see how you performed in one timeline versus another.
Simple setup: You can use this plugin by going to the WooCommerce tab in your WordPress dashboard and managing things from there.
Pros:
Simple to use and provides adequate features for small and mid-sized businesses
It eliminates the need to constantly monitor performance.
Simple to use and comprehend.
Simple pricing structure.
Cons:
It may not suit large or fast-moving stores with frequent updates.
Fewer features than other premium tools in the same price range.
Pricing:
Final Thoughts
Depending on your needs and budget, you can select the best fit for your business model. And, if you're just getting started, you can take advantage of the free trials before investing in a plugin.
Read More: WooCommerce Pricing – How to Run An Online Store with The Lowest Cost
---
Contact us, ThimPress:
Website: https://thimpress.com/
Fanpage: https://www.facebook.com/ThimPress
Youtube: https://www.youtube.com/c/ThimPressDesign
Twitter: https://twitter.com/thimpress