Are you searching for WooCommerce pricing to launch a new store online?
Almost all people prefer WooCommerce since it's a free and powerful eCommerce platform. But how free is WooCommerce in reality? What is the true cost of WooCommerce, and what other costs must you bear?
An Overview of WooCommerce
What Exactly Is WooCommerce?
WooCommerce is the most famous free and open-source WordPress eCommerce platform designed for creating and managing your online store. Thanks to its user-friendly interface, you can sell any product type or service, set up different payment methods, and even customize your store's design. It works well with other plugins, too. It also beats other famous platforms, such as Shopify and BigCommerce, in the race for the top spot.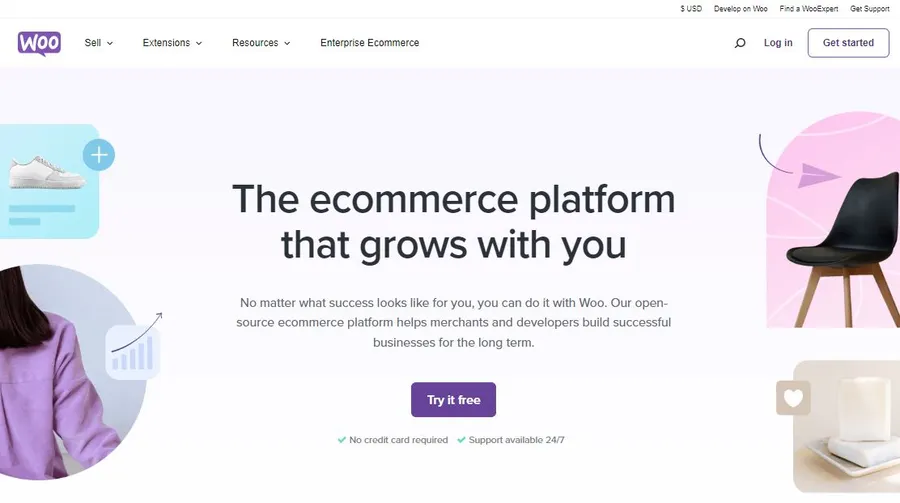 WooCommerce is available at no charge to download and install, which is why many e-merchants prefer it. Rather than paying a monthly or yearly subscription fee, you can build your website as you see fit without worrying about WooCommerce pricing.
What Is the Purpose of WooCommerce?
This platform is extremely adaptable. Nothing will limit your control over your website, allowing you to easily customize everything from the appearance to the functionality of your online store. As a result, you can design an online store that meets your requirements.
Plus, WooCommerce comes with a large selection of WooCommerce extensions to make your site more powerful and flexible. WooCommerce also has excellent blogging functionality. It's also SEO-friendly, thanks to a wide variety of amazing SEO built-in features and plugins, for example, Yoast SEO and Rank Math SEO.
It is relatively cost-effective to set up a store with WooCommerce. Your eCommerce store will run smoothly, with basic functionality available for free. But newbies might still be concerned about WooCommerce pricing plans. Is it truly free?
Sorry to say that you still need to pay some money for specific aspects when using WooCommerce plugins. But it is fair to assume that WooCommerce will make you more comfortable with your budget and allow you to save more money overall.
Pricing Breakdown
As we know, WooCommerce is free, however, you may have to pay for additional extensions, themes, hosting, and a domain name to get the most out of it. The price of these items will vary depending on your requirements and preferences.
Therefore, we split it into two main costs according to the possible features and functions to estimate the actual pricing for WooCommerce:
Required Costs: It is needed for setting up a fully functional online store that can accept online orders.
Hosting
Domain
Theme
Shipping
Payments
Security
Optional Costs: It depends on the business's needs for customization.
Customer experience
Marketing tools
Developers hiring
Let's explore the price of each aspect and see how much it is.
Wait! Please remember that you need a WordPress website to install or use the WooCommerce plugin. If you're a newbie, follow the steps to set up a WordPress plugin.
WooCommerce Hosting Pricing
Hosting: Less than $10/month for starters and at most $40/month with bigger plans.
The first WooCommerce cost you'll see is the hosting fee. There are multiple hosting providers to choose from, from budget-friendly businesses to dedicated ones that will carefully supervise your site. So that the cost depends on the hosting plan that you select.
Hosting plans can range from $1 to $2 per month up to thousands of dollars each month. Naturally, you don't have to pay that much unless you are at the enterprise level.
So what web host is best for you? DreamHost, Bluehost, and SiteGround are three web hosting companies that we highly recommend for you.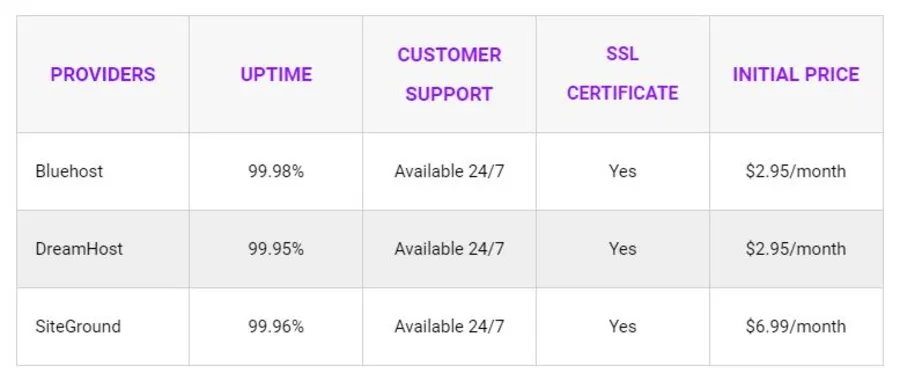 WooCommerce Domain Name Cost
Domain name: It costs between $9 and $20 per year.
The domain name, the most important one, is the next aspect of WooCommerce pricing. A domain name must be registered because it is the address of your webpage. Visitors can quickly find your website on the internet if you provide them with an address.
The hosting pricing plan usually includes domain names, making it a very affordable package. For example, Bluehost offers a domain name without any fee for the first year of a hosting plan. After one year, the domain should be renewed, which typically costs between $9 and $20 each year. The price varies according to the name's extension, such as.com or.org.
Alternatively, you can purchase a domain name separately from popular registrars: GoDaddy, Namecheap, or Bluehost. Honestly, this option costs a lot more.
WooCommerce Themes Pricing
For the standard pricing plan, it costs $0-$99/year
$200 or more with a one-time payment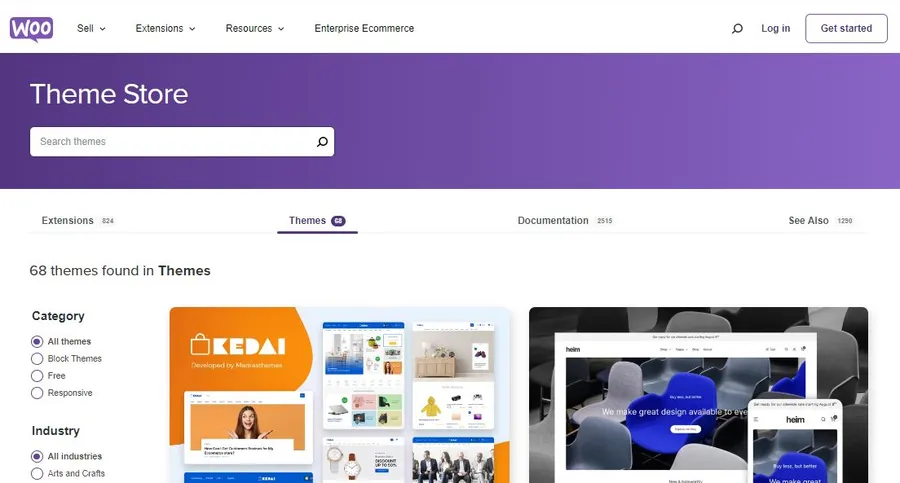 If you own a store, you most likely want a website that is not only clean and elegant but also unique. In addition, we don't fully understand what "themes" really mean. The themes are more than just layouts and designs.
To help you choose a unique and suitable WooCommerce theme for your e-commerce site, I have compiled a list of important criteria to consider after browsing the extensions store:
There are some important criteria to consider if you want to select a suitable theme for your online store from the extension store:
Easy to use
Responsive design with high quality
Fast loading time
Regular updates
Customer support available
Flexible
You can choose from a variety of WooCommerce themes with WooCommerce Storefront, with costs varying from $0 to $99 per year. You can extend the license to use themes too.
There are free themes available with appealing designs that are customizable for different business requirements.
However, remember that when using a free WooCommerce theme, you will only receive limited features.
WooCommerce Shipping Pricing
Shipping: On average, it costs between $0 and $108/year.
Shipping fees are another important aspect of WooCommerce pricing. WooCommerce now supports flat-rate shipping, freeship, and local pickup, which are critical solutions for any business.
Customers typically expect their purchases to arrive on time, "in one piece," and preferably free of charge. As a result, an eCommerce shipping plan that guarantees the quality of your service is critical to your customer experience and conversion rate.
Of course, you'll find a lot of shipping plugins for WooCommerce, and here are the top three considerations:
Multiple shipping rate methods support
Domestic and international shipping is available
Trackable orders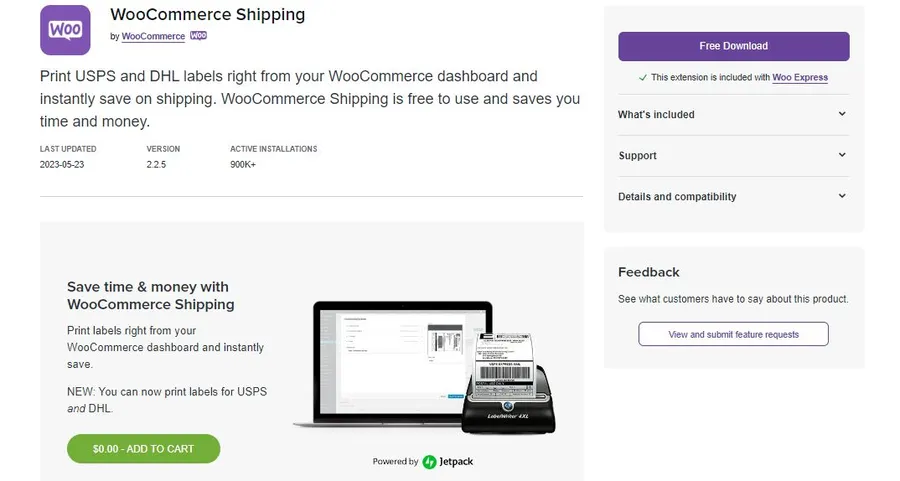 You don't need to pay anything but still get an amazing shipping plugin: WooCommerce Shipping. It communicates with USPS and allows store owners to print delivery labels directly from the main dashboard. For more advanced options, take a look at the extensions listed below or go to the WooCommerce Extensions Store.
ẢNH BẢNG GIÁ
WooCommerce Payments Pricing
Payment: 2.9% + $0.3 per transaction + monthly charges around from $0 to $30 on average per month
Now you'll need a payment gateway, which is a program designed to accept bank card payments from customers.
WooCommerce integrates with a number of payment gateways. So that your clients have many options to pay with a variety of providers, like PayPal or Stripe. Most WooCommerce payment extensions charge extra fees for additional functions such as sending invoices or printing labels.
Each payment gateway will have different prices. Of course, WooCommerce does not charge transaction fees. But payment gateways do. They frequently come with monthly recurring fees and/or standard transaction fees: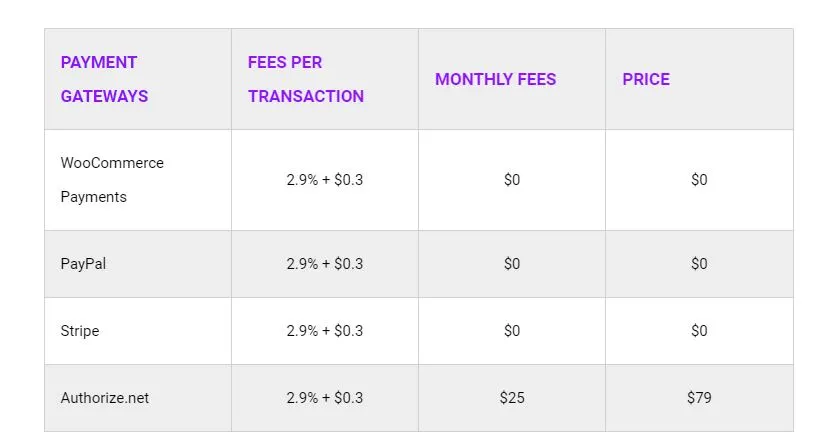 WooCommerce Security Pricing
Other resources: 0 to $300 per year
SSL (Secure Sockets Layer) Certificate: $0 included in hosting plans; up to $65 per year if purchased separately
Another aspect of WooCommerce pricing is security. It is critical for an ecommerce website, and here are 3 most important website features:
Firewalls manage your site traffic and identify potentially harmful bots before they reach the store server.
Malware Scanner: scan your site on a regular basis to detect malware and other threats.
Malware Cleanup: This ensures that malware is removed and adjusted when your website is attacked.
SSL certificates encrypt data that travels between customers' devices and your website. The data could include credit cards, customer personal information, transactions, or payment information.
Most hosts include free SSL certificates in their hosting plans after you register a domain name (Bluehost). If not, the price may range between $8 and $65 per year. Furthermore, as a business owner, you may need to add several more ongoing security suites to the website.
You can find many WooCommerce security plugins, featuring anti-malware tools and firewalls such as SiteLock, Sucuri, and Jetpack.

Customer Experience
Pricing: $0 to $200 per year per extension
Improved customer experience through plugins and add-ons for product page features, cart and checkout functions, social media marketing, merchandising, search, and navigation.
Marketing Functions
Communication: costs between $0 and $348/year.
SEO: costs between $0 and $79 per year.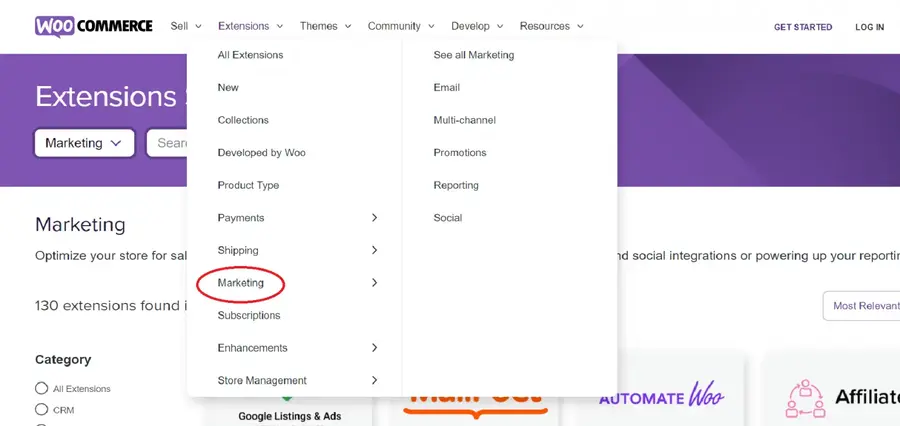 Customers will not find stores unless you launch marketing and promotional campaigns. You will not only boost sales but also receive targeted leads or personal contact information as a result. From here, you can successfully build a structured client base and grow your business.
Developers Hirings
Pricing: Ranges between $10 and $100 per hour.
If you are having difficulties or are confused about your website, you can seek assistance from a WooCommerce developer. This is the final component of your WooCommerce pricing strategy. WooCommerce has a team of experts who can help you get started quickly. They charge by the hour, ranging from $10 to $100 or more. You can also hire developers to build from scratch, which can cost thousands of dollars, depending on your requirements.
WooCommerce Pricing – Estimated Cost Summary
Required Costs
Hosting
With starters, less than $10 per monthBigger plans can cost at most $40 per month
Domain
Hosting plans include no cost.Separate purchases of $9-$20 per year
Themes
$0-$99 per year under the standard pricing plan$200 or more with a one-time payment
Shipping
$0-$108 per year on average
Payments
2.9% + $0.3 per transaction + monthly charges varying from $0 to $30 on average per month
Security
Other resources: 0 to $300 per yearSSL (Secure Sockets Layer) Certificate: $0 included in hosting plans; up to $65 per year if purchased separately
Optional Costs
Customer Experience
$0 to $200 per year per extension
Marketing Functions
Communication: costs between $0 and $348 per year.Search engine optimization: costs between $0 and $79 per year
Developers Hirings
Ranges between $10 and $100 per hour
WooCommerce Estimated Cost Summary
Final Thoughts
The WooCommerce plugin costs nothing, but a basic hosting plan and some adjustments are not enough for your store. You have the ultimate choice to decide how much you put into WooCommerce extensions or add-ons. Whether you want to spend a little or a lot, there is flexibility in every budget.
Read More: Top WooCommerce Extensions An Online Store Must Have
---
Contact us, ThimPress:
Website: https://thimpress.com/
Fanpage: https://www.facebook.com/ThimPress
Youtube: https://www.youtube.com/c/ThimPressDesign
Twitter: https://twitter.com/thimpress