If you're thinking about starting an online store, you might be wondering whether you should go with WooCommerce vs Shopify.
WooCommerce vs Shopify are the most well-known eCommerce platforms; however, they have some significant differences.
As a business owner, you must select the top online store platform for your company's vision and needs.
Understanding that, we wrote this article to compare Shopify vs WooCommerce. We'll show you their pros and cons to help you make the best choice for your dream online store.
Overview: WooCommerce vs Shopify
To explore our comprehensive comparison of 2 platforms: WooCommerce vs Shopify, let's go over the basics and discover what makes these platforms so special.
What is Shopify?
Shopify is a feature-rich eCommerce platform that promises to easily create an online store, accept payments, and manage inventory from a single system.
You don't have to stress about the technical parts of running an eCommerce site, such as web hosting, speed, security, backup, caching, and more, when you use Shopify.
What is WooCommerce?
WooCommerce is a free as well as an open-source WordPress eCommerce plugin. By using CMS system, you can create and run your online store quickly and easily.
WordPress is the world's most popular website builder, powering 43% of all websites, and many people are unaware that WooCommerce is the most popular eCommerce platform.
It's an open-source platform so you can easily modify everything in your store and add custom extensions.
The choice between the two platforms is entirely dependent on your needs and skill level.
How to Select the Best eCommerce Platform for Your Requirements?
When starting an online store, there are a few things you must keep in mind. These key factors will assist you in determining which platform is best suited to your requirements.
Budget: The initial price of creating a fully working online store.
UI: It should be simple to use for everyone, including beginners.
Payment Methods: It should support multiple payment methods (e.g. PayPal, Stripe, and other merchant processors).
Integrations: The number of services and third-party tools that can be integrated to help your eCommerce business grow.
Scalability: The platform should be able to scale as your business grows.
These are the most important considerations for all online business owners. However, depending on your requirements, consider other options such as shipping, inventory management, invoicing, taxes, drop shipping, and so on.
So, let's get started with our WooCommerce vs Shopify comparison.
Shopify vs WooCommerce: Detailed comparison
Pricing: WooCommerce vs Shopify
For online website owners, cost is frequently the most important factor to consider. You must consider the beginning costs as well as the total expenses for add-on services and software.
Shopify Pricing

Shopify makes it extremely simple to launch an online store. Their basic plan begins at $25/month, with the option to upgrade to the Shopify plan for $65/month or the Advanced one for $399/month. You can see the detailed Shopify fees here.
These plans include SSL certificates and web hosting. You'll definitely get a Shopify subdomain (like https://your-store.myshopify.com). But you can buy your own.com domain separately for $14/year if you want.
The basic Shopify plan has enough features to start a new online store. You can add unlimited products, two user accounts, unlimited storage, and more.
However, this fee doesn't support any third-party tools or add-ons. So these costs will increase as your business grows, and you'll pay more than the basic plan.
Another big factor is payment. Shopify Payments charges 2.9% plus 30 cents per transaction on the basic plan. If you use other payment methods, you'll pay a flat fee of 2.0% on all transactions. You can lower this fee to 0.5% by using the Shopify Advanced plan for $399/month.
These fees are high for external payment methods. The fees are akin to those on other platforms like Stripe and Braintree when using Shopify Payments.
WooCommerce Pricing
WooCommerce, as we have mentioned, is a free and open-source plugin that lets you build an online store with the self-hosted version of WordPress. To use WooCommerce, you also need a domain name ($14.99), an SSL certificate ($69.99), and a WordPress hosting account ($7.99/month). You can refer to our WooCommerce pricing here to understand more about each offer.
These can add up to a significant cost, especially if you are new to eCommerce. Luckily, some hosting providers offer specialized WooCommerce hosting plans that can help you save money, such as Bluehost.
With Bluehost, you can launch your online store for only $2.75/month. You also get a domain name for fee, a SSL certificate for free, and a web hosting discount.
It is obvious that the cost of launching a basic WooCommerce store is lower compared to Shopify. Plus, you don't have to pay any transaction fees using WooCommerce.
Of course, WooCommerce costs can go up as you buy paid extensions and grow your store. But you can save money by using free WooCommerce themes and WooCommerce extensions. You can also choose the tools and plugins you need to avoid unnecessary expenses.
WooCommerce is the clear winner for budget-friendly eCommerce.
Winner: WooCommerce is the winner when comparing the cost of Shopify vs WooCommerce.
Simpleness of Use: Shopify vs WooCommerce
Not everyone who dreams of running an online store is a web design or development wizard. Even if you have some skills, you need a platform that makes your life easier and lets you focus on selling.
Let's see how WooCommerce vs Shopify can help you create a stunning and user-friendly online store.
Shopify – Simpleness of Use
Shopify is a platform that handles everything for you. There is no software to install, manage, or update. You also don't have to be concerned about security, performance, backups, or compatibility.
Sign up, choose a design from the free Shopify themes, and customize it to your own taste. After that, you can begin adding products and selling online.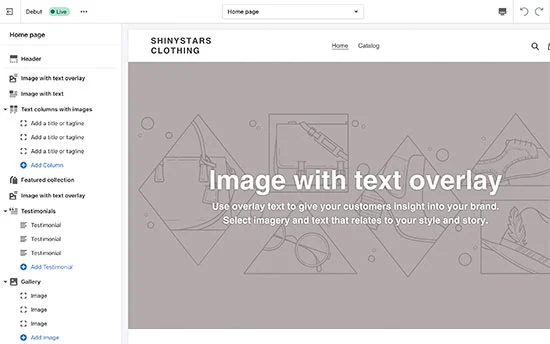 Shopify has an easy drag-n-drop interface. You can easily manage your product pages, sales, and inventory in Shopify.
The downside of this smooth and simple user experience is that it limits your options. You can only use the tools and add-ons that Shopify provides or allows.
But this is not a big deal for most users. Shopify has a large variety of extensions and themes to start and grow your online store quickly.
WooCommerce – Simpleness of Use
In contrast, WooCommerce is different from Shopify because it's a self-hosted tool. So you must download the WooCommerce plugin, keep it up-to-date, back up your website, and secure it yourself. You can use a variety of free and paid plugins to help you with these tasks.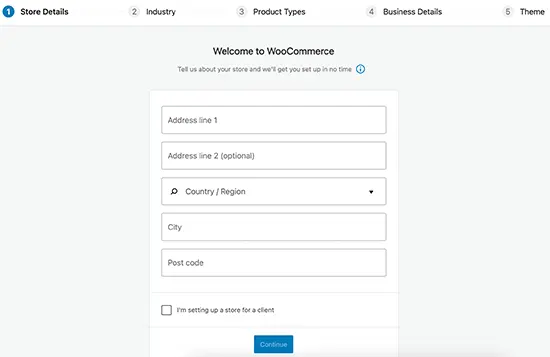 WooCommerce allows you to completely customize your website. With over 59,000 WordPress plugins available, you can add any feature you can think of.
But WooCommerce does not have a drag-n-drop page builder. You'll need to purchase it, such as Elementor or Beaver Builder, which will cost you more money.
Hence, you need some time and effort to learn and manage your website. You will also require a payment service.
WooCommerce has a nice setup wizard, but it isn't as easy to use as Shopify.
Winner: Shopify
Payment Methods: WooCommerce vs Shopify
You can use different payment gateways to take payments online. But some payment gateways don't match your requirements or your customers' expectations. That's why it's essential to have a platform that provides multiple payment options. Let's check out how Shopify vs WooCommerce does in payment integrations.
Payment Options in Shopify
Shopify supports many payment options that customers can pick at checkout. It has its own payment solution called Shopify Payments (powered by Stripe) and all the popular 3rd-party payment gateways.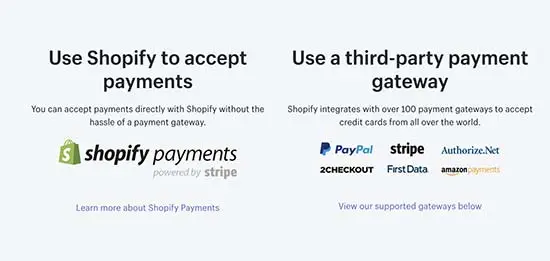 The issue is that Shopify adds an extra 2% fee to each transaction made with third-party payment gateways. This is in addition to the transaction fees charged by the payment gateway.
You can lower the fee to 0.5% by paying $399 per month for the Advanced Shopify plan. Shopify Payments has credit card fees, but no other transaction fees. Credit card rates start at 2.9% plus 30¢ for the basic plan and get lower for other plans.
Payment Options in WooCommerce
WooCommerce provides PayPal and Stripe payments by default. They also have a Stripe-powered WooCommerce payments solution.
It also works with all of the other popular payment service providers. Payment integrations for Authorize.net, Amazon Pay, Square, Alipay, and many more are available.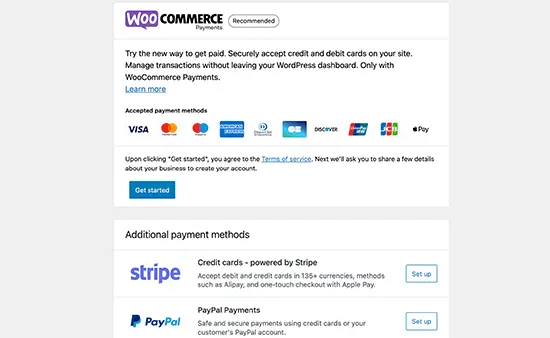 As a self-hosted platform, you only have to worry about transaction fees from your payment gateway or bank. Unless you use WooCommerce Payments, WooCommerce does not charge a percentage fee for credit card payments. This is a fantastic deal.
It's no big deal if you're a little store and comfortable with Shopify Payments, which has the same credit card rates as Stripe or Paypal.
Winner: Shopify vs WooCommerce
Integrations & Add-ons: WooCommerce vs Shopify
No eCommerce platform is complete without 3rd-party tools and services to help your store grow. For instance, security plugins, email marketing software, analytics plugins, and so on
Shopify vs WooCommerce has an extension directory and integrates with numerous 3rd-party services.
Shopify Add-ons and Integrations
Shopify has a robust API and an App Store where you can get 3rd-party add-ons for your Shopify online store. They have hundreds of apps in the store for every feature you'll need for your store.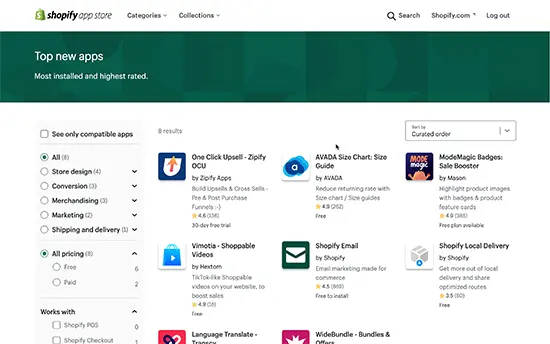 You can download it for free or purchase apps on its app store. Free apps are usually created by 3rd-party services that have their own pricing plans. And the app only connects your store to their APIs. Paid add-ons are priced differently, and every app will have monthly subscriptions.
Shopify has fewer add-ons and extensions than WooCommerce/WordPress. This is due to the difficulty of getting an app listed in their store.
WooCommerce Add-ons and Integrations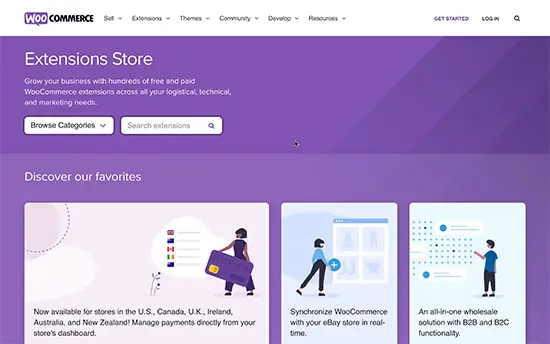 WooCommerce is a WordPress plugin that is open source. This grants you access to over 59,000 free WordPress plugins as well as a plethora of paid plugins.
These add-ons can be used to add payment methods, eCommerce SEO for Shopify vs WooCommerce, conversion rate, performance-optimized, social networking integration, and any other feature you require.
Hence, WooCommerce has a lot of integrations as well as add-ons compared to Shopify. Almost all 3rd-party tools and service providers have their own plugins that integrate seamlessly with your WooCommerce store.
Winner: WooCommerce
WooCommerce vs Shopify: Dropshipping
Dropshipping is an online business where an eCommerce store doesn't stock the products. Instead, it purchases goods from vendors and delivers them to customers.
Because of its low cost, dropshipping is a popular way to make money online. So let's compare Shopify vs WooCommerce for dropshipping and see which is better.
Dropshipping with Shopify
Your website for a dropshipping business will look like any other online store. Like any other eCommerce store, your users can browse products, add them to their cart, and pay.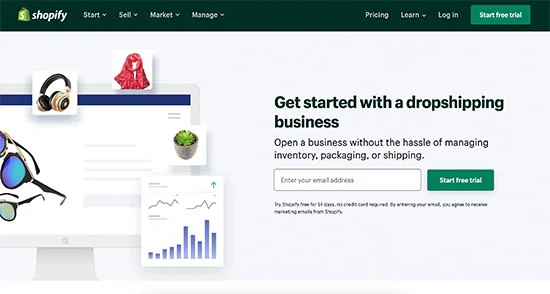 You will need to ship a user's order after selecting the vendors that suit your needs.
Shopify also has apps for popular dropshipping platforms such as AliExpress, Oberlo, Printify, and others. These marketplaces, however, have their own fees, shipping costs, and other costs to consider when you build your dropshipping site with Shopify.
Dropshipping with WooCommerce
WooCommerce is popular among dropshipping companies because of its simple plugins. They make the entire process simple.
You can find extensions that assist you in importing products, processing orders, and doing other things. It's possible for other vendors to sell on your site, thereby creating a marketplace.
Of course, the minimum order requirements or fees of your supplier and vendor may influence your store.
Winner: WooCommerce is the winner when comparing dropshipping Shopify vs WooCommerce
Scalability and Growth: WooCommerce vs Shopify
Scalability is important for any eCommerce platform, and both WooCommerce vs Shopify can deliver. However, they have different strengths and weaknesses. Let's compare how they perform when it comes to scaling.
Scalability on Shopify
With Shopify, you don't have to deal with the technical side of your store, such as performance, security, and scalability. You can simply upgrade your Shopify plan when your business grows.
Their setup can support your business growth with no issues with backups or updates. They also have a lot of services you can get with the Shopify Plus plan.
This reduces the difficult part of growth while increasing your company's costs. Your expenses will rise, and you must plan for this. The advantage is that you do not need to hire or manage a technical team in-house.
Scalability on WooCommerce
As far as we know, you are responsible for your website's updates, caching, backups, and security when using the WooCommerce platform.
As your store's traffic grows, your starter plan may exceed its capacity. The excellent thing is that you have total power over your WordPress site and can choose how to expand it.
Your WooCommerce hosting costs will rise, but you will have more control over the specific resources you upgrade, allowing you to avoid paying for resources you do not require.
To expand your WooCommerce store, you can even use a managed WordPress hosting provider like SiteGround or WP Engine. Some small businesses, on the other hand, may prefer a hassle-free solution.
Winner: Shopify
SEO: WooCommerce vs Shopify
WooCommerce SEO
WooCommerce comes with strong SEO capabilities from the start. You can also use SEO plugins like Yoast SEO to fine-tune your website's on-page factors, such as meta tags, headings, and URL structure.
WooCommerce also benefits from WordPress's reputation as a search engine-friendly platform because it is built on WordPress.
Shopify SEO
Shopify may lack the native SEO features that WooCommerce has, but the platform still provides basic SEO functionality.
Shopify comes standard with customizable meta tags, alt tags for photos, and smooth URL structures, allowing you to maximize your site for search engine optimization. However, unlike WooCommerce, Shopify URL structures are fixed, limiting your ability to customize URLs.
Winner: WooCommerce
Customer Service: WooCommerce vs Shopify
WooCommerce vs Shopify are both simple-to-use platforms. However, sometimes you may need help learning how to do something new in your store.
So how to get help from WooCommerce vs Shopify.
Shopify Customer Service
Shopify is a fully hosted platform, which means they run the software and have the most knowledge about their platform.
Shopify provides live chat, phone, email, and Twitter support 24 hours a day, seven days a week. Shopify provides extensive documentation, how-to guides, a knowledge base, video tutorials, and forums for users who prefer to handle things on their own.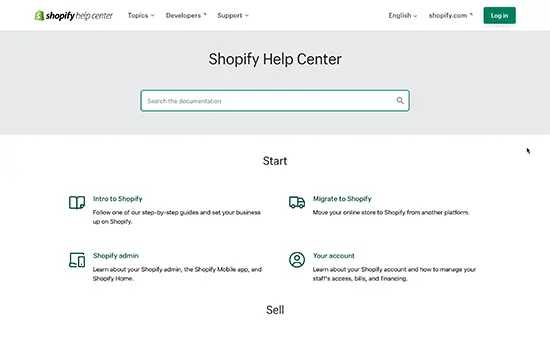 It also includes a listing of Shopify experts you can hire if you need additional assistance or want to integrate a third-party solution.
Meanwhile, Shopify does not support any third-party apps or templates that you use. Find out detailed Shopify customer service number here.
WooCommerce Customer Service
Because WooCommerce is the biggest and best-known eCommerce platform, there are numerous support options available to you when you need them.
The official website provides full documentation, tutorials, and guides to assist you in assisting yourself. There are also support forums where you can get assistance from the WooCommerce support team as well as other users and specialists.
They recently added 24-hour chat support for anyone who purchases a premium extension or theme from WooCommerce.com.
However, because WooCommerce is a self-hosted platform, your hosting provider is responsible for providing support for server issues.
Third-party WordPress theme and extension developers are in charge of providing support for their products.
Because it is so popular, finding developers to help you fix problems with your WooCommerce store is much easier and often cheaper. You can find developers to fix WooCommerce issues on freelancing websites.
Winner: Shopify
WooCommerce vs Shopify: Which is the Best eCommerce Platform?
Shopify vs WooCommerce which is better? Shopify vs WooCommerce are both great platforms for creating online stores. So it depends on your skills and preferences.
Shopify is quite easy to use. You can start quickly in a few minutes and set up payments easily. They have clear pricing plans.
Shopify's disadvantage is that you do not have complete control over everything. Transaction fees, add-ons, and integrations can add up quickly. You can only upgrade to certain plans, and you cannot manage costs on a pay-as-you-grow basis.
WooCommerce is open-source software that gives you complete control over your website. Building an online store with WooCommerce is much less expensive, especially with these WooCommerce hosting companies.
The disadvantage is that you will have to keep the software up to date. It has a bit of a learning curve. However, millions of newcomers are already using it, and they breeze through the learning curve.
If you need a low-cost solution and want complete control over your online store, WooCommerce is the platform for you.
If you want something completely hassle-free with infinite scalability, Shopify is the better platform for you.
Read More: 8 Woocommerce Reporting Plugins Help You Understand Your Users
---
Contact us, ThimPress:
Website: https://thimpress.com/
Fanpage: https://www.facebook.com/ThimPress
Youtube: https://www.youtube.com/c/ThimPressDesign
Twitter: https://twitter.com/thimpress