Online learning has become more and more essential than ever. It will take education to a higher level. With WordPress and education themes and tools, you can create an online learning website on your own. There are premium education themes that give you almost every tool to build up a powerful site, but in return, you need to pay for that. So, we have some other freebies. A free education theme provides the most basic and core features with some limitations of course. It's your call pals. Last time we presented you with the Best Education – LMS WordPress themes 2021. Thus in this article, we will give you the best free education themes for WordPress.
Education Pack is the best free education theme for WordPress. For a freebie, it provides as many features as a premium one. Built-in slider helps you optimize and organize your site with style. Custom testimonials, gallery layout also make your site become more popular and amazing. Besides, Education Pack will connect you with other partner schools you're currently working with sliding widgets and parallax background. Also, the theme is linked to the largest social network: Twitter. All of your Twitter updates will also be updated on the site via a Twitter widget. This will let your audience keep tracks of your activities even if you do not update the website occasionally.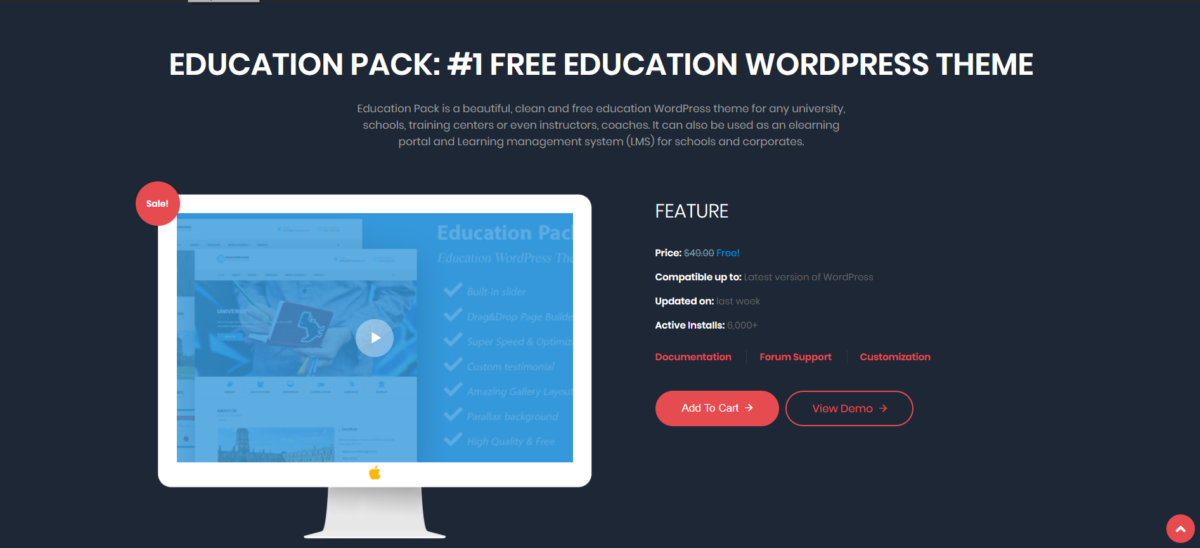 Education Pack integrated with SiteOrigin Drag&Drop Page Builder. It gives you unlimited combination and creativity to build up your site. Moreover, free demo contents with one-click installer give you ideas and speed up your creation. Education Pack will support you with almost every tool as a premium theme, therefore it has become the best free education theme for WordPress.
Education Hub has both versions of free and premium. The free version hits over 10,000 active installs, which is an incredible number. Thus, Education Hub seized the second place in the list of free education themes for WordPress. This is a clean and elegant WordPress theme for college, school, university, LMS, educational institution or other business. Education Hub has an unique design. In the front page, there are 2 slide types for you to choose. This free educational WordPress theme comes with easy-to-use and highly customizable Theme Options panel. It's based on powerful Customizer API Theme with layout settings and several other theme options. In order to quickly find necessary contents, the search bar located in the right header, just insert keywords and then here you go! Also, Education Hub supports responsive design and custom widgets with headers image. Besides, Custom CSS option is available, too.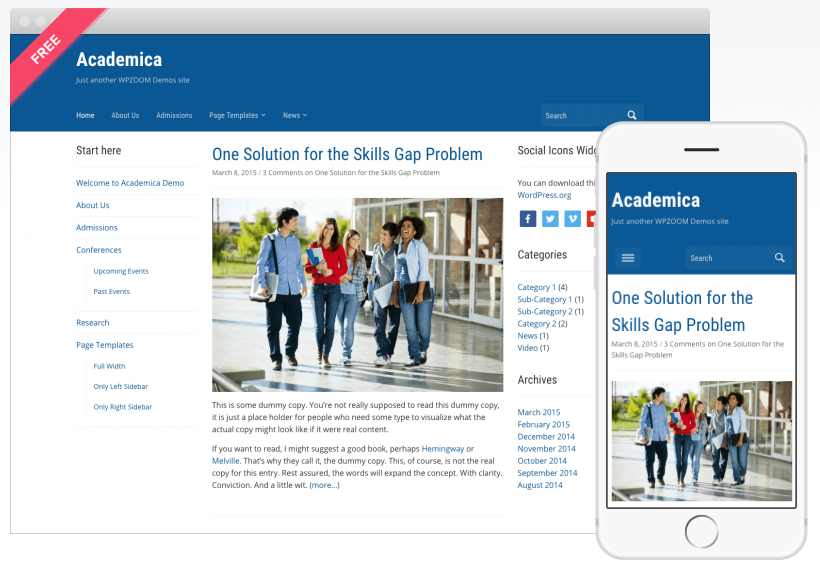 +9000 active install is more any word to say about Academica. Academica is an education and school-oriented CMS theme. It has modern design and three-column layout. Besides, Academica has several templates for both pages and posts: Full-width, Sidebar on the Left, Sidebar on the Right. The custom header of Academica allows you to add an image to the top of your header. Similar to other free education themes, it comes with the Retina ready and mobile friendly features. More than that, mobile users can easily navigate your site thanks to the integrated sliding menu. Especially, this template comes with the Live Preview Customizer to help you have actual look and feel of all the settings and changes before applying them.
With more than 5000 active installs and nice features, University one of the most successful in the list of free education themes for WordPress. It is mobile responsive with all sized devices, compatible with most of the browsers. Therefore, your education site will always have a perfect display to attract more users. This theme comes with a custom menu system, multi-level dropdown and full-width menu. Besides, social media icon fonts also are available. In the front page, there is a slider where you can feature your pages or posts as you want. Moreover, below is another section with featured pages and posts. University supports translation ready with .pot file included. With this feature, new languages will be easily added to the theme, your site will have localization at its finest. In the blog part, this free education theme integrates pagination and the threaded comments.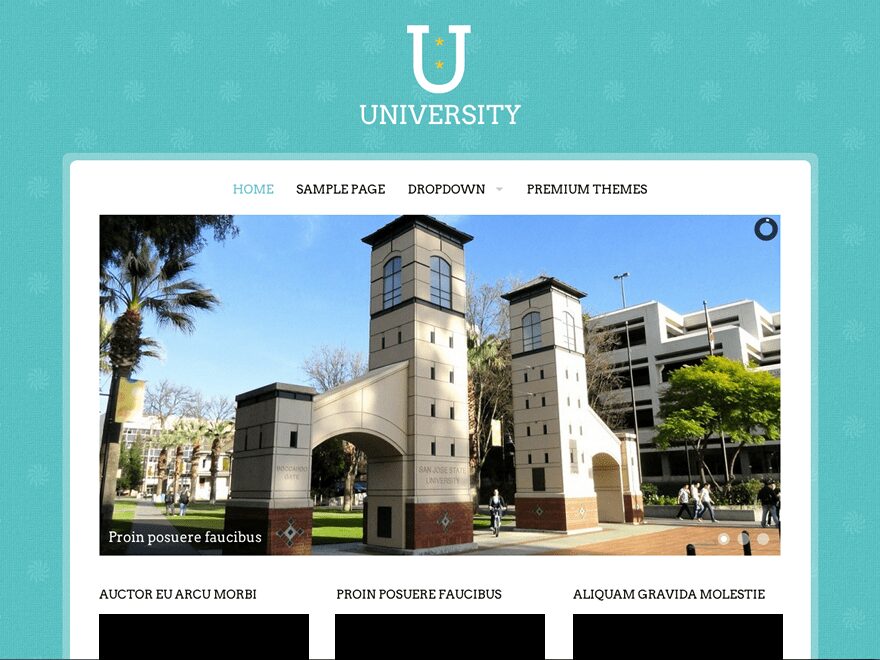 EduPress has two-column layout, which you can customize their width, contents, and attach posts on there. This theme is simple and elegant, provides essential features such as course creation, widgets and slider. Besides, it's also suitable for business, corporation and non-profit purpose. EduPress's homepage can show up to 4 featured pages in a slider, making your site more lively and attractive. Hit over 3,000 active installs on WordPress, EduPress is a pretty good theme for freebies.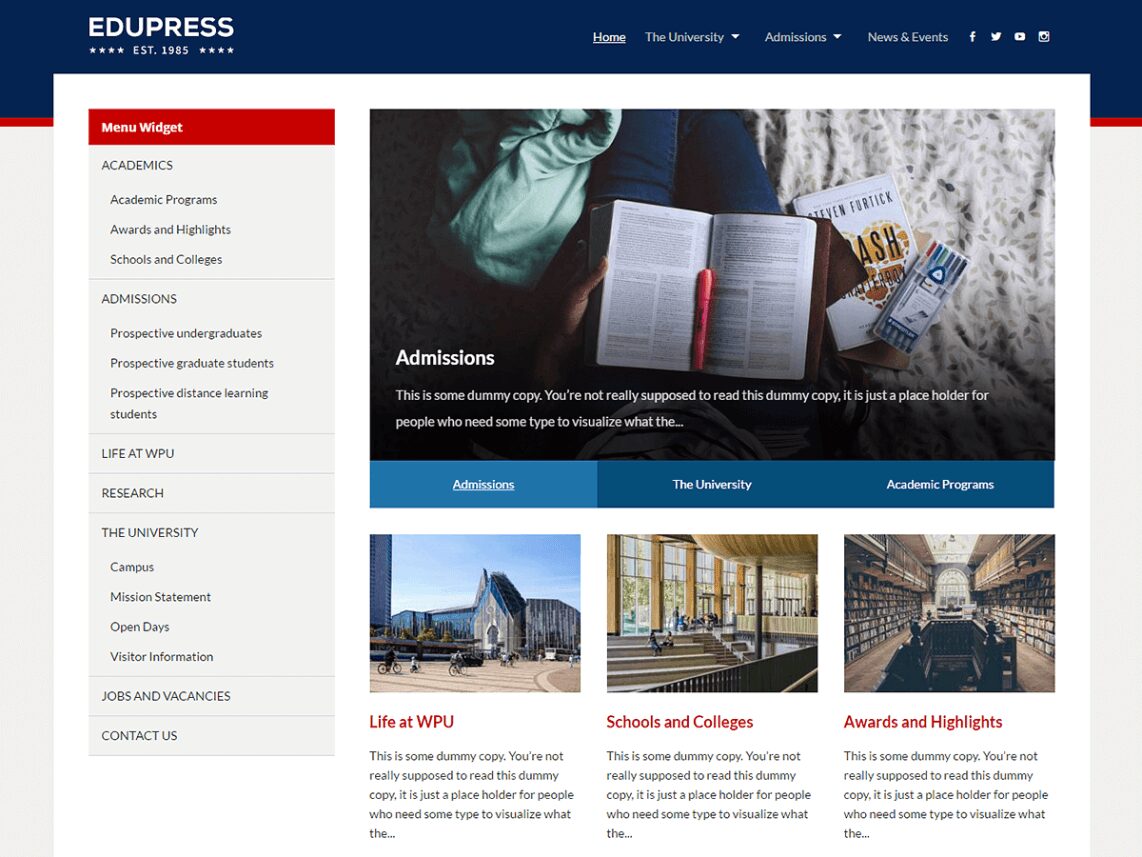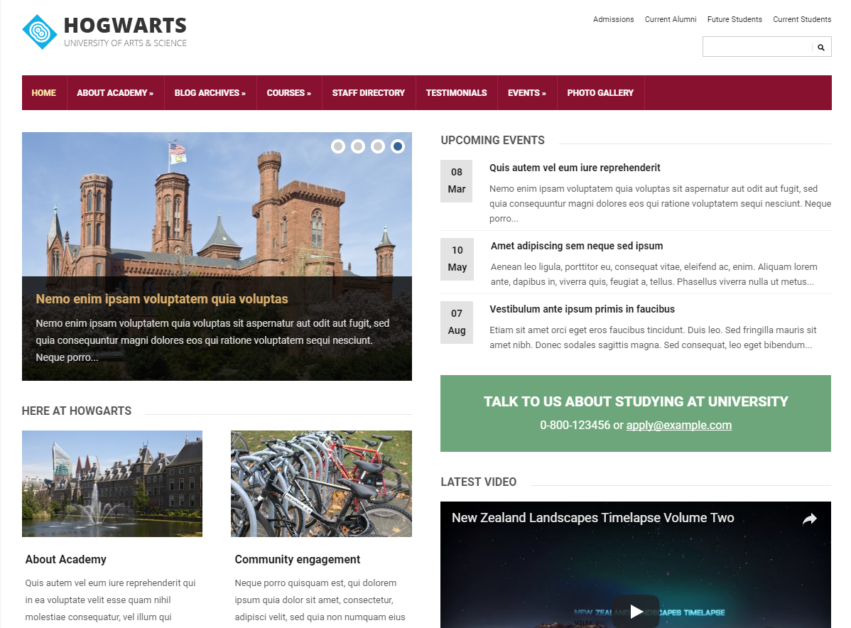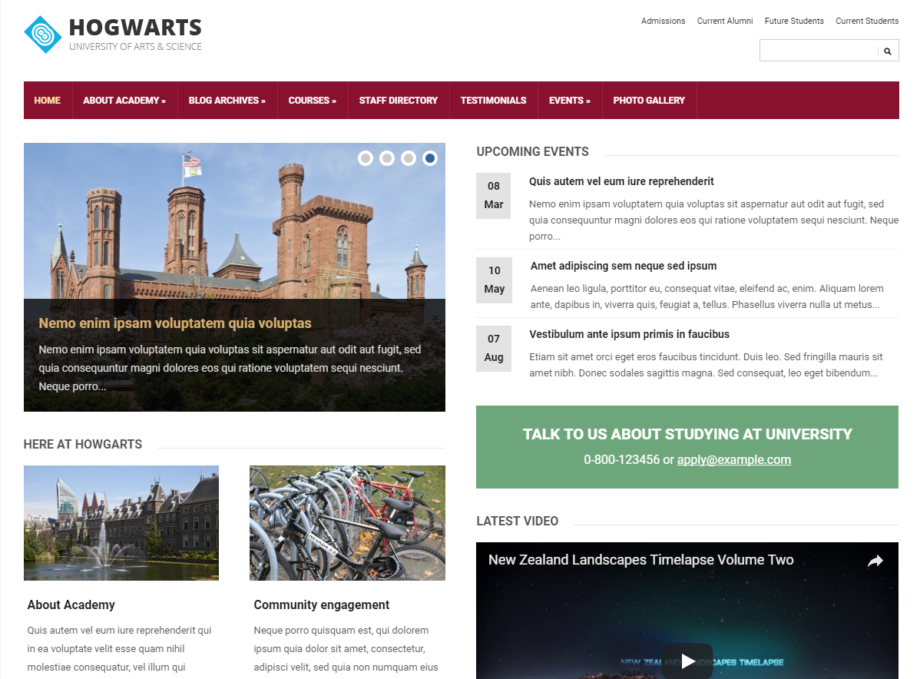 Lectura Lite is a "free-to-play" version of the premium Lectura WP theme. It has been released by Academia themes for users to experience their product, for free. As the development of mobile devices keeps rocking to the sky, Lectura Lite supports an user-friendly interface for handheld devices and cross-browser compatibility for your site. This education WordPress theme is very speedy and hand-coded according to current industry standards. Thus, search engines will process faster and SEO will become easier than ever. When you upload images to your learning management and education site, images will be automatically resized and cropped thank to core WordPress functions. Furthermore, Lecture Lite includes custom page templates, to easier display your courses, staff, testimonials, photo galleries… And if you want to use Lectura Lite in your mother tongue, the theme provides easy translation tools to make localization better.
Final words on the best free education theme for WordPress 2020
Alongside the best premium education themes for WordPress, which give you absolute power to create a powerful learning website, there are still free themes that satisfy your needs. Most of the essential features are supported and even some premium ones. Education Pack, for example, gives you a built-in slider, drag-and-drop page builder, widgets, popular plugins, unlimited sidebar, color, and font with demo contents for you to consider. This is the best free education theme for WordPress so far, and it'll always be free. What are you waiting for? If you want a freebie with tools equipped like a premium one to build an amazing online learning system, then Education Pack is for you.