Non-government Organizations, Non-profits, and fundraisers are supposed to use money as wisely and thrifty as possible. They would never waste a large sum of their funding for things that are not efficient since they are using the money people donate for their charity project. And that they have no source of income for profitable purposes. For that reason, WordPress has been widely known to be the most popular CMS for these organizations. This is due to WordPress's surprisingly reasonable price with dozens of powerful features and the ultimate ability of easy to use to everyone. This article will show off a collection of the most Non-profit Organization WordPress Themes that you and your group should use for maximum satisfaction.
Charity WordPress Theme – Charitix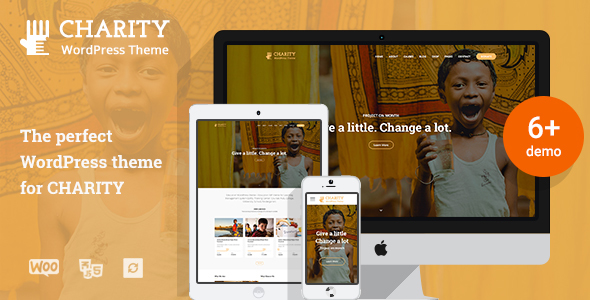 Charity WP is a seamlessly modern and attractive funding/ Non-profit Organization WordPress Themes that is dedicated to fundraising campaigns and other charity activities. The theme's rank is second to none regarding design, giving the audience an elegant and professional look and feel with six different demo homepages to choose from. Even though it is made for charity events, it is still highly responsive, resourceful and flexible with a wide range of functionalities.
Most important of all, it is a perfect match for everybody since it's easy to set up and to use. You can fully install the theme with all demos with the power of just a click. Besides, you can change it to any style and layout you want with the drag and drop page builder. The theme's event and fundraising management system are of the top-notch quality that unlike most other themes. It even allows you to sell tickets to events via four different payment gateways.
Other special features of Charity WP
Compatible with WooCommerce
Drag and Drop page builder
Amazing Mega Menu
Mobile first, retina ready
Full site SEO utilized
Five stars customer service
To sum up, this may not be the right theme for you if you are into making websites for business purpose, but if you are into the Non-Profit, NGO, Church and Charity niche, Charity WP is the right theme to choose. It's ability allows you to do just everything you want with fundraising and social campaigns.
HumanKind – Non-Profit WordPress Theme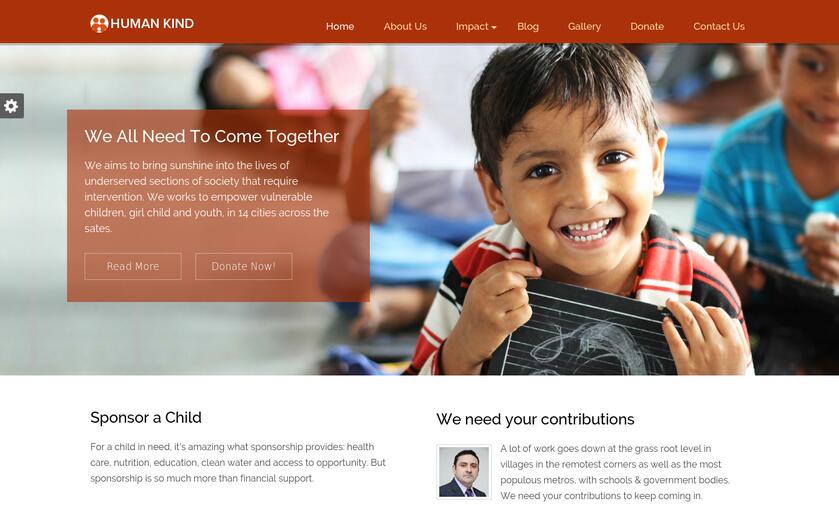 HumanKind is a versatile WordPress Theme for Non-Profit organizations to raise awareness and fund your cause. That is to say, it is a very creative, inherently flexible theme, designed to fit a variety of projects affording great space regarding graphical customization, layout configuration, color scheme alterations, and much more.
Features Of The Theme
Filterable portfolio section.
Inbuilt contact form.
Slider with text description and call to action button on each image.
Accepts complete details of online donations.
Prebuilt blog, contact and gallery template.
Seven unique color skins.
Unique style for showcasing your services.
Fully responsive and looks great on all devices.
The theme has many more amazing features and sections that will give you traffic in return and on the second hand increase your click-through rates. So, get ready to build your charity purpose website in just a few clicks.
HUMANKIND DEMO | MORE INFORMATION
Contribute – NGO WordPress Theme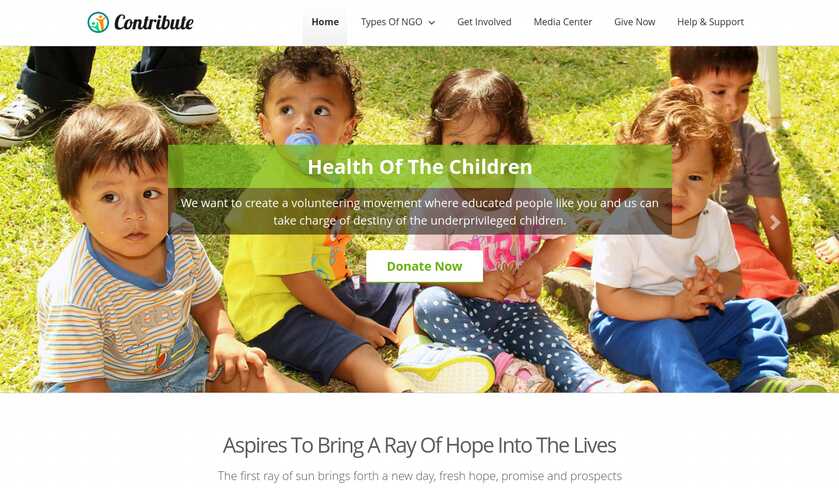 Contribute is a well-designed and resourceful Non-Profit organization WordPress Theme. The theme has ample features to engage your donor or contribution activities to the needers and also an entirely functional system for promoting and creating your donation campaigns. Non-Profit Organizations, Donation Agencies, Protection Center, and other Charitable Trust Associations all these groups of people can make the best use of this theme.
Fabulous Features Of The Theme –
Give Donation Plugin – donor can easily donate money through a secure channel either online or offline. Users can also create an account for free.
Create unlimited numbers of features – with beautiful Hover Effects.
List your services in an exclusive manner.
Share your experience – through a video
Fully customizable theme.
Give a beautiful Tagline to your NGO.
Fully Responsive Theme – looks fantastic on every mobile like devices.
Give a try to shape your benevolent contribution which you offer to the people and let the world indulge in your activity to the large extent. As a man's true wealth is the good he does in this world.
CONTRIBUTE DEMO | MORE INFORMATION
Cloriato WordPress Charity Theme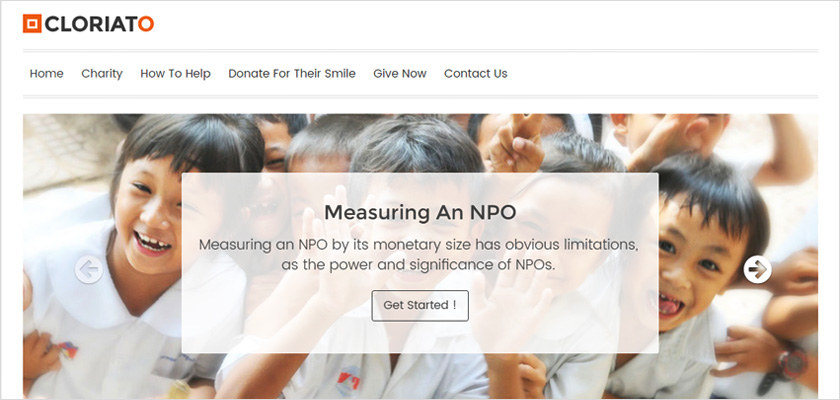 Cloriato is a pure donation-based charity and fundraising WordPress Theme. Non-Profits that function on charity and donation can use it and find that it fits well with their needs. With this theme, you will find it extremely easy to manage content and handle the customization settings in the admin panel.
Tremendous Features Of The Theme –
6 wide-width moving the slider with heading and a short description.
Dropdown Menus – Unlimited levels.
Ink Option Framework Added
Donation Plugin helps donors to donate either offline or test payment any amount they want.
Add feature boxes according to your needs by adding a shortcode in the theme options
Banner section added at the bottom
Post formats added (Gallery, Video, Audio, Quote, Image, Link)
Advanced Typography
Slider video-enabled
The theme will help you and donors never give up, for that is just the place and time that the tide will turn. Build and experience a totally different experience with cloriato WordPress theme.
CLORIATO DEMO | MORE INFORMATION
Read more Coaching WP – The best reward for your coaching site