The LearnPress Random Quiz Integration is an add-on that lets you mix up the quiz questions for your online courses. It helps you ensure the integrity and fairness of your assessments, as each student will get a different set of questions each time they take the quiz.
It also adds variety and challenge to your quizzes, making them more engaging and fun for your learners.
In this guide, let's explore how to install and use the LearnPress Random Quiz Integration in a simple way.
Keep reading!
What is LearnPress Random Quiz Integration?
LearnPress Random Quiz Integration is a great add-on that revolutionizes the way quizzes are conducted on eLearning platforms.
With this powerful tool, you can create quizzes where the order of questions is randomized for each student and each attempt.
Benefits of using The LearnPress Random Quiz Integration
Integrating the LearnPress Random Quiz Add-on into your eLearning platform offers numerous benefits for both educators and learners, such as:
Enhanced engagement: Randomized questions make quizzes more dynamic and exciting, capturing learners' attention and encouraging active participation.
Improved critical thinking: By presenting questions in a different order, the Random Quiz Add-on challenges students to think critically and analyze each question independently.
Better knowledge retention: Randomized quizzes require students to truly understand the material rather than memorize the order of the questions. This helps your students remember what they learned for a long time.
How to Use the LearnPress Random Quiz Integration
If you need any help or support with LearnPress or the LearnPress Random Quiz, you can contact our support team. Our support team is friendly, professional, and ready to assist you with any issues or questions.
You can also check out our LearnPress documentation or the Random Quiz for LearnPress add-on for more information and guidance on how to use LearnPress and its add-ons. Our documentation covers everything from installation, configuration, customization, troubleshooting, and more.
Now is the time to set up the add-on.
Downloading
To download the LearnPress Random Quiz Integration, follow these steps:
Visit the official website of LearnPress at ThimPress.com.
Log in to your account and navigate to My Account.
Click on Download or Select version to download the Random Quiz Add-on.

Installing
To install and activate the add-on, follow these steps:
Visit your Dashboard -> go to Plugins -> click Add New.
Find the Upload Plugin and click on it.
Upload the.zip file you got earlier and hit Install Now.
Wait for the installation process to complete, and then click Activate Plugin.

The plugin is now activated and ready to use.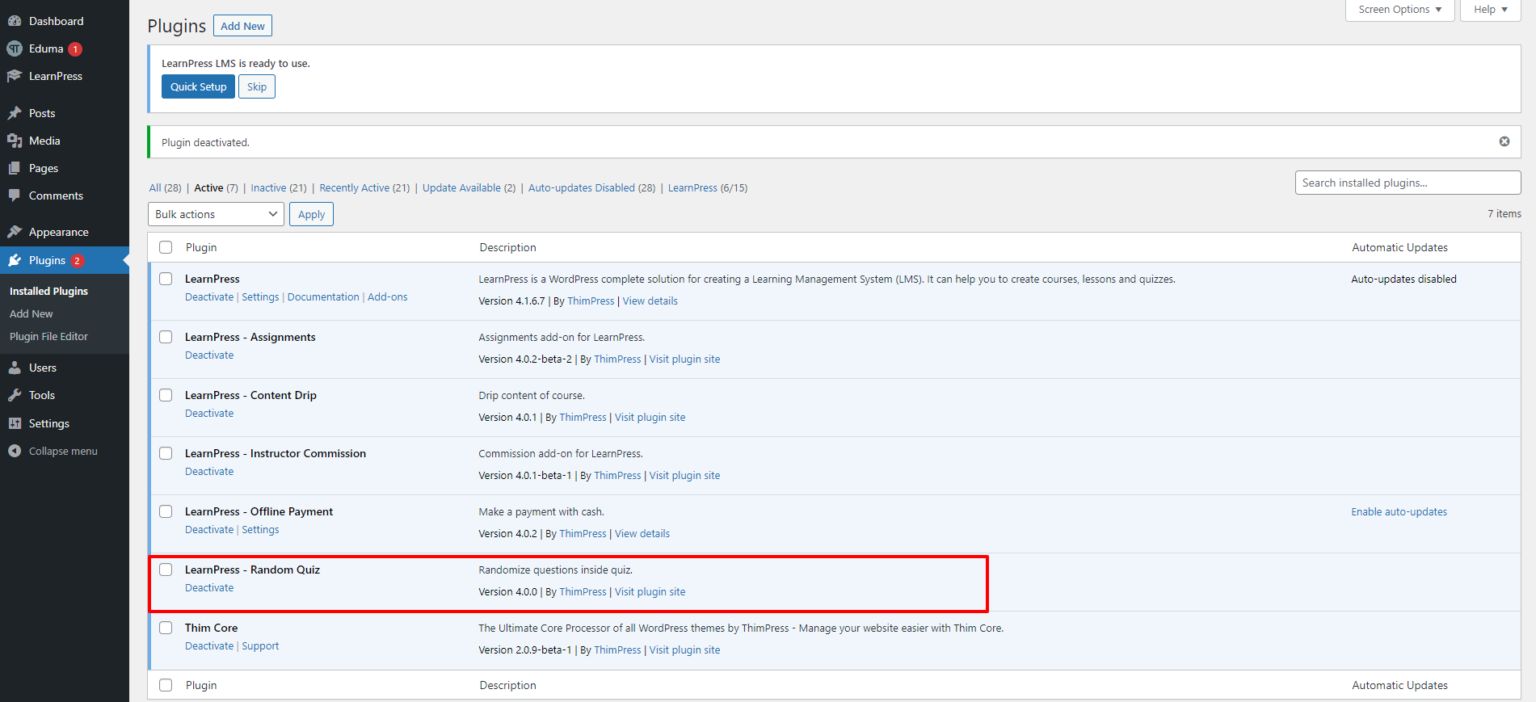 Setting up the Random Quiz Add-on
To enable the Random Quiz Add-on in LearnPress, follow these simple steps:
Visit LearnPress -> Quizzes.
Click on the New Quiz button to create a new quiz or choose an existing quiz.
Under General Settings, enable the option Random Questions to mix all available questions in this quiz. For example, if you have 10 questions, you can select a random number from 0 to 10. If you select 0, then all the questions will be random.

How to Make Your Integration Work Well
Designing effective quiz questions
When creating quizzes with LearnPress Random Quiz Integration, it is essential to design effective quiz questions. Keep in mind:
Ensure that each question is clear, concise, and aligned with the learning objectives.
Use a variety of question types, such as multiple-choice, true/false, and fill-in-the-blank, to engage different learning styles.
You can maximize the effectiveness of your quizzes and optimize the benefits of LearnPress Random Quiz Integration.
Ensuring compatibility with your theme
Before downloading the LearnPress Random Quiz Add-on, it is important to ensure compatibility with your online education WordPress theme.
You need to determine if your theme supports the add-on and if any additional customization is required. If needed, consult the theme documentation or reach out to the theme developer for assistance.
Troubleshooting common issues
While LearnPress Random Quiz Integration is a powerful tool, you may encounter some common issues during the integration process. Here are a few troubleshooting tips:
Clear your browser cache and refresh the page to ensure you are working with the latest version of LearnPress.
Check for any conflicts with other plugins or themes by temporarily disabling them and testing the integration again.
If the issue persists, consult the LearnPress documentation or contact their support team for further assistance.
By following these troubleshooting tips, you can overcome any obstacles and ensure seamless integration of the LearnPress Random Quiz Add-on into your eLearning platform.
Read More: LearnPress Assignments Integration Guide: Step-by-Step
---
Contact us, ThimPress:
Website: https://thimpress.com/
Fanpage: https://www.facebook.com/ThimPress
Youtube: https://www.youtube.com/c/ThimPressDesign
Twitter: https://twitter.com/thimpress