With the LearnPress Assignments Integration, you can create and manage assignments for your courses easily and efficiently. You can set the deadline, the maximum score, the passing grade, and the submission format for each assignment. You can also view and grade the submitted assignments, leave comments, and track the progress of your students.
The LearnPress Assignments Add-on works well with any WordPress theme that supports LearnPress. It also works well with other LearnPress add-ons, such as Certificates, Gradebook, and Co-instructors.
You can install and activate this add-on from your admin dashboard, and then start creating assignments for your courses. To learn more about how to use the LearnPress Assignments Integration, keep reading our amazing guide today!
Whether you prefer video or text, we've got you covered!
What is the LearnPress Assignments Integration?
The LearnPress Assignments Integration is a valuable add-on for instructors using the LMS. It provides a flexible way to create and grade assignments, allowing for effective communication and collaboration between students and instructors.
LearnPress Assignments Integration Front-End Experience
Once this add-on is installed and activated, students can easily access their assignments through the front-end of their WordPress website. Depending on the theme being used, the Assignments add-on integrates seamlessly, providing a user-friendly interface for students to interact with.
Before Taking the Assignment
Before starting an assignment, students can read the assignment's description and click on the "Start" button to access more details about the assignment and submit their answers. The front-end interface provides a clear overview of the assignment requirements and allows students to download any necessary attachment files.

Interacting with the Assignment
After clicking on "Start," students are presented with more detailed instructions for the assignment. They can add their own answers, upload files, and utilize any provided resources to complete the task. This interactive interface encourages students to actively engage with the assignment and fosters a sense of ownership in their learning process.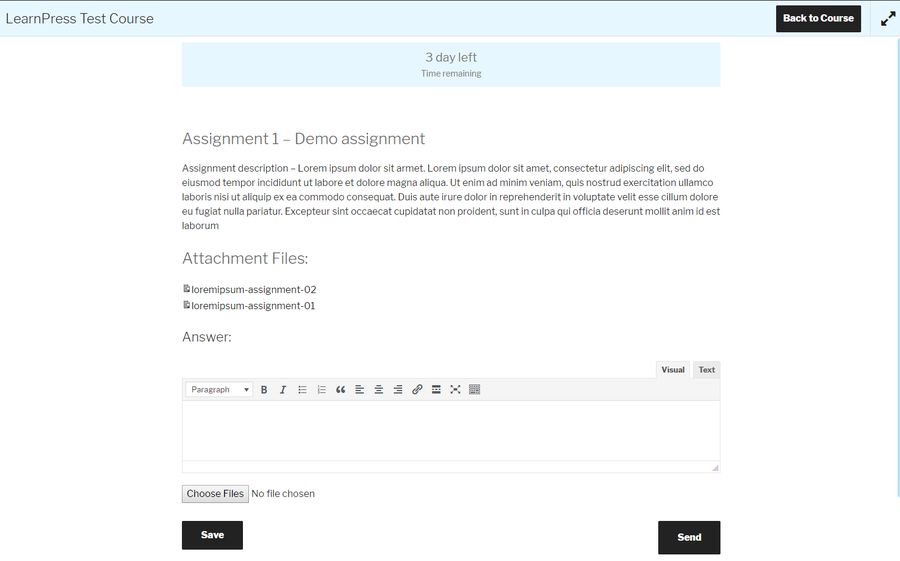 Submitting the Assignment
Once students have completed their assignments, they have the option to save their answers for later modifications or to submit them immediately. Saving the answer allows students to come back to their work and make any necessary changes before final submission. Upon submission, students receive a confirmation and can proceed to other course materials.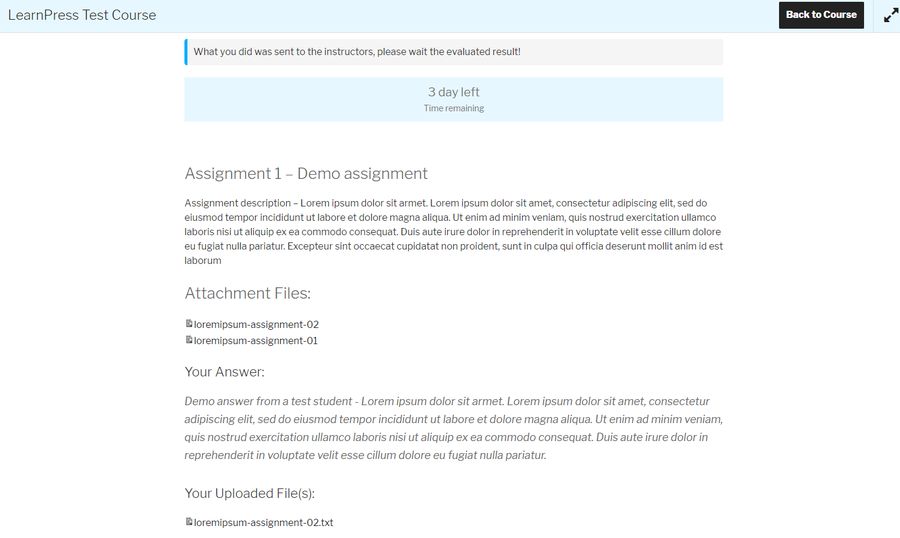 Checking Grades
After grading, students can see their grades in the course or access them from their profiles. This feedback loop is crucial for students to track their progress and identify areas for improvement. It ensures that students have easy access to their grades, promoting transparency and motivating them to continue their learning journey.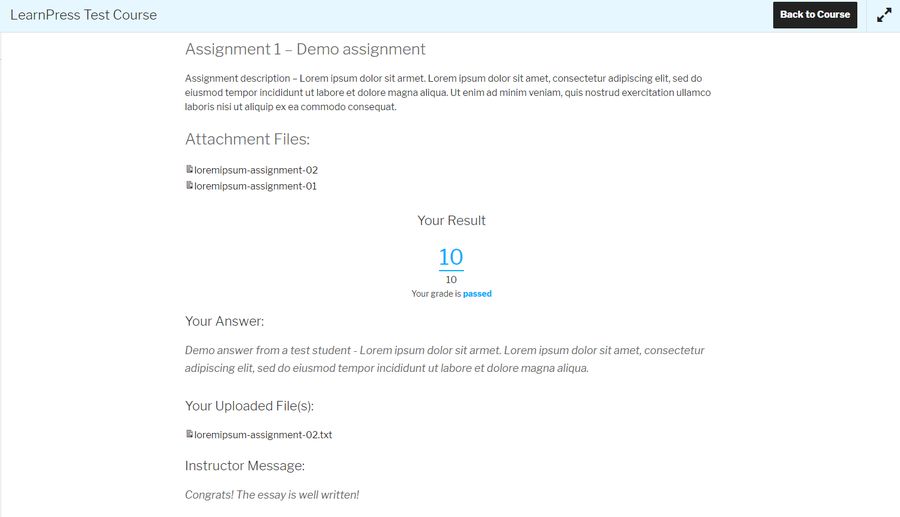 Back-End Management
While the front-end interface caters to students, instructors have access to a comprehensive back-end management system for assignments. This allows instructors to efficiently create, manage, and grade assignments, ensuring a seamless learning experience for students.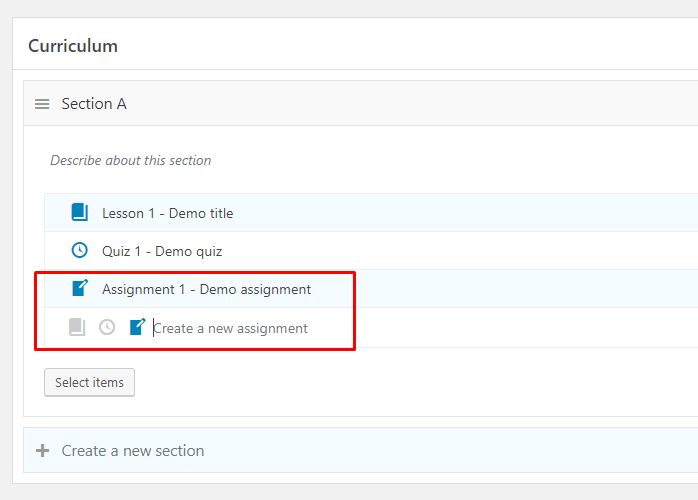 Assignment Settings
Various settings can be adjusted to suit instructors' requirements when creating assignments. These settings include adding a description of the assignment, attaching relevant files such as workbooks, eBooks, or videos, and setting the assignment's duration, maximum score, passing grade, and file upload limits. These customizable settings empower instructors to design assignments that align with their course objectives and assessment criteria.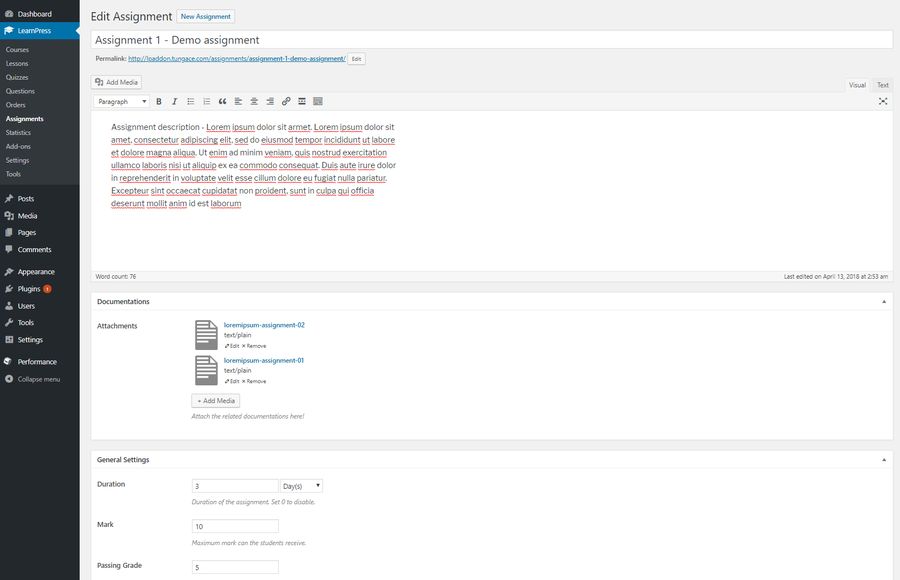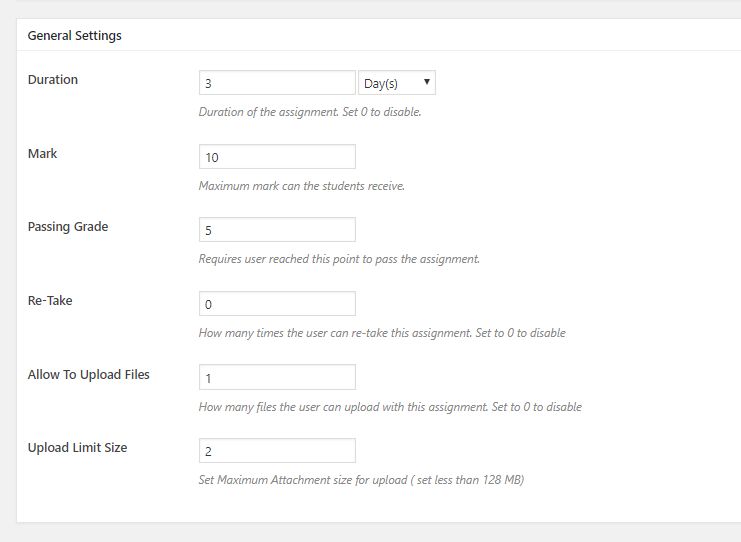 Managing Assignments
Instructors can easily manage assignments through the dedicated Assignment tab in the backend of their WordPress dashboard. This tab displays all the assignments associated with the courses they are teaching, along with the number of students enrolled in each course. This centralized view allows instructors to efficiently track and monitor the progress of assignments, ensuring timely grading and feedback.

Grading Assignments
This add-on simplifies the grading process, making it easy for instructors to evaluate student submissions. Instructors can review the student's submission, assign a grade or mark, and provide feedback or notes for improvement. If an assignment does not meet the requirements, instructors have the option to re-evaluate, assisting the student in resubmitting their work. This iterative process promotes continuous improvement and ensures that students receive fair and constructive feedback.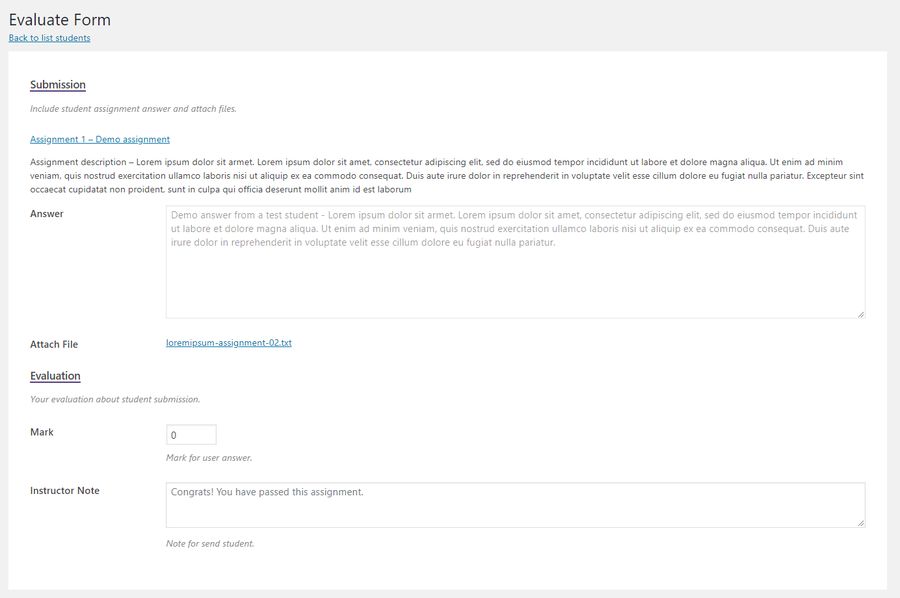 How to Install the LearnPress Assignments Add-on
Installing the LearnPress Assignments Add-on is a simple process that can be completed in a few steps. Follow the instructions below to download and install the add-on on your WordPress website:
Download the Add-on
After purchasing the LearnPress Assignments Add-on, visit your account on the official website and navigate to the download section. Click on the "Download" or "Select Version" button to initiate the download process.

Upload and Install
Access your WordPress dashboard and navigate to the "Plugins" section. Click on "Add New" and then select "Upload Plugin." Choose the plugin zip file that you downloaded and click on "Install Now" to start the installation process.

Activate the Plugin
Once the plugin is successfully installed, click on "Activate Plugin" to activate it on your WordPress website. You will receive a notification confirming the successful activation of the LearnPress Assignments Add-on.

Ready to Use
With the plugin activated, you can now access the Assignments Add-on from the LearnPress LMS interface. The plugin will be shown as activated and ready to use, providing you with the full functionality of the LearnPress Assignments Integration.
Read More: LearnPress Import and Export Integration: How Does It Work?
---
Contact us, ThimPress:
Website: https://thimpress.com/
Fanpage: https://www.facebook.com/ThimPress
Youtube: https://www.youtube.com/c/ThimPressDesign
Twitter: https://twitter.com/thimpress