Are you using LearnPress for your eLearning or online education website?
With the LearnPress Import and Export Integration, you can easily transfer your courses, quizzes, and other course data between different websites using LearnPress. Even if you want to backup your courses for future use, it's possible too. Plus, it's a free add-on to download.
To use LearnPress effectively, you need a WordPress theme that is compatible with and optimized for LearnPress. There are many themes that use LearnPress as their main learning management system and provide you with beautiful designs, layouts, and options for your online education website. Some of the best themes that use LearnPress are:
Eduma: is the most popular and best-selling education theme on ThemeForest. It has over 31+ pre-made demos for different education niches, such as university, college, school, kindergarten, etc. It also supports other plugins such as Elementor, WooCommerce, BuddyPress, bbPress, etc
Coaching: This is a theme for coaches, mentors, speakers, and trainers who want to sell their courses and services online. It has a modern and professional design with four homepage variations, different header layouts, and unlimited colors. It also integrates with WooCommerce, MailChimp, Contact Form 7, etc.
In this guide today, let's see the process of integrating the LearnPress Import and Export Add-on to make your website amazing!
How to Set Up the LearnPress Import and Export Integration
LearnPress provides various free and premium add-ons to extend its functionality and integrate it with other plugins. If you are interested in learning more about LearnPress and how to build an LMS website with it, you can watch our detailed video tutorial that will guide you step by step through the process.
Step 1: Download
To use the LearnPress Import Export Add-on, you need to download it first by logging into your ThimPress -> My Account and clicking on Download or Select Version.
Once you have successfully downloaded the add-on, you're ready to begin the import and export process.

Step 2: Install and Activate
Login to your WordPress Dashboard, find Plugins on your left sidebar and click Add New.
Upload Plugin from the zip file you downloaded earlier. Then, hit Install Now.
Don't forget to click Activate Plugin once it's installed successfully.
Once you have installed and activated the LearnPress Import and Export add-on, you will find a new menu item called "LearnPress Import/Export" in your WordPress admin dashboard, and it's ready to use.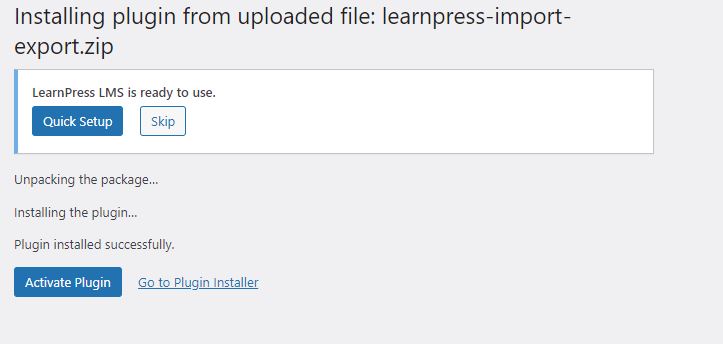 Step 3: LearnPress Import and Export Integration Settings
To set up this add-on, open your Dashboard -> LearnPress -> Import/Export:

In the Import tab, choose the XML file you want to import.

Tick the Save imported file checkbox to store the imported file on your server. Once you have checked the option, don't forget to click Import to complete the process.

Once the file is imported, you can download, view, import, or remove the file.

To export a course using the LearnPress Import/Export add-on, you just need to click on the Export tab. Then select LearnPress as a source and hit Continue.

After that, choose the courses you want to export and click Next.

There are two options to choose from: Download file or Save exported file.
If you choose Download file, the LearnPress courses will be downloaded as an XML file to your local computer.
If you choose Save exported file, the courses will be saved on your server for future use.


Frequently Asked Questions
Can I export and import all types of content using the LearnPress Import and Export Integration?
Yes, the add-on allows you to export and import courses, quizzes, and other LearnPress content.
Are there any limitations on the size of the exported or imported files?
The size of the files you can export or import may depend on your server's limitations. It's recommended to check with your hosting provider for any restrictions.
Does the LearnPress PRO Bundle include the Import Export Add-on?
Yes, the LearnPress PRO Bundle includes the Import Export Add-on, along with other powerful add-ons. It provides exceptional value and maximizes your LearnPress experience.
How can I get support for any issues related to the LearnPress Import and Export Add-on?
For any support or assistance regarding the add-on, please reach out to our customer support team. They will be happy to assist you in resolving any issues you may encounter.
In conclusion
LearnPress Import and Export Integration is an essential feature for e-learning websites. By following the steps outlined in this guide, you can easily transfer courses, quizzes, and other valuable content between LearnPress. Don't forget to take advantage of the bonus LearnPress Add-ons Bundle, which provides you with additional premium add-ons to enhance your LearnPress platform.
Read More: LearnPress Course Wishlist Integration Guide: How To Use It
---
Contact us, ThimPress:
Website: https://thimpress.com/
Fanpage: https://www.facebook.com/ThimPress
Youtube: https://www.youtube.com/c/ThimPressDesign
Twitter: https://twitter.com/thimpress