LearnPress Prerequisites Courses integration is an essential free add-on that allows you to set up prerequisite courses for your LMS website.
This guide will help you install, activate, and configure the LearnPress prerequisites courses add-on in a few simple steps.
Let's get started!
Why Use LearnPress Prerequisites Courses Integration
Integrating prerequisites courses into your LMS website offers several benefits for instructors/teachers and students.
Prerequisites help students acquire the necessary knowledge to do well in more challenging courses. This enables the students to learn more effectively and perform better.
Another advantage of the LearnPress prerequisites courses integration is that it helps students learn in a structured way by providing them with a clear and rational order of topics to follow.
You can learn how to create an LMS website by following our in-depth tutorial if you have not done so yet.
Benefits of LearnPress Prerequisites Courses Integration
There are several notable benefits to using this amazing add-on, such as:
Improved Learning Results: By enforcing prerequisite courses, you can ensure that students have the necessary knowledge and skills to succeed in more advanced courses. This leads to better learning results and a more satisfied student base.
Structured Learning Path: The LearnPress prerequisites courses integration assists you in creating a structured learning path for your students. As a result, they will move through the courses logically, building on their prior knowledge and abilities.
Enhanced Student Engagement: When students have a clear understanding of the prerequisites they need to complete, they are more likely to engage with the content and actively participate in the learning process. This ultimately leads to a more engaging and interactive learning experience.
Reduced Drop-out Rates: By setting up prerequisite courses, you can reduce the number of students who drop out of your courses due to being unprepared or overwhelmed. By giving students a clear path to follow and making sure they have the foundation they need, you can raise course completion rates.
Flexibility and Customization: The LearnPress Prerequisites Courses add-on offers flexibility and customization options. You can easily define the prerequisites courses for each individual course, tailoring the learning journey to the specific needs of your students.
Maximizing the Value of LearnPress Prerequisites Courses
To make the most of the LearnPress Prerequisites Courses integration, consider the following tips:
Plan Your Curriculum: Before setting up prerequisite courses, take the time to plan your curriculum. Before moving on to more complex topics, identify the essential knowledge and abilities that students need to possess. This will help you create a logical and efficient learning path.
Communicate Clearly: When setting up prerequisite courses, communicate the requirements clearly to your students. Provide detailed information about the prerequisite courses and explain why they are important for their learning journey.
Monitor Student Progress: Regularly monitor your student's progress to ensure they are completing the prerequisite courses. This will help you identify any potential issues and support students who may be struggling.
Collect Feedback: You should obtain student opinions as you introduce prerequisite courses. This will help you understand their experience and make necessary adjustments to improve the overall learning journey
Setting Up The LearnPress Prerequisites Courses Integration
Download the add-on: Sign-in ThimPress and navigate to the My Account section. From there, you can download or select the version you want to get the LearnPress Prerequisites Courses add-on.

Install & activate the add-on: Now, you need to go to your WordPress admin dashboard -> Plugins -> Add New -> Upload Plugin -> Choose File, click Install Successfully, and hit Activate Plugin.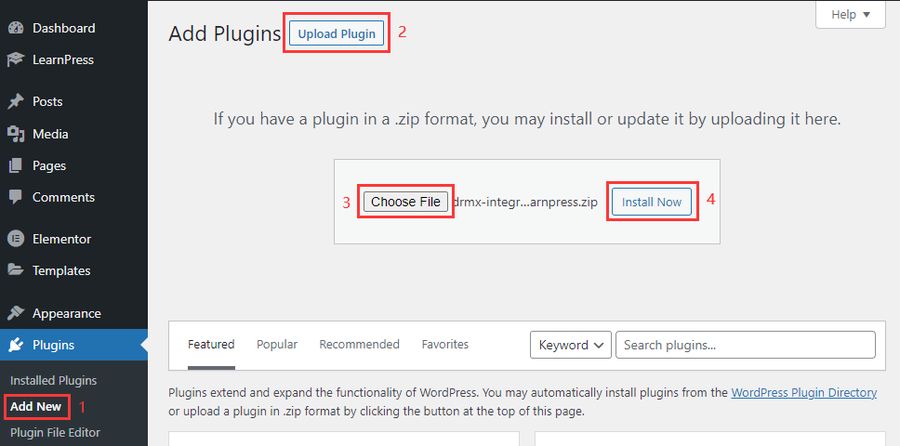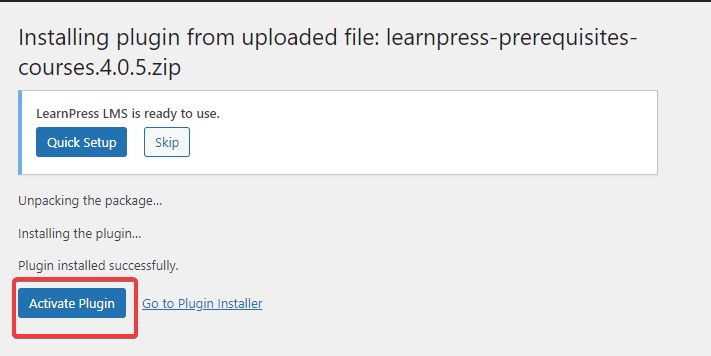 Access the Courses Section: Once you have downloaded the add-on, go to Dashboard -> LearnPress -> Courses. Here, you can either create a new course or select an existing one that you wish to enable prerequisites.

Add Prerequisites Courses: Under the General Settings section of each course, you will find an option to add prerequisite courses. Add the required courses for the current course in the Prerequisites Courses field. These courses will serve as prerequisites that students are required to complete before taking the current course.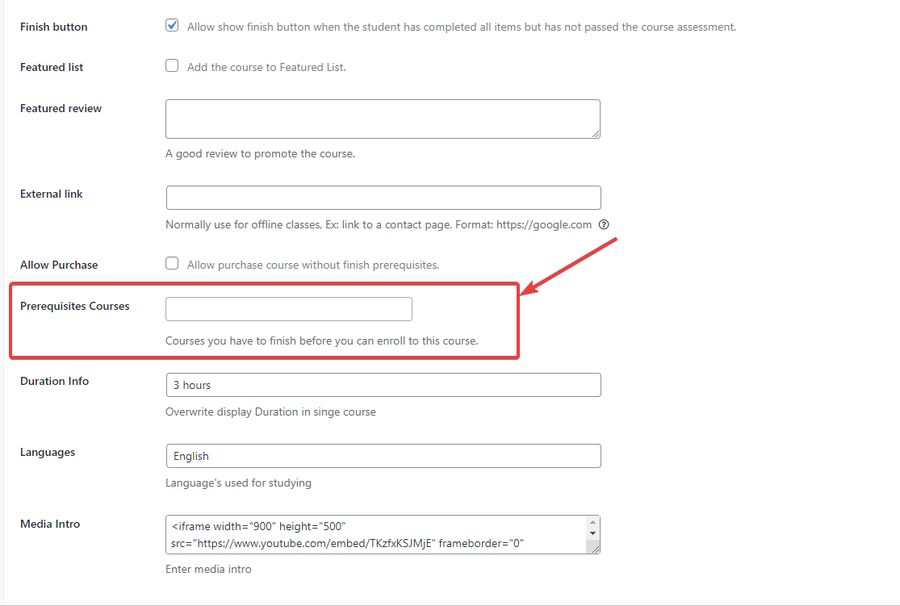 Enhancing the Learning Experience: By setting up prerequisite courses, you can create a structured learning path for your students. They will be prompted to complete the prerequisite courses before gaining access to the current course, ensuring a solid foundation of knowledge.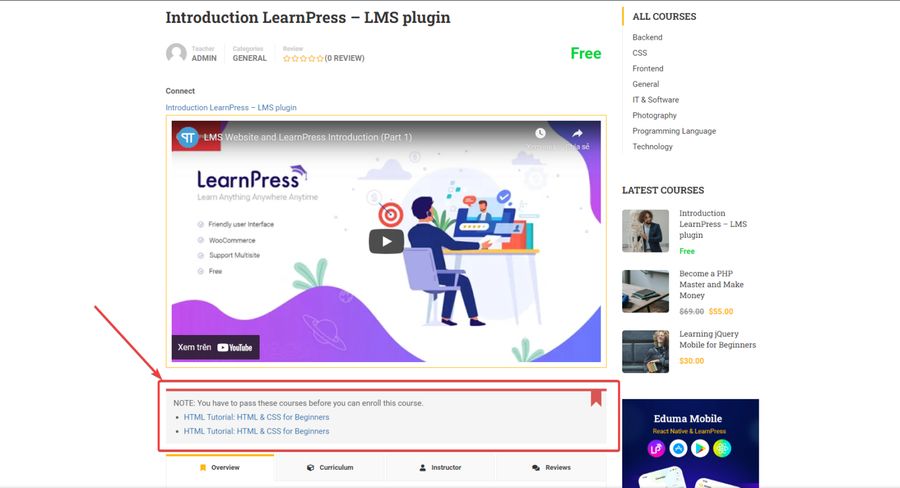 Final Thoughts
To excel in more difficult courses, students need to have the fundamental knowledge that prerequisite courses provide, which boosts their results and establishes a more consistent learning path. This guide will help you effortlessly incorporate prerequisite courses into your LearnPress platform using the LearnPress Prerequisites Courses Integration and enhance your online teaching quality.
Read More: LearnPress Random Quiz Integration: A Simple Guide
---
Contact us, ThimPress:
Website: https://thimpress.com/
Fanpage: https://www.facebook.com/ThimPress
Youtube: https://www.youtube.com/c/ThimPressDesign
Twitter: https://twitter.com/thimpress