If you want to accept online payments for your business, you should choose a payment gateway that suits your needs and budget. There are many payment gateways available, but the most popular ones are PayPal vs Stripe vs Authorize.net vs Amazon.
Creating a powerful website with WordPress and WooCommerce's shopping cart feature is essential for starting an online business in this era. You can do it effortlessly without any technical skills.
The WordPress and Woo cores are free and simple to use, and there are several reasonably priced hosting and domain service providers available.
You do, however, need to take another crucial factor into account before you dive in. Companies require money to operate, but generating revenue from your website is not a magic trick.
Choosing and setting up the payment gateway is a necessary step if you want to accept customer payments directly through your website.
Keep reading!
A Payment Gateway: What Is It?
So what exactly are payment gateways?
Payment gateways are essential for online businesses, as they allow them to accept and process payments from customers. In other words, no payment gateway means no money for the business.
We've all used payment gateways previously as customers, even if you've never set one up yourself. This is about making an online purchase, which is something that everyone should have done before.
Your transaction is processed through Amazon's payment gateway each time you purchase something through the website. Another easily recognizable payment processor that you've definitely used before is PayPal.
The viewpoint from which we examine payment gateways nowadays is not that of the customer but rather that of the merchant, or the owner of the firm.
A payment gateway is essential for any business that wants to handle payments on its website. Nevertheless, not all offer the same features and benefits. While selecting a payment gateway, you should consider a number of factors, such as:
Integration: The payment gateway should work well with your online eCommerce platform.
Availability: The payment gateway should be available in your country and other locations.
Convenience: The checkout process for your customers should be smooth and user-friendly.
Pricing: How affordable is the service?
Efficiency: How fast can you get your money?
All of these variables will be taken into account in today's post. But now it's time to discuss the most well-liked payment processors for WordPress users. Unsurprisingly, they are also the top five payment processors for WooCommerce.
Let's get started with the comparison.
Best Popular Payment Gateways: PayPal vs Stripe vs Authorize.net vs Amazon
PayPal Payments Standard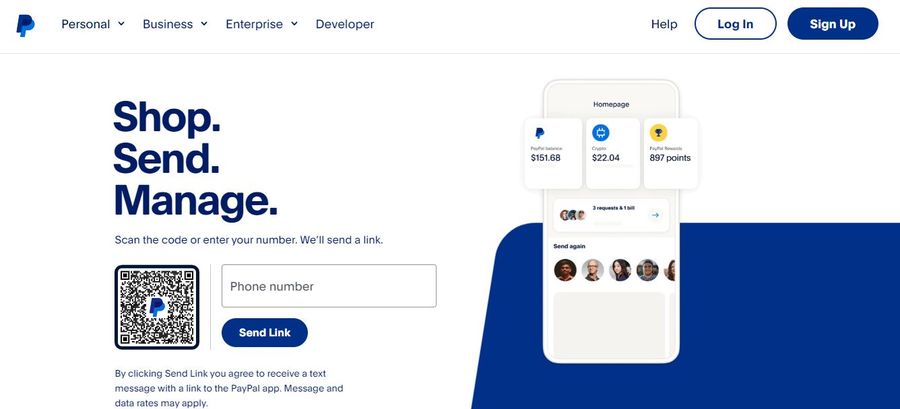 Learn More
The most famous payment gateway we highly recommend is PayPal Standard. It is very simple to use for everyone.
For sure, you don't have to face any processing, authorization, or security issues on your website. Adding a Pay with PayPal button is what you need to do, and PayPal will do the rest for you.
However, a disadvantage of this payment is that it forces online business owners to transfer customers to the external PayPal site. This results in a lack of control over the transaction process.
A smoother checkout process would be to handle all payments on your own website, which PayPal Standard doesn't support.
However, it is a great option for a small business or startup. It's compatible with WooCommerce without any setup or monthly fees.
Key Features:
PayPal Standard is accessible in over 200 countries.
United States fees for each transaction are 2.9% plus $0.30.
Micropayments (transactions under $10) incur a fee of 5% plus $0.05 per transaction.
neither a monthly fee nor an up-front cost.
A third party handles the checkout process.
Allow customers to purchase with their PayPal account or credit cards.
It's easy to trust PayPal as a company.
After three to four days, the money will be in your bank account.
You can use the following plugins to integrate this payment with your WordPress website:
PayPal Payments Pro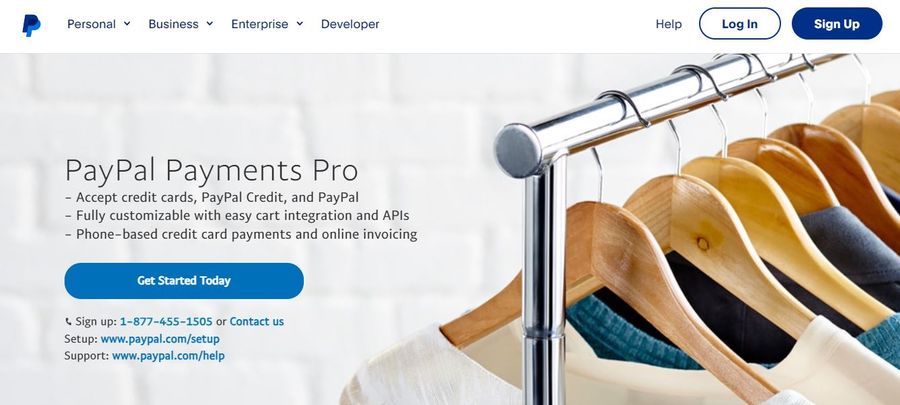 Learn More
In comparison to PayPal Payments Standard, PayPal Payments Pro is a more expensive and premium payment gateway.
Nevertheless, this time you can manage card payments straight from your website. It still retains the reputable PayPal name. By taking back control while doing the checkout process, you have the chance to adapt and customize it in order to increase conversions.
PayPal Premium has no setup costs, like PayPal Basic. However, it asks for a $30 monthly charge plus the costs of each transaction. You'll also need to pay an additional $79 for the Woo PayPal Pro extension.
Key Features:
Only the United States, United Kingdom, and Canada offer PayPal Pro.
The costs are 2.9% + $0.30 for each transaction, or, for microtransactions, 5% + $0.05.
There is a $30 monthly subscription, but there are no starting costs.
Keep customers on your site to have full control while they do the checkout process.
Accept phone payments with the Virtual Terminal feature (per-transaction fees of 3.1% + $0.30).
On your checkout, include the PayPal trust emblem.
Manual withdrawal requests must be made, and it takes 3–4 days to get your money back.
You can use the following plugins to integrate this payment gateway with your WordPress website:
Stripe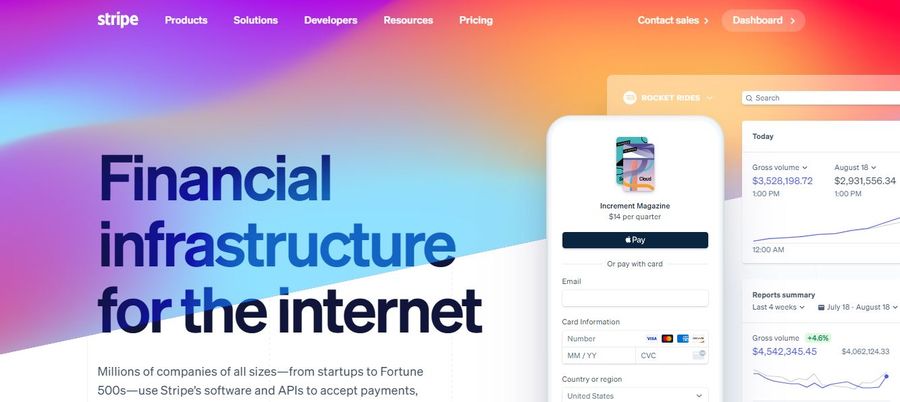 Learn More
If you are looking for a different way to pay online, you might want to check out Stripe, which is next in line and has a large user base.
With no monthly fees, Stripe allows you to accept payments on your site. It is a great benefit that you can use the official plugin to connect WooCommerce and Stripe for free.
Compared to PayPal Standard, Stripe is a little bit more difficult to get started because it is geared toward developers.
You can trust Stripe's anti-fraud team to solve any questionable transactions. It also enables recurring payments by default.
Stripe is a great option for international businesses since you can receive over a hundred currencies, which are changed to your primary currency automatically.
Key Features:
Stripe works well in 21 countries, and more are expected to come soon.
It charges 2.9% + $0.30 for each transaction.
Transactions are handled on your site, so you can control the checkout process completely.
There is no setup or monthly fee.
It is possible to pay with all main credit cards.
There is no need for manual withdrawals because the money received is sent to your account bank on a rolling basis every two days.
You can use the following plugins to connect Stripe to your WordPress website:
Authorize.net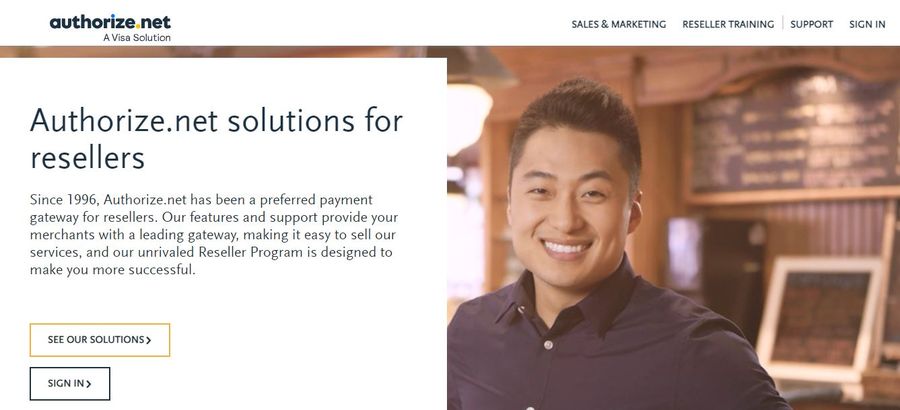 Learn More
Another option that is well-regarded and popular is Authorize.net. It charges a monthly payment of $25 along with the transaction fees. To integrate it with WooCommerce, you need to buy the official extension for $79 more.
But doing so grants you access to a top-notch on-site payment gateway that enables you to take payments from any of the main credit cards straight via your business site (plus PayPal).
In exchange for the cost, you also receive an Advanced Fraud Detection Suite, a first-rate support staff available to assist you, and a quick sync with QuickBooks to facilitate the accounting side of your business. Recurring payments are also supported via Authorize.net.
Key Features:
US, Canada, Australia, the UK, and Europe are all available.
2.9% plus transaction fees of $0.30.
$25 per month in recurring charges.
You can process the payment on your site.
Allow payment with credit cards or PayPal.
The plugins that can help you integrate the gateway with your WP site:
Amazon Payments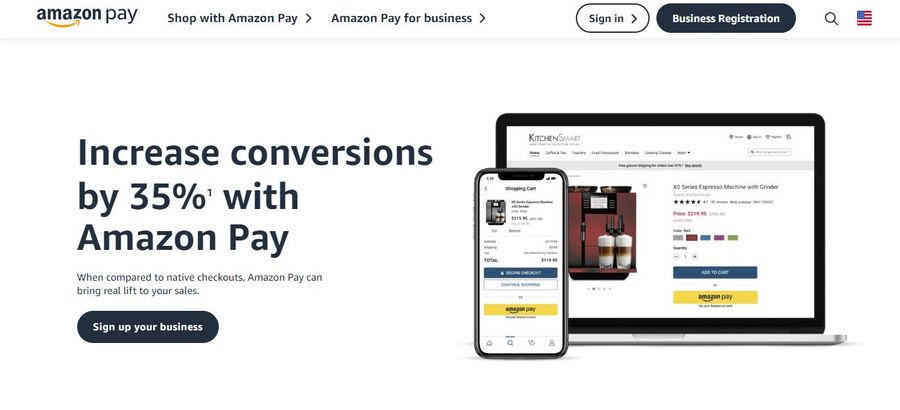 Learn More
Increasing conversions is easier with Amazon Pay than with anything else. It's among the most trusted names out there. That's why it makes sense that it is becoming more popular.
Paying with Amazon is an option for your customers during the transaction process. They will log into their Amazon account, and their Amazon information (such as address and payment details) will be moved to your site for a fast checkout.
This makes the checkout procedure from your customer's point of view, and they feel secure with the Amazon name.
With Amazon Payments, your customers can use a single account to make all of their payment services, like PayPal, but it's also possible to process payments on your site for an easier checkout experience (a fine alternative to PayPal).
Amazon processes the order and connects you to its highly-rated fraud detection program.
You can save money with Amazon Payments, a payment gateway that has no setup or monthly fees and reasonable transaction costs.
The WooCommerce Pay with Amazon extension is also free of charge.
Key Features:
It is available in the United States, the United Kingdom, and Germany.
2.9% + $0.30 per transaction.
Cross-border purchases may incur a 3.9% surcharge.
There are no installation, monthly, or WooCommerce fees. (Outperforms Stripe, PayPal, and Authorize.net.)
Customers will never need to leave your site while doing the checkout process.
It is possible to use any Amazon-accepted payment method.
Amazon is among the world's most trusted brands.
You can use the following plugins to integrate the payment with your WP site:
Price Comparison: PayPal vs Stripe vs Authorize.net vs Amazon
Let's look more closely at the most important factor to consider the best payment gateway: price. So which one wins this round?
| | | | | | |
| --- | --- | --- | --- | --- | --- |
| | PayPal Standard | PayPal Pro | Stripe | Authorize.net | Amazon Payments |
| Setup Fee | – | – | – | – | – |
| WooCommerce Extension Fee | – | $79 | – | $79 | – |
| Monthly Fee | – | $39 | – | $25 | – |
| Transaction Fee | 2.9% + $0.30 | 2.9% + $0.30 | 2.9% + $0.30 | 2.9% + $0.30 | 2.9% + $0.30 |
| Monthly Transaction Fees (Based on 50 Transactions at $100 each) | $160 | $160 | $160 | $160 | $160 |
| Cost for a Month in Total | $160 | $190 | $160 | $185 | $160 |
| Annual Cost Breakdown in Total (With WooCommerce Setup and Extensions) | $1,920 | $2,359 | $1,920 | $2,348 | $1,920 |
You can find the fees of any reputable payment gateway service on their websites, where they are clearly displayed. This information helps you estimate your monthly cost and choose the most cost-effective option.
There is no difference in transaction costs for US users. However, they are different for each country, and some services have bulk discounts at various levels. The only things that affect the prices of these providers are the install, extension, and monthly fees.
Which Is The Best Payment Gateway?
A restrictive checkout can cause cart abandonment. You can get more customers by offering more payment options. We suggest using one on-site gateway (like PayPal Pro, Stripe, or Authorize.net) and one off-site gateway (like PayPal Standard or Amazon Payments). This simplifies and trusts the payment process for your customers, increasing conversions. The extra work of setting up two gateways is worthwhile.
Read More: 8+ Top Google Domains Alternatives (Compared)
---
Contact us, ThimPress:
Website: https://thimpress.com/
Fanpage: https://www.facebook.com/ThimPress
Youtube: https://www.youtube.com/c/ThimPressDesign
Twitter: https://twitter.com/thimpress