We have heard a lot about WordPress when we are searching for a way to create a website for your business. So, what is a WordPress Site exactly, and how to start it? To answer this question, let's take a journey with us through this article.
What is a WordPress?
WordPress is free and it is also an open-source CMS (stands for content management system) which is written in PHP. It is used to create and control a WordPress site or it can be called a website's operating platform. Even though there are many platforms out there for operating a website, WordPress is still the number 1 famous in the market since over 35% of the websites are using WordPress at this moment.
Also, you can build whatever website type you want with WordPress. For Example, from a blog website to an eCommerce website, from a business website to a membership website, from a portfolio website to a forum website or event website, LMS website, and so much more as well. You can visit our ThimPress Themes to check out some famous themes.
The Reasons Why WordPress Site is Famous?
All of us might have the same concern about why the WordPress site is famous and if you have read the definition of WordPress, you will actually know the benefits of this platform. To clarify more details, here are some main reasons for you when you use a WordPress website:
Free: Yes, WordPress is totally free for you to download and use on WordPress.org. But, remember that you have to have a web hosting and a domain name first before WordPress.
Open-source system: It means that all people around the world (developers and users) can join the WordPress community to contribute and make it better.
Responsive: WordPress site works well with all the devices such as desktops, laptops, smartphones, tablets.
Flexibility: You can create all types of WordPress websites you want as we have mentioned above.
Extensible: WordPress plugins are to add more functions into your site such as SEO, Security, Backups, Online Stores, etc. In case you want to know where free plugins are, you can visit WordPress.org to install them.
Compatible with WordPress Themes: There are thousands of WordPress themes for all types of business. Each theme is compatible with WordPress site builder so you can create your own layouts with no code required. Or you can install one of those themes to have a unique pre-built design with dozens of features. Your website will turn to the demo you see, from that theme just by 1-click importer even if you do not know coding skills.
Difference Between wordpress.com vs wordpress.org?
After studying the WordPress site, you knew that there are 2 types of WordPress: wordpress.com vs wordpress.org. So what is the difference between them?
WordPress.com is a hosting service that is run by Automattic. It allows you to create a new website easily by creating an account without requiring hosting or domain name and handles everything for you.
WordPress.org is actually a self-hosted version and open source software. It is not required to create an account, however, you need to buy hosting, domain name, and you can control everything. WordPress.org is exactly what we have been describing above.
Let's take a quick look at the simple comparison table below to see more details:
The Difference Between WordPress.com vs WordPress.org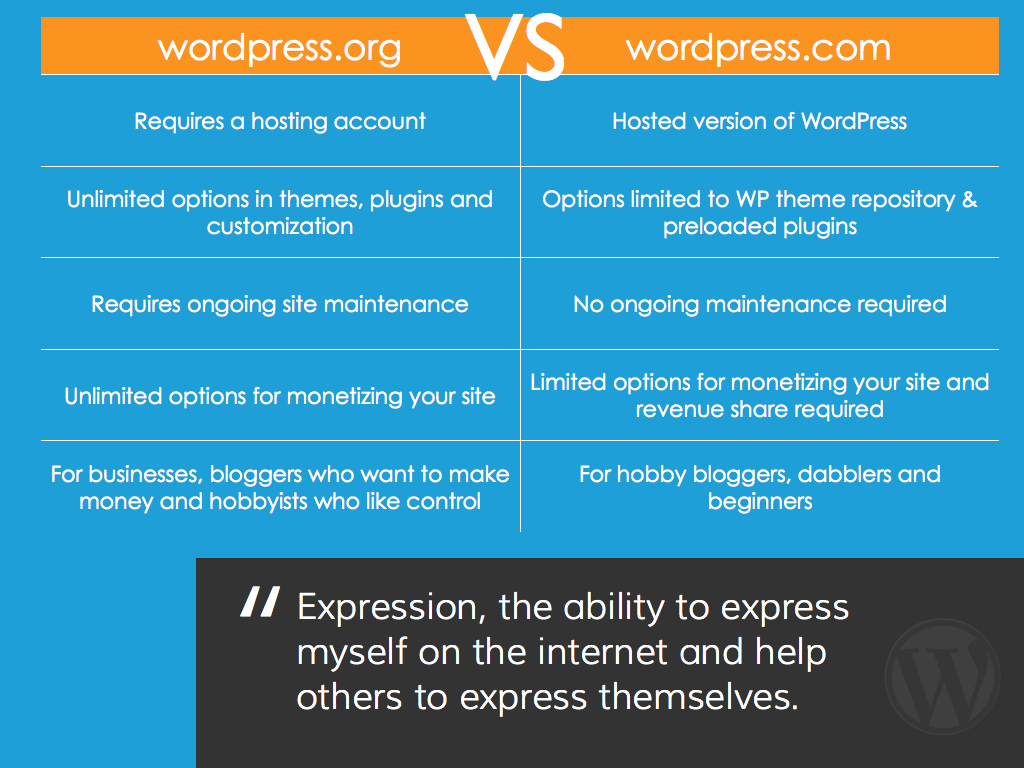 How to Build a WordPress Site?
To create a WordPress site, you needs to follow these steps:
With WordPress.org:
– Purchasing a domain name: A domain name is the address of your website. For instance: Ours is thimpress.com. It costs around $10/ year for a .com domain name.
– Purchasing hosting: A web hosting is a place where all your website's data live. You can refer to our guide here to have a perfect WordPress hosting.
– Installing the free WordPress software on WordPress.org to your website. Most hosts usually will handle this process for you. It is also easy to do without the code required by clicking a few buttons. It costs around $4/ month but it can go up to $100 or more for the higher standards.
With WordPress.com:
It is so much easier, you can just create an account then you will have a WordPress website within a few mins. So, worry no more about how to have hosting or domains. The price can start from a free plan with the subdomain of WordPress.com, ads, limited storage space (for example, thimpress.wordpress.com), or up to $45/ month for a paid plan with the feature to use the own domain name and it's possible to remove the ads too.
The Examples of the WordPress site that lets you inspired
Below are the best WordPress site examples that are checked by our experts. All of them are obviously famous and branded too.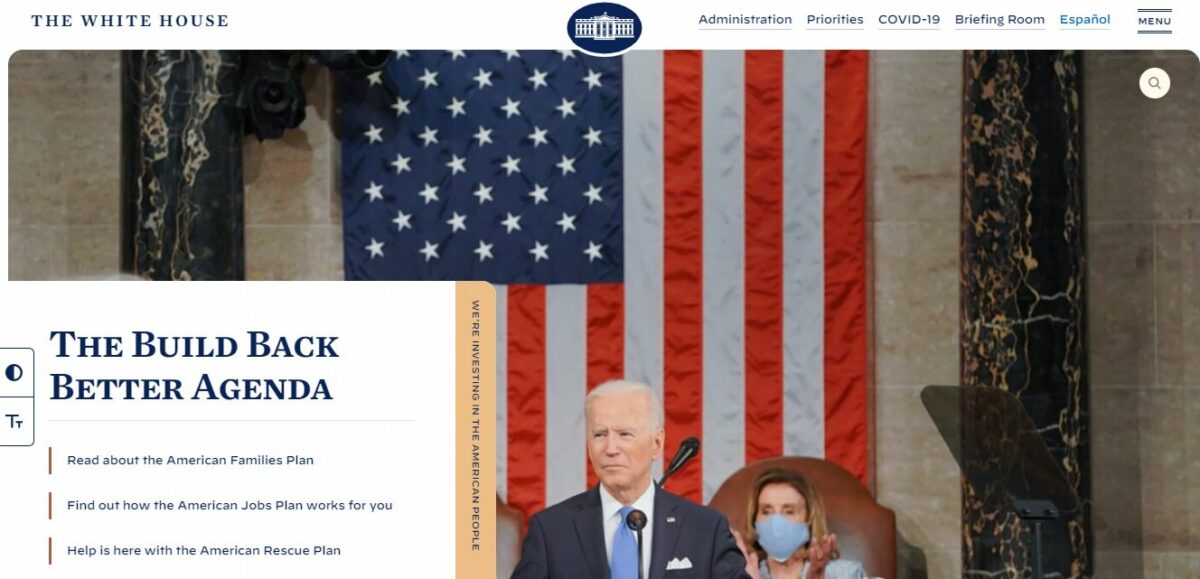 Are you a fan of the United States elections? If yes, you will absolutely know The White House website. It is about the president's news in every industry such as economy, immigration, healthcare, covid-19, etc.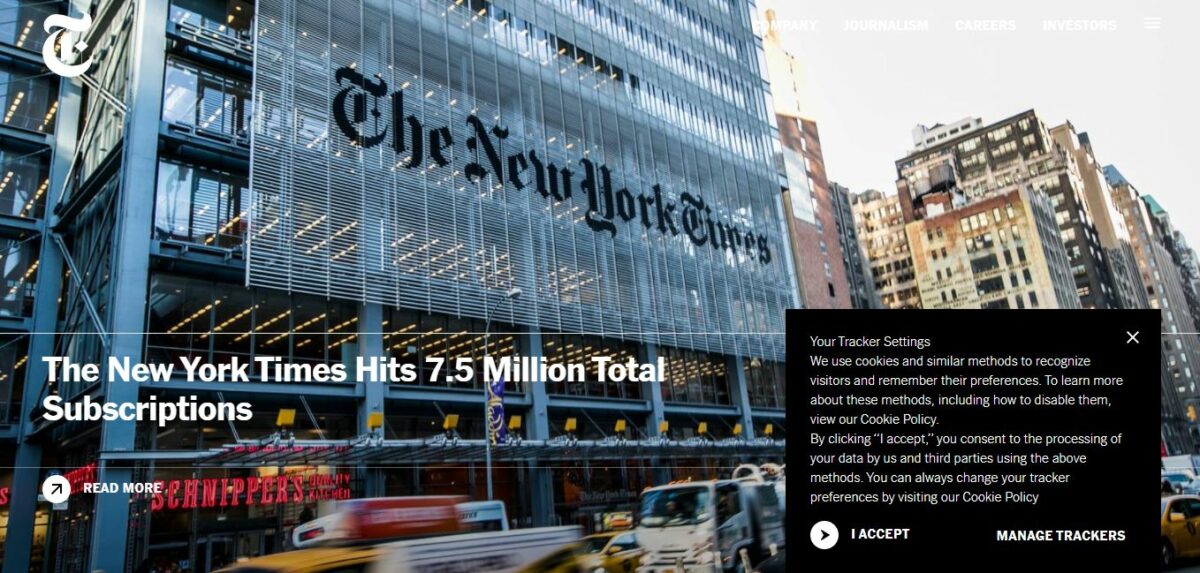 This is a famous newspaper website in the world and their company is located in New York City. This newspaper is using WordPress to power its corporate site.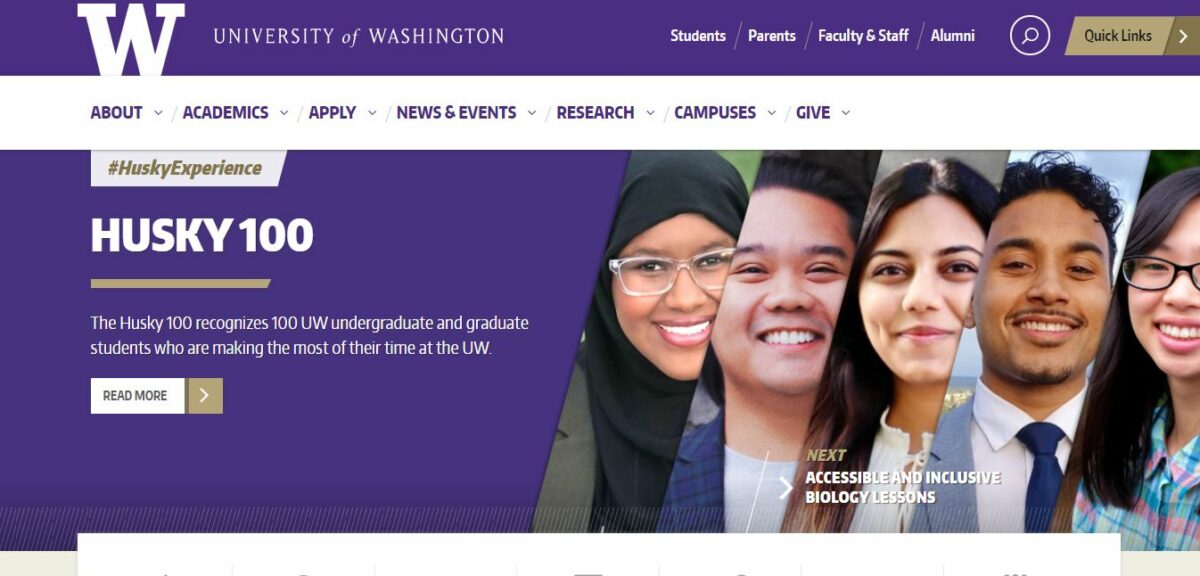 This university is famous because of their education system and it is in Seattle, Washington, United States.
ThimPress – No.1 E-commerce WordPress site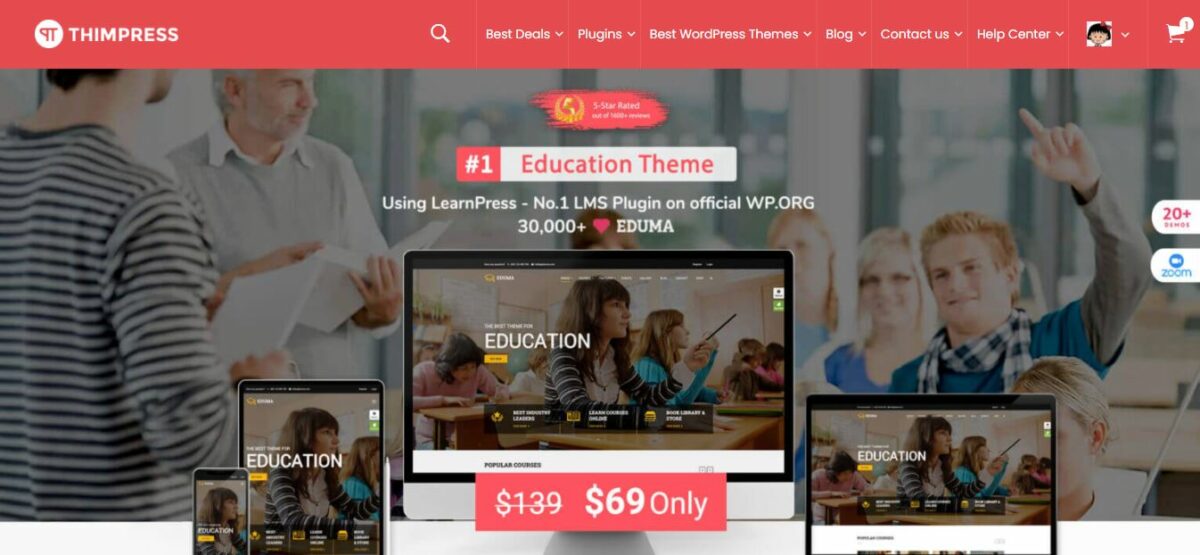 ThimPress is an Ecommerce WordPress site that provides the best WordPress themes and plugins in all kinds of businesses such as education, travel, hotel, restaurant & cafe, fitness, etc. Their themes and plugins are fully responsive, SEO & Speed optimized, and so much more.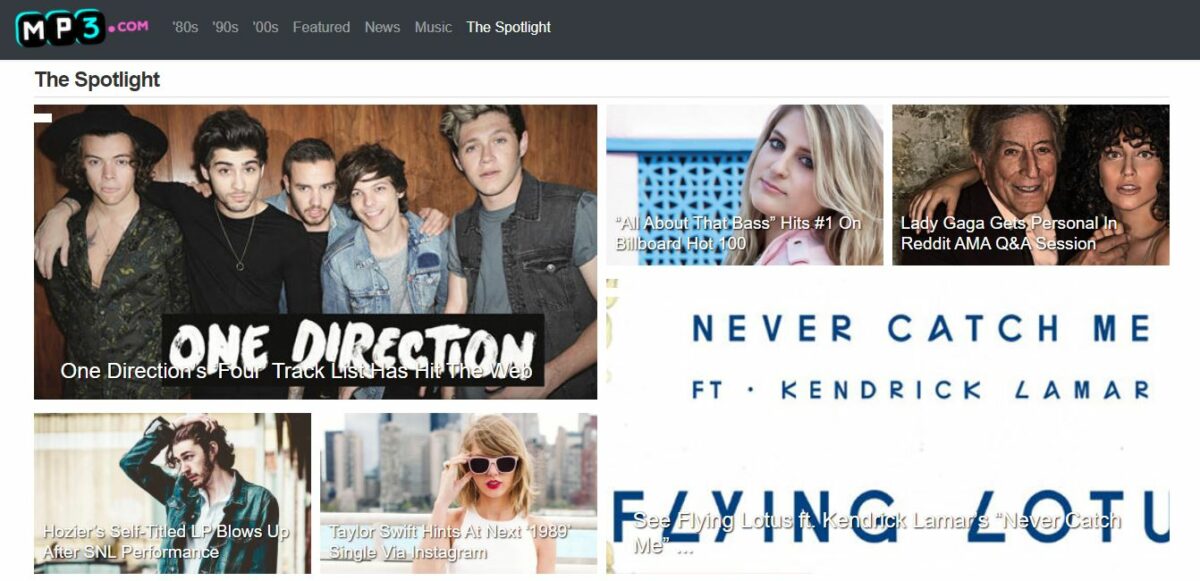 MP3.com, surely, a famous music website. It offers free and paid mp3 downloads. You can play your favorite songs, music videos, and playlists, and even see the song's lyrics.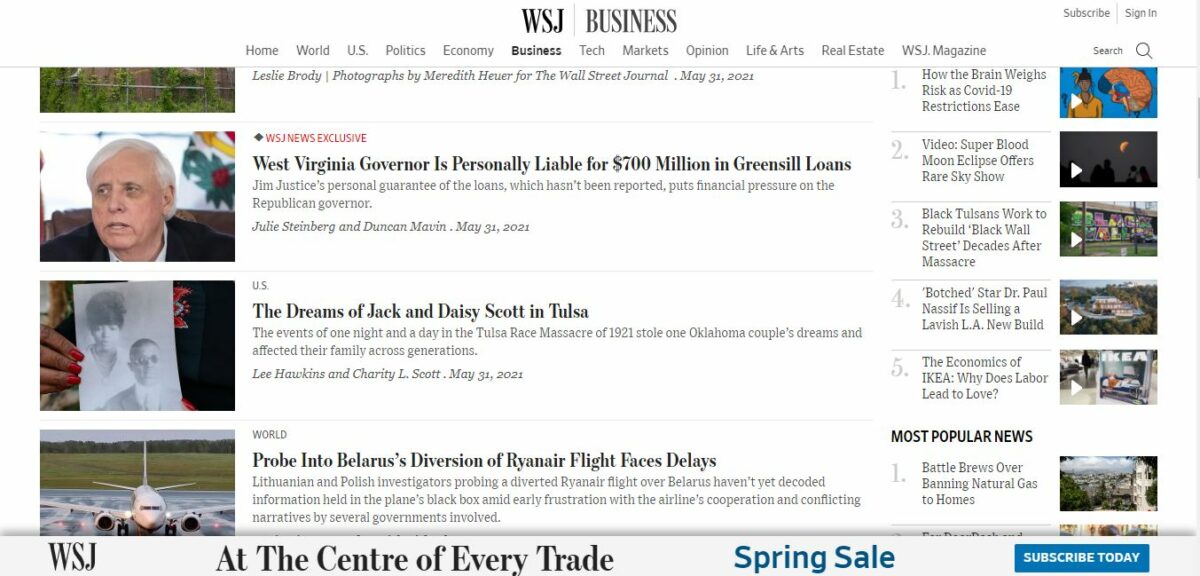 As its names suggest, this means on the law blog section, they use WordPress site.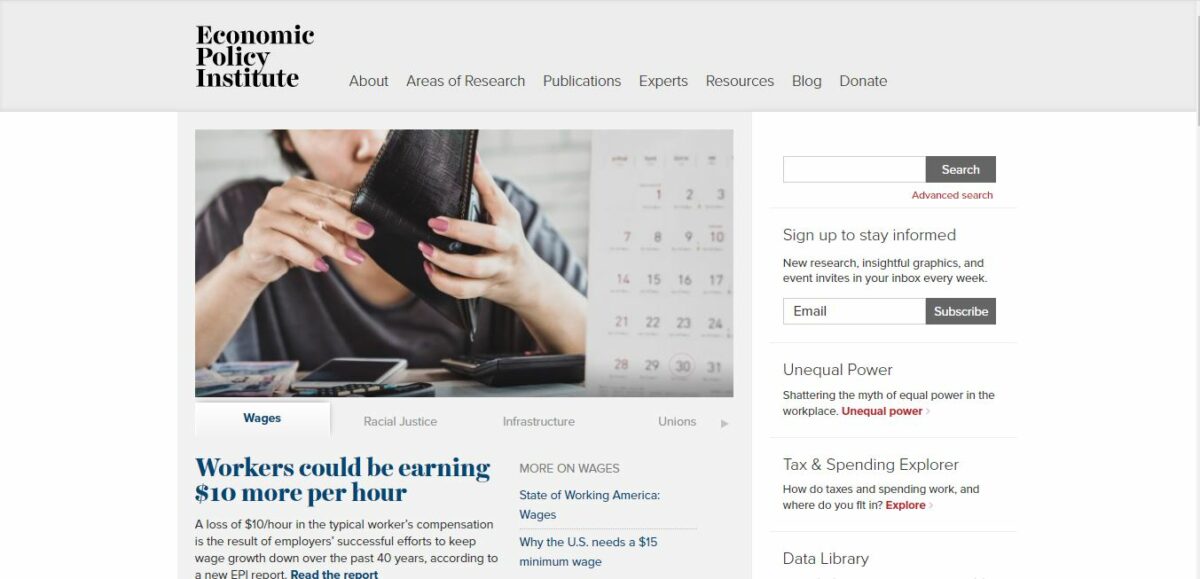 It is an independent and nonprofit WordPress site. If you want to know the economic trends & policies' impact on working people, you can read this website.
In conclusion
Overall, you now might have your own decision to choose what kind of WordPress site you want to have. In our opinion, we suggest you choose WordPress.org since it supports all themes, plugins, and WooCommerce extensions to make your website become the best and fully control it.