To promote your web store, decrease eCommerce cart abandonment, boost sales, and keep customers coming, your website should have a perfect WordPress Coupon Code plugin.
The reason I said that is everyone likes to get discounts as well as special offers when purchasing something. So which one is the best tool to choose? Don't worry.
We have listed 5+ of the top WordPress Discount Code plugins compared with dozens of others on the market. But please note that it can not be used for affiliate marketing purpose. Our topic today mainly focuses on WooCommerce coupon codes plugins only.
Amazing coupons from ThimPress are available at ThimPress Coupons.
Why Use WordPress Coupon Code Plugins For Your Online Shop?
As I have said, a WordPress Coupon code turns your visitors into customers since it urges them to purchase your item immediately before the time is up. Hence, you can gain more sales, revenue, and conversions.
Basically, we like to search for the promotion or a coupon code before purchasing our intended items to save money. If there is any deal, we will likely add it to the cart and enter that code to see how much you need to pay at the end.
Surely, most of us will continue the checkout process and buy it since it's a lower price compared to the regular one. So you should display your coupon clearly and attractively on your own website to let all visitors see it.
Apart from that, you need to advertise your promo codes on 3rd-party coupon sites too. These are some great ways to reduce shopping cart abandonment and improve your brand reputation and traffic.
Overall, it's important to have a WooCommerce coupon code plugin on your site. As you know, WooCommerce offers a built-in coupon feature. However, you still need 3rd-party plugins to use advanced coupon features such as gift cards or popups coupons. And now is the time to explore or read our steps to Install WordPress Plugins.
5+ Best WordPress Coupon Code Plugins
Coupon Creator – WordPress Coupon Code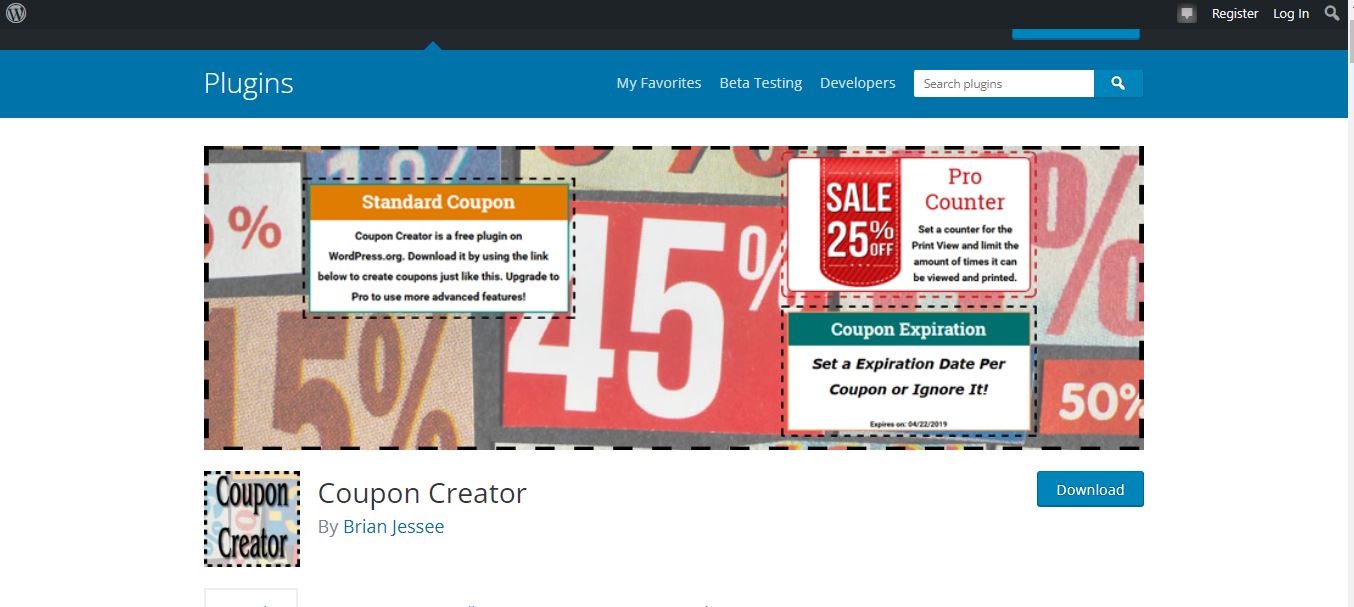 Learn More
Coupon Creator is the most famous and free WordPress Coupon Code plugin with over 10 thousand active installs. You can download it right on WordPress.org by a few clicks only or get the pro version on their own website.
Plus, Coupon Creator comes with a simple interface so you can easily use it to make your own promo code. So how to do it? By applying a built-in shortcode inserter, you can insert your coupon into your prefered posts or pages.
While creating your coupon, you can choose the expiration date as well or you can ignore it so your customers will redeem the coupon before the setup time.
Moreover, this WordPress coupon code plugin is compatible with WooCommerce, it helps you to make and display WooCommerce-based coupons via their editor. Also, there is an option to enable or disable the Print View for each coupon.
Apart from text coupons, you can make image coupons to engage more visitors too. If you need intensive features, this most popular WordPress plugin pro version offers a flexible filter bar with [couponloop] shortcode, various expiration types, and 5 stunning border themes to choose from.
Click reveal, 6 advanced templates, and vendor & location taxonomies are other highlighted add-on features to make Coupon Creator famous. It's totally worth considering. Try it now!
Coupon Generator for WooCommerce – WordPress Coupons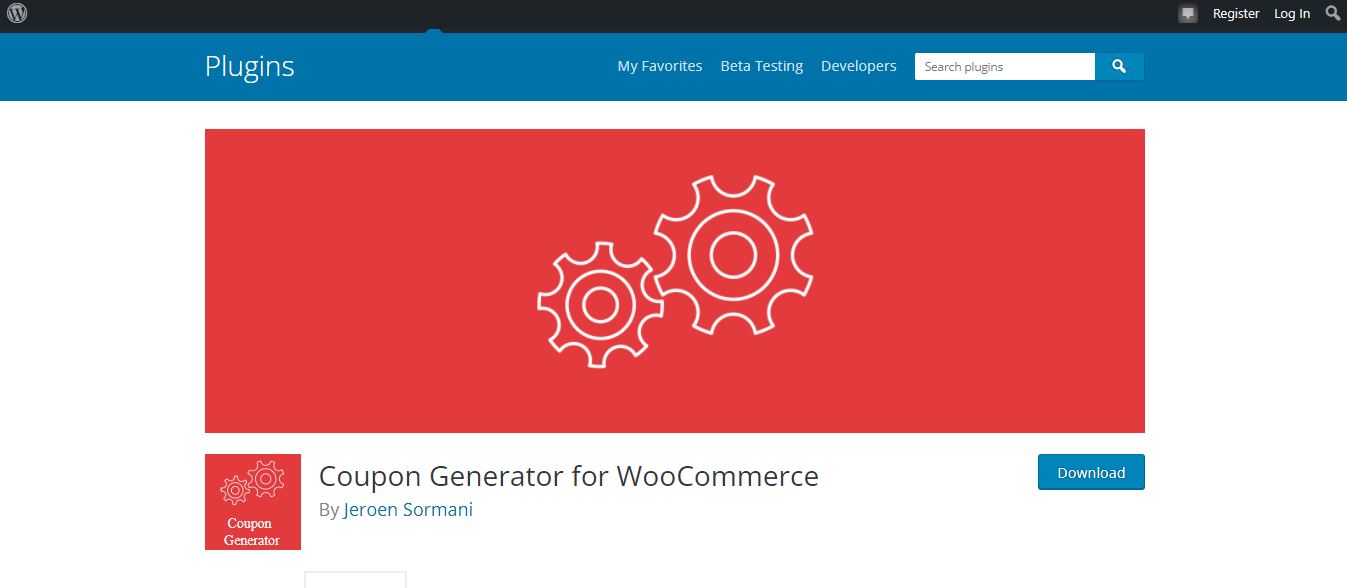 Learn More
As its name implies, Coupon Generator for WooCommerce is a plugin that you can use to set up and create thousands of WordPress Coupons at the same time for your WooCommerce store.
It's available freely on the WordPress directory so you can download whenever you want. In particular, to make it happen, you only need to follow 3 simple steps: From coupon settings to generation settings to generating coupons.
Moreover, this most used WordPress plugin is really flexible, it even works well on low-cost hosting too. You can also get updates about creating progress with your coupon code. Surprisingly, it's possible to make a million coupons at once. Why don't you check this amazing plugin now?
Advanced Coupons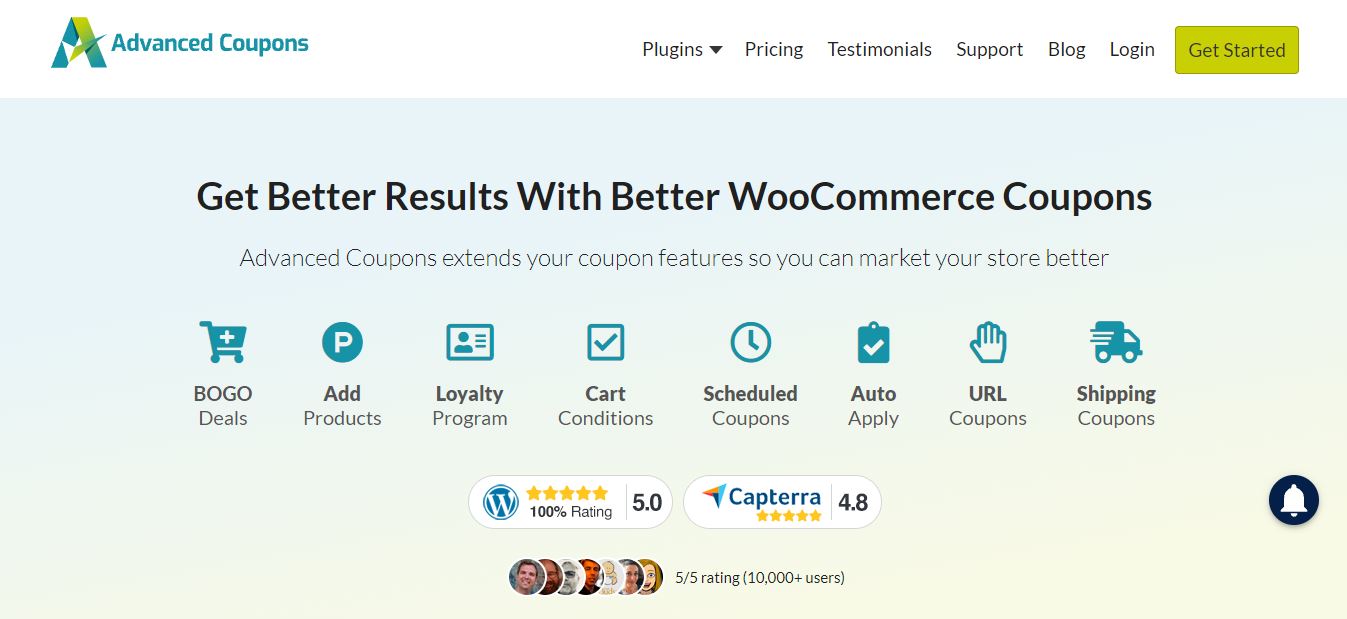 Learn More
Advanced Coupons is the best WooCommerce WordPress Coupon Code plugin you should go with. Instead of using the standard coupons in WooCommerce, you can try Advanced Coupons with intensive features such as buy X get X (BOGO) promotions, auto-apply your coupons without typing any code, or reward your customers with loyalty points to use next time.
Moreover, users can get your coupons via a URL/slug. To let them know and use it, you just share your coupon URL on social networking or email campaigns. Scheduled coupon feature is another bonus point to set up your coupon promotion time, and even send a notification message to customers too.
Plus, setting coupon cart conditions can check the products in the cart if they meet your rules to get the discount. Apart from free delivery offer, you can make shipping deals based on the shipping method with a coupon.
Overall, Advanced Coupons offers a set of dozens of features that won't disappoint you. So let's purchase now. It costs only $59/ year for a growth plan with a single site license. If you have multi-WooCommerce stores, you can try a business plan which costs $99/ year.
Lastly, the all-in-one bundle plan costs $119/ year but you get the unlimited license with both their WooCommers plugins and sophisticated features.
YITH WooCommerce Gift Cards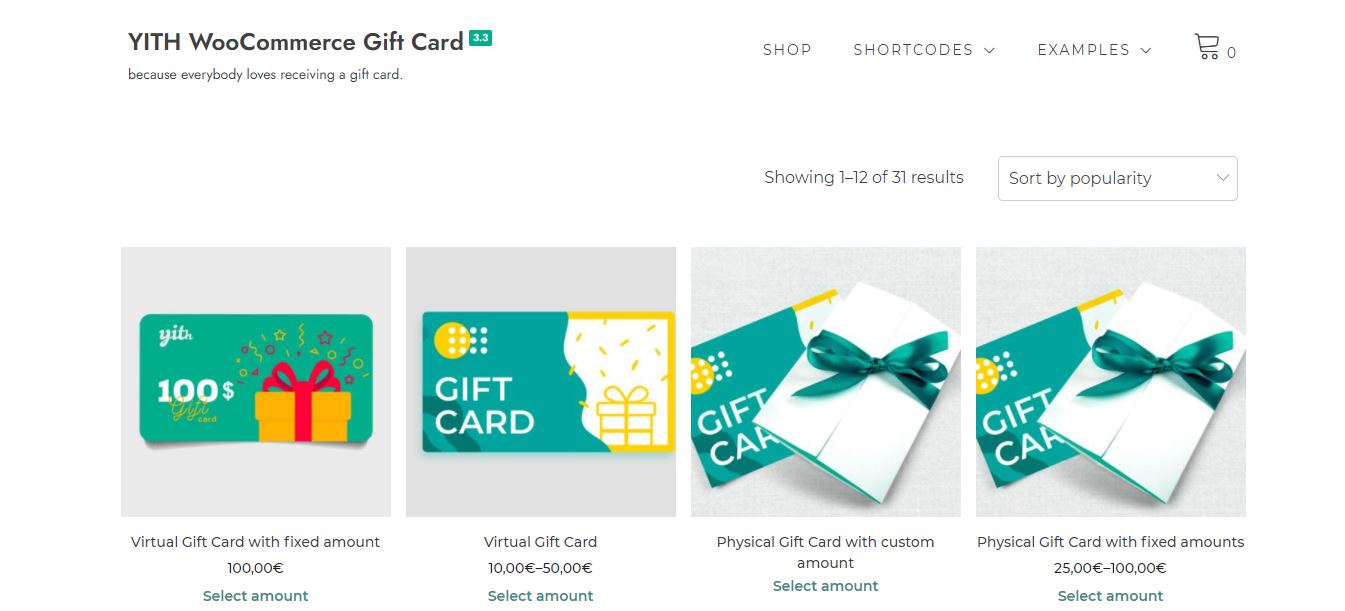 Learn More
Another famous WordPress Promo Codes plugin on the market now we should mention here is YITH WooCommerce Gift Cards.
It has both free and premium versions for you to try. It lets you create as many physical gift cards or virtual cards as you want and configure them easily.
Also, there is an option to enter the discount amount you want for each card right on the dashboard. Even if you want to sell virtual gift cards, it's possible too. Furthermore, your customers are the ones to enter their recipient's data and send it to them via email.
Surely, they will be surprised and happy with the discount vouchers. Plus, your customers can choose various pre-made gift card layouts according to their taste. Besides, this WordPress Coupon Code plugin is integrated with WPML.
This WordPress coupon code plugin helps you translate the gift cards to any language and support international customers. If you go with the premium offer of this Coupon WordPress plugin, you'll get powerful features it helps you to grow sales and conversions too.
For example, your customers can use QR code in your gift cards, or you can set up the gift cards' expiration date, or customize it right on the backend.
ELEX WooCommerce Abandoned Cart Recovery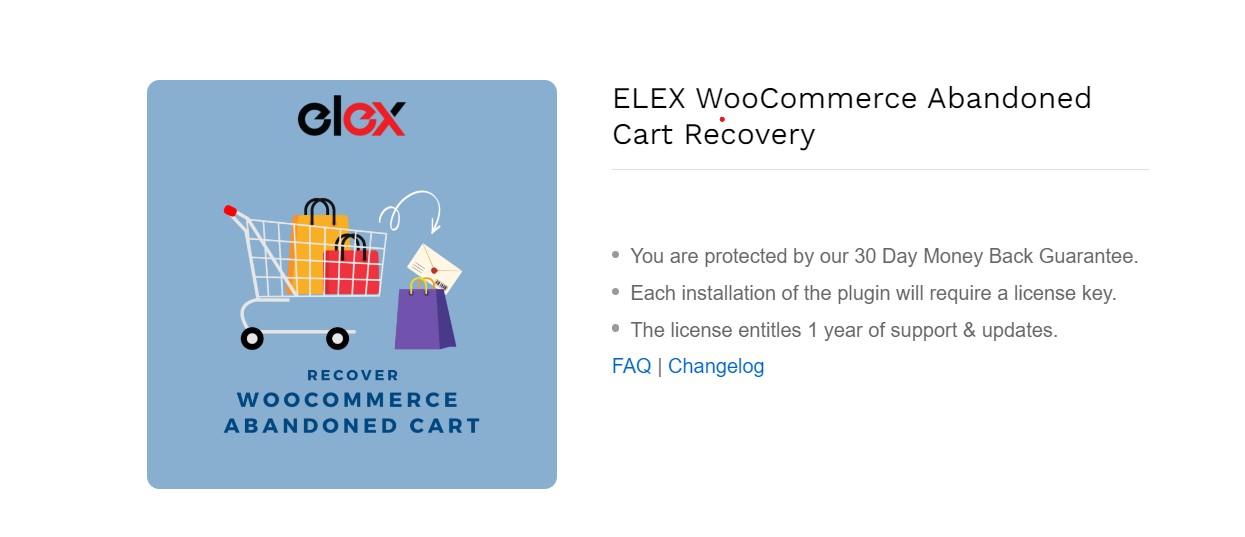 Learn More
With online shops, abandoned cart shopping has become very popular these days. You can find many reasons for abandonment, however, you can turn it into a sale if you handle it well enough.
Have you ever thought of how to remind the customers about their incomplete orders, to give them the ability to get back where they left off, or offer them some good personal discounts when coming back?
With that in mind, ELEX WooCommerce Abandoned Cart plugin is born to help users store and recover abandoned carts. Also, shop owners can set up follow-up emails and create coupons for coming-back customers to get more sales.
What is more attractive than a piece of coupon code for the cart you may be considering? On the other hand, having too many following-up emails may disturb your customers. Therefore, you can set a general timer for a clear time period.
Afterward, the cart will be moved to"Abandoned" and removed from the system alongside its information, stopping email spam. You will also have the ability to edit and configure your email services: mass sending recovery emails, viewing details of the abandoned carts, new email templates, and more.
The cost is $79 for a single site, $119 for 5 sites, and $199 for 10 sites.
Discount Rules for WooCommerce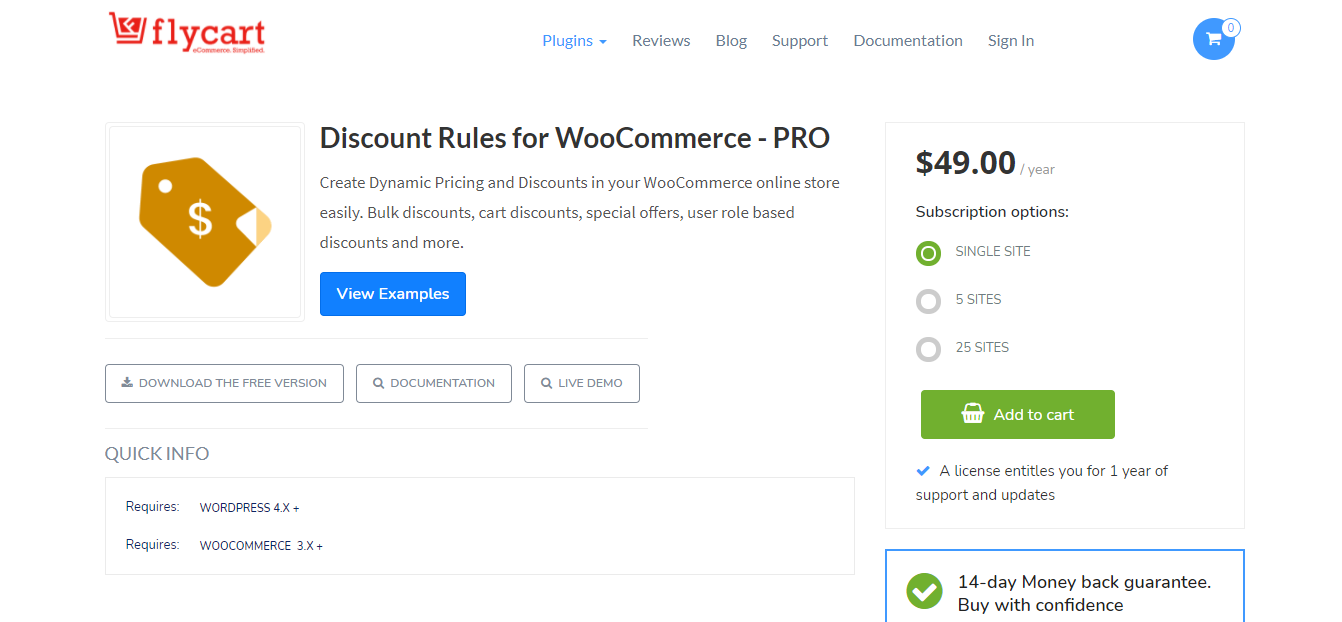 Learn More
With over 70,000 active installs on WordPress.org, no wonder Discount Rules for WooCommerce is a famous and powerful WordPress Coupon Code tool at this moment.
It allows you to make any kind of discounts you want, like percentage discounts or product-based discounts, or total order-based discounts, or date-based discounts. Also, your visitors can see all the discounted items on the product pages too.
In particular, the pro version provides exciting features like BOGO deals, bundle/ package deal, attribute specific discount, specific domain discount, and so much more. If you don't want to display the discounted price, you can hide it as well.
The plugin especially offers well-written documentation and dedicated support to help you anytime you need. So if you like to purchase this pro plugin, you can go with a single site plan which costs $49/ year. The 5 sites plan which costs $79/ year and the 25 sites plan which costs $129/ year.
Final thoughts
Overall, all WordPress Coupon Code plugins from this list are the best compared to others. With a small business and tight budget, it's perfect to use the free basic promo code version and upgrade later when you need more intensive features. Surely, you can get more sales and build more customer loyalty via appealing promotions and vouchers.
Read More: Make Your Store Convert with 10 Best WooCommerce Plugins
---
Contact us, ThimPress:
Website: https://thimpress.com/
Fanpage: https://www.facebook.com/ThimPress
Youtube: https://www.youtube.com/c/ThimPressDesign
Twitter: https://twitter.com/thimpress