Are you looking for a Cheap WordPress Hosting service for your website?
In recent years, this field has developed very quickly since the need for making websites increased significantly. As people seek out the popular CMS and lots of hosting providers clamor for their work, it might be hard to dive in. however, there are still lots of hope and resources for people to develop their careers online. Until now, lots of WordPress users have made it possible – working and building their brands with the no-cost and powerful control management system (CMS). Of course, anyone can take advantage of WordPress – from newcomers to experienced designers or even web builders. Furthermore, you must have a hosting plan to give your site a platform to maintain and develop. The good news is that you will have lots of options for your hosting plan but the bad news is that you may feel difficult to pick the one.
Fortunately, we shall take you a walkthrough of the best WordPress hosting plans that are very affordable.
Types of Cheap WordPress Hosting Plan
With any budget, you can choose between these 3 types of hosting plans:
Shared Hosting Service
If you want to find the Cheapest WordPress Hosting, a shared hosting plan should appear as your first choice. Especially, it will be very suitable for a small club site, a personal journal, or something as same which won't take up much traffic and traction in the server.
First, the hosting provider will separate customers on a particular server. Then, users will share the resources of the server. Sound easy, right? Well, it might look that easy, but it has many disadvantages.
Advantages
It is very cheap. Usually, this service will only cost around one coffee cup per day.
It is very great for beginners since everything is automatic, systematic, and well-documented.
The hosting provider will work on the server-level security and optimization. Besides, the provider can simply move a site to a more suitable hosting plan if that site's over-developed.
Disadvantages
Sharing resources is not good for your site's performance. Especially, it will become a big harm to your e-commercial or online store.
The shared server does not optimize for specific WordPress sites.
All of a sudden, your site receives millions of visitors in a moment and it will affect the user experience of users. Besides, the host will make it offline to move your site to another hosting plan.
VPS Hosting Service
Virtual Private Server (VPS) hosting plan works pretty much as same as the shared hosting service. However, the hosting provider will separate dedicated resources for users. In another way, no one can touch yours. Indeed, VPS stands as one Cheap Hosting for WordPress.
Advantages
It costs you less than a dedicated server does but you still have the whole machine for your use. Further, you can receive nearly as same as you have a dedicated server.
Your site performance will overshadow the shared hosting plan efficiency.
You can also provide quick additions if you need more memory, space, or anything else.
Disadvantages
The price is quite expensive compared to the shared hosting plan. However, if your work depends on a well-developing website, you should invest in VPS.
You have to spend more time on administrative tasks. On the other side, you should know something about configuring the server.
Dedicated Hosting Service
If you run your site on a dedicated WordPress server, you will find that it will overpass far away compared to running on the shared or VPS hosting. Of course, you will have to spend money on that and. However, you should take it up if you have a large-traffic website (about over 100.000 per month).
In this pack, you will receive 24/7 support, SSDs, and other related stuff.
Advantages
Experts and hosting providers will optimize the server for you.
It will offer you additional features for better use.
Disadvantages
Hence, the price is not cheap, especially for low-traffic websites.
Users have limited in the plugins they can install.
Best Cheap WordPress Hosting List
Bluehost.com
Bluehost stays the Cheapest Hosting for WordPress. Powering 2+ million websites on the Internet, it has proven its strength and possibilities.
Integrating the MOJO Marketplace feature into all of our accounts, we allow users to install and run the resources instantly. Of course, you just need to click and we will do the rest for you. Besides, we will help you a lot at the beginning. You will receive a $150-worth tool package for free. Certainly, it contains advertising offers from Google, Microsoft, Yahoo, and other top websites. On the other hand, you can always get our support 24/7. Our kind and experienced support board will help you deal with your questions and obstacles. If you do not feel satisfied with our product, you can refund our web hosting within 30 days.
There are 3 packs for you to pick up: shared hosting, VPS hosting, and dedicated hosting. In Bluehost, a lot of users prefer shared hosting since it's affordable but quite efficient. People love WordPress Hosting Cheap but also must be good. If so, Bluehost's shared hosting service will come up as the most favorable choice for people. Then, you can build and maintain your website stably. Besides, Bluehost usually comes up with a free domain coupon, so don't miss it!
A2hosting.com
Besides Bluehost, A2hosting also stands as one of the most popular Cheap Hosting WordPress services in the market. Recently, they have just updated their system so that their users can make sure about "3S": Secure (get protected from external harmful threats), Simple (very less manual work), and Stable (100% uptime engagement & support).
To build a website, you should find yourself a good platform and develop it. Particularly, you won't go far if you get yourself alone on this way. To get far in this field, you should take up WordPress hosting and A2hosting will be a great option. Besides the cheap ones, we also provide premium packs and services. Recently, we have delivered up the Turbo pack which will boost your site's speed as fast as a Ferrari. We are making deals around 30% on this type of pack, so make sure you grab one for your site's finest.
Siteground.com
About siteground.com, it has a slogan "Powerful, yet Simple to Use". Their hosting services are as well as their slogan, and it's even recommended by WordPress, WooCommerce, and Yoast SEO. Therefore, you can trust and rely on this hosting service. In Siteground, you will find yourself 3 main hosting packs with different features and deals.
First, the StartUp plan is the cheapest plan for any user. To be more specific, you should get this pack if you have just started your online business or just intended to have a low-traffic website. It will offer you unmetered traffic, free WordPress Migrator, WordPress Installation, SSL, CDN, free email, endless database, fully renewable energy match, and other features. Next, GrowBig plan stays as the most popular hosting pack. Besides the same features as the plan StartUp, this plan offers 30% quicker PHP staging, 20 GB website space, and on-demand backup copies. Furthermore, you can get the pack GoGeek – the most expensive ordinary hosting plan. Additionally, this pack owns 40 GB of website space, best resource offers, and focusing support. Of course, you will have a 30-day refund if you are not satisfied with the product.
Hostwinds.com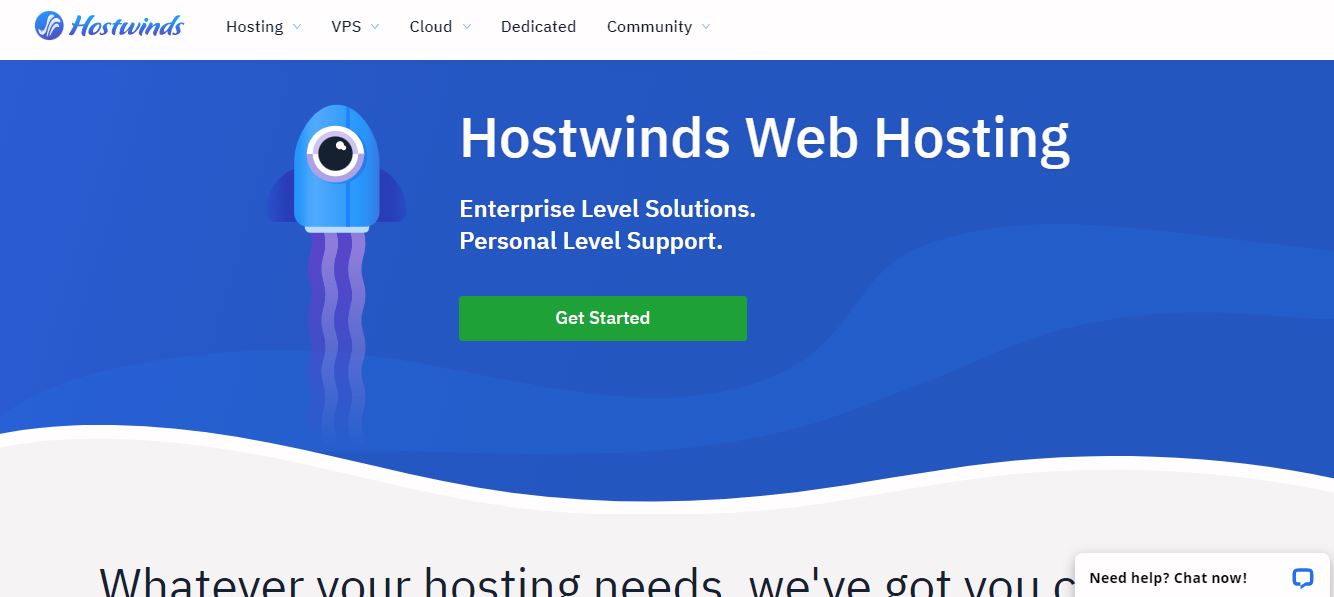 Whatever you need, hostwinds.com will offer it to you. Besides the ordinary 3 hosting plan, this site also offers a cloud hosting plan. Particularly, Hostwinds provides hosting services including servers, databases, infrastructures, and more. About almost all services, they have to depend on third parties to provide services. However, Hostwinds does not follow that. They operate and provide services all by themselves. Still, you will receive assurance and comfort using their plans.
As same as other hosting companies, Hostwinds provides 3 main plans: shared, VPS, and dedicated. In addition, it also has Hostwinds cloud server plans. Normally, it offers 1 Gbps ports, snapshots, solid-state drives, 99.9% uptime, free site transfer, custom ISO, friendliness guarantee, multiple locations, and enterprise firewall. The prices stay at about $0.007 per hour.
Liquidweb.com
To improve your online business, you should get a proper hosting plan. Then, you can go for Liquidweb.com. Liquidweb offers WordPress Cheap Hosting plans as well as premium ones with a great hosting experience and support board. In Liquidweb, they provide these services: dedicated hosting, VPS hosting, cloud dedicated hosting, VMware private cloud, managed WordPress/WooCommerce, magneto cloud, private VPS parent, server clusters, database hosting, and HIPAA. This site does not have the Best Cheap WordPress Host but these plans are worth the money you pay.
To be more specific, LiquidWeb has many features that other services don't have. For example, they will help you select the rightful hosting plan and also migrate your page/site/store/app. Besides, they will preserve your server and update usually. Last but not least, you can always contact our support team if you need any help.
Cheap WordPress Hosting: Conclusion
WordPress is an open platform for anyone to create and develop a website for different purposes. To acquire that, you must have a domain and hosting plan. Besides, you can get help from the enormous community from WordPress with anything you struggle with.
You may think that expensive hosting plans may work better than cheap or free ones. However, SEO rankings are not judged on the cost alone. Those above hosting services are reliable and you can be assured about them.
Read more: What is New in WordPress 5.9 (2022 Updated)