As AI writing tools gain popularity, it's crucial to have a powerful AI Content Detector tool to ensure your content is unique.
A new digital era is happening, using AI writing tools to produce content. There are a number of tools that use AI to create content, like Writesonic, Rytr, Jasper, and some other famous free AI content writer tools. However, there is a hidden drawback: Google can detect content generated by AI, and Google is not fond of it. Hence, Google will surely mark the content as AI-generated if it is entirely produced by AI. So that this will greatly affect the SEO and ranking of the website.
To avoid it happening to your blog or website, we highly recommend reading our article today to explore the most trusted AI content detector tools.
Let's dive in!
How Accurate is An AI Content Detector?
Analyzing the correctness of the top AI content detectors is essential before examining their performance. The sad fact is that no artificial intelligence (AI) content detector is perfect, including the free AI content detector tool and the paid one. My research revealed that the accuracy of the many tools I tried varied between 70% and 96%.
This is mainly because of the excellent natural language processing skills of AI content writer tools. These remarkably efficient AI writing tools are still more advanced than AI content detectors in this comparison.
Top 11 AI Detectors
Originality.ai – AI Content Detector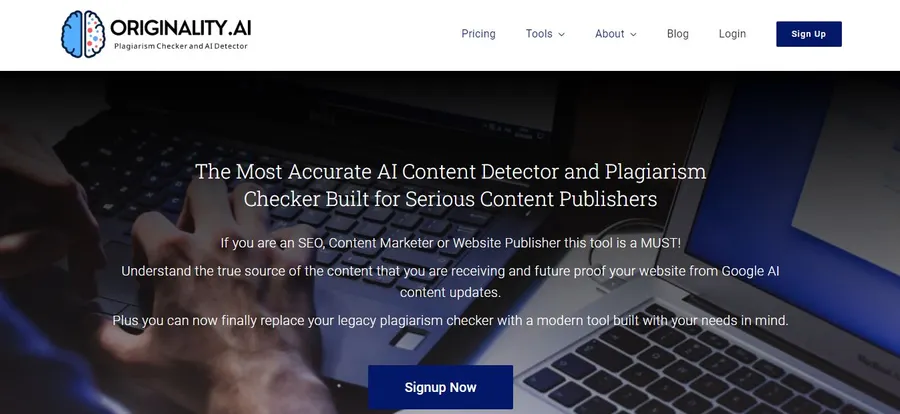 Originality.ai may be the most accurate AI content detector tool for determining if the content is created manually by humans or by AI. The best impressive feature is that it can recognize AI-created content produced by all the popular models, including Chat GPT, GPT-2, GPT-3, Google Bard, GPT-NEO, GPT-J, or even paraphrased with Quillbot. Additionally, according to their website, it can even recognize text produced by the GPT-4 model.
Pros:
It's very accurate — nearly 99% on GPT-4 content, 94.5% on paraphrased content, and 83% on ChatGPT, to be exact.
Multiple NLP models are compatible
Support different team members
APIs and Integrations are accessible.
Budget Friendly
Available in the Chrome extension library to add
Cons:
No trial offer
Full site scan feature in progress
Pricing:
It costs $0.01 per credit, 1 credit can scan 100 words
Winston AI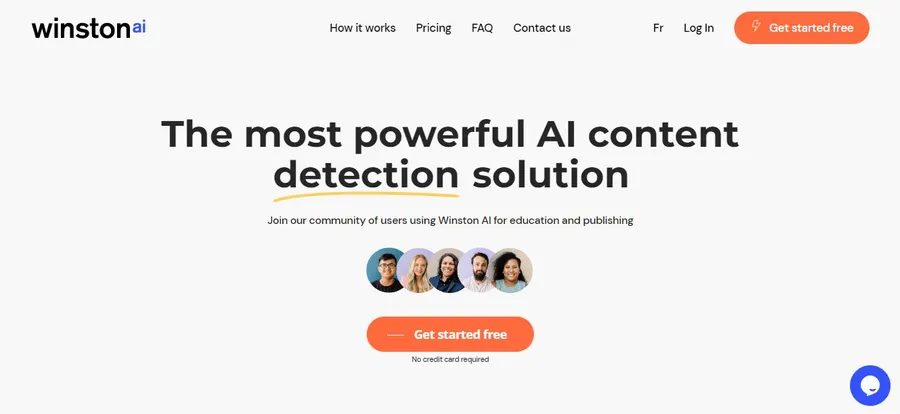 Surely, Winston AI is among the most famous AI content detector tools as is the most used by content creators, schoolwork, and web publishers. It's very simple to do by pasting large text or uploading .docx, .pdf, .png, and .jpg to verify the content. After that, Winston AI provides a human score, detects plagiarism, and gives duplicate sentences found. If you need a content detection report, you have it too.
Pros:
This AI content detector promises 99% accuracy including content created by ChatGPT
Compatible with ChatGPT and even GPT-4
Sentences highlighted that were likely produced by AI
Even novels and very huge documents are scanned
Finding plagiarism using sources
Offer readability score for free
Cons:
The free trial offers only up to 2000 words of the scan.
Pricing:
It costs $12/ month for an essential plan with up to 80,000 words scanned.
GLTR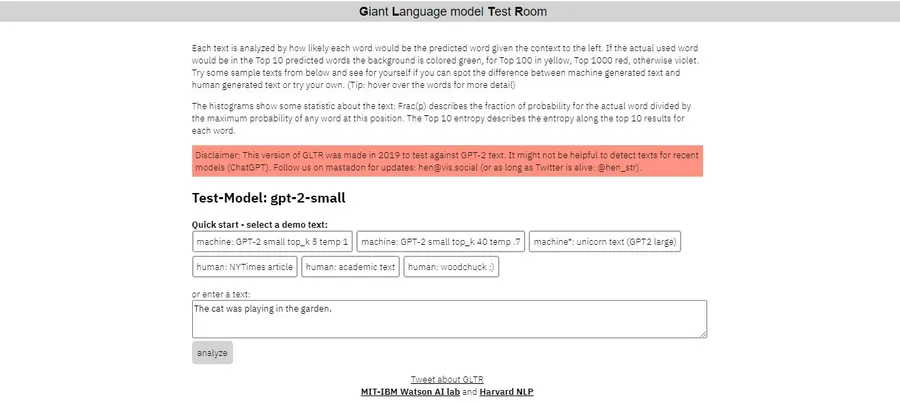 The giant language model test room is abbreviated as GLTR. It is a free AI content detector tool, created by Hendrik Strobelt and Sebastian Gehrmann and evaluated by Alexander Rush. It's a joint project of MIT-IBM Watson AI lab and HarvardNLP. GLTR is the best option for you if you are mainly worried about the possibility of text being generated through the GPT-2 NLP model. Since it is freely accessible to GPT-2, the tool's primary aim is to identify automated text produced by language models.
Pros:
Performs well in detecting GPT-2 created-text
Detects GRE text correctly even difficult words from AI-created
Identify AI content quickly even in scientific abstracts
Cons:
Not easy-to-use dashboard
GPT-2 NLP model AI content detection support only
Pricing:
Writer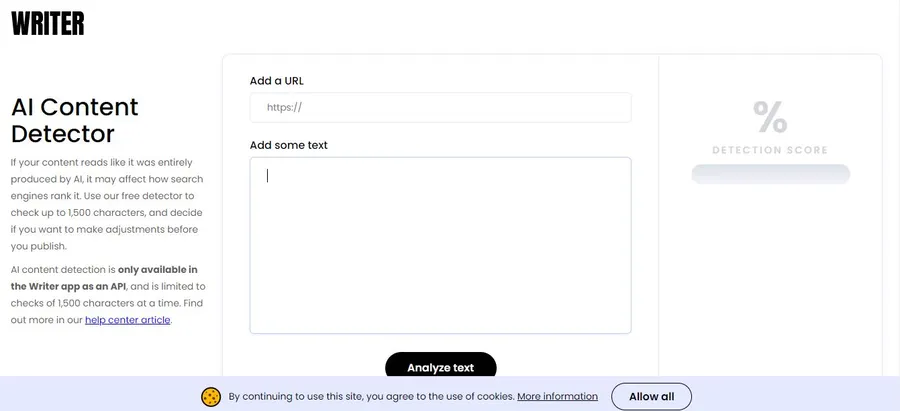 Writer is a perfect AI content writer platform, designed for enterprises and businesses. But it's also great for detecting content to keep it original and unique. You can use it for checking grammar as well. This tool is gained popularity since its simple integrations and accessibility for different third-party platforms, including Chrome, Google Docs, Figma, and more.
Pros:
Very Easy-to-use interface
Provide detection score
1500 characters to use for a free trial
Cons:
For some people, having too many features could be distracting
Need to improve the accuracy
Pricing:
It costs $18/ month for the team plan with AI content detection API up to 500,000 words/month
Crossplag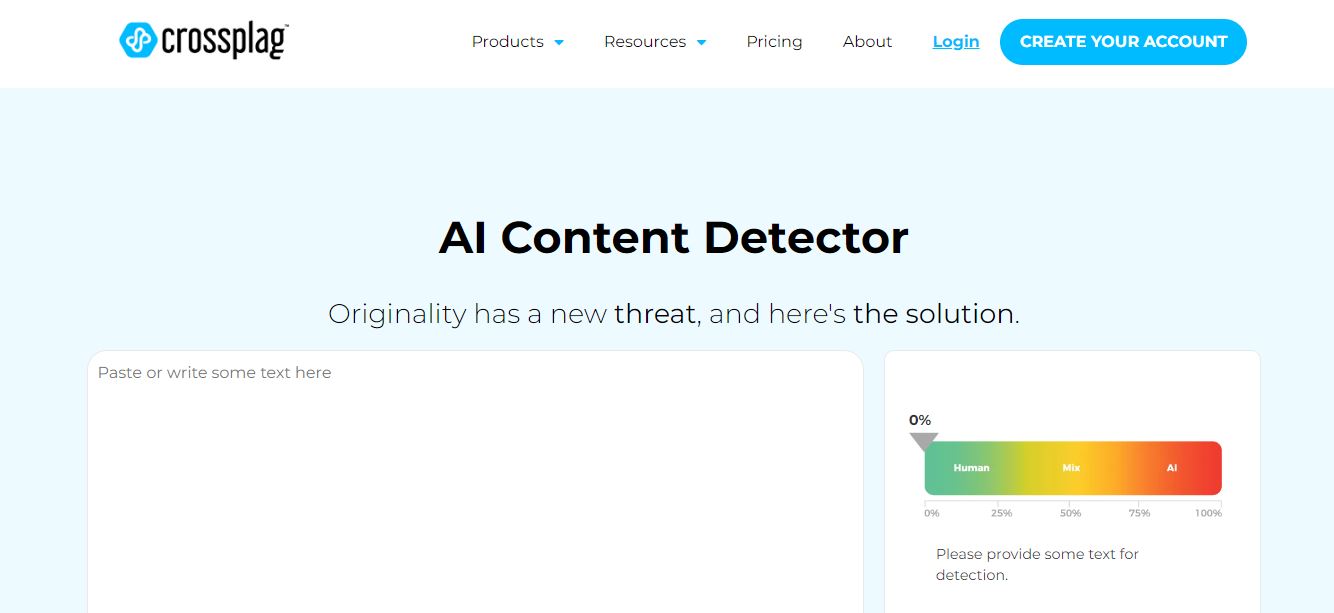 The most recent AI content detector to enter the market is called Crossplay. It's a user-friendly internet tool that can recognize AI-generated text rather accurately. Crossplag uses powerful machine learning techniques and natural language processing to identify text if produced by artificial intelligence. Once you use Crossplay, you'll see the results with different red and green colors. The green sentence means user-generated content. However, the red color sentence means AI-generated content.
Pros:
Simple to use interface
Appropriate accuracy
Utilizing machine learning as well as the NLP method
Support different languages
Offer many use cases (education, individual, business, etc)
Offer offline plagiarism reports and certificates
The free plan is available with 1000 words
Allows using many file formats
A built-in plagiarism checker is used to assess originality
Cons:
Detect GPT 3.5 is around 65%
Pricing:
It costs $9,99 with 5k words for the pay-as-you-go plan (for individuals)
The bundle plan starts at $149,99 with 100k words (for individuals)
Copyleaks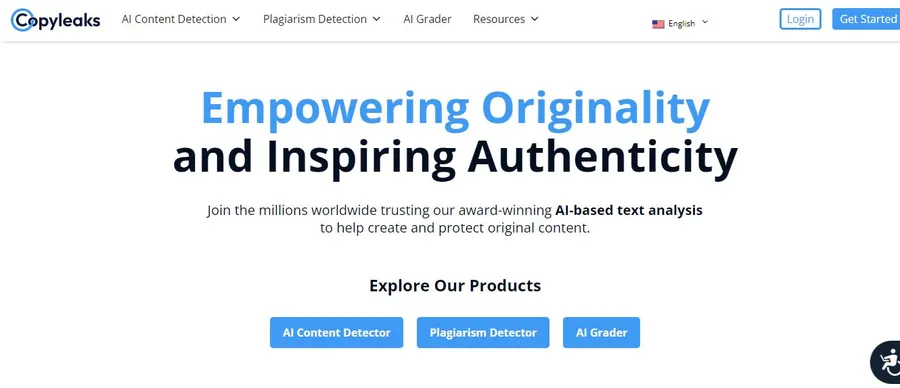 Copyleaks is not only a plagiarism detector and an AI grader but also an AI content detector tool with accurate results. Copyleaks can detect AI-generated using Google Bard, ChatGPT, or the newest GPT-4 model with around 99% accuracy.
Pros:
Easy UI
Functionalities powered by AI
Support different NLP models, including GPT-4
API and LMS integration
Can add it from Chrome Extension
Verifier for source code
Cons:
Lacking scale or score to determine the percentage of AI-created content
Pricing:
The trial plan gives 25 credits to use
Content At Scale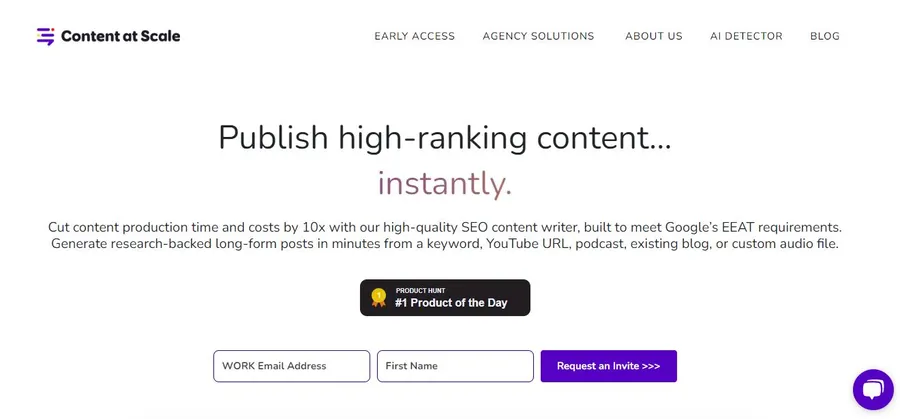 Content At Scale is our next suggestion for the best AI content detector tools. It can analyze your content perfectly, whether it was created by you or an AI. That's why it's used in SEO content, educational content, marketing content, and academic content. Moreover, Content At Scale is easy to use and includes a number of excellent features. This free AI content detector is quite accurate and powerful. It can recognize content that is created by GPT-3.5, GPT-4, or any AI models that employ natural language generation techniques.
Pros:
Support different languages
Available for fee
Use many NLP models to identify AI-generated content
Provide SEO services and tools for content optimization.
Offer the percentage of AI text
Allow using up to 25k characters
Cons:
Not showing which part was written by AI
Pricing:
Sapling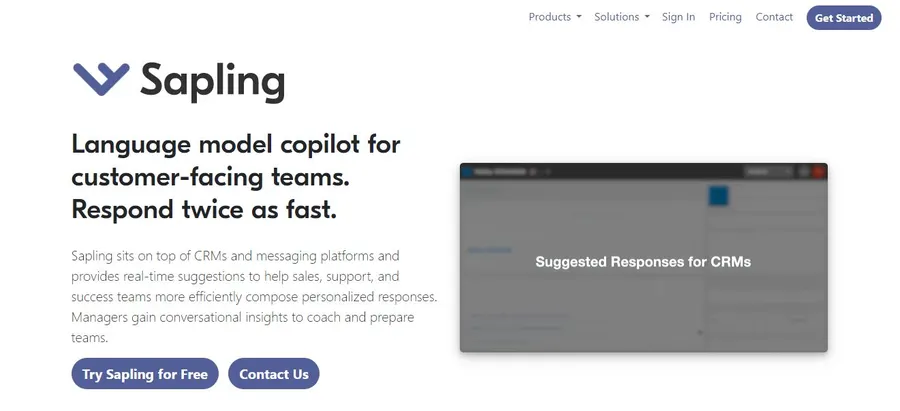 Sapling is known as a CRM and messaging platform to help sales, support, and success teams more efficiently compose personalized responses. But, you can use Sapling to detect content. This is a new feature added recently.
Pros:
Possible to detect content was AI-generated by ChatGPT or GPT-4
Integration with Chrome, Google Docs, Outlook, and Word
Unlimited word detecting
Easy-to-use interface
Cons:
Not provide exactly which sentence was AI written
Pricing:
It costs $25/month for the pro plan
Final Thoughts
In summary, AI content detector tools are now becoming more and more important in the era of AI writing tools. Especially when Google seems to be struggling with AI-generated content. It's true that AI writing tools greatly simplify the writing process; however, the human touch, emotion, ingenuity, and creativity should always be present to ensure Google doesn't mark it as low-quality content. Plus, almost all AI text detector tools are free to use (although with different accuracy levels). It's worth a try to detect your content to make sure it doesn't look like AI-written content.
Read More: Best AI Story Writer Tools – Write Creative Stories in Minutes
---
Contact us, ThimPress:
Website: https://thimpress.com/
Fanpage: https://www.facebook.com/ThimPress
Youtube: https://www.youtube.com/c/ThimPressDesign
Twitter: https://twitter.com/thimpress