Regularly publishing new content may improve your blog's search visibility. Writing new posts, on the other hand, can be difficult, especially if you have a busy schedule as a business owner. So why not use an AI Content Writer to solve your problem?
You can use AI tools to improve, simplify, and speed up your content production. While they allow you to generate more content in a shorter time, they also have some disadvantages that make them less attractive than expert human writers.
In this article, we will define an AI content writer. Then, we'll go over the pros and cons of each tool to help you decide whether AI content software is right for your blog. And at last, we'll share our top picks for the best free AI content writing tools.
Let's get started!
AI Content Writer: What It Is?
An AI content writing tool is a software program that helps you write or create content according to user input. The user just needs to tell the AI writing tool the way they'd like the final content to look, and the program then generates the material based on the user's requirements.
You can use them to make many different kinds of content. You can, for instance, employ them to create content for product descriptions, blog topics, landing page templates, marketing copy, and more.
AI content writers can sometimes outperform human content writers. Sincer AI writing tool cannot give their own personal opinions about how the final content should look, it still needs human input to produce high-quality content.
It can also generate content faster than humans. It's a huge benefit, especially when time is limited. Furthermore, machine-written content is usually focused and error-free. As a result, it can help you create better content in less time.
There are various tools for AI content writing. Each of them has their own set of methodologies. Many AI writing tools, for example, are intended to improve the flow and readability of your posts. Others are intended to write sections or entire posts for you, while others combine tasks.
Advantages & Disadvantages of Using AI Content Writing
Advantages:
The biggest benefit of using an AI content writer tool is the ability to create and publish more content in a shorter time. This is a perfect solution for marketers to speed up their content production process without spending hours researching and writing blog posts.
AI content writers can also help with the growth of your creativity. You can apply them to create things like how to structure a blog post or potential topic ideas, for example. They can also provide suggestions for keywords and word counts, alt text, meta descriptions, and automatic formatting.
Disadvantages:
Higher costs when compared to writing yourself: The AI content writer free tools are, of course, may be limited by features. They are usually best used for editing or revising. Hence, if you want an AI writing tool to create a full article from scratch, you should probably get a premium plan. It costs from $10 to $200 or more per month. It may come at a high price, however, it's less expensive than hiring a full-time or part-time content writer.
A lack of human interaction: Quality options can result in unique and relevant content. However, it's still an AI program writing blog posts. As a result, the content risks being bland and impersonal. However, some AI content writers may allow you to select a preferred tone of voice, such as friendly, professional, authoritative, and so on. But you shouldn't expect the resulting content to have the same emotional appeal and perspective as something written by a real person.
Post accuracy and natural flow: At times, these tools may produce repetitive and illogical content. For example, if you use a tool to create 1000 words for your blog, you might notice that some sections are remarkably similar, with some sentences that are simply reworded variations of each other.
Best Free AI Content Writer Tools in 2023
Rewording Tool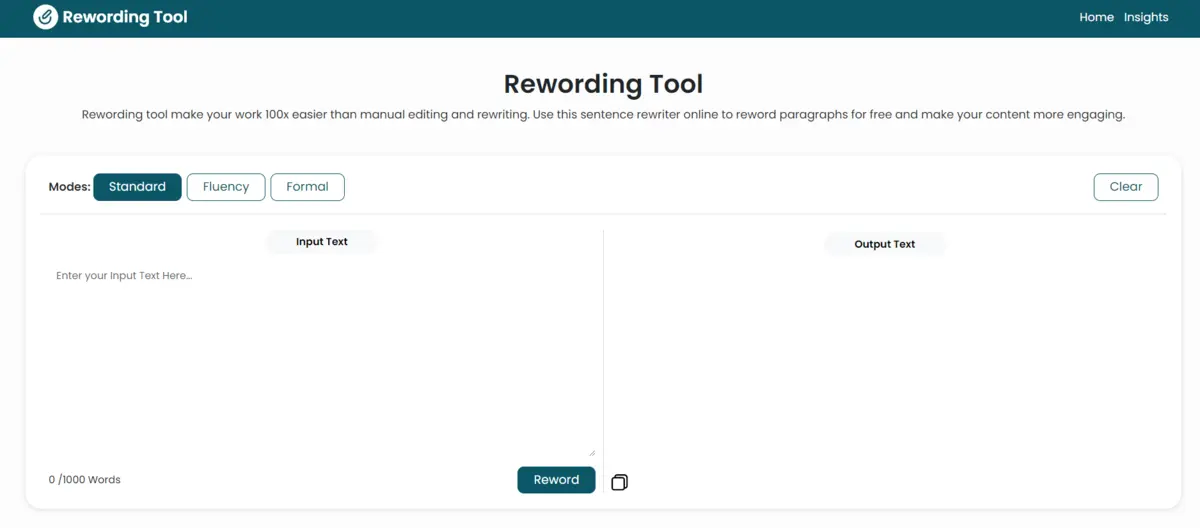 There are many ways that a person can make use of editing and rewriting the text content. Using modern & intelligent AI algorithms plus a variety of functionalities, Rewording Tool offers you the ability to rewrite the text content in a better way.
Accuracy is one of the most important factors when talking about text rewriting and this tool will definitely take care of that. After you enter the data, the system will analyze the meaning of the text so as to engage the best relevant rewriting version. Besides, this AI can detect the text not only via texts entered in the box but you can also upload documentation, text files, or PDFs. On the other hand, there are a lot of other features that await you to discover.
HubSpot – Free AI Content Writer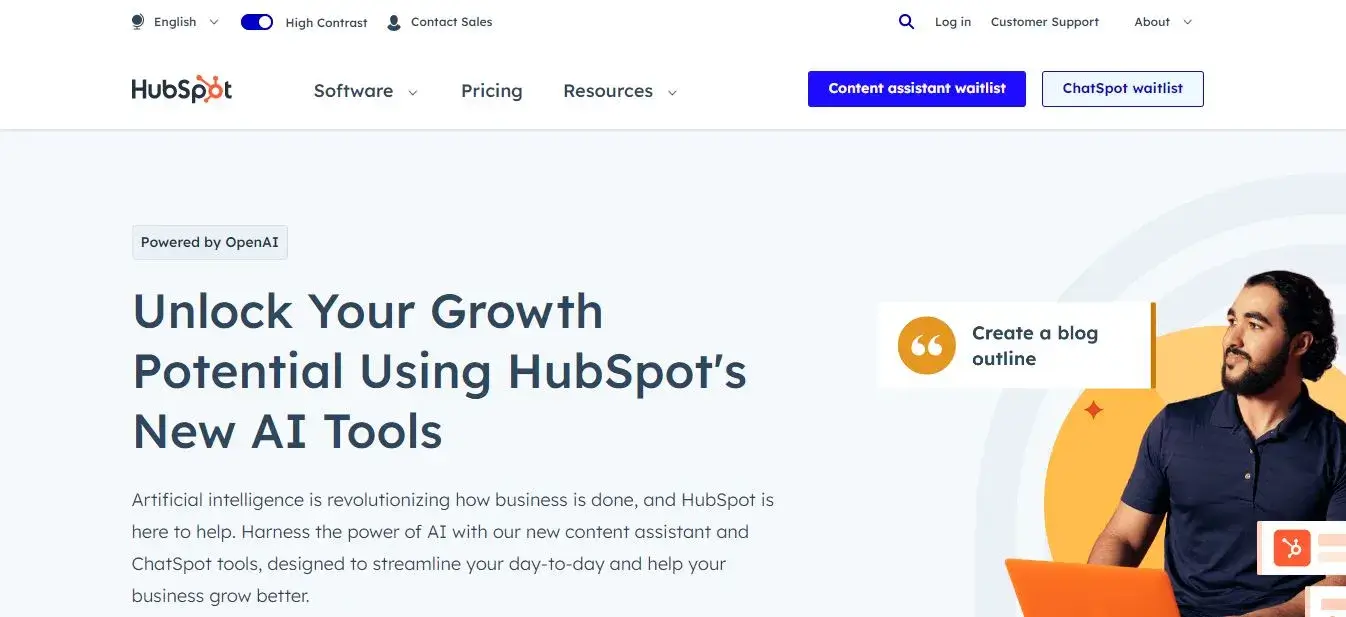 It is extremely difficult to increase a company's content output without adding more resources. Businesses can easily create copies for multiple programs and channels using HubSpot's AI tool.
Give HubSpot's free AI content writer tool information, and it will quickly create a draft for you, such as your upcoming email, lead capture page, article, or blog post. Whether you need to reach out to potential customers, attract more visitors, or share your insights, HubSpot's AI can help you craft engaging and effective content in minutes.
ChatGPT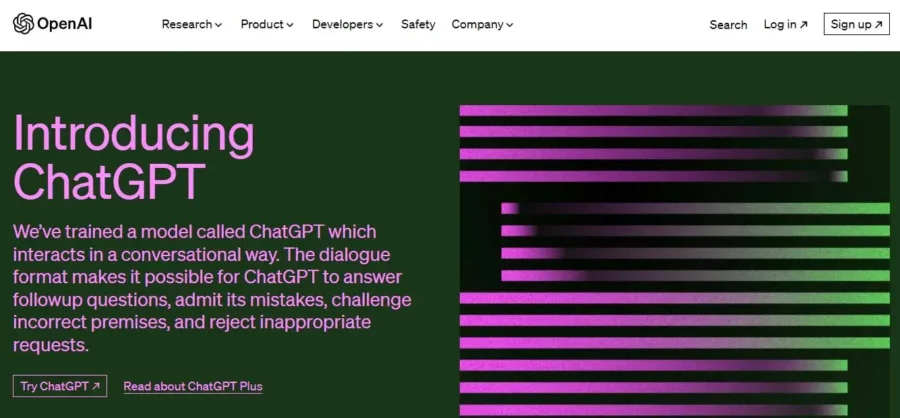 ChatGPT, the most famous software nowadays, is a robust language generation model that can help with many writing tasks. This cutting-edge AI technology employs machine learning algorithms to recognize natural language input and generate human-like responses. ChatGPT's advanced capabilities enable it to perform tasks like conversation generation, translating language, summarizing, and more.
The ChatGPT is currently available for free. ChatGPT Plus is an optional premium version that costs $20/month and has premium features.
Copy AI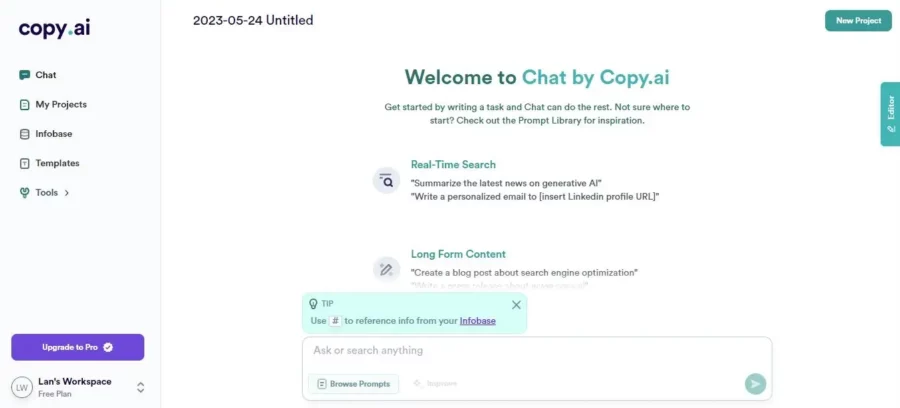 Copy AI is the best AI to write content that can assist you in the creation of everything from posts on Facebook or Twitter to product descriptions. It has a simple user interface and allows you to select pre-made AI writing generator templates.
You can choose what kind of content to create, such as a headline or a blog introduction. Of course, it required a short description of the topic, product, or service with no more than a few sentences long. After that, the AI content writing tool will produce a list of ten choices for you to select from.
CopyAI is available for free with over 90 AI copywriting tools as well as 10 credits.
Anyword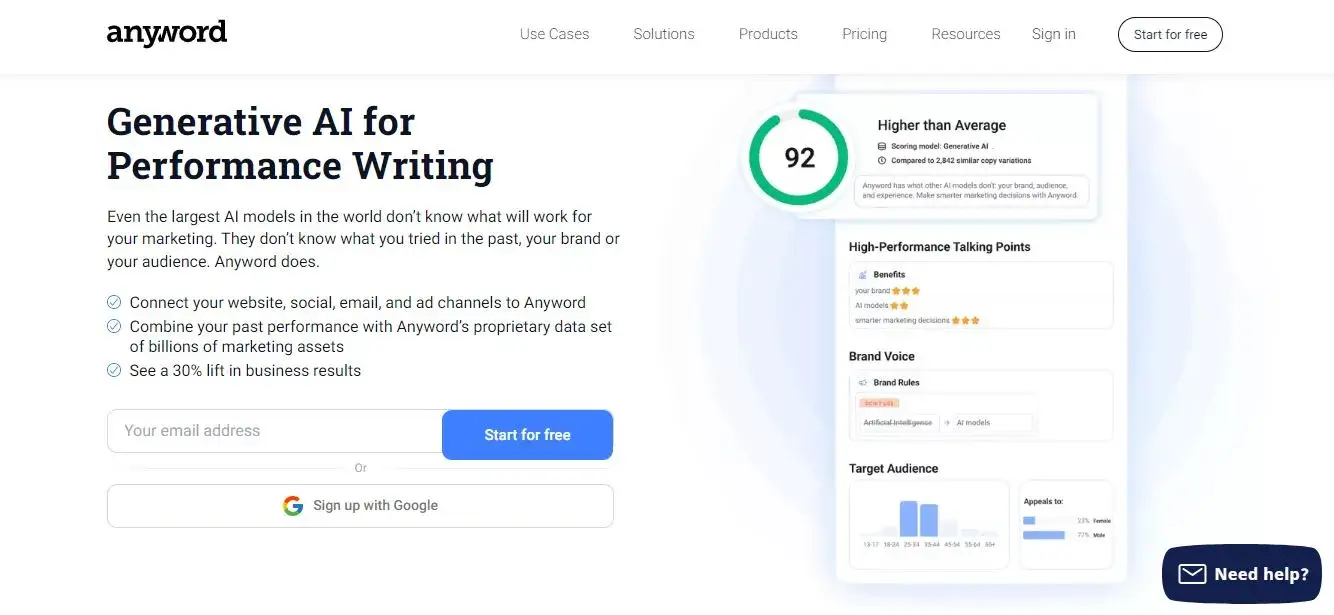 Anyword is an AI content writing and text creator, providing ratings of predictive accuracy. It can create content for your destination pages, marketing copy, blog posts, product listings, and other content using a data-driven approach.
It also comes with several advanced AI content-writing features. Custom Mode, for example, allows you to drive the AI to draft copy in your company's voice. It also provides Continuous Optimization to guarantee that your on-site copy is seen by the right people at the right time.
Anyword is free for up to 1,000 words per month. Otherwise, paid plans range in price from $79 to $999 per month.
Grammarly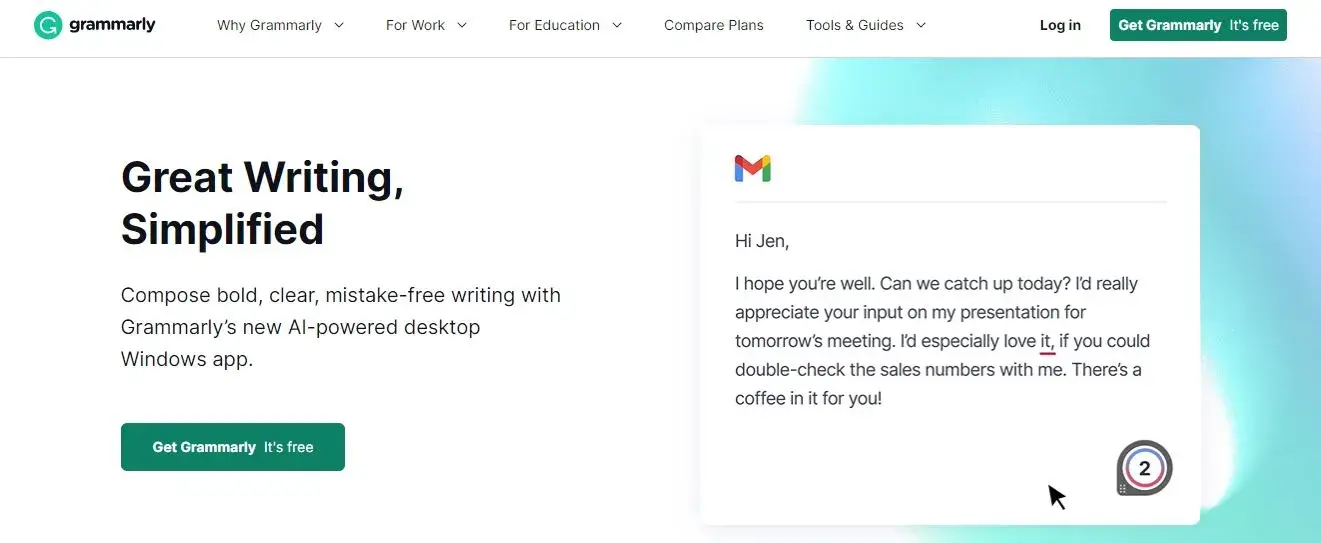 Grammarly is another well-known AI content writing tool that can help you improve your blog posts. Rather than creating full articles, the tool is intended to assist you in making your blogs easier to read. It ensures your content is clear, concise, correct, and more.
One of Grammarly's benefits is that it proofreads your writing as you go. You can use it through the Grammarly app interface or add the browser extension to get its AI proofreader in your Google Docs, emails, WordPress editor, documents, and other applications.
It's free to use. However, it also provides premium plans beginning at $12 per month. Paid plans include additional features, such as a plagiarism checker.
QuillBot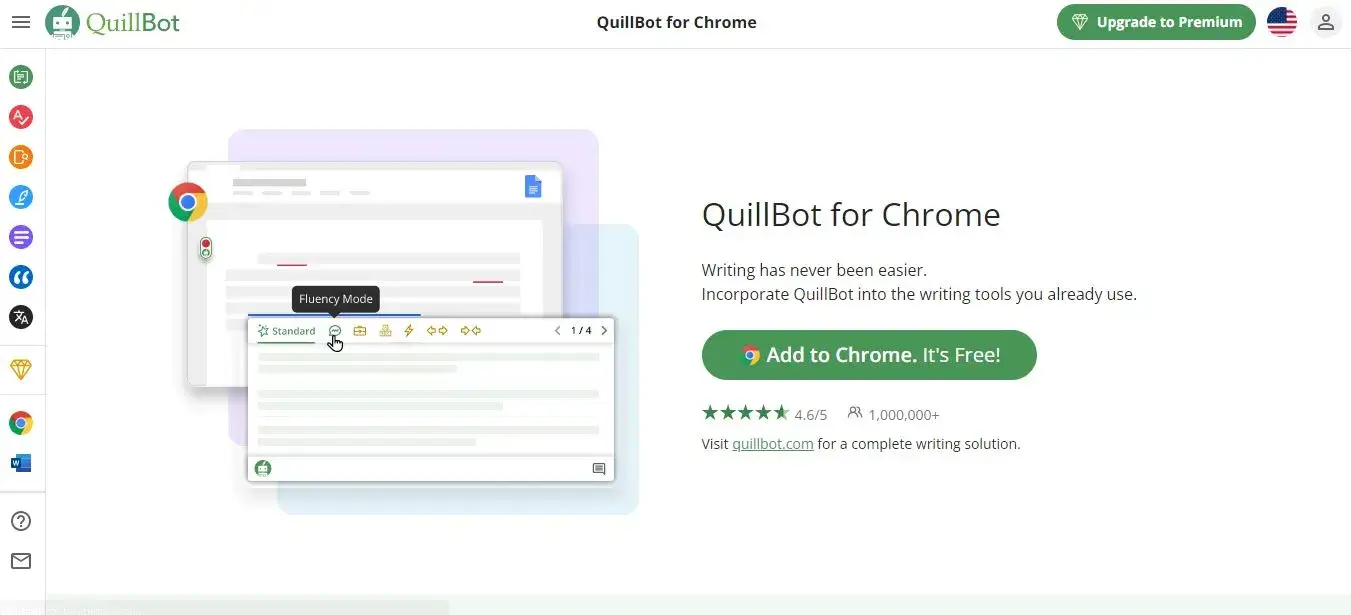 QuillBot is a useful AI content writing tool you should try. It boosts your writing quality and speed. Grammar checking, paraphrasing, summarizing, style suggestions, and a thesaurus are among QuillBot's features. Its main feature is the rephrasing tool, which allows users to rewrite and enhance sentences, paragraphs, or articles using AI-powered.
Writesonic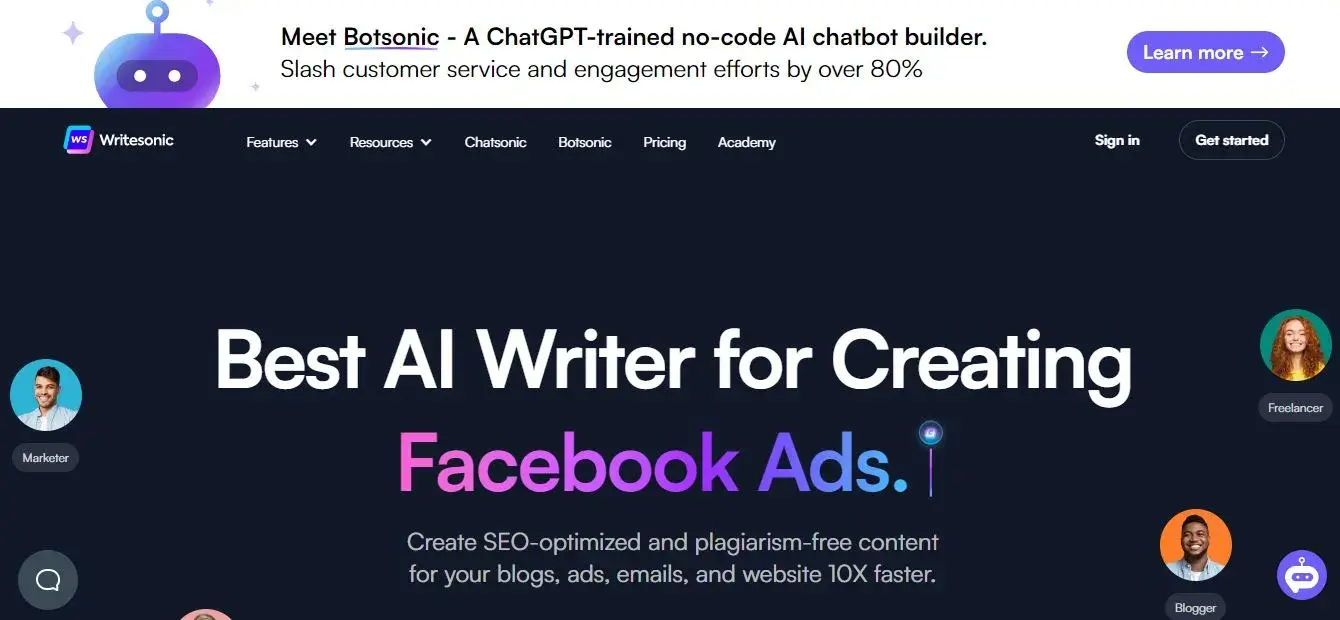 Writesonic is a flexible software that can create more than 40 types of content. Just type a few text lines in any of the 25 languages it supports, and it will craft an organized landing page, social media ad, Google ad, or SEO-friendly blog post. It can also be used to paraphrase previously written content, produce new content ideas, sum up text, and broaden your articles.
You can try this AI content writer free trial first before upgrading to a premium one.
Jasper
Jasper AI is a well-known AI content writer platform. This open-source machine-learning tool is used to make marketing content for your business website. It promises to rank your content well in Google, Facebook ad copy, and more.
You'll find the Boss Mode system feature to generate long posts from simple commands. There are over 50 copywriting premade templates to choose from when using the Jasper AI content writer tool.
Frase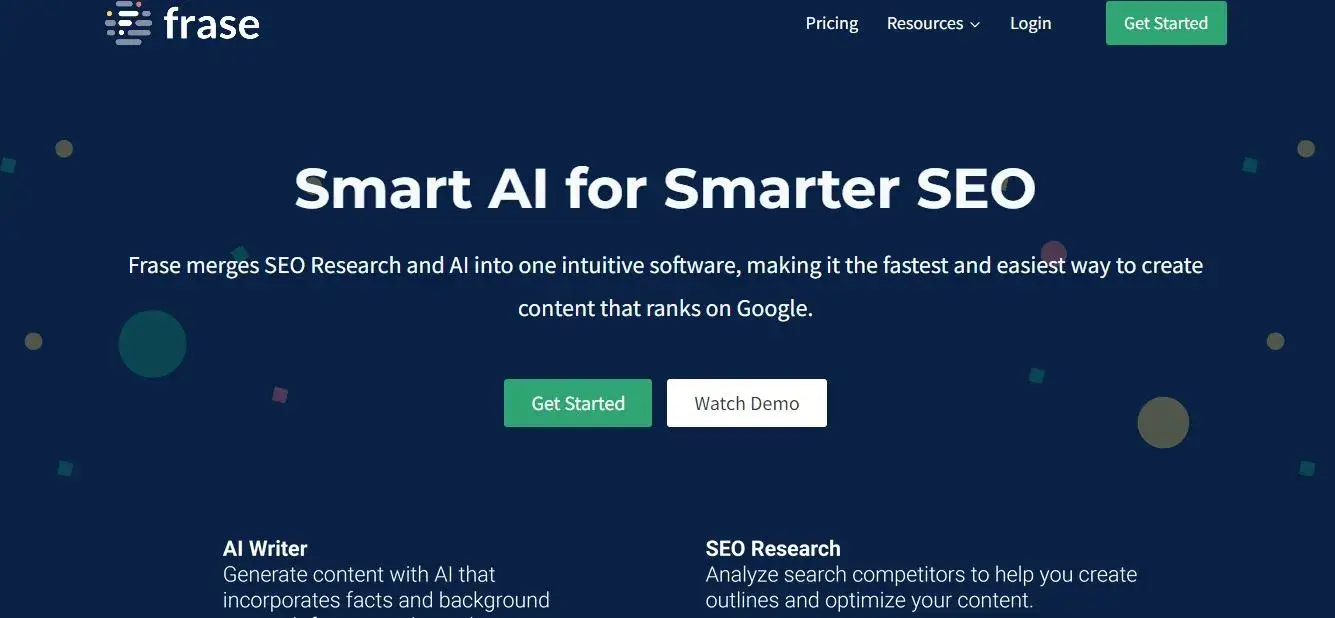 Frase offers a free AI content writer trial if you are interested. It's an SEO-optimized content tool. It creates content briefs and blog articles while also optimizing them for keywords. If you work with a large team, this platform is a perfect place. It includes collaboration features such as the ability to share editable links and create project folders.
Rytr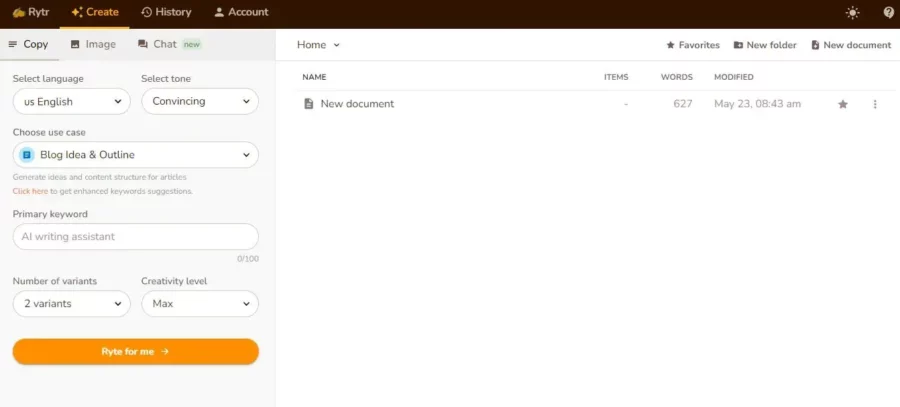 If you want to create content within a minute for free or at a very low price, try Rytr. If you're having trouble writing, this automated copywriting platform is a great little help. Simply select a premade template, provide some text, and then let it do the rest for you.
GetGenie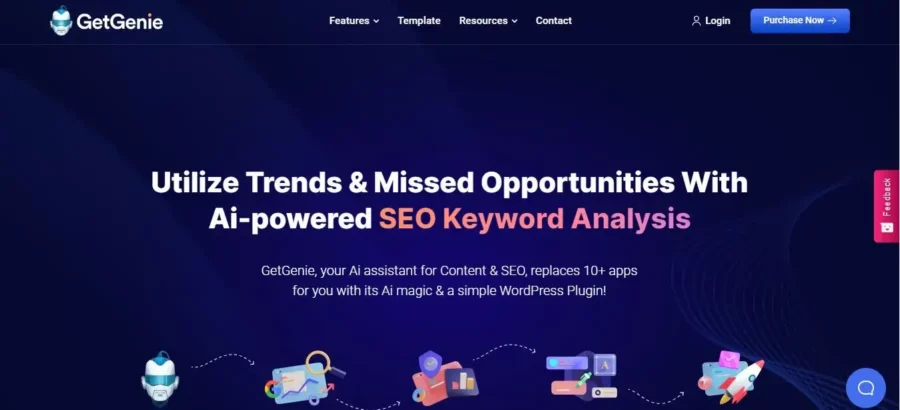 GetGenie is another famous SEO and content AI tool that can replace over 10 apps. It has functions like research and optimization for SEO, analyzing your competitors, and writing winning content with AI. You'll find 35 premade templates to choose from, just click and use them. There is a free trial available.
Read More: 7 AI Email Writer Tools – Best For Marketing and Sales in 2023
---
Contact us, ThimPress:
Website: https://thimpress.com/
Fanpage: https://www.facebook.com/ThimPress
Youtube: https://www.youtube.com/c/ThimPressDesign
Twitter: https://twitter.com/thimpress