In the ever-growing eCommerce world, choosing the right platform for your online store is crucial. Magento, a powerful and popular e-commerce solution, offers a wealth of features to create a seamless online shopping experience.
However, in the digital realm, visibility is king, and that's where SEO comes in. SEO guides potential customers to your online store, boosting your sales.
This blog post will give some of the best Magento SEO tips to elevate your online business. We'll explore essential Magento SEO techniques to catapult your store to the top of search engine rankings.
Join us on this journey as we uncover the secrets behind successful Magento SEO practices. By the end, you'll have the knowledge and tools to not only master Magento but also dominate the online marketplace.
14+ Magento SEO Tips You Should Know
Tip 1: Choose the Right Magento Version for Your Needs and Budget
When embarking on your Magento search engine optimization (SEO) journey, the first crucial step is selecting the most suitable Magento version for your specific needs and budget.
Magento offers two primary options: Magento Open Source and Magento Commerce.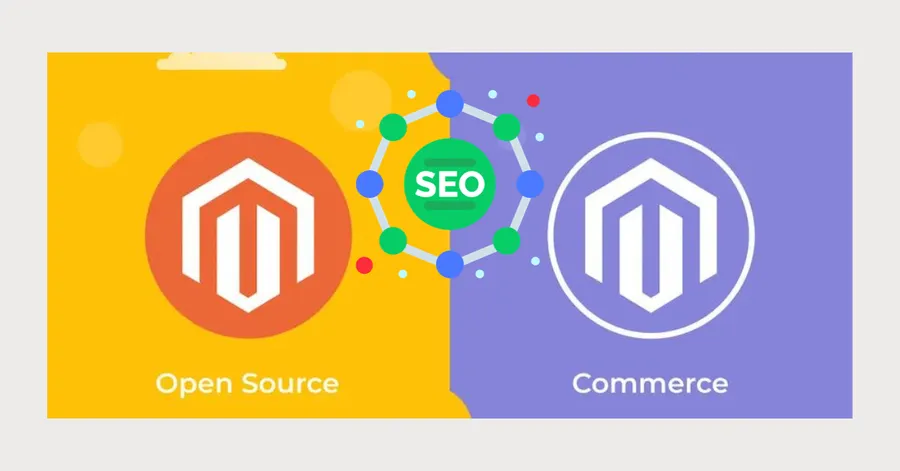 To determine the ideal choice, consider your business size, traffic volume, budget, and technical expertise.
If you're a small or medium-sized business with limited resources, Magento Open Source offers a great starting point.
If you're a larger enterprise with complex requirements and the ability to invest in a premium solution, Magento Commerce provides the necessary scale and support.
Tip 2: Keep Your Magento Version Updated and Secure
Regular updates, along with Magento SEO tips, are vital for your Magento store's performance and security. They address bugs, enhance security, improve performance, and introduce new features.

How to update Magento safely:
Back up your website and database.
Review your theme and extensions for compatibility.
Test your website's functionality after the update.
Keeping Magento current enhances security and paves the way for successful SEO implementation, allowing your business to thrive online.
Tip 3: Create SEO-Friendly URLs for Your Pages and Products
URLs are the digital addresses that guide search engines to your Magento store's content. SEO-friendly URLs are not only user-friendly but also crucial for enhancing your store's search engine visibility.
They provide benefits such as improved readability, enhanced relevance, and effective communication.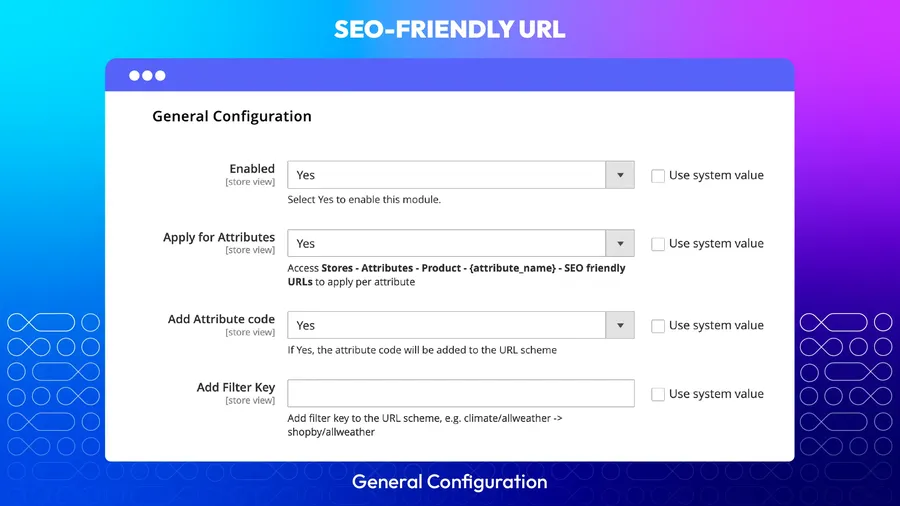 How to create SEO-friendly URLs for Magento 2 SEO:
Enable search-friendly URLs in your Magento store.
Strategically include relevant keywords in your URLs.
Separate words in URLs using hyphens instead of underscores.
Avoid unnecessary parameters that clutter URLs.
Implement canonical tags to specify the primary version of a page.
Tip 4: Write Unique and Compelling Product Titles and Descriptions
Product titles and descriptions are not just about selling products; they are also about attracting customers and driving traffic to your Magento store.
Search engines use product titles and descriptions to understand the content of your pages, so it's essential to write them in a way that is both informative and SEO-friendly.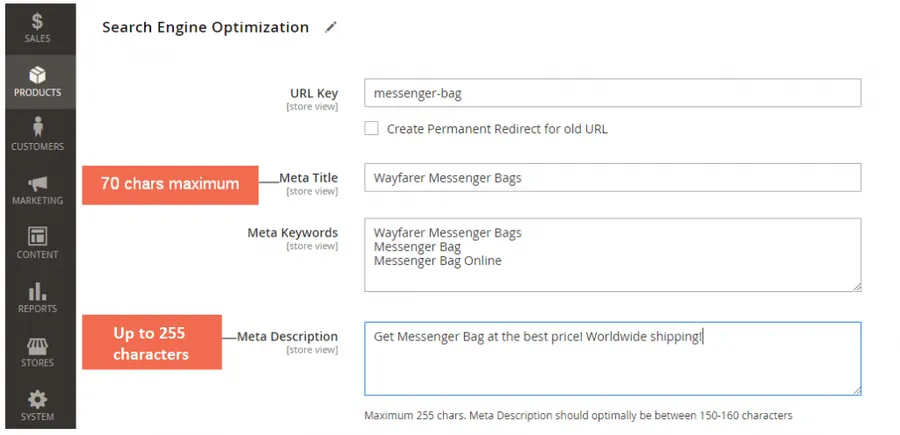 How to write unique and compelling product titles:
Use relevant keywords: Include relevant keywords in your product titles to help search engines find your products.
Use modifiers: Use modifiers to make your product titles more descriptive and engaging.
Keep them under the recommended length: Aim for product titles that are no more than 70 characters long.
How to write SEO product descriptions:
Write unique descriptions for each product: Don't just copy and paste descriptions from the manufacturer's website.
Use strong verbs: Use strong verbs to make your product descriptions more engaging.
Use emotional triggers: Use emotional triggers to appeal to your customers' desires and needs.
Tip 5: Optimize Your Product Images for SEO and User Experience
Product images are one of the most important factors in converting website visitors into customers.
High-quality and relevant images can help you attract more attention to your products and make them more appealing to potential buyers. So you should take note of it in the best Magento SEO tips.
How to optimize your product images for SEO:
Use high-quality images: Use high-quality images that are well-lit and clear.
Use descriptive filenames and alt tags: Use descriptive filenames and alt tags to help search engines understand the content of your images.
Compress and resize your images: Compress and resize your images to reduce their file size and improve loading times.
Use responsive images: Use responsive images to ensure that your images look their best on all devices.
Tip 6: Add Rich Snippets to Your Pages and Products
Rich snippets are a type of structured data markup that can be added to your web pages to provide search engines with more information about your content.
This information can then be used to display rich results in search engine results pages (SERPs), which can help your pages stand out from the competition.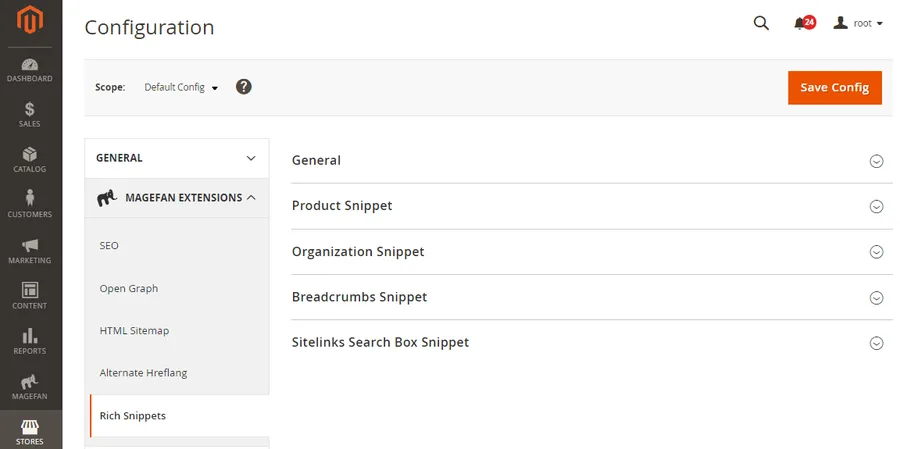 How to add rich snippets to your pages and products:
Use schema.org markup: Schema.org is a vocabulary of tags that can be used to markup your content for search engines.
Use JSON-LD format: JSON-LD is a format for embedding structured data in your web pages.
Use Google's Structured Data Testing Tool and Rich Results Test: Google's Structured Data Testing Tool and Rich Results Test can help you test your rich snippets to ensure they are working properly.
Tip 7: Enhance Site Speed And Performance
Site speed and performance are crucial for Magento SEO, affecting the user experience and search engine rankings. Slow-loading websites have higher bounce rates and lower conversion rates, negatively impacting SEO performance. Search engines also consider site speed as a ranking signal.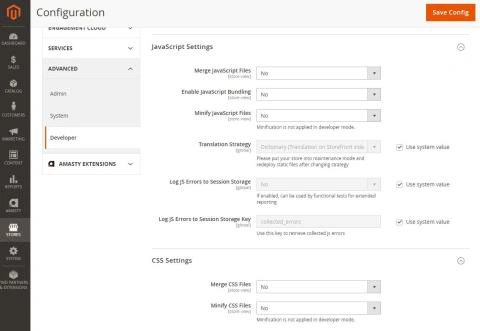 How to improve site speed and performance to optimize Magento SEO:
Choose a fast and reliable web hosting service.
Enable caching and compression.
Minify and combine CSS and JavaScript files.
Utilize a content delivery network (CDN).
Tip 8: Make Your Site Mobile-friendly And Responsive
With the majority of internet traffic now coming from mobile devices, a mobile-friendly and responsive Magento store is essential for SEO success.
How to make your site mobile-friendly and responsive for Magento 2 SEO:
Adopt responsive design principles.
Use a mobile-friendly theme and layout.
Implement simple and intuitive navigation.
Utilize Google's Mobile-Friendly Test tool.
Tip 9: Use Internal Linking To Improve Site Structure And Navigation
Internal linking involves creating hyperlinks between different pages within your Magento store. This practice enhances user navigation and helps search engines understand your site's structure. It's one of the best Magento SEO tips you should consider.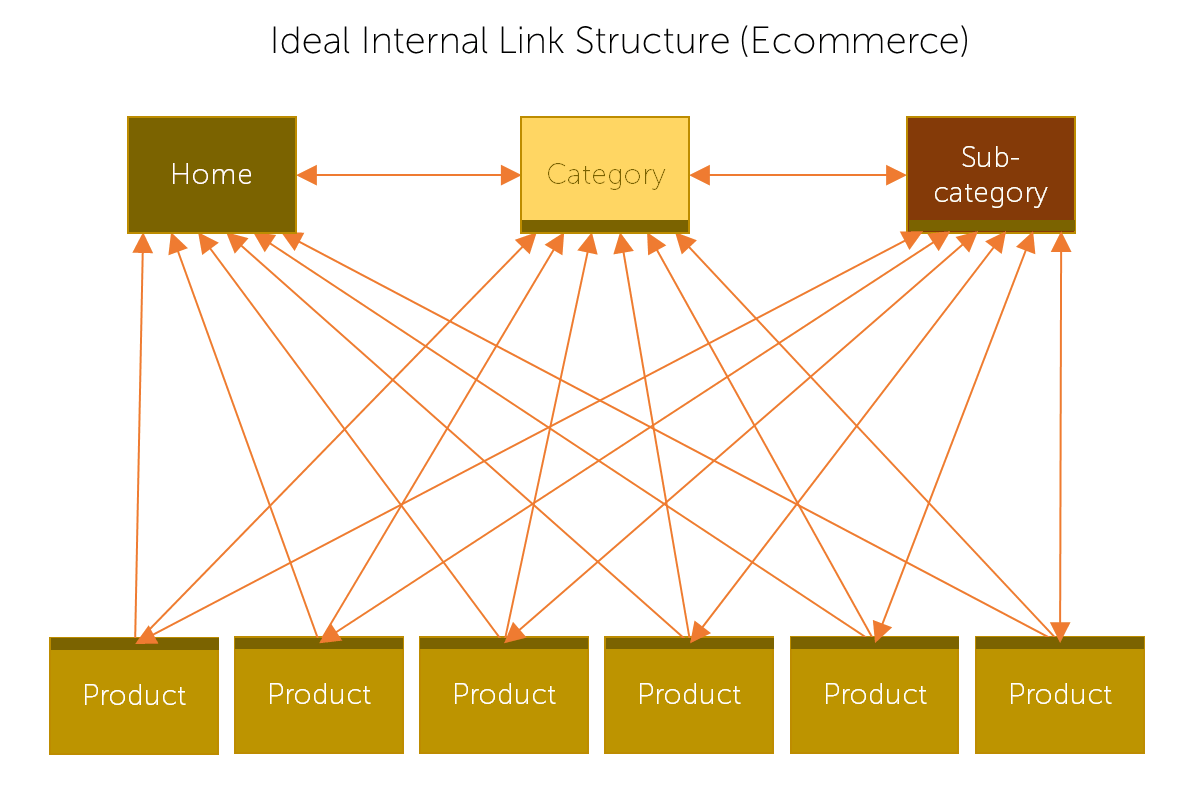 How to use internal linking effectively:
Employ relevant and descriptive anchor text.
Link to your most important and popular pages.
Link to related products and categories.
Maintain balance in internal linking.
Tip 10: Optimize Your Site For Local Search And Customers
If your Magento store has a physical location or caters to a specific geographic area, local SEO is crucial for attracting nearby customers and improving search engine rankings in your target region.
How to optimize your site for local search and customers:
Include your NAP (Name, Address, Phone number) prominently.
Claim and optimize your Google My Business listing.
Incorporate local keywords and modifiers.
Encourage and gather customer reviews.
Utilize local schema markup.
Tip 11: Optimize Your Site For Voice Search And Queries
Voice search is rapidly gaining traction, and optimizing your Magento store for voice-based interactions is crucial for SEO success.
How to optimize your site for voice search and queries:
Use natural language that mimics how people speak.
Incorporate long-tail keywords and conversational phrases.
Anticipate and answer common questions related to your products or services.
Tip 12: Monitor And Analyze Your SEO Results and Performance
SEO is an ongoing process, and continuous monitoring and analysis are essential for maintaining and improving your search engine rankings.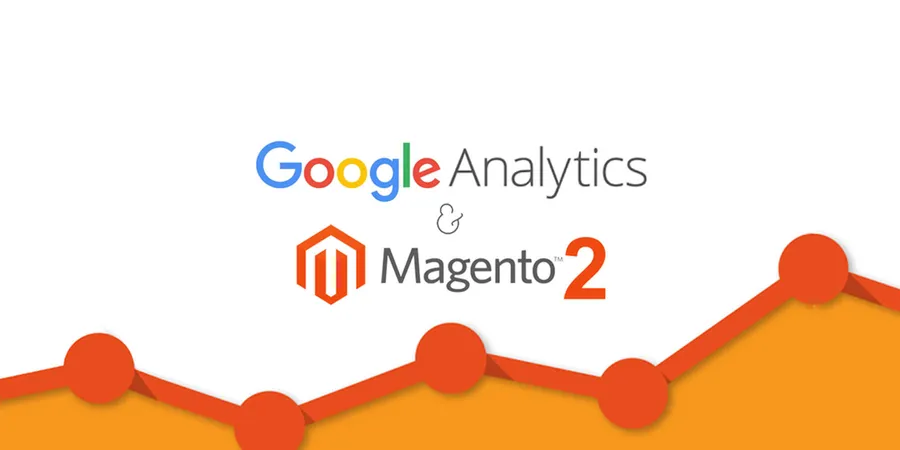 How to monitor and analyze your SEO results and performance:
Utilize analytics tools like Google Analytics to track website traffic, keyword rankings, and other relevant metrics.
Regularly review your SEO performance reports to identify areas for improvement.
Stay updated with the latest SEO trends and best practices.
Tip 13: Enhance your SEO efforts with Magento SEO extensions
The Magento SEO extension provides additional tools and features to streamline your SEO optimization process.
Examples of popular Magento 2 SEO extensions:
Tip 14: Utilize A Magento SEO Checklist To Track Progress And Tasks
A Magento SEO checklist serves as a valuable resource for organizing and managing your SEO tasks.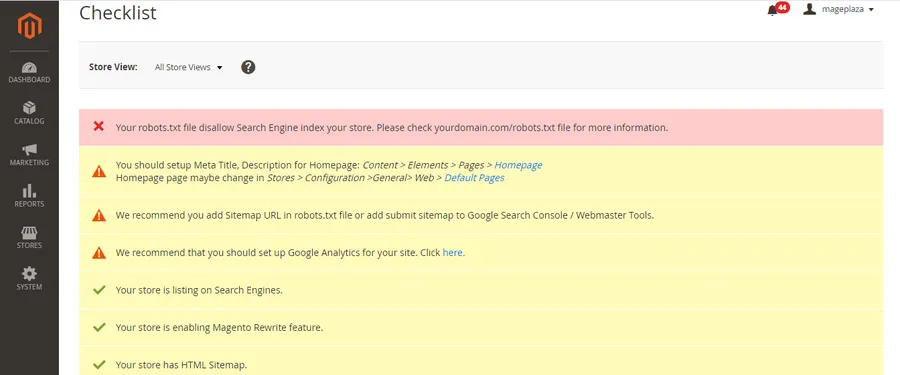 Benefits of using a Magento SEO checklist:
Ensures you cover all essential SEO elements.
Provides a structured approach to SEO optimization.
Helps track progress and identify areas for improvement.
Conclusion
Optimizing your Magento store for search engines is essential for driving organic traffic and enhancing its visibility. By implementing these 14+ best Magento SEO tips, you can effectively position your store for search engine success and attract more potential customers.
Thank you for reading! Please share this blog post with your colleagues and friends who might find it helpful.
Don't forget to check out Claue from ArrowTheme! Claue is a beautiful and responsive Magento theme that will make your store look great on all devices, including smartphones and tablets.
Read More: 8+ Must-Have Magento 2 Extensions for Success
---
Contact us, ThimPress:
Website: https://thimpress.com/
Fanpage: https://www.facebook.com/ThimPress
Youtube: https://www.youtube.com/c/ThimPressDesign
Twitter: https://twitter.com/thimpress