Magento pricing can be complex and confusing, especially for first-time eCommerce store owners. So how much does Magento cost?
In this topic today, we will provide a general overview of the different Magento fees, including license, hosting, domain, theme, SSL certificate, web design, development, extensions, payment, SEO, and digital promotion.
To help you budget accordingly, let's discuss the key factors that affect the Magento pricing:
Wait! There are some related articles you might be interested in:
What Affects Magento Commerce Pricing? And How Much Does Magento Cost?
By understanding the main factors that affect Magento commerce pricing, you can get a more accurate estimate of the total expense of your project.
However, the cost of your Magento website will depend on how much you want to do with it.
You will pay more for a highly customized website with a wide range of features and integrations than for a basic or simple website with standard features. The complexity and customization of a website affect its cost.
Below are some of the factors that affect Magento pricing:
Customization: Magento is a highly customizable platform, which means that you can tailor it to meet your specific needs. However, more customization will typically lead to higher costs.
Integrations: Magento can be integrated with a wide range of third-party solutions, such as shipping providers, payment gateways, and CRM systems. The number and type of integrations you need will also affect the cost of your website.
Hosting and maintenance: Magento websites require specialized hosting to handle the high traffic and complex code. The price of hosting and maintenance can change based on how big and complicated your website is.
If you are considering launching a Magento site, you might carefully check your needs and budget.
Magento Development Cost Overview
The most common question we hear is "How much does Magento cost?" To answer that question, let's take a quick look at Magento's three packages along with the total price you can expect to pay for your website: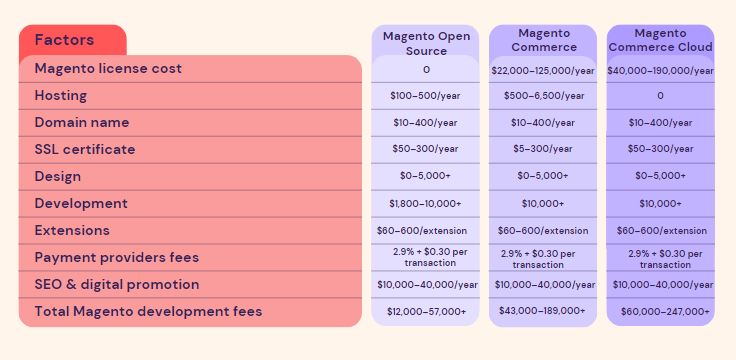 1. Magento license cost
As I have mentioned, Magento pricing is based on the package you choose, with Magento Open Source being free and Magento Commerce (formerly known as Magento Enterprise) and Magento Commerce Cloud (now known as Adobe Commerce & Adobe Commerce Cloud) being paid editions.
Magento Commerce Cloud and Magento Enterprise pricing is based on your annual sales volume. The higher your sales, the higher your monthly subscription fee will be.
Here is a more detailed breakdown of the Magento Commerce vs Magento Commerce Cloud pricing policies:
Magento Commerce: It starts at $22,000/year for annual sales volumes up to $1 million.
Magento Commerce Cloud: It starts at $40,000/year for annual sales volumes up to $1 million.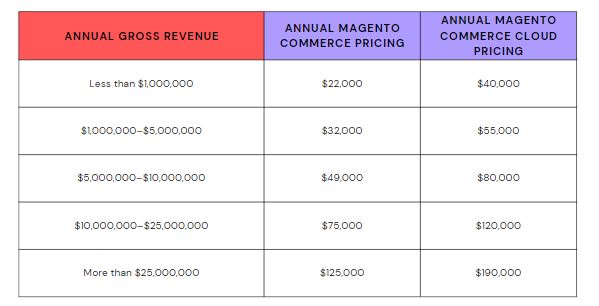 Please note that these are just starting prices. How much you pay to implement your Magento Commerce or Adobe Commerce Cloud site depends on the features and customizations you want for it.
2. Magento hosting cost ($10 – 50/month)
Magento Commerce Cloud is a hassle-free solution that includes hosting and management, so you can focus on what matters most.
However, this is a vital consideration for Magento Open Source and Magento Commerce users. They require specialized storage to function efficiently and consistently.
There are numerous hosting options available, including cloud, dedicated, and shared hosting.
Depending on how well you want your eCommerce website to perform and function, the Magento pricing of Magento hosting can change. The average range is between $10 and $50 a month.
3. Magento domain name cost ($10 – 400/year)
When choosing a domain name for your website, you can purchase a brand-new domain name or an expired domain name. The annual Magento eCommerce pricing for these two types of domain names varies:
Brand new domain names: $10-$20 per year
Expired domain names: $20-$400 per year
Expired domain names can be more expensive than brand-new domain names because they often have higher authority and backlinks to help you improve your website's SEO ranking.
Remember that not all expired domain names are created equal. Some expired domain names may have been used for spammy or malicious websites, which can actually hurt your SEO ranking.
If you are considering purchasing an expired domain name, you should do your research and choose a domain name that has a clean history.
You can use a tool like Ahrefs or SEMrush to check the domain name's authority and backlinks.
4. SSL certificate ($50 – 300/year)
To improve the dependability of a Magento site and make sure your data is secure, you must buy and use an SSL certificate. The average yearly cost is between $50 and $300.
Besides the SSL certificate, you also have to pay for Magento itself, which can be very expensive.
5. Magento web design cost ($0 – 5,000+)
When designing your Magento site, there are two options to consider:
A Magento pricing theme costs between $0 and $180 on average for eCommerce website design.
To make your own website design, you'll need to hire a Magento web designer.
A custom-made premium Magento theme takes 40 – 160 hours to develop.
The lowest charge per hour is $40/hour, costing $5,000 or more in total.
To implement a custom design for your website, please keep in mind the growing number of mobile users and revenue.
You also need to make your website adapt to different devices, such as smartphones, iPads, and tablets, for a better customer experience on mobile.
6. Magento 2 development cost ($1,800 – 10,000+)
The most important pages on an e-commerce website are the homepage, checkout page, shopping cart page, category page, and product page.
These pages help to boost customer retention, engagement, and conversion rates.
No matter if you use a free Magento theme, you will still likely need a Magento developer to adapt the main pages to match your brand design.
So how much does Magento cost? It usually takes about 40 hours to develop a Magento website, which means the average cost is $1,800 at a $50 hourly rate.
7. Extensions ($60 – 600/extension)
In fact, you can quickly run a Magento website with its basic functionality. However, some Magento owners still want extensions to add more features to their website.
You can find some free extensions, but most of the quality and advanced ones will cost you a one-time fee. A Magento pricing extension can cost anywhere between $60 and $600, based on the features and reputation of the provider.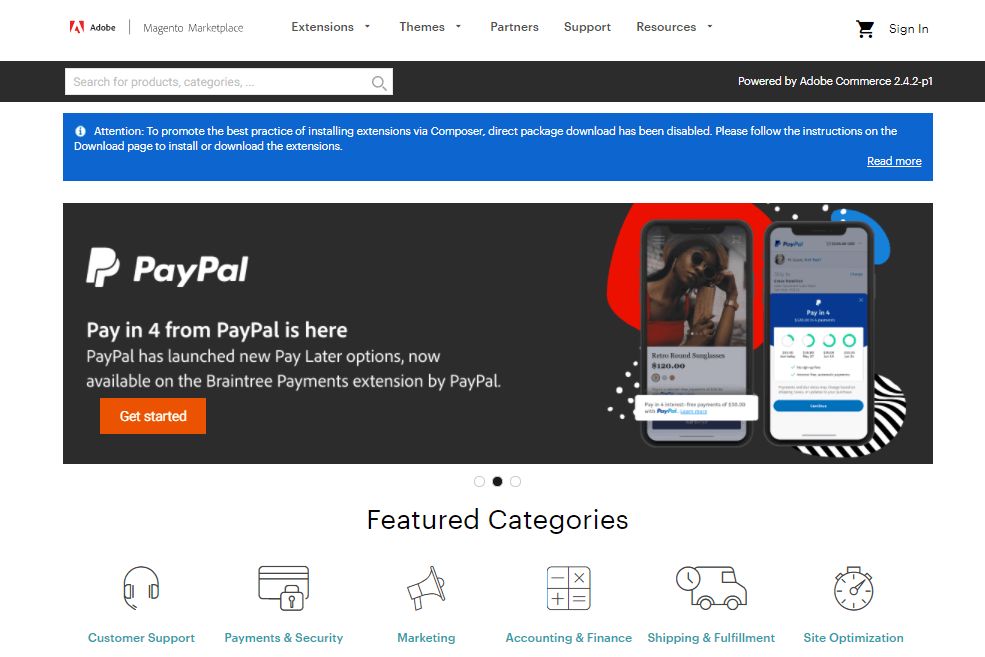 8. Magento payment transaction fee (2.9% + $0.30/transaction)
PayPal, Stripe, and Authorize.net are famous eCommerce payment gateways that make up 75.6% of worldwide payment transactions.
You do not need to pay any setup costs for using these payment service companies.
However, a fee of 2.9% plus $0.30 is applied to each successful transaction.
9. SEO and Digital Promotion ($10,000 – 40,000/year)
To attract customers, online businesses must invest significantly in SEO and digital promotion.
SEO and promotion services are a good investment for businesses of all sizes. However, they are especially important for businesses that sell mainstream products or services.
If you offer niche products or services, you may be able to get away with spending less on SEO and promotion.
Otherwise, you can expect to pay around $10,000 to $40,000/year on average for the Magento pricing.
Magento Customer Service Support
Magento Open Source is a free edition, but it does not provide customer support. You can outsource Magento development and get support from a third-party company.
Magento Commerce vs. Magento Commerce Cloud offers remote support for technical issues. However, their response speed and scope depend on Magento's functionality.
Hence, hiring the Magento development team is needed to manage other problems related to custom logic, third-party extensions, and integrations for immediate support.
Check out the Magento pricing 2023 below: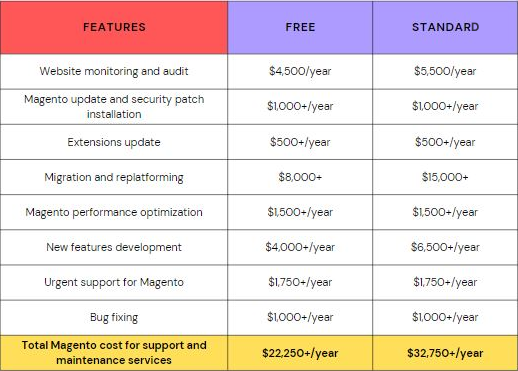 Conclusion
There are many factors that affect Magento 2 pricing, such as the store owner's goals, decisions, and choices of providers. Magento provides different products and services that have different quality and prices. It is important to pick reliable Magento partners who can assist the store's growth in the future.
Read More: How Much Do Graphic Designers Make: Guide & Tips for Salary
---
Contact us, ThimPress:
Website: https://thimpress.com/
Fanpage: https://www.facebook.com/ThimPress
Youtube: https://www.youtube.com/c/ThimPressDesign
Twitter: https://twitter.com/thimpress