Starting on June 5, 2023, WordPress 6.4 will be released on November 7, 2023, as the latest version of this wonderful CMS. What it will bring to users are new features & improvements alongside the new default theme.
New Default Theme – WordPress 6.4 Twenty Twenty-Four
Using WordPress, we should no longer be strange to the yearly publication of WordPress default themes. In this updated version, WordPress will feature the latest theme for the next year. It's WordPress 6.4 Twenty Twenty-Four – next year's default WordPress theme.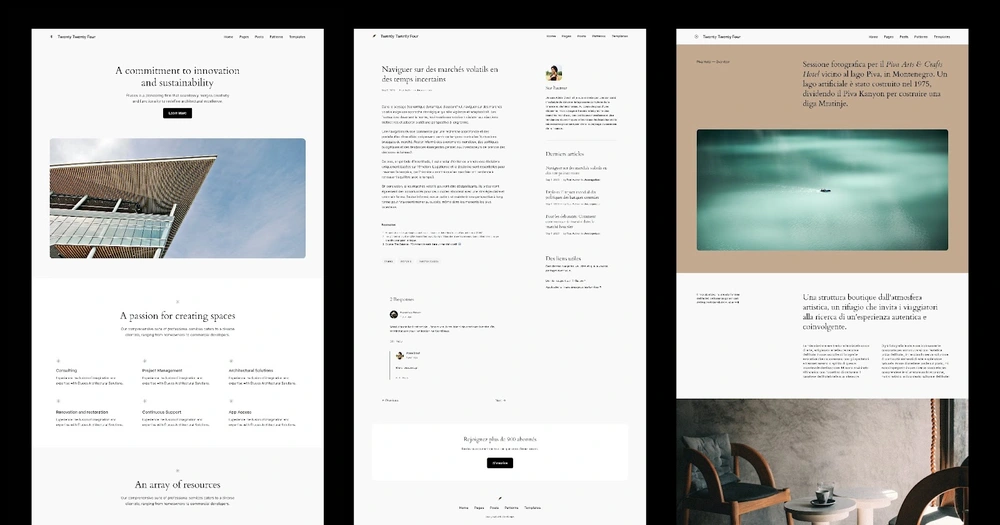 The upcoming concept of this theme is to make a universal theme suitable for many types of sites no matter what the fields are. Unlike themes in previous years, WordPress developers have developed a 3-way default theme: for entrepreneurs & small/medium businesses, for artists & photographers, and for bloggers & content writers. It's a combination of templates and blocks that build up a comprehensive theme. Of course, it will feature a variety of homepage design demos for different purposes such as landing pages, About pages, and more.
The design elements of Twenty Twenty-Four are super obvious, getting influence from the current design assets. The theme uses the Cardo font (which comes from Google Fonts) for headlines that put on an air of style, while it applies the Sans-Serif font for paragraph text. The primary color scheme is into the light, but it also offers a dark style option that keeps the same typography intact. Moreover, it provides 2 more Sans-Serif variations: light and dark.
On the other hand, you will find all page editor widgets, new design tools, template variation tools, and more in WordPress 6.4 Twenty Twenty-Four Theme.
What Is New in WordPress 6.4?
WordPress 6.4 will focus on optimizing aspects of your WordPress experience, from managing patterns across your website to the nuances of creating a new post. While these improvements are being made, the core WordPress development team is working to bring new features like customizable fonts and the Twenty Twenty-Four default theme. They are also working to fix any gaps in the capabilities that are now available, such as more resources to help you customize your designs. Here is the list of WordPress 6.4 features & functions that are in pending status.
Templates and Inner Elements' Revision
Opening more possibilities on the core development in implementing style modifications, the completed revisions will improve the editing experience. This will allow you to take back any changes you make to your design, regardless of where you made them.
New Types of Block
Under pending status, the WordPress development team is working on 3 new block types:
Time to Read block
Table of Contents block
Scrolling Marquee block
Lightbox for Image
WordPress 6.4 offers the native lightbox feature that has a lightweight Javascript library and enables individual image blocks.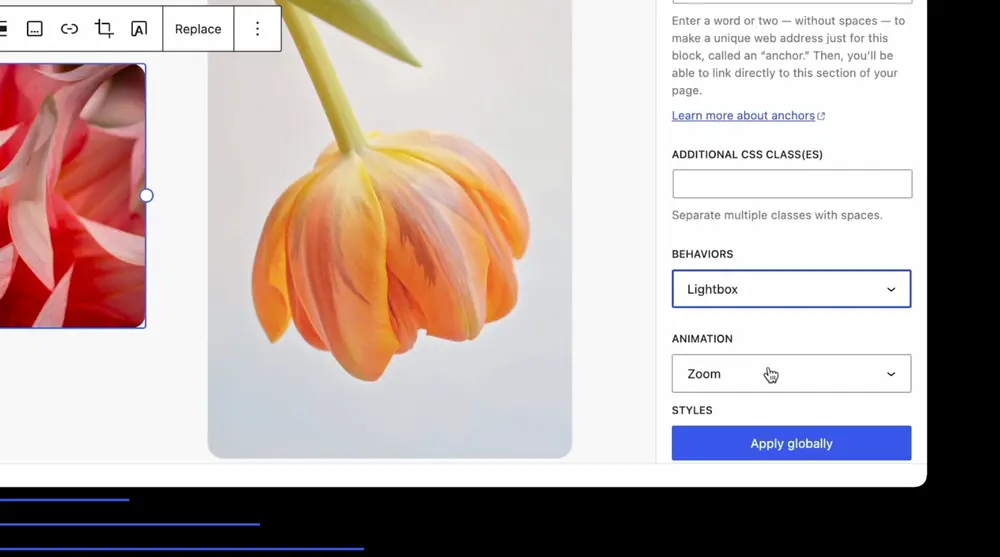 Auto-Insert Blocks
Automation has been a great convenience that any system would love to give to the users and WordPress is not out of the line. To improve user-friendliness, WordPress 6.4 presents you with the feature to suggest suitable blocks into relevant sections. A popup appears offering 1 or some options of block for the users to choose from.
Post Formats
With the intention to improve user experience, some enhancements are pulled out below:
Editing posts in the loop and templates without titles.
Establishing a pattern while making a new post.
Improving the post content block's unique formatting inside the query loop.
Writing Tools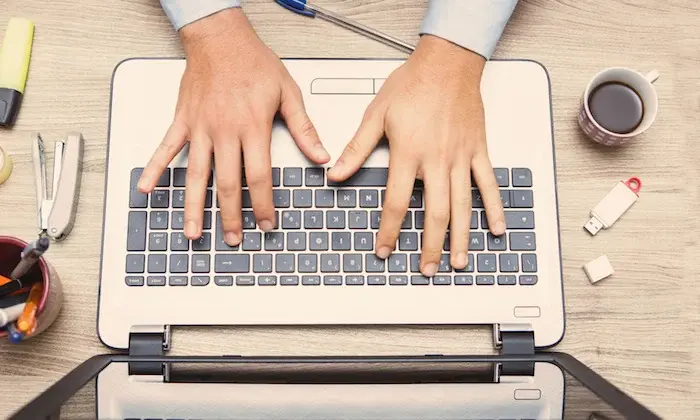 Making content in WordPress should be simple and convenient whether you create new posts or edit current posts. To serve that, the widgets must be suitable and relevant to your content-creating process. Also, the variety of block types should give you the confidence to showcase your ideas. Therefore, the update of the WordPress 6.4 final release will meet your demand for this aspect.
Interface Widgets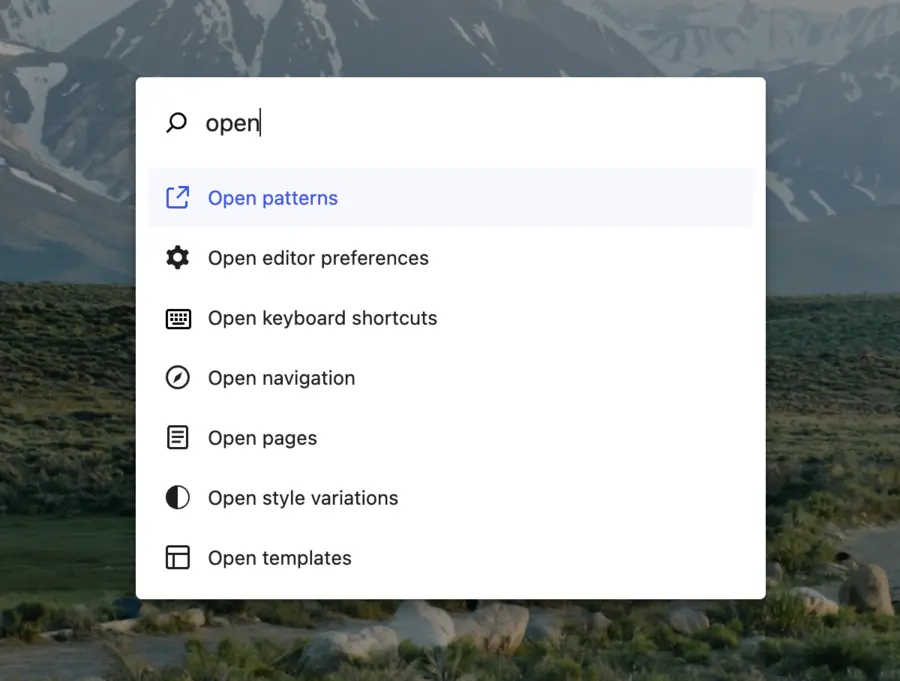 Besides the current tools, WordPress 6.4 will present you with some improvements below:
List View redundancy with Group blocks' custom naming, gallery & images blocks' media preview, resizing ability, keyboard shortcut buttons to duplicate blocks, etc.
Removing factors that distract users.
Certain keyboard navigation difficulties are fixed in the Top Bar.
Provide new block commands, update the design, add registering commands support without icons, and improve the command palette.
Site Editing Enhancements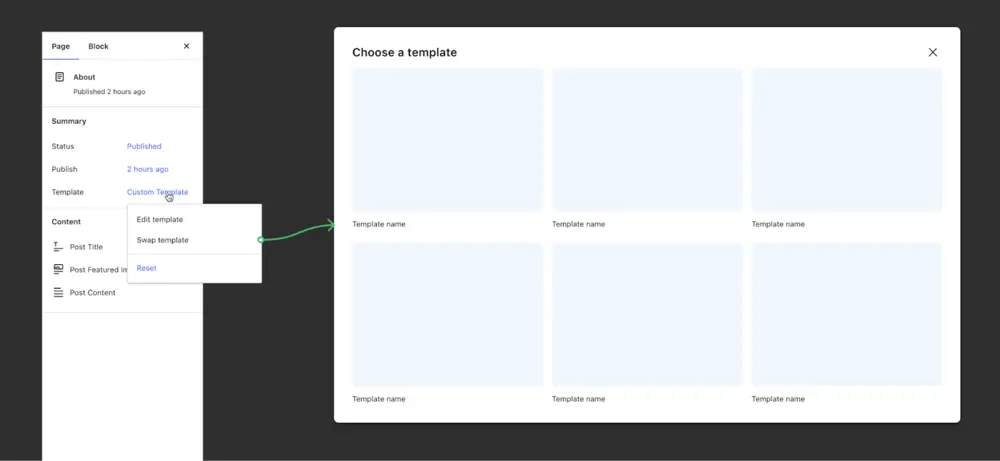 WordPress 6.4 release version will provide us with specific improvements on page building:
Added: Button "Show Template".
Added: Discussion setting options for pages.
Added: Missing CSS to the templates.
Removed: Some templates & template elements when swapping themes.
Changed: Show current changes in the panel "Browse styles".
Changed: Hide post/page title in site settings.
Changed: From Site editor to Page inspector and add template-switching function.
Changed: Align page-editing features in the Site/Post editor.
Changed: Improvements in the Site editor's Styles panel.
Tools for Design
This WordPress version also delivers a lot of improvements & new features for designing that lay from internal to external.

Those changes are:
Added: Box Shadow element.
Changed: Expand theme.json to make spacing size values.
Added: The function for theme developers to edit their default max/min viewport widths to calculate fluid font sizes.
Changed: Simplify layout controls including UI & block support.
Added: Custom CSS improvements.
Fixed: Consistency of designing tool addressing.
Added: Supports for buttons & headings in block instance elements.
Fixed: Improve on support for aspect ratio.
Added: Site logo's width unit support.
Added: set custom color schemes when you use starting background images.
Added: Text-based input supports.
Added: 1 list style type option for the "Categories" block.
Added: Background image support.
Fixed: Support featured image.
Global Styles
To improve the global style system, they continue to develop this from singular changes to entire-site weeping alternations.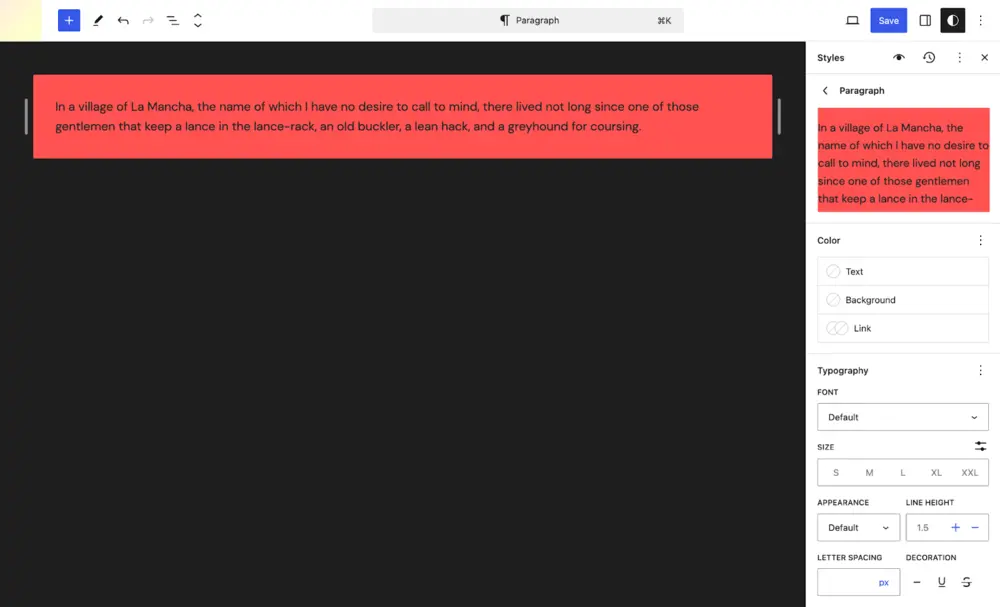 There are some planned kinds of stuff here, which you can see by yourself:
Style improvements: Provides users with a side-by-side comparison panel, pagination, & a reset-to-default-revision button.
Stylebook: Improve the layout and presentation, including options to concentrate on specific block kinds & incorporate patterns.
Theme.json: Allow references to work, and add theme.json capabilities in specific themes.
Styles experience: Checking for the most effective ways to manage style variations, display inherited styles, and describe the hierarchy of styles.
Advanced Patterns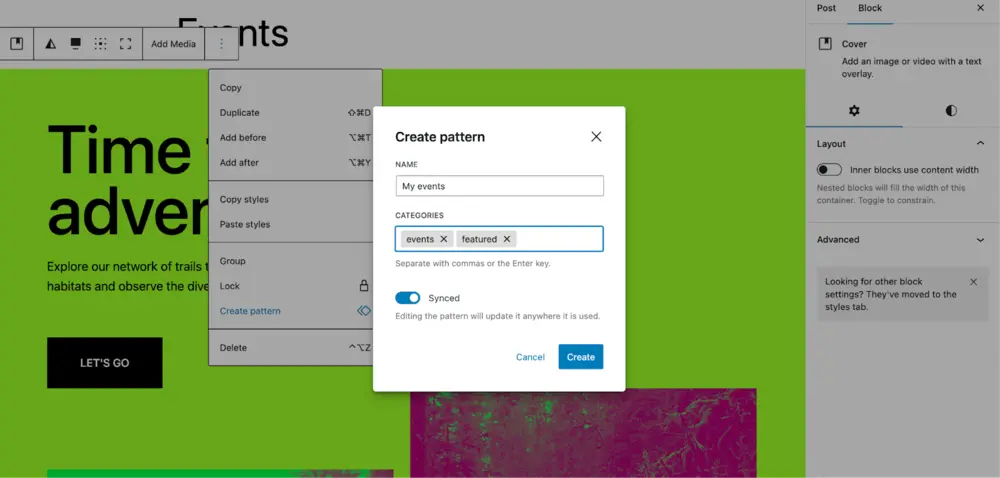 Having shown the feature to make patterns directly in the post editor, the WordPress 6.4 release will add advanced functions & improvements such as:
Set categories.
Update inserters' experience to maintain consistency between synced and unsynced data.
Enhance non-block themes' compatibility.
Repeat the empty category state on the Patterns page.
Fix the synced patterns of not receiving alignment attributes in the page/post editor.
Navigation Management
From WordPress 5.9, the WordPress team has developed and focused on user experience:
The overlay is cited as a template component.
Allow to view the usage of each menu item.
Give the current menu item the option to be styled.
Allow selecting custom icons.
Give mobile users the option to select different links.
Provide a bulk-adding mode.
Redundancy on improving fallbacks.
Footnotes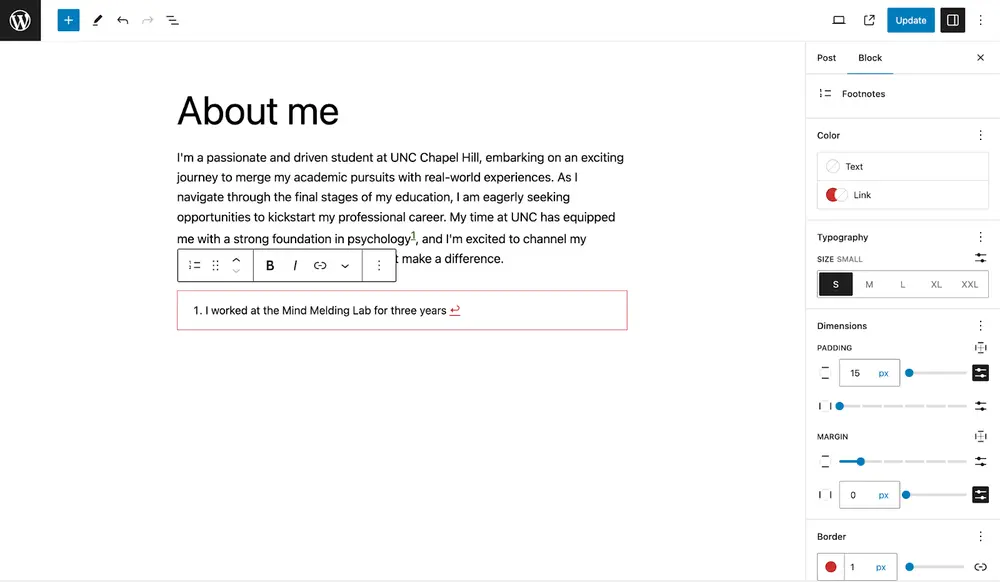 The footnotes block type is introduced in WordPress 6.3 and it will be improved in this WordPress 6.4 update:
Add dimensions, typography, & border block options.
Add background, link, & text color options.
Improve compatibility with Custom Post types.
Query Loop Block
There are some options where you can enable more complex commands and have more options for showing pages/posts, such as:
Add a Term Query Loop block type.
Add the function of not repeating posts that other Query Loop blocks have already shown on the same page.
Query block: the Interactivity API powers client-side pagination.
Conclusion
WordPress 6.4 will be the final release of this CMS in 2023, a year that marks the 20th anniversary of the first version. This version will nominate the 48th version release of WordPress, and while this CMS has already made a long way since its starting, users can create and manage their own digital presence for a very long time because of its collaborative spirit, which will guarantee that it will keep improving and evolving, and the open-source structure for various purposes.
Read more:
---
Contact us, ThimPress:
Website: https://thimpress.com/
Fanpage: https://www.facebook.com/ThimPress
Youtube: https://www.youtube.com/c/ThimPressDesign
Twitter: https://twitter.com/thimpress