There are plenty of options when you need development done. Yet, there are two options that are considered more often than others: hire an In-house or Outsourced the market. There are no better and worse options: They are both equally good. The thing that matters is what suits your business or your project best.
In this article, we will specify cases when you need to hire an in-house team. And, when a remote team becomes a more efficient idea. It will help you to choose the right option for your business specifically. This guides you through the peculiarities of every option: In-House or Outsourced.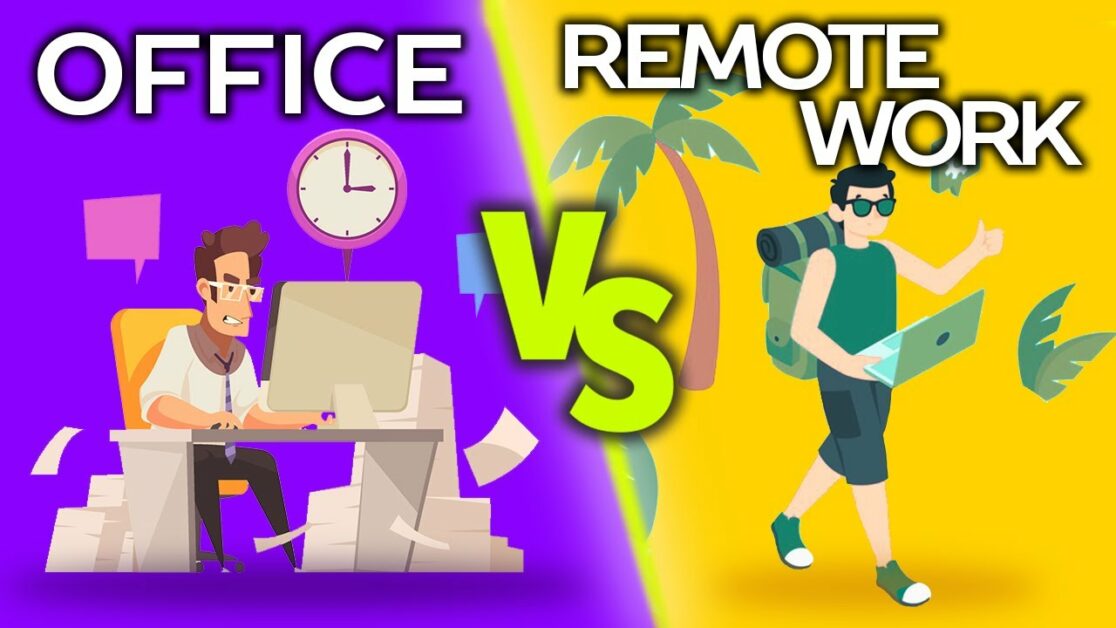 In-house or Outsourced: In-House Developers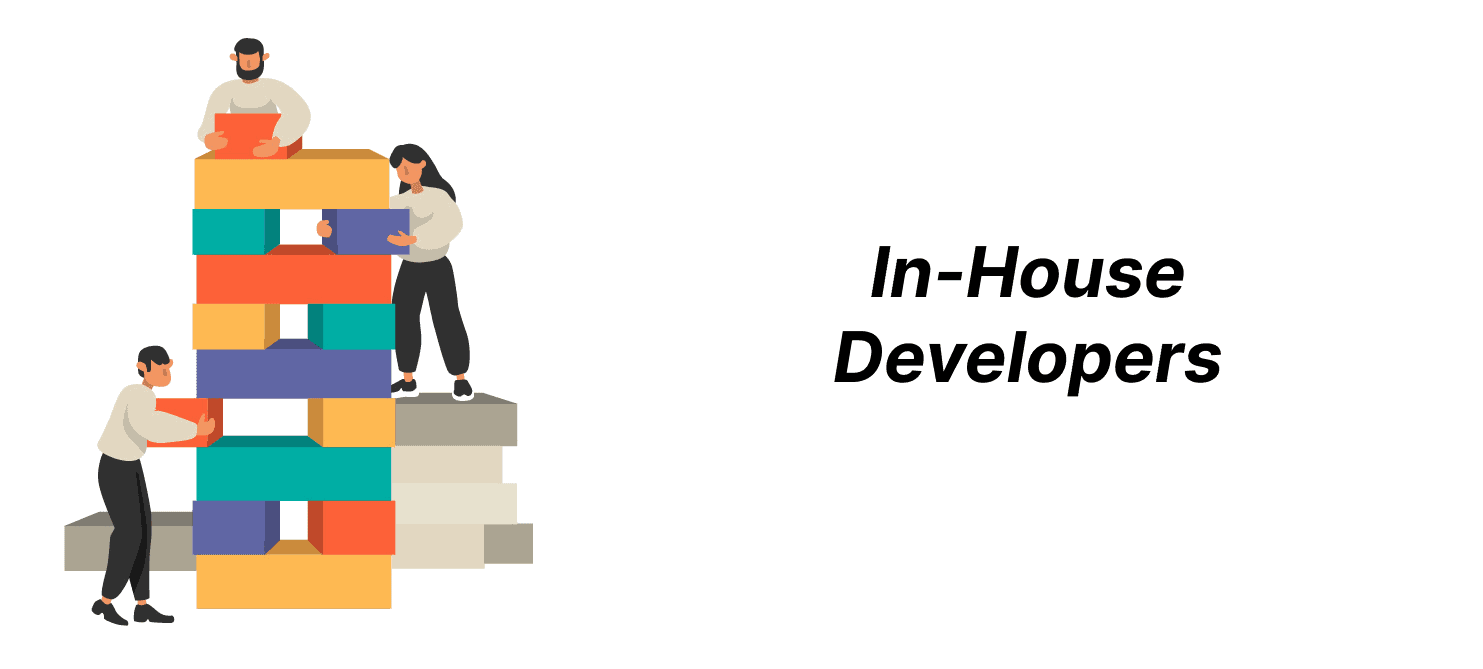 In-house is considered softer than outsourced software development — In-house or Outsourced is traditional. They work for this specific company, know it from top to bottom, and spend several hours a week in the office, socializing with the team and becoming a corporate person. Here are the indicators that you need an in-house developer:
You Have an Opportunity to Spend a Lot on the Software Development
If your startup or company has good funding and you know that you will be able to pay for the in-house development team. It includes taxes, software, hardware, rent, benefits for employees, etc. Moreover, onboarding and team management will require resources as well.
You Have Sensitive Data
If you work in financial technology or any other highly secure field, you will probably need a person who you can trust. It is hard to trust someone who is in another country, you have never seen them, and you have no documentation (in the worst cases). A full-time employee is more trusted since they are physically not far away from you.
It Is a Long-Term Project
If you know that it is going to be a long ride, you are likely to stick to the people you know and can see. In long-term projects, insource developers pay more attention to the company and get involved in it.
You Need Quick Changes
An in-house developer is easy to reach than an outsourced one: they are in the office or you have their phone number for extra cases. At any moment, you can come up to them and explain what you need to fix.
With outsourcing, you have to consider the time zone of your employee(software developers will be probably sound asleep when you are in the middle of a working day) and communication efficiency.
You Have a Draft of the Project
Sometimes businesses have an idea but they do not go deep in the detail and are open to any edits and changes. It is easier to communicate the changes and build the draft into something fixed with the in-house team.
The team's Success Depends on the Face to Face Communication, Cultural Fit, and the Lack of Language Barrier
It is understandable that some teams can not work well if they can not see each other. They have a big cultural gap and they spend time figuring out what the other person is saying. Not everyone is ready to work in these circumstances so if you feel like it is not your type of thing, maybe in-house developers are the best option.
In-house or Outsourced: Outsourced Developers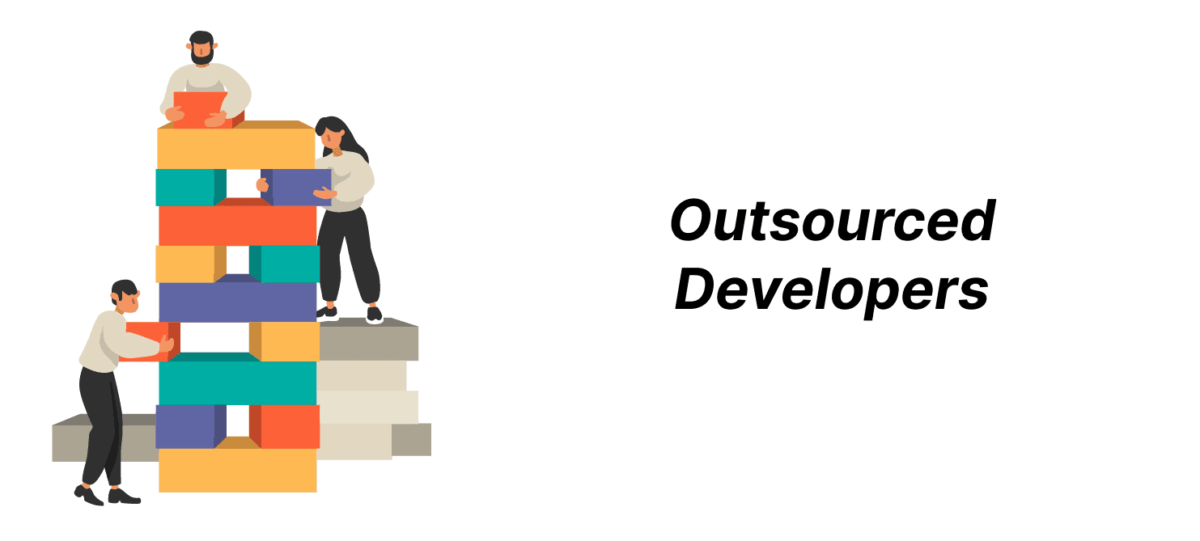 Outsource is becoming more and more popular as internalization progresses. It is at its peak now, when in-house developers are not in the offices anymore. Why spend more money if you can hire the same remote worker from another country? So you need an outsourced developer team if:
You Need Cost Flexibility
Not everyone starts with a great amount of money. If it is your first project ever and you just invest all the savings you have from working for some company, you still may lack money for an in-house team. However, outsourced developers are usually from Eastern Europe and South America and charge twice or thrice as less as American developers.
You Need a Wider Talent Pool
Sometimes there are no professionals who can do one specific task in your region. Outsourcing gives you the possibility to connect with any professional with any skill set you want even though they are from another part of the world In-house or Outsourced.
You Value Speed
Outsourced developers are usually extremely skilled and are able to dive into work extremely quickly because they jump from one project to another. The outsourced team has seen and experienced everything and they probably have made projects similar to yours.
When it comes to in-house developers, you will have to spend time finding the team, onboarding, and explaining your project. An in-house team will need time to find a solution unlike an outsourced team as well.
You Do Not Have a Tech Team Lead
If you do not understand a thing about IT, you will need a leader for your development team, no matter In-house or Outsourced team. Outsourcing companies have a project manager who can become the leader that you are looking for. Hence, they, in fact, already know their team members and their skills. So you do not have to spend time on team building or getting-to-know-each-other sessions, making choosing In-house or Outsourced easier.
An In-House Developer Is Too Busy
There are core functions that in-house developers work hard on. So they do not have time for small tasks that are not that urgent and important. You can hire offshore developers who can do tasks that do not require much time, are not urgent, and are of moderate importance.
In-house or Outsourced: Conclusion
As you can see, there is literally no In-house or Outsourced. It is about what resources you have, what you are looking for, and what you are comfortable with.
If you have time and money, look for long-term cooperation, trust, quick changes, the flexibility of the project and face-to-face communication, and a dedicated team, then in-house developers are just for you. If you seek lower costs but high-quality employees, you need a quick development process, talented people, or little details to be taken care of, consider IT outsourcing as the best option. At the end of the day, it is only your needs of In-house or Outsourced that matter!
Read more: Mistakes to Avoid while Writing CSS for WordPress
---
Contact us, ThimPress:
Website: https://thimpress.com/
Fanpage: https://www.facebook.com/ThimPress
Youtube: https://www.youtube.com/c/ThimPressDesign
Twitter: https://twitter.com/thimpress