Course Builder – Online Course WordPress Theme
Course Builder is a multipurpose, high-quality eLearning WordPress LMS (Learning management system) for teachers, instructors, education center, schools, universities to create and manage your own online course website.
Price: $79
---
Sale!
Compatible up to:
Latest WordPress Version. Checked!
Price: $79
The LMS Course Builder WordPress theme is a multipurpose, high quality eLearning WordPress LMS (Learning management system) for teachers, instructors, education center, schools, universities to create and manage your own online course website. This theme's flexibility and power can help you easily create beautiful online courses, share your knowledge the world and get some revenue by selling them. Course Builder is easy to use with no coding knowledge required while providing the best education website design and experience that helps maximizing conversion rates for you.
The Course Builder WordPress theme made exclusively for you
Do you want to help people, share your knowledge and inspire others?
Do you want to create your own online education school and website?
Do you want to have complete control of your course, design and revenue?
Are you a teacher, an instructor that has great knowledge and course content and you want a COMPLETE SOLUTION for a Course Builder WordPress website that's easy to implement, easy to use and doesn't take much of your time?
You want a website that is the most beautiful and the most effective in persuading your student to take your course (highest Conversion Rate)?
Do you want to create FULL FEATURE online courses with Video or text lesson content, Quizzes, multiple question types, certificate, comment system, email notification, sell course and subscription plans, online webinar, etc. ?
The most advanced responsive multi-purpose Course Builder WordPress theme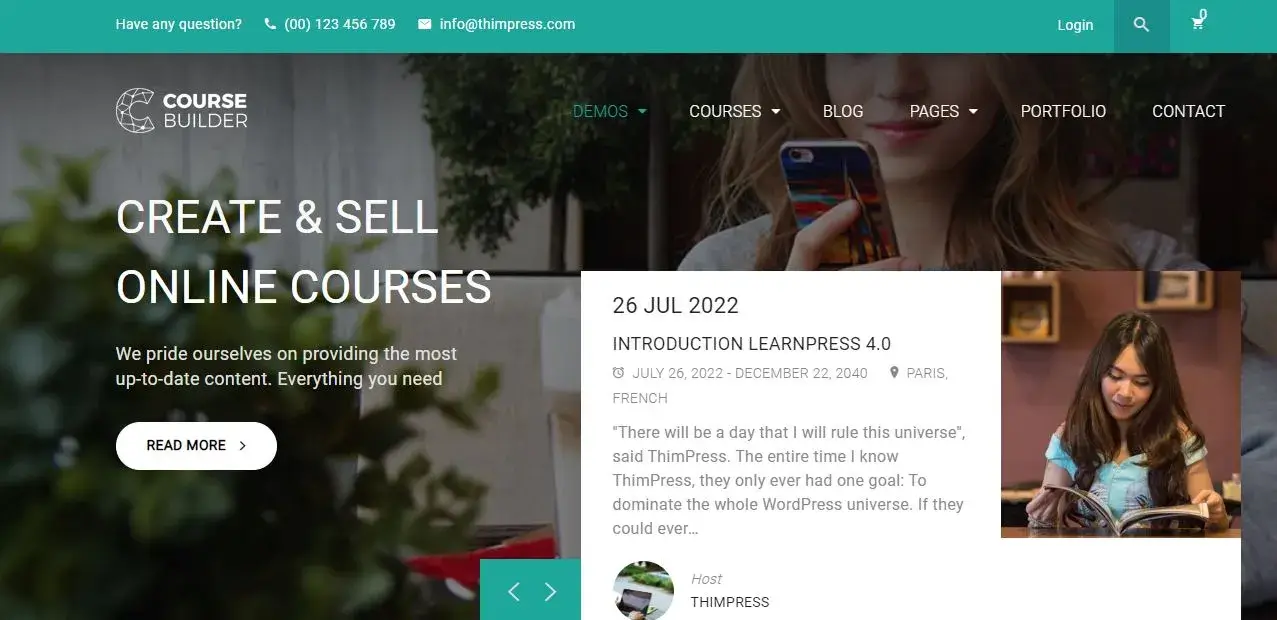 Create your online course with the best Course Builder WordPress theme
It would be an unforgivable mistake if the best e-learning LMS WordPress theme doesn't go with the best WordPress LMS. That's the reason why we bundled LearnPress WordPress LMS – the best open source LMS with this theme, hoping that its amazingly wide range of online course and school management system features will be your best friend.
With more than 100,000 current customers, LearnPress LMS has the most active installs amongst other WordPress LMS like LearnDash, LifterLMS, CoursePress or Sensei and it is rated as not only the best Free Open source LMS plugin but also as one of the leading reliable Learning Management System for any individual or organization to build an awesome online learning   teaching platform. This theme is the most suitable to create an online course website for education center, for Udemy/Teachable/Thinkific online instructors, tutors and teacher, or a school website or website for a university.
As a commitment to support global education movement and to help you succeed, we included with the theme a full package of LearnPress Pro Bundle for completely free (normally costs around ~ $601). Click here to claim your bonus bundle after you have bought this Course Builder WordPress theme. This allows you to have the total freedom  complete control of your website while enjoying one of the highest quality WordPress theme plugin.
(This is not a bonus, gift, rebate or an additional freebie as it is included in the theme as part of the theme like WooCommerce, Font-Awesome, etc. But since it's large and contains many different add-ons that might be unnecessary to some, it is given this way so you can choose which one to install on your own.)
The best Course Builder WordPress Theme – Launch your courses successfully at ease
One click install, 9 demos – No Coding Required. No Effort Required.
To empower you with the power of achieving more with less, the theme goes with 3 different demos for all types of education organization: Big school, small school, and instructor demo. Also, each demo has many pages with pre-design elements that are pre-filled with content. All you have to do is to install the theme and edit the content (logo, slogan, course information, pricing, etc.) so that it fits your information.
Installation is easier than ever with the One-Click Install. You can choose to go with any demo that you like and your eLearning website will be automatically installed with full functions in just a few minutes.
Just focus on teaching and forget about all the technical parts. This Course Builder WordPress theme will take care of it for you.
Brand new PRO features of the leading LMS software in this theme
INTRODUCING COURSE DASHBOARD:
Have you ever taken a course on Udemy, Coursera or EdX? The reason they are the most popular online learning websites is that they focus on giving an unmatched experience to the student while learning and one such of that is to let them focus on the course they are learning via the course dashboard. Here with Course Builder WordPress theme, we implemented the same course dashboard feature which is only visible to registered course learners and it will only display information about the course, the current lesson that the students are taking. It even shows the comments from other students in the same course to every lesson and builds a community of the course. This helps improving retention rate and make your student more loyal to your online education WordPress website.
COMMUNICATE WITH ANNOUNCEMENT SYSTEM   EMAIL NOTIFICATION
With this Online Course Builder WordPress theme, instructors can now communicate with his students by sending course announcements and email notification to his students. These announcements will also be shown in the announcement tab in the course dashboard so anyone can see it.
ENROLL SHORTCODE + VISUAL COMPOSER = BUILD YOUR OWN COURSE LANDING PAGE
As some instructors want to design their own course landing page, we have created the Enroll shortcode which can be embed to any page to make student register to a course easier by clicking to the button generated by the shortcode. Therefore, if you use Visual Composer to create a killer landing page, you can now embed the Enroll shortcode and have your students signup easily. This is the demo landing page made by VC and this shortcode that you can definitely use for your website: Demo course landing page
Flexible Payment Option with WooCommerce, PayPal, Stripe, Authorize.net, 2Checkout and create Subscription plan easily with Paid Membership Pro
Course Builder WordPress Theme will help you to launch and sell your courses and to collect payment easily. All that's left for you is to attract your students.
With WooCommerce integrated to the Course Builder WordPress theme, you can sell courses easily in your currency and WooCommerce works with almost all payment gateways in the world. What if you don't want WooCommerce? You can always use our payment gateway integration built especially for LearnPress like Stripe (Stripe Add-on for LearnPress – Read tutorial here), Authorize.net (Authorize.net Add-on for LearnPress – Read tutorial here), 2CheckOut (2CheckOut Add-on for LearnPress – Read tutorial here), or the default PayPal payment gateway.
More importantly, you can now sell monthly course subscription or turn your website into a membership website with LearnPress Paid Membership Pro.
Payment option is plenty and flexible. Just create the course and Course Builder WordPress theme will handle the payment part easily.
Remember, unlike other course platforms, this theme is One-Time Payment and it will not cost you any recurring fees or transaction fees to maintain. There is just no limit on courses, lessons, quizzes, and students.
Beautiful Intuitive User Interface with a bold look.
Course collection
Feature course
Testimony
Teacher list, Teacher profile
Event management – Create event and sell tickets with ease.
Can the Course Builder WordPress Theme help you host an offline event? Yes!.
Can it let you sell tickets online? Yes!
With the built-in WordPress Event Manager plugin, you can create and manage events easily. You can set a price for the ticket, the quantity of the ticket and even display the venue of your events to the visitors. Creating and managing events has never been easier before.
Incredibly fast and advanced SEO support
We want to help you grow your business quickly and getting your site ranked significantly high on Search Engines is the best thing we can do. The theme is surprisingly lightweight but powerful. It is being built with the most advanced SEOWP theme in mind. All headings, images, tags, elements are styled for better readability, better Google Structured Data and better code structure that you will love it and Google will definitely love it.
Super responsive and Mobile Friendly
Almost everyone on Earth has a mobile phone. Many even have two or more. You spend a substantial of your time on mobile phone. So are your students. You may not have noticed that but we knew it from the beginning. Did you know that if your website runs fast on mobile, it helps with SEO and also with SALE? That is the reason why your site definitely needs to be mobile friendly. Your lessons, your courses, and your quizzes must work perfectly on iPhone, iPad, on other smartphones and handheld devices. Don't worry, we've got your back by making the theme responsive to every detail. Quick, grab your iPhone and check the theme on mobile. You will be amazed!
After-Sale Support are also amazing
Having operated for 10 years in WordPress and web design business, we know that after-sale support is the motive behind our growth. Your business growth is our business growth. For that reason, we invested a lot in helping you succeed after being our customer. There are three reasons why our after-sale support is the best-in-class:
Frequently updated theme: Even though the code quality is super high, we consistently update the theme to make sure it works with the latest trend in Learning Management System and also the trend in design. Your theme and your site will always be the best with no recurring fees.
Perfect documentation system with step by step tutorials: Besides writing perfect flawless codes, we also write details step by step tutorials on how to use the theme and the best open source LMS. If you are a teacher, an instructor and you are new to web design, it will be extremely helpful. If you are an experienced freelancer or web developer, it will also be very helpful to build a website for your client. Read documentation here.
Have an issue with the theme? We have formed a Five-Star professional customer service team and a special exclusive dedicated support forum for you to help you out anytime you have an issue and needed support. Don't hesitate creating a support topic here on our support forum. Our supporters will be more than happy to help you out in within 24 hours of a business day.
** For more info on how our bundled plugins work, check out this article.
Author ratings
The theme is new, so it hasn't got any rating and review yet. However, let's take a look at what the customers are talking about us – the team behind this Course Builder & eLearning Software theme. 22,000+ people are using our themes with almost 10,000+ schools, and educational centers are using our Education and LMS themes. They must not be wrong.
WordPress LMS Theme features:
LearnPress WordPress LMS Plugin by ThimPress on WordPress.org.
Brilliant LMS Courses Management with Units/Sections, Lessons, Quizzes – link to YouTube video how to create a course.
LMS Course Collection – combine particular courses into collections.
LMS Course Review/Rating.
Free Course, public accessible course support.
Lessons Management with powerful WordPress Core Editor improved to support: video, attachments in any type of media
Quizzes Management with multiple Question Types.
PayPal, Stripe, Offline Payment Methods Integrated. PayPal payment method to allow to receive payment over Credit Cards or PayPal balance, Stripe payment method to allow to receive payment over Credit Cards, and Offline payment method is convenience to receive payment in offline ways. More is coming.
WooCommerce support as a shop solution and/or selling courses over WooCommerce.
WooCommerce Sales Countdown plugin included (save $16) to sale your course/product on a timer.
Co-instructors – multiple instructors support for each course.
bbPress support – for private course discussion between instructors.
BuddyPress support – for communicating between instructors & students in each course.
Student Profile.
Instructor Profile.
Student Certificate on course completion.
Amazing Drag & Drop Page Builder.
Super lightweight & powerful Mega Menu built-in.
Contact Form 7 ready: The layout of this form is customized to match the design of Course Builder WordPress theme.
Mailchimp for WordPress: a sign-up method to your Course Builder WordPress site.
Highly Performance Optimized, your site will be loaded before your customers go away.
Highly SEO Optimized with Microdata, perfect on-page SEO optimized for courses, blog posts, blog archives, WooCommerce products, WooCommerce archives, bbPress forum topics, BuddyPress activities. Google loves it.
Mobile-Friendly – your LMS WordPress site with Course Builder WordPress theme is mobile-friendly, Google loves it – give a test link on Google
Post formats – Standard, Audio, Gallery, Image, Link, Quote and Video.
Built on latest Bootstrap 3 & FontAwesome 2: making front-end of Course Builder WordPress theme faster and easier. Size, color, drop shadow, and anything can be done with the power of CSS.
Styles has written by LESS CSS and compiled one time in WordPress Customizer to make Course Builder WordPress theme loads faster.
Drag and drop layout manager: allows you to create custom layouts for your content. Configure every element: Logo, header, slide show, page content, sidebars, footer and more without touching to code problem. Assign custom layouts to any page or post.
Sidebar generator: generate as many sidebar as you need for Course Builder WordPress Theme.
Unlimited footers: Plenty of footers is waiting in Course Builder WordPress Theme for your selection.
Unlimited layouts for your front page, post, page, Login page, and even Custom Post Type of the Course Builder WordPress Theme.
Unlimited color choices: you can select any color and decorate your Course Builder WordPress site to the last conner.
Unlimited layouts and templates.
Google Fonts support (600+).
WPML Ready.
RTL support to make this Course Builder WordPress Theme works perfectly with Arabic, Hebrew, … languages.
Retina ready: Course Builder WordPress Theme will look great in any technique devices
Translation ready (.po/.mo files): support  Course Builder WordPress Theme to be translated in different languages.
One click DEMO data importer: simply click a button and then you get Course Builder WordPress theme  installed.
and so much more.
Related products
Education Pack is a beautiful, clean and free education WordPress theme for any university, schools, training centers or even instructors, coaches. It can also be used as an elearning portal and Learning management system (LMS) for schools and corporates.
View More