Magento 2 SEO is a powerful tool for improving your online store's visibility and attracting more customers. By optimizing your store for search engines, you can boost your search engine rankings, drive more traffic to your site, and ultimately increase your sales.
In this detailed guide, you will learn how to do Magento 2 SEO correctly, avoiding the common Magento 2 SEO mistakes that can hurt your ranking and performance.
What is Magento 2 SEO?
Magento 2 SEO is a strategic process that elevates the visibility and ranking of an online store built on the Magento 2 platform within search engines.
It encompasses a range of strategies and techniques aimed at enhancing the quality and quantity of organic traffic, improving the user experience, and boosting conversions.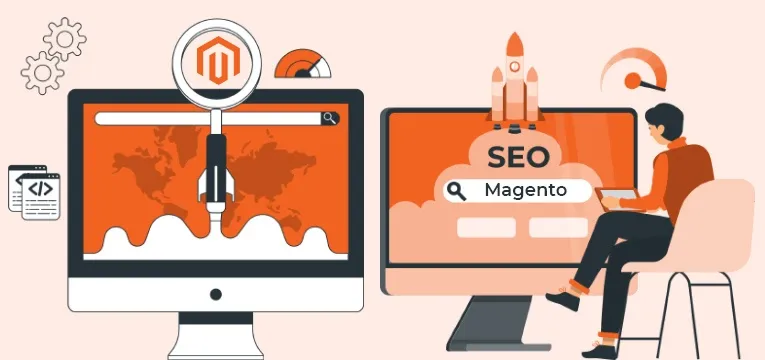 To avoid common Magento 2 SEO mistakes, check out some of these strategies for optimizing Magento 2 for search engines, including:
Content optimization: Crafting relevant, engaging, and informative content that resonates with your target audience, incorporating keywords that align with their search intent and queries. Employ meta tags like title, description, and keywords to describe your products and pages, providing search engines with a clearer understanding of your content.
Backlink acquisition: Securing links from reputable and authoritative websites that direct visitors to your store. It's one of the Magento 2 SEO mistakes. These backlinks serve as endorsements, enhancing your site's credibility and search rankings. Various methods can be employed to acquire backlinks, such as guest posting, strategic social media engagement, influencer collaborations, and content marketing initiatives.
Loading speed optimization: Prioritizing the performance and speed of your website, as this directly impacts both user experience and SEO. Leverage caching, minification, compression, and lazy loading techniques to optimize loading speed.
Mobile-first design: Designing your website to seamlessly adapt to mobile devices, ensuring an optimal user experience, and enhancing SEO. Explore responsive design, which adjusts your website's layout and content to various screen sizes and orientations, or consider developing a dedicated mobile version of your website.
Concise and descriptive URLs: Utilizing short, clear, and meaningful URLs for your website pages facilitates easy navigation for both users and search engines. Incorporate relevant keywords into URLs to further enhance SEO efforts.
Benefits of Correct SEO Practices for Magento 2
As we delve into the benefits of getting it right, we simultaneously highlight how steering clear of common Magento 2 SEO mistakes plays a pivotal role in achieving these advantages.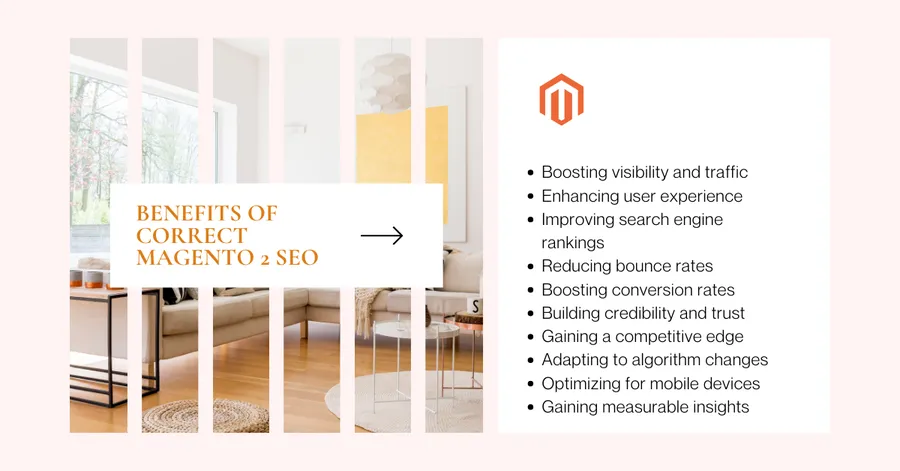 Boosting visibility and traffic: Proper SEO practices make your Magento 2 website more visible to search engines, leading to higher organic traffic.
Enhancing user experience: SEO-friendly practices often align with making it easy for users to find what they need, increasing user satisfaction and engagement.
Improving search engine rankings: Effective SEO techniques help your Magento 2 site rank higher in search results, increasing visibility and clicks.
Reducing bounce rates: A well-optimized site provides users with the information they seek quickly, leading to lower bounce rates.
Boosting conversion rates: SEO practices attract targeted traffic and provide a positive user experience, contributing to improved conversion rates.
Building credibility and trust: High search engine rankings often correlate with credibility and trustworthiness, which SEO helps build.
Gaining a competitive edge: An SEO-optimized Magento 2 site gives you a competitive edge, attracting more customers and establishing your brand as a leader.
Adapting to algorithm changes: By staying on top of SEO best practices, your Magento 2 site can adapt to algorithm changes, ensuring consistent visibility.
Optimizing for mobile devices: Proper SEO practices often include optimizing for mobile, ensuring a seamless experience for mobile users.
Gaining measurable insights: A common way to enhance websites' search engine rankings is to use analytics tools that offer valuable insights into user behavior and traffic sources, which is a frequent practice among SEO experts.
5 Common Magento 2 SEO Mistakes and How To Fix Them
Apply The Default Magento Homepage Title – Common Magento 2 SEO Mistakes
One of the most common Magento 2 SEO mistakes that online store owners make is using the Magento default homepage title for their website.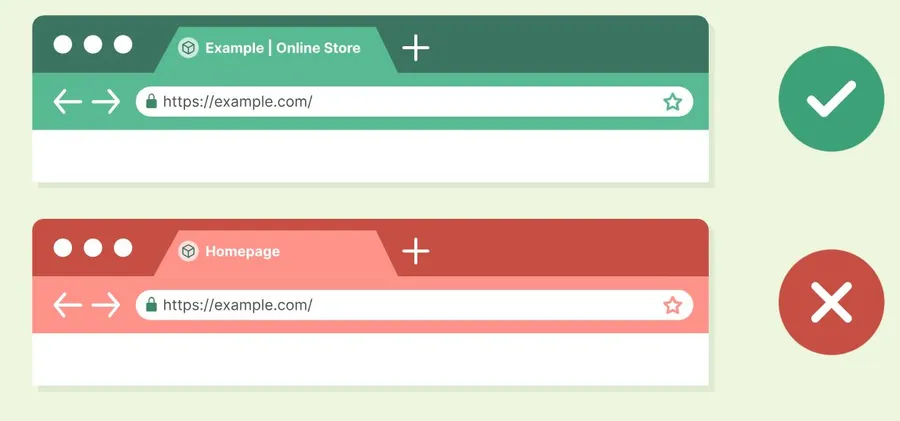 The default Magento homepage title is often something generic and vague, such as "Home page" or "Magento Commerce".
This not only provides little information to users and search engines about the type of products or services offered but also fails to establish the store's brand identity.
As a result, using the default Magento homepage title can lead to decreased website traffic, lower rankings, and ultimately fewer conversions.
How to fix it—the common Magento 2 SEO mistakes:
Create a unique and descriptive homepage title: Write a title that showcases your store's products and services and aligns with the keywords potential customers are likely to use when searching for products like yours. For instance, if you sell organic skincare products, a suitable title could be "Organic Skincare Products | Natural Beauty Store". This approach attracts more relevant and qualified visitors to your website, increasing the likelihood of sales.
Editing the homepage title: Access the Magento admin panel and navigate to Content > Design > Configuration > Edit > HTML Head > Default Page Title. This section allows you to modify the homepage title.
Title preview tools: Utilize tools like Moz Title Tag Preview Tool or SERP Simulator to visualize how your title will appear in search engine results pages.
Optimizing the Homepage Title: Follow the best practices for making your title more SEO-friendly and avoiding Magento 2 SEO mistakes:
– Character Limit: Keep the title under 60 characters to ensure it displays fully in search results.
– Keyword Inclusion: Strategically incorporate relevant keywords that align with your products or services.
– Brand Incorporation: Include your brand name to boost brand awareness and search engine visibility.
Keep The Default Layered Navigation – Common Magento 2 SEO Mistakes
Layered navigation is a valuable feature for eCommerce stores, allowing customers to filter products by various attributes, such as price, color, size, and brand.
This simplifies product discovery and enhances the user experience.
However, default layered navigation settings in Magento 2 can lead to common Magento 2 SEO issues, encompassing concerns such as slow loading speeds, duplicate content, and low crawl ability.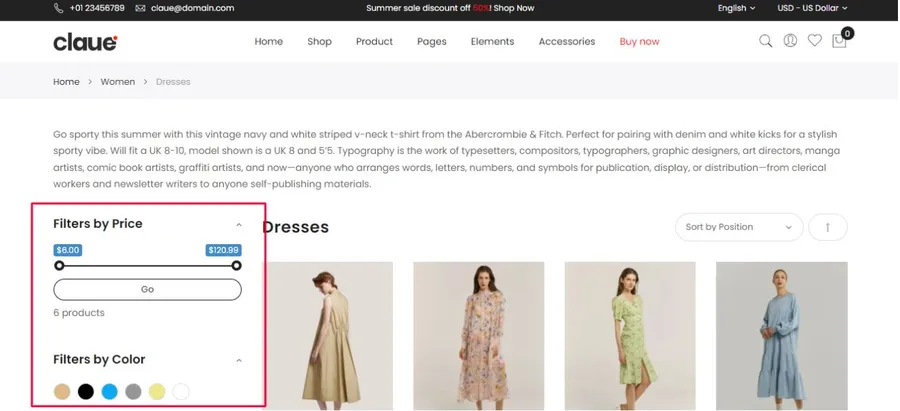 SEO issues with default layered navigation—the common Magento 2 SEO mistakes:
Slow loading speed: Each filter option generates a new URL with additional parameters, increasing the number of requests and overall site load time.
Duplicate content: Filtered pages often share the same content as the original category page, confusing search engines and potentially lowering your ranking.
Low crawl ability: Web crawlers may struggle to find and index your products, especially with large catalogs and numerous filter options.
How to fix it—the common Magento 2 SEO mistakes:
To address these issues and optimize your layered navigation for SEO, consider the following best practices:
Customize filters: Select relevant filter options and discard irrelevant ones for your customers. Use Magento 2 SEO extensions like Magento 2 Improved Layered Navigation to create custom filters.
Implement AJAX-based navigation: Use AJAX to update page content dynamically when you choose a filter option, avoiding full page reloads. Use Magento 2 AJAX Layered Navigation for this feature.
Use SEO-friendly URLs: Create unique URLs for each filter option to improve website navigation and the user experience. Use Magento 2 SEO Suite Ultimate to generate SEO-friendly URLs.
Optimize meta tags: Customize meta titles, descriptions, and keywords for each filtered page to boost search engine ranking. Use Magento 2 SEO Meta Templates for dynamic meta tags.
Use rel canonical tags: To avoid duplicate content problems and combine ranking signals, you should add rel canonical tags to filtered pages. Use Magento 2 SEO Suite Ultimate for rel canonical tags.
Create an HTML sitemap: An HTML sitemap lists all site links, aiding web crawlers and users in navigation. Use the Magento 2 HTML sitemap to create one for your store.
Edit Robots.txt file: A robots.txt file instructs web crawlers which pages to crawl and which to ignore. Edit your robots.txt file from the Magento Admin Panel, or use Magento 2 SEO Suite Ultimate for automatic editing.
Not Block Site Search Results in robots.txt – Common Magento 2 SEO Mistakes
One of the Magento 2 SEO errors is failing to block site search results in the robots.txt file.
Site search results are often irrelevant and can lead to duplicate content issues, which can negatively impact a website's search rankings.
To prevent this, it's essential to configure the robots.txt file to instruct search engines not to crawl and index these pages.

How to fix it—the common Magento 2 SEO mistakes:
Access your website's robots.txt file: The robots.txt file is typically located in the root directory of your website. You can access it using an FTP client or file manager.
Locate the blocking section: Look for a section in the robots.txt file that starts with "Disallow:". This section is where you'll add rules to block specific URLs.
Create a rule to prevent site search results from being crawled: Add a line to the "Disallow:" section that blocks URLs containing the search query parameter. The syntax for this rule will depend on the specific structure of your site's search URLs. For example, if your site search URLs use the parameter "?search=", you would add the following line: Disallow: *?search=*
Save the robots.txt file: After adding the rule, save the robots.txt file and upload it back to your website's root directory.
Point Layered URLs Back to Category with Rel Canonical – Common Magento 2 SEO Mistakes
Search engines like Google treat duplicate content as a serious issue, potentially hindering a website's ranking and visibility.
In Magento 2, layered navigation can lead to the creation of numerous URLs for product categories, which can be perceived as duplicate content.
To address one of the Magento 2 SEO mistakes, it's essential to employ the rel canonical tag, which instructs search engines which URL should be considered the primary version.
The rel canonical tag is an HTML attribute that informs search engines about the relationship between different URLs.
When applied to a specific page, it indicates that the linked URL is the original and authoritative version.
So search engines can understand which page to prioritize for indexing and ranking, preventing duplicate content issues.

How to fix it: Implementing rel canonical tags in Magento 2 SEO mistakes
Unique canonical tag for each page: Each page, including product variations, should have a unique canonical tag pointing to itself. Hence, search engines can recognize the page as the original version.
Canonical tags for product variations: For product variations, such as different colors or sizes, set rel canonical tags so search engines can go to the main product page. This consolidates the authority of all variants under the primary product page.
Rel next and rel prev for paginated pages: For paginated pages, like category pages with different result pages, you should use rel next and rel previous tags alongside the canonical tag. These tags establish the relationship between the paginated pages, improving crawlability and search engine understanding.
Regular implementation checks: Regularly inspect your site's HTML code to verify the correct implementation of rel canonical tags.
Index Both HTTP & HTTPS Versions – Common Magento 2 SEO Mistakes
When you index both the HTTP & HTTPS versions of your website, you create duplicate content.
This occurs because search engines see the two versions as separate websites, even though they are essentially the same.
This duplicate content can confuse search engines, leading to potential penalties and a decline in your website's ranking.
To prevent these problems, you should choose HTTP or HTTPS for indexing your website, so search engines will have no trouble recognizing the intended URL for indexing and ranking.
You need to set up your website's settings and proper redirects according to the version you have chosen, from the non-preferred one to the preferred one.

How to fix it—the common Magento 2 SEO mistakes:
Follow this guide to fix the Magento 2 SEO mistakes—duplicate content issues that happen when both HTTP and HTTPS versions are indexed by search engines:
Determine the preferred version: Choose the HTTP or HTTPS version of your website that you want to index. HTTPS is the more secure and recommended option, but HTTP may be suitable for certain situations.
Configure website settings: Magento dashboard admin > Stores > Configuration > Catalog > Search Engine Optimization to configure your website's settings accordingly.
Set base URL: You need to put the URL of the version you chose for indexing (either HTTP or HTTPS) in the base URL field. The right prefix (http:// or https://) should be included, and any extra prefixes or suffixes should be removed.
Save changes and clear cache: Save the changes you made and clear the cache to ensure the updated settings are reflected throughout your website.
Set up redirects: Users and search engines are automatically directed to the correct website version.
Monitor and maintain: To avoid duplicate content issues from coming back, you need to keep track of your website's SEO performance and stick to the version you chose for indexing.
Final Thoughts
By avoiding the common Magento 2 SEO mistakes outlined in this blog post, you've taken a significant step towards enhancing your website's visibility, credibility, and ability to drive business growth. Continue to embrace SEO as a long-term investment, and you'll reap the rewards of a well-optimized Magento 2 store that attracts, engages, and converts.
Don't forget to check out Claue from ArrowTheme! Claue is a beautiful and responsive Magento theme that will make your store look great on all devices, including smartphones and tablets.
Read More: 14+ Top Magento SEO Tips to Outrank the Competition
---
Contact us, ThimPress:
Website: https://thimpress.com/
Fanpage: https://www.facebook.com/ThimPress
Youtube: https://www.youtube.com/c/ThimPressDesign
Twitter: https://twitter.com/thimpress