Are you planning to add GamiPress to your eLearning site?
Firstly, you should understand about gamification. Gamification is one of the best ways to make your course exciting and appealing. Plus, this feature is suitable for all kinds of eLearning websites, from a digital classroom for kids or an advanced learning course. In case you are looking for a theme to create an education website, you can try Eduma – the best selling education theme at the moment on the marketplace.
To clarify, let's explore our article today to gamify your LMS site and increase student engagement.
What is Gamification? – GamiPress
Gamification is a way to add game features to your online courses or study materials so your website will be highly interactive from students.
Traditional study materials usually make students feel bored and unexcited. Sometimes, they can't even concentrate on studying these materials. So you can make a difference using some competitive elements such as reward points, badges, rankings, etc to urge students to get involved and study effectively.
Why Do We Need Implement Gamification? – GamiPress
As I have said, gamification is the best way to make your course exciting and appealing so it's getting famous. Most learning programs now include this feature in their course because of its effectiveness. Gamification is truly engaged to the participants.
Even though you spent a lot of time, money, and effort to create a high-quality course, you still need to keep user interest in your program. So GamiPress is your perfect solution to gamify your eLearning site. Using this plugin, you can introduce to students a point system, badges, rank, reward, unlock, and so on together with your courses.
Types of Gamification:
The main point of using gamification is to make your eLearning course interesting and appealing so it can boost your sales. However, if you don't use gamification in the correct way with a positive impression on your visitors, you can not achieve your target.
No worries. You can check the following gamification types to make a positive result to retain your potential students for a long time. Let's check these techniques before exploring GamiPress in the next section.
Badges
Bage is a kind of recognition of achievements that you can use for your courses. But you can create some activities such as getting a high score in a quiz or passing a test before giving badges. Plus, this way can push students to continue your course with better engagement.
Level Completion
Students usually will be happy once they complete a certain level of their course. Of course, they can see their achievement in their profile and use it to unlock the next levels, points, and so on.
Points
Learners can earn points when they complete a course, quizzes, levels, etc. They can save their points or even use them to unlock the next course level. Plus, points are possible to determine in numbers. Students can also buy other courses later using their points if you create an option.
Achievements Sharing on Social Media
It means students can easily share their achievements on social media and motivate others to come across too.
Time Limit
Most games need a time-limiting aspect to create a challenge for the participants. So students can determine their time to complete their quiz, test, task, and other assignments.
Certificates
It is the most important step of recognition and achievement when you complete your course at the end. It can be a paper format or a soft copy, depending on your program.
Leaderboards
With leaderboards, you can boost a student's motivation, interaction, engagement, and participation. In addition, leaderboards can connect with social media, forums, and others so students have the chance to make friends and share their achievements.
How to Install GamiPress
To have gamification, we highly recommend you to use GamiPress on your eLearning site. To begin with installation and activation, you can open your dashboard -> find Plugins -> select Add Plugin -> search for GamiPress and click on the Install Now and then Active button.
If you are a beginner, you can check the detail of How To Install WordPress Plugins.

How to Set Features of GamiPress?
There are some highlight features of GamiPress such as points, achievements, and rankings. Apart from that, the plugin also has automatic points awards and points deductions.
So now we will show you how to set different GamiPress features you need with your online courses.
Setting Points Feature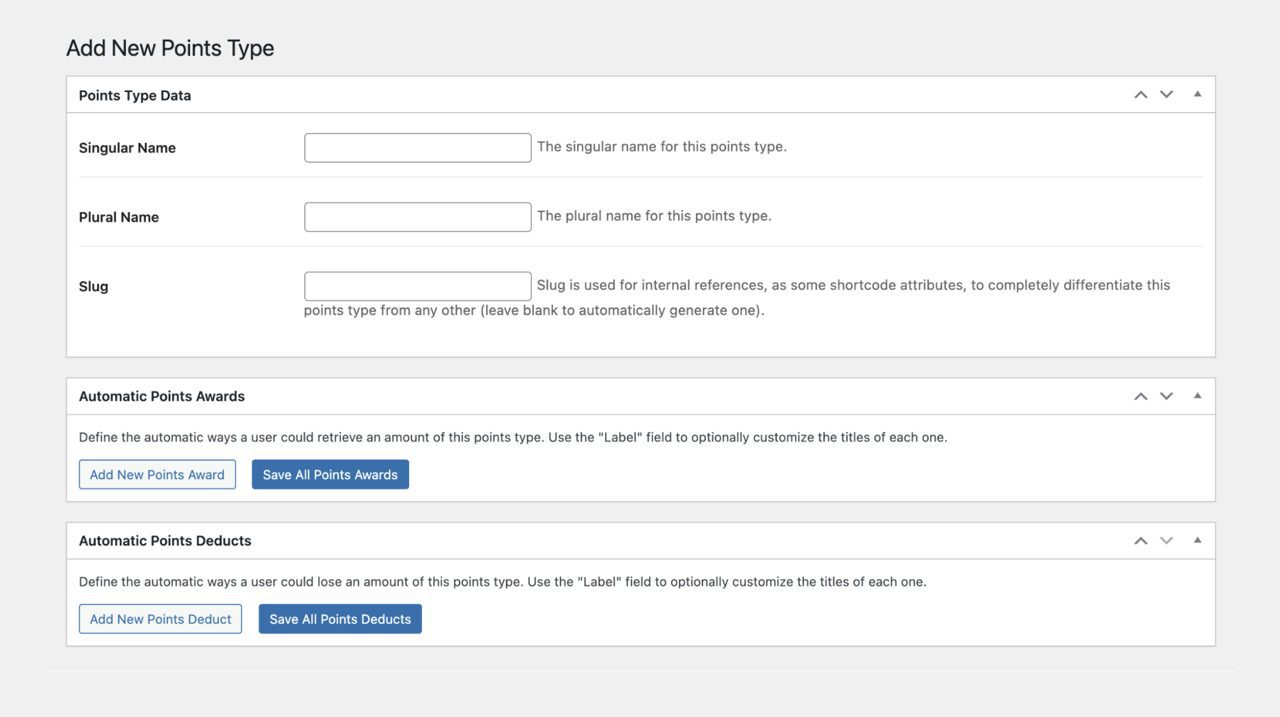 To have points feature, you can click the point types and see the Add New Points Type page. Then you'll fill in Singular Name, Plural Name, and Slug to add a new button.
Automatic Point Rewards
You can use this Automatic Point Rewards option in GamiPress to configure the automatic ways a student could retrieve an amount of this points type. It means you can set up points for each activity and students will get an automatic point system on it.
Automatic Point Deducts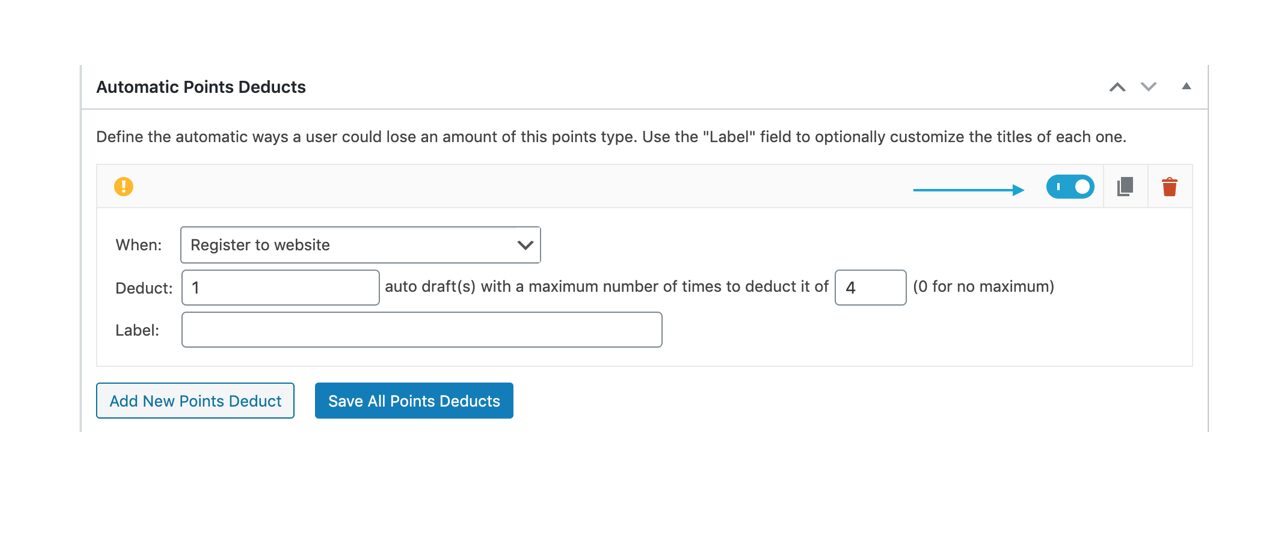 You can use this Automatic Point Deducts option to configure the automatic ways a student could lose an amount of this points type. As shown above, there are options to deduct points with maximum limits for activities.
Point Display & Level Setting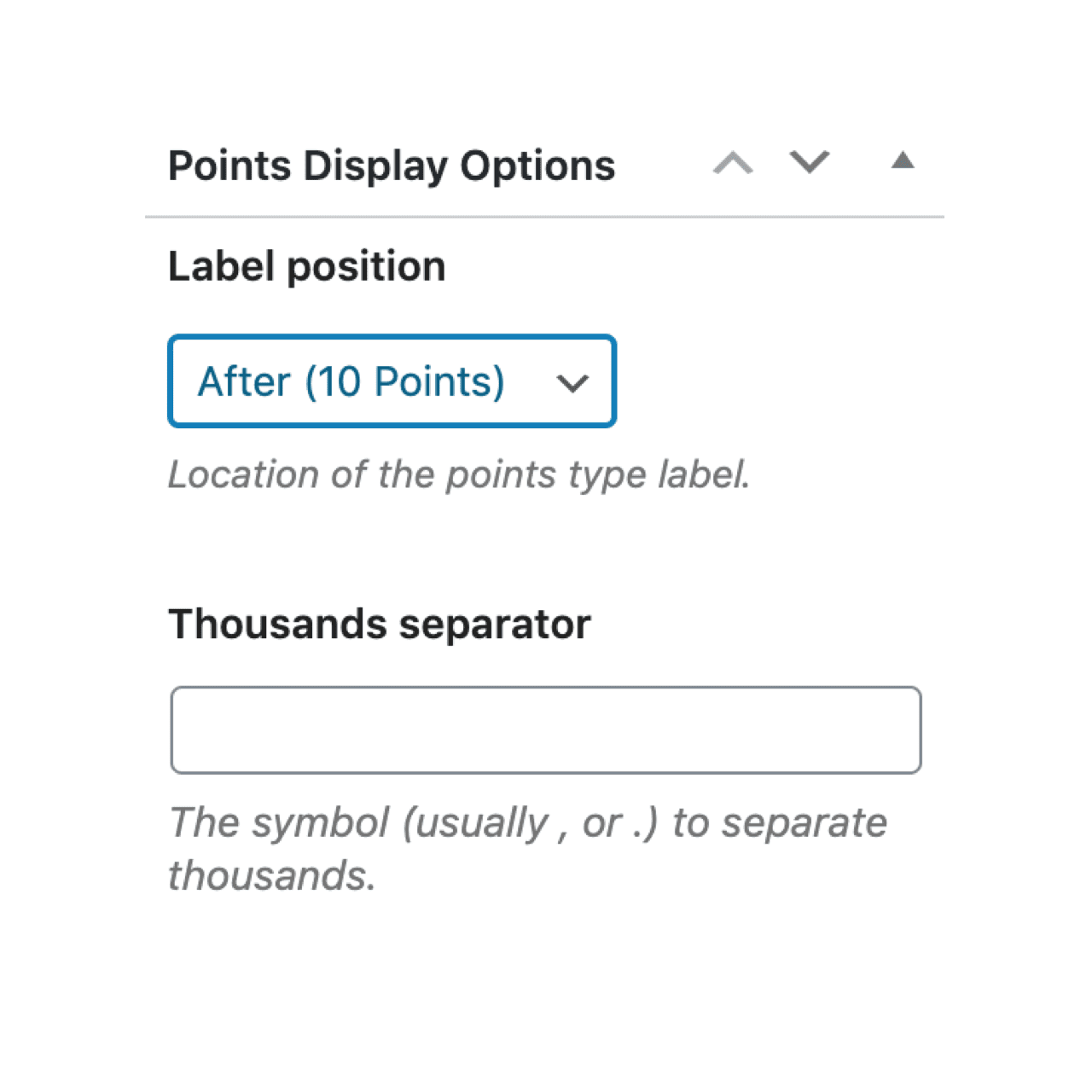 Points Display Options are available to set up the time when you want to enable points awards or points deduction. After setting up everything, hit the Publish button to complete your process using the GamiPress plugin.
Setting Achievement Types – GamiPress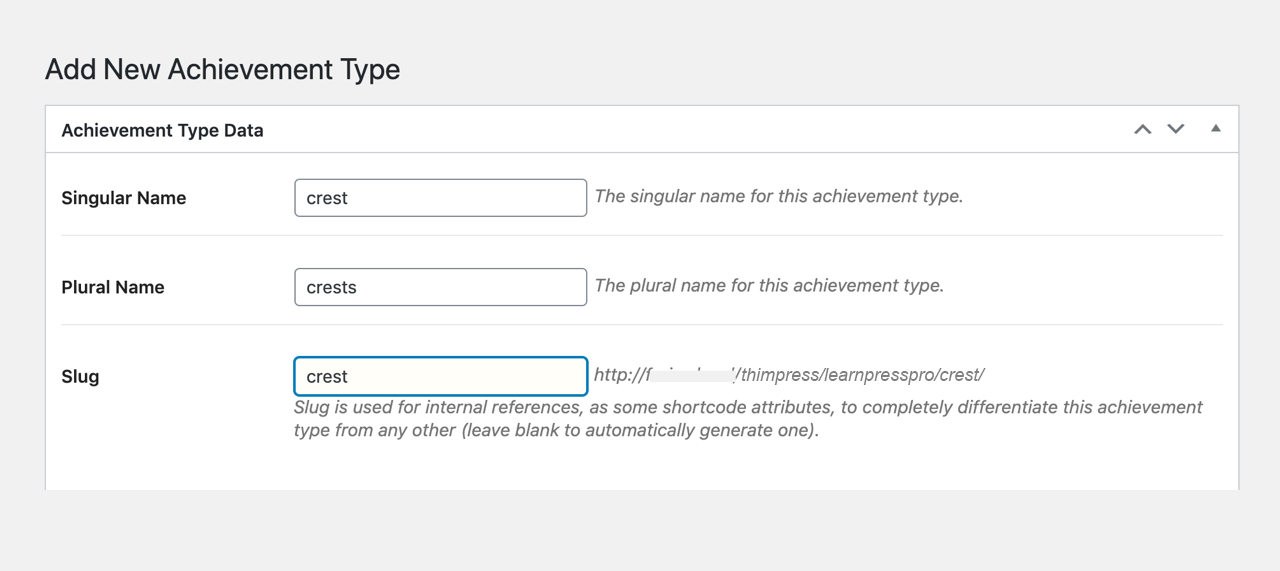 For setting the achievements feature, you have to go back to your Dashboard -> find Achievement. Then there is an Add New Chievement Type page. Similar to the points feature, you should complete Singular Name, Plural Name, and Slug.
Plus, you can even add an image to make your achievement appealing. That's all for setting up your achievement type.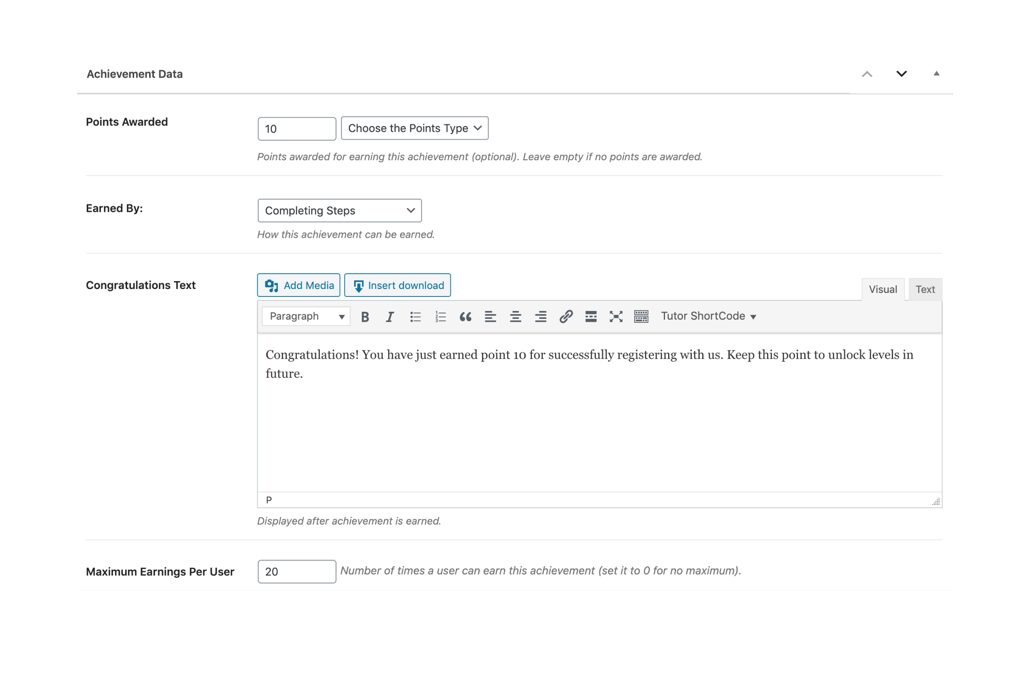 What's more? You can earn your achievement by completing steps or unlocking levels. There are points awarded as well.
To have it, open Dashboard -> find Achievement in GamiPress -> click Add New -> Required Steps. So, it's time to set the required steps.

You should select When and add Label to be considered completed for the achievement. Don't forget to Save All Steps.
Setting Rank Types – GamiPress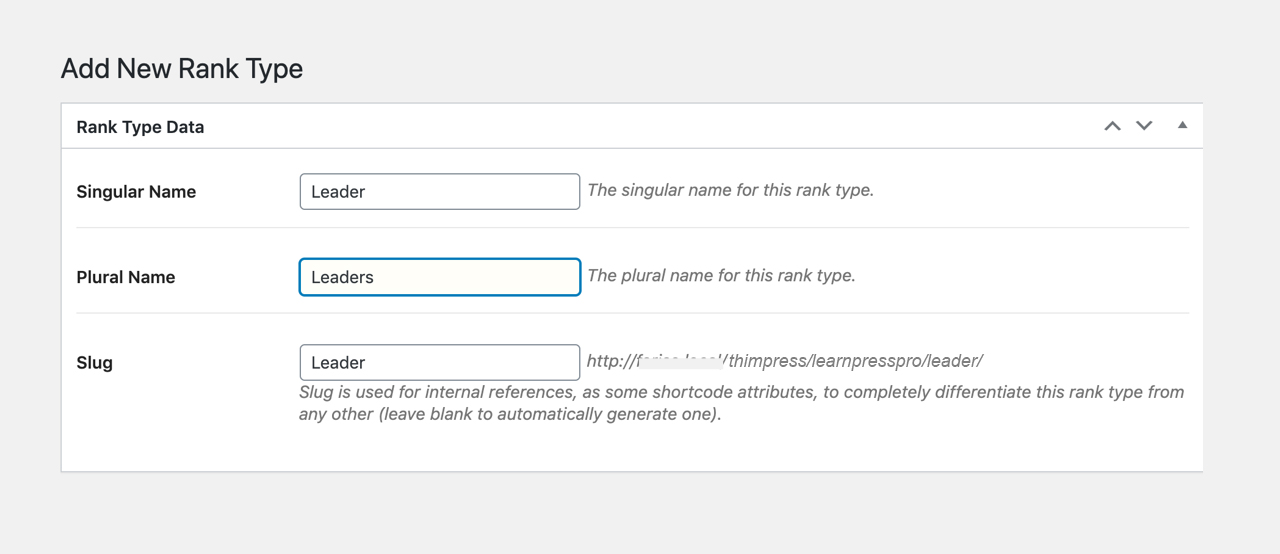 In the same way you set up point and achievement features, you need to turn back your WordPress Dashboard and find Rank to Add New Rank Type too. After that, you should fill in Singular Name, Plural Name, and Slug.
Lastly, you can update an image for your rank to make it engaging. If you want to have more ranks, just re-do the same procedure.
Benefits of Having Gamification – GamiPress
Having gamification in your online course will bring numerous benefits. Apart from engaging, appealing, interesting, gamification can make students focus on studying better. So that it can give a chance to boost your sales. And GamiPress is an example you should try for free.
Below are some of gamification benefits you can take a look:
Makes Highly Interactive in Learning
Students will be interested in learning and have a chance to interact with gamification in their course.
Improve Learners' Motivation & Engagement
Students usually will have a hard time or fear completing their course. But if you include gamification features, you can divide your task to smaller ones. Students can step by step complete each mini-quest easily. As a result, it will motivate and engage them to finish the course.
Builds a Challenge to Learning
Your learners would love to challenge themselves if you set up a time, target, points, or rewards using gamification. You can also find these features all in GamiPress. Deals are a way to excite your students.
Earns Instant Results
Some students are used to different interactive gaming so you need to divide from your entire course to smaller tasks. After that, you have to introduce some quests to them. Once students complete a quest, they should get their results right away since it will motivate them to finish all quests.
Creates Scope for Student's Self-Evaluation
After getting instant results, students can easily evaluate their study progress based on their achievements such as points, rewards, or scores.
Final Thoughts
Overall, we have shown you everything about gamification and its benefits to get more students and sales. The best way to have gamification quickly and easily for your eLearning platform is to try LearnPress and its solution of GamiPress for LearnPress.
Read More: 8+ Best Education Elearning & LMS WordPress Themes in 2021