A built-in user role in WordPress called Author allows someone to write and publish content on your website. They are unable to alter the settings on your website, though. Knowing user roles is essential as your website grows.
The author's job lets individuals control their own posts without changing anything else, making it ideal for when you need help with content creation.
What Does the Term "Author" Refer to in WordPress?
Someone who has registered on your website and can access it by checking in with a special username and password is referred to as a User in WordPress. By giving them different user roles—Author is a reasonably popular one—you can restrict what they are able to accomplish in the backend of your website.
Users that you want to give the power to write and publish content on your WordPress blog should be assigned the Author role. Authors have complete control over the creation, editing, publishing, and deletion of their own posts. To strengthen the site's security, they are unable to change posts that have been posted by other users.
When writing posts, authors can select from already-existing categories but cannot create new ones. They are able to view comments but not edit or remove them. They are able to use blocks made by others and create, edit, and delete their own reusable blocks.
Access to the admin sidebar (plugins, themes) is restricted for authors. When you break up with someone, you should think about altering their password, deleting their account, moving their content to another user, or just banning their account to impose access restrictions while retaining their byline.
Decoding the Variances between Author, Editor, and Contributor
Users in WordPress can take on a variety of responsibilities, including authors, editors, contributors, and administrators.
Editors among them have better skills than Authors. They have more control over what appears on the internet because they have the ability to edit, publish, and delete other users' posts. Additionally, editors have the ability to censor comments, which means they get to choose which ones appear on the website.
Contributors, however, possess fewer skills. While authors can draft their own posts, they are unable to publish them. Additionally, they are unable to upload files, therefore they are unable to include images or other files in their postings or on the website.
It's crucial to understand that in WordPress, only administrators have the most power. They can alter the website's settings, create new users, and install plugins and themes.
In summary, in WordPress, editors have greater authority, contributors have less power, and administrators have the most power!
Managing a WordPress Blog with Multiple Authors
Simply click "Add New" under the Users part of the Admin page, select "Author" from the drop-down menu, and add new authors to your site. After that, the new author can log in and begin writing. Even more details about them, such as a biography or photo, can be added to your website.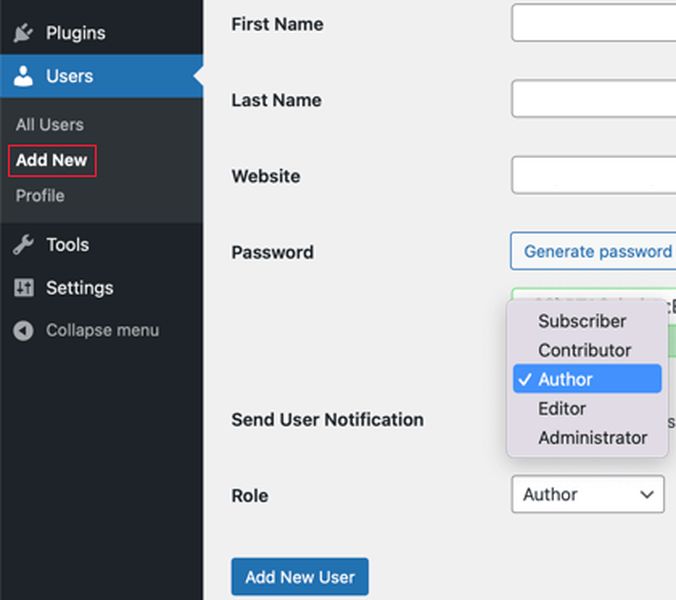 Presenting Author Bio in WordPress
To help readers relate to and establish the trustworthiness of their authors, several websites offer additional information about their authors. Here are some easy steps you can do to help your viewers learn more about your authors:
Use real photos of your authors instead of generic gravatar.
Include an author bio box that shares interesting details about each author.
Show links to the author's social media profiles on their profile page.
Display a list of all your authors in the sidebar or on your "About" page so readers can easily see who's writing for your blog and find content from their favorite authors.
Author Role Customization
WordPress has built-in user roles that are often appropriate for the majority of websites and blogs. To better meet the needs of your website, you might occasionally need to alter the rights and abilities of a certain user role.
For instance, if you want to give your Authors more control, you can let them edit the posts that they have already published. Authors may feel more invested in their work as a result, which could improve the content's quality.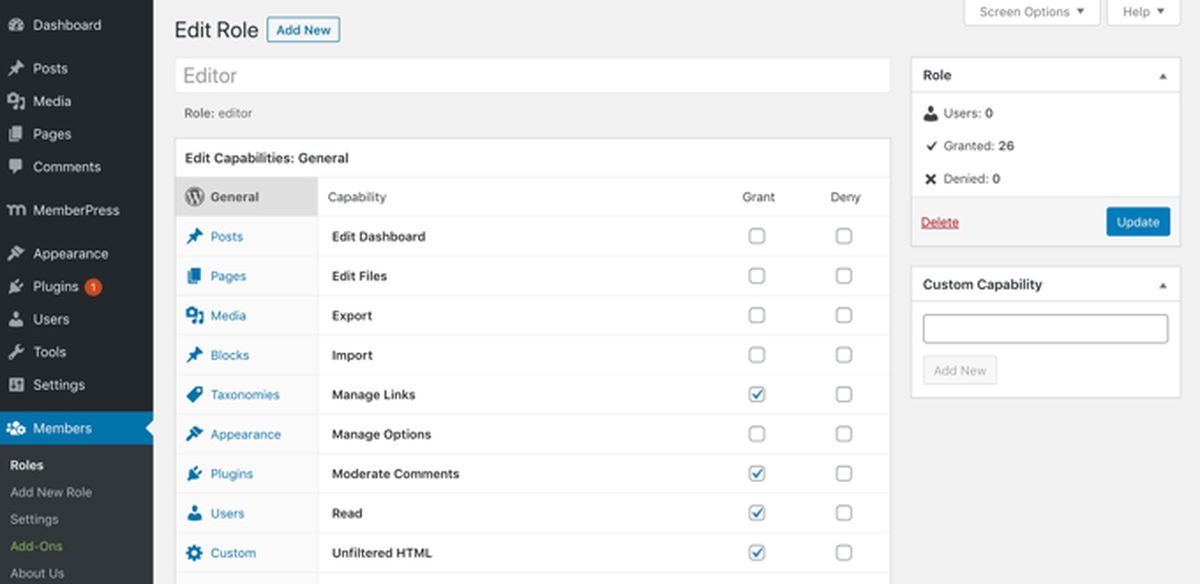 Related: To learn more about customizing permissions for the user role, check out the article What Is A User Role?
Conclusion: Now you know 'What is Author in WordPress?'
In conclusion, when your website expands, it's critical to comprehend user roles in WordPress, especially the Author role. A strong editorial workflow can make managing several authors simpler.
Readers can establish a connection with your authors by providing author profiles with actual images, bio boxes, social network links, and an author list. Author engagement and content quality can both be enhanced by customizing author responsibilities.
Read More: What Is A Page Builder In WordPress?
---
Contact us, ThimPress:
Website: https://thimpress.com/
Fanpage: https://www.facebook.com/ThimPress
Youtube: https://www.youtube.com/c/ThimPressDesign
Twitter: https://twitter.com/thimpress