Have you ever spent countless hours following SEO checklists, meticulously crafting "green" SEO content, yet still failing to see the results you desire? If so, you're not alone. In today's ever-evolving digital landscape, Google's algorithms are placing an increasingly greater emphasis on content that genuinely provides value to users, rather than simply adhering to a rigid set of SEO rules.
So, how can you encompass SEO content that not only adheres to Google's standards but also resonates with your target audience and drives meaningful results?
In this comprehensive guide about How to Add Value to Your SEO Content, we'll delve into the intricacies of adding value to your SEO content, empowering you to craft engaging, informative, and search engine-friendly material that will attract and retain a loyal readership.
Why SEO Content Should Be Valuable?
Have you ever searched for something online and found a website that didn't have the information you needed? This is definitely frustrating and time-consuming, which is why it's important to write SEO content that's useful and informative for readers. Before diving into strategies for enhancing your SEO content, let's learn more about why adding value to SEO content is paramount.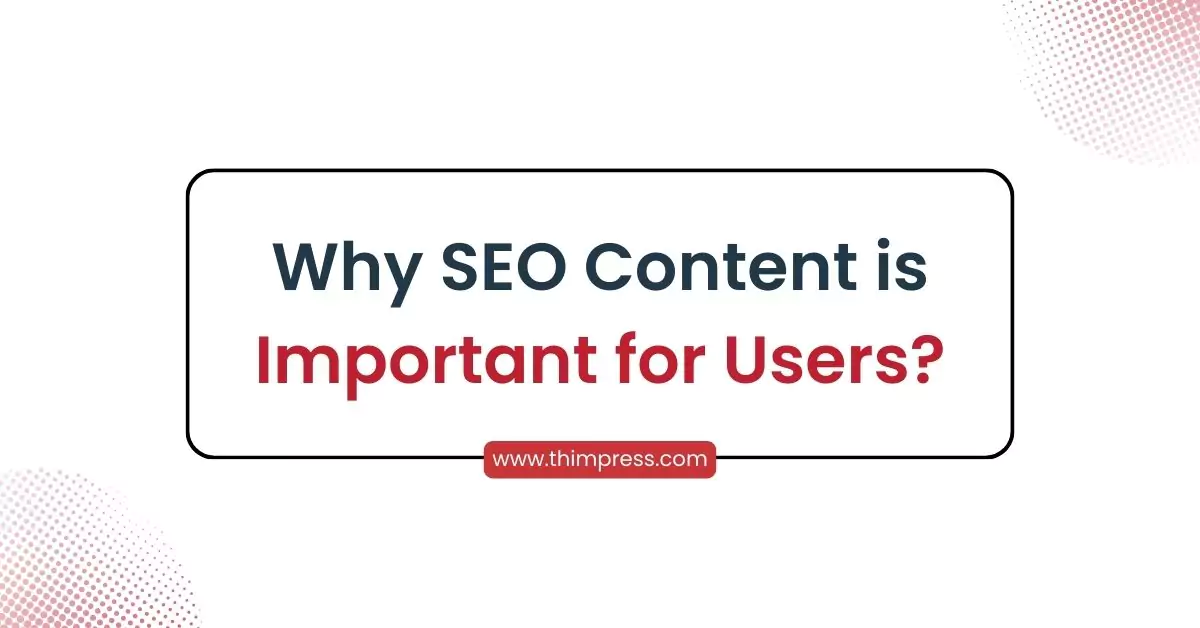 Why SEO content is important for users? SEO content is important for users because it aligns with their search intent. When users seek information, they desire the most relevant and helpful results. Similarly, when searching for jobs, they seek the most suitable opportunities. And when looking for a place to shop, they want to find the best deals and options.
SEO content effectively addresses these needs by providing high-value content that directly answers user queries. This content is then strategically optimized to appear on the first pages of SERPs, ensuring that users can easily find it.
In essence, SEO content bridges the gap between user needs and the information they seek.
The difference between valuable and valueless SEO content. There is a big difference between valuable SEO content and valueless SEO content, we can look at the following table to understand better.
| | | |
| --- | --- | --- |
| Criterion | Valuable SEO Content | Valueless SEO Content |
| Purpose | To provide users with informative and helpful content that will keep them engaged on the website and encourage them to return in the future. | To manipulate search engine rankings and drive traffic to a website without providing users with any real value. |
| Quality | Is well-written, researched, and original. | Is poorly written, plagiarized, and/or irrelevant to the user's search query. |
| Keyword usage | Uses keywords naturally and organically throughout the content. | Uses keywords in a forced and unnatural way, often in an attempt to "game" the search engines. |
| Structure | Is well-structured and easy to read. | Is poorly structured and difficult to read. |
| Links | Includes links to other high-quality websites to enhance the credibility of the content. | Does not include links to other websites. |
The difference between valuable and valueless SEO content
In summary, valuable SEO content is high-quality, original, and informative content that is designed to provide value to users. Valueless SEO content is low-quality, copied, and irrelevant content that is designed to manipulate search engine rankings.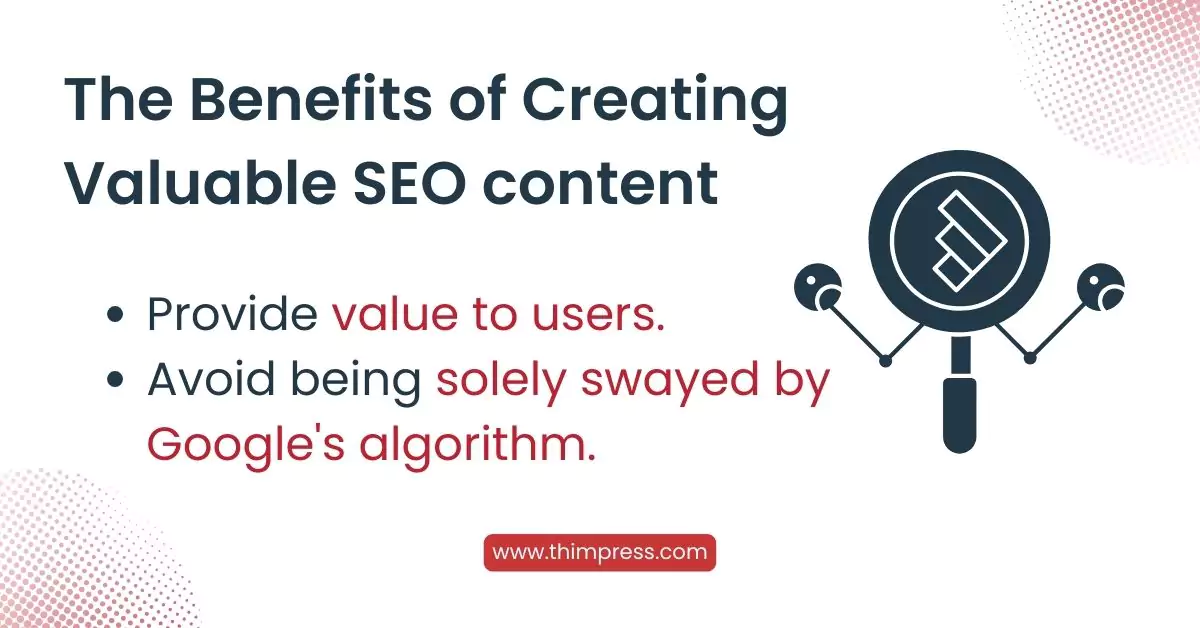 The benefits of creating valuable SEO content. The search engine's search bar can be likened to a question box. Users seeking specific answers enter their queries into this box, hoping to find content that addresses their problems, resolves their questions, or perhaps enhances their knowledge.
Pages that appear on the first page of search engine results pages (SERPs) typically have strong SEO. However, there's no guarantee that this content provides substantial value to users. Google constantly updates its algorithm to prioritize user-friendly content, reflecting this understanding.
To provide value to users and avoid being solely swayed by Google's algorithm, we must strike a balance between optimizing SEO and creating valuable content for users.
Understanding Your Audience and Their Needs
Through the previous content, we know why we must add value to SEO content. But, how to add value to SEO content? Rather, where should we start investing? The answer is understanding your audience and their needs.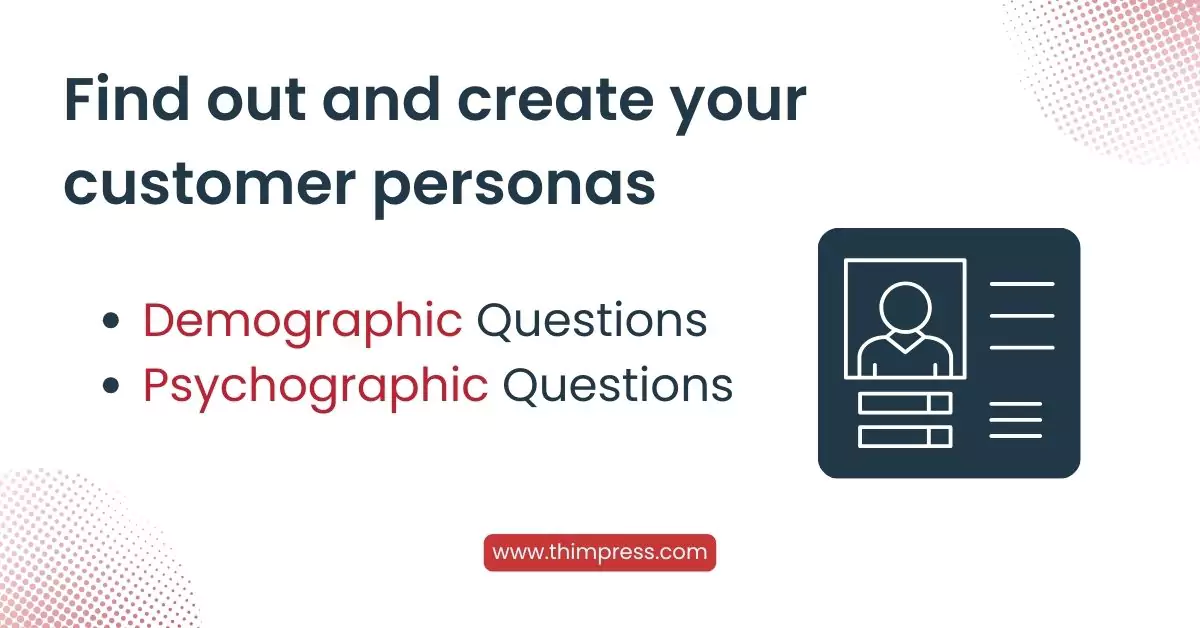 Finding who you want to reach and learning about them. Find out and create your customer personas, this is the first step for you to do marketing in general and SEO content in particular.
To easily identify customer personas, ask these questions:
Age Range: What is the age range of your target customers?
Gender: Are your target customers primarily male, female, or non-binary?
Location: Are your target customers primarily domestic or international?
Word usage: Do your customers require professional jargon or prefer simplified explanations?
These are just simple questions, but they are quite sufficient for you to visualize the content you have to produce for customers. To be able to go deeper into customer analysis, you can apply:
By understanding customer personas, you will have a better overview of the content you should produce. Some of the information you can get from website performance measurement tools like Google Search Console, GA, or Similarweb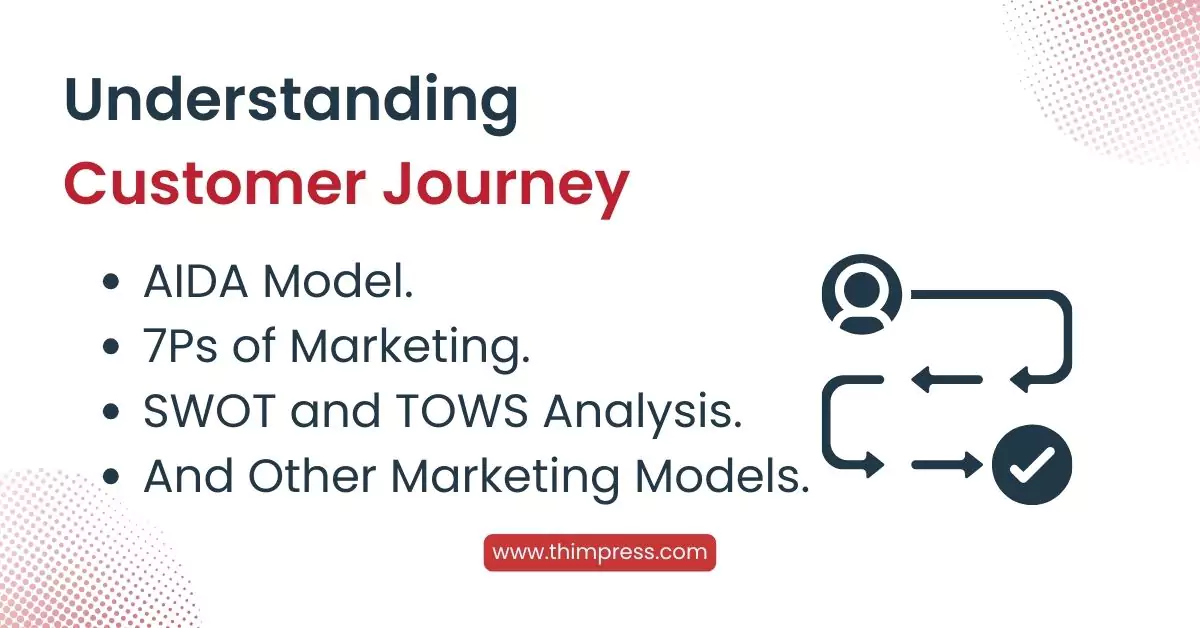 Learning how your target audience looks for things online. Customer behavior research models that can be referred to are AIDA Model, 7Ps of Marketing, or other marketing models. By understanding "customer journey", you will know where you should produce content from.
Once you've created your customer personas and know your customer journey, it's time to create the content your customers want and need.
Creating Content that Solves Problems and Provides Solutions
Creating content is a straightforward step. Currently, we have access to numerous AI tools specializing in content production, such as Google Bard, Chat GPT, Bing AI, and so on. However, to generate truly valuable content for users, we need to produce unique and in-depth content that AI finds challenging to create.
Here's a step-by-step guide to creating content that truly matters: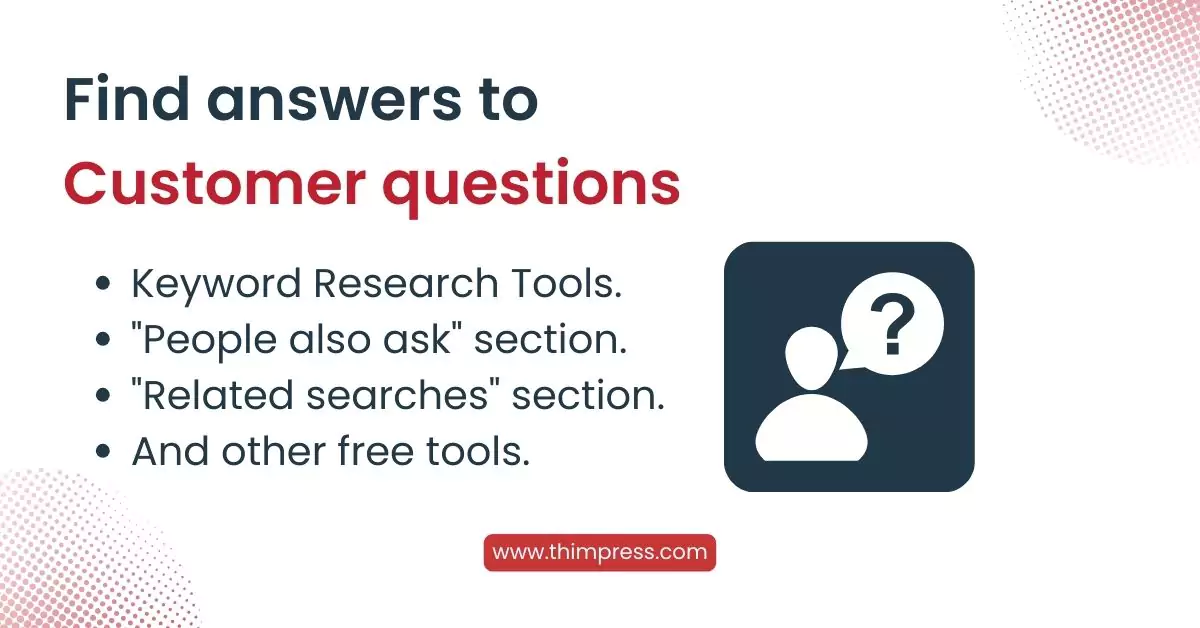 Helping your audience solve their problems and find answers to their questions. The first step is to find answers to the customer's question. So, how do you know what questions customers often ask?
We can use powerful keyword measurement tools like SEMRush and Ahrefs, both of which can measure and analyze keywords by day, month, and year. However, these tools require a fee and often serve large customers (businesses, enterprises).
For those who are new or not ready to pay for keyword research tools, we have free backup for you.
You can refer to the "People also ask" section to identify questions related to the query you're entering in the search bar. For example, I want to know what people often ask related to the keyword "T-Shirt", then the questions that are considered most relevant will appear as shown below: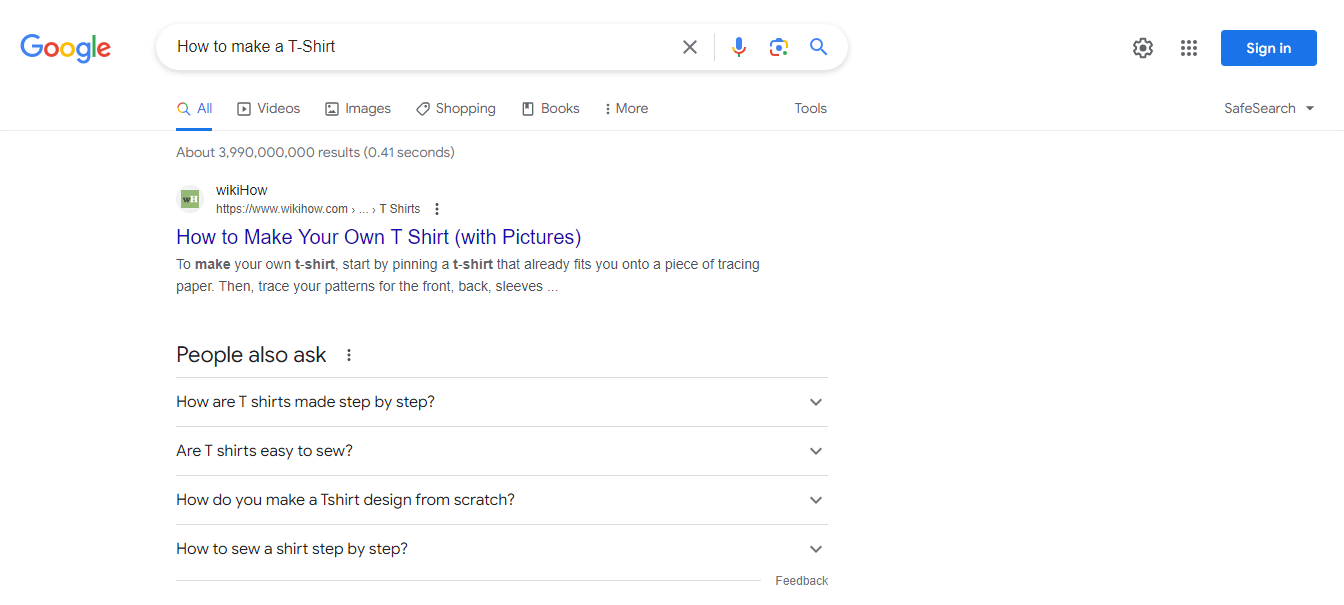 In addition, if you scroll down to the bottom of page 1 of the search results, Google will also suggest "Related searches" as shown below. These "Related searches" can also yield information about what people have searched for that are related to what you're querying.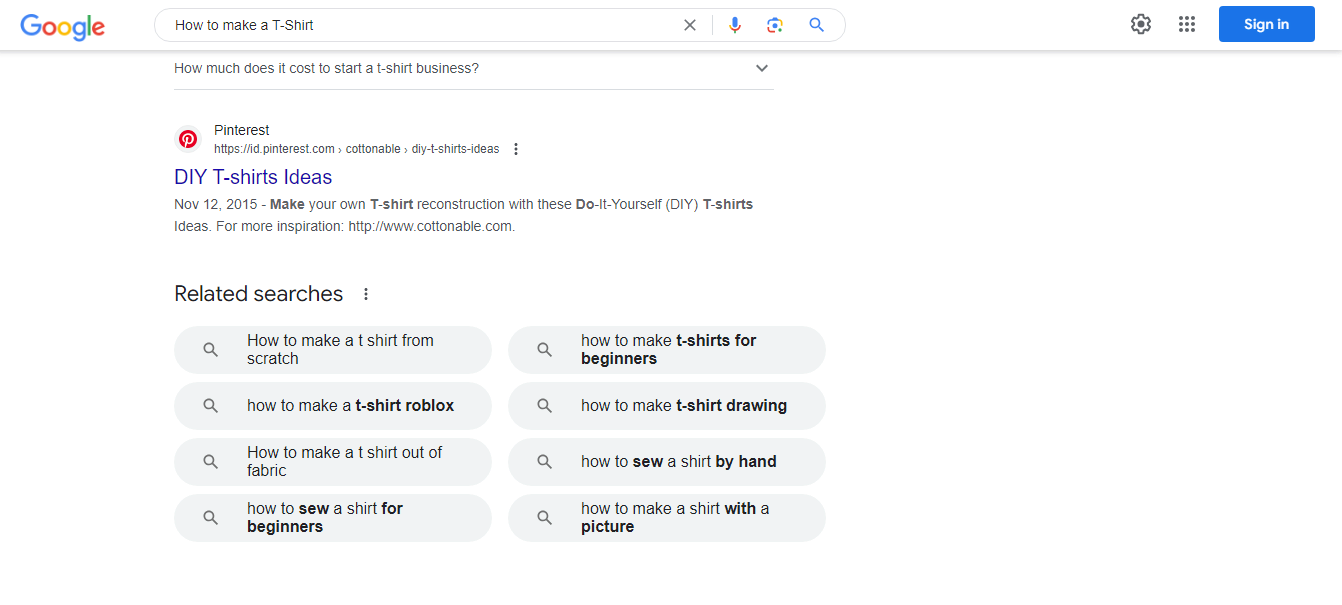 Another useful way is to use Google Bard to research keywords, although its accuracy is often not appreciated. Google Trends is also a free option for you to understand the content that users search for frequently.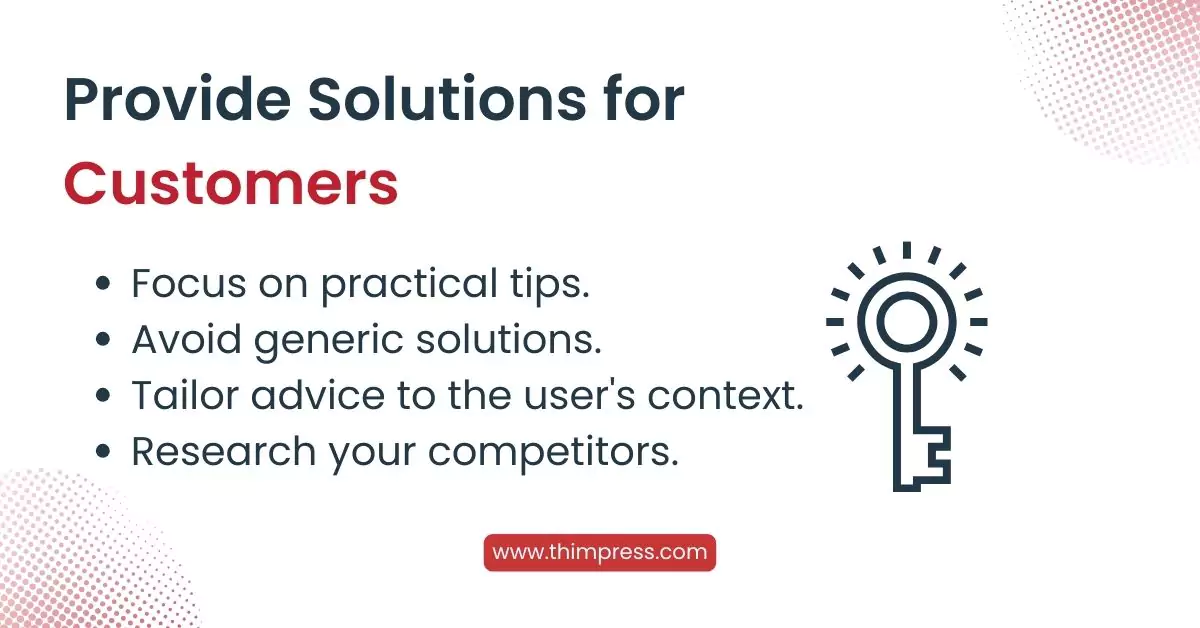 Giving your readers helpful tips that they can use right away. The content you create should offer practical solutions for users. Avoid recommending expensive purchases like a new laptop solely to enhance computer performance. Instead, present solutions that users can apply with reasonable effort.
You should also research what your competitors (ie those in SERP 1) are offering and do better than them. Remember when coming up with solutions, you should apply the following rules:
Focus on practical tips
Avoid generic solutions
Tailor advice to the user's context
Research your competitors
Writing content that answers people's questions and solves their problems. After you have researched and compiled possible ways to help your customers solve the problem they are facing, the next step is to write content.
A tip for writing useful content for users is to focus on answering users' questions, avoid writing too long and not getting to the point. You can learn how to write readable and useful content from blogging giants like:
HubSpot – they have marketing experts and the blog they write has a lot of useful things.
Ahrefs – Their blog has large text, professional-looking images, and an easy-to-read structure.
MOZ – Their blog provide quite useful tips when using SEO tools.
SEMrush – Similar to Ahrefs, they also offer many free courses on marketing.
Search Engine Journal – A reputable news site, their articles are up-to-date, timely and quick.
Enhancing Content Quality and Readability
To make your content more valuable to users, you must do everything you can to make it feel trustworthy. While large, established websites like Google's seed websites may not need to actively build credibility, it is essential for most websites, including yours.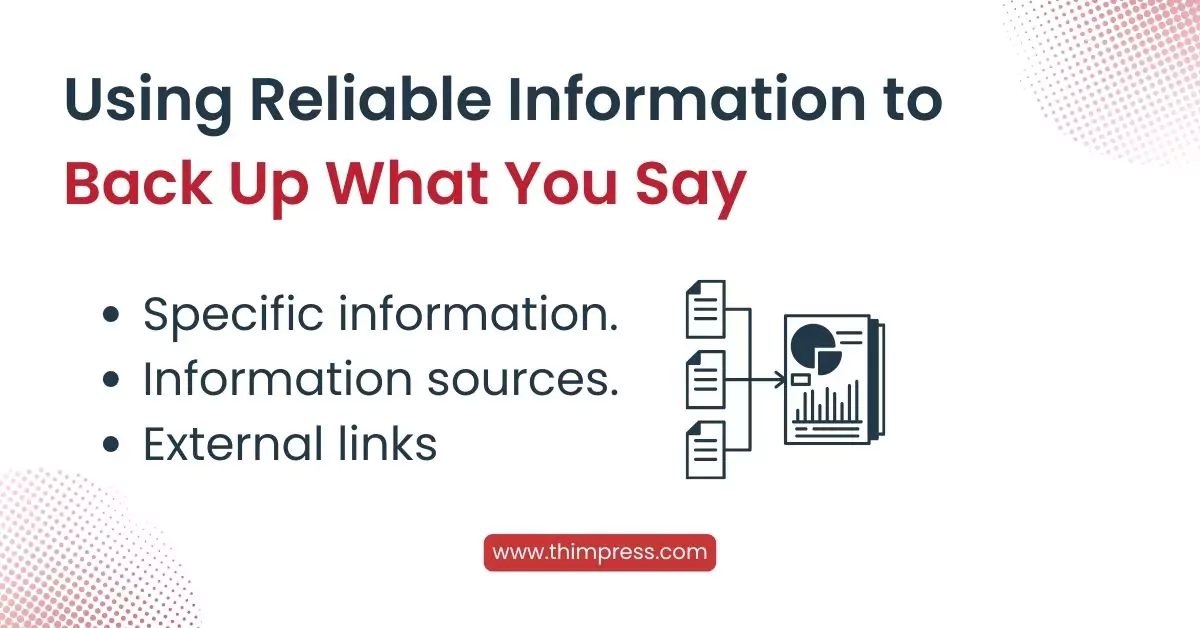 Using reliable information to back up what you say. Your content should include citations and sources to other websites if you use their knowledge. Technically, it is called external links. These sources of information will make both Google and readers evaluate the credibility of the content more than if you do not include any sources of information.
Additionally, add data to make your statement more trustworthy. For example, instead of just saying "WordPress is a good platform for creating online courses".
Say "Themeforest has seen sales of Education WordPress Themes products increase in recent years. Especially in 2019-2022 due to the COVID pandemic, those who specialize in producing courses have found this to be a good platform for them to teach." (We also included a few links in the paragraphs to make the information more authentic)
The revised claim is more credible because it is supported by data. Data from Themeforest shows increasing demand for Education WordPress Theme products. This shows that WordPress is a popular platform for creating online courses.
For more details, you can refer to Google's documentation about Link best practices for Google.
Making your writing easy to read by using headings, subheadings, and bullet points. Use headings, subheadings, and bullet points to make your content easier to read. Google Bot can also identify the HTML tags you use and evaluate how well-structured your content is for ranking.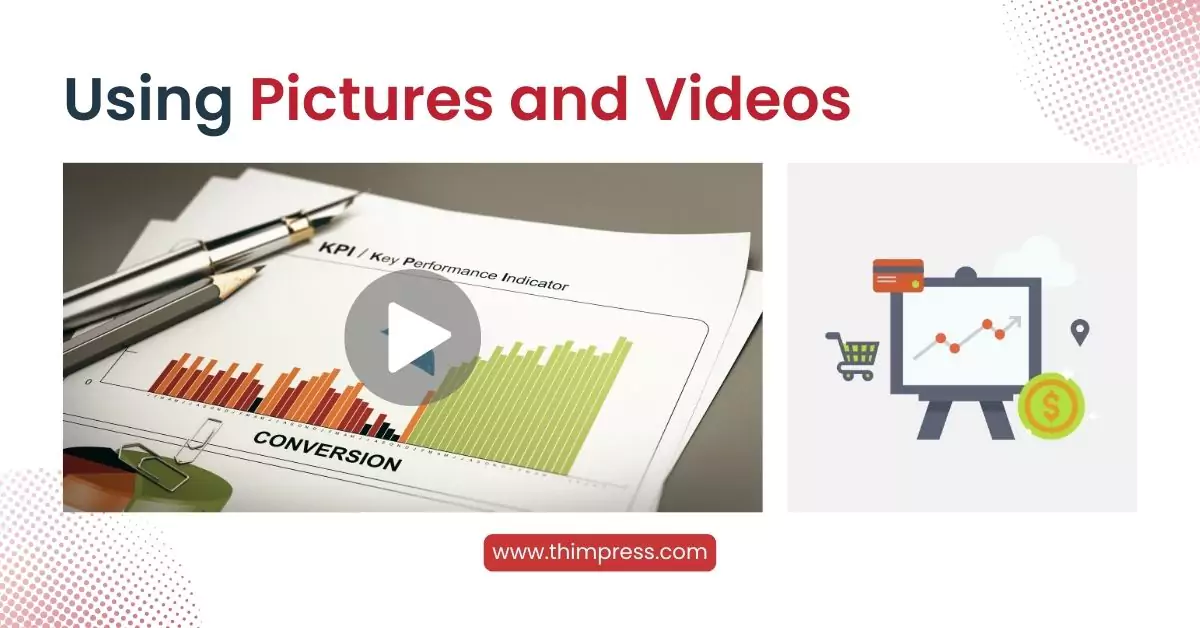 Using pictures and videos to make your writing more interesting. A post with only text will make the reader feel that the post is unattractive and difficult to read. Attaching photos will make the post more attractive, and illustrations can be used to convey content that writing can hardly do.
However, you should consider how to optimize images for your posts/websites. Images that are too heavy will slow down the loading speed of the website. Images that are poorly named or do not have alt text will make it difficult for Google Bot to identify whether the image is suitable for the content you are conveying or not.
You can refer to the documentation (provided by Google) Google image SEO best practices to better understand how to optimize images for SEO.
Optimizing Content for Search Engines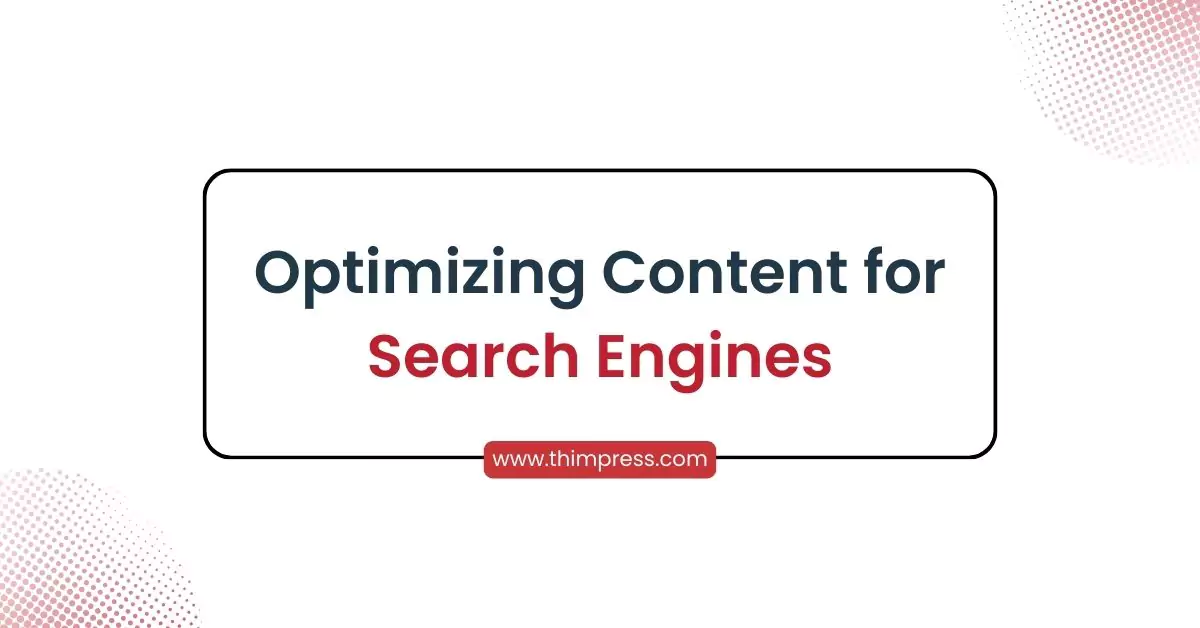 The eternal problem, let's optimize SEO for your posts. It will be a waste if your content is good but the search engine doesn't know that it is good.
Conduct keyword research to identify relevant and high-value search terms. We've been doing this step since we produced the content, but we can do it even better with data after the post is published.
To do that, we need a tool from Google, Google Search Console. Here is step-by-step to do this:
Step 1: From the Overview screen, navigate to the Performance in Search Results section, also known as Search Results, located on the left-side sidebar.
Step 2: Click the "New" button and select "Page…" In the Filter section, choose "Exact URL" and paste the URL of your published post into the provided field.
Step 3: Click "Apply" to proceed.
The image below is the result you get:

On this screen, we will know what keywords users are searching for so your post appears on SERPs, these keywords will appear in the "Queries" tab. Along with the queries are the number of clicks and impressions of the post, keep an eye out for queries with high clicks and impressions. You can use these queries to add to your post and make the post's content more focused on these queries.
Write short meta descriptions of your content that include the keywords people are searching for. According to a course from Skillshop provided by Google, the meta description should have 1-2 short sentences that describe the content of the post and contain the post's keywords.
This is also the content that will appear under your title on SERPs so try to write a meta description that describes your post as best as possible. Here is example of a good meta description:

Promoting Your Content and Building Backlinks
Google has reduced the importance of links in evaluating SEO. In a Twitter exchange during 2020, Google's John Mueller reaffirmed the importance of quality content over backlinks as a key SEO factor. This statement is consistent with Mueller's previous advice about ditching outdated notions of "link juice" to create valuable content that resonates with users.
HOWEVER, backlinks still play a role in SEO, and it is important to promoting your content and build high-quality links to your website. We should not eliminate them or abuse them, but we should use them in a way that is helpful and informative for our readers.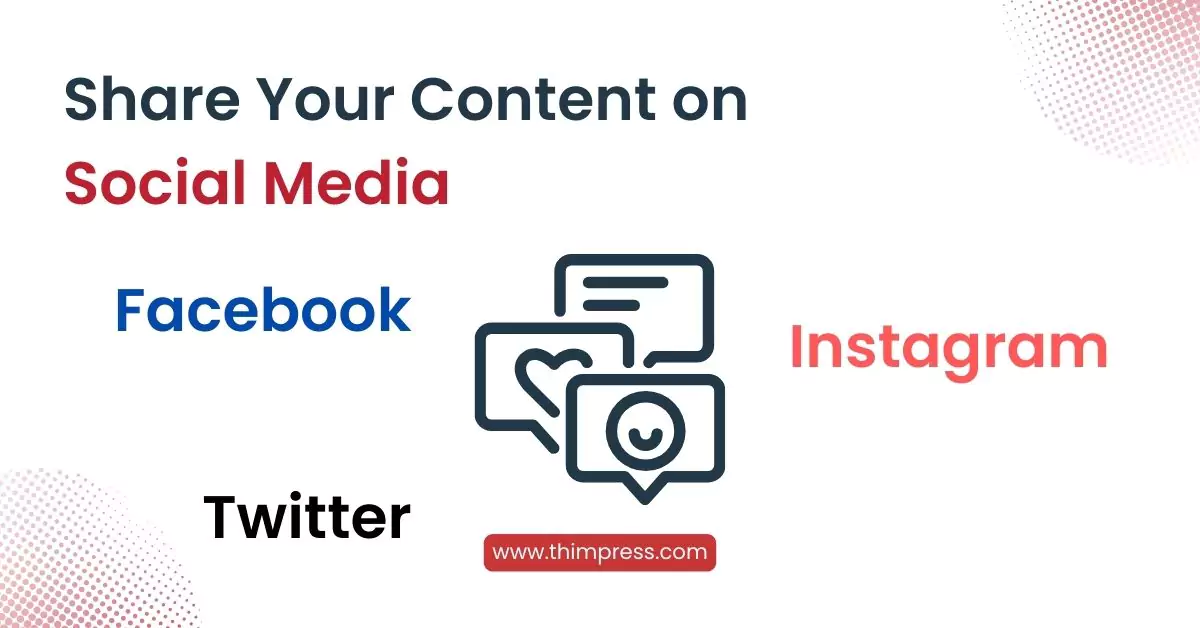 Share your content on social media to reach more people. Social Media is a good place for you to share content on your website. It is important that you choose the right platform that your customers tend to use more than others.
You can refer to a typical case of Google about choosing to use Social Media: Google has the most followers on X (old Twitter) with 30.9 million followers (at the time we wrote this post). At the same time, they also interact at X more than Facebook (28 million followers) and Instagram (14.6 million followers). They chose X because they claim to be able to interact with users more easily than the other two platforms. However, they also do very well on the other 2 platforms.
You should consider which platform aligns with your brand's focus and content style. Example, if your website emphasizes sales and showcases visually appealing products, Instagram might be an ideal choice. Alternatively, you can cross-post your content across multiple platforms to gauge which one resonates best with your audience.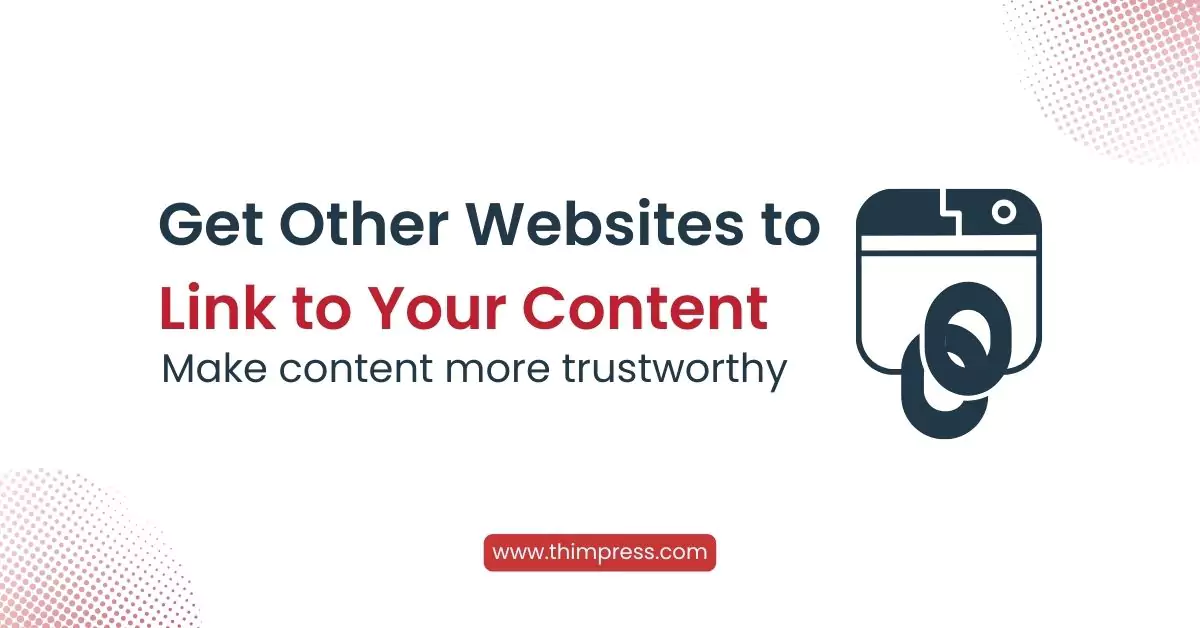 Get other websites to link to your content to make it more trustworthy. This is also known technically as building backlinks. You should consider this because Google can rate you well if other good websites do the same.
You can do many things to get other websites to link to your website. One of the most effective ways is to produce useful content that people want to share. In addition, you can also apply methods such as creating relationships with websites that share the same industry and "develop together".
However, be careful with practices that Google penalties, like buying links or getting too many links from bad sites, which can negatively impact your website.
Join online groups and discussions about your topic to connect with more people. Joining online groups related to the content you produce to connect with more people, build relationships, and demonstrate your expertise is a good way to get more exposure for your website.
These groups provide a place to share what you know, talk with like-minded people, and find opportunities to share your writing in the most natural way.
When participating in online forums/groups, follow the rules and demonstrate respect and professionalism. Don't just try to spam the site's links; Instead, try to be helpful and contribute something valuable to the community.
Measuring and Analyzing Content Performance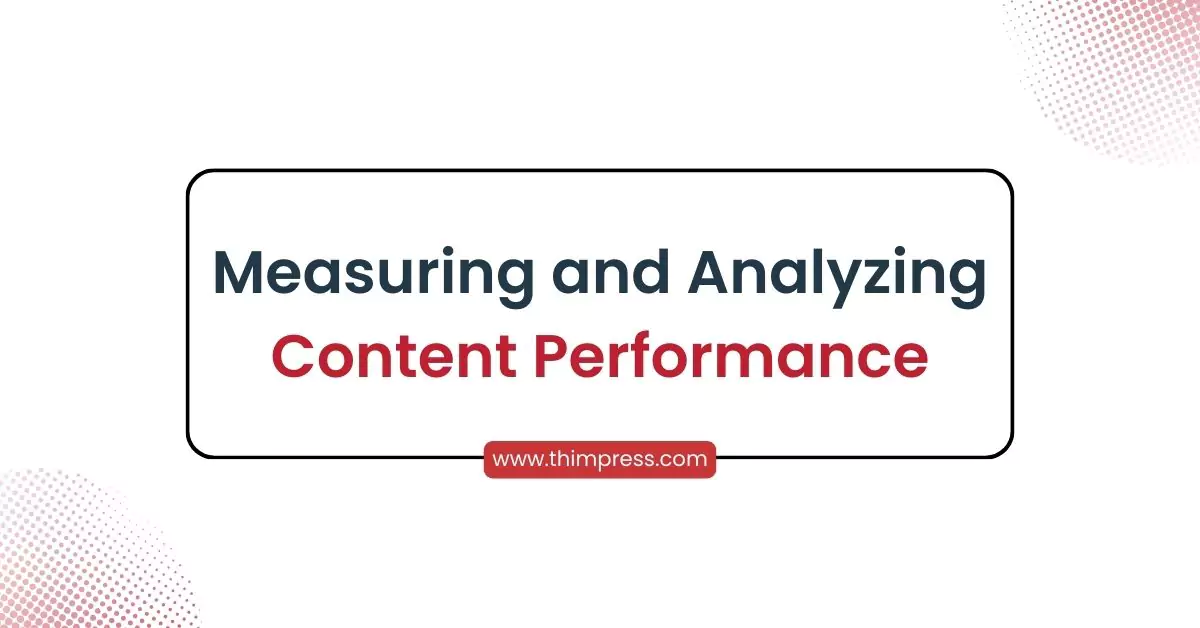 We've completed the steps to add value to your SEO content. However, we can still do better or optimize content to be more useful to users by measuring and analyzing content performance.
Using website analytics tools to track traffic, engagement, and conversion rates. The two most useful and free tools to do this are Google Search Console and Google Analytics. For technical issues you will need Google Search Console, for marketing effectiveness measurements you will need Google Analytics.
Therefore, make sure you have set up these two measurement tools for your website. Here are setup instructions provided by Google:
Finding out which content pieces are performing well and which ones need improvement. As mentioned in the "Optimizing Content for Search Engines" section, you can use Google Search Console to measure how your post is performing. However, for more accurate results, choose longer time intervals, such as 3, 6, or 12 months, as this will provide more comprehensive data.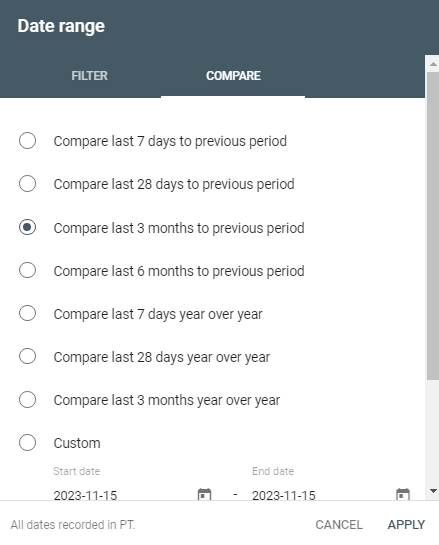 Google Search Console can also compare the performance of a post/multiple posts between two different times. For example, last week your post had a lot of clicks and impressions but this week it "disappeared". At times like these, you can use GSC to check which of your queries are no longer being searched and improve your post in other ways.
Now You Know How to Add Value to Your SEO Content
In this post, we have delved into the fundamental steps of enhancing the value of your SEO content. Remember instead of following Google's changes, you should focus on optimizing content to best solve users' problems.
---
Contact us, ThimPress:
Website: https://thimpress.com/
Fanpage: https://www.facebook.com/ThimPress
Youtube: https://www.youtube.com/c/ThimPressDesign
Twitter: https://twitter.com/thimpress