To learn the 7Ps of marketing, let's go back to the basics and look at the history of "marketing".
Philip Kotler says, "Marketing is the science and art of exploring, creating, and delivering value to satisfy the needs of a target market at a profit". To do this effectively, you should have a successful marketing strategy. It means your products need to fit the place, price, and timing that your customers want most. It sounds like a simple strategy, but it's quite difficult to put into practice.
Every aspect of the business cycle is involved in marketing strategy, including strategy formulation, distribution methods, product evaluation, sales, and customer needs. Marketers use specific campaigns to guide their actions and achieve their goals.
This article will explain the 7Ps of Marketing strategy and their importance for any marketer.
What is A Marketing Mix?
The marketing mix is a common marketing strategy tool that you might have heard of. It was originally built on the core 4Ps of Product, Place, Price, and Promotion.
The 7Ps of marketing stand for product, price, place, promotion, physical evidence, people, and processes. To promote a product or service effectively, a business/company needs to have these 7Ps as the core elements of its marketing mix.
Who Developed The 7Ps of Marketing?
E. Jerome McCarthy was the original developer of the 7Ps of marketing, and he introduced them in 1960 in his book Basic Marketing. A Managerial Approach.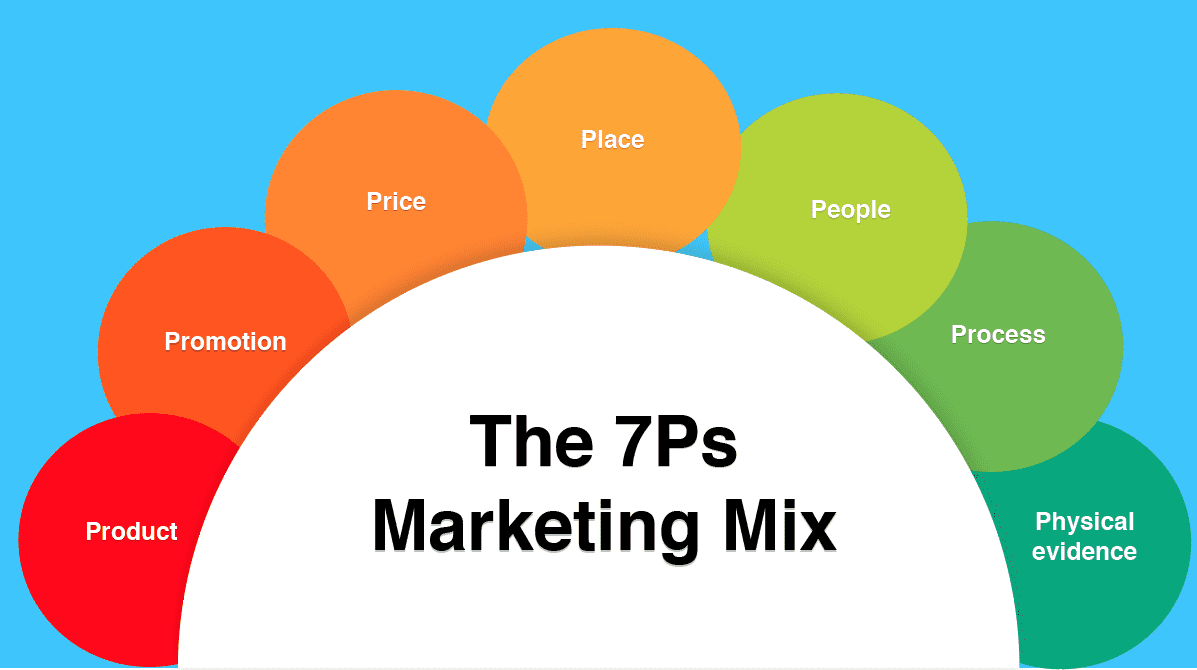 What is Different Between The 4Ps vs 7Ps of Marketing?
The 4Ps of marketing were created at a time when businesses were more likely to sell products than services. 4Ps were focused on only product marketing, and people did not know how important customer service was for building a brand.
Booms and Pitner later added three additional 'service mix P's': Participants or People, Physical evidence, and Processes. They also changed from 'Participants' to 'People', referring to the model marketing mix that includes marketers, remuneration, customer service representatives, culture, recruitment, and training.
When examining competitive strategies nowadays, the complete 7Ps of marketing need to be taken into consideration.
The 7Ps assist businesses in evaluating and defining the main issues affecting the marketing of their products and services. The marketing mix, a well-known marketing model, is also understood as the 7Ps model for the digital marketing mix.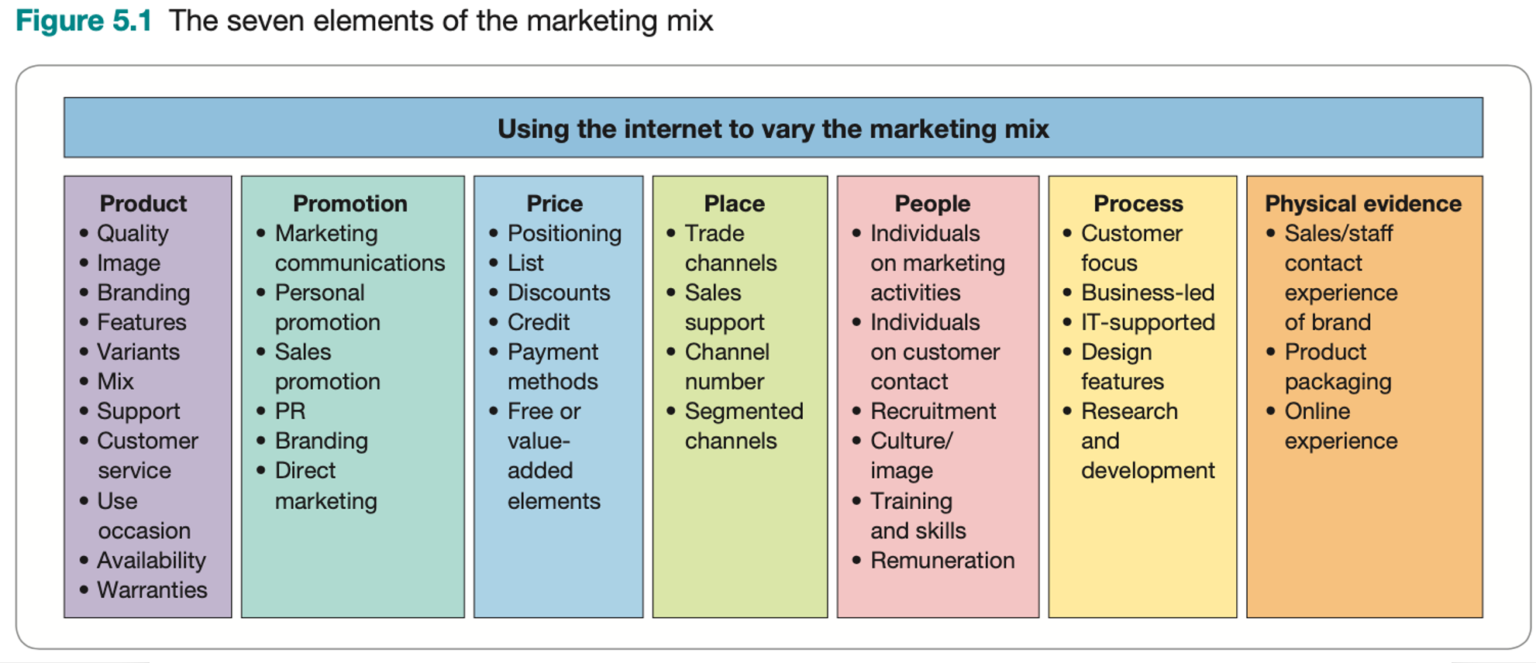 This model was updated and applied to online channels in Dave Chaffey's book, Digital Marketing: Strategy, Implementation, and Practice, to provide a realistic approach that fits different business channels.
Some suggest adding an eighth P, 'Partners', for businesses to increase their online reach (first mentioned in Digital Marketing Excellence by Dave Chaffey and PR Smith, even though others would claim it's part of Place).
How to Use The 7Ps of Marketing
We think the 4Ps are a vital strategic tool to choose their scope and are especially helpful for small businesses, even though some may consider them outdated.
The 7Ps of Marketing can also assist companies in setting objectives, executing a SWOT analysis, and undertaking competitive analysis. It's a pragmatic framework to review an existing business and employ appropriate methods while evaluating the elements of the marketing mix.
What Are The 7Ps of Marketing in Detail?
Products/Services: What your products/services do for your customers, and how to meet their needs
Prices/Fees: The amount of money your customers are willing to spend on your products.
Place/Access: Where for customers can try your products and services, such as online store, shopfront, warehouse, etc.
Promotion: Your product promotion affects your brand's success. You can use many promotional channels in today's market – from traditional paid advertising to modern social media and in-app advertising. You must promote your product where your target audience is. Your competitors' promotional efforts should guide your marketing strategy.
Physical Evidence: What your customers see when they interact with your business, such as logo, social media, well-trained staff, receipts, etc.
Processes: Any internal process that prevents you from delivering your product/service to customers, such as the sales funnel or payment systems
People: People are your employees who sell your products and services under your brand, and without them, your product won't succeed.
Examples of A Company Using The 7Ps of Marketing
There are some famous companies that have applied the 7Ps of marketing, such as Hubspot, aThemes, and Colorlib. They use the 7Ps of marketing to build a complete marketing strategy for their themes and services.
Read More: What is the AIDA model in marketing?
---
Contact us, ThimPress:
Website: https://thimpress.com/
Fanpage: https://www.facebook.com/ThimPress
Youtube: https://www.youtube.com/c/ThimPressDesign
Twitter: https://twitter.com/thimpress