Welcome to the exciting world of marketing, where the power of the 4P in Marketing reigns supreme. Set off on a transforming adventure to learn the secrets of effective brand strategies, captivating marketing, and unrivaled market supremacy.
You will learn how these four pillars work together to produce a symphony of customer happiness, business development, and unbeatable competitive advantage through this insightful investigation.
What is 4P in Marketing
The Four Ps of Marketing, which are the essential components of a marketing mix, are referred to as 4P in marketing. The Four Ps stand for the crucial areas that a marketer should take into account while creating and putting into practice a marketing plan.
| | |
| --- | --- |
| 4P | What is 4P in Marketing |
| Products | The physical or intangible items or services that a business provides to its clients are referred to as products. It encompasses choices of features, branding, packaging, quality, and product design. |
| Price | Price is the sum of money that consumers are willing to spend on a good or service. It's important to take into account variables including manufacturing costs, market demand, competition, and perceived worth while determining the appropriate pricing. |
| Place | Place describes the methods and tactics employed to make the product or service accessible to the target market. Choosing and managing distribution networks, logistics, inventory control, warehousing, and transportation are all part of this process. |
| Promotion | All efforts aimed at informing and marketing the product to the target market are included in the promotion. To raise awareness, pique interest, and prod purchases, it makes use of advertising, personal selling, public relations, sales promotion, and numerous types of communication. |
Checklist to Help You Remember and Use the 4P in Marketing
To maximize the impact of 4P in Marketing, you must utilize its essential values. To do so, you must ask and answer questions about your business centered on 4P in Marketing.
Here is a general checklist that may be used by firms in a variety of sectors:
4P
Checklist of 4P in Marketing
Product
1. Have you outlined your goods or services in detail, including their characteristics, advantages, and distinctive selling propositions?
2. Does your offering meet a need or address an issue for your intended audience?
3. Have you studied the industry to determine consumer preferences and make sure your product satisfies their demands?
4. Are you regularly reviewing consumer feedback and market trends to improve your product?
Price
1. Have you studied pricing to learn about market trends and rivals' pricing tactics?
2. Have you established prices for your goods and services that are both reasonable and profitable?
3. When deciding on your price, have you taken into account aspects such as manufacturing costs, the value offered, and the client's willingness to pay?
4. Are you providing several pricing tiers or package deals to accommodate various consumer types or preferences?
Place
1. Have you identified the most effective distribution channels to reach your target market?
2. Are your products or services easily accessible through online or physical channels?
3. Have you established partnerships or collaborations with other businesses to expand your reach?
4. Have you optimized your distribution processes to ensure efficient and timely delivery?
Promotion
1. Have you created a thorough marketing plan to spread the word about and sell your goods or services?
2. Have you determined the best marketing channels to use to reach your target audience?
3. Are you able to clearly explain the value proposition and advantages of your goods and services?
4. Have you created a dependable brand presence across a range of marketing channels?
5. Do you evaluate the success of your marketing initiatives and make data-driven changes?
In addition, there are many places that provide you with free templates to design a 4Ps of Marketing model, you can use them to make your 4P plan look more professional and beautiful.
ThimPress recommends you use the free templates of the following 2 websites, it's free and convenient:
Below is an image we used the template of Edrawmind to design: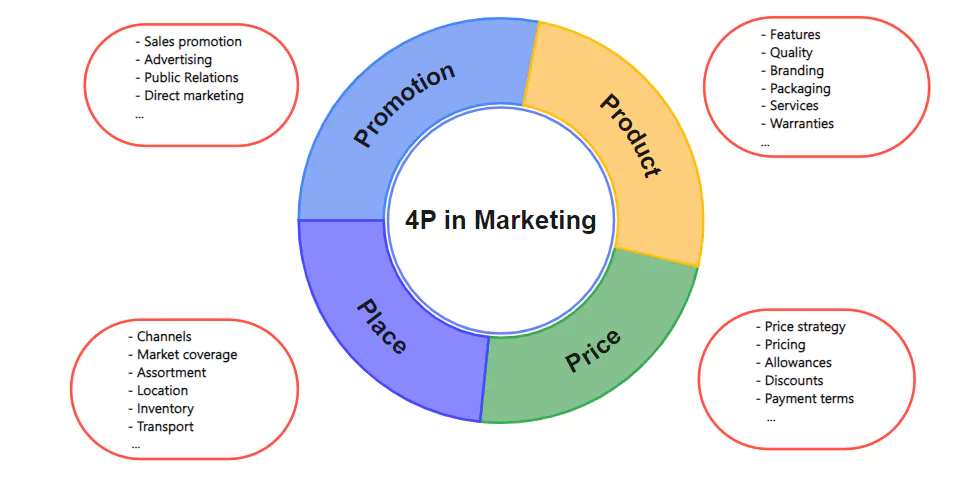 Indicators to Measure the Effectiveness of 4P in Marketing
Whatever model we choose, we all require measurement in order to measure performance and apply the measurement results to the next campaign. No exemption exists for 4P in Marketing. We need to assess the model's effectiveness.
Here are the metrics to consider while implementing the 4P model:
4P
Indicators of 4P in Marketing
Product
1. Sales volume: the total number of items that were sold within a given time period.
2. Revenue: Keep track of the overall money made from product sales.
3. Customer satisfaction: To gauge levels of customer satisfaction, collect opinions via surveys or ratings.
4. Product Adoption Rate: Track how quickly customers take to and use your offering.
Price
1. Profit Margin: To assess the profitability of any product, compute the difference between the selling price and the cost of manufacturing.
2. Average Transaction Value: Calculate the typical amount that customers spend on each transaction.
3. Price Elasticity: Evaluate the elasticity of the pricing to see how it affects the demand for your goods.
4. Price Comparison with Competitors: Keep track of and contrast your pricing with those of your rivals.
Place
1. Distribution Reach: Measure the number of sites or distribution channels where your product is sold.
2. Channel Performance: Analyze the efficiency and financial viability of various distribution routes.
3. Time to Market: Calculate how long it takes a product to go from being produced to being available on the market.
4. Stock Turnover Rate: Calculate the rate at which inventory is sold off and replaced.
Promotion
1. Reach: Determine how many individuals have been exposed to your marketing initiatives.
2. Conversion Rate: Track the percentage of prospective consumers who complete a desired activity, such as completing a purchase or subscribing to a newsletter, using the conversion rate metric.
3. Return on Investment (ROI): Calculate your promotional investments' return on investment (ROI) to assess their efficacy.
4. Brand Awareness: Evaluate how well your brand is known and understood by your intended market.
Useful Tools to Track the Indicators of 4P in Marketing
The challenge here is how we measure the 4P in Marketing, which you already know the KPIs for. Of course, there are numerous methods to assess the efficacy of the 4P in the digital era.
Let's look at some of the tools that organizations that use the 4P model frequently use:
Tools
Description
Pricing
Google Analytics
Google Analytics is used to track website activity such as session duration, pages per session, and the bounce rate of visitors, as well as traffic source information. It is compatible with Google Ads, allowing users to design and evaluate online campaigns by analyzing landing page quality and conversions.
Free.
CRM (Customer Relationship Management) Software
Applications like HubSpot, Salesforce, Freshsales, and Zoho CRM can assist you in managing customer data, tracking sales, and monitoring customer satisfaction.
$25 – $100/month
Depending on the plan.
E-commerce Platforms
If you want to offer items or services online, platforms like WordPress, Shopify, WooCommerce, or Magento have analytics built in.
$25 – $400/month
Depending on the plan.
Social media analytics
Facebook, Twitter, and Instagram all include native analytics capabilities that provide insights into reach, engagement, and demographic data.
Free; Pay for advertising.
Email Marketing Platforms
Email marketing platforms like Mailchimp and Constant Contact provide analytics and reporting services to measure email open rates, click-through rates, and conversion rates from email campaigns.
$12 – $350/month
Depending on the plan.
Survey and Feedback Tools
SurveyMonkey, Google Forms, and Typeform can assist you in creating surveys to collect consumer feedback, satisfaction levels, and product preferences.
Google Forms is Free;
Other tools are $25 – $100/month depending on the plan.
Heatmap & User Behavior Analytics
Heatmap tools such as Hotjar and Crazy Egg may assist you in understanding user behavior on your website, such as click patterns, scroll depth, and regions of interest.
$39 – $389/month depending on the plan.
Remember to select tools and plugins depending on your individual goals, budget, and system integration capabilities. Consider the parameters you want to track as well as the user interface that best meets your data analysis and reporting needs.
You can take a look at how Google Analytics displays your website metrics on the GA Landing Page, plus you have many other tools that integrate with Google Analytics to measure the metrics on your website.
This is a free tool and indispensable for any marketing model, with no exception for the 4Ps in Marketing.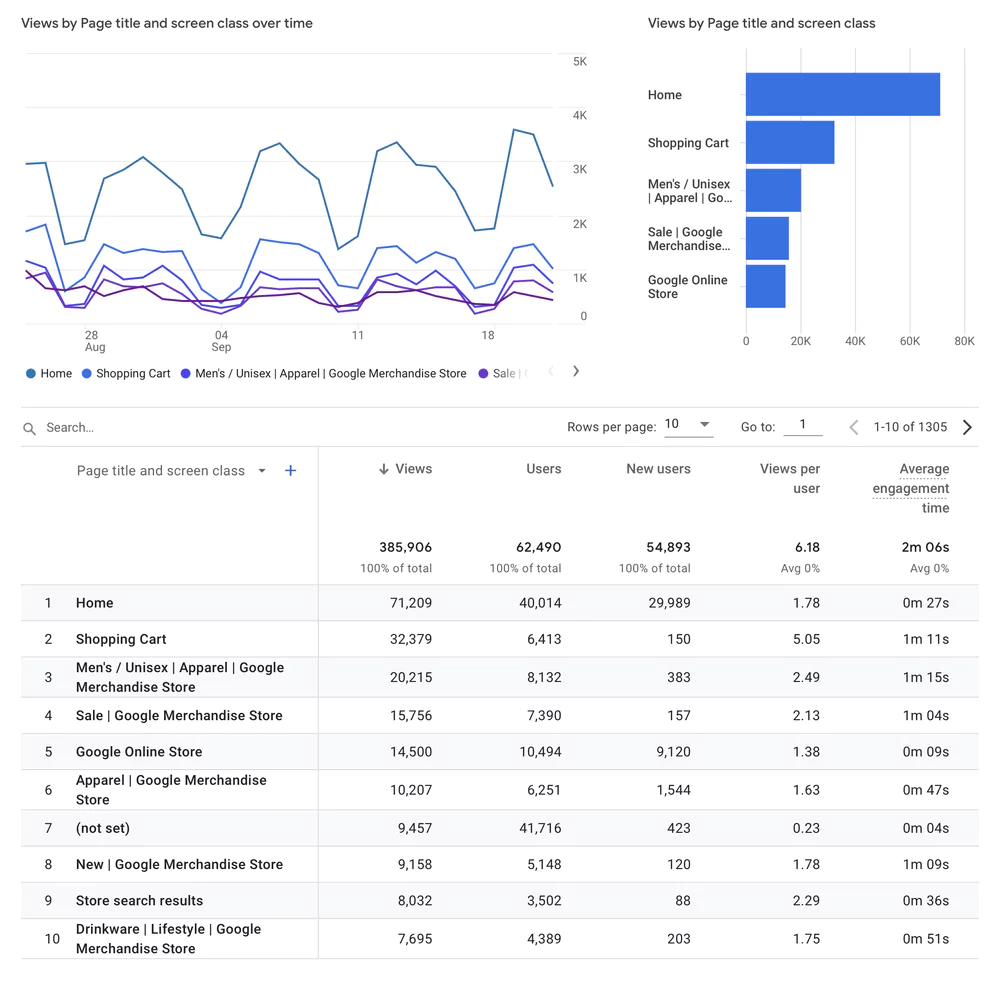 Combining the 4P in Marketing with the AIDA model
Using a Marketing model may create numerous gaps and uncertainty in your approach; marketing professionals frequently blend marketing models to fill in planned gaps.
One of the most useful models to combine with the 4P model is the AIDA model.

Let's have a look at some ThimPress-based methods for combining 4P in Marketing with the AIDA Model:
Attention (AIDA) + Product (4P)
1. Create eye-catching marketing strategies to increase product awareness.
2. To catch the attention of your target audience, highlight the distinctive characteristics and benefits of your product.
3. Ascertain that your product is well-positioned in the market and distinguishes itself from rivals.
Interest (AIDA) + Price (4P)
1. Create interest in your product by articulating its value proposition and competitive price.
2. To attract curiosity, highlight your product's affordability and cost-effectiveness.
3. To entice potential buyers, highlight any special deals, discounts, or price alternatives.
Desire (AIDA) + Place (4P)
1. Create desire by stressing your product's availability and accessibility.
2. Make certain that your product is easily available via numerous distribution methods and venues.
3. To improve client demand, give simple purchase alternatives and a smooth purchasing experience.
Action (AIDA) + Promotion (4P)
1. Provide unambiguous calls to action in your advertising materials to drive action.
2. In order to motivate rapid action, offer incentives such as limited-time promos or exclusive deals.
3. Use efficient advertising channels to increase conversions and encourage customers to act.
You may address each step of the customer journey strategically by integrating the 4Ps with the AIDA model. This connection enables you to catch attention, stimulate interest, inspire desire, and encourage action while taking into account the product, price, location, and promotion components.
Combining the 4P in Marketing with the 4C in Marketing
The primary purpose of the business is to attract attention and sell items since it influences sales and earnings, but after what?
When a product has a flaw or a consumer is dissatisfied with it, the company's reputation suffers; at the time, marketing professionals devised the 4C in Marketing, which corresponds to the 4P in Marketing.

Let's look at the primary sections when these two models are combined:
Product (4P) + Customer Value (4C)
1. Concentrate on developing items that offer outstanding value to clients.
2. Understand your customers' wants and preferences in order to create items that meet their expectations.
3. To explain the worth of your product to clients, highlight its distinct value proposition and benefits.
Price (4P) + Cost (4C)
1. Consider the cost from the standpoint of the consumer.
2. Make sure your price plan corresponds to the product's perceived worth.
3. Customers should be informed about your product's cost-effectiveness and affordability.
Place (4P) + Convenience (4C)
1. Customers should be able to obtain your goods through methods that are convenient and easy to use.
2. Optimize your distribution methods so that clients may easily buy and get your product.
3. Provide clients with several ways to access the goods, such as online platforms, retail locations, or direct delivery.
Promotion (4P) + Communication (4C)
1. Shift the emphasis from traditional advertising efforts to successful customer communication.
2. Build relationships and understand client demands through engaging in two-way conversations.
3. Interact with consumers and deliver useful information through multiple communication channels, such as social media, email marketing, and customer support.
This connection enables you to better understand and meet the demands of your customers, offer competitive pricing, give easy access, and participate in efficient communication.
Build your Marketing Strategy with 4P Model
You may get a quick overview of how to apply and measure the 4P in Marketing by reading this article. Integrating the 4P in Marketing with models such as AIDA and 4C allows for a more customer-centric strategy.
Thank you for taking the time to read. Best wishes on your marketing efforts!
---
Contact us, ThimPress:
Website: https://thimpress.com/
Fanpage: https://www.facebook.com/ThimPress
Youtube: https://www.youtube.com/c/ThimPressDesign
Twitter: https://twitter.com/thimpress