The success of any business depends on its ability to strategically assess its internal capabilities and external environment. That's why SWOT analysis is designed to help you out.
It's a framework that assists in identifying and evaluating your company's strengths, weaknesses, opportunities, and threats. A SWOT analysis provides valuable insights for strategic planning and driving business growth.
It is a valuable tool, but it is insufficient for a successful marketing strategy. You also need to learn about other marketing models to attract, persuade, and retain your customers:
What Is the Definition of a SWOT Analysis?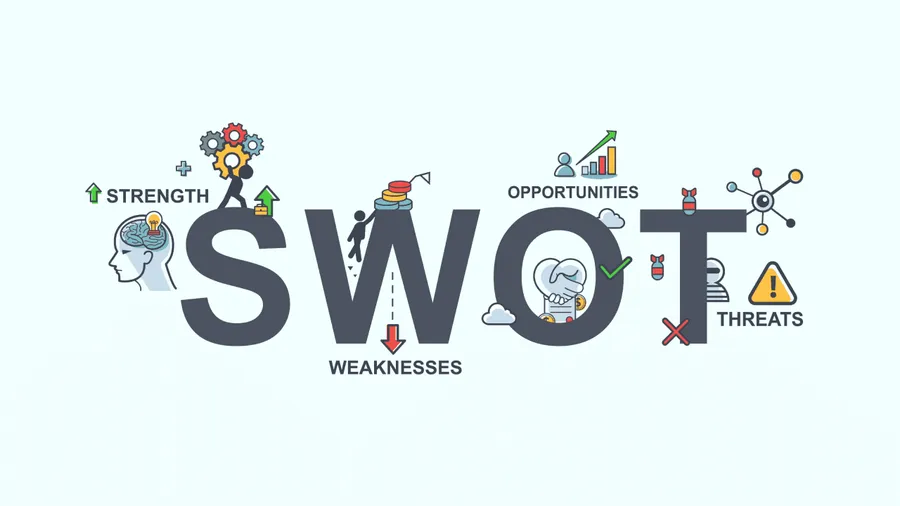 SWOT analysis, as I have mentioned above, is a robust strategic planning method that allows you to evaluate different aspects of your company. It involves identifying and analyzing the following four key elements:
Strengths
Strengths refer to the internal factors that contribute positively to a company's success. These can include unique capabilities, resources, or competitive advantages that made the business stand out from its competitors. Examples of strengths may include a loyal customer base, a strong brand reputation, or advanced technological infrastructure.
Weaknesses
Weaknesses, of course, are the internal aspects that hinder a company's performance or limit its growth potential. These can include aspects of the business that need improvement, such as outdated processes, a lack of skilled personnel, or poor customer service. Identifying weaknesses is crucial to developing strategies to overcome them and enhance overall performance.
Opportunities
You can take advantage of opportunities, which are external elements that could positively impact a business and create avenues for growth. These can include emerging market trends, technological advancements, or changes in consumer preferences. Identifying opportunities allows businesses to capitalize on favorable conditions and gain a competitive edge.
Threats
Threats are external factors that pose challenges or risks to a business. These can include increased competition, changing regulatory environments, or economic downturns. Recognizing threats is essential for developing contingency plans and mitigating potential risks.
Free SWOT Templates
We, you, and many of us use this free template for the results. It's quite simple and easy to read and apply. Below is how it may look when it's complete: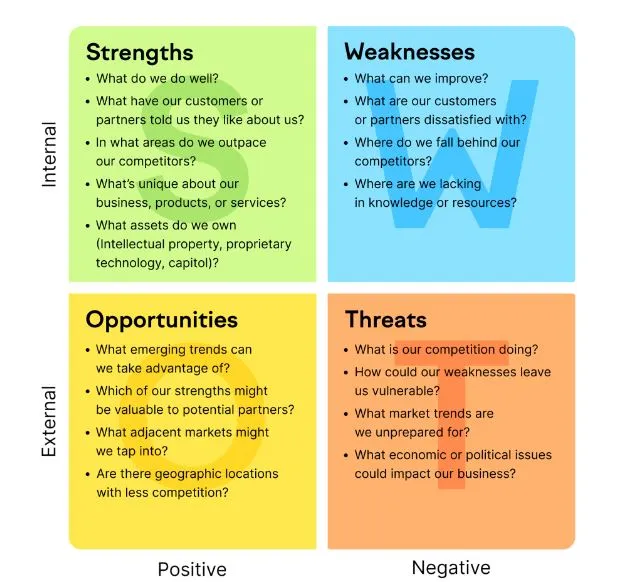 How to Use a SWOT Analysis: A Step-by-Step Guide
Follow these six simple steps to conduct a comprehensive SWOT analysis for your business:
Step 1: Establish Your Goal
Before you do a SWOT analysis, it is essential to define the specific goal or objective you desire to achieve. Setting a goal will help guide your analysis and ensure that it remains focused and relevant. For example, your goal might be to determine whether expanding your business is a viable option or to evaluate the potential risks and benefits of introducing a new product.
Step 2: Assess Strengths
Begin by identifying and listing all the strengths of your business. These can be internal factors that give your company an advantage over competitors. Examples of strengths may include a strong market position,a reputable brand, or a highly skilled workforce. Be comprehensive in your assessment and consider all aspects of your business operations.
Step 3: Identify Weaknesses
Next, analyze and list the weaknesses of your business. These weaknesses prevent your company from doing better or expanding its possibilities. Examples of weaknesses may include high operating costs, outdated technology infrastructure, or a lack of effective marketing strategies. Identifying weaknesses is crucial for developing strategies to address them and improve overall performance.
Step 4: Exploring Opportunities
Evaluate the external aspects that present opportunities for your business. These can include emerging market trends, untapped customer segments, or advancements in technology. By identifying opportunities, you can align your business strategies to capitalize on favorable conditions and gain a competitive advantage. For example, if there is a growing demand for products that are environmentally friendly, you can explore opportunities to develop and market eco-friendly offerings.
Step 5: Assess Threats
Analyze the external aspects that pose threats or challenges to your business. These can include increased competition, changing regulations, or economic uncertainties. By identifying threats, you can develop contingency plans and strategies to mitigate potential risks. For example, if a new competitor enters the market, you can proactively adapt your marketing and sales strategies to maintain your market share.
Step 6: Narrow Down and Prioritize
After listing all your strengths, weaknesses, opportunities, and threats, it is essential to narrow down and prioritize the most significant factors. Focus on the key areas that require immediate attention or have the most significant impact on your business. This will help you develop actionable strategies and allocate resources effectively.
To do it, we highly recommend you use an Impact Effort Matrix (Check the image below.)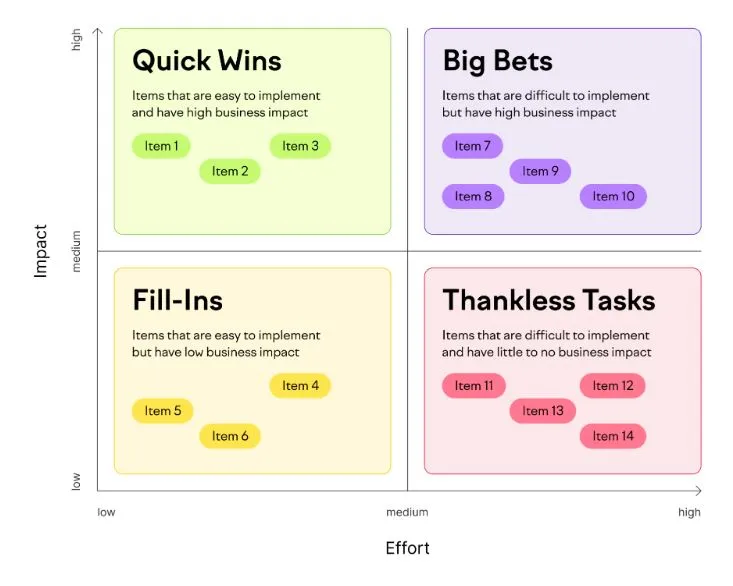 If you find it challenging to prioritize your SWOT analysis findings, consider using an impact effort matrix. This tool assists you in identifying the actions that can have the greatest impact on your business with the least effort. To create an impact effort matrix, follow these steps:
Compile all the items from your SWOT analysis.
Draw a four-quadrant diagram, with the vertical axis representing the impact of an item on your business and the horizontal axis indicating the level of effort involved in solving it.
Put each strength, weakness, opportunity, and threat in the right quadrant based on the required effort and potential impact.
Focus on the items in the upper left quadrant, as these are likely to have the most significant impact on your business with minimal effort.
When Should You Use a SWOT Analysis?
A SWOT analysis, a marketing model, can be performed at various stages of a business's lifecycle or whenever there is a need for strategic evaluation. Here are some ideal times to use a SWOT analysis:
During Strategic Planning: Use a SWOT analysis as part of your strategic planning process to assess your business's position and align your strategies accordingly.
During Periods of Change: When your business is undergoing significant internal changes, such as organizational restructuring or process optimization, a SWOT analysis can help identify areas that need improvement.
When External Conditions Change: Perform a SWOT analysis when there are changes in the market, regulatory environment, or consumer behavior that may impact your business.
On a Regular Basis: Regularly reviewing and updating your SWOT analysis can help you stay proactive and responsive to evolving market conditions.
SWOT Analysis Example
Let's say you have an eCommerce business, and there is a competitor who has asked you to buy your company. You're unsure whether you should sell or keep it. So you conduct a SWOT analysis in order to get a better understanding.
Here are your strengths:
Your company is always profitable.
Your online website ranks highly in the search results for a number of highly valuable keywords associated with your products.
You've simplified most of the interior systems to lower labor expenses.
Here are your weaknesses:
Poor customer service, which has caused some negative reviews.
Only some of your products have a high earnings margin, so you might frequently sell at high levels
You seldom have loyal customers, meaning you have to spend more on marketing and advertising to reach new customers.
Here are your opportunities:
One of your main competitors recently declared bankruptcy. That leaves a space in the market.
A popular television show recently featured one of your products. That helps make more people want your product.
You have started to get questions about working with influencers and affiliate marketing chances.
Here are your threats:
Your products hurt the earth. People care more about the earth and may not like your products.
You need other companies like Amazon and Shopify to sell your items/products. If they change something, you may lose money.
There is fighting in a place where many people buy your products. It is hard to send your products there.
Read More: Top 6 Best Email Marketing Services
---
Contact us, ThimPress:
Website: https://thimpress.com/
Fanpage: https://www.facebook.com/ThimPress
Youtube: https://www.youtube.com/c/ThimPressDesign
Twitter: https://twitter.com/thimpress