Searching for a comparison of Weebly vs Wix?
On the Internet, you may find a lot of CMS platforms for building websites, or you can call them website builders. With them, you can easily create a website, maintain it, and manage it. However, they are not the same; even the smallest differences will result in different SEO rankings on search engines. You may compare Wix vs Weebly on many factors but have not found out which one is suitable for you.
Therefore, we will give you a walkthrough of all the information you need to know before making a selection between Weebly vs Wix.
WEEBLY
Weebly vs Wix: What is Weebly?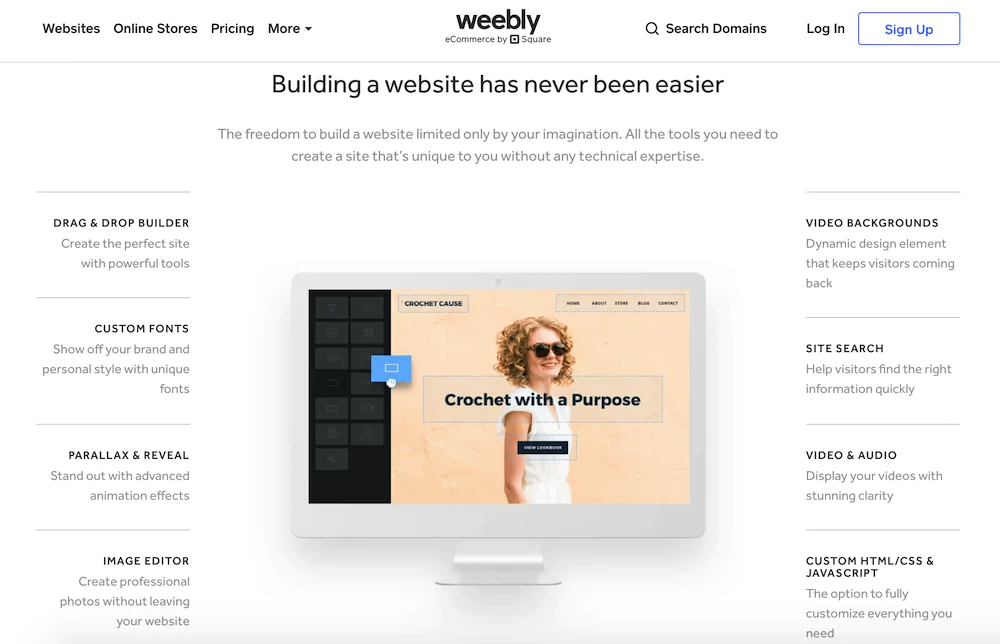 Weebly is a web hosting service that was founded in 2006 in San Francisco, USA. This platform provides users with the essential needs of web design. To be more specific, Weebly replaces the manual coding interface with a convenient drag-and-drop interface. This editor is also called "What you see is what you get" – WYSIWYG editor.
As a fact, Weebly is also the 1st WYSIWYG site editor, which lets you add, manage, arrange, and delete content (text, images, videos, maps, or links) with just a few clicks. Weebly focuses on simplicity in design and UI, and the price is quite affordable. Further, this platform is improving day by day and becoming more responsive to other 3rd-party themes & templates.
On the other hand, Weebly is claimed to limit mobile-friendly design creation. However, it is appreciated for not hanging up newbie website owners/designers.
Weebly vs Wix: Weebly's Features
As one of the earliest web-creating platforms, Weebly has a lot of features for your business.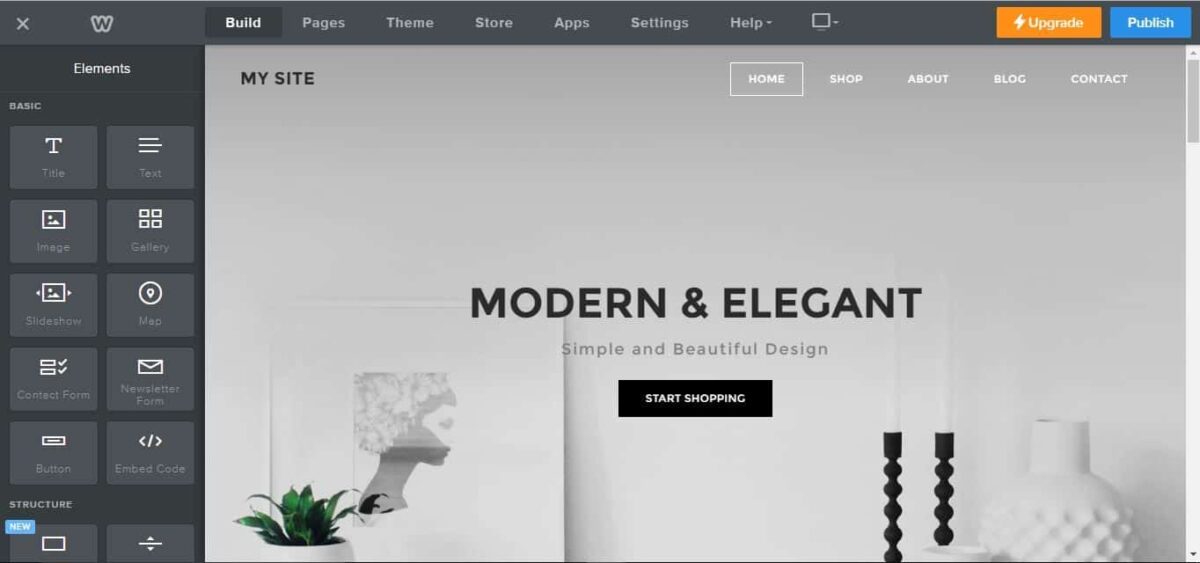 Domain & Web Hosting
As a web hosting company, Weebly gives you a free web hosting plan that makes sure your site can load & run quickly. You can also receive a Weebly-branded domain name but you may buy a custom domain name for an amount of money. If you buy one of the 2 most advanced plans, the domain's first year will be free.
Drag-&-Drop Editor
In the Weebly library, you may find a lot of free Weebly themes and an advanced drag'n'drop Weebly editor to customize your website.
You can do a lot of work with this editor, just as same as building a website with WordPress. You can add elements like text, images, or videos; change the theme's fonts, change the background, make custom header/footer options, and add slideshows. Moreover, you can make custom changes to JavaScript, HTML, or CSS. JavaScript is very suitable if you want to edit your site with the code editor.
SEO & Marketing
We all know that SEO & marketing is very important as they will help promote your website. Weebly knows that too; and it gives you prebuilt SEO widgets including optimizing SEO on-page, tracking site statistics, and adding Google Analytics for exact statistic tracking.
Further, email marketing is not a problem with the Weebly Promote feature. Using premade email templates, you can work on email marketing letters quickly or customize your own letters. In the dashboard, you can make an email list and keep track of it, too.
Blogging
On Weebly, you can simply set up and publish a blog of your own no matter how big it will be. You will have full control of the content, structure, and layout of a blog post, edit URLs & slugs, enable/restrict/disable comments on a blog, connect to social media channels, and many more.
E-commerce
What's essential for eCommerce, Weebly will provide you with all of them that let you create an online store, upload the products, set up payment methods, and secure your checkout. You can sell anything you want – the possibilities are limitless!
This web platform also offers additional online business functions such as:
Sharing your products on social media platforms
Mobile shopping abilities, cart, & checkout
Hundreds of payment methods
Video/slideshow description for the products
Discounts & promotions
Email confirmation
Refunds, returns, & real-time reports
Shipping/drop-shopping tracking system, various shipping options, up-to-date shipping rate, and rate adjusting based on different geographical places
The automatic tax rate for customers from Canada and USA
Following-up abandoned carts
Bulk import/export
Integrations
With Weebly, you can connect your site to hundreds of 3rd party apps with its App Center, including Facebook, Twitter, YouTube, etc.
Moreover, what should you do if you want to edit your site remotely but don't have a PC/laptop next to you? The answer is easy – Weebly mobile app available on Android & iOS allows you to create and run a store anywhere from just a smartphone.
Is Wix better than Weebly?
Weebly vs Wix: What is Wix?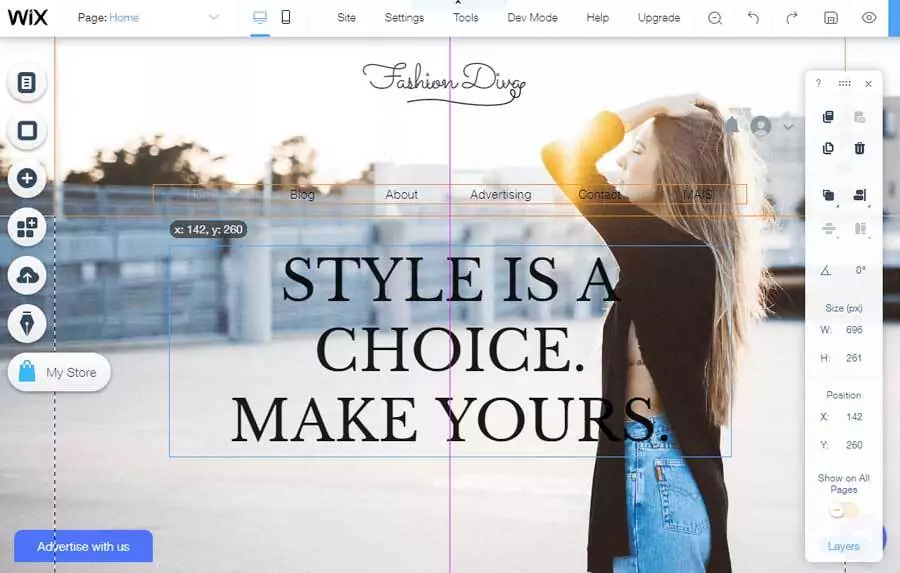 Wix is a cloud-based web-making platform that also provides hosting plans & designing services.
It's a very affordable site maker for beginners and small/medium online businesses. Also, Wix has over 200m users in 190+ countries and appears in 17+ languages. Well, simplicity is the way that Wix has so many users, however, you will need some coding skills if you want your site to look professional and attractive. Don't worry, since Wix has made it easy for everyone.
Usually, people remember Wix as a website builder but you can also build your store to evaluate & develop your business.
Weebly vs Wix: Wix's Features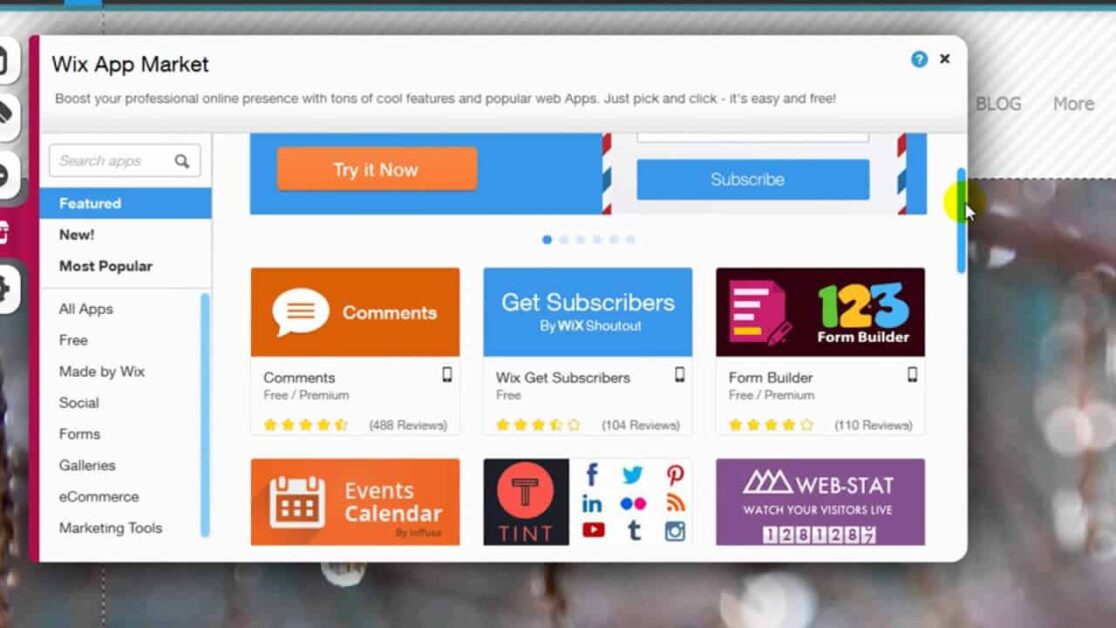 Wix Editor
Unlike Weebly which only has a single editor, Wix provides you with 2 editors:
Wix Editor: You will gain full control of your site with the drag & drop web editor. More work, less redo!
Wix ADI: you will answer a list of questions so Wix ADI will design the site for you. However, it may not be ideal for you since you don't have 100% control of the final design.
What if you are a good coder and love to have more access to the design? Velo by Wix will be your solution as it allows you to manage raw HTML in your template deeper.
App Market
Wix's App Market will provide you with the integrations for your website such as shopping carts, on-page customer live chat, and SEO tools. Most of the apps are free to download but you can choose the premium ones with small payments monthly to access even more features.
Wix E-commerce
Wix doesn't separate your intentions on it, Wix will help you maintain and run your site alongside your online business just in 1 place. Here are what you can find in Wix E-commerce:
Nice and fascinating online templates
Remote order tracking & inventory management
Various payment methods including PayPal, Payoneer, Stripe, and more with no commission
Coupons & Sale-offs
Refunds & returns
Customizable shipping rate and tax
Wix Booking
Wix will offer its users ways to turn their site into a booking page with these functions:
24/7 system
Online payment allowance
Private & group services
Syncing with Google Calendar
Reminding emails (abandoned carts, confirmation, etc.)
Wix mobile app
Blog
Just like a normal blog section, Wix will provide you with all tools needed for writing a blog post from basic to advanced. You can also allow comments & social media sharing, as well as additional contributors to enrich your blog content.
Weebly vs Wix: The Comparison
After the introduction, we can list the comparing standards based on Wix vs Weebly's general knowledge.
Weebly vs Wix: Technical Features
In this part, we will compare the general and unique technical features of Weebly vs Wix. Or maybe something like Weebly vs Wix for Blogging, Wix vs Weebly for Blogging, and Wix vs Weebly SEO.
| | | |
| --- | --- | --- |
| Feature | Weebly | Wix |
| Storage | 0.5 GB to limitless | 3 – 50 GB |
| Theme | 50+ themes | 800+ themes |
| Domain | Free only Weebly-featured domains | Free on all paid plans |
| Marketing & SEO Tools | Yes | Yes |
| Website Analytics | All plans except the free version | All plans except the free version |
| Limit the Number of Webs | Unlimited | 100 webs |
| ADI (Artificial Design Intelligent) | No | Yes |
| Site Backup & Restore | No | Yes |
| Blog | A not-so-smart blogging editor which does not let you add headings to your content | Quite-complete blogging editor that lets users do things creatively |
| App Market | Great 3rd party eCommerce, marketing, SEO, and tracking apps | Great app store with 3rd party applications |
| Portfolio | Limited themes for portfolio | Limitless themes for portfolio |
| Mobile App Integration | Android & iOS | Android & iOS |
Weebly vs Wix: eCommerce Features
It's time to discuss Weebly vs Wix for eCommerce
| | | |
| --- | --- | --- |
| Feature | Weebly | Wix |
| E-commerce Website | Many built-in widgets for all types/sizes of online businesses | A simple solution for small and medium businesses |
| Gift Cards Feature | On all plans | Only on business plans |
| Abandoned Cart Recovery | Business plans only | Performance plan only |
| Automatic Tax Calculator | All plans | Only Business VIP + Unlimited plans |
| Integrations | 300+ apps | 200+ apps |
How much is Weebly vs Wix?
The table below will describe the differences between Wix vs Weebly Cost which can also be called Wix vs Weebly Pricing.
| | | |
| --- | --- | --- |
| Feature | Weebly | Wix |
| Free Plan | Yes | Yes |
| Regular Site Plans | 4 plans: Combo ($16/month)Unlimited ($22/month)Pro ($27/month)VIP ($45/month) | 4 plans: Connect ($6.00/month)Pro ($12/month)Business ($25/month)Business Plus ($38/month) |
| E-commerce Plans | No | 3 plans: Business Basic ($27/month): $300 in ads vouchers, limitless products, 20GB of storage, abandoned cart recovery, & social channel sales Business Unlimited (32$/month): 35GB of storage, subscription sales, automatic tax creator, drop-shipping, product reviews, & advanced shipping/drop-shipping optionsBusiness VIP ($59/month): 50GB of storage, priority support, custom data reports, sales tax calculations, & loyalty program feature |
Indeed, you can see that Weebly has more economic plans while Wix may focus a bit more on advanced online business functions.
Weebly vs Wix: Customer Support
Both Wix vs Weebly has customer support via forums and social channels.
| | | |
| --- | --- | --- |
| Feature | Weebly | Wix |
| Online Chat | Yes | No |
| Available Time | Monday to Sunday6 am to 6 pm | Monday to Sunday24/7 |
| Support Methods | Email support for all plansPhone support for premium plans | Support tickets for all plansPhone support for paid plans |
Weebly vs Wix: Comparison Results
Each web-creating platform has its pros and cons that are so obvious through the above finding. Although it's a close race, the result is quite a draw.
Weebly will work out very well with people who are a newbie or have limited tech skills. It provides the users' user-friendliness interface, affordable pricing plans, and wide customer support lines.
Wix will be more suitable for the experienced or people who want to work deeper on design & customization. Moreover, Wix provides more advanced eCommerce features
Weebly vs Wix: Alternatives
Although Wix vs Weebly is good, there are still a lot of platforms on which you can create and maintain your website. They are:
WordPress
Yeah, WordPress is considered the best platform for a website, especially a blog since WordPress itself focuses a lot on content making. Also, you can find a lot of WordPress themes, plugins, add-ons, and 3rd party apps.
Shopify
Shopify is a popular eCommerce platform that is very simple to use. Also, Shopify reflects simplicity but effectiveness for your product/service business with Shopify themes and plugins.
Squarespace
Squarespace is suitable for all types of websites from blogs to e-commerce sites. Although it's full of features, Squarespace has a difficult learning curve.
Weebly vs Wix: Final Line
That's should be all for this article. We hope you can have a clear view of Wix vs Weebly.
Read more: What Graphics Card Do I Have? Here's How to Check Graphics Card
---
Contact us, ThimPress:
Website: https://thimpress.com/
Fanpage: https://www.facebook.com/ThimPress
Youtube: https://www.youtube.com/c/ThimPressDesign
Twitter: https://twitter.com/thimpress