Bluehost vs Squarespace are two platforms that we highly recommend. While Bluehost vs Squarespace both assist you in the creation of a website, they are vastly different.
Bluehost is a web hosting service. It serves as the framework for creating a website on another platform, most often WordPress. It's the greatest option if you're comfortable dealing with WordPress or eager to learn.
Squarespace is a website builder that does it all. You pay a (higher) monthly price, but you can develop and publish a fantastic site right on the platform. It's a faster, more user-friendly way to bring your website to life.
What Is the Distinction Among Bluehost vs Squarespace?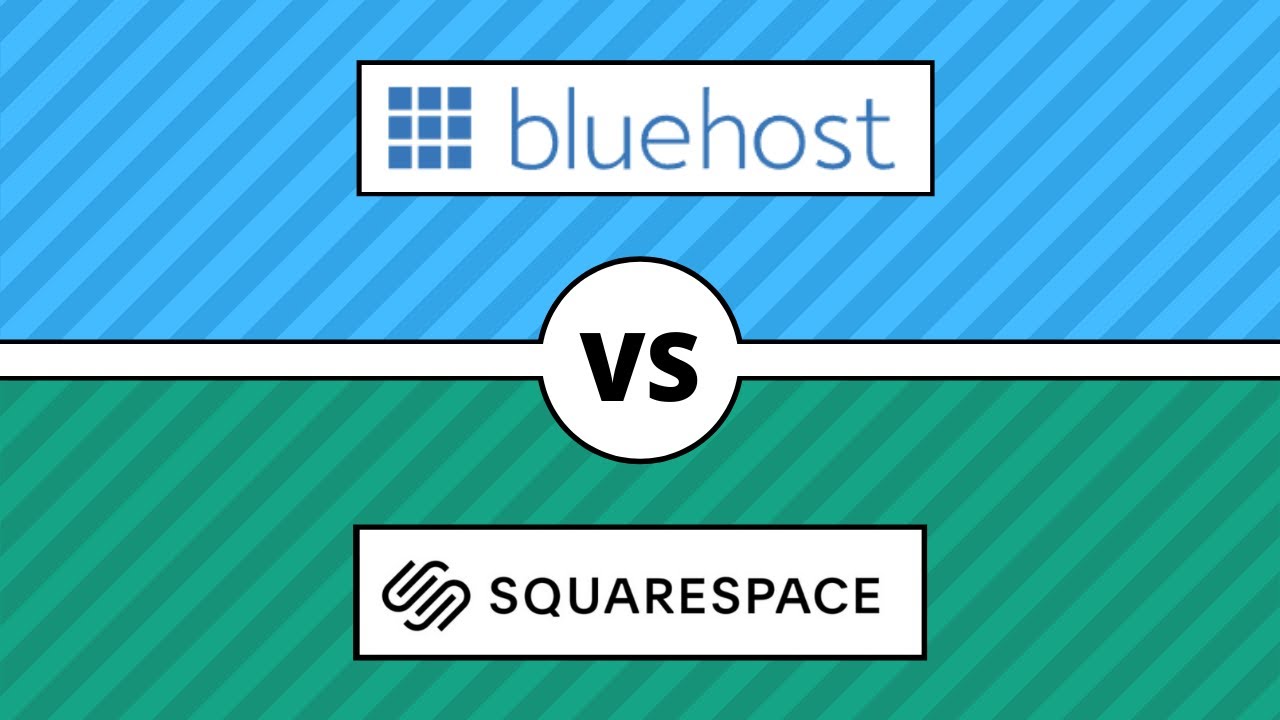 Bluehost (a hosting provider) provides the framework for developing your website, whereas Squarespace (a web developer) provides an edge alternative for making a website online. But, which platform is best for you?
Bluehost vs Squarespace: Benefits and Drawbacks
Benefits
Drawbacks
Bluehost
A less expensive solution from Squarespace to
creating a website.
When you construct using WordPress, your
possibilities are virtually infinite – it is the most adaptable platform for creating a website.

More tough to grasp, plus you must obtain various components from various locations.
Having any design experience or code skills will be really beneficial (but not essential)

Squarespace
Squarespace allows anybody to create a great website in a matter of hours.
A fantastic collection of Squarespace's own themes to choose from.
You won't need to buy or organize anything else outside of the site.

Bluehost is likely to be more costly.
For individuals seeking a fully unique or intricate pattern, this is more constricting.

Pricing and monetary value
Bluehost is a more excellent bargain than Squarespace. Squarespace charges for the ease of keeping it all in one location, while Bluehost provides a more 'bare bones' choice.
Bluehost charges $2.95 monthly for a place on their servers as well as essential resources such as storage and bandwidth space. A domain name is also included in the annual plan.
You may develop and publish a website using one of Squarespace's templates, hosted on its own servers, for $16 per month. When you pay for the yearly plan in advance, Squarespace pricing also provides a free domain.
Bluehost vs Squarespace each provides excellent value for money in their own right.
Bluehost offers the cheapest option to get a website up and running, as well as a slew of powerful features for a low initial fee. We've previously said that we don't advocate using the Bluehost Builder to construct your website, but if you go on to build a site with WordPress instead, you can save a lot of money.
Squarespace provides a unique type of value. Not only do all plans provide unlimited bandwidth and storage (perfect for media-heavy sites), but it also provides a far faster and easier approach to setting up a site using one of Squarespace's own designs.
In the future, a WordPress site will take longer to set up and edit, therefore Squarespace undoubtedly provides value in the form of time savings and all-in-one simplicity.
Ease of Use
Squarespace is more user-friendly than Bluehost. The reason is that Bluehost is a user-friendly and helpful hosting company, although Squarespace is the easiest and most straightforward way to create a website.
It's especially difficult to evaluate Bluehost vs Squarespace in terms of simplicity of use because Bluehost vs Squarespace each provide something very different.
As far as hosting services go, Bluehost is the easiest to use. The interface is simple to use, and the help and support options are extensive. WordPress can be installed with a single click from your Bluehost dashboard.
Squarespace doesn't provide the most user-friendly website builder. In user testing, our users reported that Squarespace took a bit longer to get used to than competing website builders like Wix and Weebly.
However, if you're searching for the simplest approach to creating a website, Squarespace comes out on top. No, it's not the simplest website builder on the market, but its very nature simplifies the process of creating and designing a website. You can see how simple it is to work with one of Squarespace's designs below:
Making design modifications to your website is a breeze using a website builder. It's simply a question of rearranging pieces and incorporating new ones.
Website Design
When it comes to constructing a website with Bluehost, we'll assume you're foregoing Bluehost's own builder in favor of WordPress.
The WordPress theme directory has around 3,900 themes, with many more accessible through third-party websites like ThemeForest (which has over 50,000) and more boutique alternatives. You certainly don't lack options!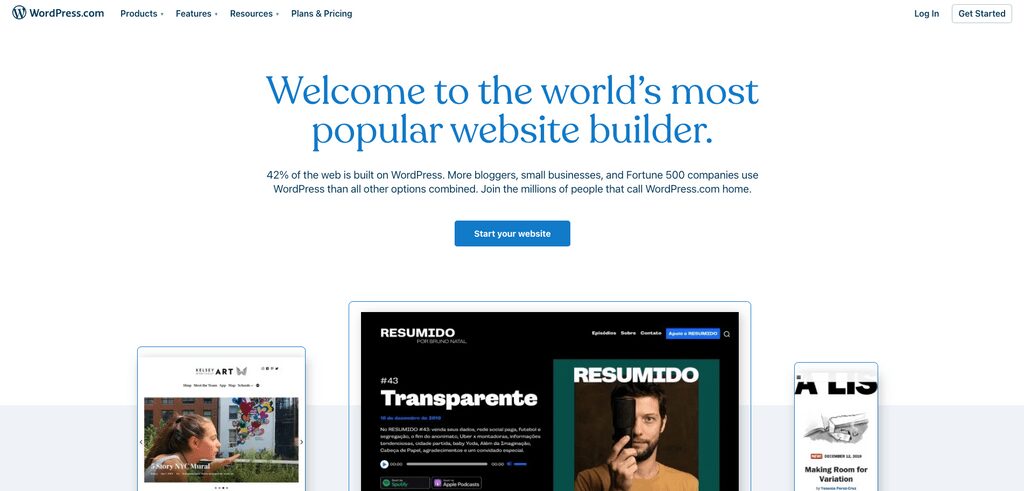 If your site is in a very specific business, you have a better chance of finding a close match to the appearance and feel of what your site requires with the Bluehost + WordPress combo. And if you have a really specific site look/structure/features in mind, WordPress makes it much easier to bring this to reality.
You may want further web development assistance at some time, but you will be able to get there.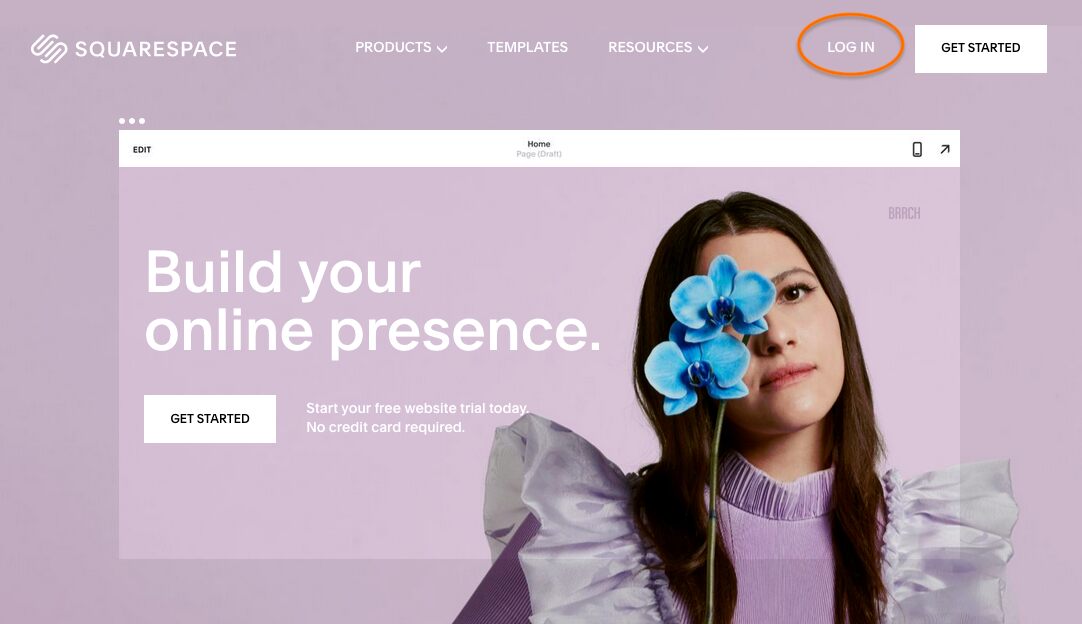 Squarespace, on the other hand, offers a carefully chosen collection of templates that look beautiful – in fact, the finest of any website builder we've examined – and make it simple to throw in new aspects. In the end, you don't have as many modification options as you would with WordPress, but the great majority of website kinds are adequately covered, so you're unlikely to notice unless you're developing an odd website.
Features of Bluehost vs Squarespace
Resources of Bluehost vs Squarespace
Bluehost
Squarespace
Domain name
Free for the first year,
then $15.99 – $72.99*
Free for the first year,
then $20 – $70
Storage
50GB – Unlimited
Unlimited
Unlimited
Unlimited
Unlimited
Ecommerce
Squarespace provides everything you want to begin selling right away. You just need to be on the Business plan ($23 per month) or above. This plan has 3% transaction fees, but none of the two specialized e-commerce plans – Basic Commerce ($27 per month) or Advanced Commerce ($49 per month) – does.
Squarespace's e-commerce area is simple to set up, and you can start selling right away. It is appropriate for both digital and physical items, and to sell subscriptions, you must be on the Advanced Commerce plan.
Squarespace is best suited for people who have a more chosen selection of items rather than a vast inventory (although there is no stated restriction on the number of products).
Bluehost works best with WooCommerce to provide e-commerce. WooCommerce seems to be a robust, well-known, free WordPress e-commerce plugin that is well-suited for larger inventory.
Marketing and Extras of Bluehost vs Squarespace
Squarespace has a plethora of marketing tools. These are some examples:
Make pop-ups and banner advertisements.
Make the most of SEO to help your website.
Construct email marketing programs.
Create Instagram stories content
Easy-to-understand analytics
In just a few clicks, you can add a blog to your website.
There's even more. In addition to its own built-in tools, there's a new library of third-party extensions to connect with. This is extremely beneficial in areas like accounting and shipping assistance.
Things get more difficult if Squarespace does not provide the functionality you want through an inherent feature or an external interface. You can add custom code blocks within Squarespace, but it takes things to a somewhat more sophisticated level than you may expect – and the Squarespace company won't give help if they don't function.
Through the WordPress plugin library, Bluehost provides all of these features and more. There are almost 58,500 plugins in the library, however, they are not created by Bluehost or WordPress; rather, they are uploaded by developers. This means there isn't the same amount of quality control as with Squarespace features, and some of them come at a fee.
It may also be rather difficult to wade through the various alternatives for each function, and it takes some time – but you can be confident that there will be an option for anything you want, even if it's more specialized industry-specific information.
Performance and Security
Bluehost provides superior performance and security. This is not meant to say that Squarespace seems to be a bad performer or insecure – far from it. However, Bluehost is designed to tolerate more stress.
When evaluated side by side in these crucial areas, Squarespace vs Bluehost appear to match up rather equally, but the discrepancies are likely to manifest under more extreme traffic demand.
Bluehost provides dedicated server hosting options starting at $119.99 monthly. These are built to handle massive quantities of traffic at the same time. Squarespace does provide an enterprise option for the bigger sites (Squarespace Select), and the company proudly states that its own (busy) website runs smoothly on Squarespace servers. However, it is not quite a match for Bluehost's wide range of hosting kinds and plans, which ensures that you are never overpaying or under-resourced.
Help and Support of Bluehost vs Squarespace
Squarespace provides superior customer service than Bluehost. Bluehost's customer service is excellent, but there is only so much Squarespace vs Bluehost can do when you're constructing your website. Squarespace, on the other hand, can help you with everything from technical problems to design questions.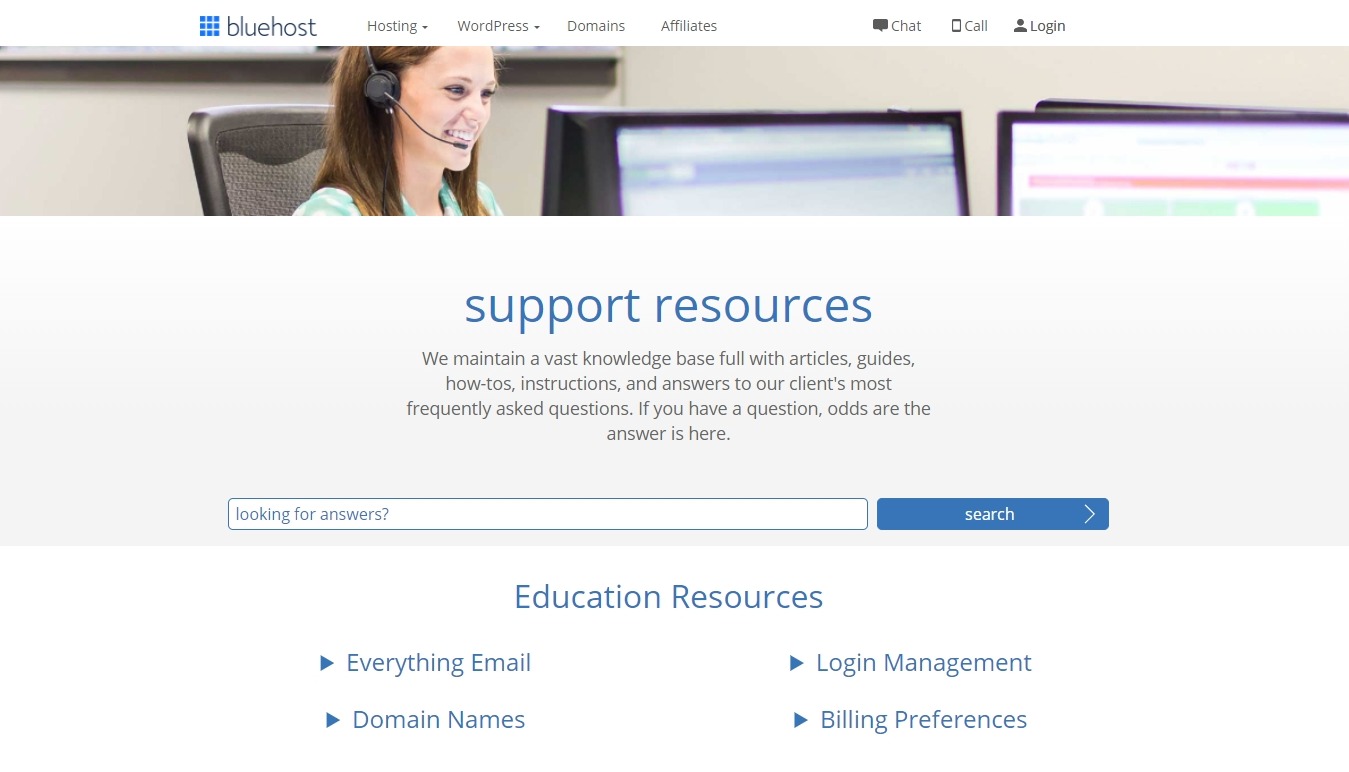 Bluehost has the greatest customer service and support of any hosting company we've evaluated. Responses are prompt, pleasant, and helpful, beyond our expectations of what 'excellent' service entails.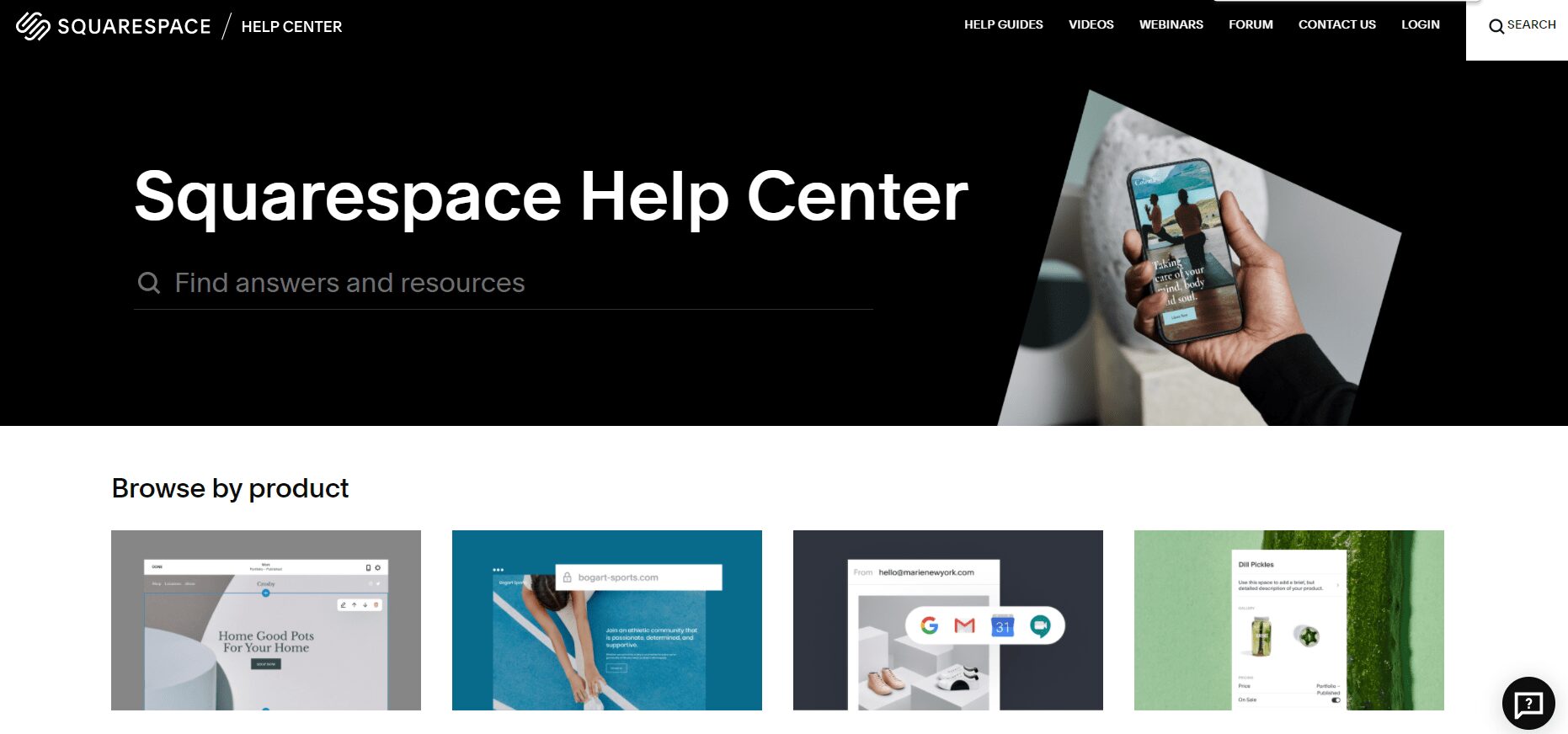 Squarespace, on the other hand, offers a support team available to assist you at all phases of the website creation (and administration) process. They aren't available around the clock or via phone, but they can help with a far larger range of issues. They cannot assist you with debugging any custom code blocks you add to their site, however, this is by no means a must.
Bluehost vs Squarespace: Summary
Bluehost vs Squarespace are two different sorts of platforms that both fared well in our analysis. The best one for you is determined by your preferred method of creating a website, despite Bluehost vs Squarespace
Who should use Bluehost?
Anyone who has highly precise site requirements (and is willing to pay a designer or invest time learning how to construct this themselves)
People searching for the cheapest option to design a website need look no further.
Anyone beginning an online newspaper or blog with the intention of having hundreds of pages/posts
Anyone who intends to sell a huge number of things
Who should use Squarespace?
Anyone searching for a quick solution to put together a professional-looking website and who is willing to spend a bit extra money to make up for this difficulty.
Anyone who is unsure about technology and would like to have dedicated help on hand
People want to sell only a few things
In Conclusion
After seeing through every feature and note about Squarespace vs Bluehost, we are quite sure that you found for yourself the thing which is suitable. None of Squarespace vs Bluehost is better than the other, it depends on your needs and your ability , and also your affordability. Of course, you still have many confusion and question with building a WordPress progress. Just follow up on our website, you can find an easier way than ever.
Read more: 2022's Steps To Build A WordPress Website, What Will You Need?