With the uprising of this digital era, websites belonged to businessmen or companies are very important factors that affect the success of their business things. To satisfy that, many services were born, including the method to make your webs look so professional; which is now call Portfolio theme.
Among millions of Portfolio themes, it's quite difficult for you to pick up a theme that meets your demand, especially when each customer has his or her own requirement. On the other side, and indeed portfolio theme must cover lots of aspects: displaying your work, giving the right level of context, and evoking people's attention without driving them away from your work as well. Instead of swiping and wading from one to another, we give you a list of WordPress portfolio themes so that you can select for yourselves.
WordPress Video Portfolio Themes
Text is a good way to advertise, but the image is better. However, for the creative minds, some images can't be enough, so we bring here some stunning WordPress video portfolio themes:
Galax


With the people loving the convenience, we prefer you to look at this theme. It is built with the New Codeless Builder, which enables you to change the website immediately without wasting time to wait for it. Otherwise, you can use Photoshop in parallel with adjusting the web. Not only easy to use but this one is also informative to everyone, including the beginners. Narrated video tutorials and page-to-page communication will do that. Besides, free-designing spaces, predefined elements, Envato toolkit, and innovative design are the features that make Folie popular.
Dani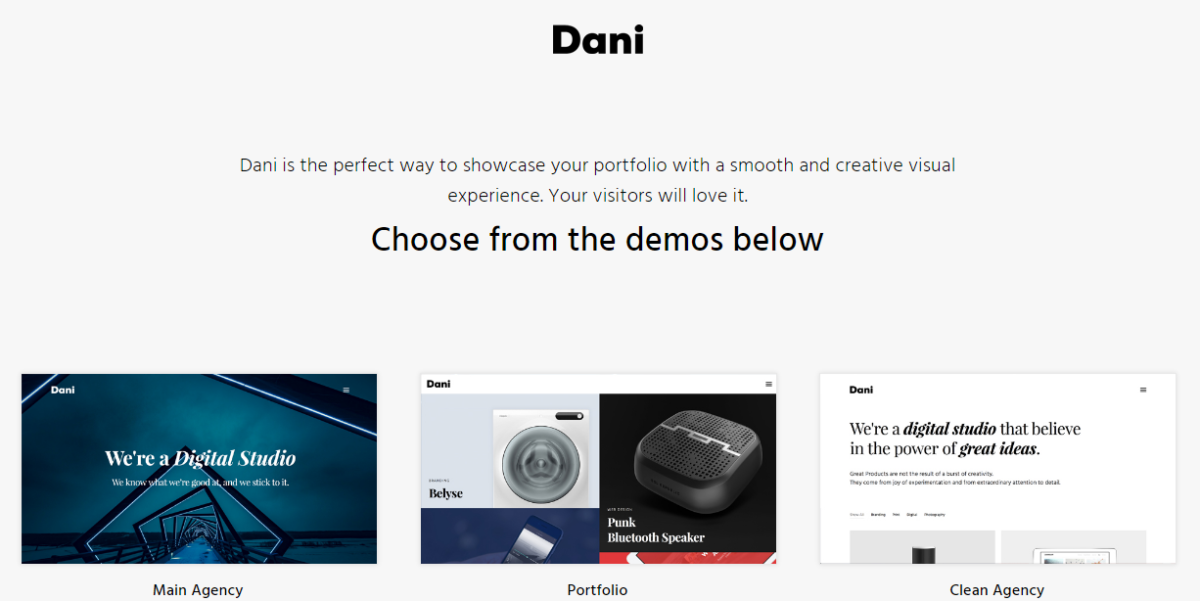 Dani is such a stylish but simple WP theme that every web manager can access. When a web is released with Dani applied to it, the web will be clear and obvious for the client to see all aspects on every device, even the smallest ones. This is due to the single pagination option for the portfolio display screen, as well as its responsive design. Fullscreen Slideshow, Slideshows with audio attributes, and Revolution Slider plugin are some wonderful functions that this theme offers you, with the establishment of one of the best HTML5 technologies so far. Some other features are lightbox, smart scroll portfolio grid, various types of headers, and especially WP professionals' support.
Personal WordPress Portfolio Themes
No matter who you are or what job you do, if you intend to make a web to showcase your work, a personal website is necessary. We can provide you many personal WordPress portfolio themes to do it since they must be assured about the quality. Here are some standards for a personal WP portfolio one:
Plugins:
They must be supported with good and safe ones such as WooCommerce, WordPress PageNavi, etc. Those will give you safe paying methods, higher chances of standing on top of searching engines, …
Languages:
The languages are usually up-to-date and checked regularly to find bugs and errors. The number of languages is about 50 and still increase gradually, including English, Chinese, French, Portuguese…
Top features
Modern and convenient page design using HTML5
Various colour options
Supporting columns
Efficient Slideshows and Backgrounds
Limitless social icons
RTL translation-ready
Multitasking option panel
Creative WordPress Portfolio Themes
Here are some Creative WordPress portfolio themes for every individual, freelancer, or designer who intends to create a website applying WP themes:
Oshine
Many users claim that Oshine is very flexible and powerful. It puts options for building a portfolio above everything, as they have claimed before. With the multi grounds, you can start building your own portfolio from various setting options: basic frames, columns, and more. 8 hover choices and 7 types of titles, as well as a variety of different lightboxes, galleries, and sliders, will simply satisfy even the most high-requiring people.
Werkstatt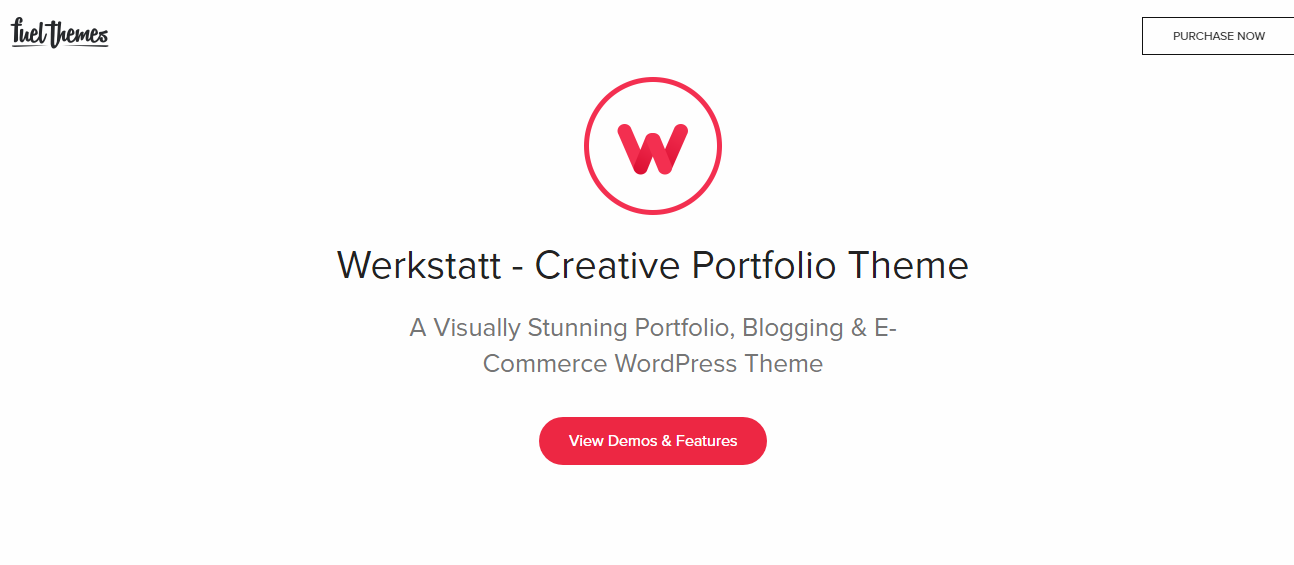 With designers who prefer working on stunning and fascinating layout options, this theme will be their first choice. It maintains stability while providing limitless possibilities for advertising your images and information. Customization should be easy as it is equipped with the drag-and-drop interface which has more than 15 templates. Offering endless pre-built layouts customizing features, coming along with 3000+ letter fonts, and co-operation with WooCommerce's plugin, Werkstatt definitely has everything needed for a creative website.
Premium WordPress Portfolio Themes
The era of digital is taking steps by steps to get advanced more gradually, and so do people's demand for an impressive portfolio. To satisfy those people's needs, Premium WordPress Portfolio Themes are born. Surely, we mark as a premium one, the theme must acquire serious standards below:
Co-operation with WooCommerce
This brings 2 main factors: security and popularity. Applying premium WordPress portfolio themes enables clients to access stable security layers for your web. Not only prevent outside infiltration but it can also give you 100+ paying gateways so that anyone with any kind of payment source can be so convenient when paying for their themes' purchases. WooCommerce, arguably, is the most suitable plugin you can rely on.
Usually checked by Envato
Each premium one is normally checked by Envato 2 times per month. By checking regularly, we can find bugs and errors when the themes function, to fix and give our users the best experience. You can also check the number of access times and the length of them, to control the web and do some research to improve customers' uses.
Larger setting options
This factor contributes a lot to the success of a website, too. Larger types of fonts, colours, layouts make the premium stand out of the crowd.
Elegant WordPress Portfolio Themes
Many of the WordPress portfolio themes are energetic and well-stylish, but some are very light and elegant. Among those, to give you a simple but very impressive, we introduce you "Elegant" – the elegant WP portfolio theme. This theme has taken a very long step in promoting itself to be so efficient and not complicated at the same time.
With customers who love the straightforward ones, Elegant is striking directly into their first impression, especially ideal for photographers, artists, painters, and other artistic or creative jobs. It is well-customizable and also compatible with all browsers. Multiple customization options and speed optimization allow you to make the web as you have always dreamed. The basic layout of the theme is covered with light tone colours and simple but clear fonts. If you want, you can change among hundreds of colours and fonts options. Our users can get this one's update for free, and we have a whole-hearted and friendly support team to help you with any question on this.
Conclusion
Nowadays, the world of business is developing so fast, and if you want to catch up with it, you have to make your first impression to the other well. Building up a professional portfolio will help you in many aspects of your life, and our WordPress Portfolio Themes will give you the best portfolio which you can imagine.
Read more: How to Choose Perfect WordPress Theme for Small Business Website